Sharing my formal dining room today!  I'm so excited about this room.  Which is funny to me since the last thing I wanted was a formal dining room.  When we sat down with our architect and started discussing our floor plan layout I told him that I didn't want a formal living room or a formal dining room.  We aren't very formal people, I'm far from a chef, and I felt like a formal dining room especially would be wasted space.  But it turned out that a formal dining room was important to my husband so he can entertain for work, and to my architect for re-sale in our area so I was quickly vetoed.  My architect then set up our plans so that you walked into our formal dining room from the front entry door.  I didn't love that.  So we ended up putting in a formal living room too – mostly just as a pretty room with views of the yard when you walk in the front door (I'll share that room at some point too).  The formal dining room is around the corner and across the hall from the
butlers pantry/kitchen
.  Now I love the two "formal" rooms and for once am glad that I was over ruled.  :)
Here are a few pics of the space…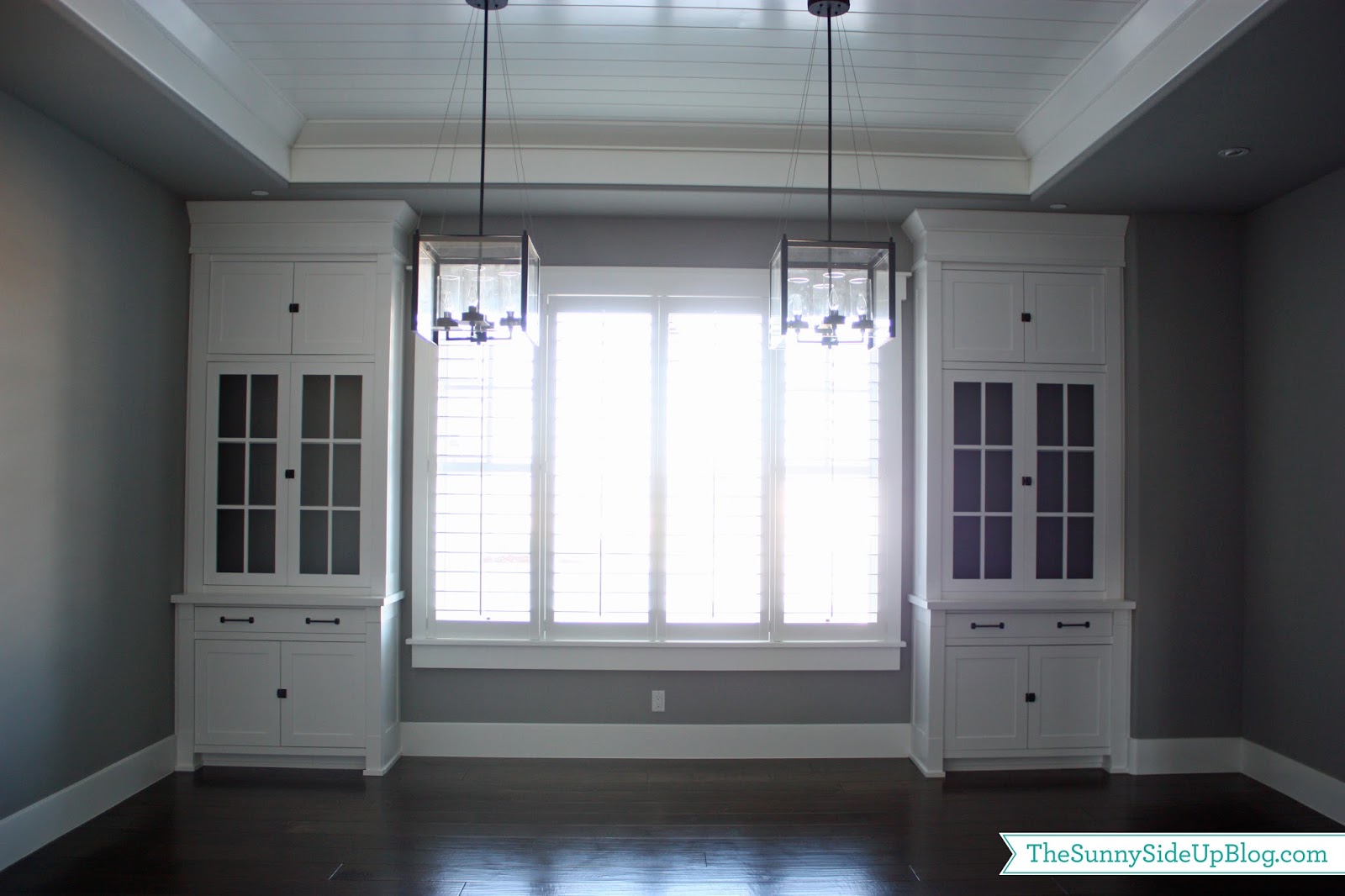 It's a fun room with a large window planked by built-in cabinets (this big window makes it really hard to photograph head on!).  I have chrome hardware in most of my house, but decided to use black (oil rubbed bronze) hardware in this room to match the light fixtures.  Love these light fixtures!  They don't show up great in photographs but are so beautiful in person.  I will share the link/source soon!  I'm sure you're not surprised they are clear glass.  I love that look and carried it throughout a lot of my house.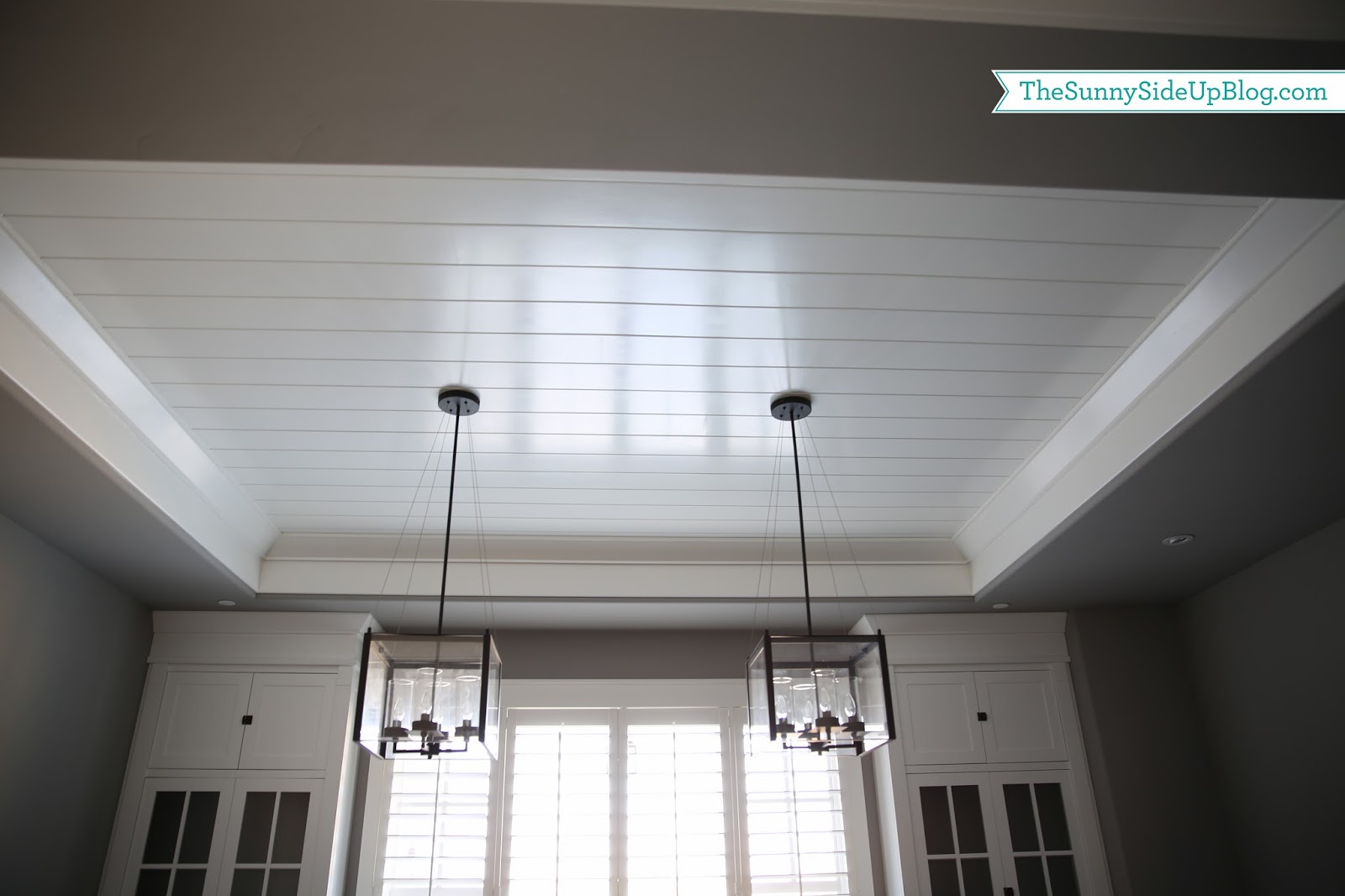 Planks on the ceiling.  I'm sure you're not surprised by that either.  :)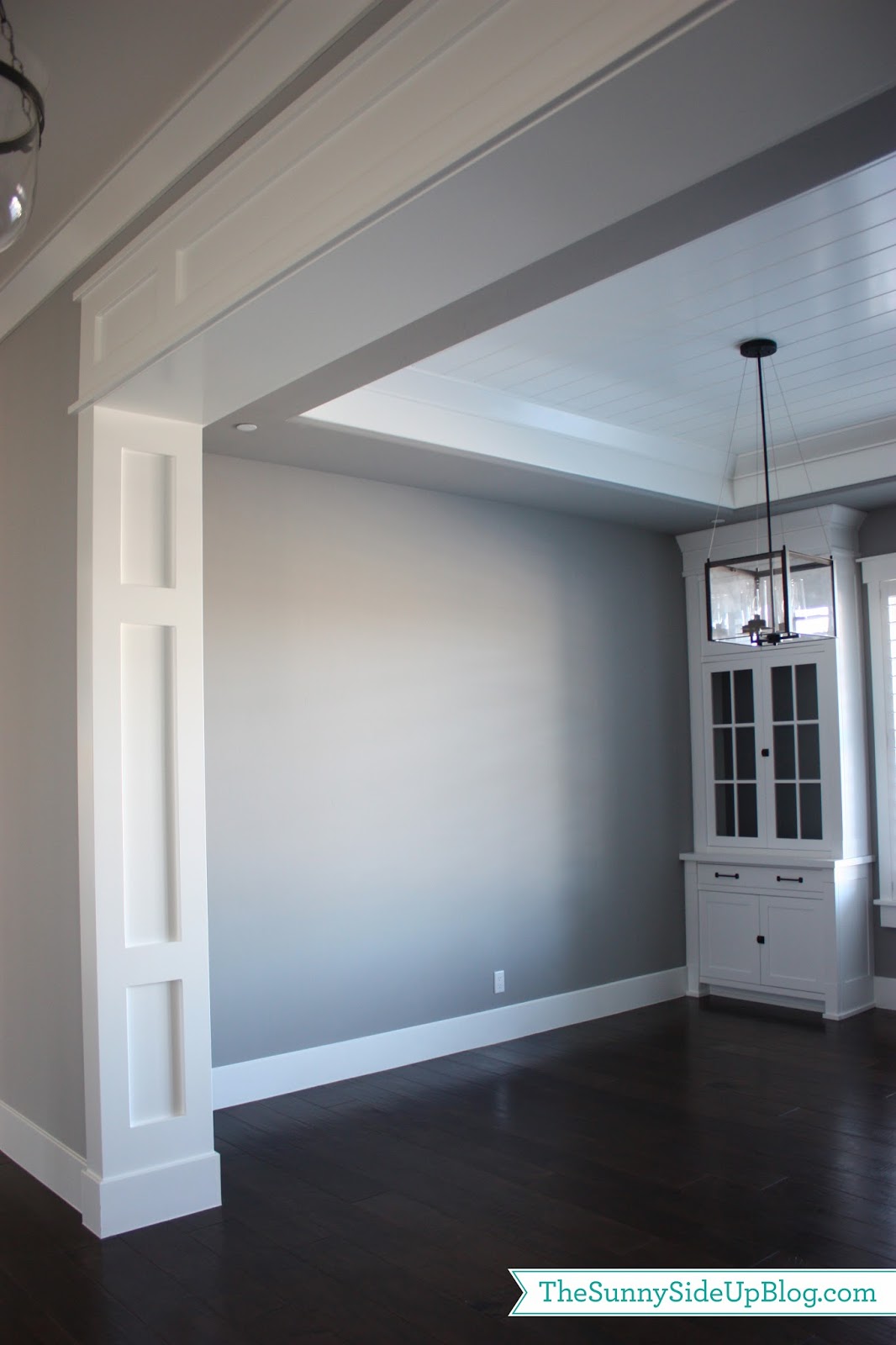 All of the molding in my house I kept really simple and wide.  Straight lines – inset panels.
My favorite look.   This is the molding casing the opening to the room.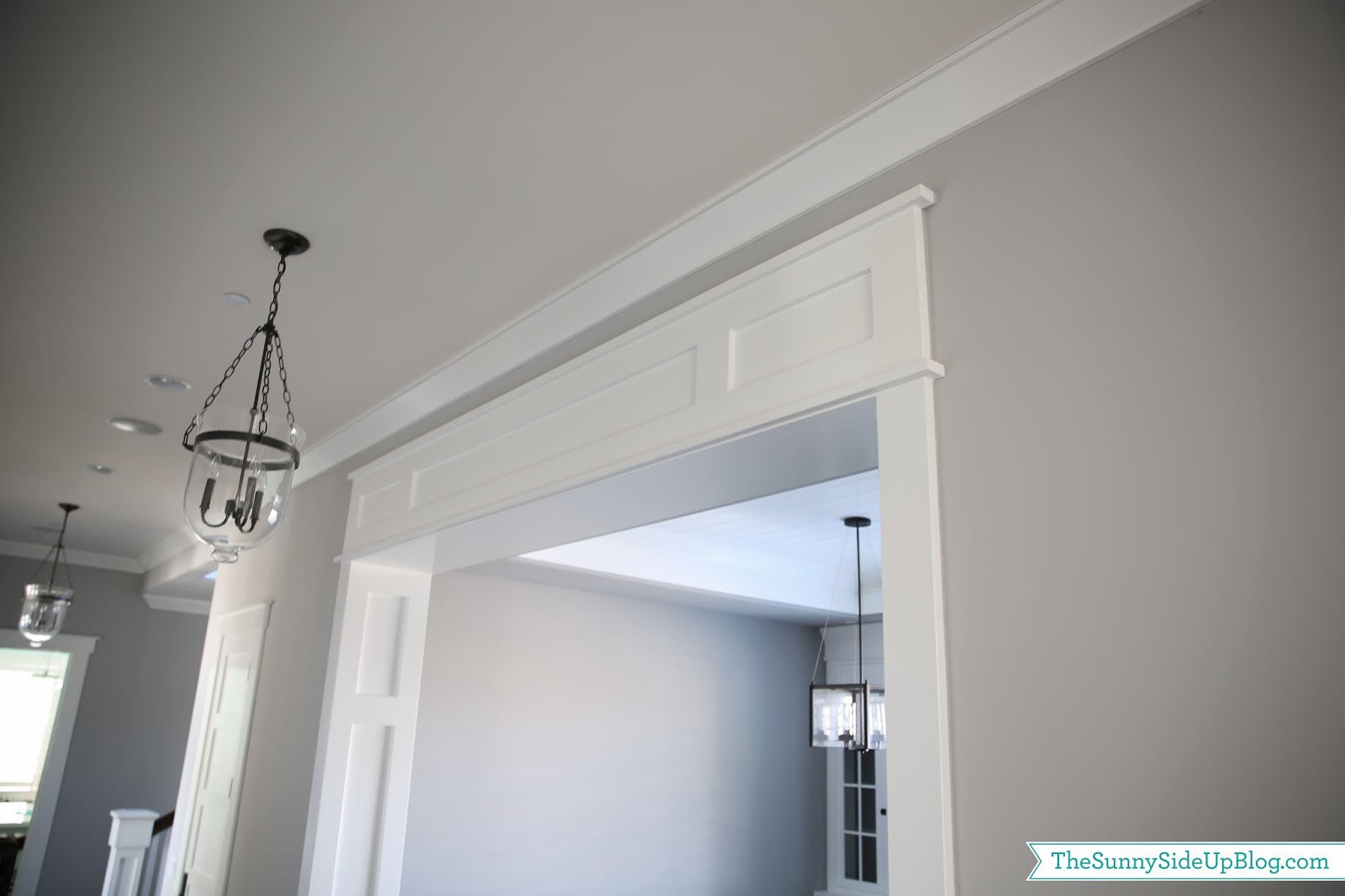 I did the same thing with my crown molding and baseboards.  Simple and wide.
Like most of the rooms in the house we put plantation shutters on the windows.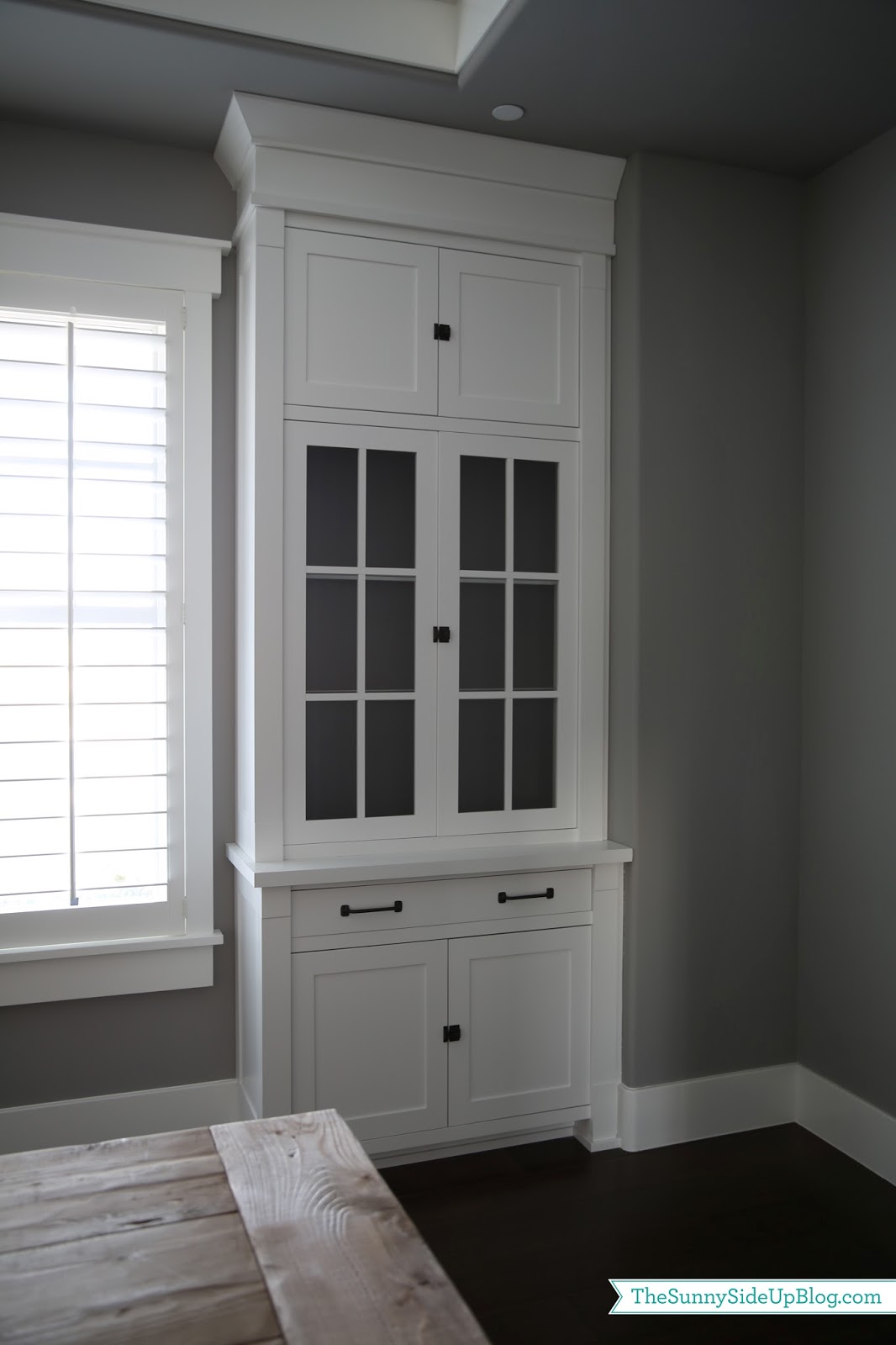 Here is a close up of one of the built-ins.  (And a peek of my new table!)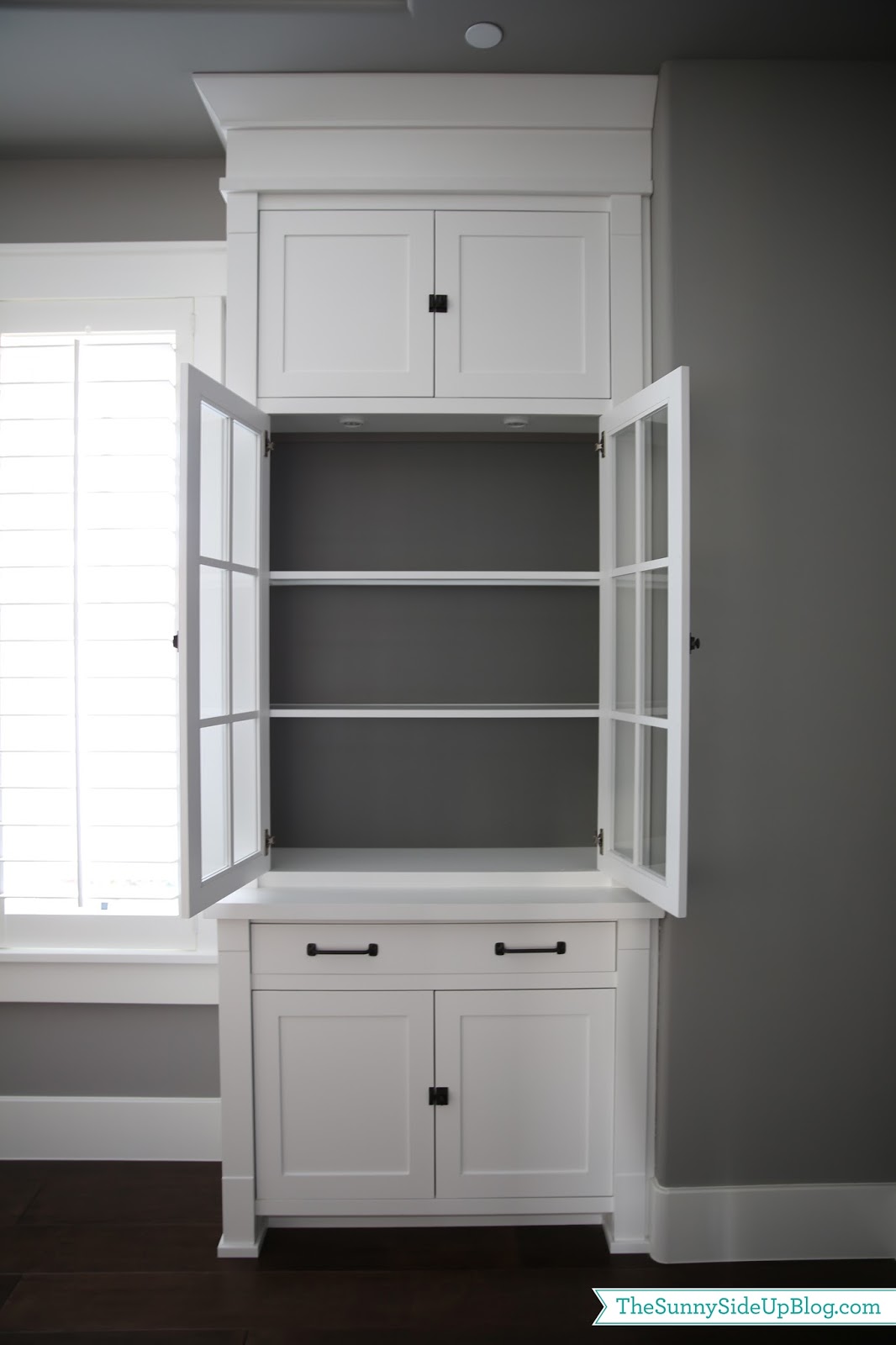 I painted the inside of these shelves a deep grey (darker than the paint on the wall).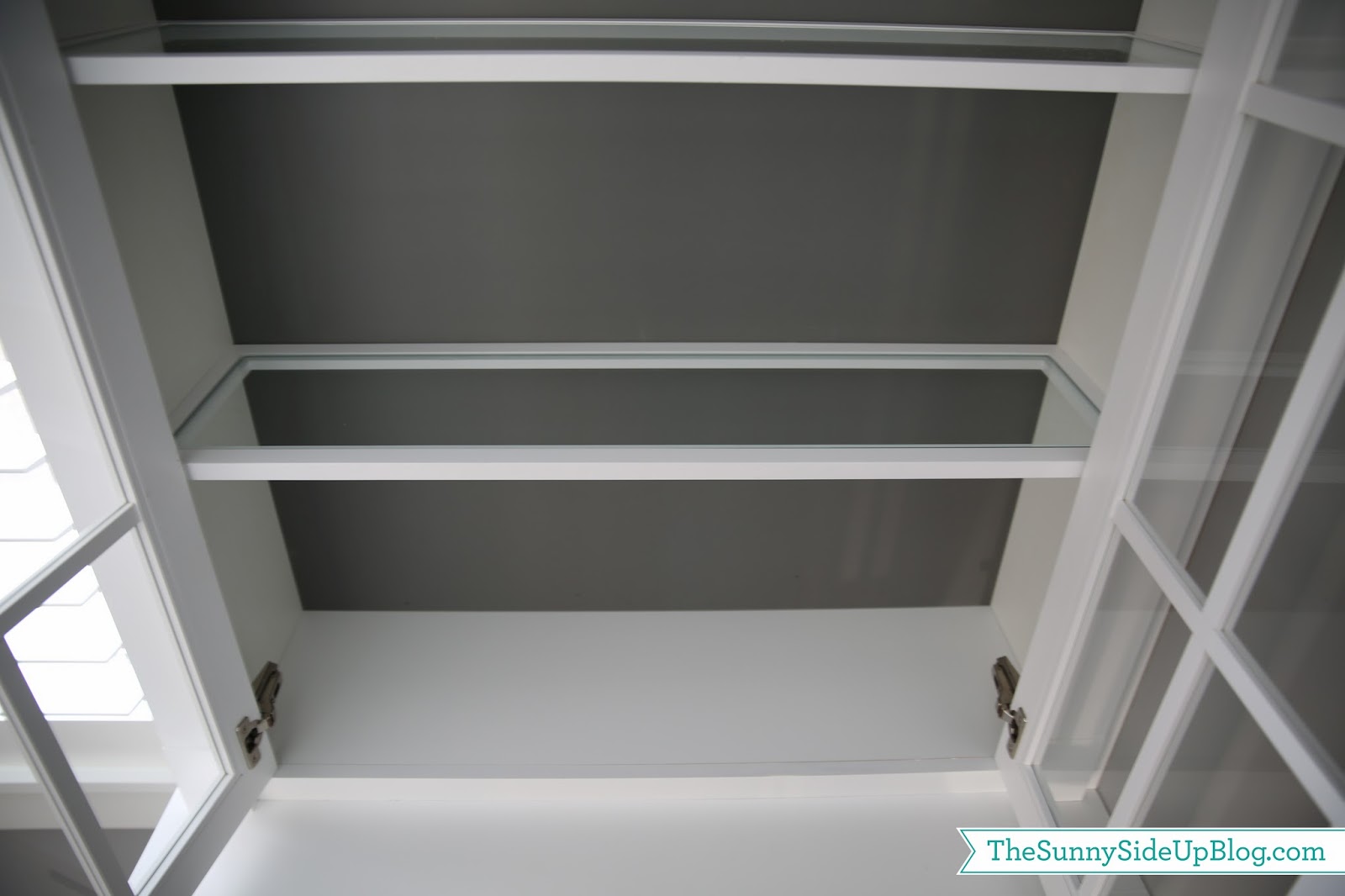 I didn't want glass shelves, I wanted white shelves, but I wanted the light in the built-ins to filter through each shelf.  We finally decided on shelves with glass in the middle of them.  I was so happy the day we came up with this solution!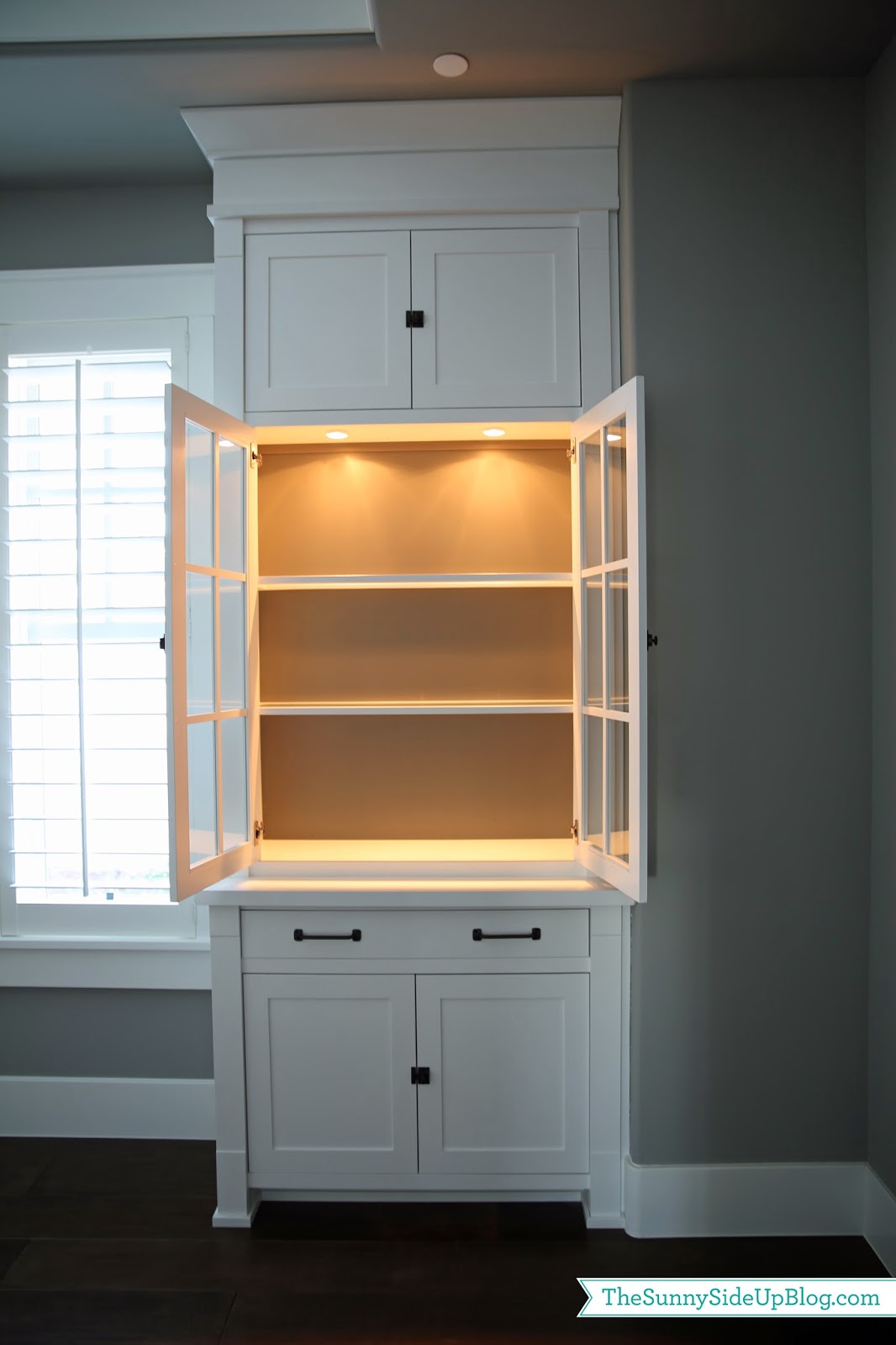 It gave me the look I wanted but still lets the light shine through the shelves.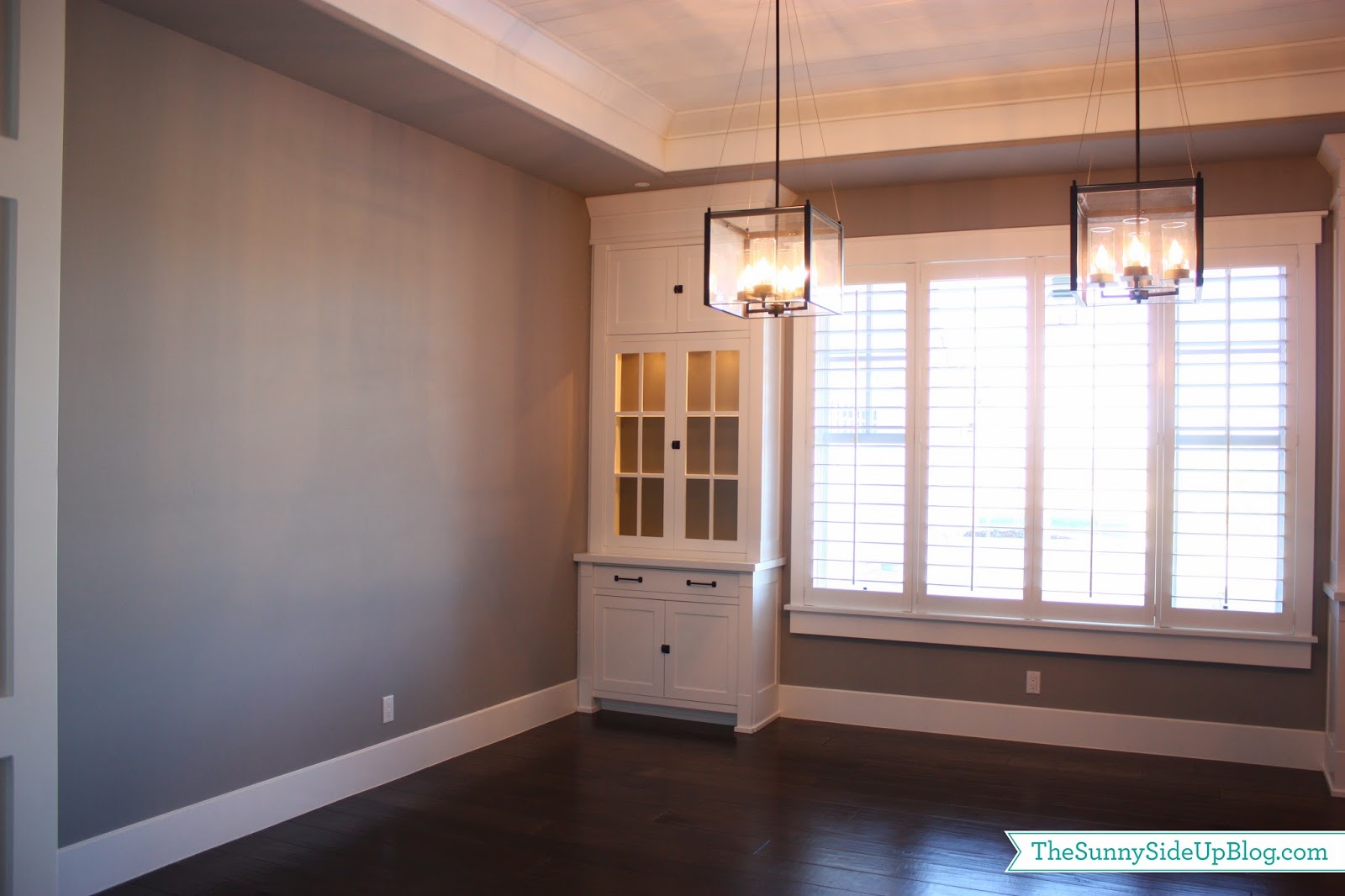 You might have noticed that on the left side of the room, the built-in cabinet touches the wall.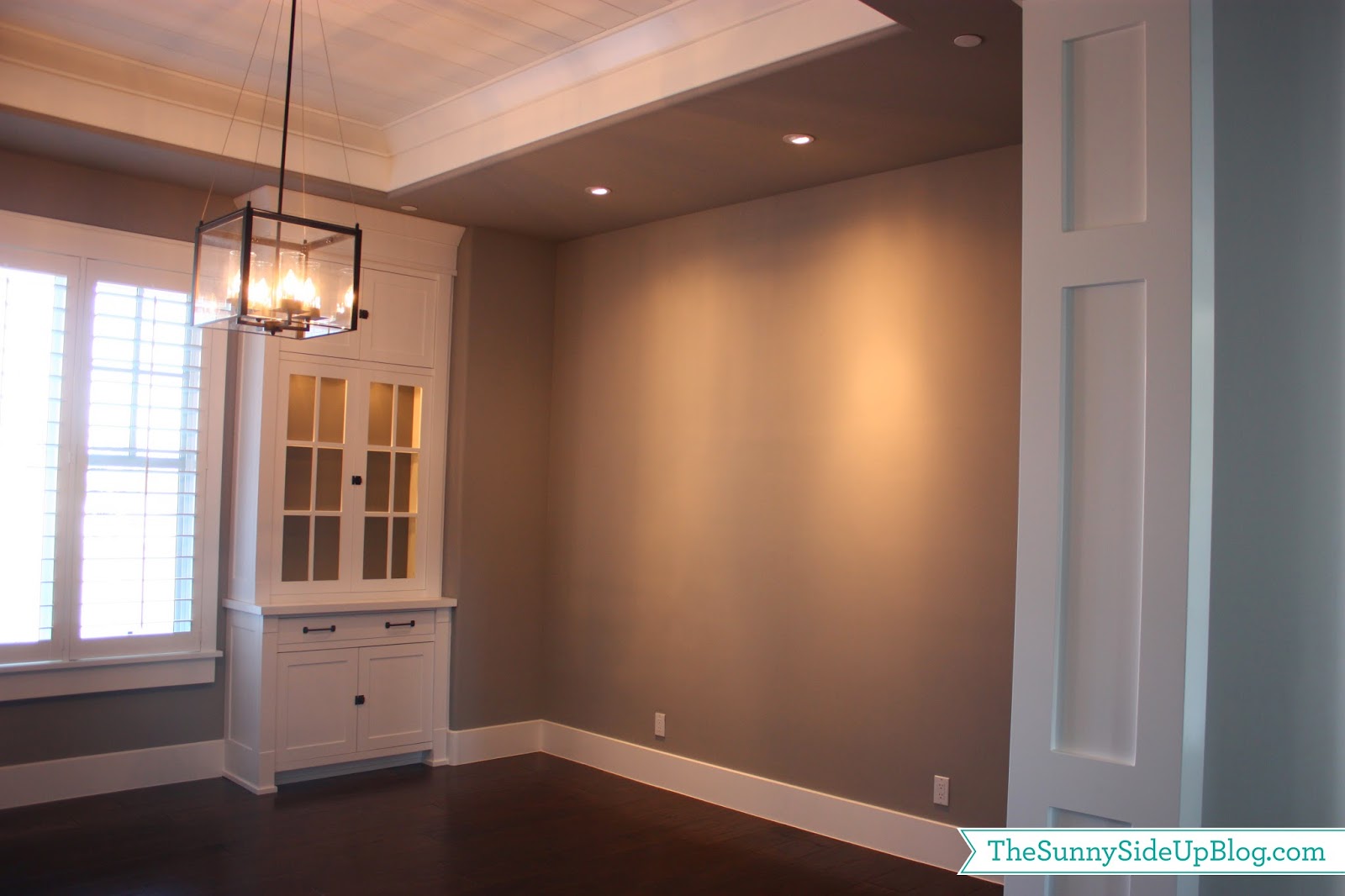 And on the right side of the room, we have extra wall space with two small puck lights above.  Originally the plan was to put one big built-in on the right side of this room, but I was having a hard time figuring out how I wanted it to look and I kept thinking it might be nice to just have a big buffet table in this space to spread out food when we are serving/entertaining.  So I ultimately decided to scratch the large built-in and add two smaller built-ins on the sides of the window.  I'm going to put furniture (some type of buffet table) on the right.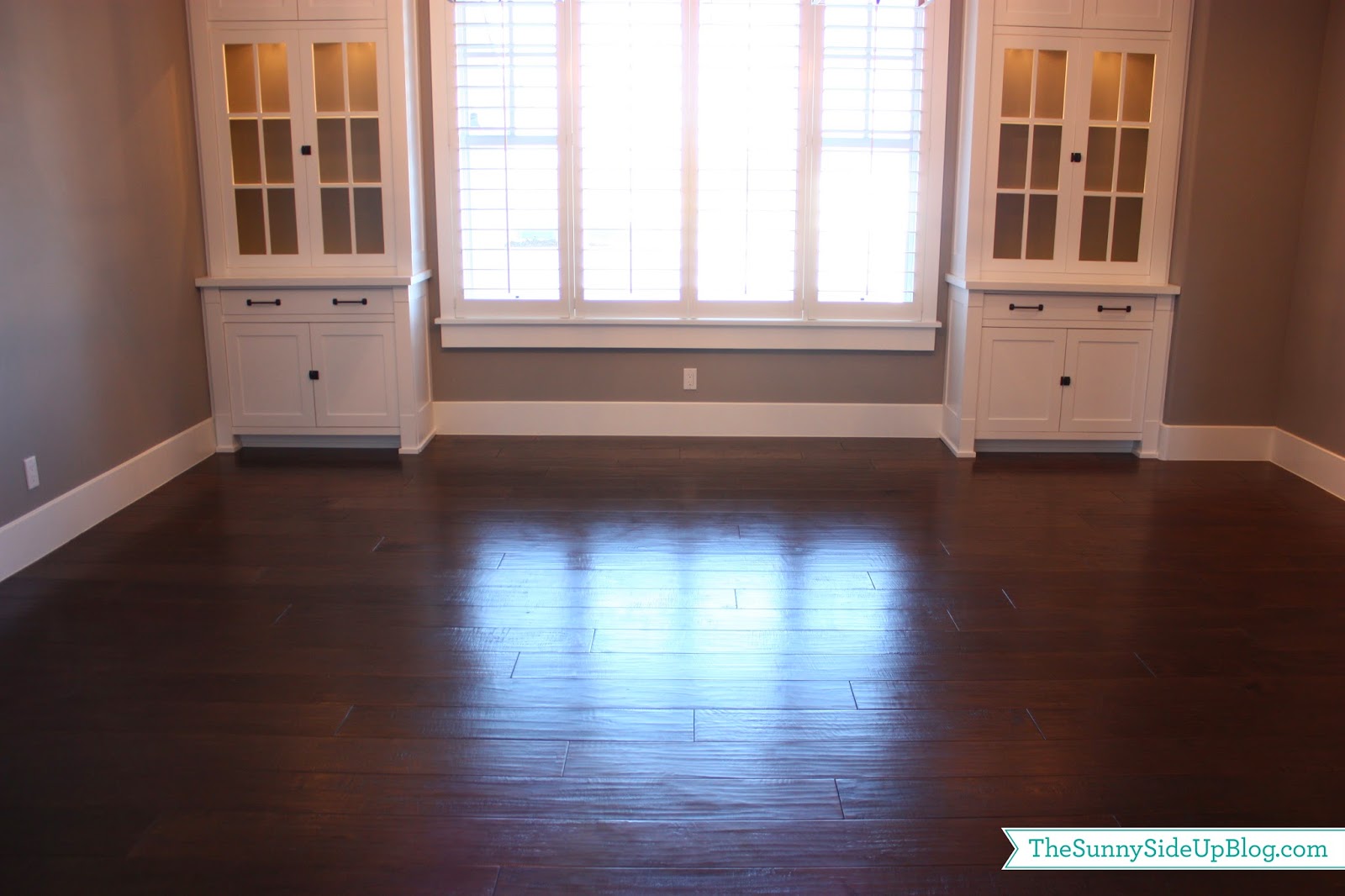 So the room looks a little off centered right now, but it will all work once I get furniture in the space.
At least I hope that's the case.  :)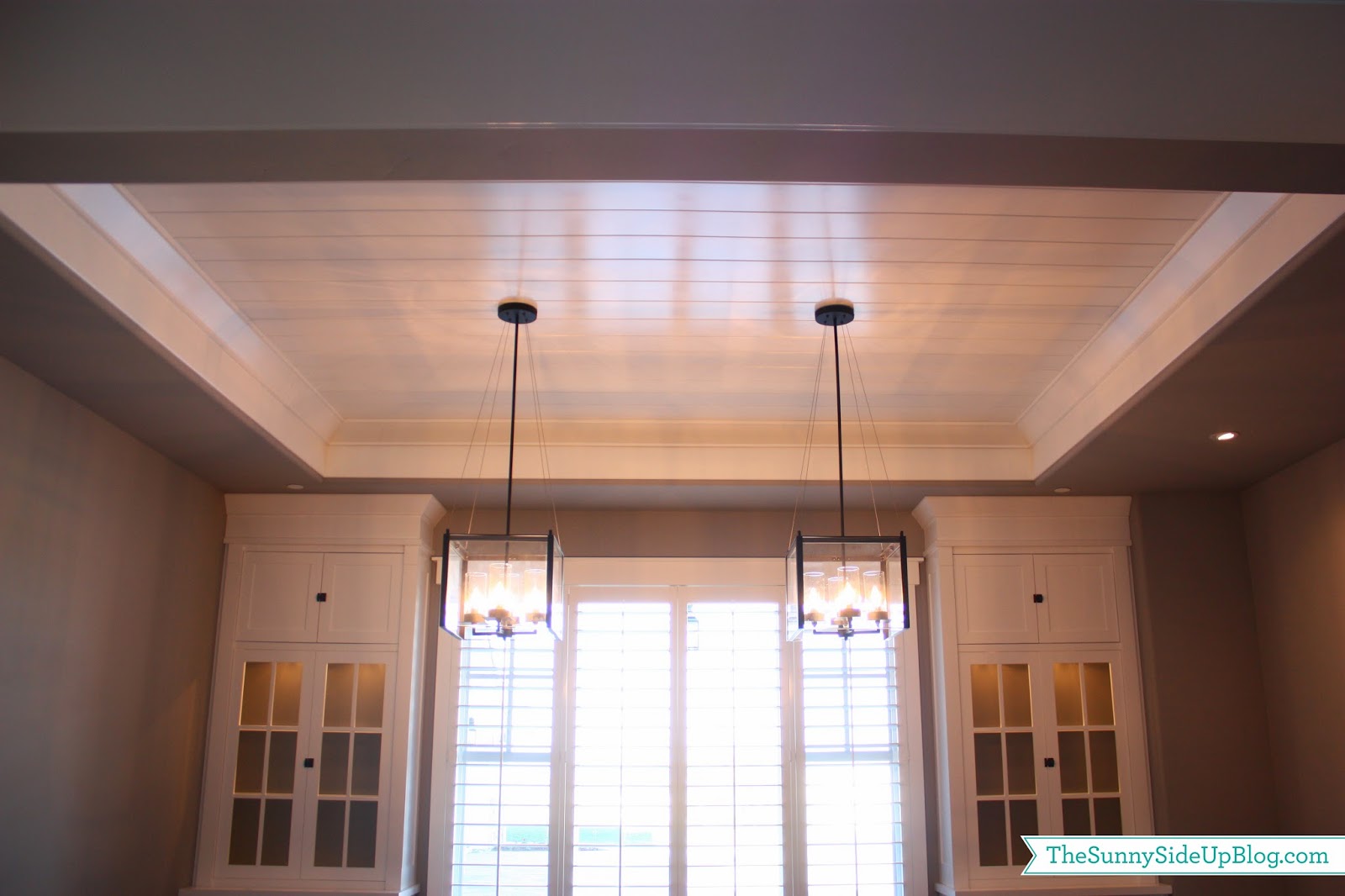 I've been working on decorating this space (I've had a vision for it since we broke ground!)  so
I'll share my new table, rug (yes I chose one!), and decorating plans for the room in my next post.  Hope it all comes together ok!  If you have any source questions about this room feel free to ask in the comments and I'll answer those in my next post too.
And then I want to invite you all over for dinner.
Pot luck anyone?
:)
xoxo, Erin