My friends. I have a confession to make. While my home is an area I keep organized and for the most part running smoothly, my inbox has been quite another story. I spent some time a few weeks ago getting my inbox under control. It was under control at one point in time but somewhere along the way while we were building our house, control was lost and I've been swimming in a sea of e-mail madness ever since. Sometimes my inbox overwhelmed me so much I just pretended it didn't exist for a few days. Wouldn't recommend that little trick! :) But I do have a few tricks I would recommend. If you too have lost control of your inbox here are 3 things that I did to get mine back under control. And now I'm determined to keep it that way!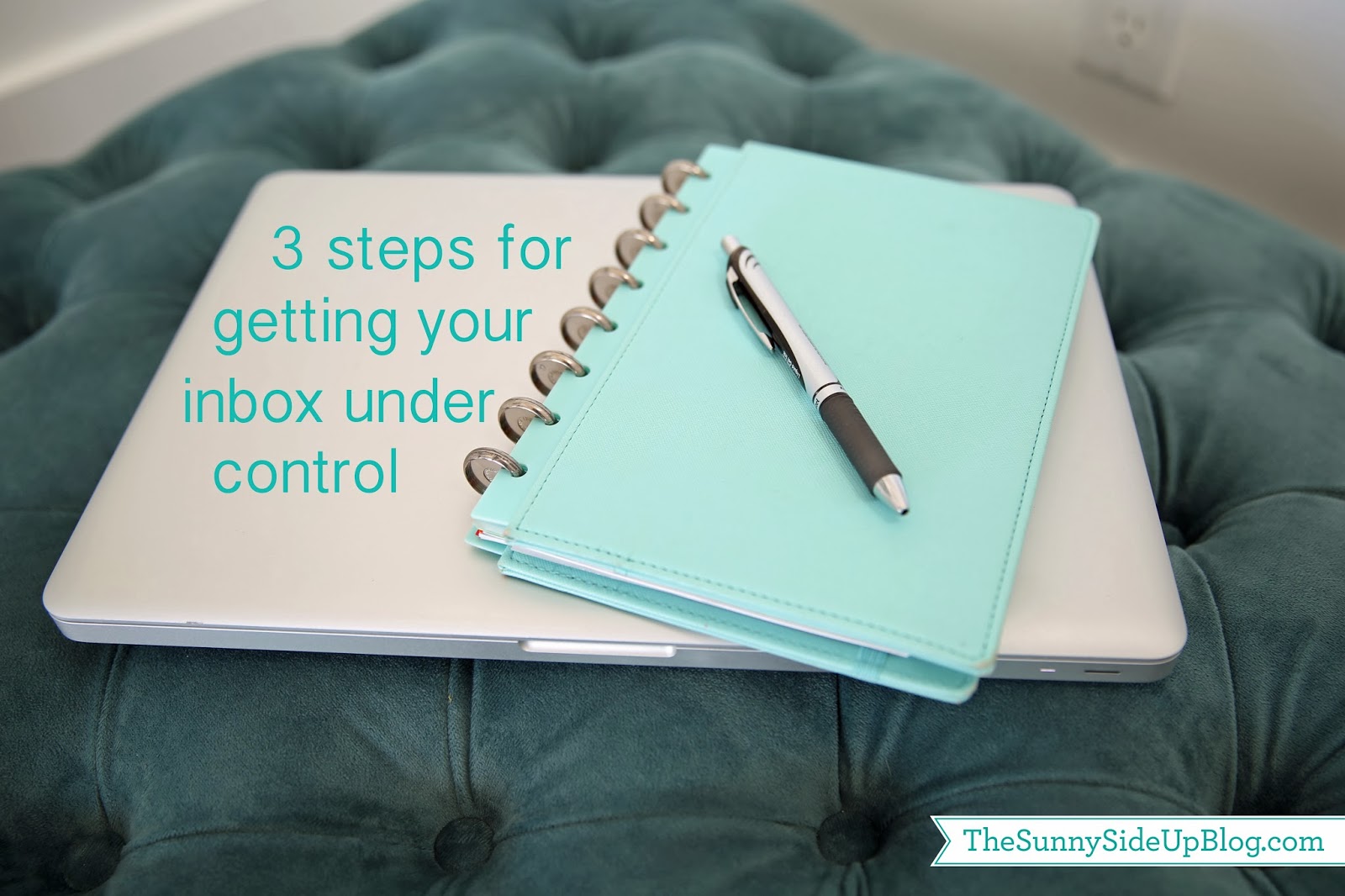 1) CLEAR OUT THE CLUTTER. The first thing I did was to eliminate unnecessary e-mails. Some e-mails we don't want we can't do much about. :) But there are a lot of unnecessary promotional e-mails that we can get rid of. Clear out any e-mail you don't want to receive that is cluttering up your inbox by unsubscribing. To do this, scroll to the bottom of the e-mail and it will say something like this in fine print: "if you prefer not to receive promotional emails from us, unsubscribe here." Click that button and never look back! You have to stay on top of eliminating e-mails like that from stores or before you know it your inbox will be cluttered with junk mail. I only kept e-mail subscriptions to a few stores that I really love and shop at often.
2) SET UP FOLDERS THAT WORK FOR YOU. You all know of my love for categorizing. You also know that I love a good folder system. Just like with organizing your home – everything has a place! It's how I organize my pictures on my computer (folders inside of folders) and it is crucial to keeping your inbox organized as well. This step takes a little time initially, but will save you so much time in the long run. The important thing to remember when you are setting up your e-mail folders is to do what works best for you and your specific e-mail needs.
I recognize that your folders will be completely different from mine, but I'm going to share how I organized my folders to give you some ideas.
First folder: BLOG
Folders inside of BLOG:
– to answer (questions that need a longer response when I have more time)
– Q & A (questions that have popped up more than once that would be good to answer in a post)
– comments (I save a lot of your sweet comments! They mean so much to me.)
– design/programs (other blog related e-mails I want to save)
Second folder: NEW HOUSE
– decorating (this folder is a busy and fun one these days!)
– cabinets (all of our cabinet/built-in sketches)
– new house e-mails (HUGE folder full of e-mails from the past two years)
– house specifics (details like where things were ordered from – so I can tell you when you ask!) :)
– pics (inspiration pics I emailed our builder/architect that I want to keep
Those two are the large folders for me where a big chuck of my e-mails come from. These are the rest of my folders:
El, Ad, Kole (I have a separate folder for each of my three kids. I put everything in these from birthday invites to school forms to friend info. – anything related to that child that I want to hang on to.)
Young Women (e-mails relating to what I'm helping with in my church right now)
Coupons (this folder is working so well for me! Any coupon I get from a store that I think I'll use I put in this folder. Then when I get to the store I pull out my cell phone, open the e-mail folder, click on the coupon I received and show it to the clerk. Done! No more printing coupons! And I can locate them so fast. Love it!)
New recipes (a place to stash any recipes I receive through e-mail. Until I use them. Which will most likely be in the very distant future. But when I'm ready I'll know where they are.) :)
New addresses (a place to stash "our address changed" e-mails so when it's time to mail out Christmas cards they are all in one place and easy to find)
Pictures (pics I get through e-mail that I want to save)

Like I said, obviously your folders will look different than mine. Take a minute to go through your e-mails and see what the majority of them are about and how you can categorize them in an orderly way that makes sense for you.
3) READ, ACT, AND DELETE! Deal with your e-mails immediately and try to keep your inbox as empty as possible. Now that you have your folder system in place it is so easy to take care of each e-mail as soon as you get it. Is it a question you can quickly answer? A date you can instantly add to your calendar? Something you can file away in one of your folders to save that doesn't need immediate action? Something important you could quickly jot down on your to-do list? If at all possible, take care of the e-mail as soon as you read it and then DELETE it. The only messages that get left in my inbox are messages I need to respond to soon and just have to wait until a more convenient time. Then when I have a minute (usually after kids are in bed) I can go through them and take care of each one.
Following these three steps has made a HUGE difference for me! I feel completely on top of my inbox (LOVE that it is often EMPTY!) and I can find any e-mail I need in seconds.
Most importantly, I no longer feel the need to periodically pretend my inbox doesn't exist.
:)
What about you? Any tried and true tips that have helped you stay on top of your e-mails?
xoxo, Erin