Ok – LOVING all of the rug feedback! Thank you so much everyone! So far I think #1 is the clear favorite although #3 isn't far behind. #2 was my least favorite of the three (like most of you) but it has grey in it that would tie into our paint so that is why I was considering that one. If you haven't left your opinion yet I'd still love to hear it! I'm totally letting you all make this decision for me. :) All three will work in that space with what I have planned so just pick your favorite one. Next week I'll share pics of the room and my decorating plans for it!
You all know that one of my favorite things about blogging is connecting with so many of you. I love getting to know the people who read my blog! I've had several instances when I've been able to meet some of you and I have absolutely loved it. I always feel an instant connection with people who read my blog. One night I was at a work party with Kenny and I met someone and we were chatting. I asked her if she had kids and she told me about them. Then I said "I have three.." and she interrupted me and said "oh – I have to tell you – I know your kids – I read your blog!" I thought – well then – tell me more about YOU since you not only know my kids but everything else about me including the fact that I burned dinner last night and I just bought this dress I'm wearing on sale for 20 bucks! :) It's a strange feeling to meet someone you know nothing about when they know everything about you!
I have to tell you all about my fun night last night.
A darling reader and decorator (Gina)
and I have been e-mailing for years. It started like it usually does – she left a nice comment and I answered her back. She also lives in San Diego and we have always talked about getting together sometime. Well last week we ran into each other. And you'll never guess where. The Container Store!! Of all places! We had to laugh. I was just stopping by after a quick workout at the gym and I was a mess! In fact I remember looking in the mirror that morning thinking "I hope I don't run into anyone I know today…." (you know those days – and of course it never fails that you always run into someone!). I had no make-up on, hair slicked back in a pony tail and was all sweaty. I walked in the front door and she recognized me immediately – sweaty face and all. :) We hugged and chatted and laughed about finally meeting in our most beloved hang out. We also decided it was time to finally get together. So last night we met at Cheesecake Factory and seriously talked and laughed for hours.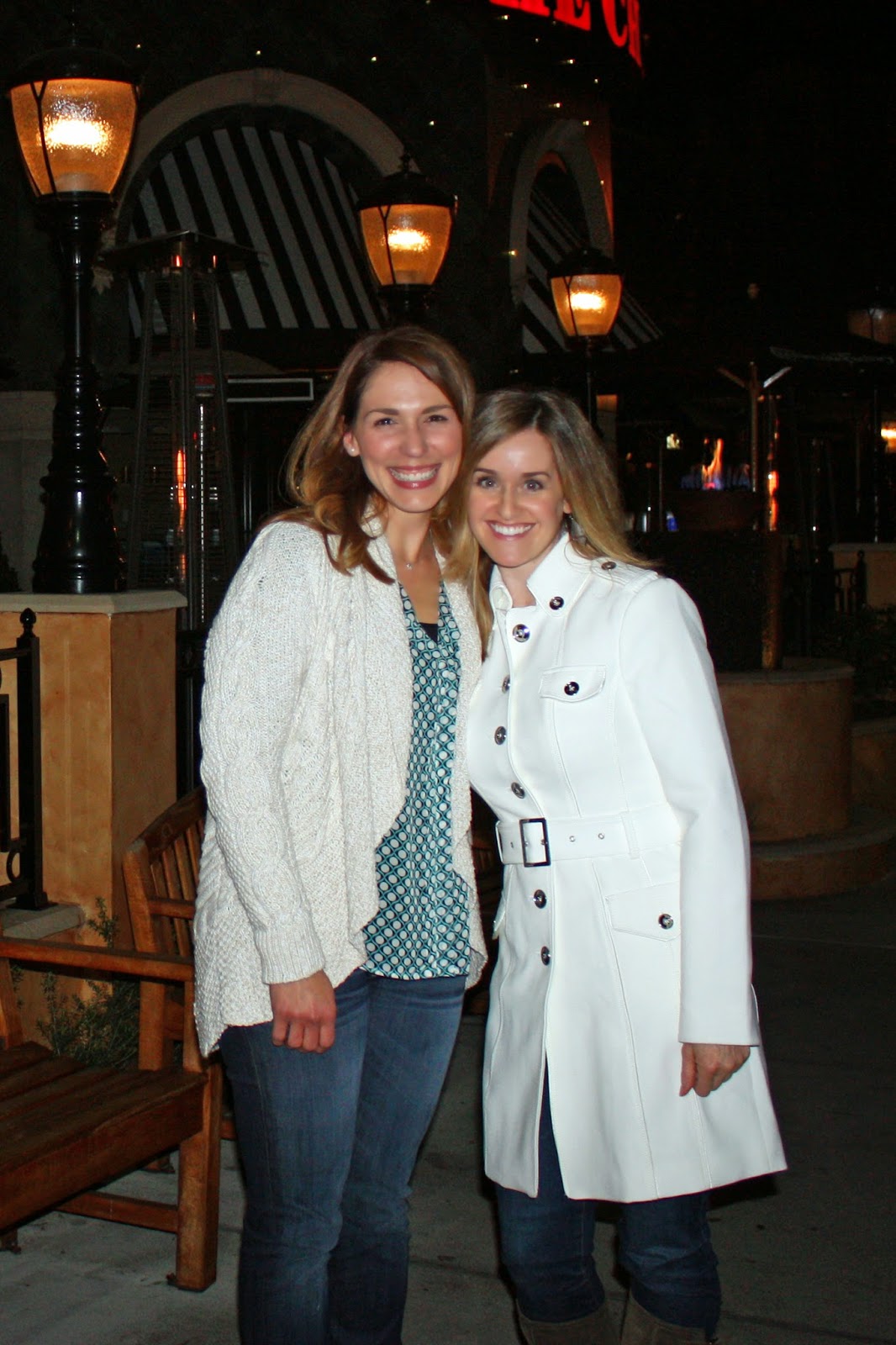 (blurry pic but the only one we got!)
It was so much fun – we just clicked! The start of a long time friendship for sure. We are already excited to get together again.
I'm so grateful for this blog and for the fun friendships that have come because of it.
So grateful for all of you!
Happy Friday friends.
:)
xoxo, Erin