Ok. I have some news that I am so excited to share with all of you! If you've read my blog for a while now you've heard me mention our home search. We have been house hunting for over a year now and after spending hours looking at different areas and different houses we have finally figured out what we are doing. We are building! In our same area. And I am thrilled! Some lots came up for sale not far from our current house (which is so rare because there isn't much land left close to the ocean) so we bought one! Right after Christmas. And I have been dying to share my fun news with all of you ever since, but I waited a while. Mostly because I am afraid that once I start talking about our house plans I won't stop. :) Building a house has always been a dream of mine and when we started our search, we found a lot and almost bought it. But it was in a different area than the one we currently live in and for various reasons (schools, Kenny's commute, etc.) we just didn't feel good about it. We decided that we wouldn't build, but would make it a priority to stay close to our current area. Aside from location, a yard has also been a priority for us (they are hard to come by around here!) so we spent a year looking at beautiful homes with beautiful yards, but for one reason or another, nothing felt right. And then our lot came up for sale (one of six beautiful lots that form a neighborhood). And after a lot of careful deliberation (on Kenny's part — I was ready to sign the dotted line the second he acted like it was an option!) we sealed the deal.
So the girls. They are SO excited that we own land. And they love visiting "the lot" and think it's great that we are building a house on it. Just so long as they never have to live there. :) They tell us every day that they never want to leave our current house. It will be an adjustment. But I'm not too worried. They will still take dance and gymnastics at the same place. They will go to the same church with the same group of people. They will be in a different school, but the same district. And I know their sweet, friendly personalities. They will make new friends quickly. And they still have a while to get comfortable with our future plans. They are still young and that is why this house search has been a priority for us. We are anxious to get into our next home and just plant. Our home to raise our kids in and who knows? Maybe our grandkids. You never know for sure, but our plan is to be in this next house for quite a while.
A few pics of the lot…
We love the location. It's a little area that is so close to city life and all of the things we love, but it feels like we are in the country. There are even horses close by.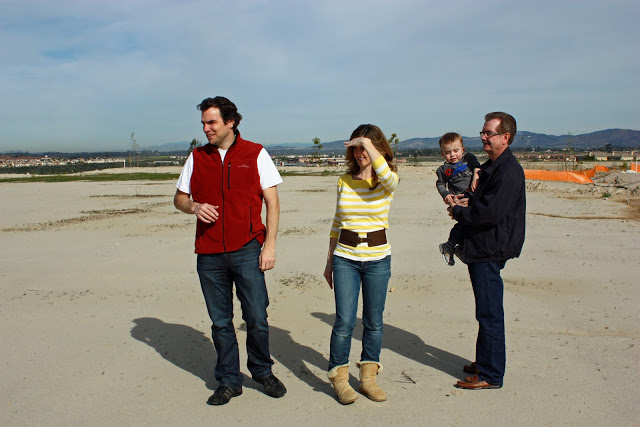 We took our parents to see the lot while everyone was in town for Ellie's baptism. They loved it too and all had lots of input about the future guest room. :)
Another thing we love about this lot is the beautiful views we have. Kenny standing at the front of our lot…
and towards the back. He is showing the girls where the pool will be in an attempt to get them more excited about moving. They told him they can't wait to swim in the pool on our lot. And then go back our current house to take a bath and go to bed. :)
As far as where we are in the process…it will be a long one. We have a great architect and have been working with him the past couple of months on the design. The floor plan came together so quickly. I have been dreaming about this house for so long now and knew exactly what my priorities were! The outside took a little longer and we are still making minor tweaks to the exterior. We are hoping to break ground sometime this summer and then it will take a year or so to build, so we still have a ways to go before this dream becomes a reality. But I have loved the process so far! It has been time consuming and at times it has been stressful (and we haven't even started building yet!) but it has also been SO much fun. Kenny cares a lot about the yard and really that's it. Everything else he is leaving up to me. He basically told me I could build an igloo if I wanted and he'd be happy. And it's true. He is pretty easy to please when it comes to house styles. So this arrangement is working really well. Because I am getting exactly what I want. Isn't that the way it always should be in a marriage? ;)
I've shared a lot of my projects with you on this blog and I am so excited to share my biggest project to date! Creating this house. And rest assured, it won't be an igloo. :)
And how does Kole feel about all of this? First of all, he is THRILLED that in the near future he won't have to have scrapbook supplies filling up his closet.
And until the house is built, a big open patch of dirt is right up his alley. :)
xoxo, Erin