Well. This has been quite the week! We are all sick at my house. El had her b-day party Saturday and we were all feeling great. By Monday Kenny and El were sick and by last night the whole crew (minus Kole) had a cough, stuffy nose, headache, sore throat and fever. Dr. visits for all today! And plenty of Z packs to go around. Kenny has also been up to his own home remedies. Ever heard of a pie cleanse? I didn't think so. You eat nothing but pie. He came up with that little trick over Thanksgiving and decided another pie cleanse is in order to cure his cold as well. Even in his sickest state (and he is really sick!) his sense of humor remains in tact. What a relief. ;)
Quick picture dump today. Things have been really moving along at the new house and we are having so much fun seeing everything on the exterior come together. A lot of planning is happening for the inside as well (almost finished designing the bathrooms!) but I think it will be more fun to share inside stuff when everything is actually being installed. Here are a few things that have been happening with the exterior the past two months…
My corbels were added to the front balcony. I love corbels. :)
Here they are working on the framing for the standing seam copper roofs. I will be so sad to see our framers go. We have loved getting to know these guys.
Roof is finished and chimneys are framed!
Then the paper was added to the roof to keep out the elements.
Roof tiles are loaded and windows are almost completely installed. YEA!
Fireplaces have been installed. I chose a grey herringbone pattern for the inside. LOVE. I'm probably not going to add wood and light fires in them. Just admire the grey herringbone. ;)
And here are a few pictures of the pool in progress –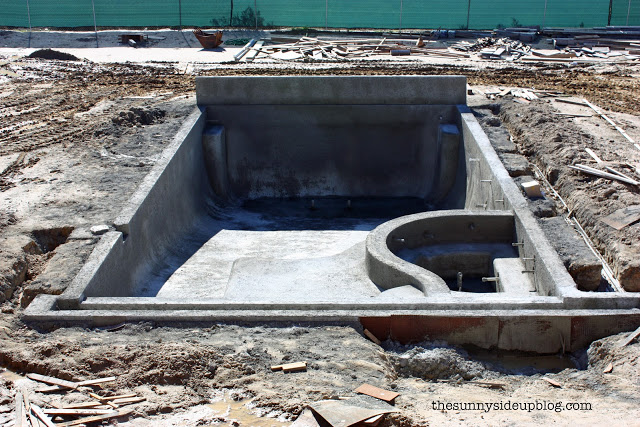 So cool. It was fascinating to see the process and how quickly they had that baby knocked out!
Of course as soon as the hole was dug we had a huge rain storm. Several huge rain storms actually so for a while everything was a muddy mess! Fun to tromp around in though.
My favorite thing so far has definitely been seeing the windows/doors installed. Like so many of you commented on – it makes it feel more like a real house instead of a construction site. :)
My favorite windows are the three on the front of the house.
And the two little square ones on the front of the garage. :)
Progress! I have to say that one of my favorite things about the building process so far has been meeting so many wonderful people. From the framers to the plumbers to the electricians to the landscapers – they have all been the best. So much fun to work with. I love taking them up some muffins/bagels and juice and chatting with them all. I usually can't stay long because my little man is waiting for me in the car and the two of us don't handle separation well. :) It is still way too dangerous to let Kole loose on the scene! But I love popping in when my schedule allows it to see what has been done each day. We are getting an inspection next week and then it's time for drywall! We will also be starting the siding and rock on the exterior very soon. Bring it! I'm ready to move in. :)
Enjoy your day everyone! Fingers crossed you are all well! It is no fun being sick. Oh and thanks for the sweet comments on El's birthday post. I know all moms can relate to the happy/sad feelings that come when your child turns another year older. (sniff) I can't think about it or I need more tissues.
And we are already knee deep in tissues around here. :)
xoxo, Erin