Alright friends. You've heard it here before. The first step towards having an organized home is making a list. Go through your house room by room and make a list of each space that needs a makeover. I just love a good makeover! Makes me excited just thinking about one! Be specific. Putting it all on paper will help take away some of the overwhelmed feeling. Then just tackle one drawer, cupboard, closet at a time. That's what I do anyway. :) Here is my "to-organize list" for 2013:
– garage
– pantry
– fridge
– closet – Kenny's side of course :)
– girls' closets/drawers
– girls' bookshelf
– create files for each of the kids (transfer kitchen drawer papers)
– clean out kitchen paper drawer
– DVD's (new system!)
– closet under stairs (box up!)
– Halloween/fall decor (box up!)
– Christmas (box up!)
– re-organize playroom bins
– bookshelf in guest room (box books – make room for toys)
– scrapbook room (box up scrapbook supplies!)
– sort/organize kids' recent school work (add new folders)
– re-organize Kole's closet/drawers
– bunk bed storage (box up!)
So! This might not look like a lot, but I have less than a year and I'm well aware that with my current schedule, time is limited. I will be beyond thrilled if I can complete this list before the move. I've managed to complete a few of my "touch-up" areas – spaces that are organized but needed a quick clean out. Organized spaces always need a bit of re touching… or they don't stay organized. :)
Here is what I've accomplished so far (nothing revolutionary, but progress is progress, right?)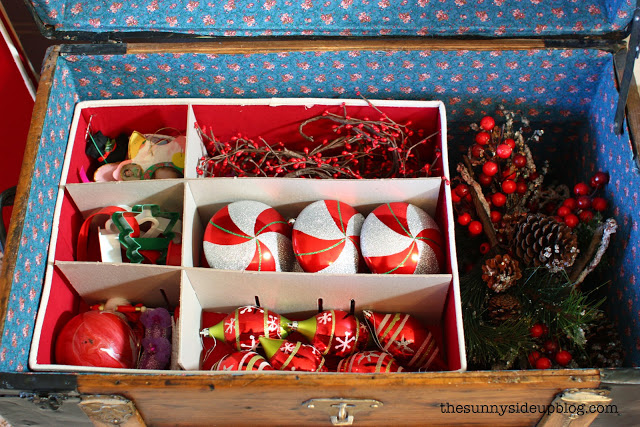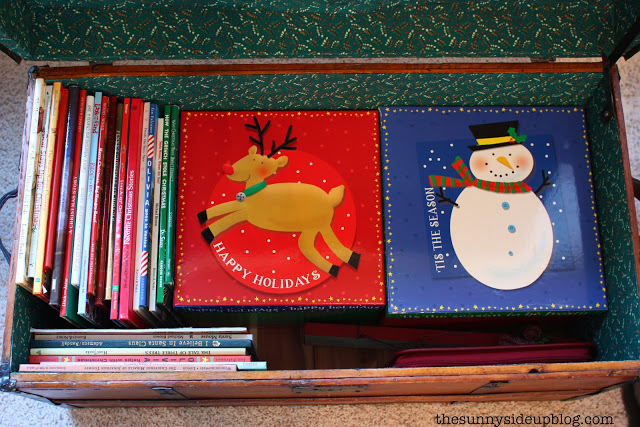 and I boxed it all up! It's ready for its new home. But it will have to chill in the garage for a bit first. :)
I have to add that I already have plans for how I'm going to store all of my holiday decor in the new house and I can't wait! I think I'm more excited to organize my new house than I am to actually live in it. I know. That's not right, right? :)
The stuffed animals/dolls moved into the trunks because I'm going to pack up most of the stuff in our closet under the stairs (where they were previously living when not played with). The girls helped sort their toys and even though they refused to part with anything (because each toy is a beloved friend who is real with real feelings – thanks a lot Toy Story) they did agree to sending less played with toys to grandma's house. That was the only solution I could come up with after debates and tears. (Sorry mom… you were saying you needed a few more stuffed animals right?)
Then I moved onto the fridge…
I pulled all of the food out.
Then I pulled all of the shelves out.
Then I washed everything super clean. That's the trick.
Don't just wash things clean. Wash them super clean.
Then I put everything back where it belongs. This is a pretty complicated system.
Am I moving too fast? ;)
I labeled our water bottles.
And I washed and cut up all of the fruits/veggies so that they are ready to eat/serve.
Then I patted myself on the back and went to give Kole a bath and didn't take any after pics (the ones above are from an earlier post I did on fridge organization). But, like the pantry, it looks pretty similar.
Like I said, nothing major, but at least I've checked off a few things on my list! I'm in the middle of boxing up the bookshelf in our guest room and it is a MESS. I can't find more than 15 minutes at a time to work on it so it might just be a mess for a while. Actually I have quite a few messes going on around here that I'm anxious to tackle. Check out the current state of my scrapbook room (a.k.a Kole's room):
It's driving me mad.
But I have to be patient.
All in good time. :)
Have you started a list yet? Any progress made?
xoxo, Erin