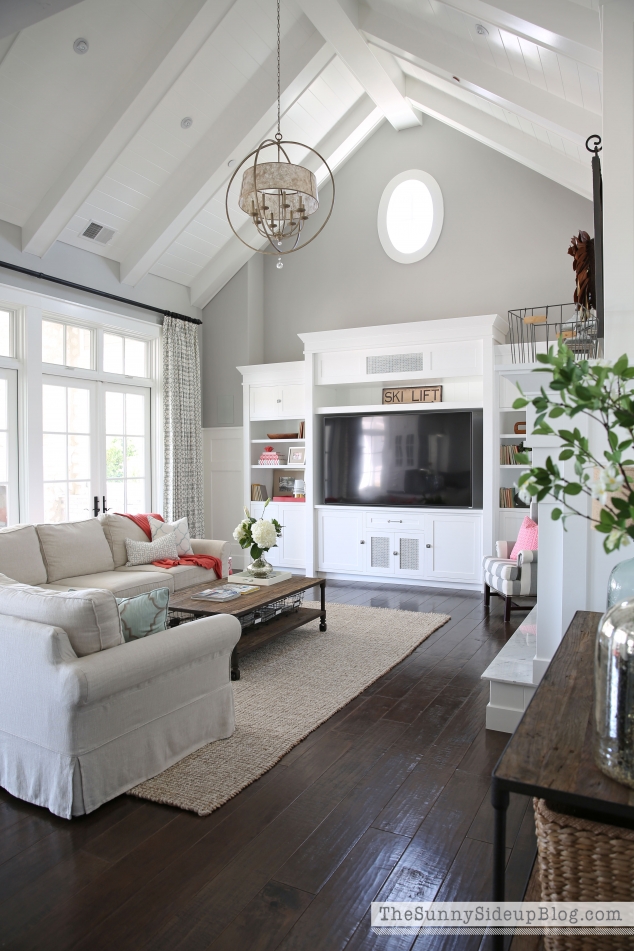 Happy May everyone!  Oh my word.  Are your calendars/planners going to blow up?  :)  My friends and I joke every year that May has become the new December.  Such a busy month for so many!  All the end of the year projects/parties/activites/gifts/graduations.  But such a fun time of year too.  Lots going on to celebrate!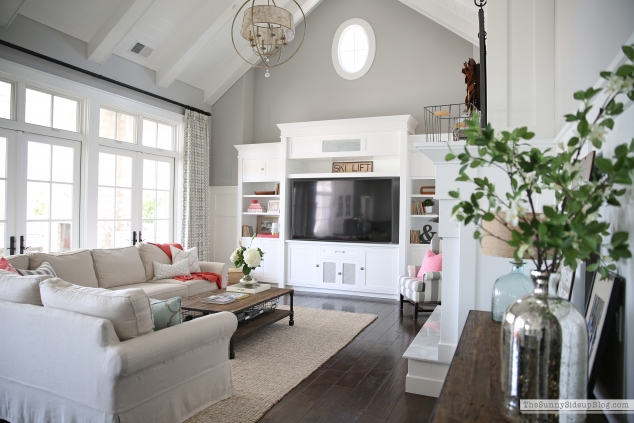 Speaking of parties, I have a couple of different events scheduled at my house in May and June and they have been great motivators for me to kick it in gear and get things done around here that have been lingering on the old to-do list for way too long!  For starters I added some Spring touches to the family room so I thought I'd share some updated pictures of this room.  YEA Spring.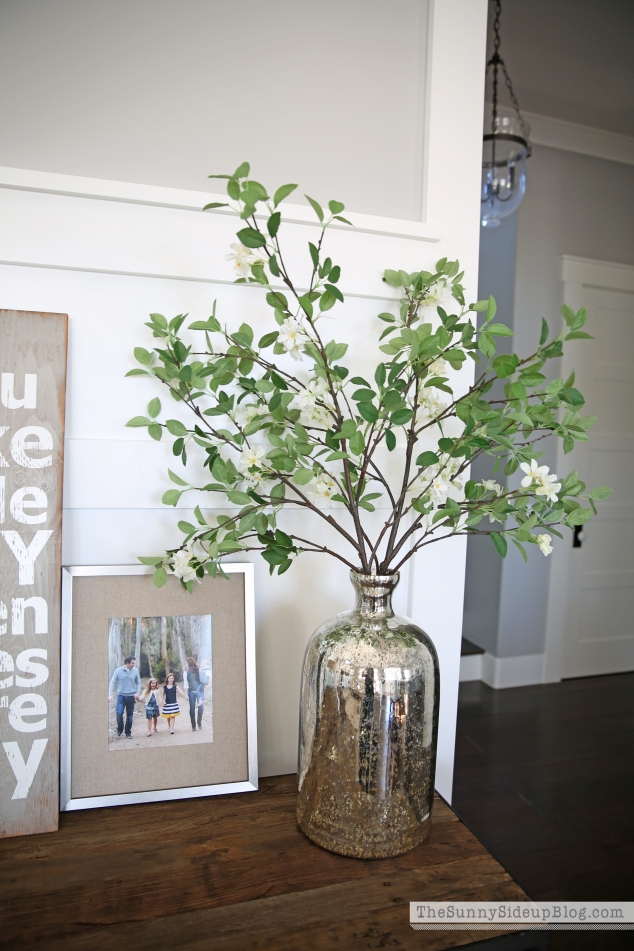 I usually rotate fresh flowers in this spot on my console table, but I also like fresh flowers in a few other spots in my house and it just became too much to keep up with.  Reality – half of the time it was drooping dead flowers greeting you when you walked in the room.  I found a larger vase to hold these fake but real looking blooms from Pottery Barn for Spring/Summer and I'm so happy with them!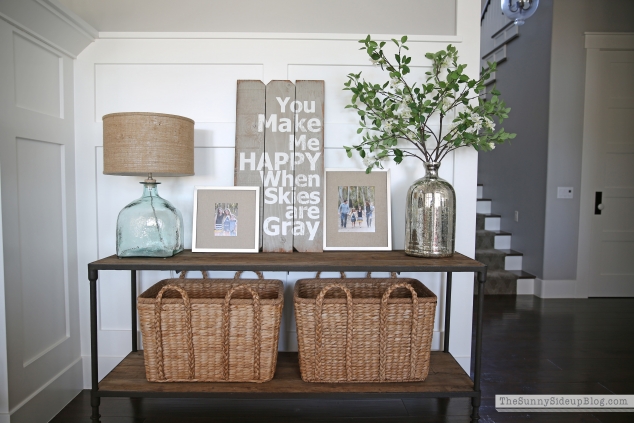 No drooping half dead flowers and I like that they add more height to the table.


I kept our same family pictures here and most likely won't switch this table up again until Fall because I'm focusing on several other rooms in the house.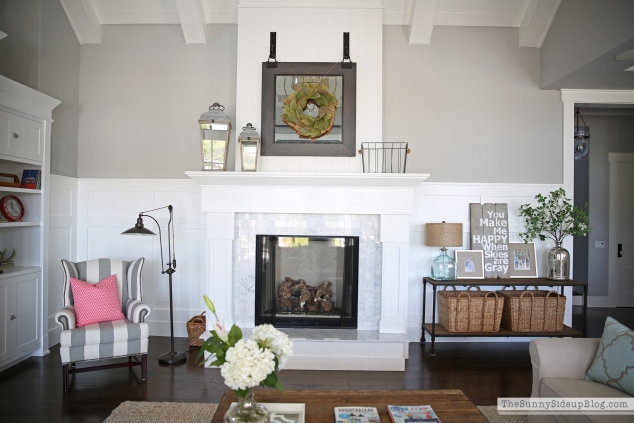 Another addition is my Magnolia Wreath over the fireplace.  Every Fixer Upper episode I watched this year made me want it more and more until I finally broke down and ordered it for my mirror.  I think Chip and Jo would be proud.  :)  This fireplace mantel has been such a challenge for me because of its size.  I still need to find something for the right side of it, but until I do a simple basket will have to work.  Luckily the wreath steals the show so my lack of decor on the rest of the mantel isn't as obvious.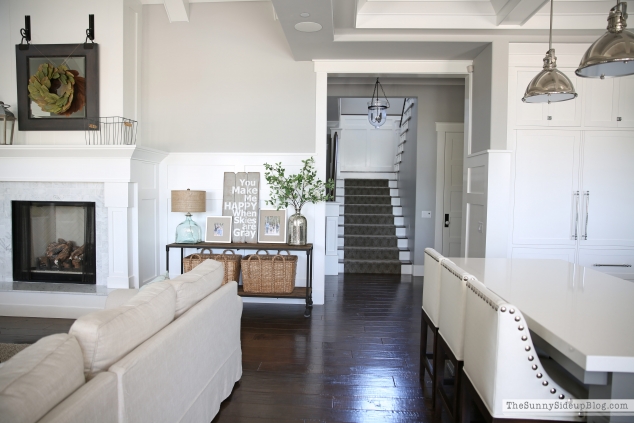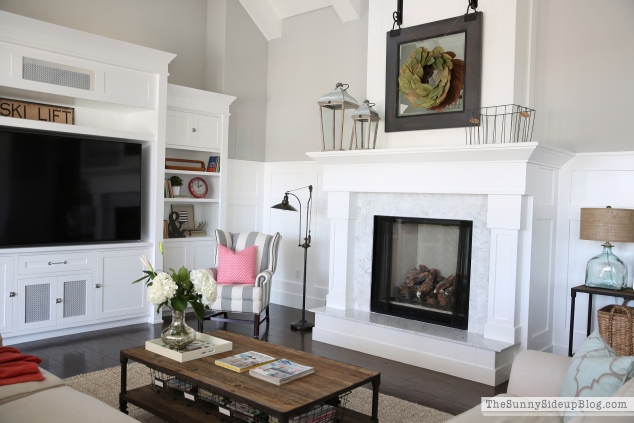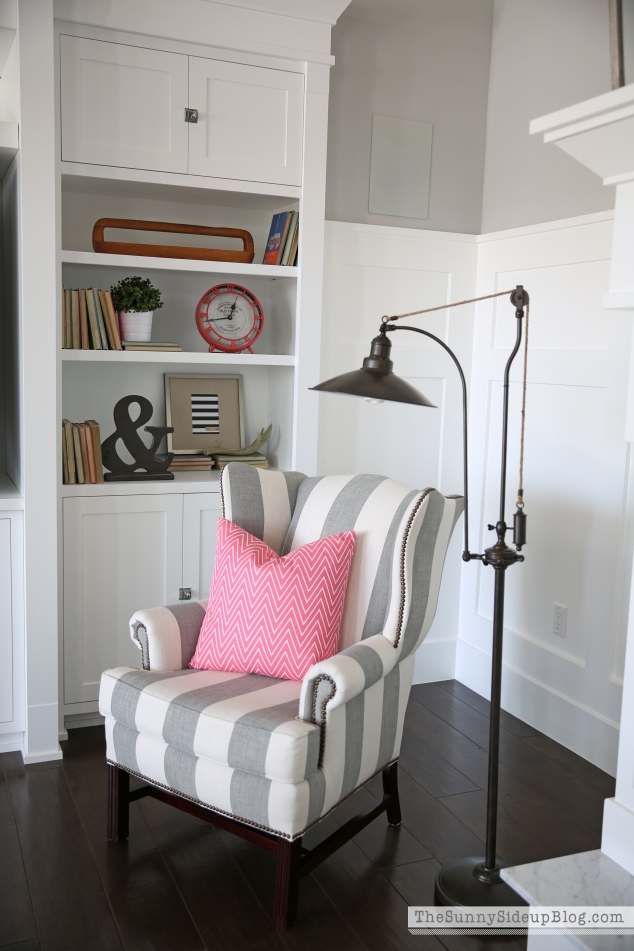 View from the kitchen.  I gave my husband a hard time about that over the top large TV when we were building but I have to admit that I love turning it on and watching the news while I cook every evening.  By "news" I mean HGTV.  And by "cook" I mean while I heat up the microwave.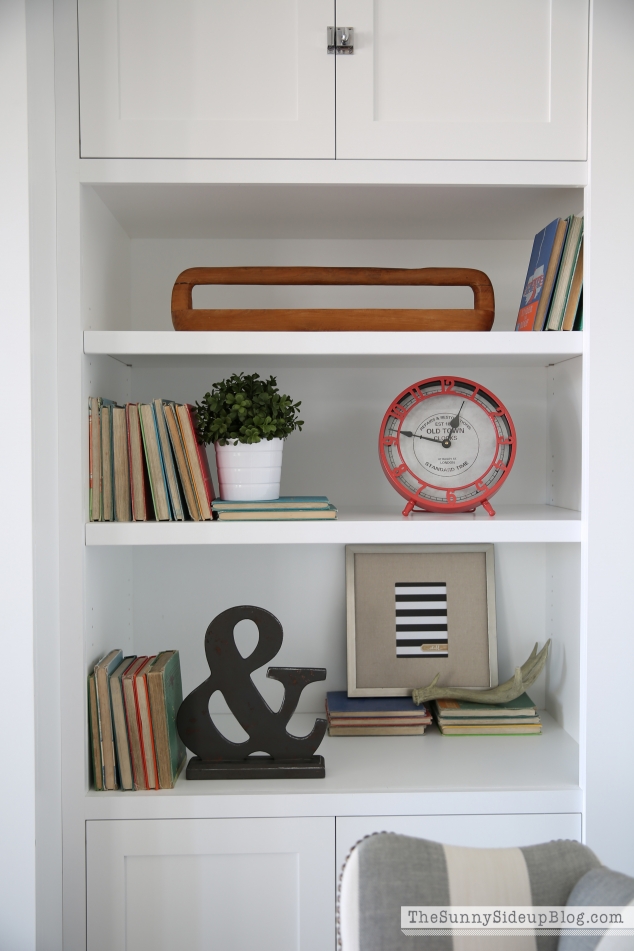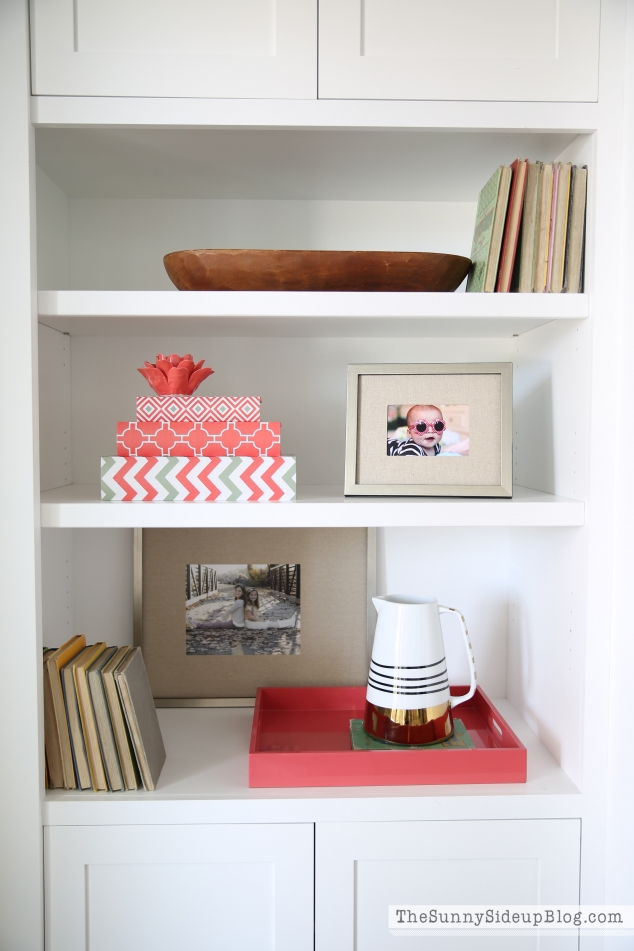 The baby in the flowered sunglasses is Kole.  That picture always makes me smile because it reminds me of how my girls basically treated him like he was one of their dolls when he was a baby.  Poor kid.  Now he's 5 years old and his favorite show is My Little Pony.  He didn't stand a chance growing up in this house.  ;)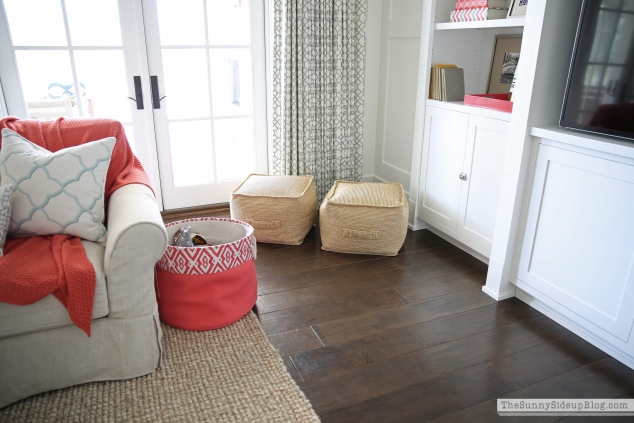 Still loving my indoor/outdoor poufs from Target!  I keep them inside and we pull them out often for kids to sit on.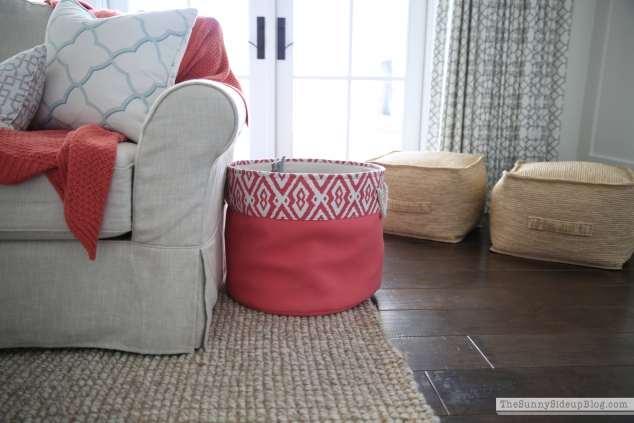 Most of our toys are in the playroom, but I've found with younger kids it's nice to have a few things in every room.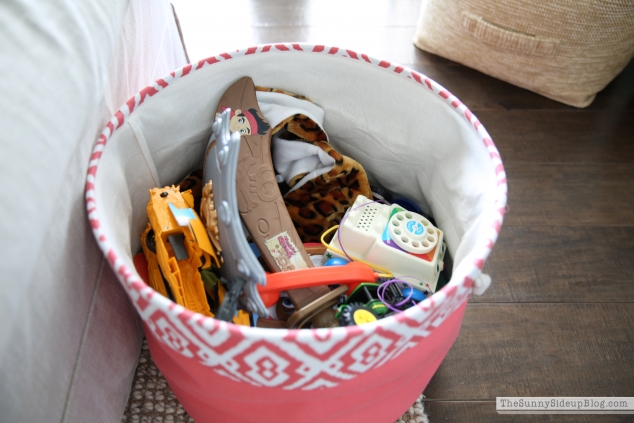 That said, I don't love toys taking over the house so this coral basket from Home Goods has been a great place to hide my little buddy's latest stash.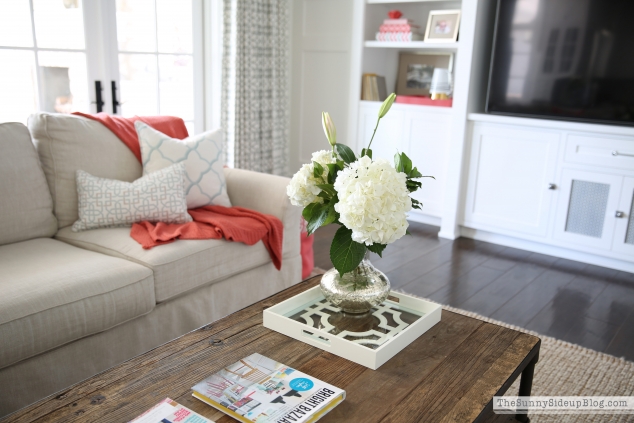 I can't get enough of fresh Hydrangeas lately!  I'm patiently waiting for the Hydrangea bushes I planted in my yard to take off, but until then it's fun to pick some up at the grocery store to add more Spring on the inside.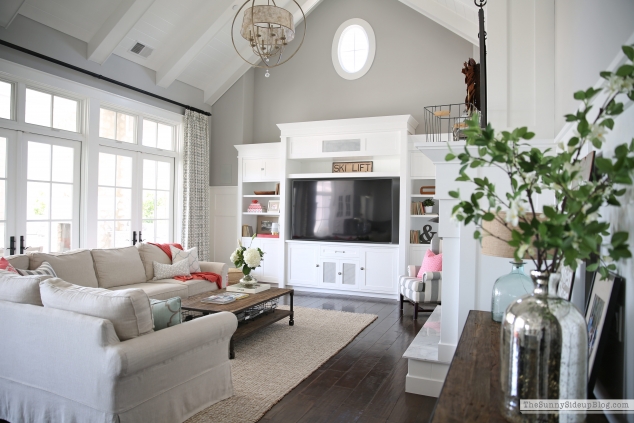 K.  This is about the time this post should be wrapping up but I clearly was so impressed that my house was clean for a New York minute that I kept snapping pictures.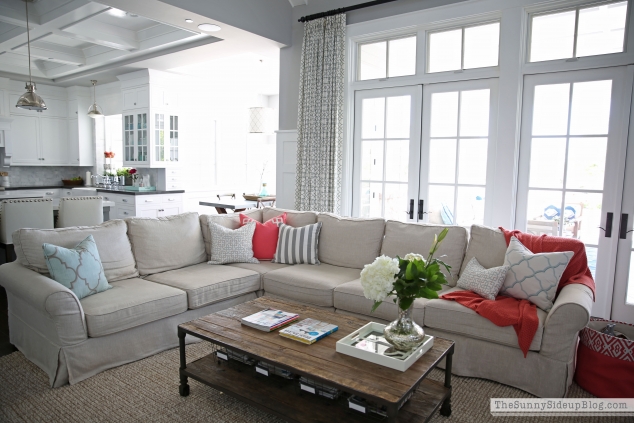 So more of the same room from different angles.  :)  I get a lot of questions about our couch.  It's the Pottery Barn Comfort Sectional and we upgraded to one of the nicer linen fabrics.  We are SO happy with it.  It's honestly the most comfortable couch I've ever owned.  My kids love it and it's big enough for all five of us to comfortably crash on daily.  The cushions get a little slouchy looking but I don't mind that at all.  Just makes it look that much more inviting.  We all fight over the corner seat and usually Ellie and I end up not backing down and sharing it.  :)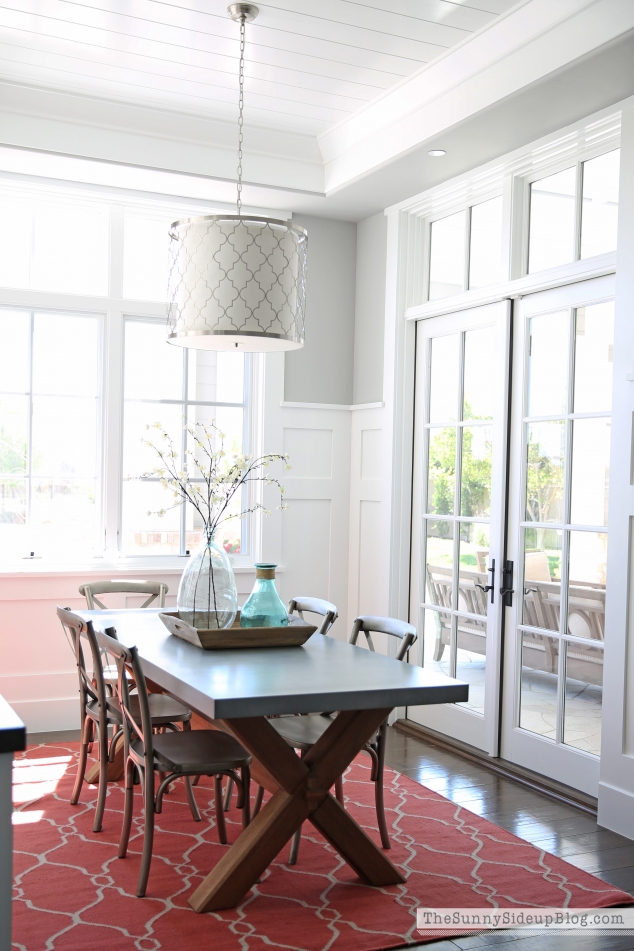 Still have a crush on coral.  Such a fun color for Spring!  I can't wait to add it to my front living room.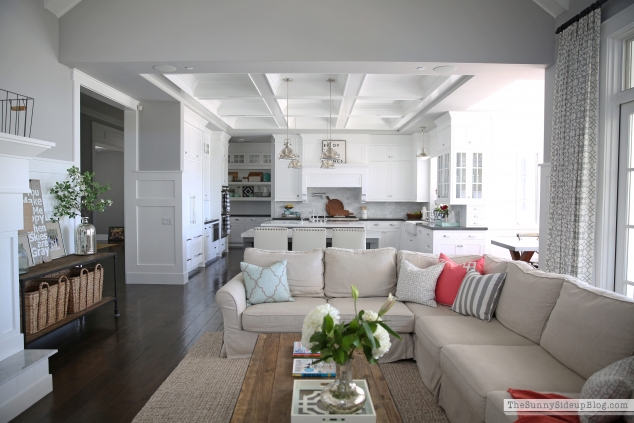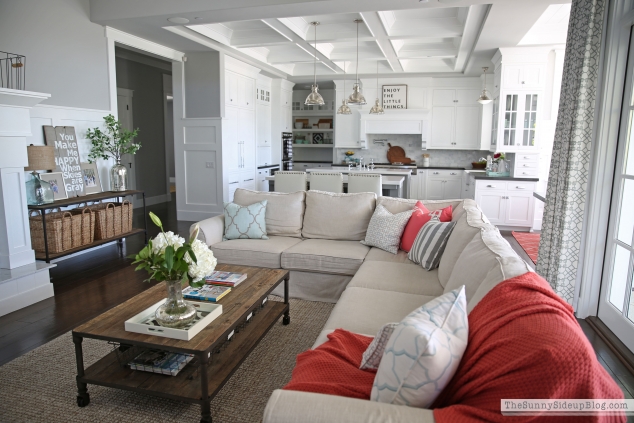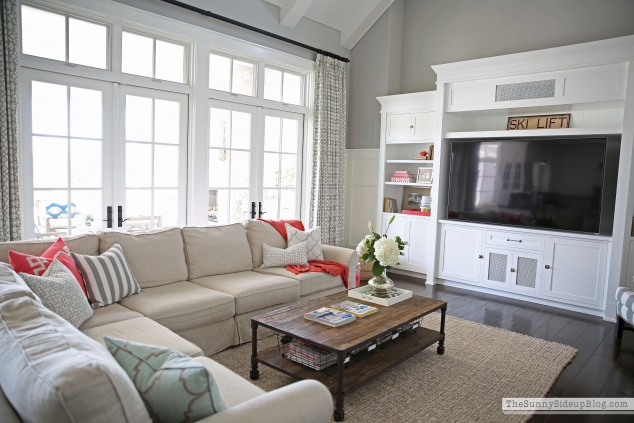 You can see some of our outdoor furniture making an appearance through the french doors.  Almost done with all we are doing this season in the yard.  YEA.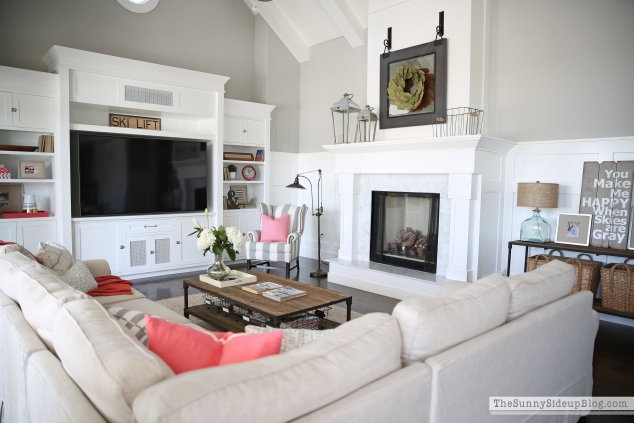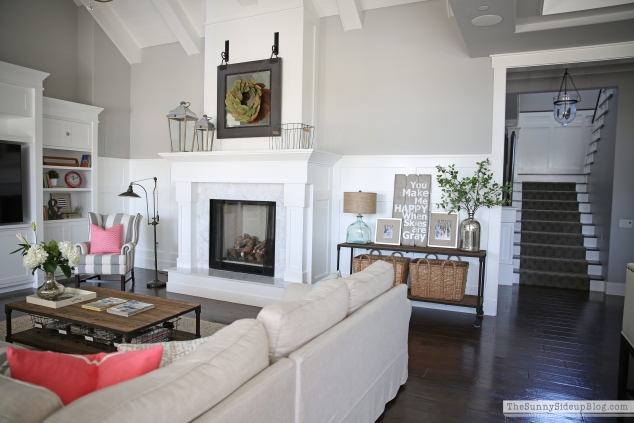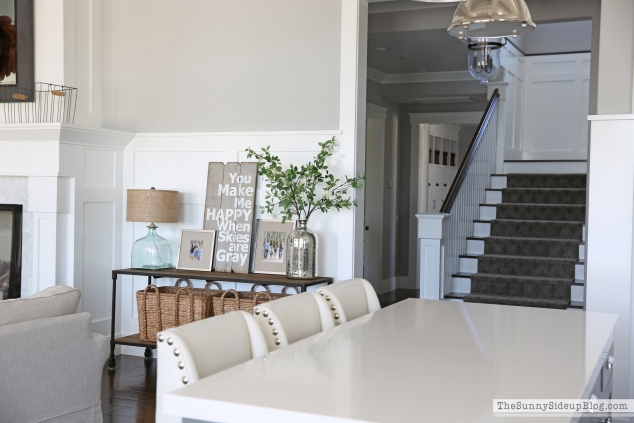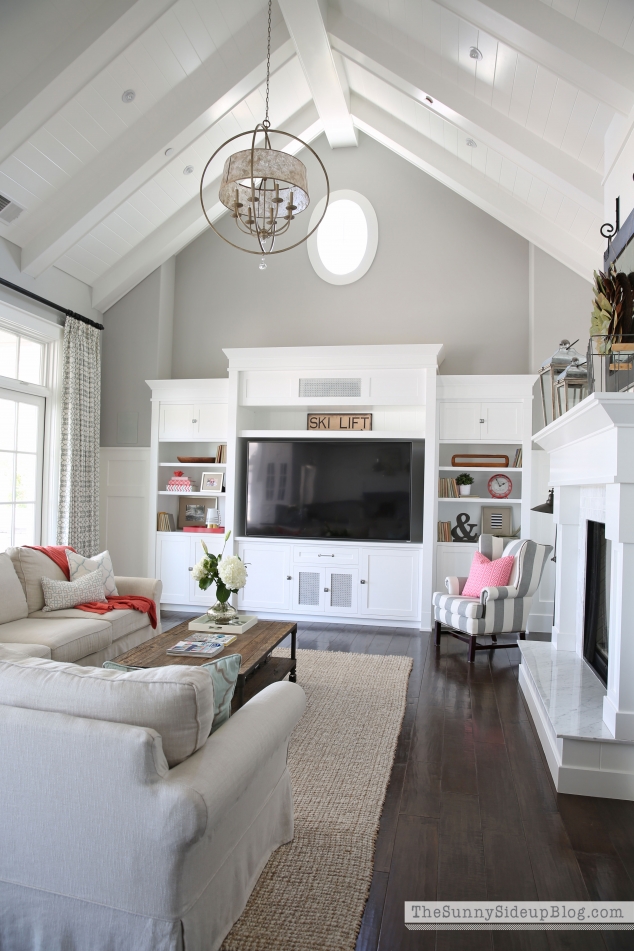 So that's it!  Our family room right now.  Well.  Right now fake snakes are living on my chair, half of the couch pillows are on the floor, there are puzzle pieces all over the fireplace hearth and my husband moved my beautiful hydrangeas on the rug so he can see the TV better.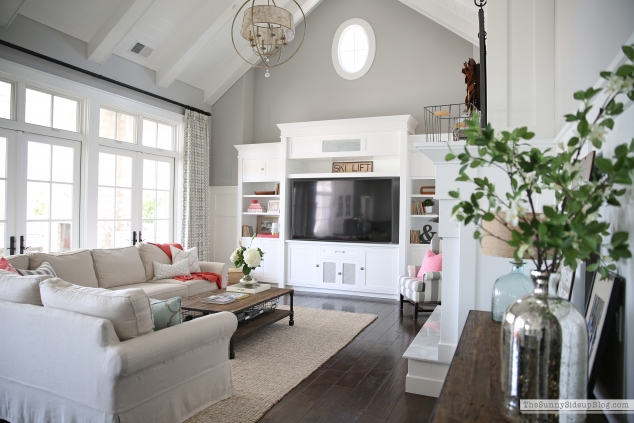 At least I've got pictures.  Proof it DID looked like this.
For a New York minute.
:)
Happy May everyone!
**For those of you who are new and popping in from Instagram hello and welcome!  Here is a list of sources:
Light is from Jeremiah by Craftmade
Console table and coffee table are the Dutch Industrial from Restoration Hardware
Rug is the Chunky Wool and Jute rug from Pottery Barn (couch, striped chair and floor lamp are also from Pottery Barn)
Grey paint is "Seattle" by Frazee and our white trim/cabinets are all "Aro-thane" white by Frazee
Lamp on my console table is the Apothecary glass Jug table lamp from Shades of Light
Frames are from Antique silver from West Elm
xoxo, Erin