Happy weekend everyone!  Anyone doing a little organizing?  I have several areas that have been driving me crazy!  I'm excited to tackle them.  It's always funny to me how I'll put off cleaning a space for so long and then when I finally just jump in and organize it, it takes hardly any time and makes such a difference.  Why do we put things off so long?  Sometimes just thinking about how we NEED to organize something takes more energy than actually diving in and doing it.  :)
Here are a few things we can tackle this week that don't take long at all!

Spend a few minutes organizing your purse.  Use small zippered pouches or accordion files to keep everything in place.  I go into more detail on this in my Top 3 things to keep organized post.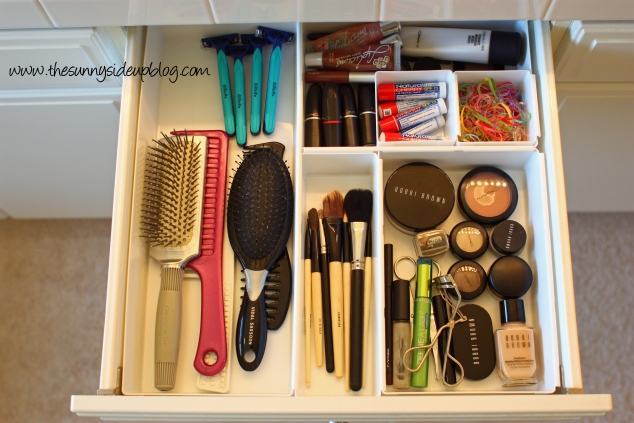 Spend a few minutes organizing your bathroom drawers.  These were drawers in my previous house and I still need to go through my bathroom drawers in our new house!  Hoping to get at least one or two of them cleaned out today.


Last but not least I'm tackling a few of my kitchen drawers/cupboards this weekend.  I was supposed to have my whole kitchen organized in the month of March.  Oops.  It's not.  But it will be!  I'm just going to work on one  drawer or cupboard a day until it's done.  Baby steps to an organized kitchen.
Hope this gives you a few ideas of what you can tackle in 15-20 minutes this weekend!  Happy organizing!
:)
xoxo, Erin