Sharing my bathroom drawers today! The master bathroom is one place that can get unorganized in a hurry, isn't it!? I've had my bathroom drawers organized the same way for the past ten years and I LOVE my system. Love it. Every once in a while I clean the drawers out and maybe move things around a bit, but the system stays the same! So I present to you my beloved system… just in case you want to make it your system too.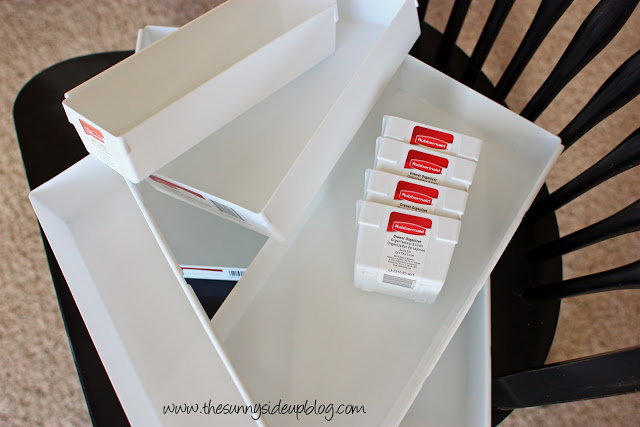 I use these Rubbermaid interlocking drawer organizers from The Container Store in all of my bathroom drawers. I always buy mine at The Container Store, but every once in a while I see them at Target. I love them for several reasons. I love that when they are put together they fill my drawers almost completely maximizing every ounce of space. I love the way they link together creating one complete unit full of lots of mini compartments. I love that they are cheap to buy so I can replace them if/when they start looking dirty. And I especially LOVE that I can create so many different configurations with them making them work for me and my specific needs. Want to see what I mean?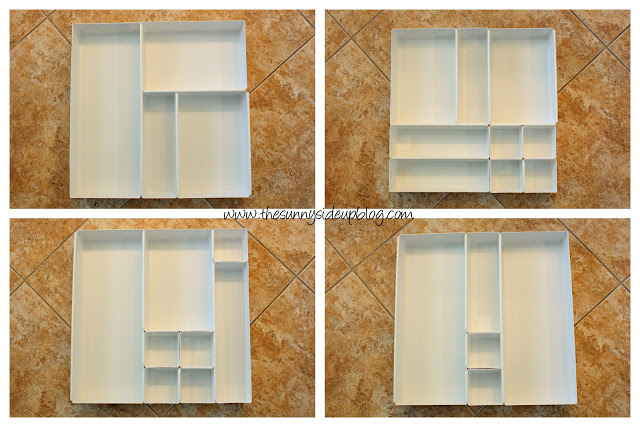 Here are just a few ways you can organize these fabulous compartments! If I didn't have three little people who constantly need my attention I could have created and photographed different configurations all. day. long. Aren't they fun!? Mix and match – match and mix. Everything links together. So many different sizes. So many ways to organize your things. I can't exactly explain the happiness I feel when I look at the picture above. Like everything is right with the world. :)
I keep our most used bathroom items in a cupboard on the wall (deodorant, hairspray, etc.), but everything else I use daily goes in my bathroom drawers. Here's how I have my organized configurations configurized. (I'm so happy about this post that I'm making up my own words. Although Kenny would tell you that I tend to make up my own words regardless of my mood.)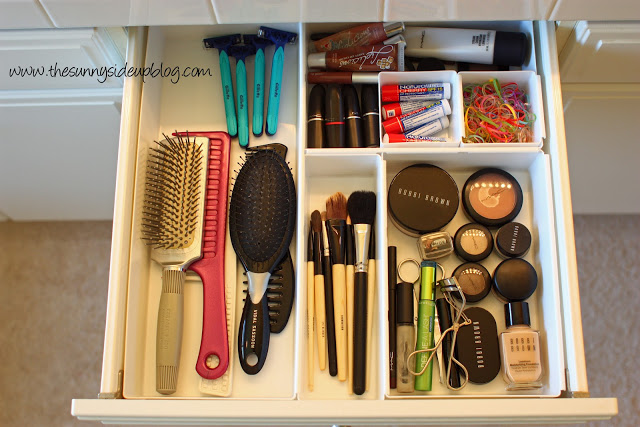 Top drawer is where I keep my make-up and hair brushes (nice and clean now!). Razors are in the back so that little fingers can't reach them.
I have two of the mini organizers inside of a larger organizer to separate the girls elastics (because half of the time I end up doing their hair in my bathroom) and my beloved cherry ice chap stick – which I can't live without and keep in stock at all times. I can't find it anywhere I regularly shop so my mom buys it for me in Utah. Every time she comes to visit she brings me some to replenish my stash. Love my mom. Love cherry ice chap stick.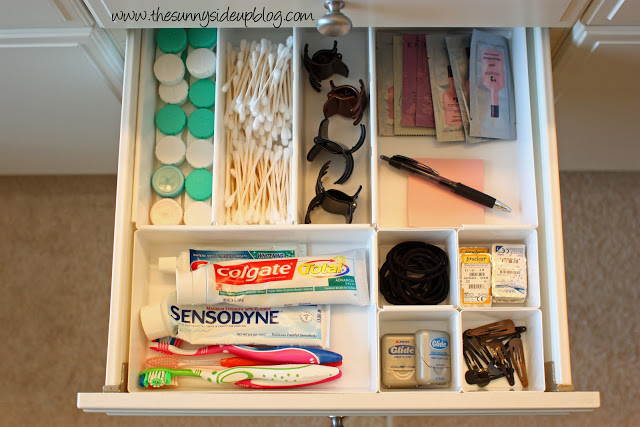 Second drawer holds other odds and ends. Toothbrushes, some hair accessories, Q tips, and shampoo samples (because I'm always trying to find my favorite). Yes I wear contacts and yes I realize that is an insane amount of extra contact containers. Ha! I get a new one every time I go to the eye doctor and I suppose I could get rid of a few of them. But I don't. Because I have room for them and I love the color green. I also keep a sticky pad and a pen in this drawer because when I'm taking off my make-up at night I ALWAYS think of something I need to remember to do the next morning. It's so handy having a notepad and pen near by to jot yourself a little note before bed.
For my third drawer I use two of the largest organizers. This drawer holds my headbands and is also a random catch all of for extra stuff.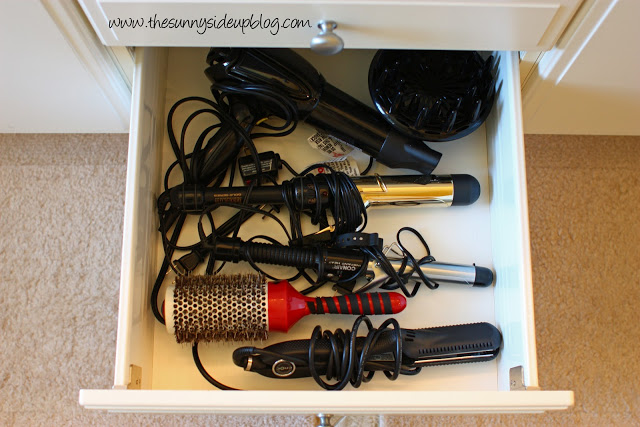 My fourth drawer contents tend to change. This is where I like to keep my curling irons and blow dryer. But when I have a child under age 3 in the house my fourth drawer looks like this…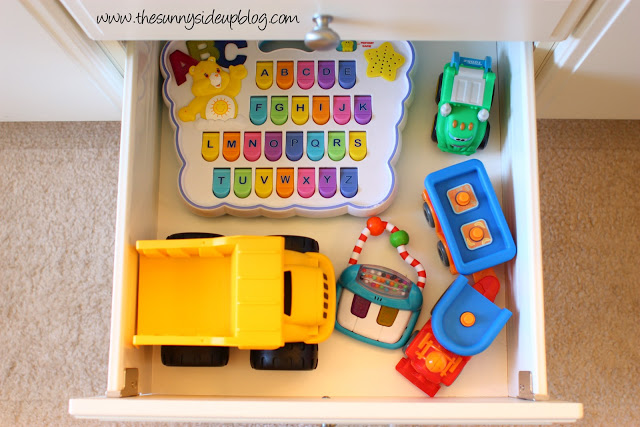 The idea is that while I'm getting ready in the morning Kole has his own stuff to play with in the bathroom (and curling irons are out of reach). Of course he'd much rather reach into my drawers to play. And who could blame him? Why play with a train when dental floss is so incredibly interesting?
:)
In the mood to organize your bathroom drawers? Just a few tips…
1- Dump out all of your drawers (I like to grab a towel or sheet to dump everything on).
2 – Get rid of anything you aren't using. (If it's a maybe I might use this someday item… toss it!)
3- Assess what you have and put things in categories.
4- Buy/find/create organizers that maximize your space and work for your needs.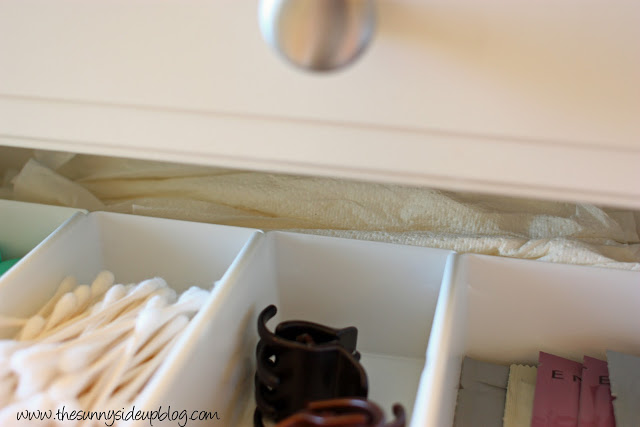 5- If your organizers don't fit your exact drawer dimensions and you want to keep them from sliding around in the drawer, use Velcro to hold them down OR stuff a few paper towels in the back of the drawer. Both methods have worked for me!
6- And if your organized drawers make you so happy that you want to take pictures of them to share with other people who love to organize as much as you do?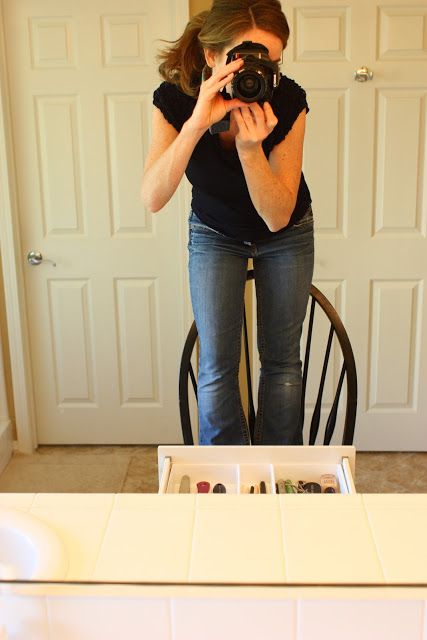 Then slap your hair back in a pony tail, stand on a chair (to get the best view possible), and have at it!
:)
Have a great week everyone!
p.s. You can see how I organize my girls' bathroom and hair accessories
here
.
xoxo, Erin