I love this time of year.  I got the kids off to school one morning a few days ago and was cleaning upstairs when I walked by one of our french doors and the morning light was streaming across our backyard.  It was such beautiful natural light!  I had to stop and take it all in.  And then take a picture.  :)  We are lucky that because of our weather we can really use our backyard all year long, but everything looks more beautiful in the Spring!  Our yard is still new so it's fun to see plants and flowers finally blooming.  It's still a work in progress and there is a lot I want to eventually do, but after living with such a small yard for so long in our previous house, having all of this space and grass for the kids to run and play on feels like a dream!  I'm going to do a post at some point with more details on our back yard because I get lots of questions about our trampoline, fire pit and bike trail so that will be coming soon!
We are finally getting ready to order outdoor furniture and I'm so excited!  It will be wonderful to have cozy seating areas and lounge chairs to sit on by the pool.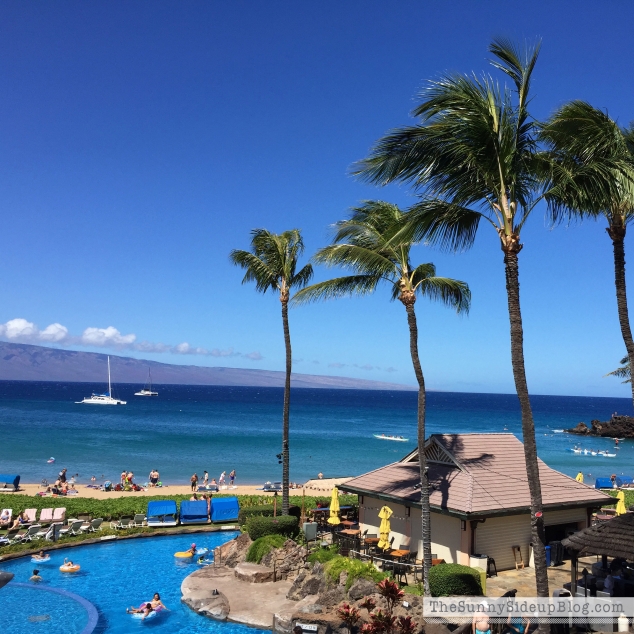 Every time we visit one of the Hawaiian islands my absolute favorite thing is the color of the ocean.  It is so BLUE.  And not just one shade of blue, but every shade of blue.  Navy and turquoise and teal and indigo…  It's just breathtaking and I could stare at it all day!


So when I came across these gorgeous outdoor pillows from Pottery Barn it was love at first sight!  If I can't be in Maui every day I'll just try to recreate the feeling as best as I can.  :)  Operation furnish the backyard is in full force!  I have the design figured out and most of the furniture ordered.  I'm especially excited to be able to entertain more.  We've had a few parties in our yard, but with nothing other than a handful of folding chairs to sit on I haven't been that motivated to have friends over.  Add that to my not so hot cooking skills and I haven't felt like I'd make the best hostess.  ;)  But with the yard finally decorated I'll be ready!  It will be so cute no one will care about the lousy food!
At least that's the plan.  :)


Couple more pics I snapped a few days ago in the yard.  El drives me crazy doing her gymnastics all over the house.  She is getting really good.  And it is seriously scaring me.  The other night she was doing back handsprings down our hallway and I felt my heart leap out of my chest!  I feel like I'm just holding my breath in anticipation of a trip to the emergency room with this girl!  Thank goodness I can send her to the trampoline or our makeshift gym to practice where it's at least a little bit safer.  Moms of teens – is this what it feels like when your child starts driving?  Or worse!?  I don't think I'm cut out for this stuff.


Of course after El puts on a show my little buddy has to show off with a few of his tricks.


Ta-da!  He's clutching to a map of Disneyland.  His beloved "treasure map" of course.  :)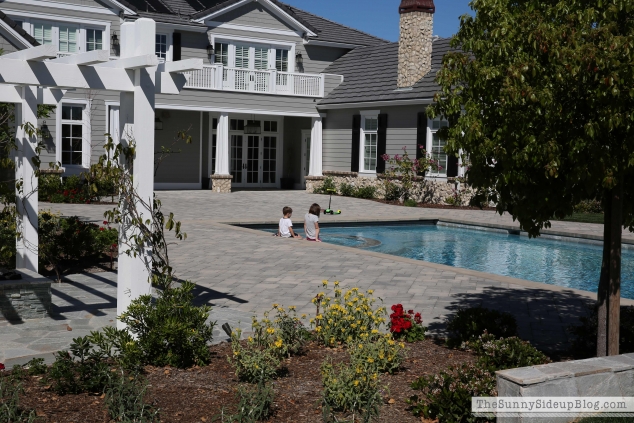 Two of my three musketeers dipping their feet in the pool.  :)


And since I'm rambling about my lousy cooking skills (again), emergency room scares, and treasure maps and totally NOT sticking to the point of this post (what was the point of this post?) I might as well show you my latest progress in the living room.  We have a table!  Another one!  And that's it.  Ha!  My end table came and we have no couch to set it at the end of.  Couch is backordered another month.  :(  Man I'm having a hard time being patient!  Everything for this room is picked out and ordered.  Major accomplishment for me since I'm such a slow decorator.  Now I just want to snap my fingers and have it all here!  I'll have to be patient I guess.
And brush up on my pizza ordering cooking skills in the meantime.
:)
xoxo, Erin