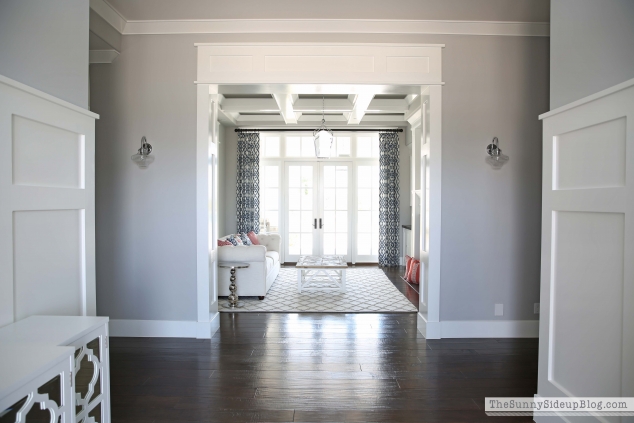 Hi friends!  Sorry for the crickets chirping over here on the blog this week.  It has been a busy one for us!  Summer is winding down and we are making the most of it.  Lots to catch up on once I get my kiddos back in school.  I have loved having them home more with me this summer, but I get nothing done!  Nothing with a capital N!  :)  It will be nice to have some routine back in our days.  Maybe then I'll be able to knock out more than one post a week.  ;)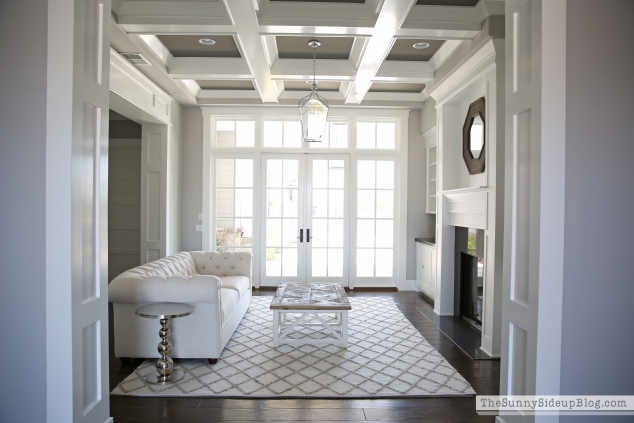 Sharing the latest progress in our formal living room!  When I last shared pics of this space we had the rug, couch, tables and mirror.  A nice neutral palatte to play with.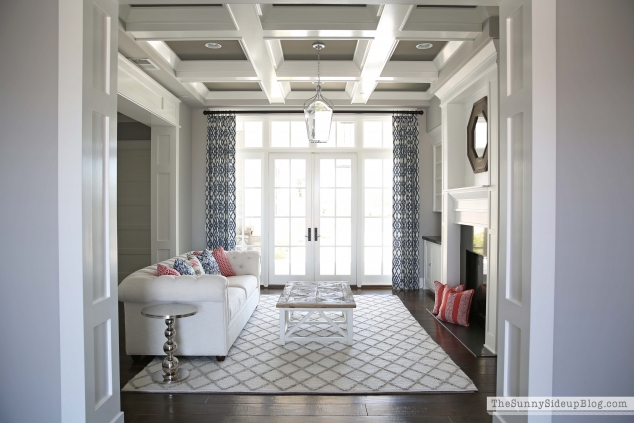 Now we have curtains!  And pillows!  A bit of life has been added to this space!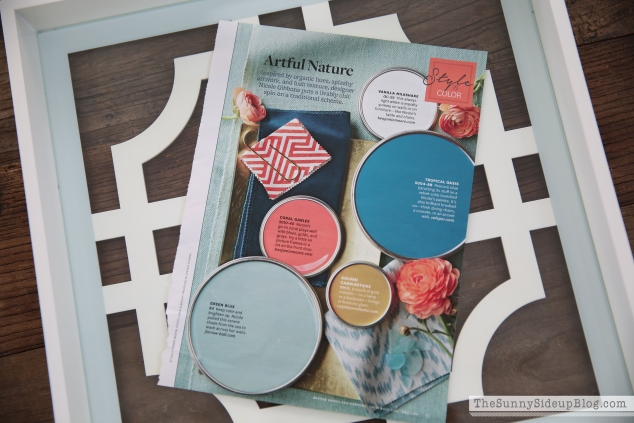 You might remember when I decided on the color scheme for this room.  I tore this page out of a magazine years ago and have always loved the navy, teal, white and coral together.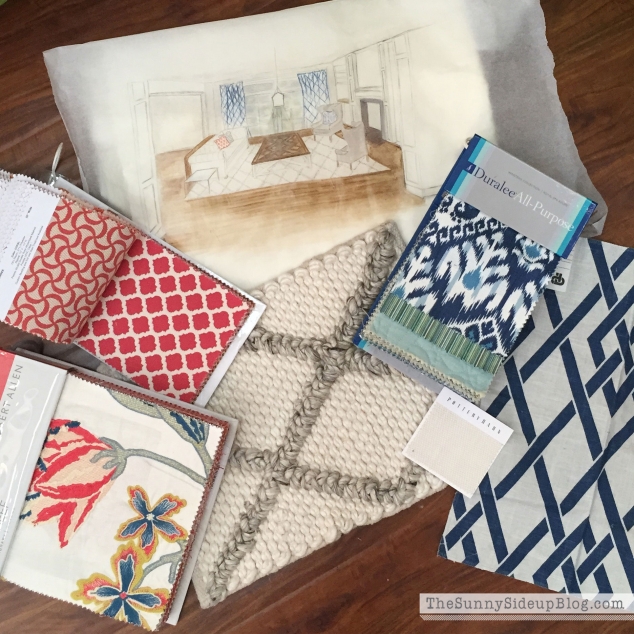 These were the fabrics I selected for the drapes and pillows last Spring.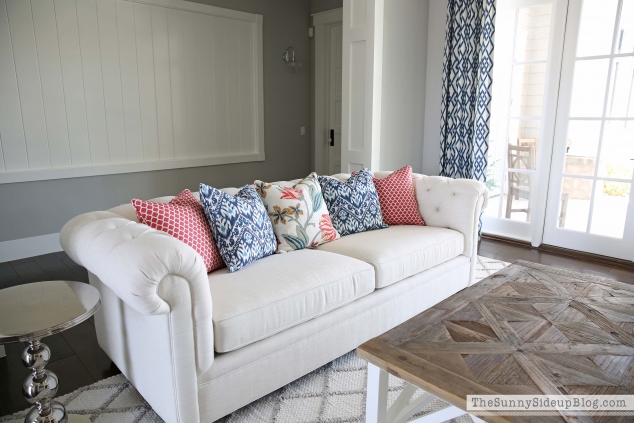 So fun finally seeing them all sitting on my couch!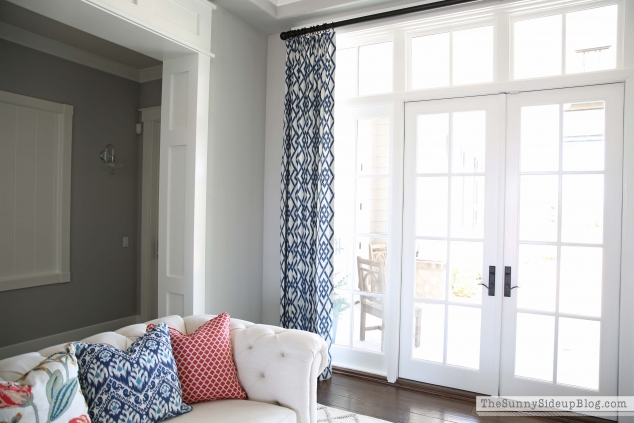 I've been into navy lately and love this diamond geometric pattern on my drapes.  You can't tell in these pictures, but the navy curtains pick up the navy in all of the pillows in our backyard that you can see through these french doors.  Which reminds me that I still need to share my yard pics!  I took them months ago.  I shared our outdoor pergola and fire pit and forgot to share the rest!  Too busy corralling kids in the yard to edit pictures of it I guess.  :)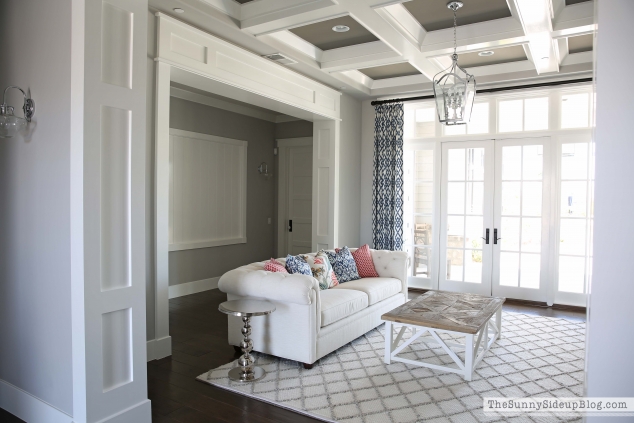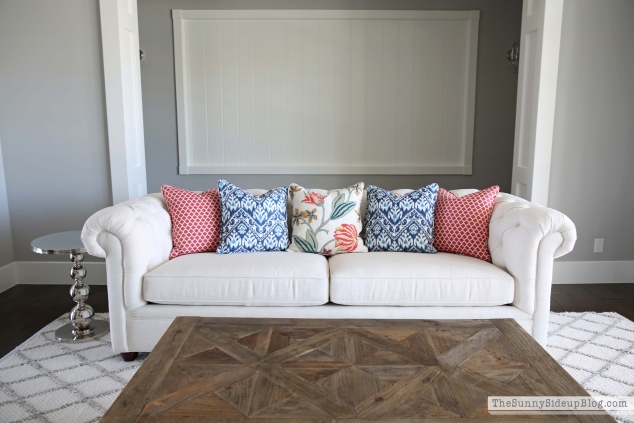 I'm excited to start accessorizing now that we have the basics in.  I'll try to pick up some of these colors in a gallery wall on that planked wall behind the couch as soon as I get brave enough to start hammering holes!


To mix it up I decided to fill the entire back of the couch with pillows instead of just one or two on each end.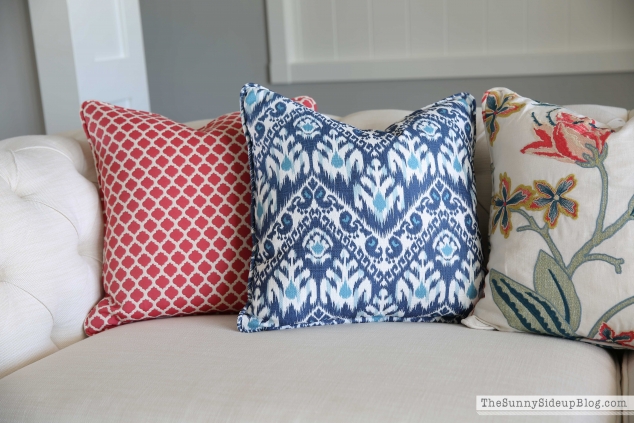 The look is a bit busier than what I normally go for, but because everything else is so neutral I think it works!


This textured flower print is my favorite!  I ordered all of these fabrics from my friend/designer and had the pillows custom made.  Shoot me an e-mail if you want her contact info!  She is great to work with and I'm so glad I had her help putting these fabrics together.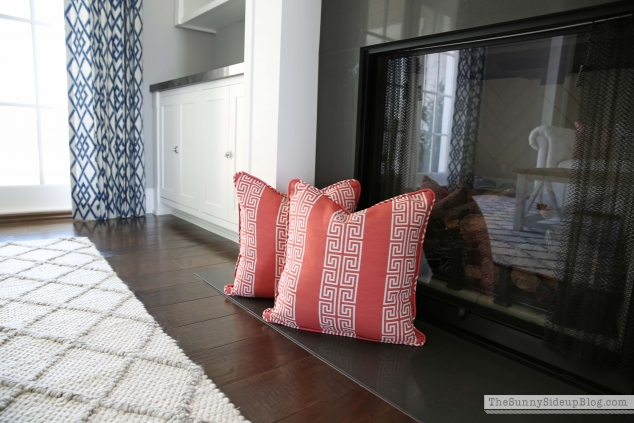 I was hoping to have the chairs I ordered a DECADE ago by now, but they are still on backorder.  I'm so patient, can you tell?  :)  So for now my coral Greek Key pillows are hanging out by the fireplace.  They look lonely don't you think?  Hoping the chairs come soon!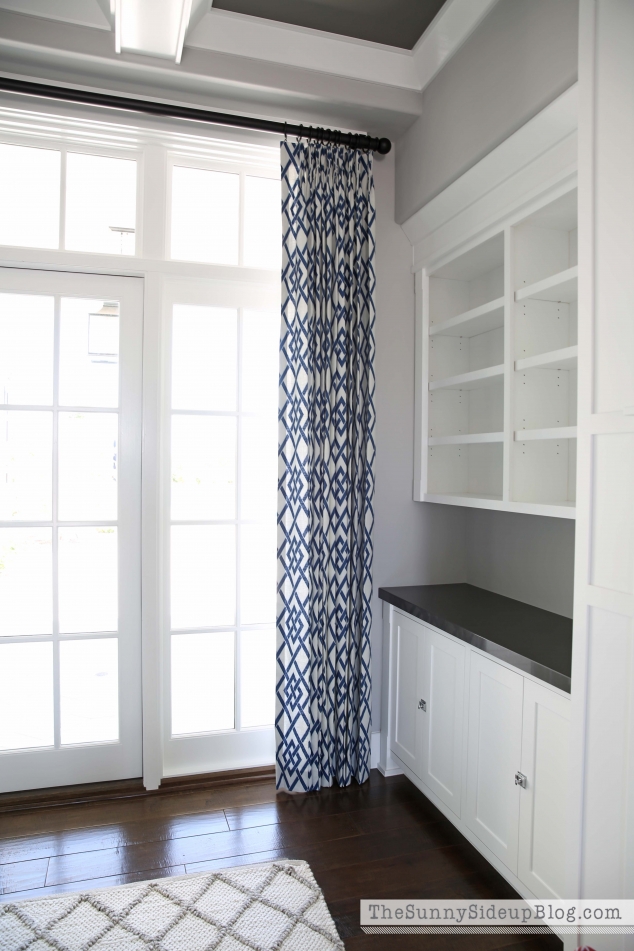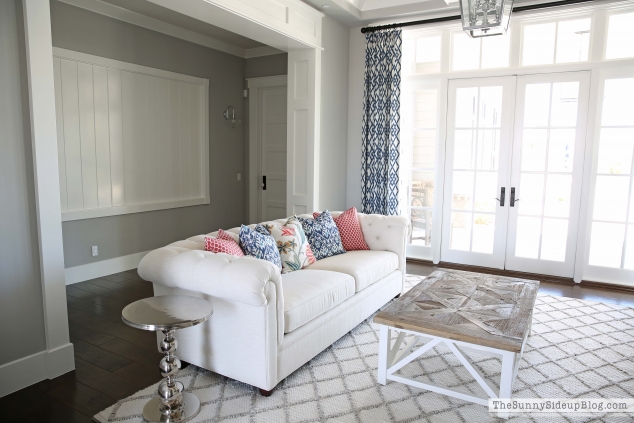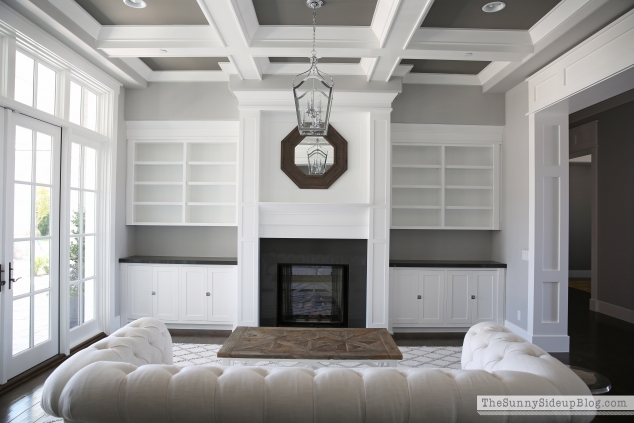 My book cases still look completely empty like this and I have been itching to style them!  Project #1 of 3,494 once the kids are back in school.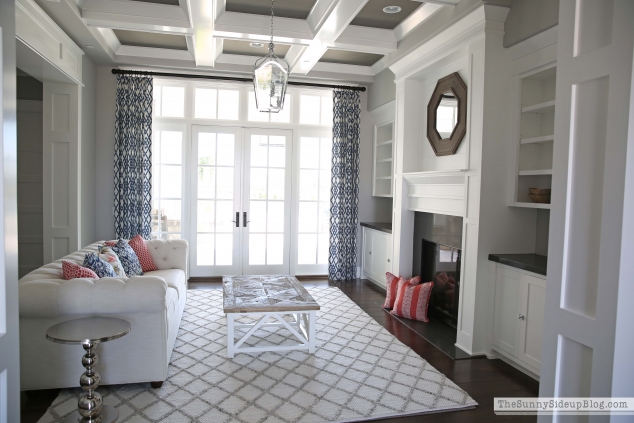 There's still a lot to do in this space, but for now I'm just enjoying the fact that we have furniture in here at all!  It's starting to look like a real room.  Even my kids (who were so sad to lose their ice skating, dance party, gymnastic arena) like the furniture.  The other night I went to check on my 5 year old in bed and he was gone!  Found him curled up on this couch snuggled in all the new pillows.  Seems we break things in pretty quickly around here.
:)
Enjoy your weekend everyone!
p.s.  If I ever go dark on the blog you can still find me on Instagram and Facebook!  I share updates there daily.  So nice to have a way to still connect with so many of you when I don't have time for a blog post.  You can also subscribe to get notified by e-mail each time I post (just enter your e-mail address on my sidebar).  That way you aren't popping over too often to hear the crickets.  Not that the crickets and I mind.. or that they'll be here for long.. but you know.
Just in case.
;)
xoxo, Erin