Friends.. this post has been a long time coming!  I get questions daily (lots of them!) about who to contact about the custom items in my home.  So in an effort to make things easier for all of us, I'd like to introduce you to my close friend (and designer) Tritia!  Which sounds like "Trisha" and I tell you all that because when I first saw how she spells her name I wanted to pronounce it differently. :)  When my husband and I were nearing the end of our building process I was struggling with the paint color in El's room.  Struggling because she wanted to paint it purple and I didn't.. ha! ;)  Honestly I was just so burned out on making decisions in general at that point.  I mentioned to a friend that I was having a hard time finding a good purple for El's room.  My friend had recently bought some custom items through a designer named Tritia (who specialized in kids' spaces) and gave me her store address and information and suggested stoping by to see if she had any paint suggestions.  I went into Tritia's store one afternoon with my hair pulled back, no make-up on, an "I haven't slept in weeks" look written all over my face and a toddler on my hip who was having a complete meltdown.  We clicked instantly.. and when I say clicked I mean before I left her store we were sharing stories about our kids and laughing and crying together like we had been friends for years!  (We both laugh now about that day we met!  She is a mom too and had toddlers who also had complete meltdowns earlier that week.)  We've been close friends ever since, text and talk all the time and are decorating partners in crime. :)
Tritia's assistant snapped these pics of us from a "meeting" we had last week.  I use the term meeting loosely because whenever we get together we honestly just spend most of the time talking and catching up.
And laughing.  We laugh A LOT when we are together.  This picture made me laugh!  It's so us.  Don't you love friends who you just laugh with?  Tritia is one of those friends. :)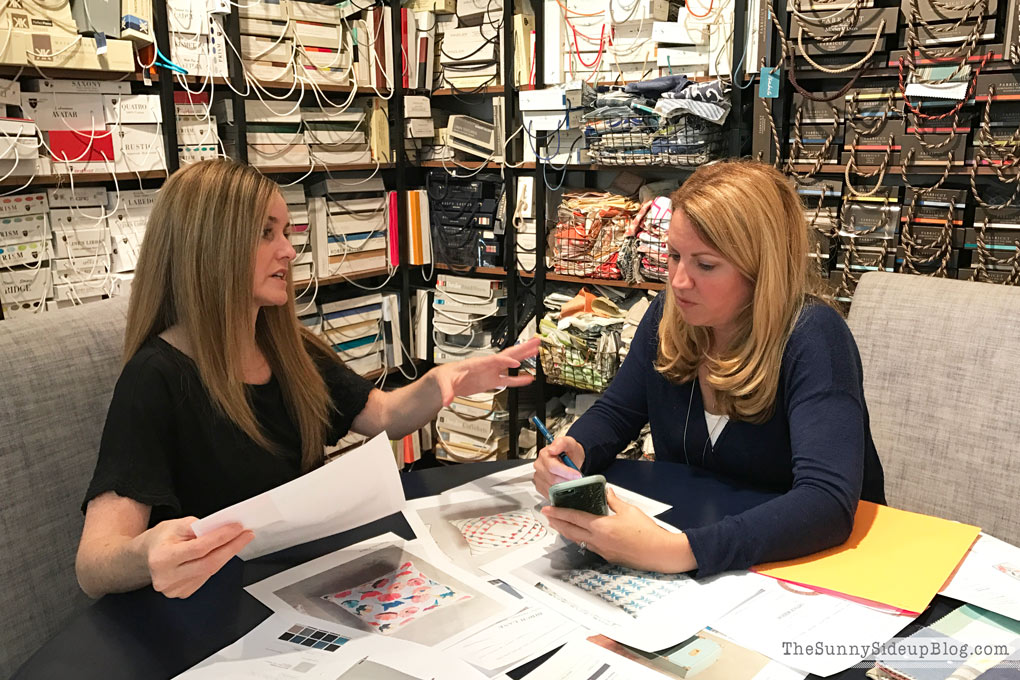 At some point after all of the catching up and talking and laughing, we actually get to work.  Most of Tritia's clients hire her to completely design a space for them on her own from start to finish.  I am a different type of client.  :)  I always know the direction I'm heading in a space, the look I want and I usually have several items picked out.  Tritia has helped me find certain items I'm looking for, bring things together in certain rooms and I have ordered LOTS of custom items through her.  Look at all of those fabrics behind us!  Options galore.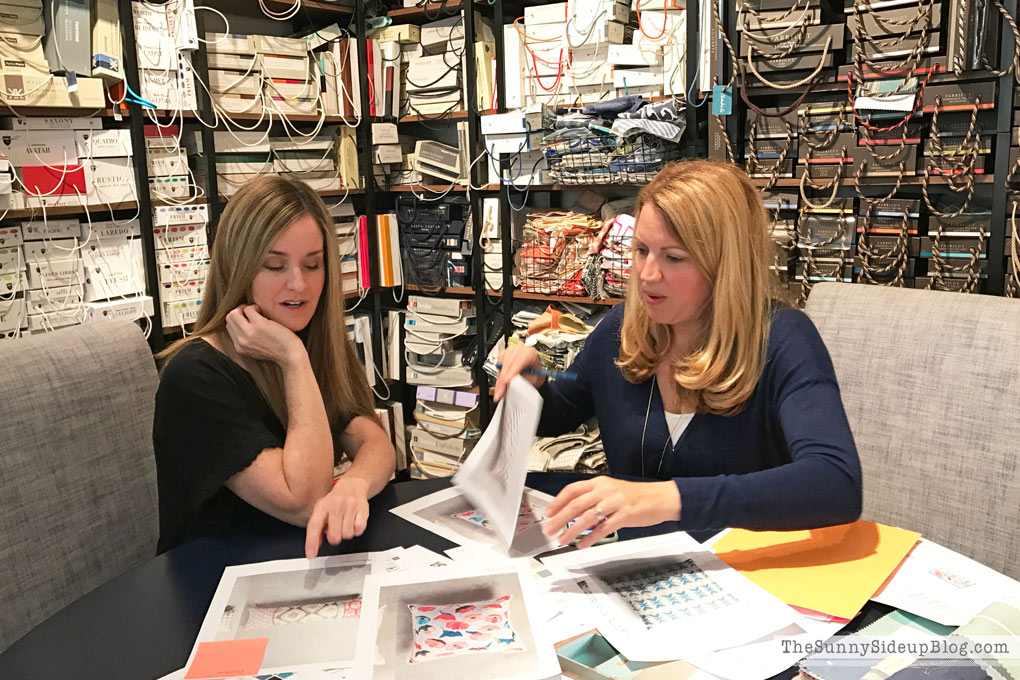 She has helped me with so many random things over the past few years!  She always has great ideas and suggestions and we love bouncing ideas off of each other and talking design.  Two heads are always better than one!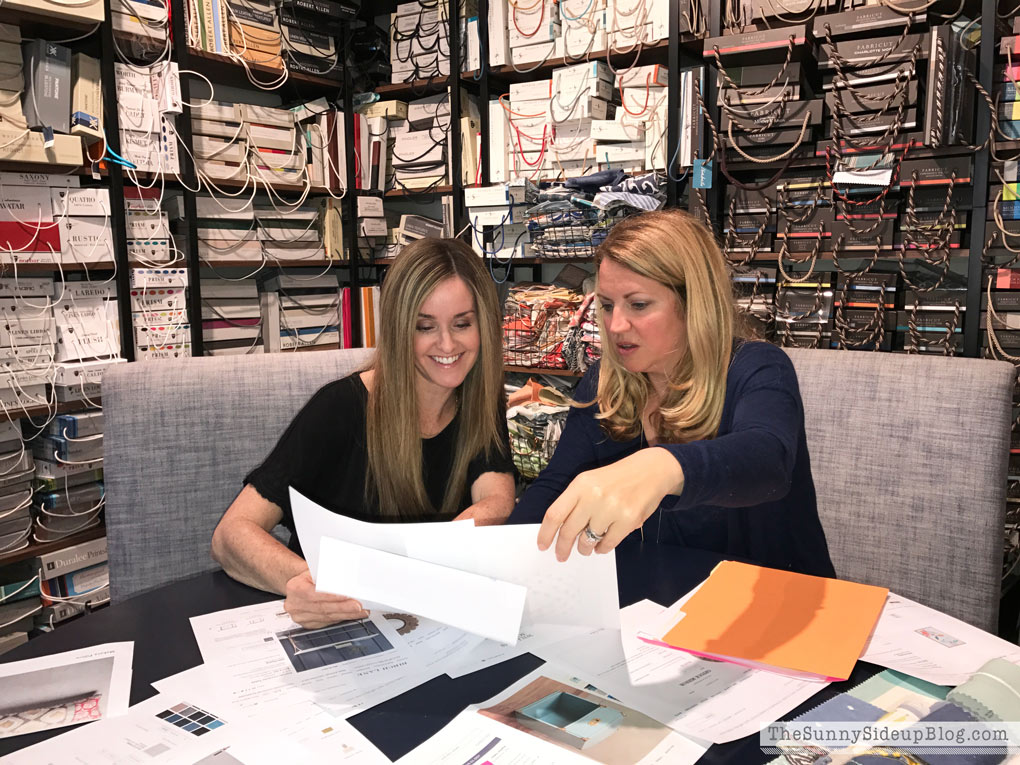 These are the custom items I've ordered through Tritia..  
My girls' custom headboards and pillows.. (This pic is from Addison's room.. I still need to share pics of El's room!)
My kitchen barstools.
My dining room bench and pillows.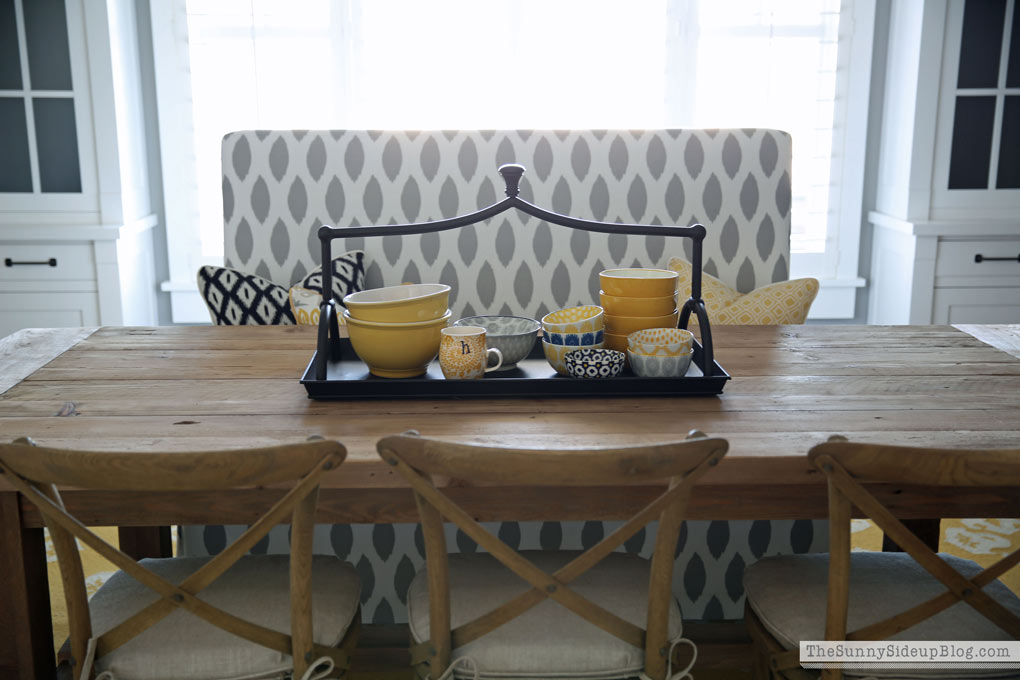 My powder bathroom wallpaper.  (This wallpaper was love at first sight and I'm still crazy about it!)
My flowers change but the wallpaper stays. :)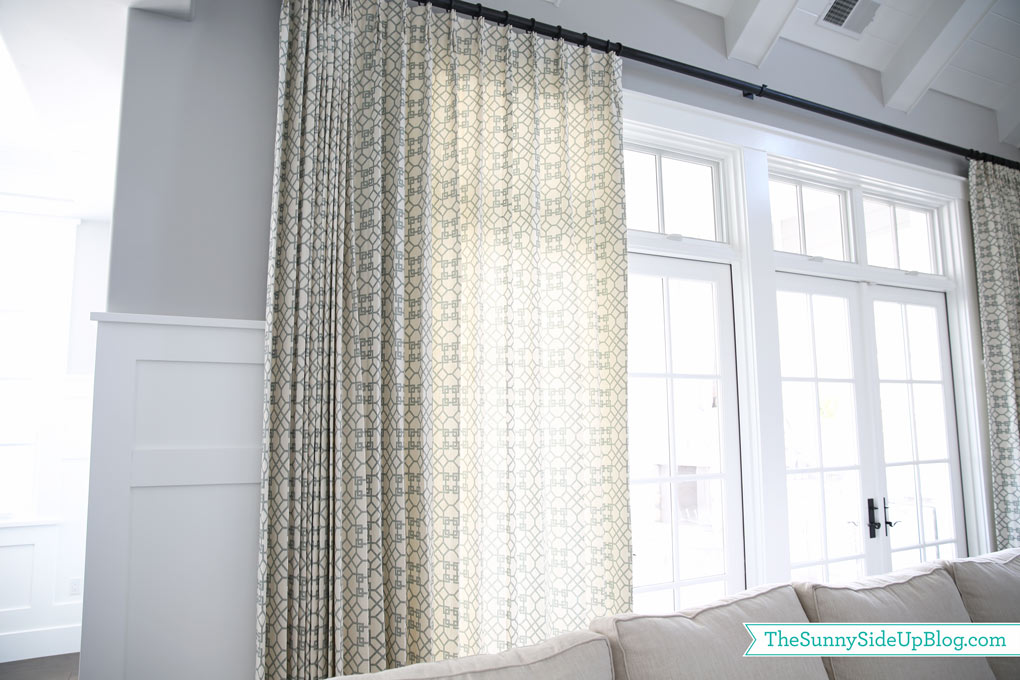 All of my custom drapes and rods.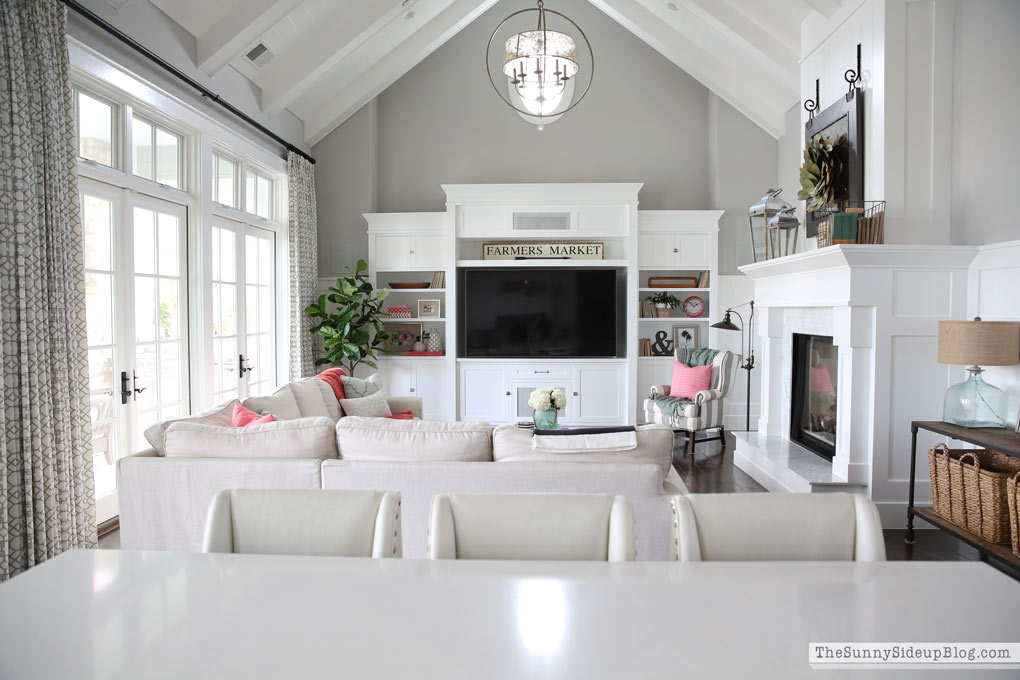 Family room drapes.
And my living room drapes.
Tritia has so many fabrics to choose from!  These are the custom fabrics I chose for my formal living room drapes and pillows.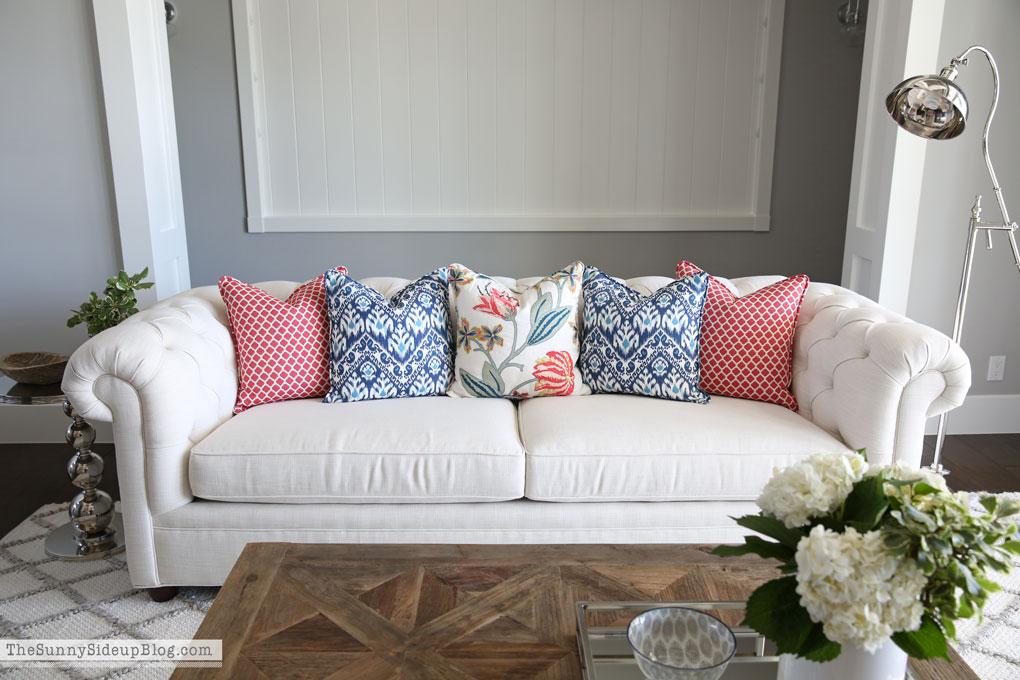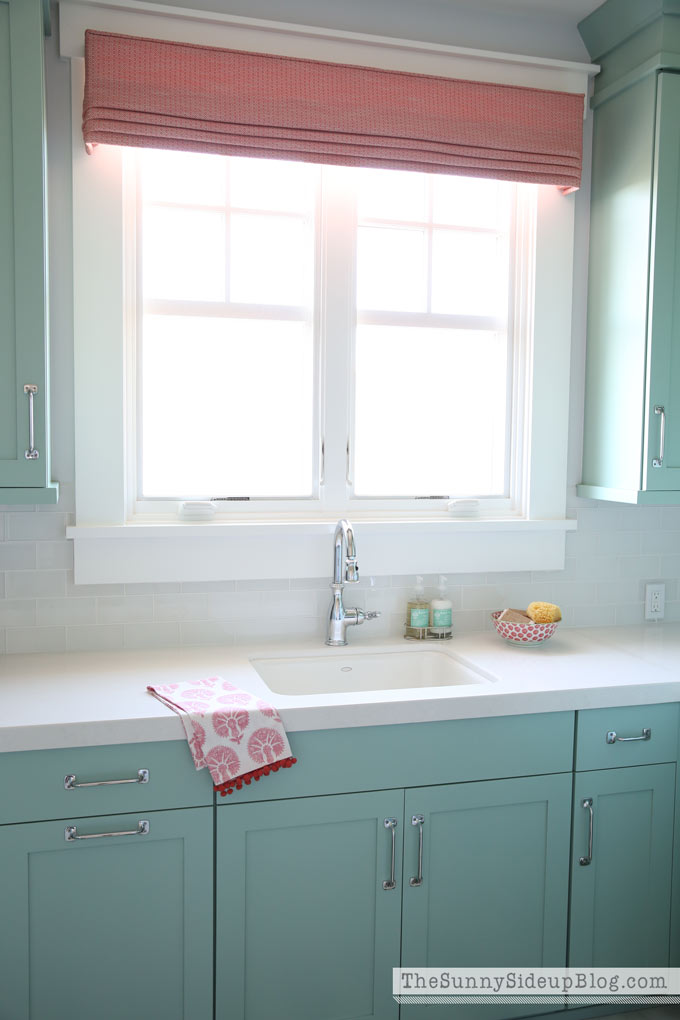 I also chose the coral fabric for my laundry room window valence and had that made through Tritia.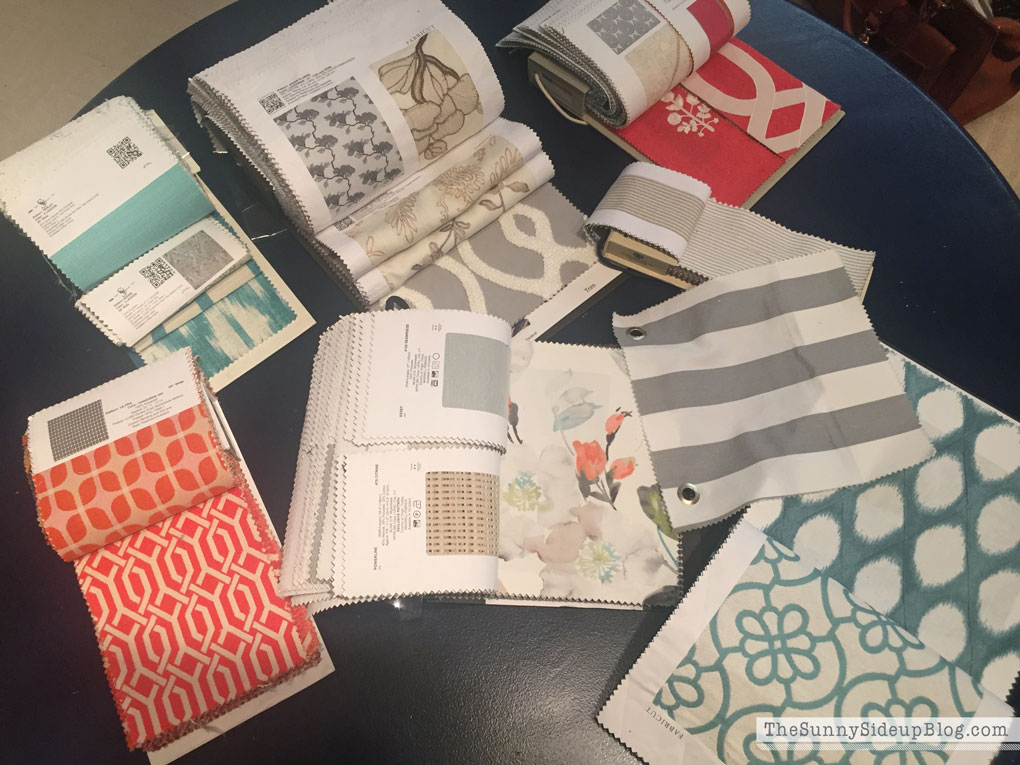 These are some of the fabrics I chose for my master bedroom pillows and drapes.  Coming soon. :)
If you need a designer or would like to order something I have in my house OR choose your own custom items, I can't recommend Tritia enough!  She is so great to work with and can help you on a large or small scale.  For example, you could even hire her just to help you find a new coffee table that works with the rest of your room design and is the right size.  Or to send you different furniture/fabric options for a room you're putting together from scratch.  If you want something specific that I have in my house, just tell her the room it's in and what it looks like and she'll know exactly what you're talking about.
Also make sure you tell her that I sent you!  She will take good care of you. :)
Tritia's e-mail: tritia@beachbungalowdesigns.com
I hope this is helpful for those of you who have asked or wondered about the custom items in my home!  To those of you who have ordered things through her already I'd love to see pictures!  :)
Enjoy your day friends!
xoxo, Erin