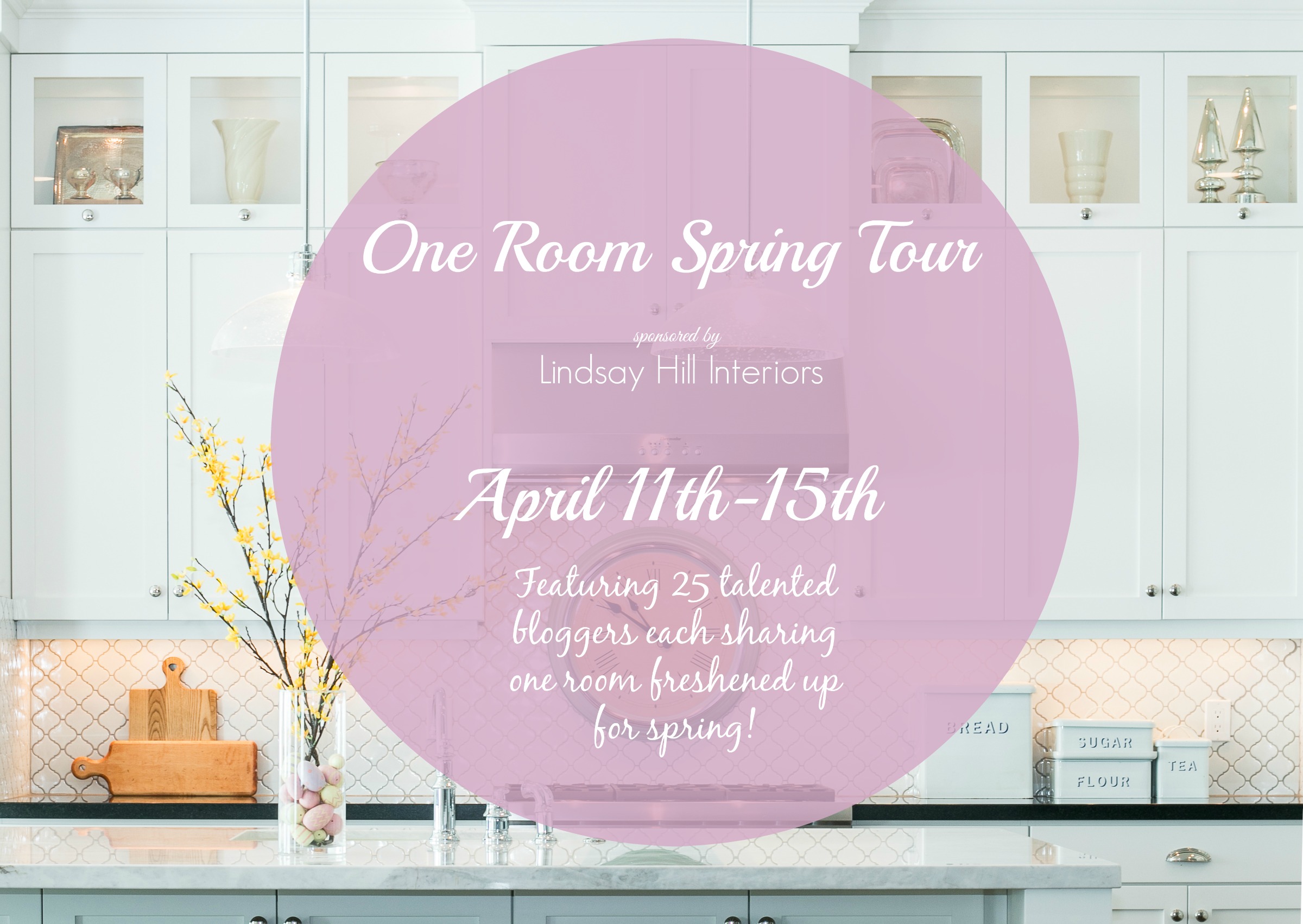 Hi friends!  Back from Paris, France.  We had an amazing vacation!  I'll fill you in later because today I'm joining 24 talented bloggers in a One Room Spring Tour!  My sweet friend Kathleen from Lindsay Hill Interiors invited me to join the tour (you can head to her blog to see the tour from the beginning).  Every day 5 bloggers are sharing a different area of their home decorated for Spring.  So much inspiration!  Today is all about living rooms.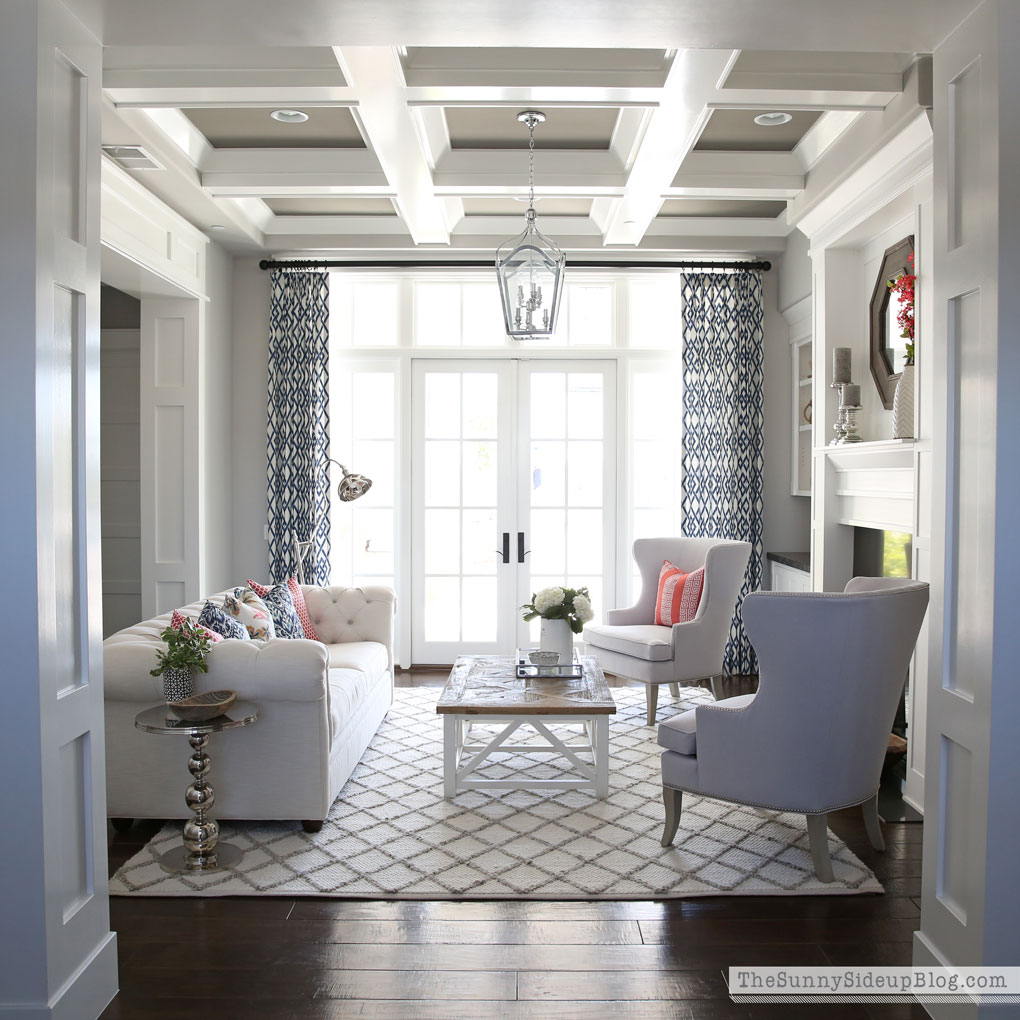 The last time I shared pictures of my formal living room was in December decorated for Christmas.  We are due for an update!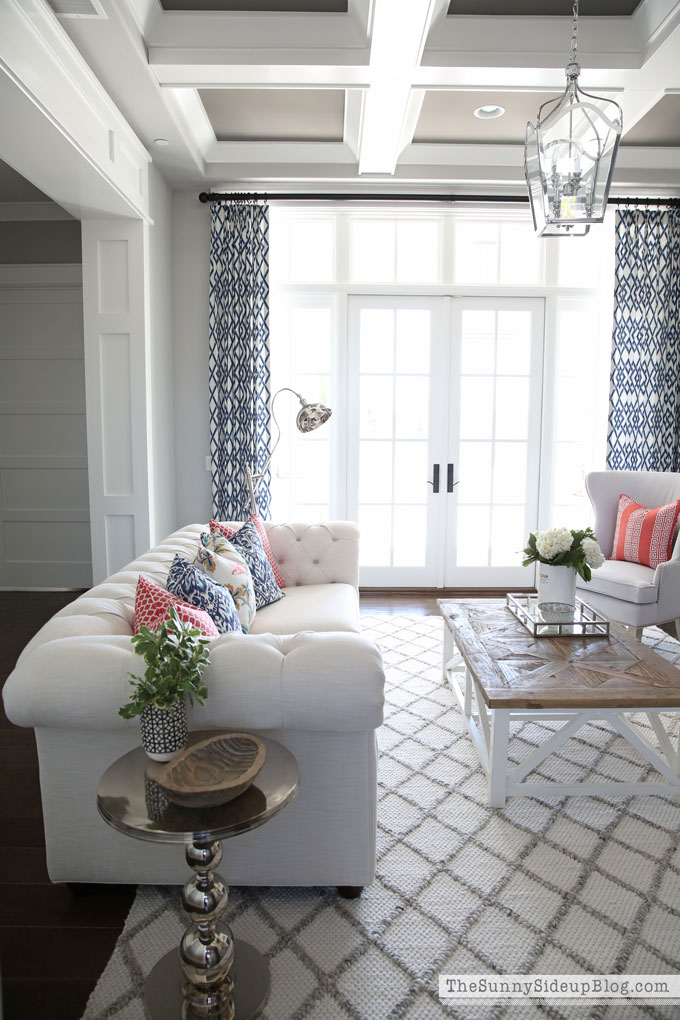 To be honest, this room isn't finished.  Maybe it never will be. :)  But I planned to have more decorated for this Spring tour.  Like something in that wooden bowl..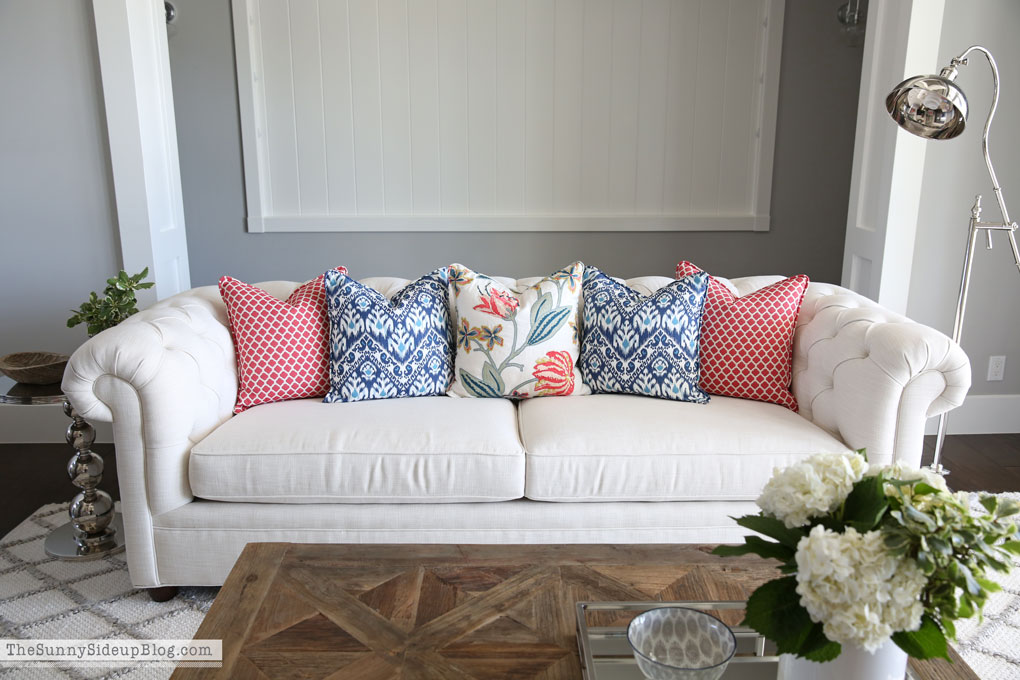 and something on my planked wall behind the couch (finally took my Christmas cards down!).  And a lot more somethings throughout the room.  I almost backed out of the tour because my living room just isn't "done" and exactly how I want it to look.  And then I thought .. how silly.  Rooms take time to decorate.  Especially if they are a true reflection of you and things that you love.  So today I'm sharing where I'm at right now.  It's an "in progress" room but the process is important…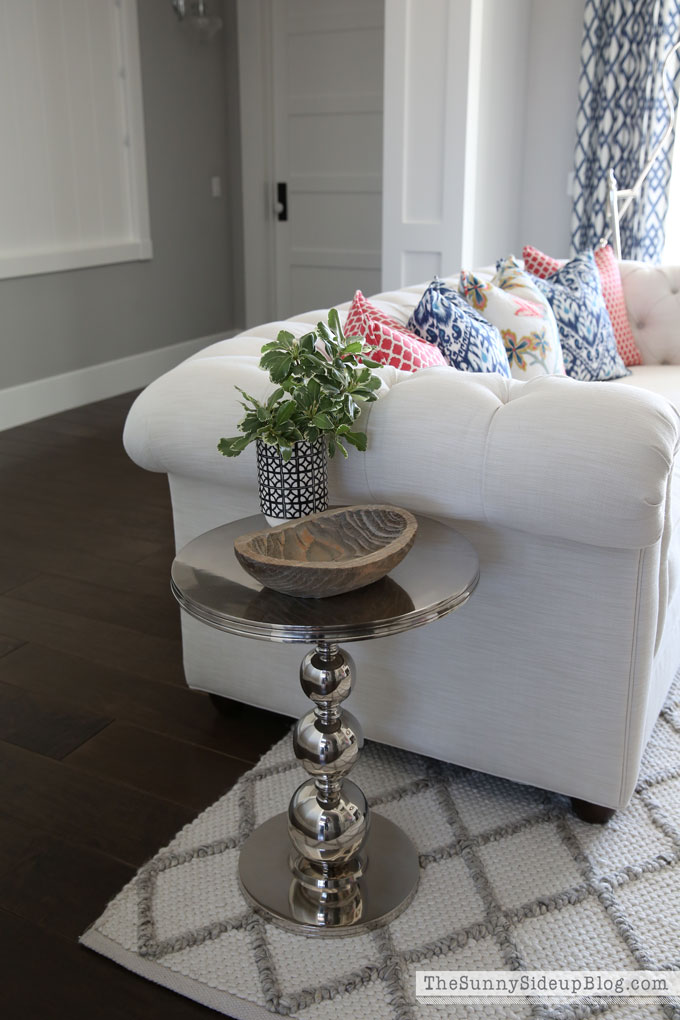 so moving on with my empty bowl. :)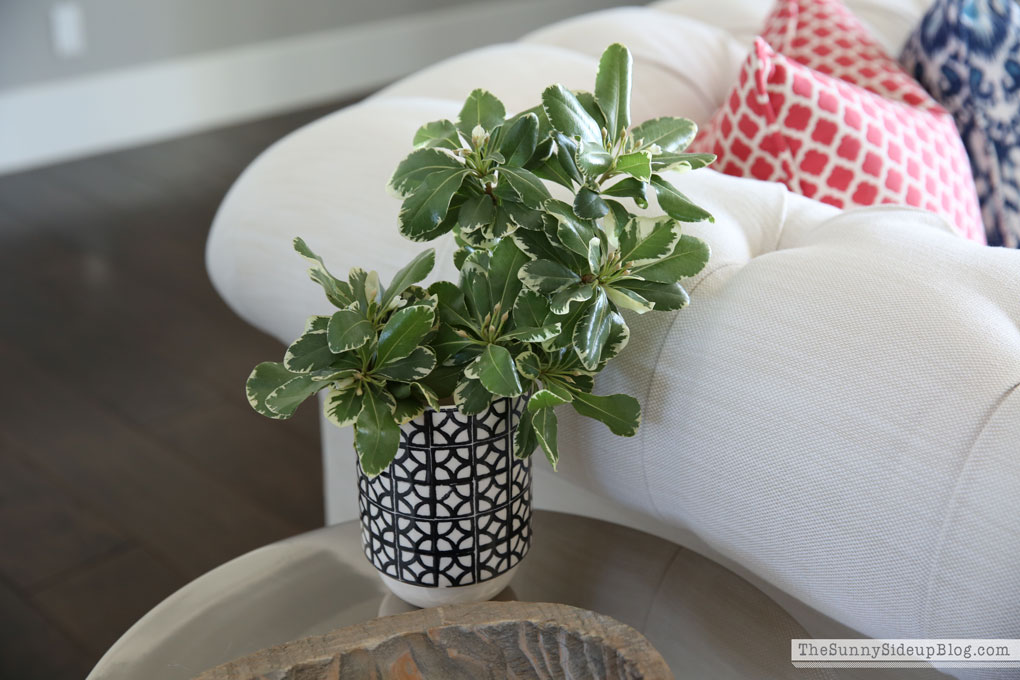 I did add some greenery to my table.  An easy way to bring Spring inside!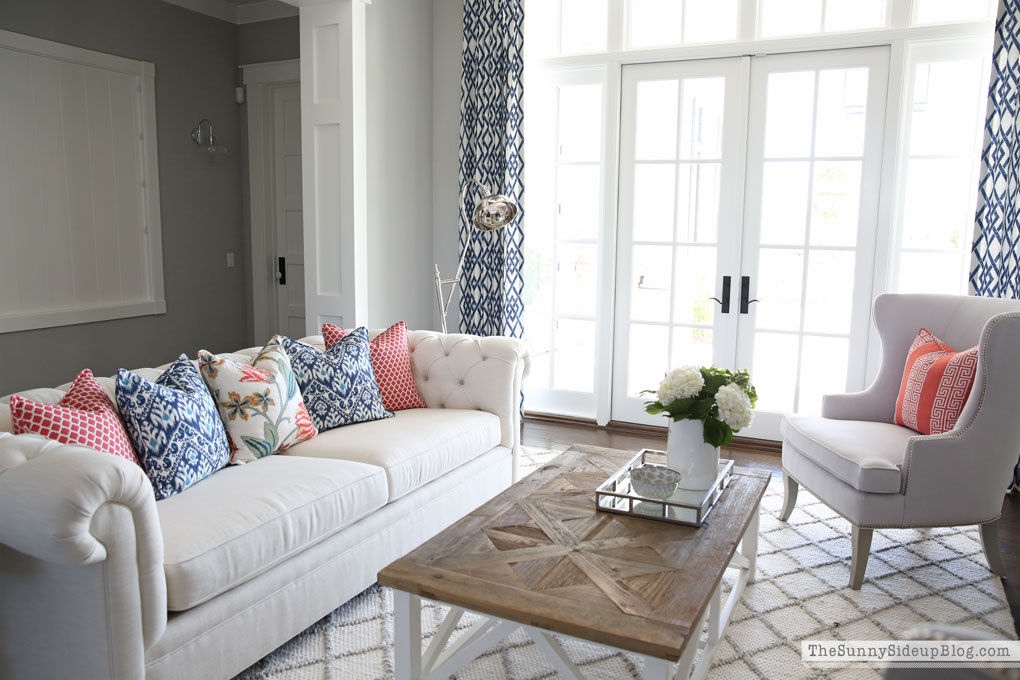 Coral has become one of my favorite colors to decorate with.  It's a great Spring/Summer color and adds so much life to a space even in small doses.  A few pillows or a throw.  It doesn't take much of this beloved color to bring Spring into a room.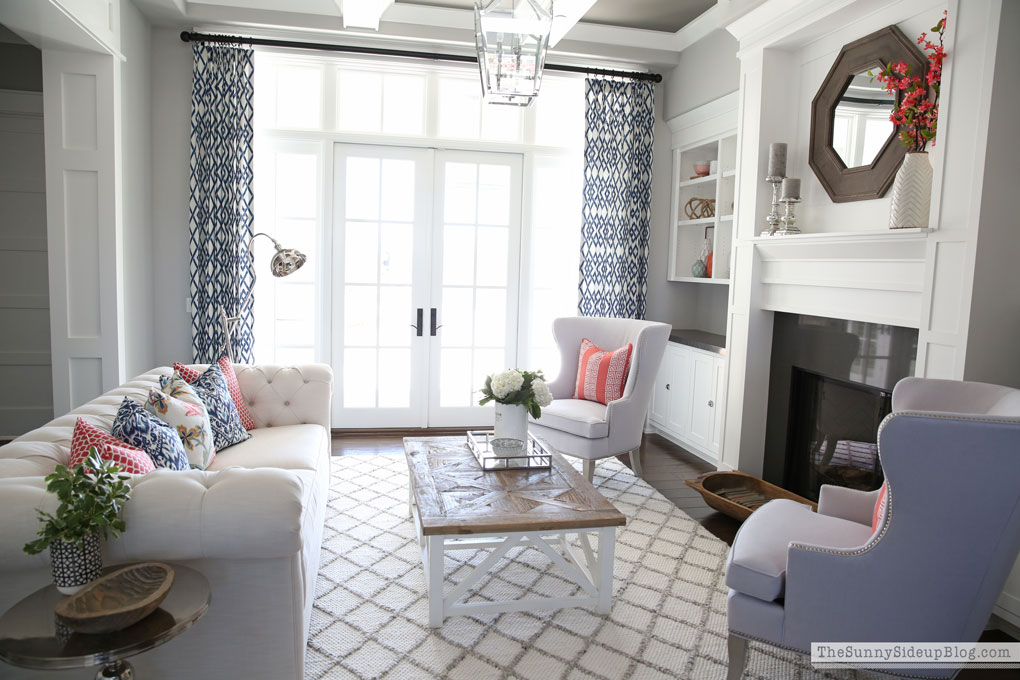 My lamp is a new addition.  I actually bought if for my bedroom but I like it in this room too.  It may need a friend!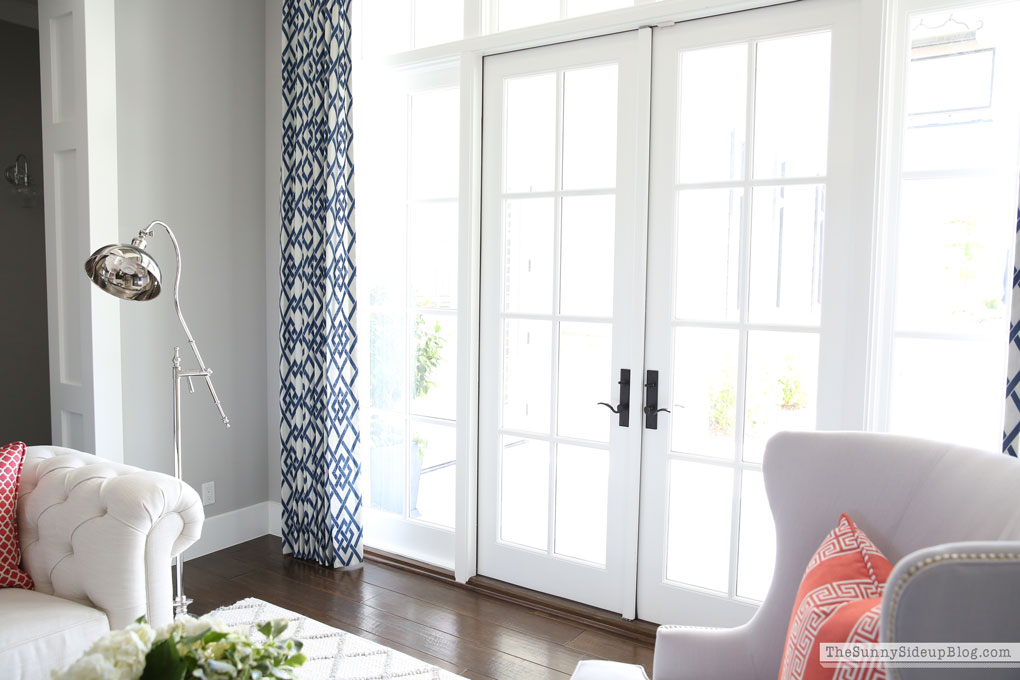 Hello sunshine!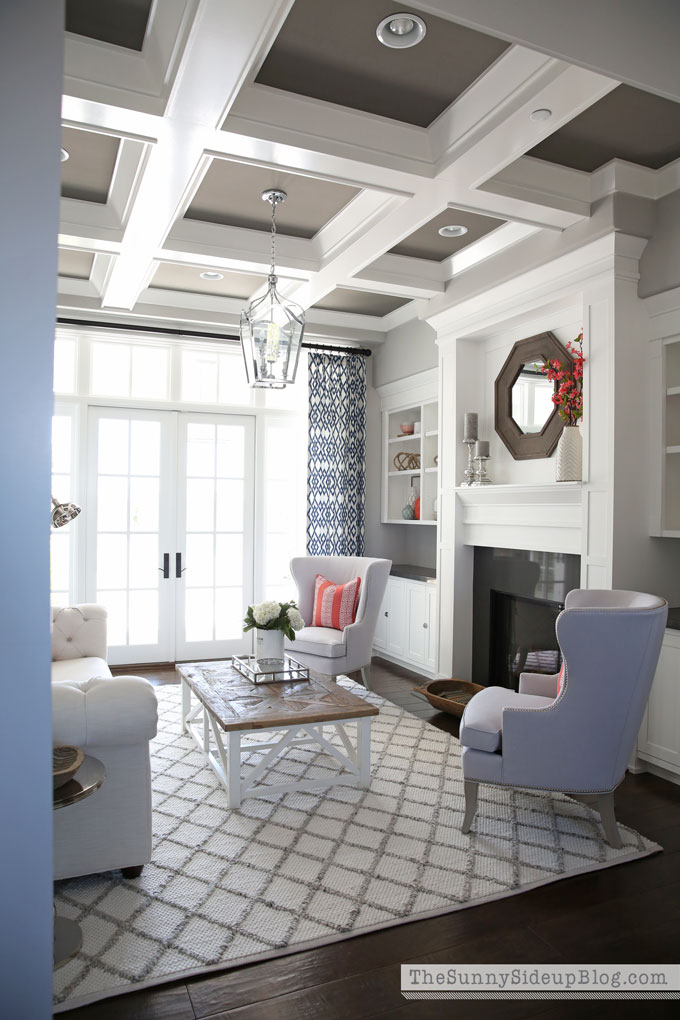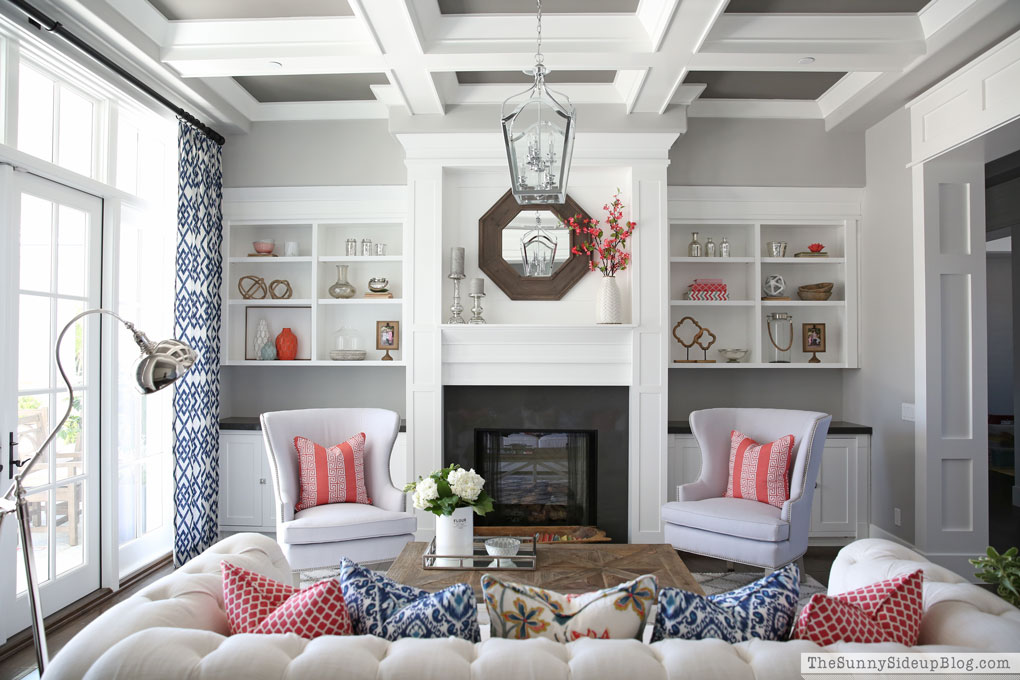 I've been playing around with these shelves and decided to take all the books down.  Just for a change.  They are far from "done" and I want to simplify them more and add some navy.  But it's a start.  :)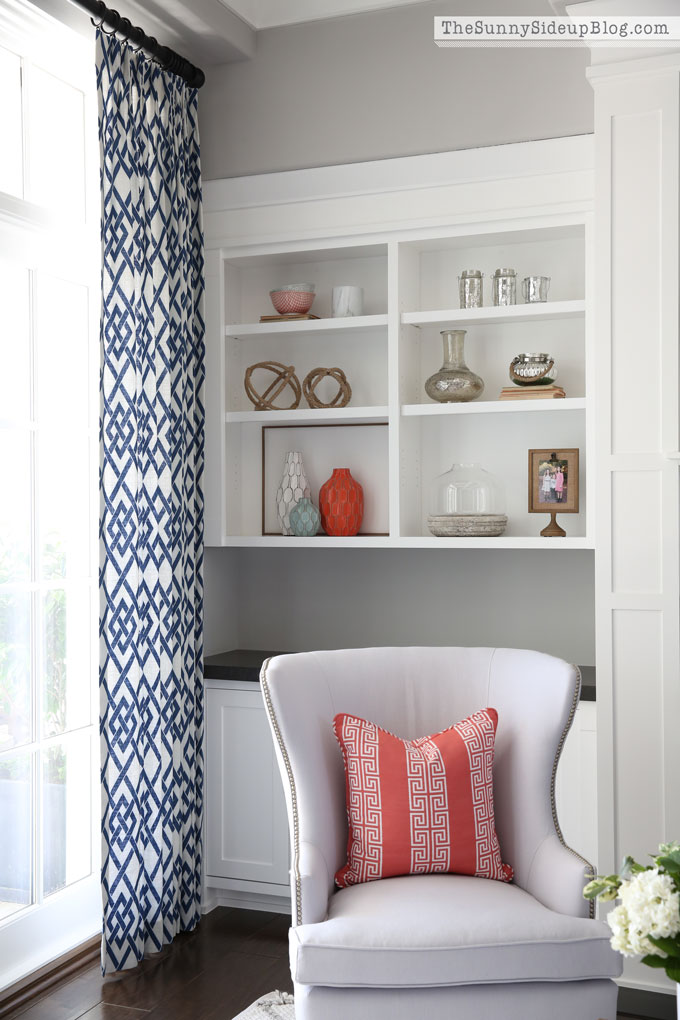 I mostly shopped my house for accessories, but I did buy these fun honeycomb vases from West Elm.  Love them!  The bowls on the top left are also from West Elm. 

The little clip frames I found at Target.  My hyannis lantern is on this shelf for now but I'm going to move it soon.  I have several that rotate all over my house often.  (One of my favorite things to decorate with and they are on sale right now!)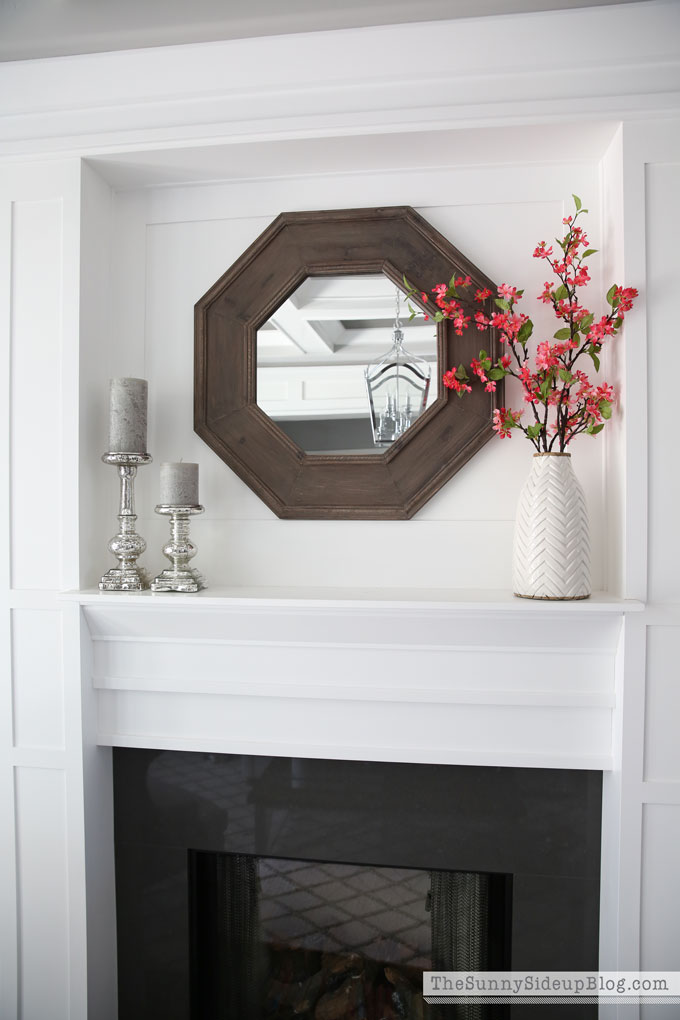 I kept my mantel simple because I have so much on the shelves.  My mercury candlesticks are staples that work for any season.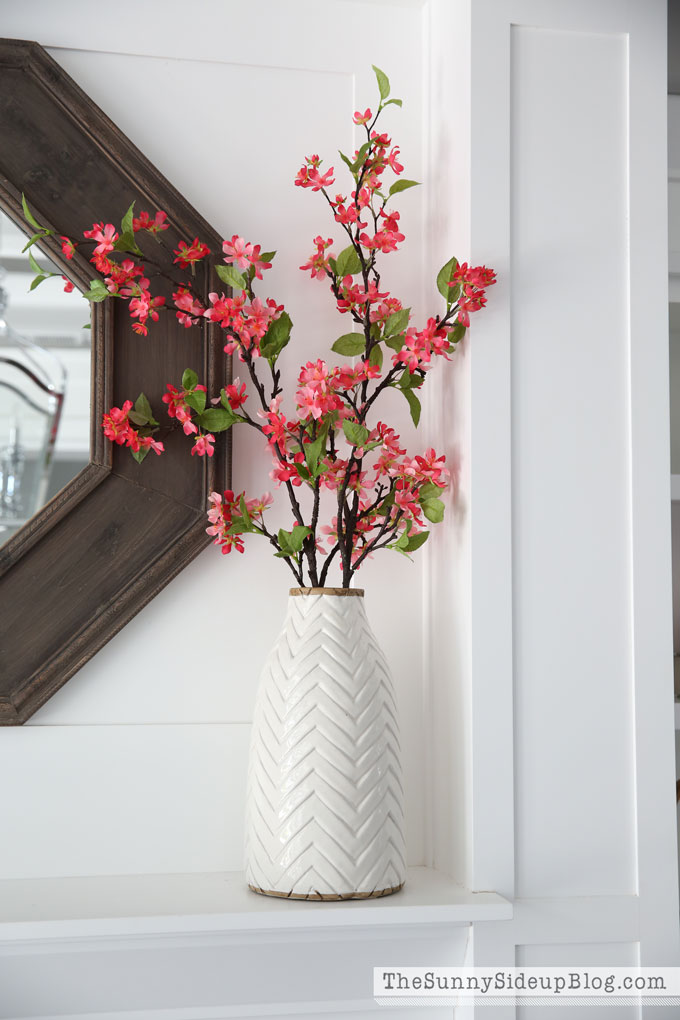 When I saw these coral faux apple blossom stems from Crate and Barrel I couldn't resist!  I knew they would be a perfect addition for this room.  They look so real and I love that pop of coral on my mantel.  I also bought this beautiful Audra vase with a chevron pattern on it.  The white on white works because of the texture/pattern.  At least that's what I told myself because I really wanted the vase.  :)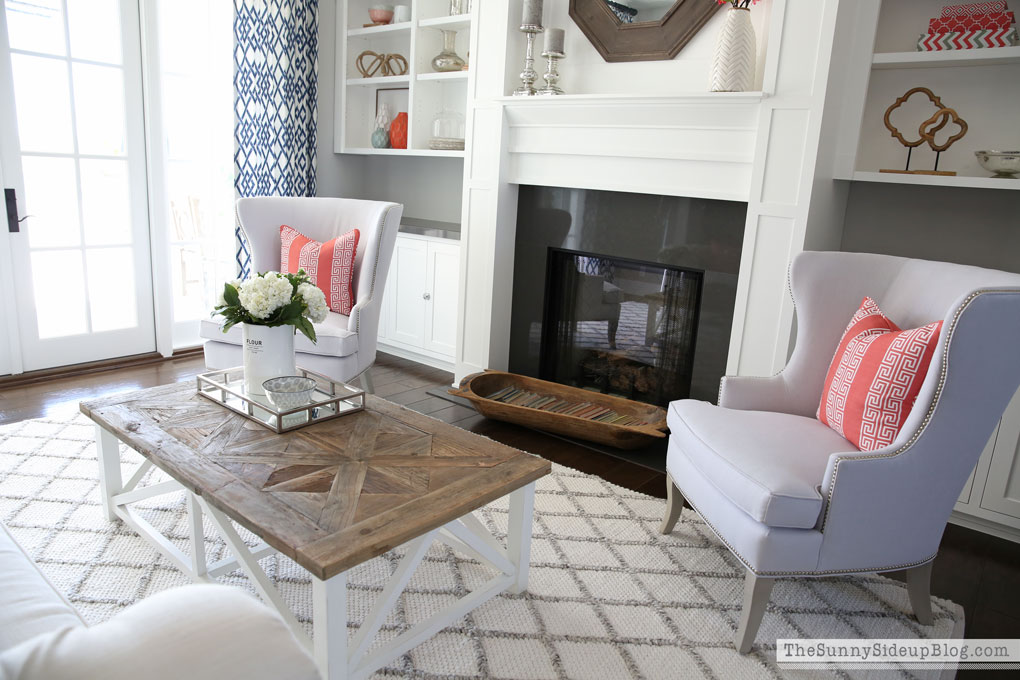 I've tried several different things in my dough bowl and nothing felt quite right.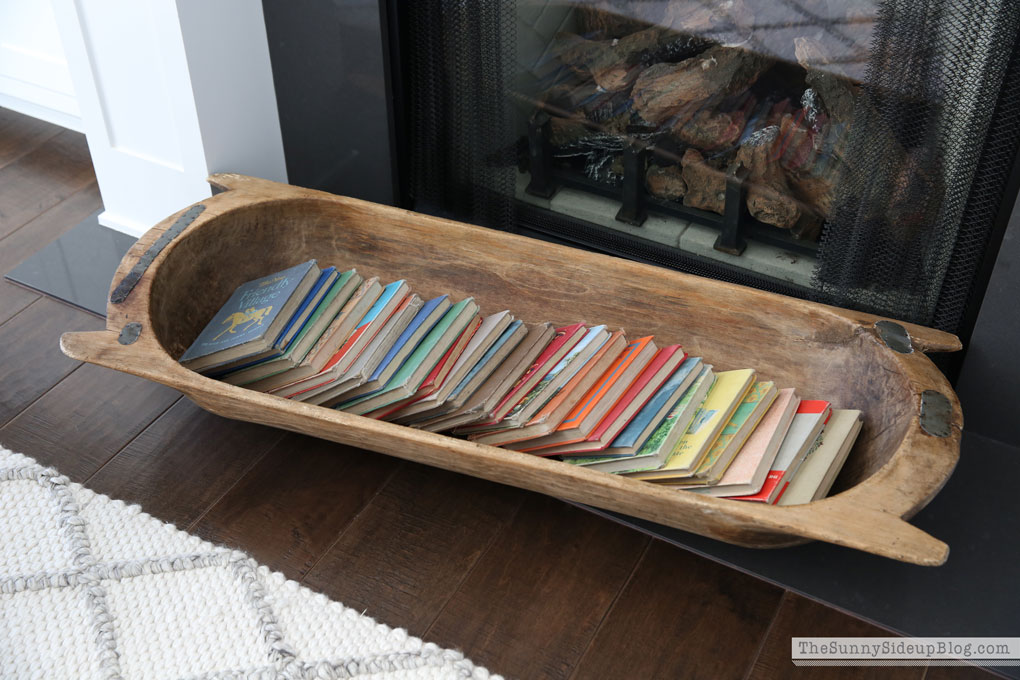 Until I tried my collection of vintage children's books.  Actually it's my mom's collection of vintage children's books.  Shopping at her house is still my favorite.  I love the simplicity and the different colors for Spring.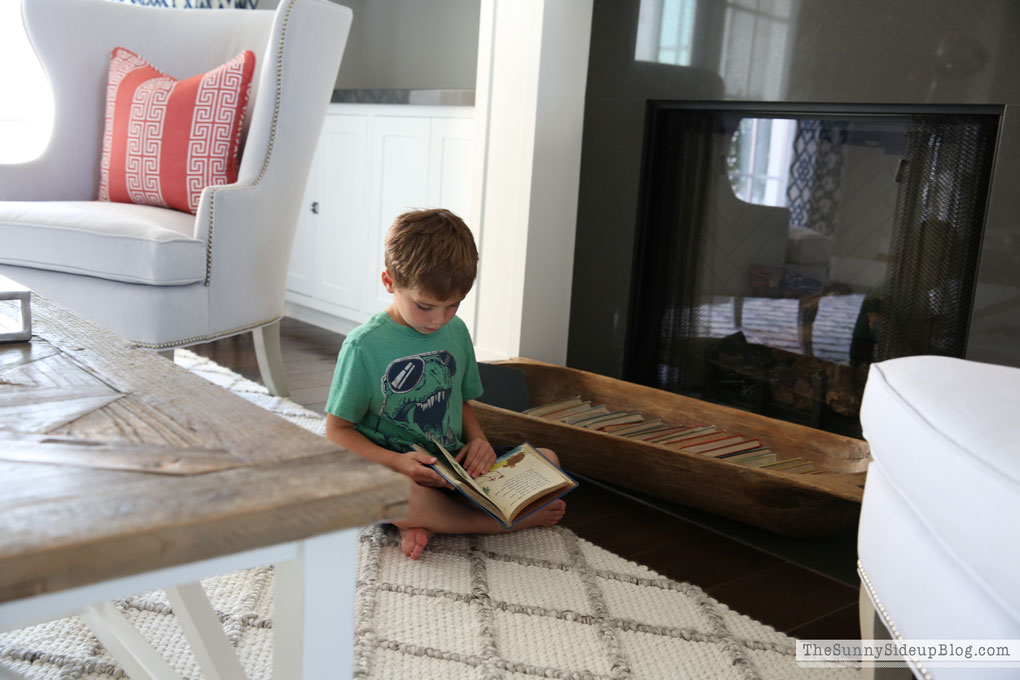 Plus now that they are off the shelves and on the floor they are much more accessible. :)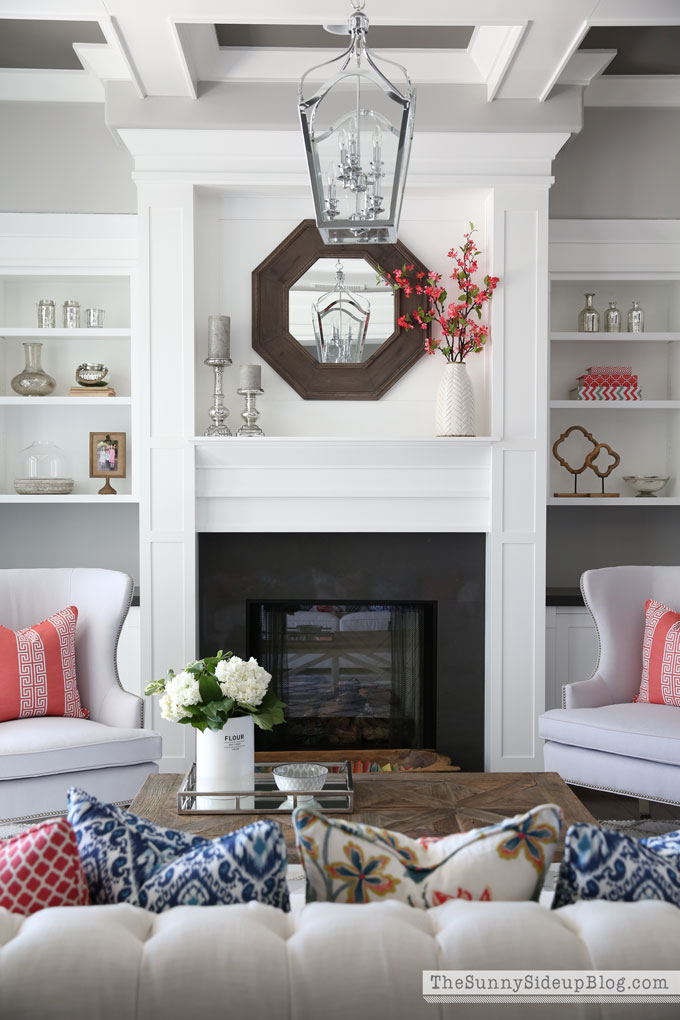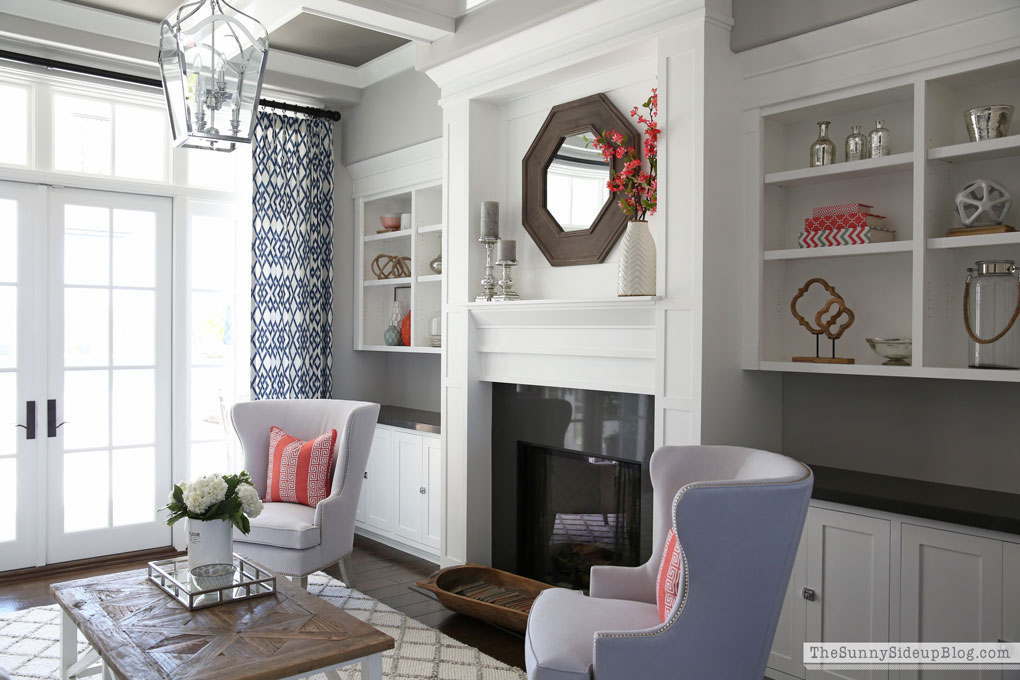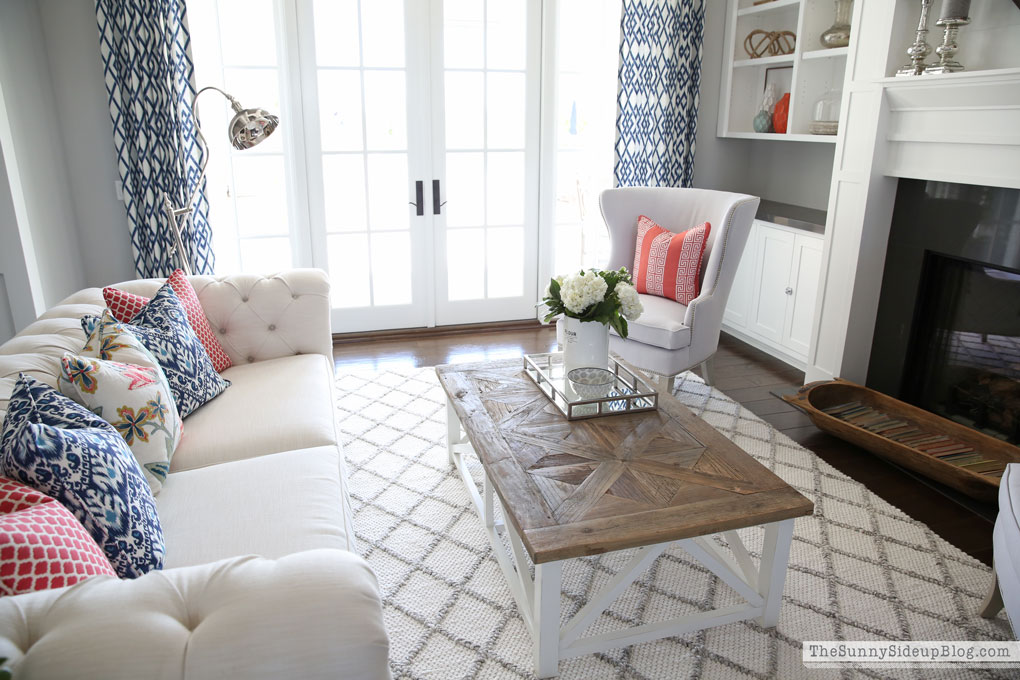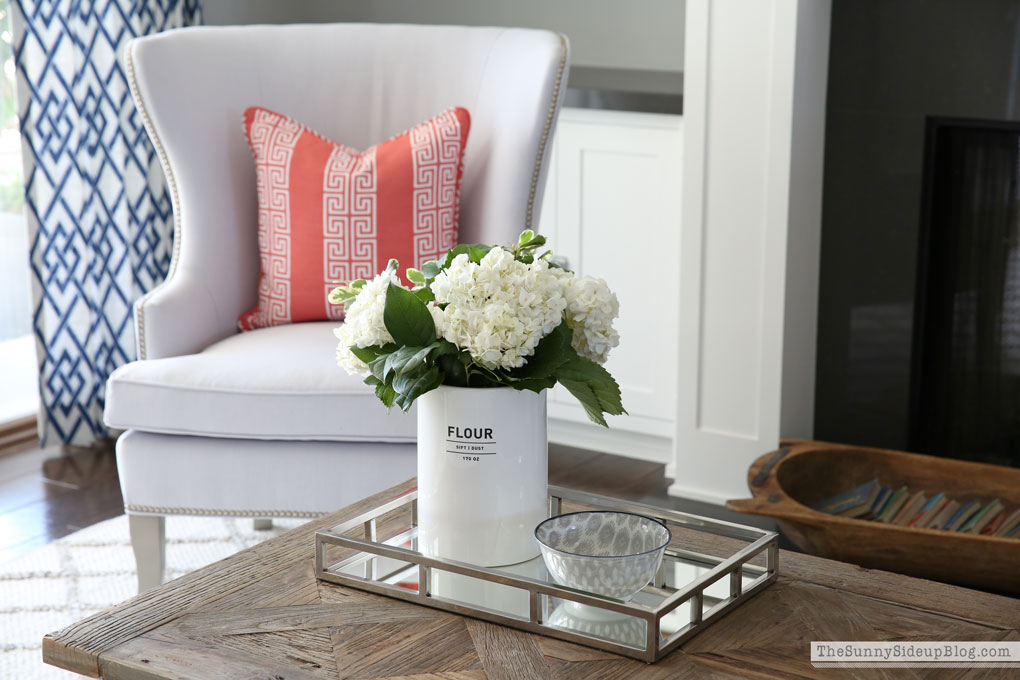 I loved using my flour canister as a vase in my family room so I decided to try it in this room too with some simple hydrangeas.  By the time summer rolls around it will have been used in every room in my house.  Except for in the kitchen holding flour. ;)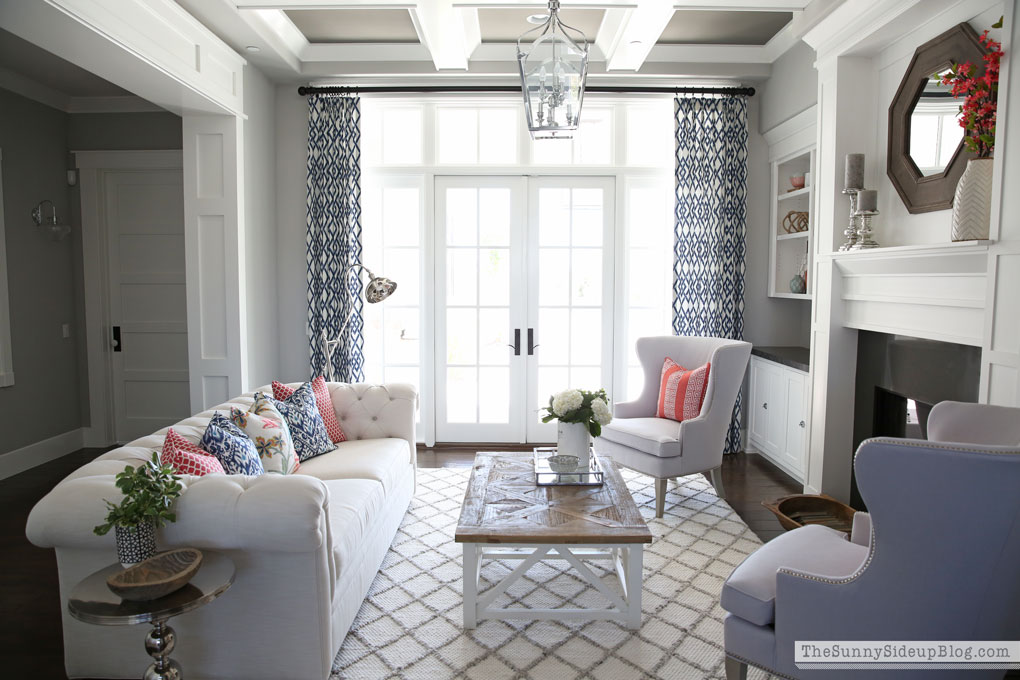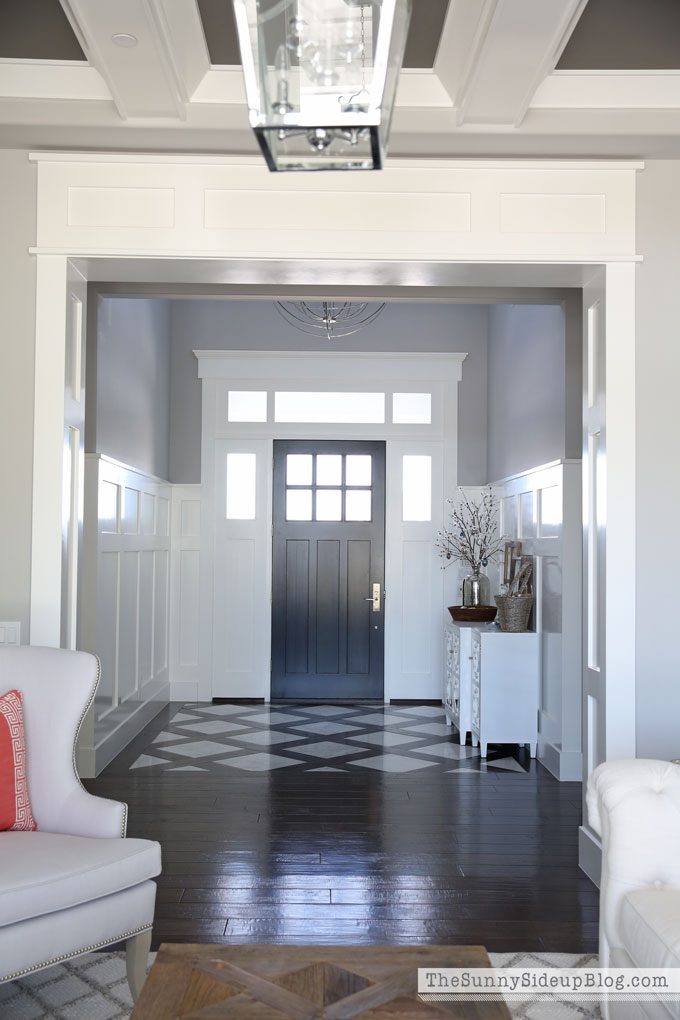 A view of my front door and entry from this room.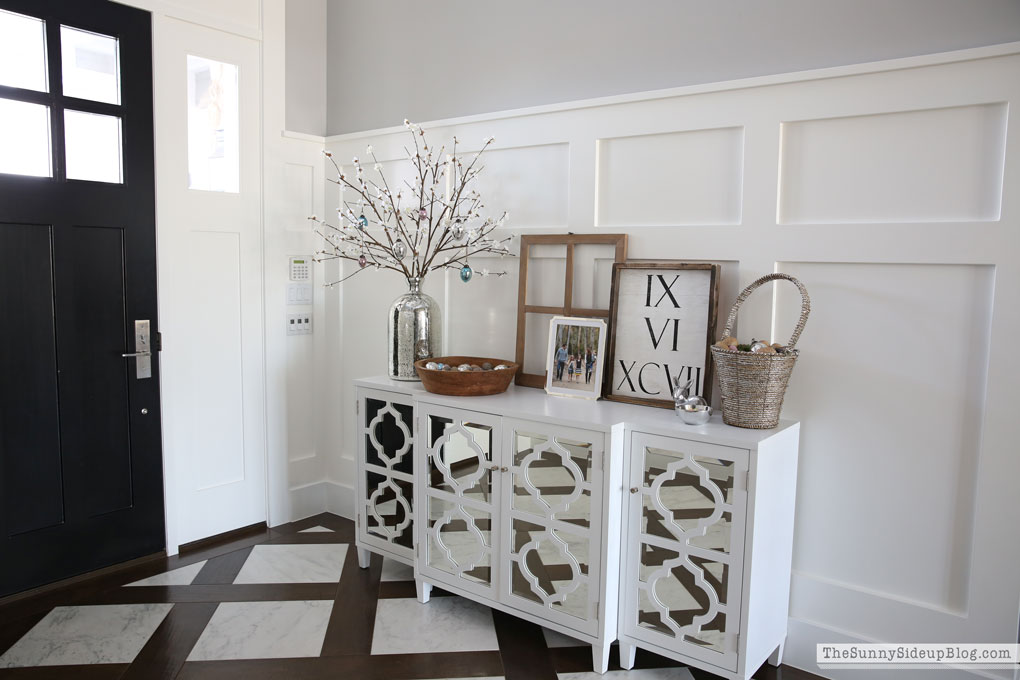 Console table is still decked for Easter.  I'm ready to take the eggs down but need to unpack and do about 10 loads of laundry first.  Although knowing me, the eggs will be put away before the clean clothes are.  #priorities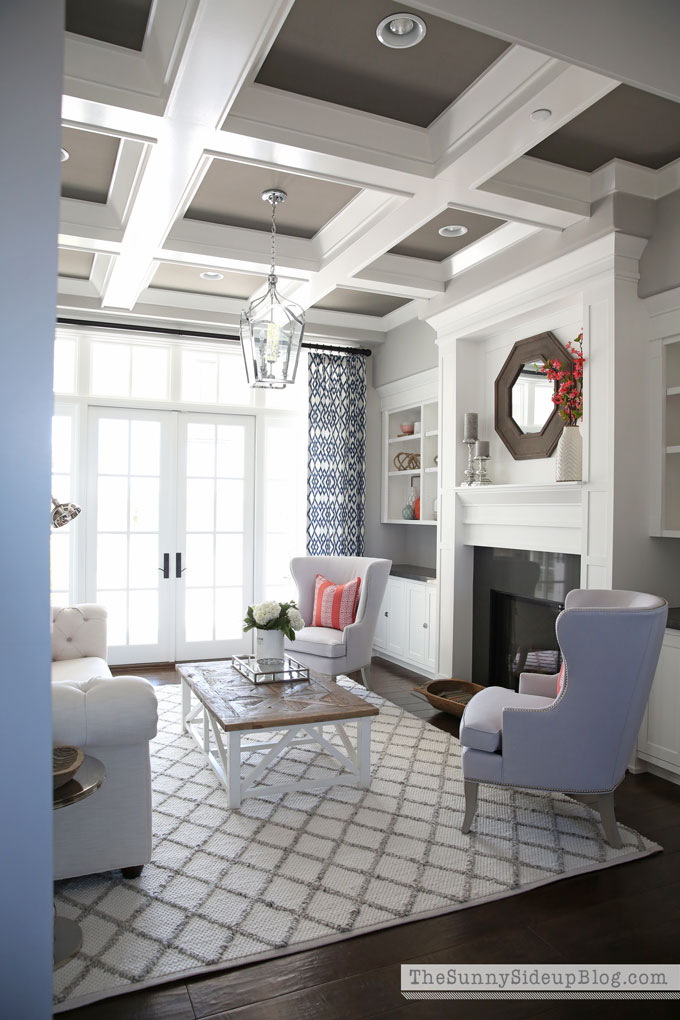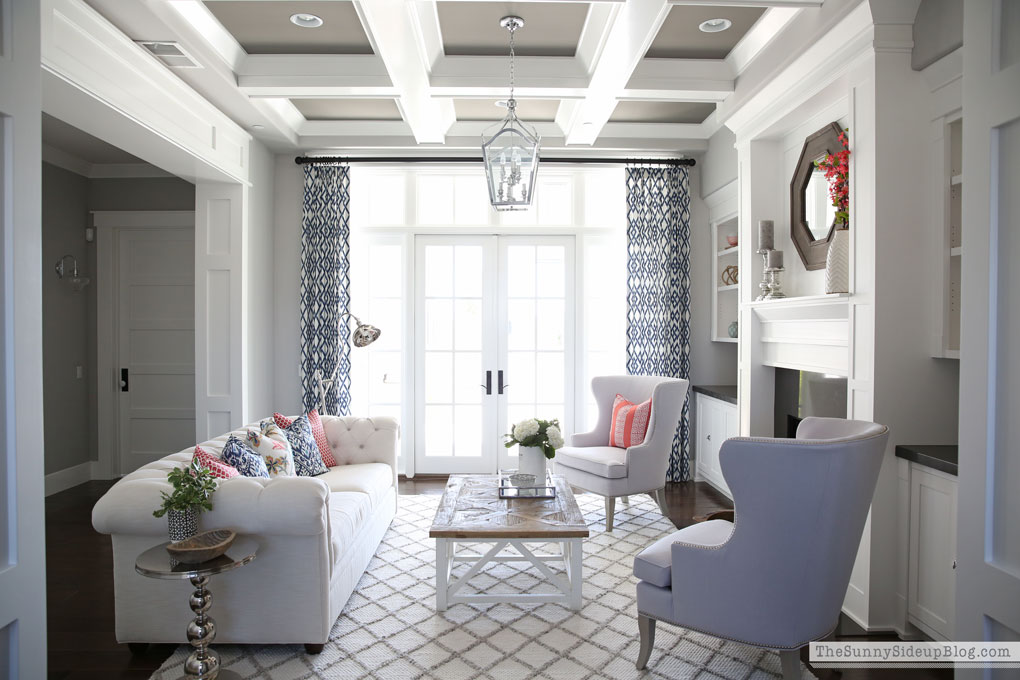 So there you go!  A touch of Spring in our formal living room.  Progress is a good thing. :)  If you are new (hello and welcome!) you can see a full tour of my home here. Be sure to head to my friend Alma's fun blog to continue the tour and see her living room decked for Spring!  Also check out the other inspiring spaces my friends are all sharing.  Their blogs are listed below this room's sources.  Happy Spring decorating everyone!
Sources:  Paint in this room is "Seattle" by Frazee.  The ceiling is "Elf" by Frazee.  Coffee table, rug, and the mantel mirror are all from Restoration Hardware.  Chairs are from Ballards.  Couch is the Chesterfield sofa from Pottery Barn.  End table is from Z Gallerie.  Pillows and drapes are custom.  A lot of the accessories are from Home Goods other than these:  Flour canister.  Dough bowl.  Honeycomb vases.  Bowls.  Mercury candle sticks.  White chevron vase.  Apple blossom stems.  Terrarium.  Hyannis lantern.  Clip frames.
*affiliate links used



ONE ROOM SPRING TOUR:
xoxo, Erin