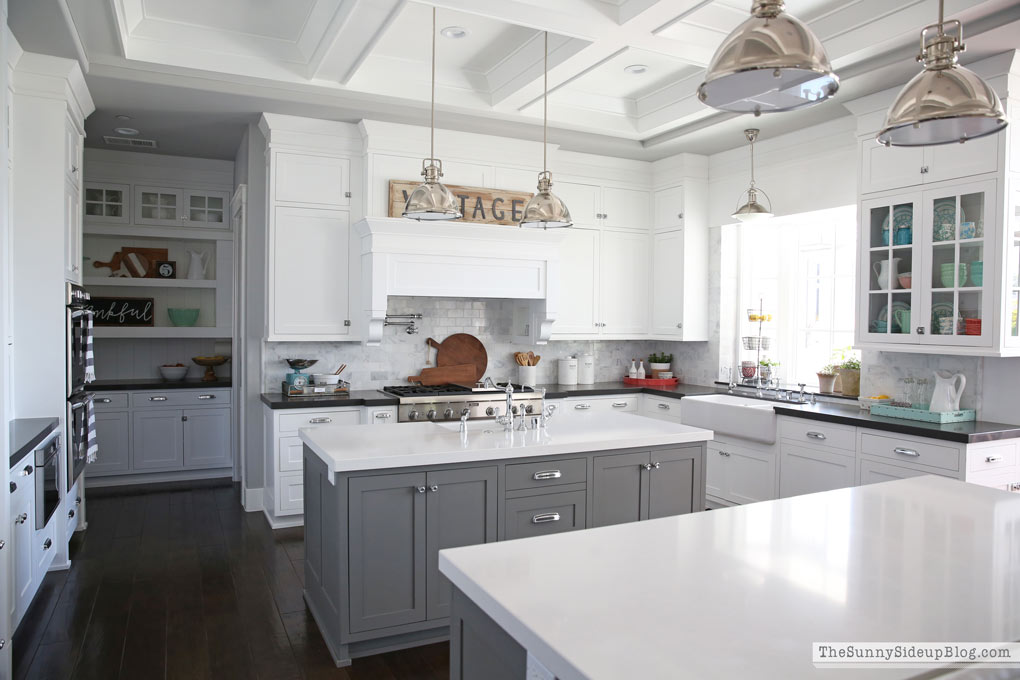 Today in San Diego it rained all. day. long.  Crazy rain!  Outside it was dark and cloudy and cold.  And rainy.  And wet.  Because rain tends to be rather wet. :)  But inside my house?  It feels like Spring!  I've been making some colorful updates to several rooms in my house and today I'm joining some talented blog friends for a "Styled for Spring Tour" to share some kitchen decor ideas for Spring!  YEA.  If you are coming from Kathleen's fun blog Lindsay Hill Interiors (or any other blog on the tour for that matter) welcome!  So happy to have you here. :)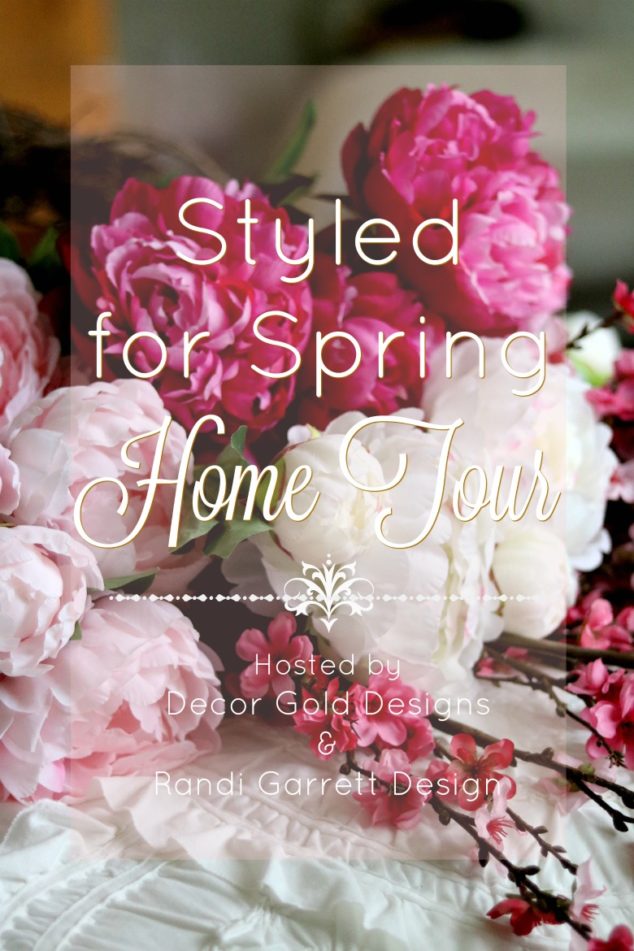 A lot of my Spring kitchen decor is the same as last year (you might remember my "kitchen re-fresh" from last May) but I did switch out a few things.  When we moved in our house over three years ago I bought some gray rugs from Target for our kitchen that have been great, but they were starting to look pretty worn.  It was time to replace them!  I wanted something that was neutral (because I'm constantly changing my decor!) but that would also add something fun to the kitchen.  Hmmm.. a great neutral that's also fun.. let's see.. wait!  I know.  How about some black and white stripes?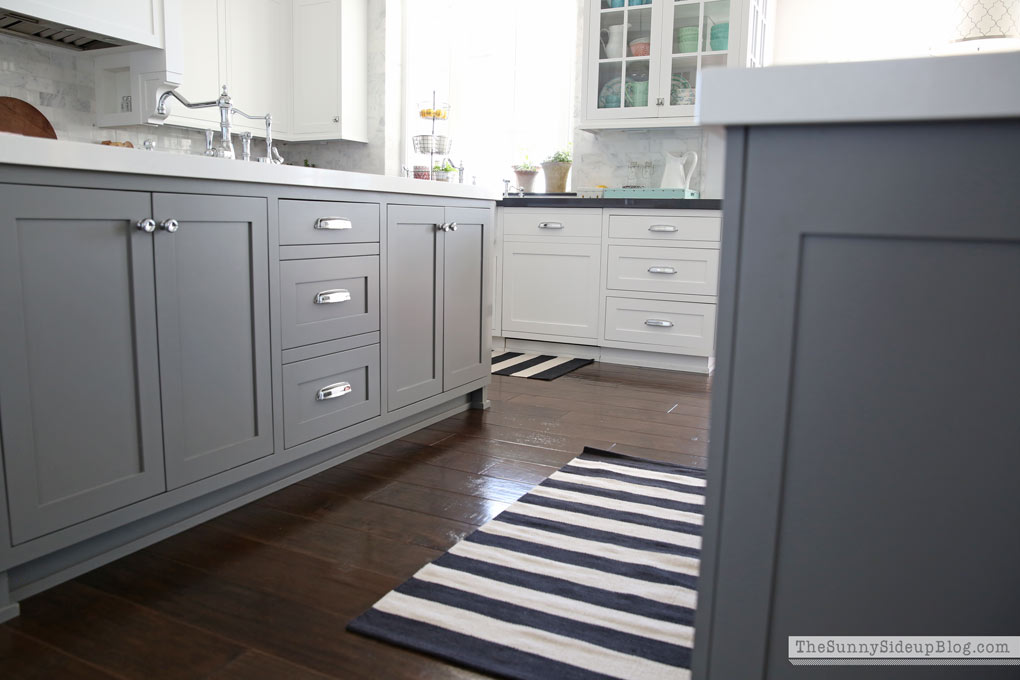 I can just see the surprise on all of your faces right now. ;)
(affiliate links used)
I've been so in love with the striped rug in my upstairs laundry room that I decided to bring it into my kitchen to give it a try and what do you know?  I was in love.  :)  Aren't they fun!?   It's ok if you don't like them.  One of my daughters (Addison) wasn't sure.  She said she loved them but that they also made our kitchen look like a pirate ship.  Ha!  That made me laugh.  I'm head over heels in love with the new look – and I'll sing yo ho ho to prove it. ;)
I love the way these rugs compliment my favorite colors (blues, greens and corals) so well – really stripes compliment any bright colors.  These rugs have definitely become favorites of mine.  They are the Olin black stripe Dhurrie rugs from Crate and Barrel.   I ordered the runner (2×6) for this spot in front of our largest sink (that's the exact same rug I have in my laundry room) and then I ordered two shorter rugs for in front of my islands (the 30×50's).  I also ordered rug pads for the two smaller rugs because we get the most traffic in those areas and I didn't want the rugs sliding around.  So there you go.  You too can have a pirate ship kitchen if you want one.  Eye patches for all!
K – I'll stop now. ;)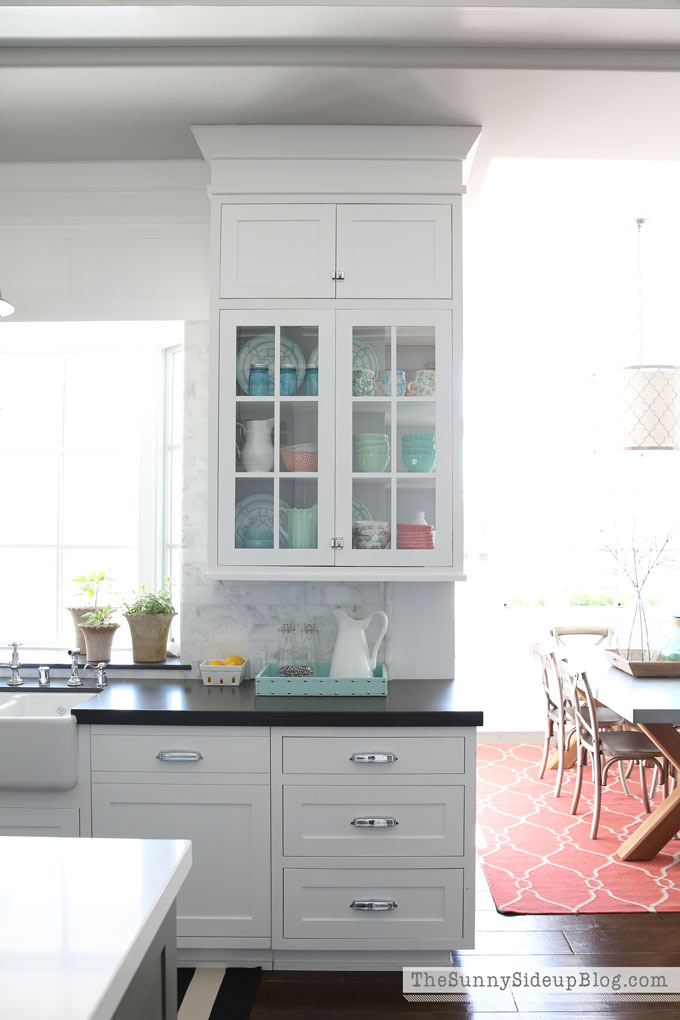 They also work great with the coral rug in my nook.  Bright dishes are back in my glass cabinet and of course there are lemons popping up here and there.  It wouldn't be Spring in my kitchen without lemons!
These beautiful pots are also new (from my photoshoot with BHG!) and I planted some herbs in them.  You know.. to look pretty use when I cook.  ;)  They smell so good!  I'm a little nervous about keeping them alive so cross your fingers for me.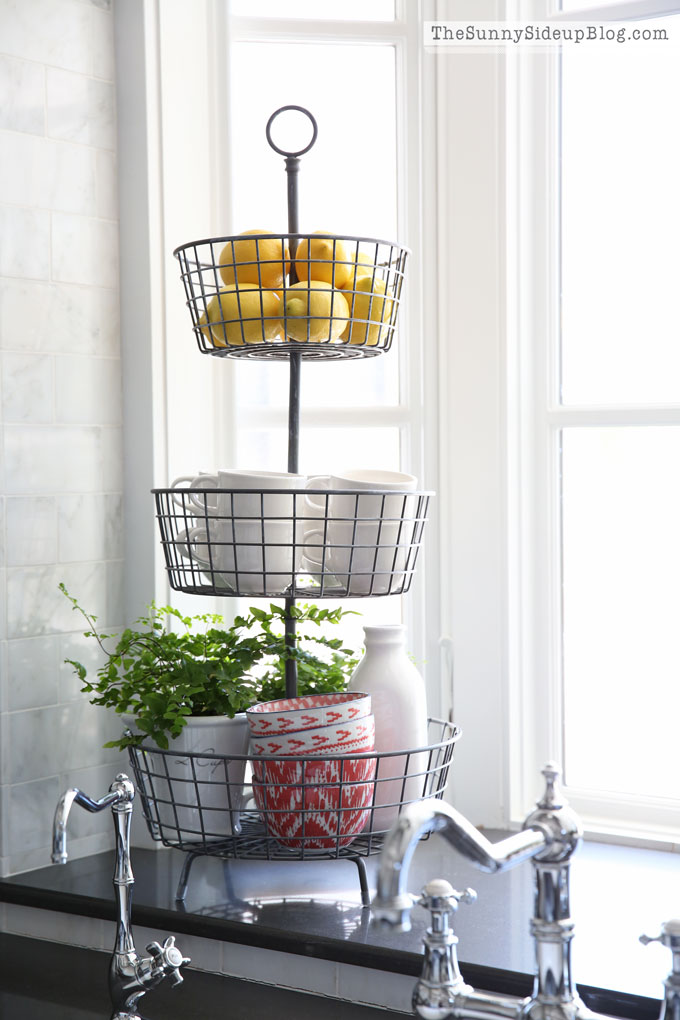 I kept this fun tiered basket basically the same.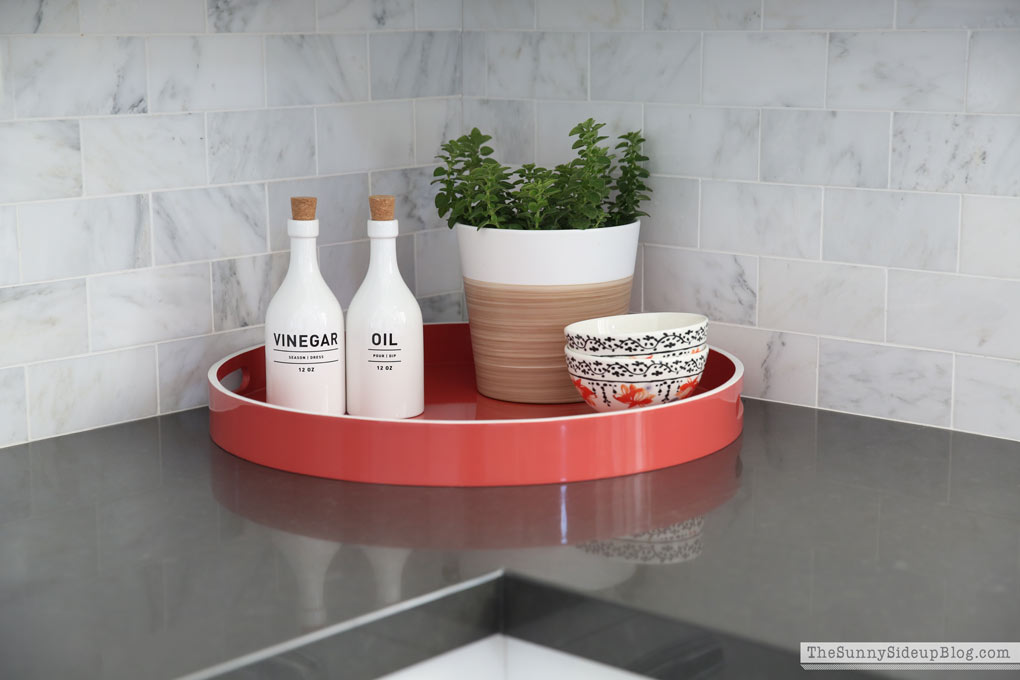 But I changed up this corner.  I've had my eye on this beautiful coral lacquer round tray for a while now and snatched it up when it went on sale.  It's so perfect for this corner and I love the pop of color it adds.  A simple plant, my oil and vinegar jars and some favorite bowls and done!  Spring in the corner of the kitchen. :)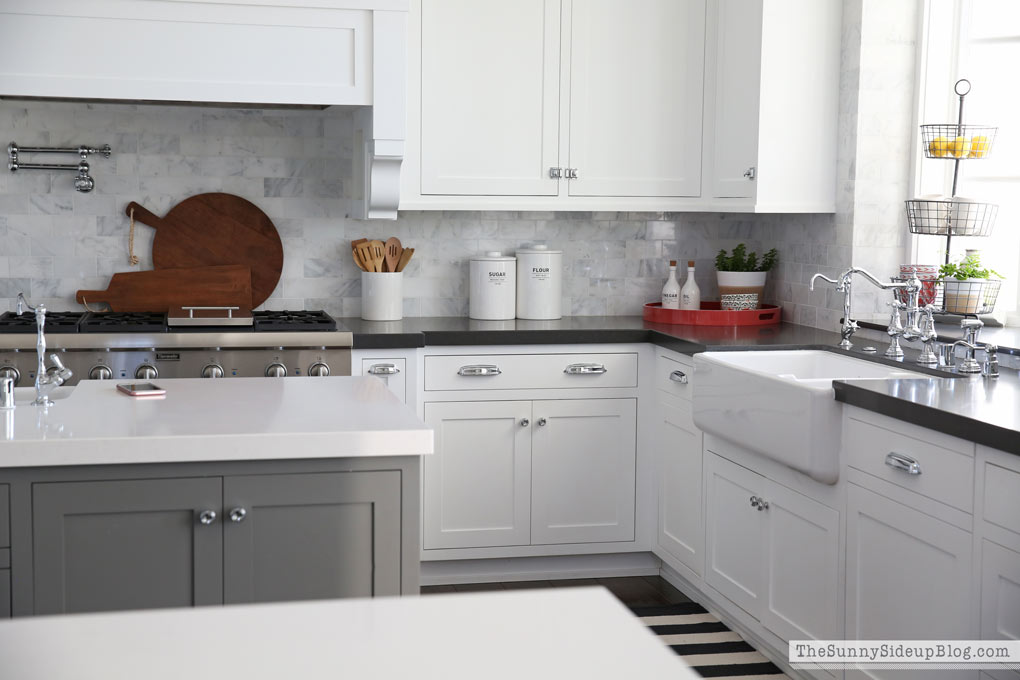 Because I added the striped rugs I felt like my striped utensel holder was overkill (even I know when to chill on the stripes..) so instead I used another one of my favorite white kitchen canisters (it says tea on the other side of it.)  I turned it around and added my wooden spoons.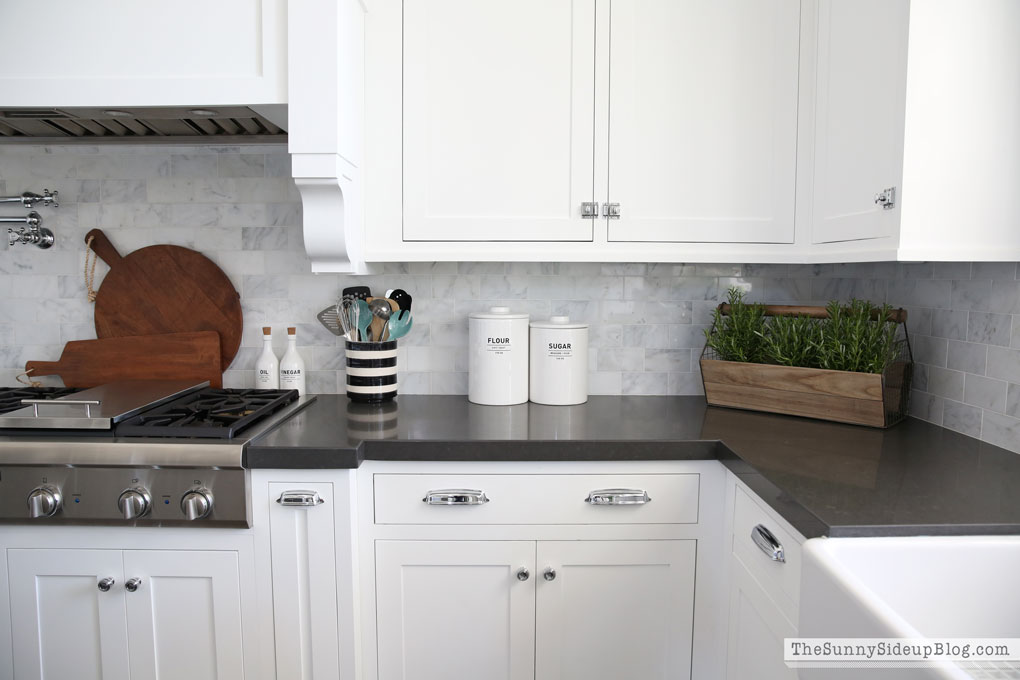 This is what this corner looked like last Spring.
And today.  Small changes and I love both looks.  But it's always fun to mix things up!  We don't always have control over circumstances in our lives, but we can certainly control a happy corner in our kitchen.  :)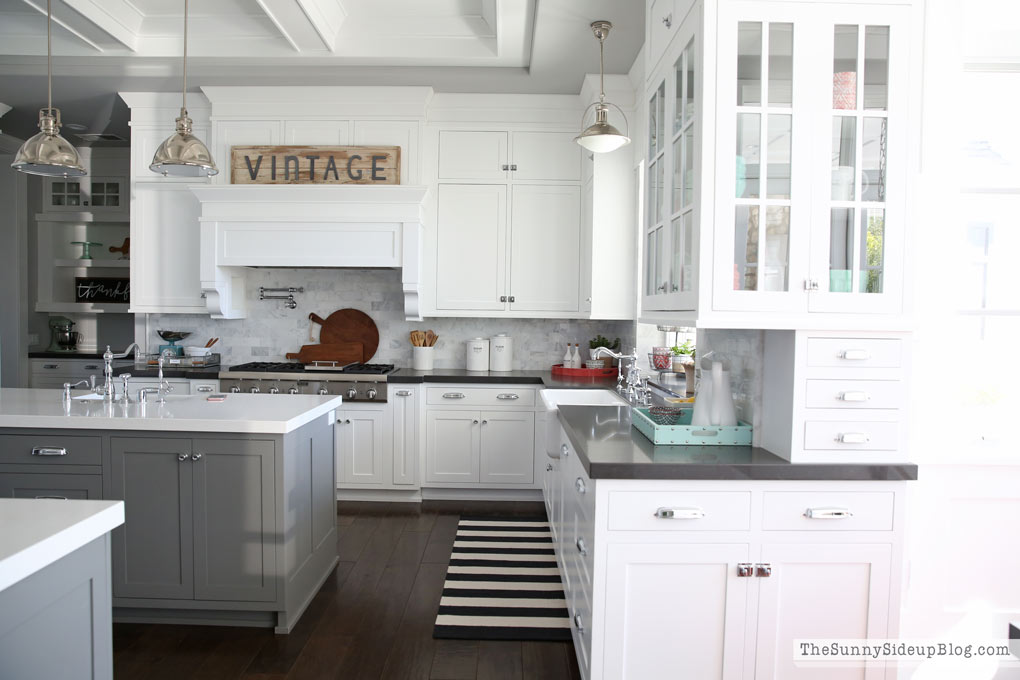 You might notice an unplanned Spring accessory in a few of these photos.  Can you spot it?  My cell phone adds a nice touch on the island don't you think?  Ha ha.. oops!
I switched the decor around in my butler's pantry too.  Mostly just so that I could add my favorite new mixing bowl and my marble/wood serving board.  The Thankful and #5 sign are staples on this shelf and are from Caroline's fun shop.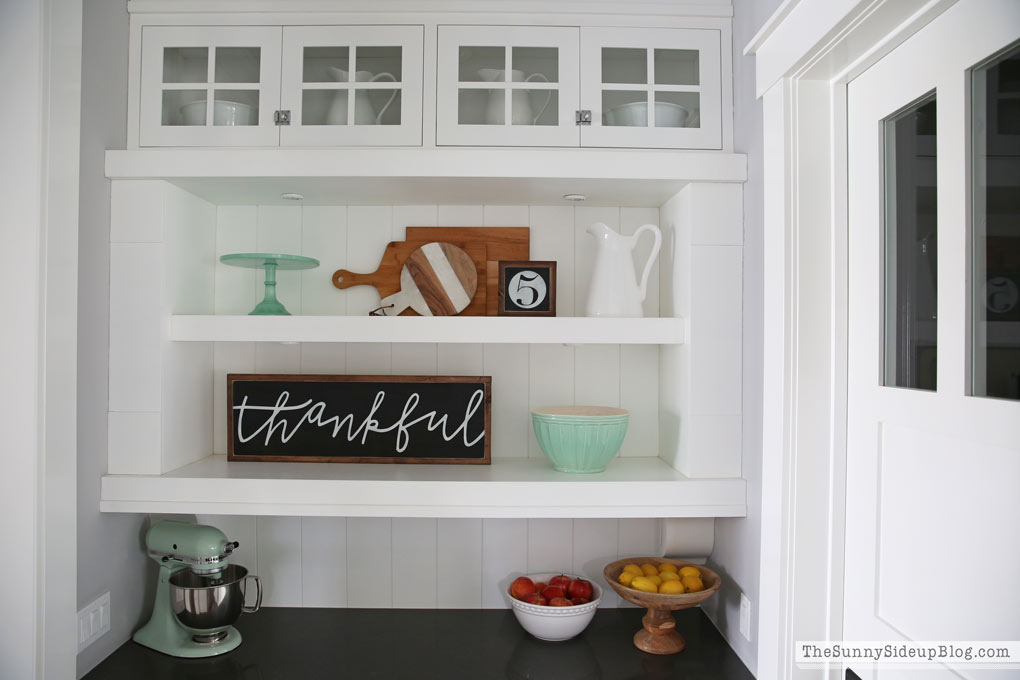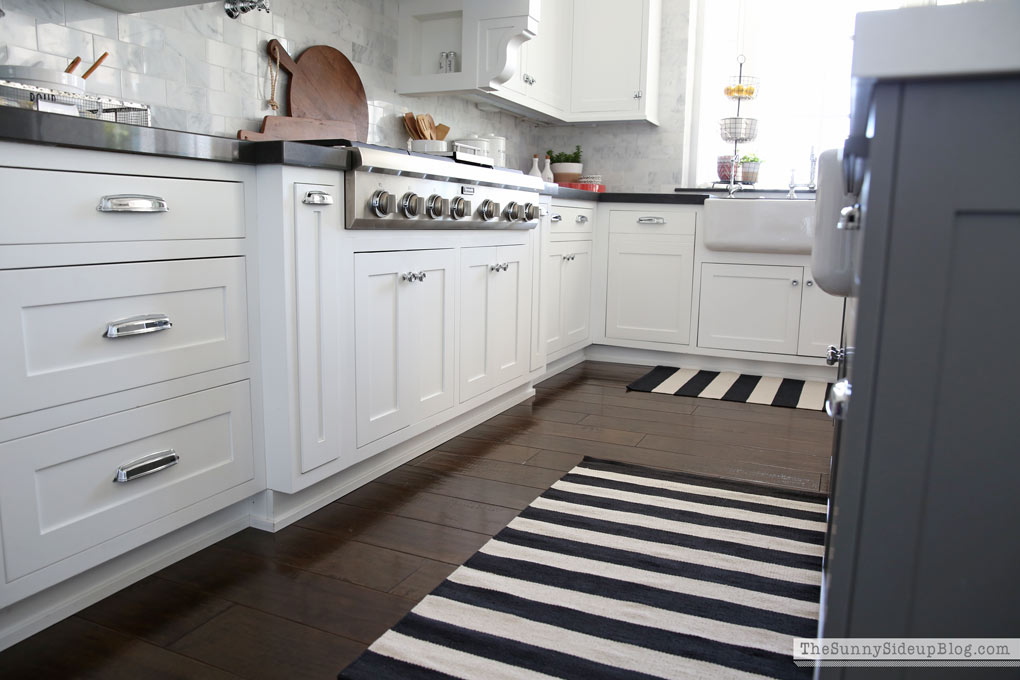 One more pic of my new rugs.  They make me happy. :)  And a few more I took of Spring the kitchen…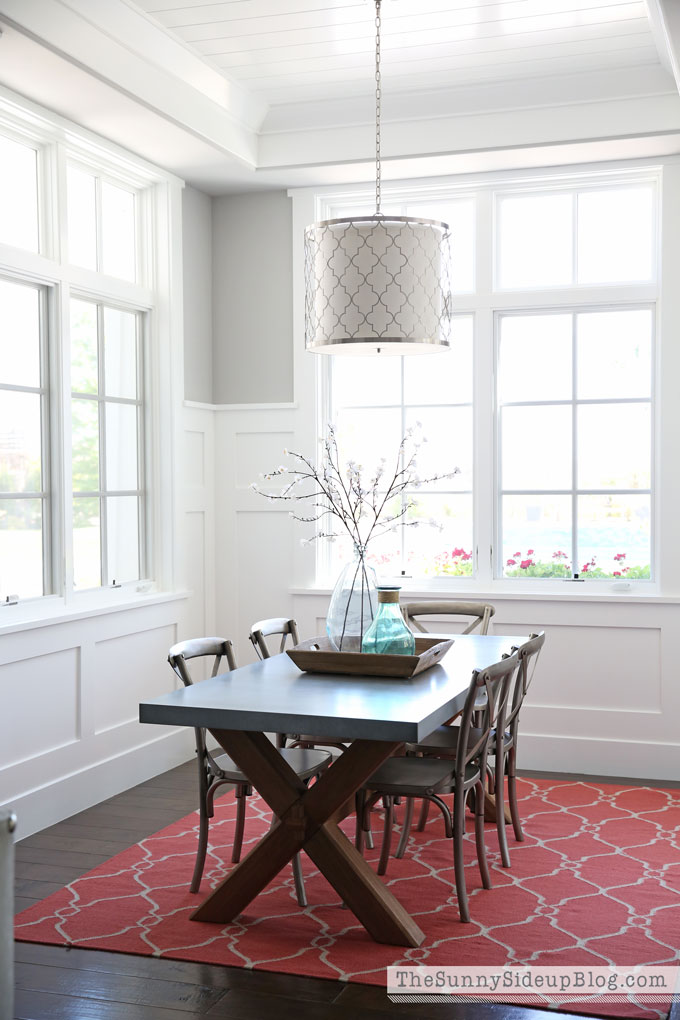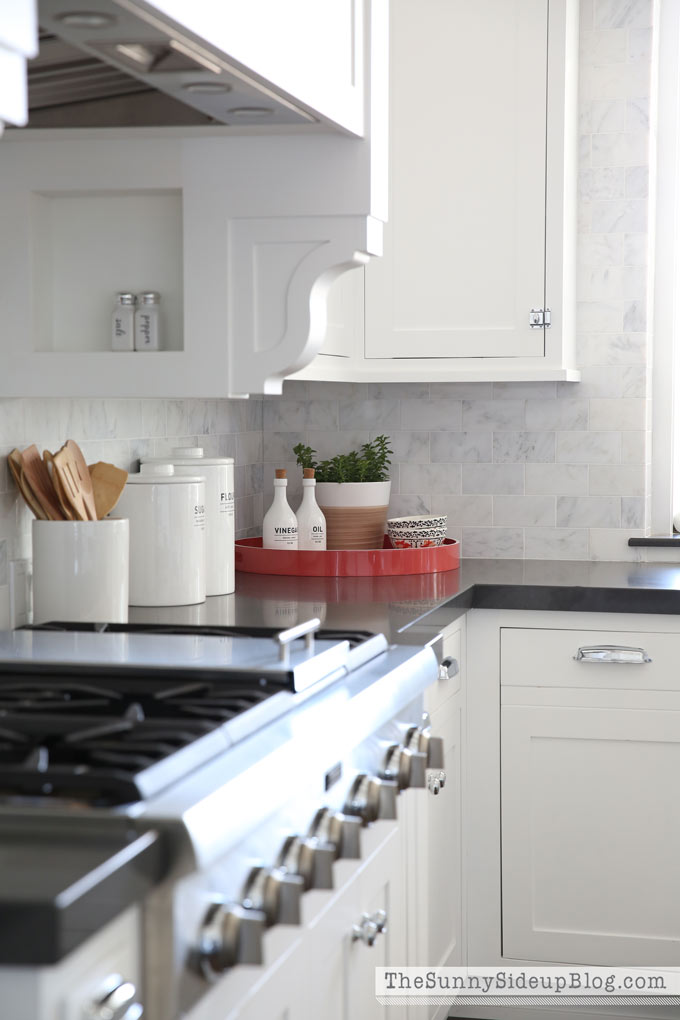 I hope this post gave you a few fun kitchen decor ideas for Spring!  I'll be sharing more fun Spring updates around my home soon so make sure to sign up for my e-mail list if you haven't already so you don't miss a post.  Good things are in store. :)  I love this time of year.  Happy Spring decorating everyone!
KITCHEN SOURCES:





Next up on the tour head to my darling friend Abby's at Just a Girl and her Blog!  Abby is my organizing partner in crime (love her!) and she just moved into a beautiful new home.  I can't wait to see what Spring touches she added!  Also check out the rest of the beautiful homes below for more fun Spring decorating ideas!  This is going to be good. :)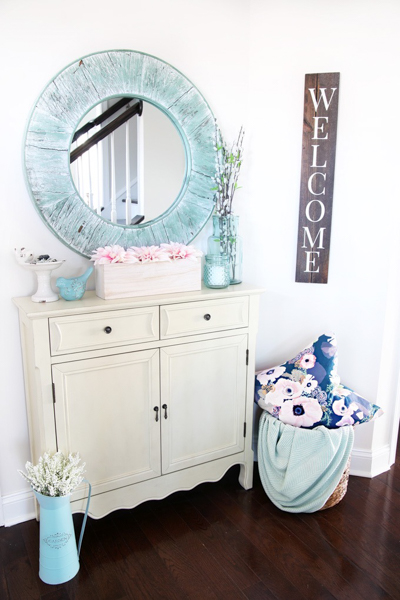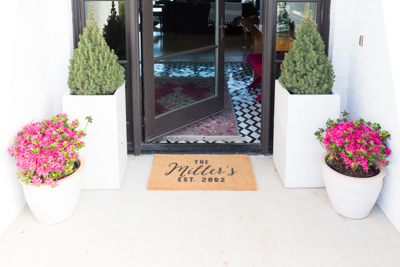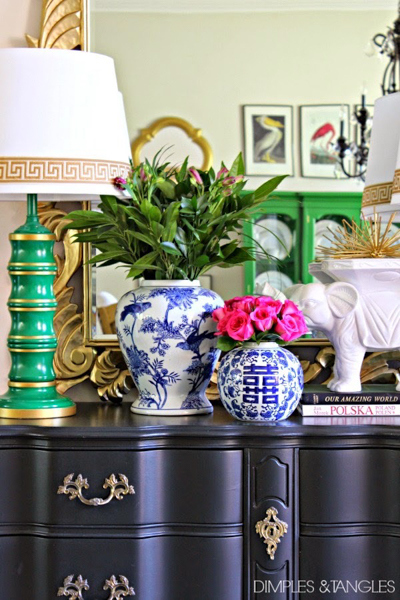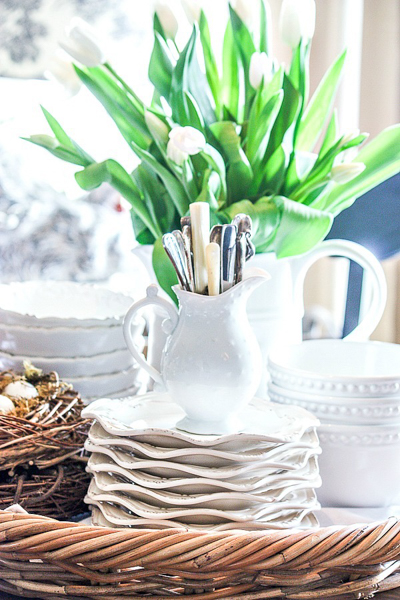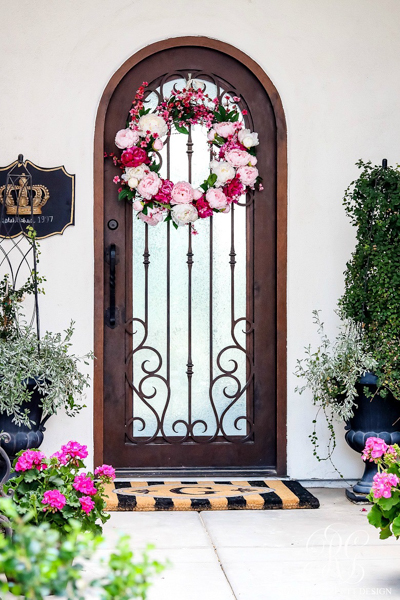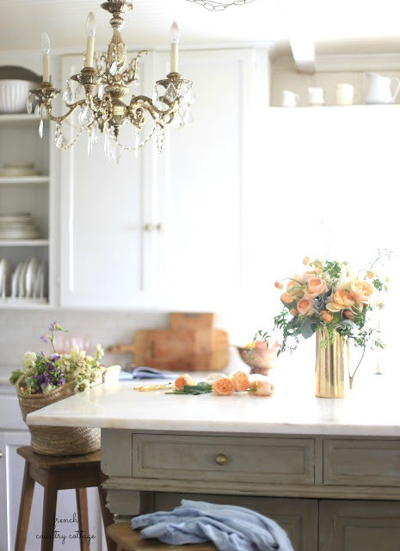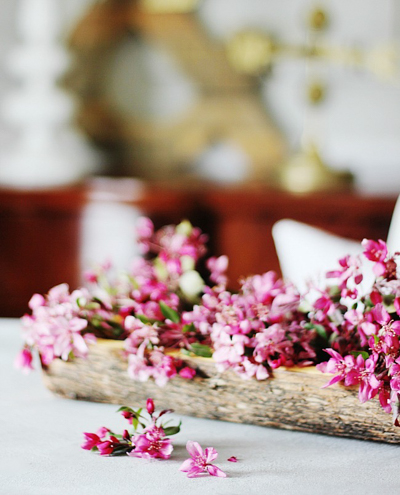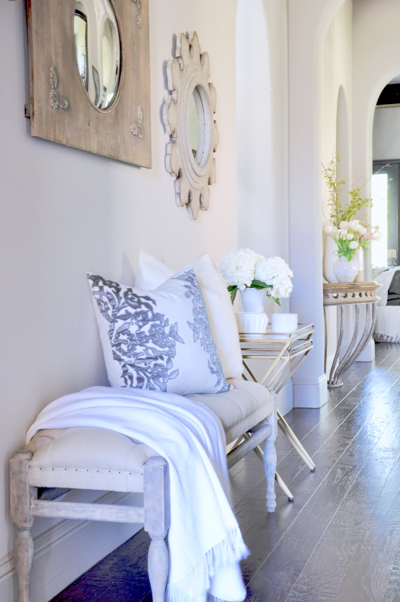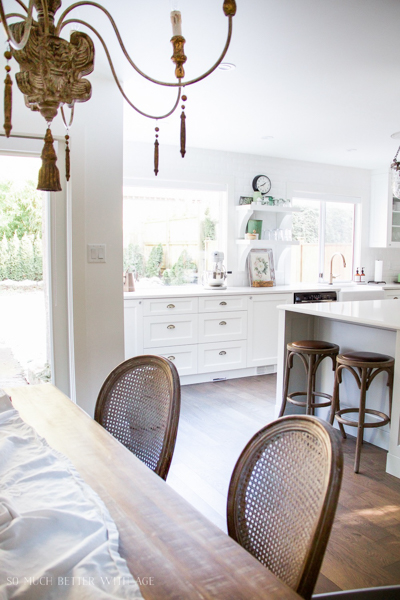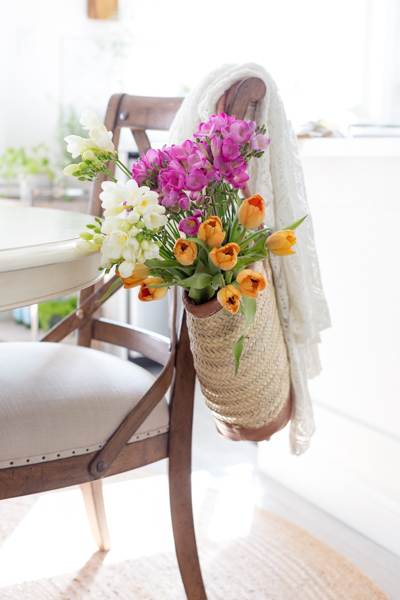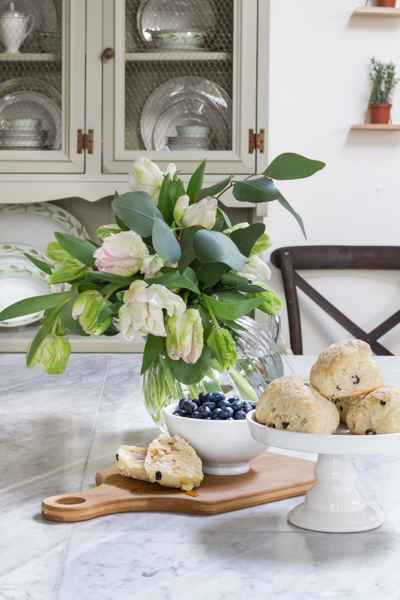 Be sure and check back next week when the following talented bloggers each share a room decorated for spring!
xoxo, Erin