Friends!  I'm so excited!  I've decorated our upstairs laundry room and finally got around to taking pics to share with you all!  (Before pic above!)  But before I show you I have to tell you 2 things..
1)  A few days ago I did eleven loads of laundry in one day.  Yes.. you heard me.  ELEVEN LOADS!  I'm not kidding.  Lights, darks, towels, and sheets for me and my husband.  Sheets for each of the 3 kids' beds.  Kids' towels, lights, darks, and one load of kitchen/extra towels.  BAM.  Eleven loads.  Every one washed, folded, put away and all beds made.  I went to bed that night exhausted.. it was literally almost all I did that day in-between running kids around!  I had to share because it was a new all time record for me.  Has anyone hit that record or surpassed it?  If so, I'm taking us to lunch. ;)
2)  I'm going to a design blog conference in March and a sweet friend recently let me know that I've been nominated for two awards at the conference!  Best Overall Design Blog and Best Writing on a Design Blog.  I have no clue how I was nominated but I'm so incredibly honored.  I wanted to share my fun news with all of you because I have all of you to thank!  Some of my blog friends were also nominated for different awards and I'm so excited for them.  You can check out the blogs nominated and cast your vote for a winner in each category HERE.  I feel a little silly saying "go vote for me" but I don't know.. after doing eleven loads of laundry in one day I sort of feel like maybe I deserve to win something.  Ha ha.. kidding!  Kind of.  ;)  If you do take the time to vote for me and my blog THANK YOU!  Huge thank you.  (It's a super quick survey and should take just seconds!)  If not, thank you for your support and for reading and I still love you. :)
Ok.. on to our decorated and organized laundry room (with color)!
(affiliate links used)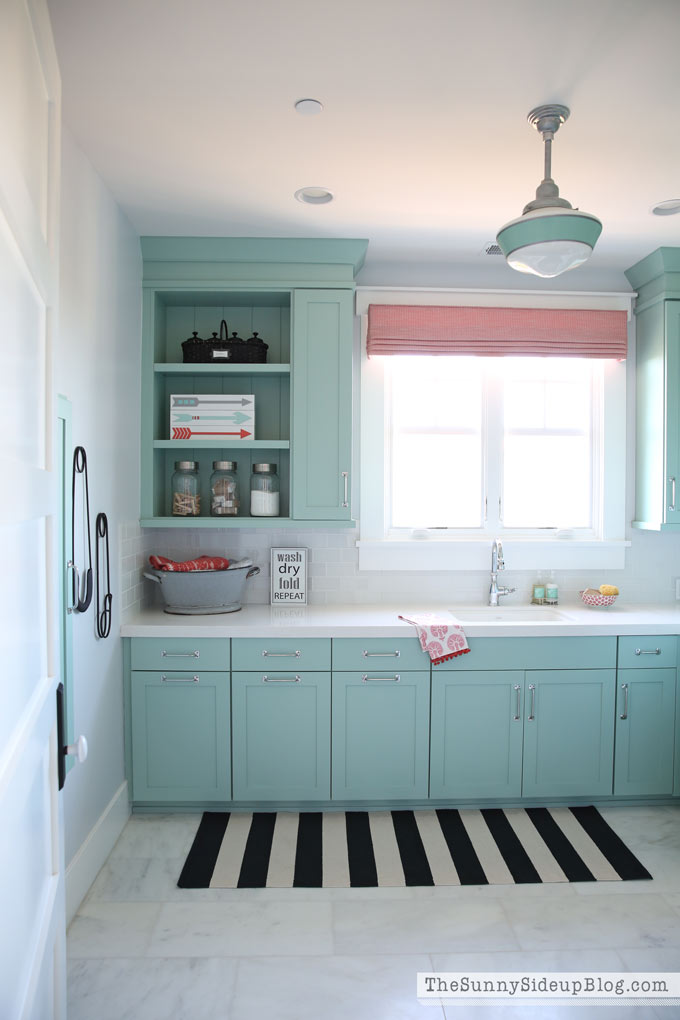 This room was so fun to decorate!  I'm still crazy about my green/blue cabinets.  For those of you who are new here, this is an upstairs laundry room that I designed for my three kids near their bedrooms which is why I decided to make it colorful and fun.  (You can see my original post on this laundry room here.)  I bought this black striped runner soon after we moved into our house (I love it with the cabinets!).  Then I decided that coral would be the perfect color to accent the green, black and white I had going on.  It just took me a while to put it all together.  Guess I was too busy doing our laundry to find time to decorate our laundry room. ;)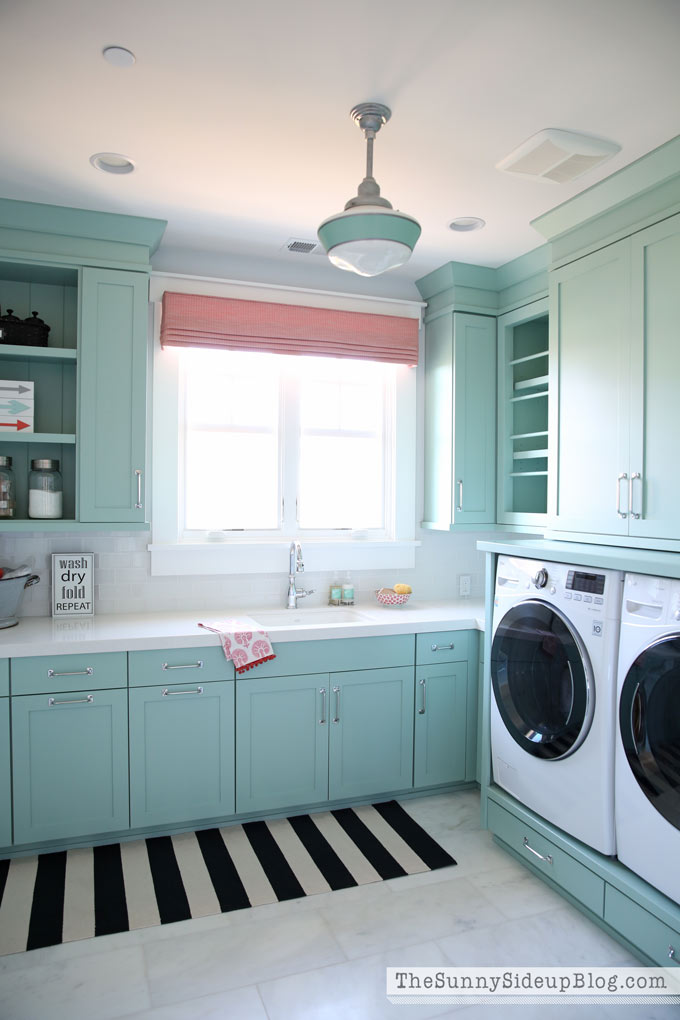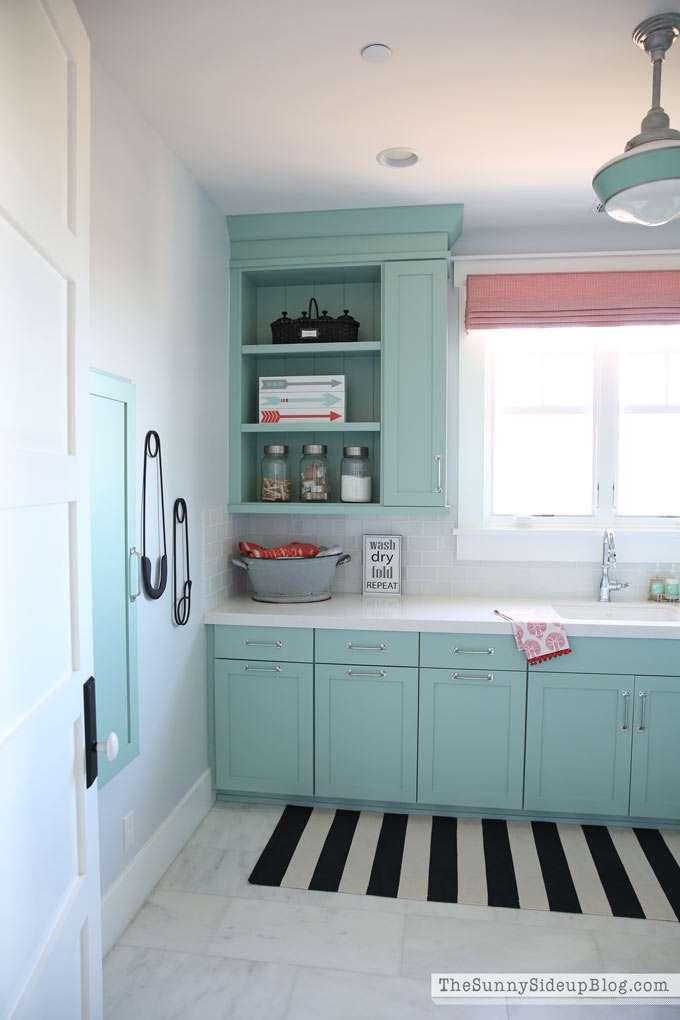 I knew I wanted clear jars along the bottom shelf filled with laundry odds and ends, but because of the space I had on this shelf I had the hardest time finding jars that fit!  I looked on-line at so many stores and most of the jars were too wide (I wanted three) or too short.  Then one day I happened to be in Wal-Mart looking for something I needed for one of my kids and there they were.. jars.. the perfect size!  Score.  Thank you Wal-Mart. :)  I added some clothes pins, bars of this fun soap and laundry detergent with a cute little scoop.  It was also a happy day when I found these arrows in mint green, gray and coral!  I have a thing for arrows and the colors were perfect for this room.  I felt like I needed to tie in the black from the rug so I shopped my house for a black basket.  The basket I used that holds little jars I've had for years.  I switched out the label to say "laundry" and was done decorating the shelves!


This grey vintage wash basin is my favorite item in the room.  It belonged to my great grandma and I found it "shopping" at one of my favorite places.. my moms house. :)  I find the best hidden treasures in her garage and this gem was one of them.  Can you imagine doing laundry with that?  I'm kind of thinking my great grandma is the one who deserves to win the award. ;)  I filled it with some favorite coral and grey Antho towels.  Their towels are my favorite!  The cute wash, dry, fold, repeat sign is from Krumpets where I found the arrows.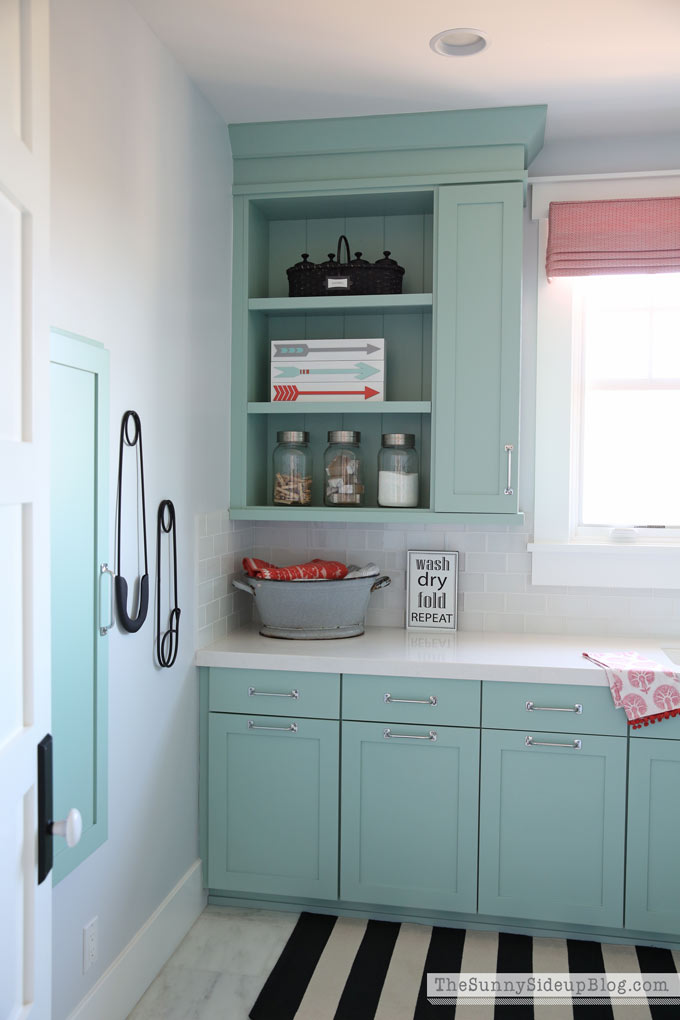 I ordered these cute large black pins from Ballard Designs for the wall space next to our ironing board.


I still need to get an iron for this room!  I love this feature, but I have to admit that this ironing board doesn't get used too much.  I don't believe in ironing kids' clothes and stay away from buying kids' clothes that wrinkle.  I don't believe in ironing any clothes come to think of it, but I haven't been able to pull that one off yet.  Give me time… ;)


My built-in pull out laundry hampers still have my heart and they do get used every day.  They are really all I needed to keep this room clean and organized!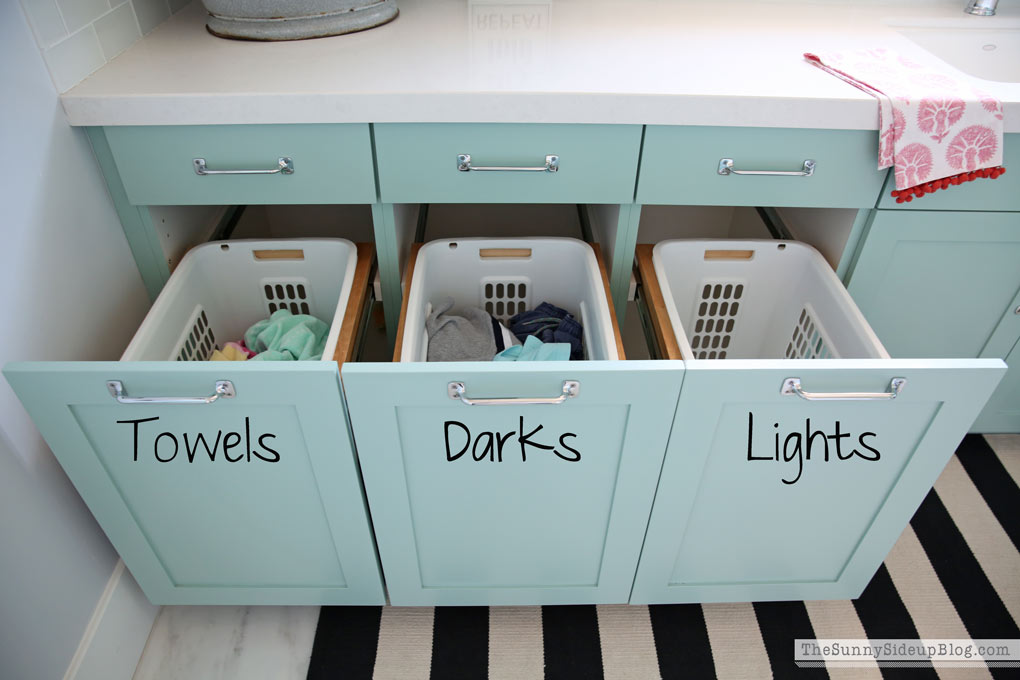 I have my kids separate their clothes into towels, darks and lights (lights had just been washed when I took this picture!).  I planned to find labels for these cupboards and just haven't found anything I love yet.


I put plantation shutters on all of the windows throughout our house except in this room.  I knew I wanted a fun window valance in this space!


I had this coral valance custom made.  I wanted a simple pattern and this fabric had me at hello. It doesn't do much to keep the bright sun out of this room, but sunshine (and cute coral window valances) make laundry time a little less daunting so I'm ok with that. :)


A cute hand towel (a gift from this crew when they came to my house), favorite hand soap and a favorite bowl from Anthro completed the room.


This pull out drying rack is also so nice when it comes to keeping clothes off the floor.  It's usually filled with my girls' dance clothes and tights and other delicate items that I don't want to dry.  In the summer it's always holding swimsuits. :)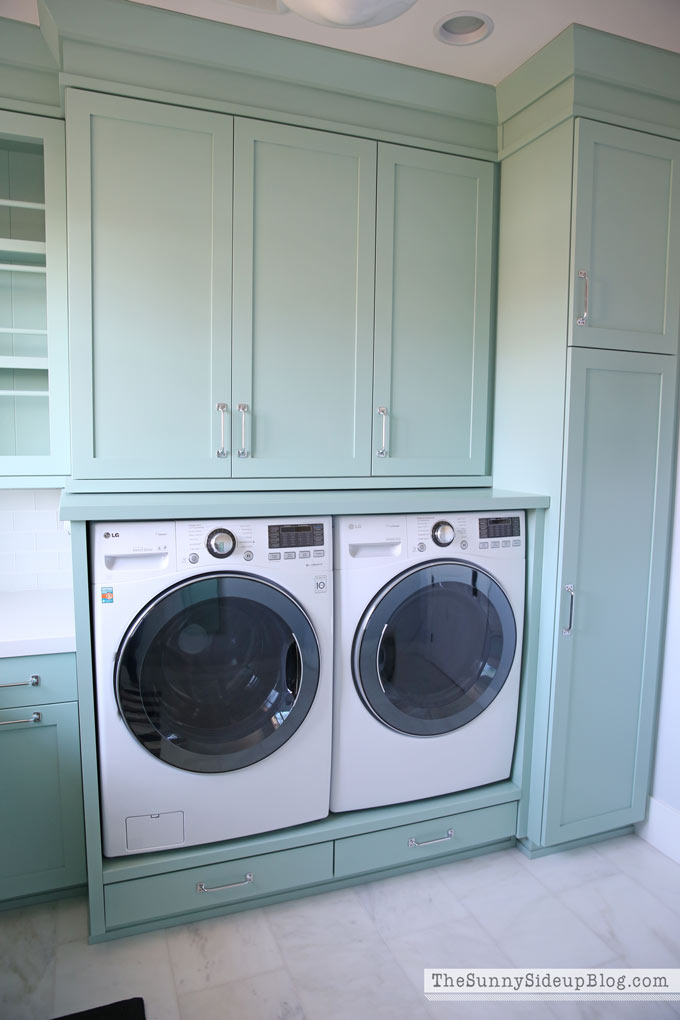 There really wasn't much to decorate on this side of the room!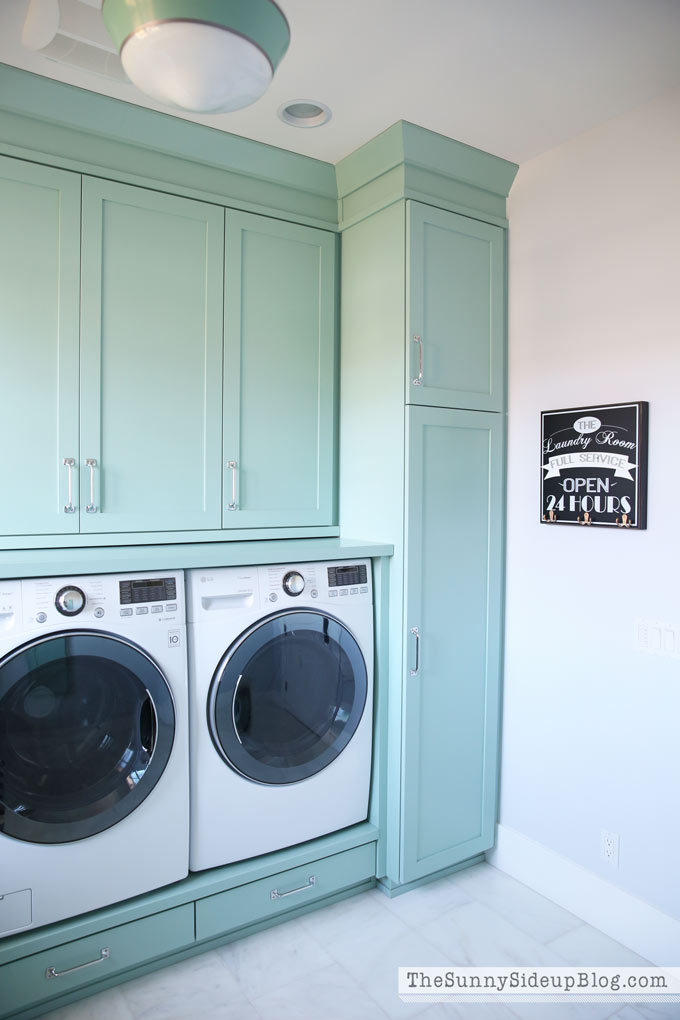 I added this laundry sign to the wall by our door and called this space done. :)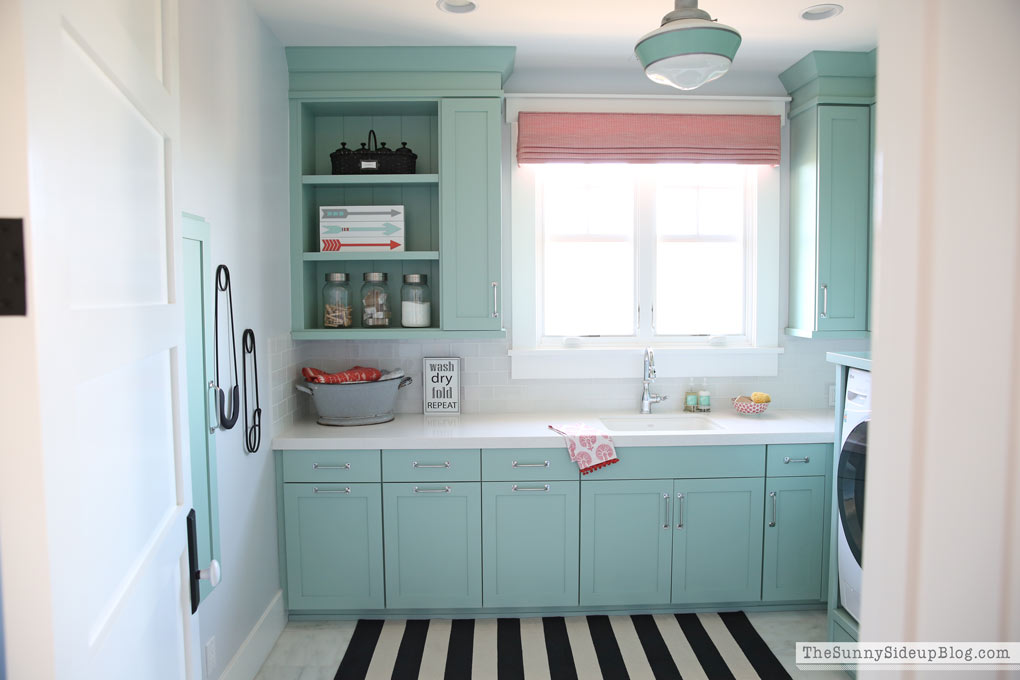 For years in past apartments/homes I had tight laundry spaces and just didn't bother decorating them.  I wish I would have!  Just adding a favorite rug and some fun colorful decor can brighten up any laundry space and make a never ending chore much more bearable.
I think I'm ready to tackle another eleven loads!
Or let's not.  And just remember we did.
And then take each other to lunch.
:)
LAUNDRY ROOM SOURCES:
Cabinets are custom made and painted "Wythe Blue" by Benjamin Moore.  Floor is Cararra Marble (you can read about why we chose this floor here.. a happy mistake!)  Paint is "Silver City" by Dunn Edwards.  Tile is white glass subway tile.  Light is from Barn Light Electric.  Most small decor item sources are above throughout my post!


xoxo, Erin