Sharing a few pictures with you from my Better Homes and Gardens Photo Shoot (behind the scenes!).  Almost a year ago I got a call from Karen who works for Meredith Publishing.  She had stumbled on pictures of my home on-line and said she works with several magazines who might be interested in featuring some of my spaces.. especially my upstairs laundry room.  She wanted to come and see the laundry room and "scout my house" – just check things out.  I was so excited and of course I cleaned like a mad woman for a week before she came because I knew she would not only be looking at my house, but also inside drawers and cupboards.  Yikes!  She came and we got along famously and she took lots of pictures and then I didn't hear much until a few months ago when she e-mailed to tell me that Better Homes and Gardens wanted to feature my kitchen and all of its organization in one of their Storage issues.  My kitchen!?  If anything I was expecting the laundry room.  I was so surprised!  And shocked.  And thrilled.  And stressed.  And elated.  And tired.
Because I wear myself out when I feel so many emotions at once. ;)
Last Wednesday the BHG crew showed up at my house at 8:30 a.m. and got to work!  The whole process was absolutely fascinating to me.  I've always been so curious about how magazine shoots work!


They brought in a lot of decor.  So many fun things!  And gorgeous flowers!  I might have squealed when they carried the flowers inside in this white bucket.  I tried to contain my excitement and play it cool.. you know.. just another day in the life.
But that doesn't work very well when you can't contain squeals.  :)


They instantly started "staging."  Moving my things around and styling everything.  This was the part I couldn't wait to watch!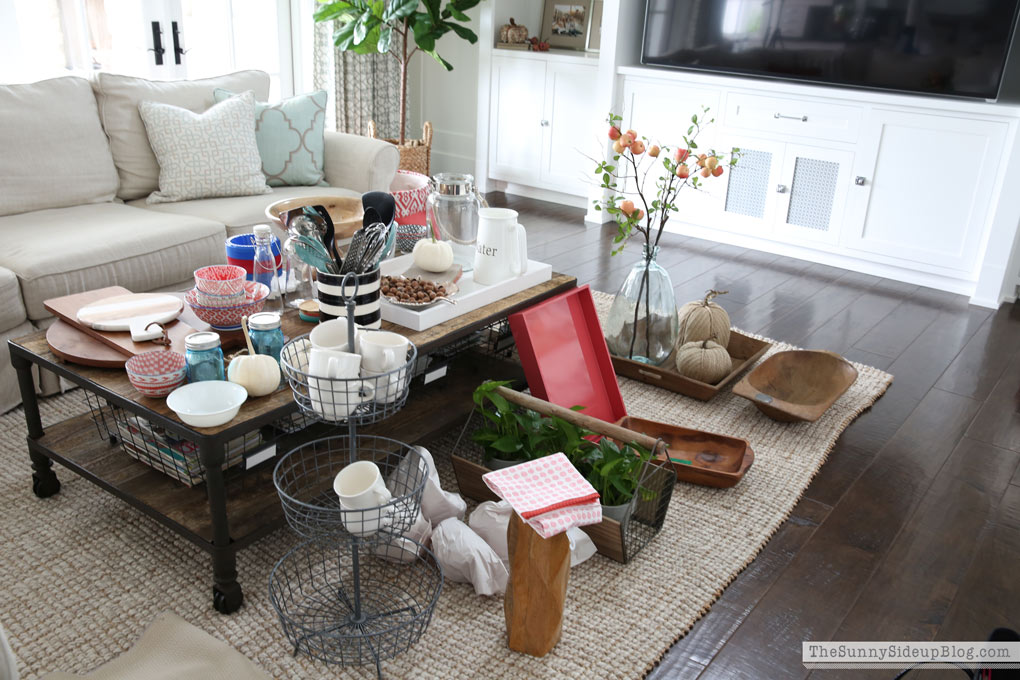 The first thing I picked up on is how very little they wanted out.  Some of my decor ended up in my family room for a while and then they spent quite a while moving things around, taking things out, putting things back in.  They used a few of their things, but I was also happy with how much of my stuff they used too.  It still looked like my kitchen.  Just clean and minimal!


After hours of styling and getting it all picture perfect the camera man showed up.  Oh my word.. I love this man!  Aside from being so friendly, genuine and down to earth, he is also amazingly talented.


He came with LOTS of equipment.


So much work goes into each shot.  He didn't take a lot of pictures which surprised me.  So much time was spent styling and checking out angles and getting things just how they wanted it.  And then snap snap and done with that angle.  Very different from my photo shoots when I spend 10 minutes styling and then an hour taking 1,000 pictures from different angles with different camera settings.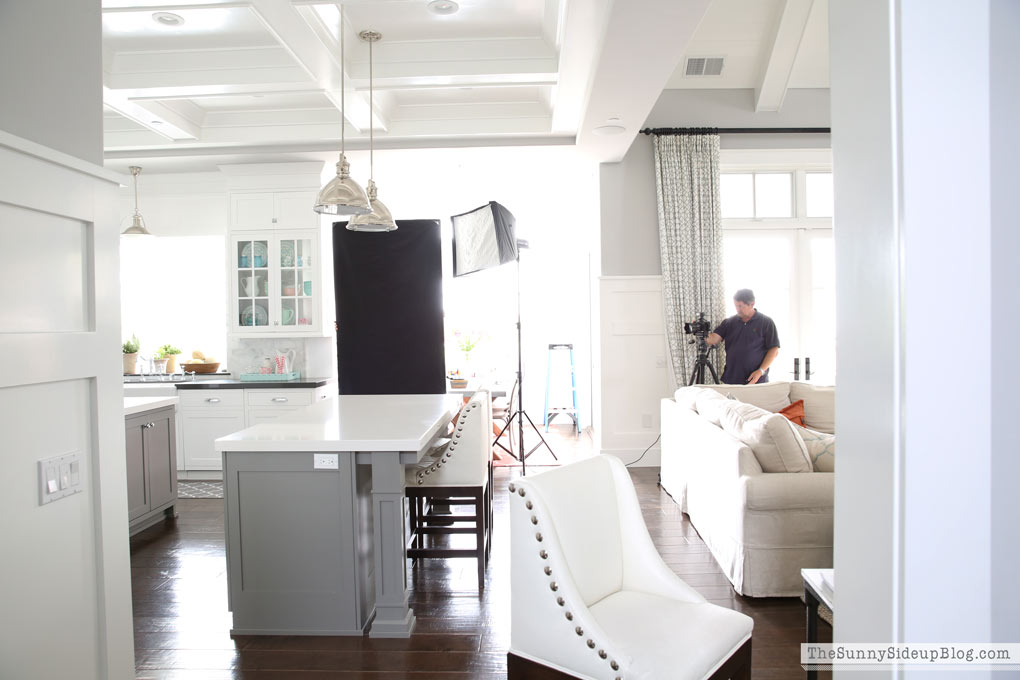 I wasn't sure if I'd just be hanging out watching or helping and I ended up doing some of both!  They were all so fun to chat with and they had me approve everything before they took pictures.  I helped prep areas while they were photographing others so I felt busy the whole time.  Busy helping and watching and learning.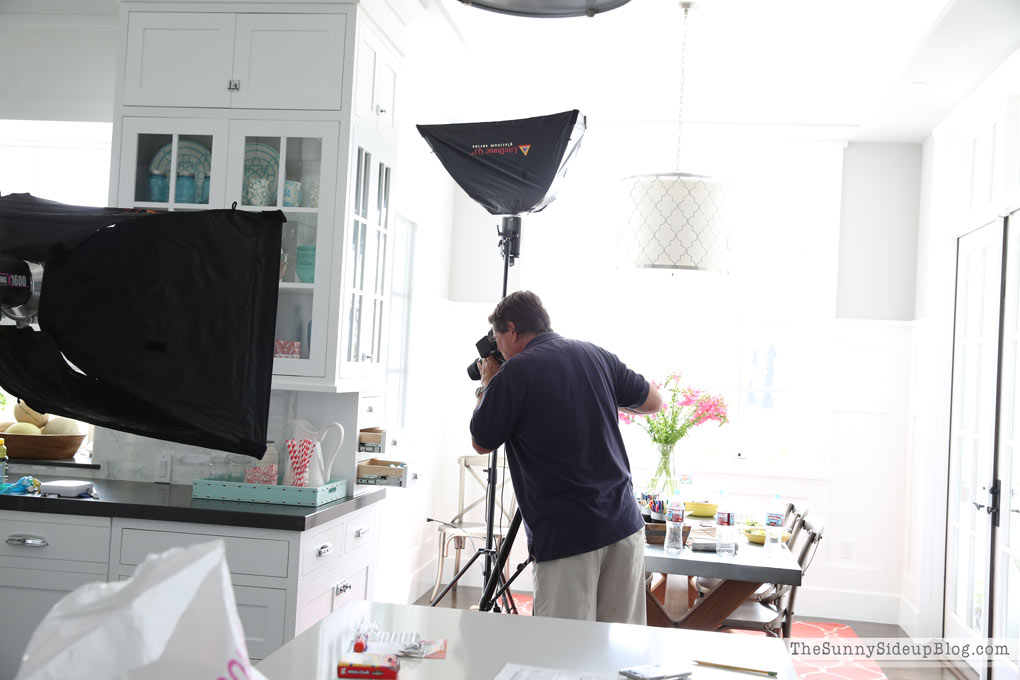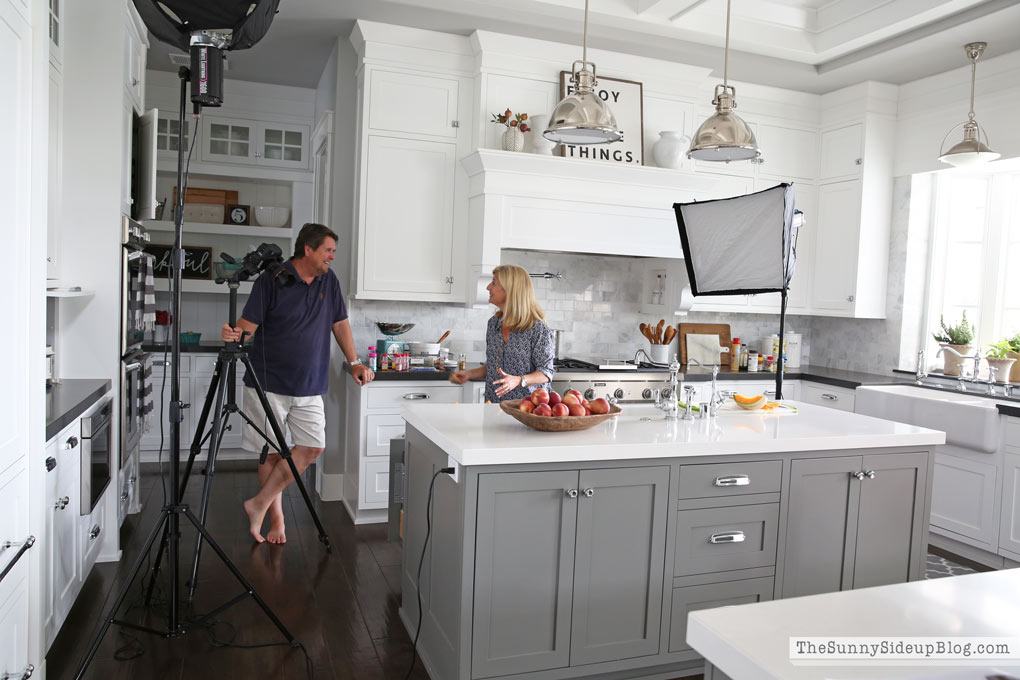 Karen (on the right) is the main stylist who initially e-mailed me and came to my house.  She has such a fun personality and by the time the shoot was done I felt like were were old friends!  We are planning a lunch date soon and I want to interview her for the blog.  Her styling skills are amazing and it was such a treat just watching her work!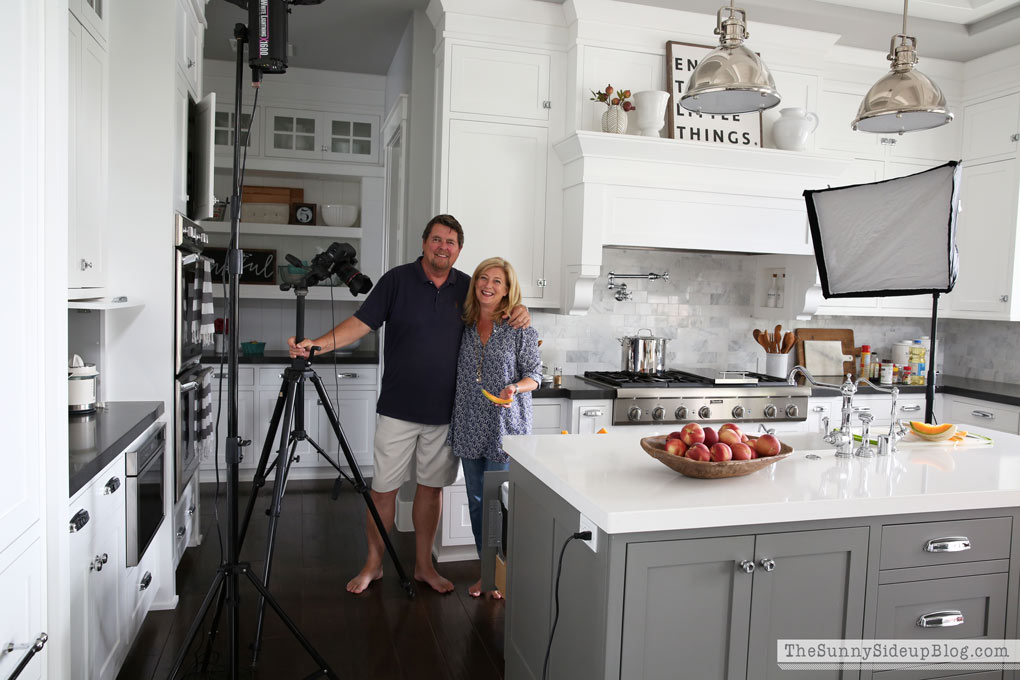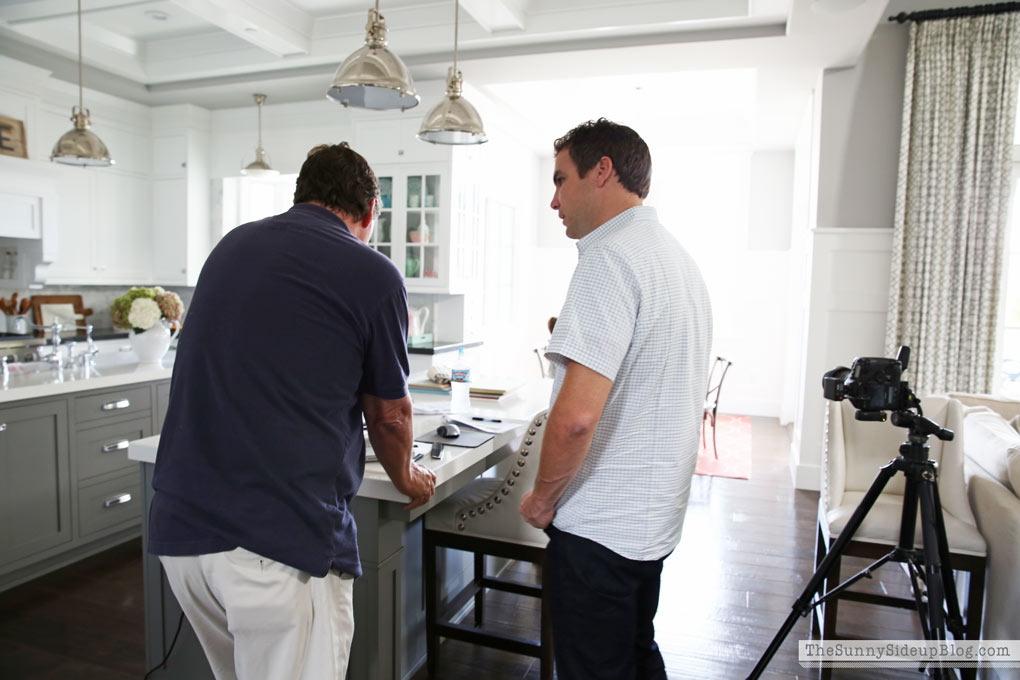 My husband was so great to pick up my kids from school on the first day of the photo shoot and rush them home.  The crew wanted a picture of my kids and we had a window of about 35 minutes before my girls had to be to dance.  My family walked in and Kenny chatted with the crew while I took 5 minutes to throw some sort of coordinating clothes on my kids and brush their hair.  They ended up taking some pictures of just the kids and then a few with me and Kenny in them.  I'm not sure if they turned out ok and what picture they will end up using.  We all got ready so quick!  If nothing else things will look pretty natural. :)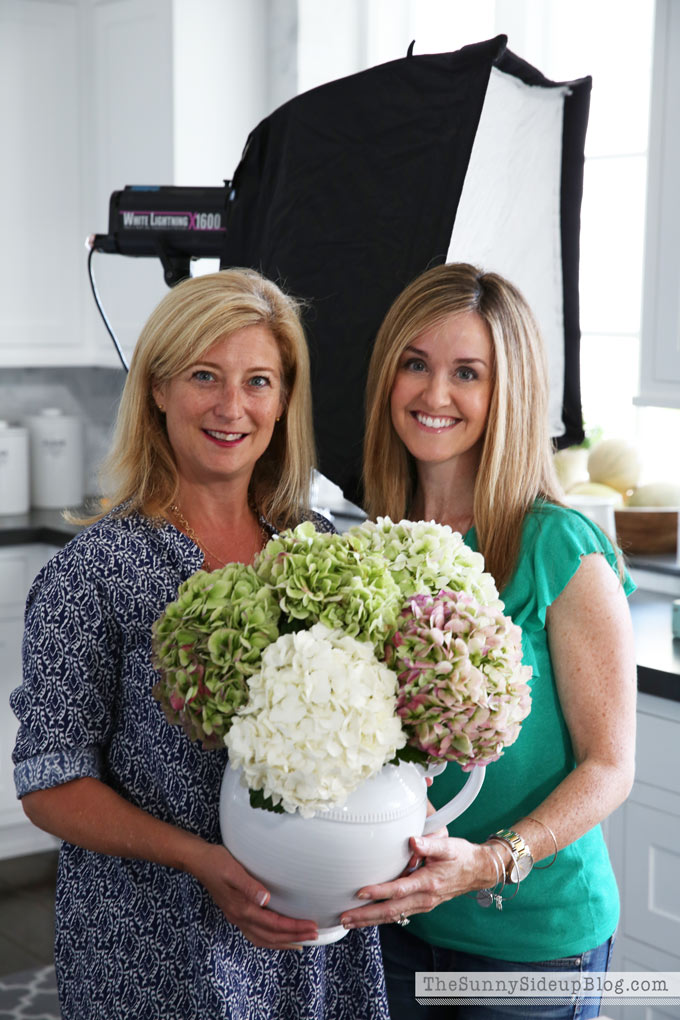 A little blurry of me, but I love this picture with Karen.  Those hydrangeas!


Before Kenny and the kids were off again I had him snap this picture of all of us.  After two full days of hanging out with these people I was sad to see them leave!  We all had so much fun together.  I asked them if I could please just tag along with them to other houses?  :)


Big smile on my face because Ed's pictures of my pantry looked amazing!  So often I look at the pictures I take of my home and feel bummed.  They never look as good as everything really looks in person.  Ed is magic and makes that happen.  So basically I just need years of training and experience along with thousands of dollars of fancy lights and equipment and I'll be set.  No more so so pictures. :)


In the photo shoot my kids were coloring and after they were done taking pictures Ad and Kole didn't want to stop!  They colored for 20 minutes until they had to leave.  Karen filled my art caddy with new supplies and gave my kids coloring books for the shoot and when I told the kids we got to keep the supplies they all cheered and clapped.  It made me laugh because they never get that excited when I buy new markers.  Ha! :)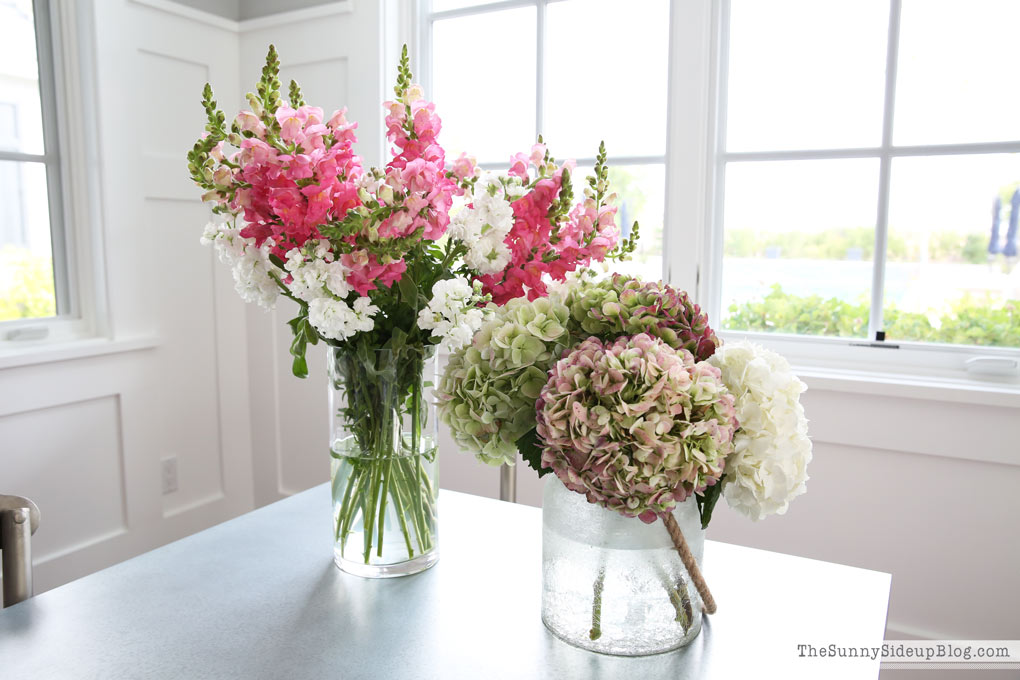 I got to keep the flowers (and a few other things I bought that they brought in!) so some cheering and clapping happened on my end as well.
:)
Overall this experience was just amazing.  It was such a treat to watch the pros and the fact that they liked my house and what I've done to it so far was icing on the cake.  (Ed wants to make a shiplap display wall in his house!).  I told him he can copy anything in my house that he wants.. in exchange for free photography lessons of course. ;)  They might be back to feature another room at some point and I laughed telling them please do.. anything would be easier than the kitchen!  My poor family.  For three straight days I was like "don't eat that cracker in the pantry!  Don't move that dish one inch!"  Keeping your kitchen perfectly clean and organized with three kids running around is no easy feat!  After the crew left my kids were like "mom.. now can we eat our food?"  Ha ha.. :)
I will let you all know when the issue is coming out as soon as they let me know!  Thank you so much for your sweet comments on the blog and social media and all of your e-mails.  Your friendship and support honestly means the world to me!  I'm hoping to share more of my kitchen organization and my pantry with all of you before the magazine comes out so you aren't seeing it there for the first time.  I was hoping to have more kitchen pictures posted a year ago but things have a way of getting pushed back at my house!  Just like this post that was supposed to be ready last Friday.  After everyone left and things settled down my husband said he was ready to have me back.  I said.. "what?.. was I distracted for a couple of days?"  He said "try distracted for a week!"  We had a good weekend getting back into our normal routine.  With mom engaged.
And doing laundry again.
Just another day in the life.
:)
xoxo, Erin