How is the organizing coming along everyone?  Are we motivated?  Or not so much?  I had a burst of energy this weekend (so happy to finally be feeling better!) so I finished two projects and started another one.  LOVE productive weekends.  It helped that for some reason my kids didn't have a lot of activities going on Saturday or Sunday (not the norm!) so I was able to stay home, spend time with my family and just chip away at things I've been wanting to get done.  What I wouldn't give for more weekends like this one!
The second item on my 2017 "to-organize list" after organizing my girls' bathroom drawers was my organizing my decor closet.  You all know I like to switch my decor around constantly once in a while. :)  In our previous house we were tight on space so extra decor I wasn't using at the moment was stored anywhere I could find room like in my master closet and in my laundry room cupboards.  (Both of those are past organizing posts if you are looking for more ideas!)  When we designed our new home I knew I wanted a closet just for home decor.  The picture above kind of shows where this closet is located in my house.  Walk in our front door (looking into our formal living room), hang a left and go around the corner.  My architect tried to talk me into making this just a coat closet.  It's close to the front door and he kept trying to convince me I would want more room to hang people's coats if we were entertaining.
Nope.  I knew that would be the case maybe twice a year.  There are only a few months people can even wear coats in San Diego!  I stayed strong and convinced him I needed a bigger closet, more shelves and less coat space.  So happy I did!
(affiliate links used)


I designed the doors to look the same as the craftsman doors throughout our house and to both swing open.  The only problem with this closet is that for the last three years we've been in our house it has become such a catch all!


Ahh!  Makes me cringe!  I know it's not that bad of a "before" but I honestly could never find what I needed.  For three years I've been just moving things around and piling things up and then trying to squish everything in so I could close the doors and pretend this mess didn't exist!  This past December when I brought my Christmas decor out and tried to fit things I wasn't using and wanted to store in this closet was the last straw!  It was driving me crazy and I knew I had to make it a priority this January.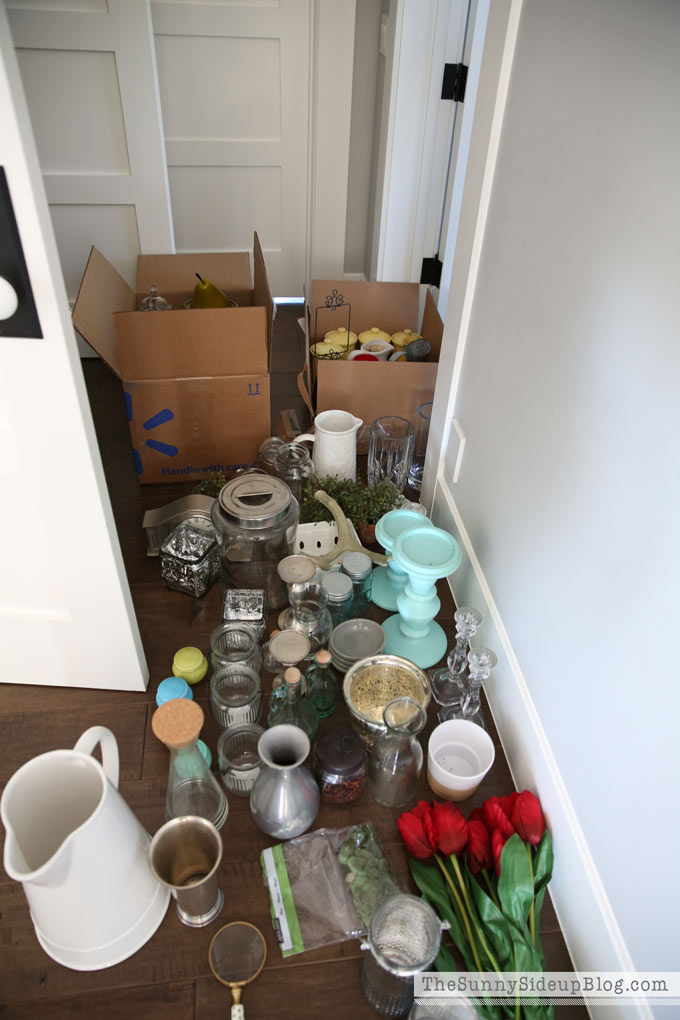 Whenever I'm dealing with a closet or cupboard or drawer that is this messy I start by pulling everything out.  I grabbed some empty boxes and started purging big time.


I know this is the part that is hard for some of us.  It can be hard for me too!  So many things I didn't want to let go of because I thought "but it's cute!" or "maybe I'll want to use it sometime" but I didn't let myself fall into that trap.  If I hadn't used it in the past year or two it was time to say good-bye.  Anything I had to stop and think about I made myself get rid of.  I only kept the things that I had no doubt I wanted to hold onto!  I filled these two boxes and four more.  SIX boxes!  I called a friend who recently moved into a new home to come and pick out anything she wanted and the rest went to Goodwill.  BEST feeling!  Are we ready to see the after?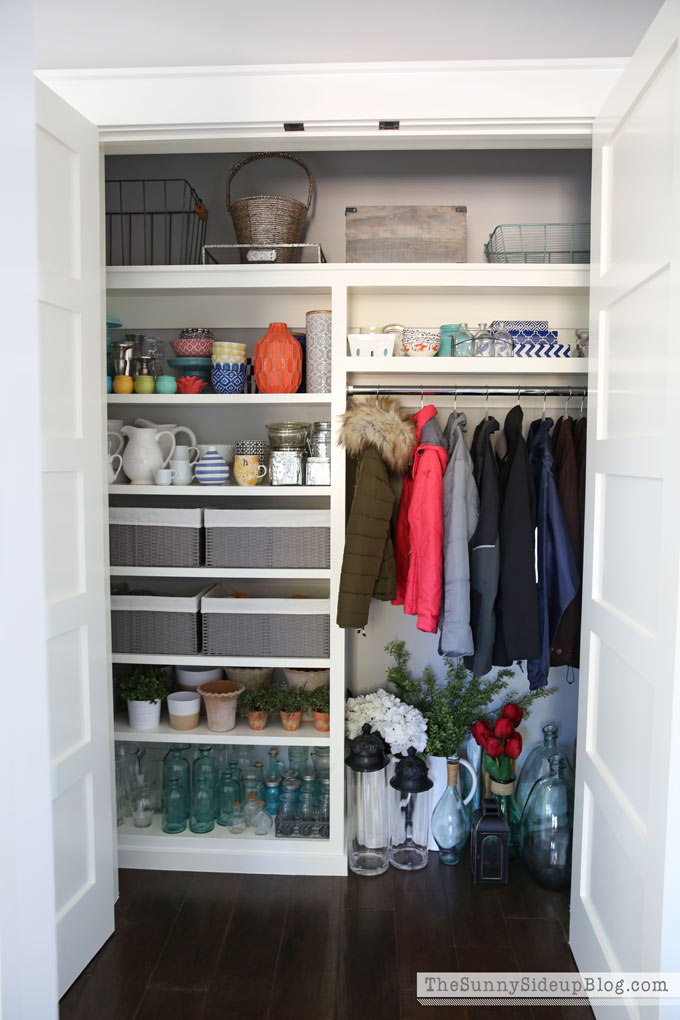 Ta-da!  Friends!  I hear the ever so familiar angels singing.  You!?


You don't hear them yet?  Then I think we need one more before and after.  ;)  BEFORE..


And AFTER.  See.  I told you you'd hear them. ;)  The best part?  Not only does it look nice, but it's so functional!  Here's how I broke things down..


I grouped like items together so that I'd always know where to look for and store certain things.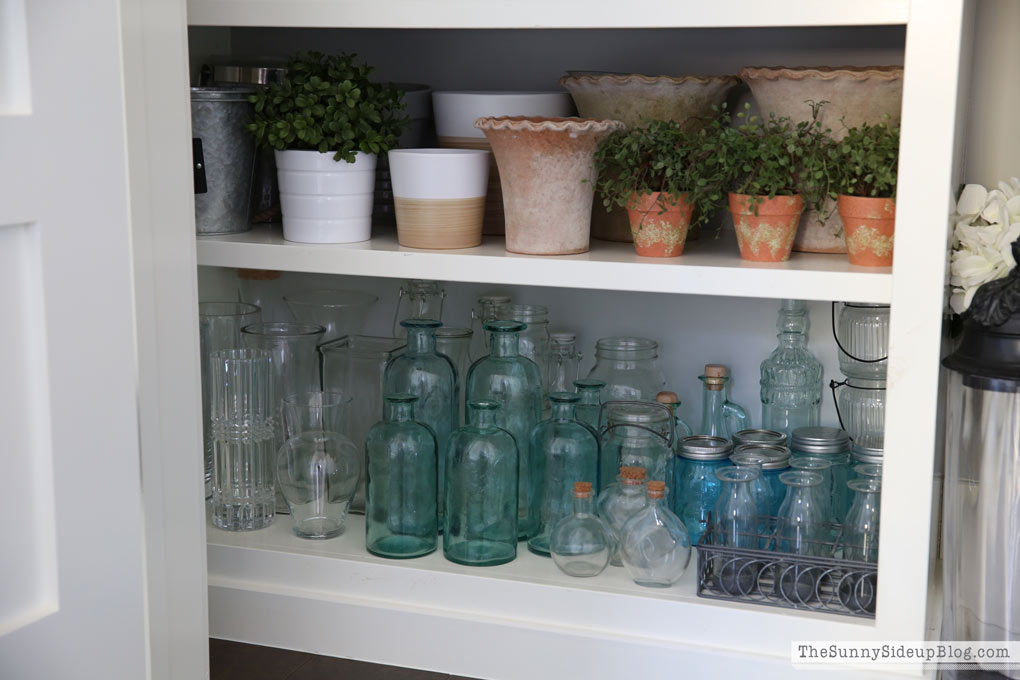 The bottom shelf holds all of my glass vases and jars.  I realized I kind of have a thing for them with this little makeover.  ;)  The shelf above them holds all of my pots for plants.


I used the space on the floor to store large/tall vases and a few of my faux flowers.  (The rest of my faux flowers are displayed in my house or they are seasonal.  I store all of my seasonal Fall/Christmas decor in my attic.)


I had a lot of random, small loose items so I knew I needed some baskets in this closet.  I measured my closet shelves and then realized that these gorgeous gray baskets I've had for a while from The Container Store fit perfectly!  LOVE these baskets.  They are beautiful and so roomy (I have the largest size).  Plus I love the liner.


One basket is holding faux fruit and the other is holding all of my Pottery Barn Easter decor.  Makes me excited for Spring!


I had other small items so I bought two more baskets.  These baskets are pricey and because they are so beautiful I might eventually move them somewhere out in the open where I can see them more, but for now they fit so perfectly in this closet!  The other basket holds some greenery and the last one is empty for now!  YEA!  Room to spare. :)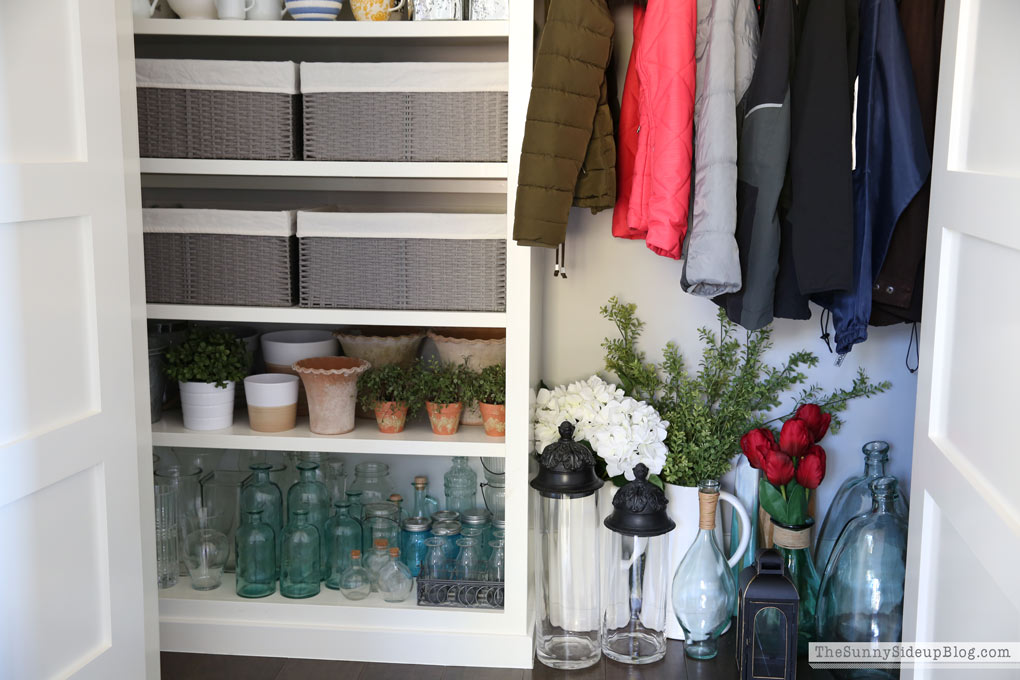 The top two shelves hold my extra white pitchers, silver vases and a few random colorful accessories just waiting to be pulled out and styled again. :)


The tall space at the top was perfect for extra baskets I'm not currently using.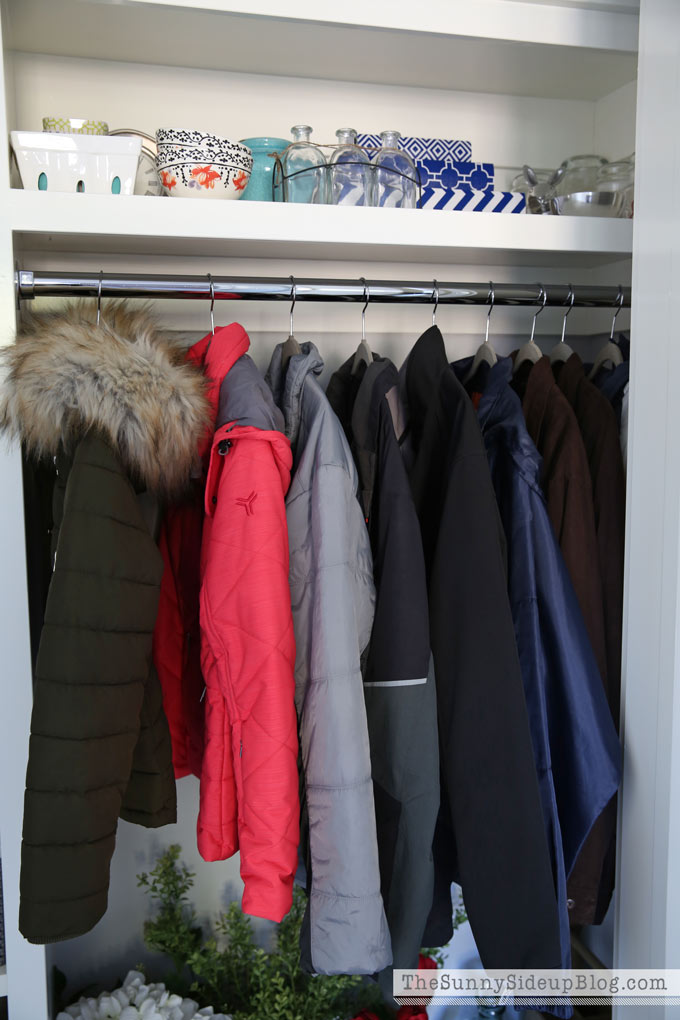 Random small items on the shelf to the right and I sorted through our coats!  I got rid of any that we weren't wearing anymore and just kept our every day coats/jackets and ski coats.  (The kids' jackets are in their mudroom lockers.)  Btw.. we have had the coldest winter we've had in years (so much rain!) and I have LOVED my green puffer coat I bought before Christmas!  (Details in this post.)  I've been wearing it almost every day.  So cute and right now it's 40% off!  Hands down one of my favorite Fall purchases.  It comes in a navy too.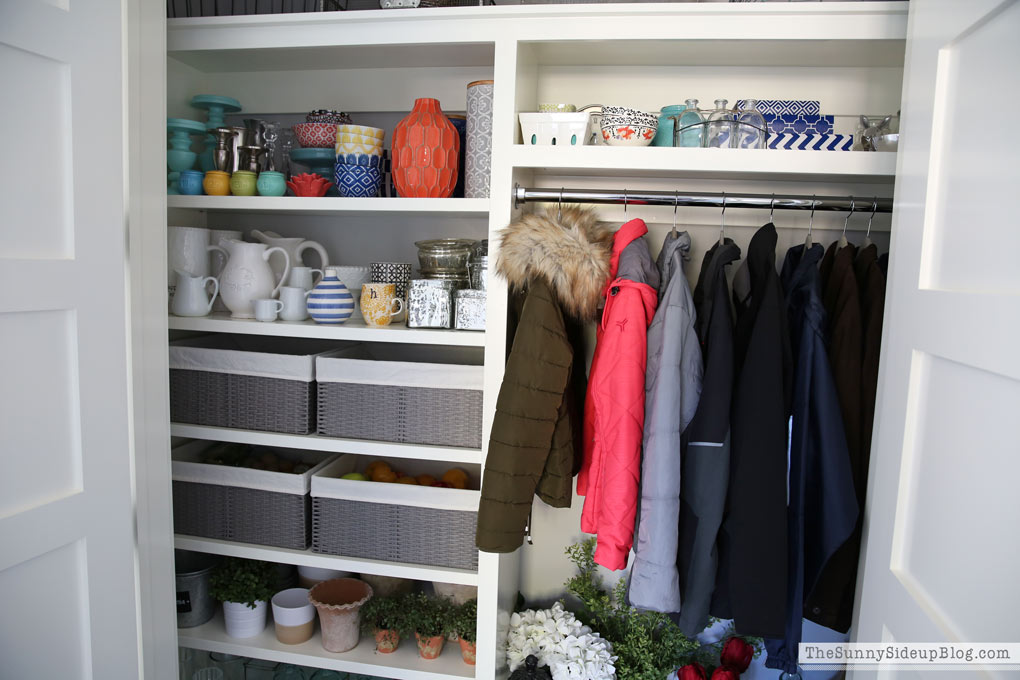 I saw my cute coat and got distracted. :)  Back to the closet!  Having this space organized feels so amazingly good because it was one of those spaces that was constantly bothering me.  Now I smile every time I open those doors!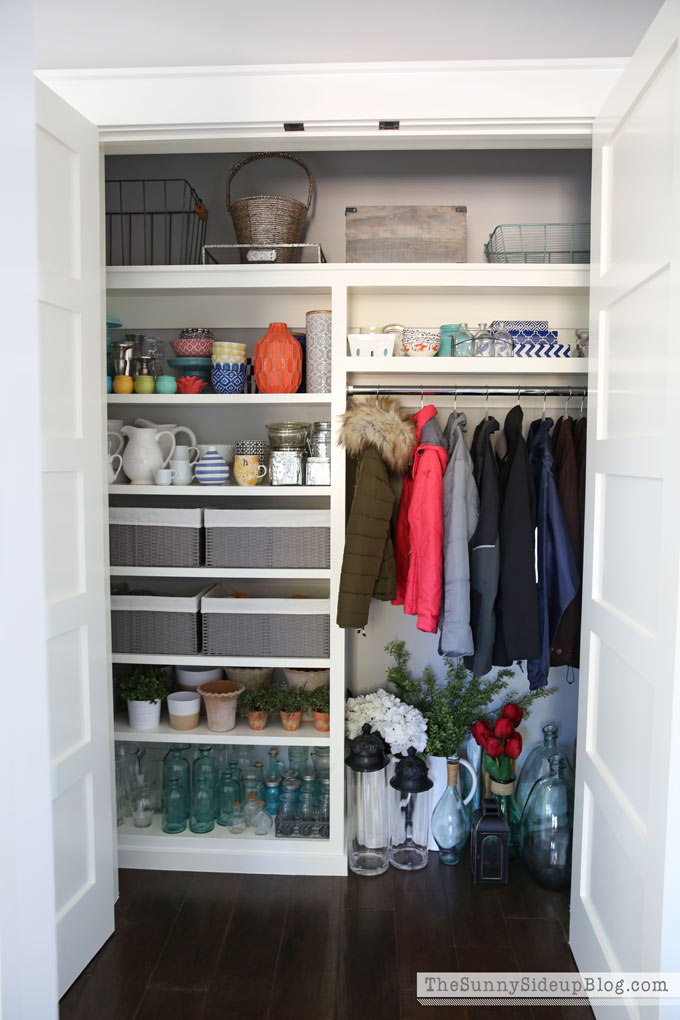 Switching out decor will be a breeze from now on. :)  If you like to switch out your decor and have random items stored all over your house, consider gathering everything together and clearing out a set space for it all.  Like I said earlier, in my previous house I used part of my clothes closet and a cupboard in our laundry room.  Regardless of where you store it, it's so nice to keep all extra decor together!
Ok.. last thing I want to tell you all about quick before I sign off!  Right now there is an Ultimate Bundle being offered that is seriously AWESOME.  It's called the CONQUER YOUR CLUTTER SUPER BUNDLE and it's only available TODAY!  It has been available the past six days, but I spaced mentioning it in my last post.  You guys.. I bought it and I'm seriously loving it so much!  It's full of resources – 5 Ecources, 15 planners, 18 Ebooks.. all about getting organized!!  It's like Christmas all over again for someone like me. :)  There is so much valuable information on topics I love – organizing paper, getting rid of clutter in your home, setting up good family systems, time management, budgeting, organizing pictures, chore charts, printables, meal planning (I so need to study up on that one)… and more.  They cover it all!  The best part?  It's only $29.97!  Such a steal and after reading just a few of the Ecources I feel like I've picked up enough amazing tips to make it worth my money.  I love learning from other organized people.  I love reading about what systems and strategies work for them and then trying them in my home with my family.  We can all learn so much from each other!  Anyway.. I had to share it with all of you because this is one bundle I honestly recommend if you are struggling to get organized in any way and are looking for new ideas.  Or if you are just an organizing junkie like me who can never get enough of this topic. :)  You can learn all about this bundle and see a list of everything it includes (it's A LOT!) HERE.  
But like I said, act fast! It won't be available after Monday!
Alright friends.  I hope you liked my organized decor closet!  What a post!  I think I've worn myself right out. ;)  Enjoy your day!
And happy organizing.
:)
xoxo, Erin