On to the rest of my master closet re-do!  To truly appreciate this minor turned major project you first need to witness the sad state my closet was living in.  I now present to you the before and after!
(drum roll please…)
Ahhhhh.  Like I've said before, all is right in the world when all is right with your closet.  :)
After researching a variety of hangers I finally decided to get these Huggable Hangers because my main goal was to save space.  I bought these at The Container Store, but you can also find them at Target.  My Target didn't have the grey ones and I wanted grey.  I also wanted an excuse to go to The Container Store.  :)  They aren't too expensive ($1 a hanger so $10 for a pack of ten) but when you are buying over 200 hangers it gets a bit costly!  I justified this little purchase to my husband by swearing that these hangers are coming with us to the new house and I won't buy new hangers again for a long time.  And let me tell you – I really meant it!  I LOVE these hangers!  LOVE LOVE LOVE them.  Nothing slips off of them, they are so thin and lightweight, and they seriously doubled my closet space!!
They fit perfectly on my side of the closet.  And don't they add a nice pop of color!?  They make me smile every morning when I waltz in to get dressed.  :)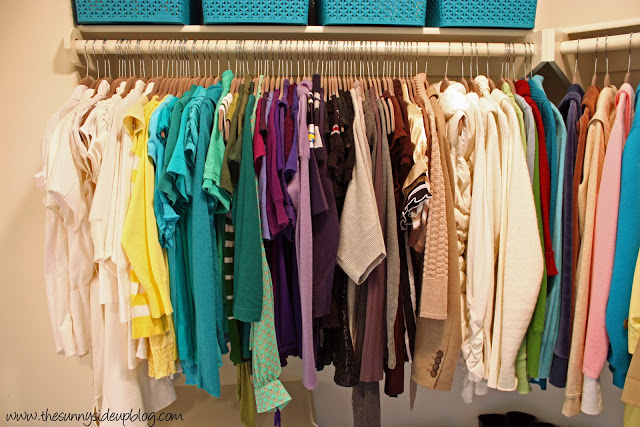 Next to my tops are my jackets and coats.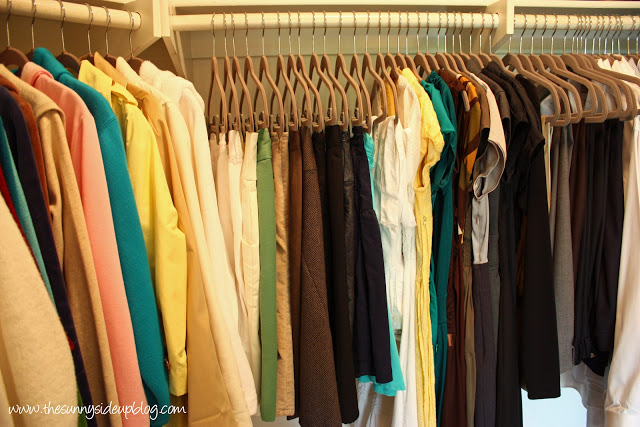 Next to my jackets and coats are my skirts and dresses.  (Jeans were relocated to my dresser.)
Here's another thing I love about these hangers.
They come with clips you can attach for skirts and slacks.  Perfect!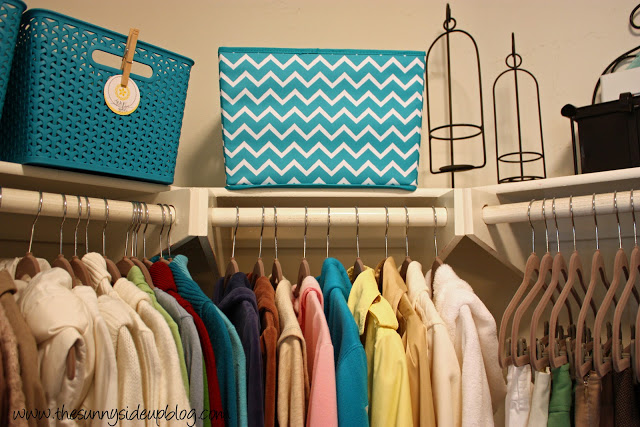 So that's it for my side of the closet!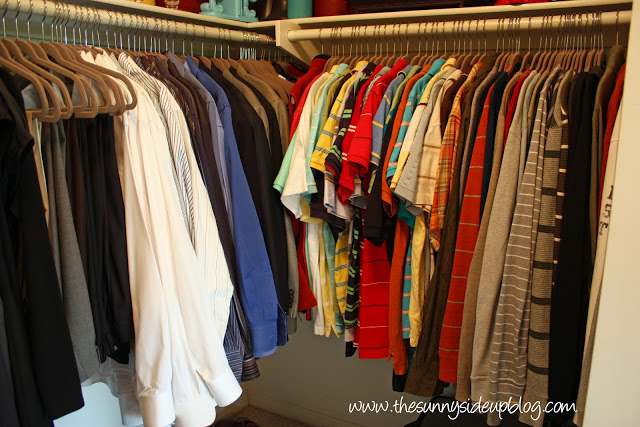 Kenny's clothes got a makeover too.  :)   I organized all of his slacks, dress shirts, collared shirts, and long sleeved shirts together.
His belts and ties are organized on this little tie holder I've had for years from Bed Bath and Beyond.
I'm excited that in my next house I'll actually have a place for home decor.
But this works for now.
Remember how I said my new hangers saved me so much space?
Check it out!  I fit all of my clothes and still have SO much room!  Looks like it's time to go shopping!
:)
So that's it!  Master closet is completely organized.  A project I was thrilled to check off my list!
Thanks for hanging in there with me!  I hope I didn't crash any computers with picture overload.
 I got a little excited about this one.  :)
Enjoy your day!
xoxo, Erin