Ok! Kitchen refresh take 2. :) What a week! My blog has been struggling lately but I think (I hope!) we're up and running again. Tech issues are never fun, but the good news is that I'll have lots to catch up on next week. :) Thank you for being patient with me! You all are the best.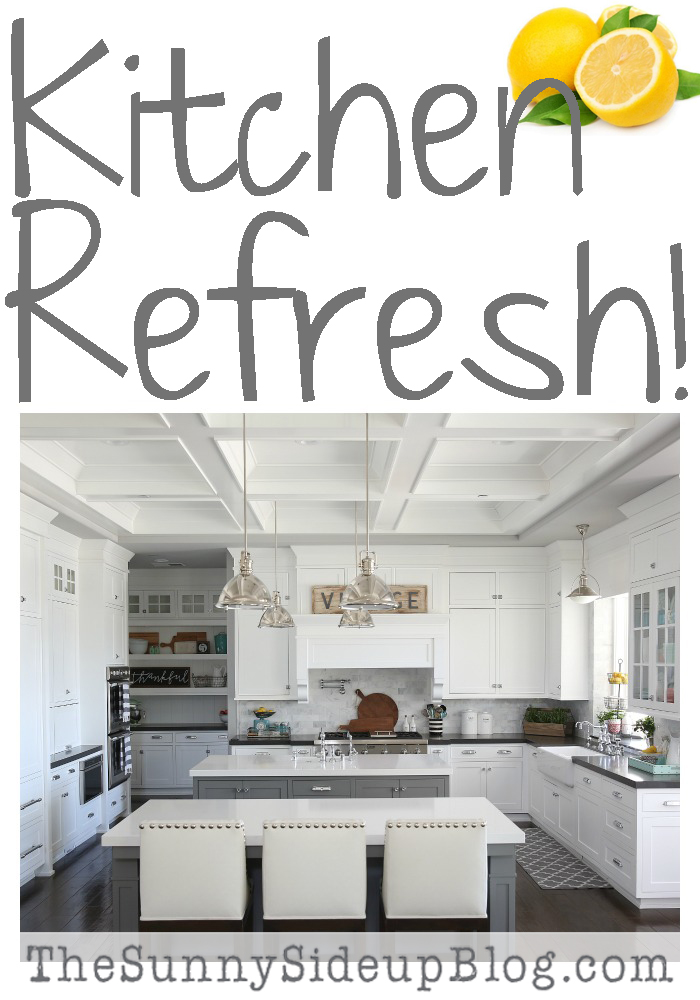 Hello hello friends!  I've freshened up my kitchen a bit for Spring/Summer and I'm excited to share a few new additions with you all!  It's feeling all sorts of cherry around here.  I wish so badly I could just have you all over to hang in my kitchen in person!  Wouldn't that be so much fun to have a huge blog party!?  If everyone each brought one thing to eat we'd have food galore and I wouldn't have to cook a thing.  My kind of party.  ;)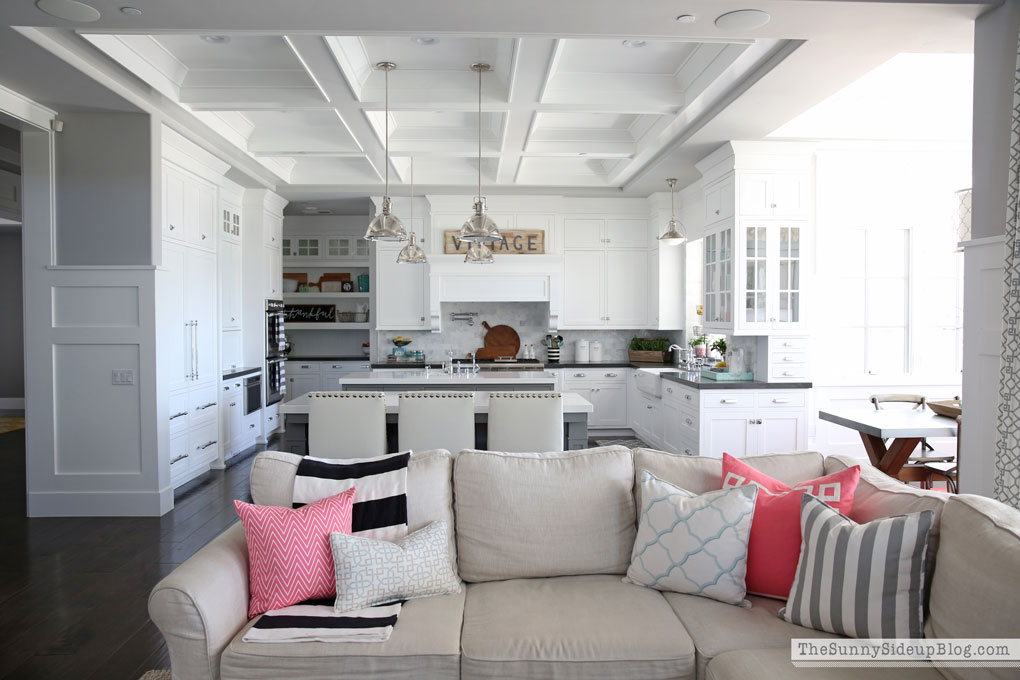 As soon as I finished decorating my office/craft room I decided that I loved the black touches (especially the black and white stripes!) and that I wanted to bring a little more black into my family room and kitchen.  I bought this cute striped throw for a steal and love the way it looks on my couch with the coral and blue.  Black and white stripes just go with everything.  They are my new neutral.  ;)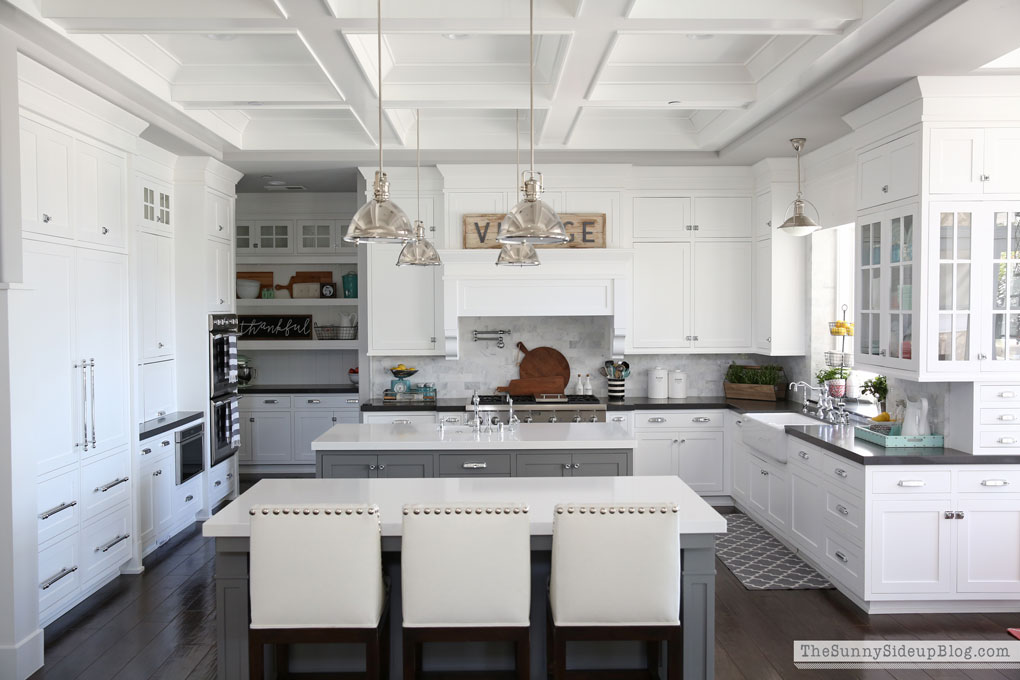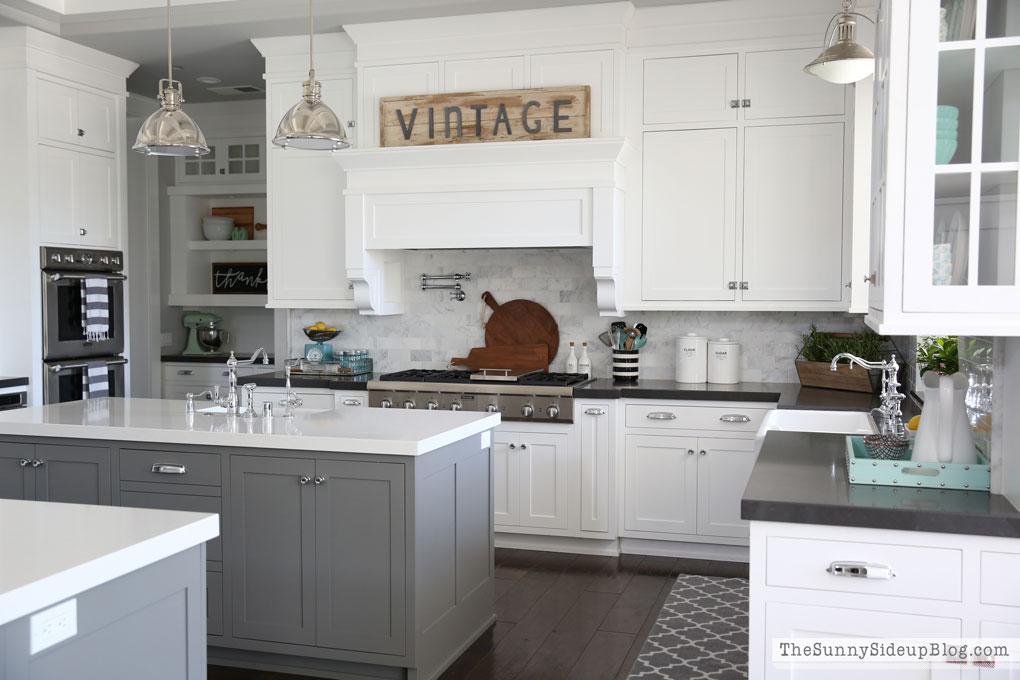 The first thing I did to refresh my kitchen and give it new life was to change the sign over my oven hood.  I love the Enjoy the Little Things sign I used to have in this spot (you can see it in this post), but it's square and I felt like a rectangle shape would work better.  I found this Vintage sign on-line at the Magnolia Market and fell in love!  Shiplap wood?  Steel gray simple letters?  The perfect size!?  Yes please!  Thank you once again Chip and Jo.  Forever yours, Erin.  :)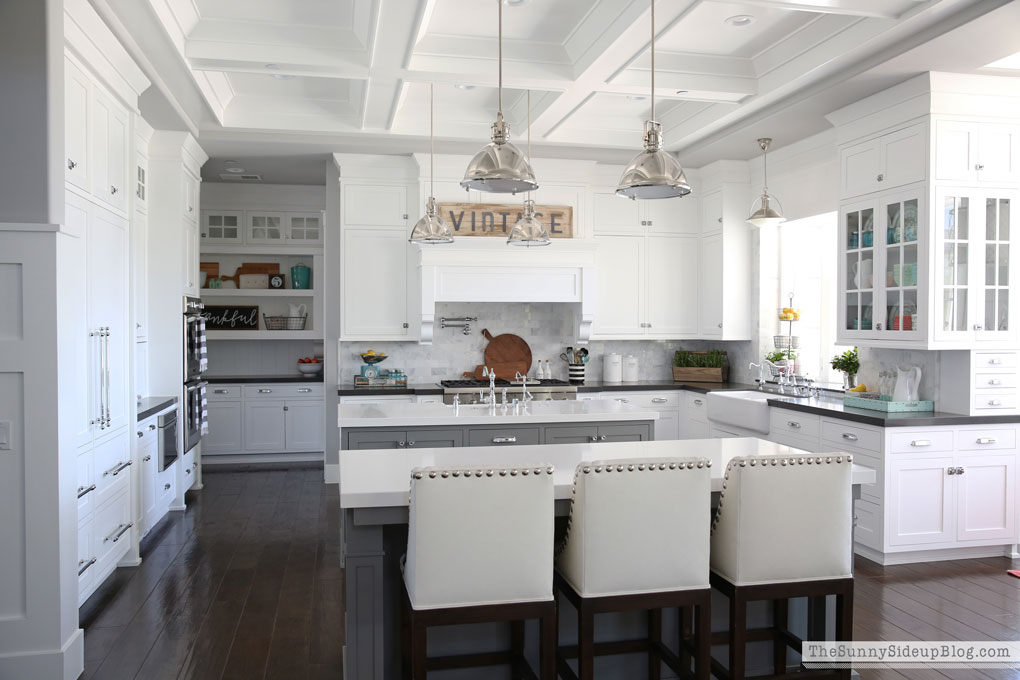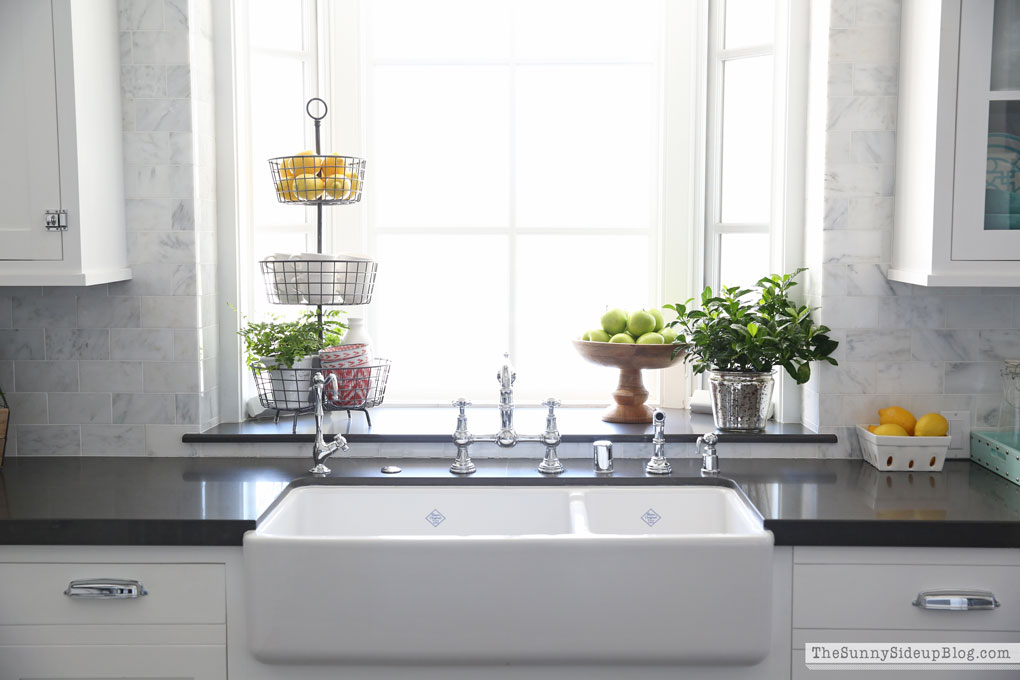 This bay window is a favorite feature of mine, but it's so tricky for me to decorate!  I feel like I need something taller and bigger on the right, but this is working for now.  This is also a tricky spot for me to photograph because of all the sunlight that pours into this window.  It's such a pretty spot in person because of the view of our pool/backyard which I can't for the life of me capture with my camera.  Still a lot to learn where photography is concerned!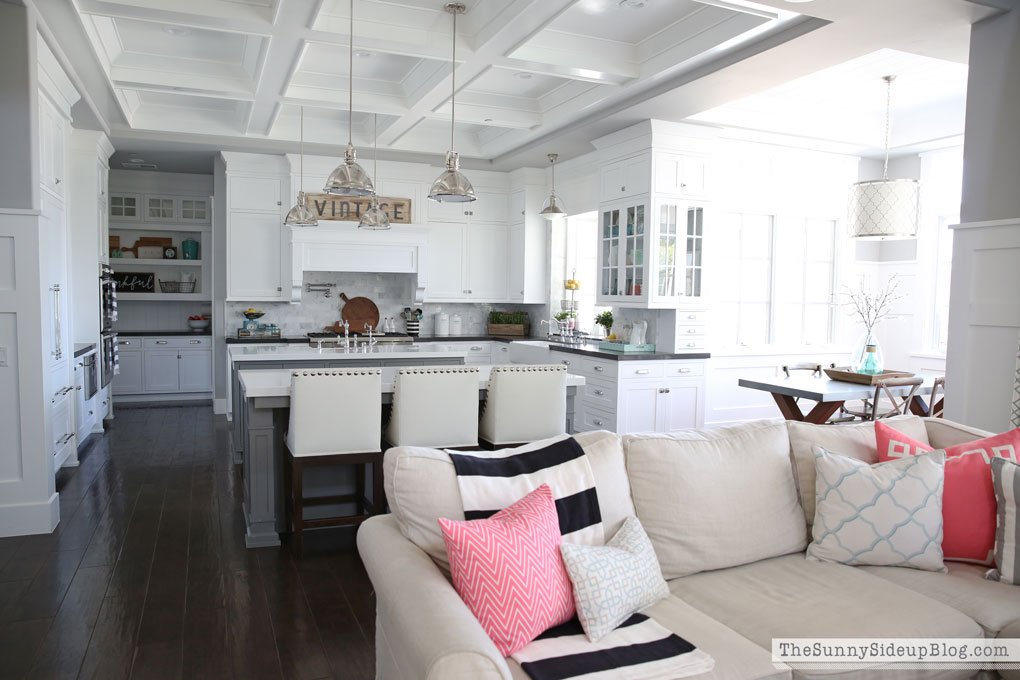 Aside from black I wanted to bring a little more coral into the kitchen because of the coral accents I have in my family room and in my kitchen nook.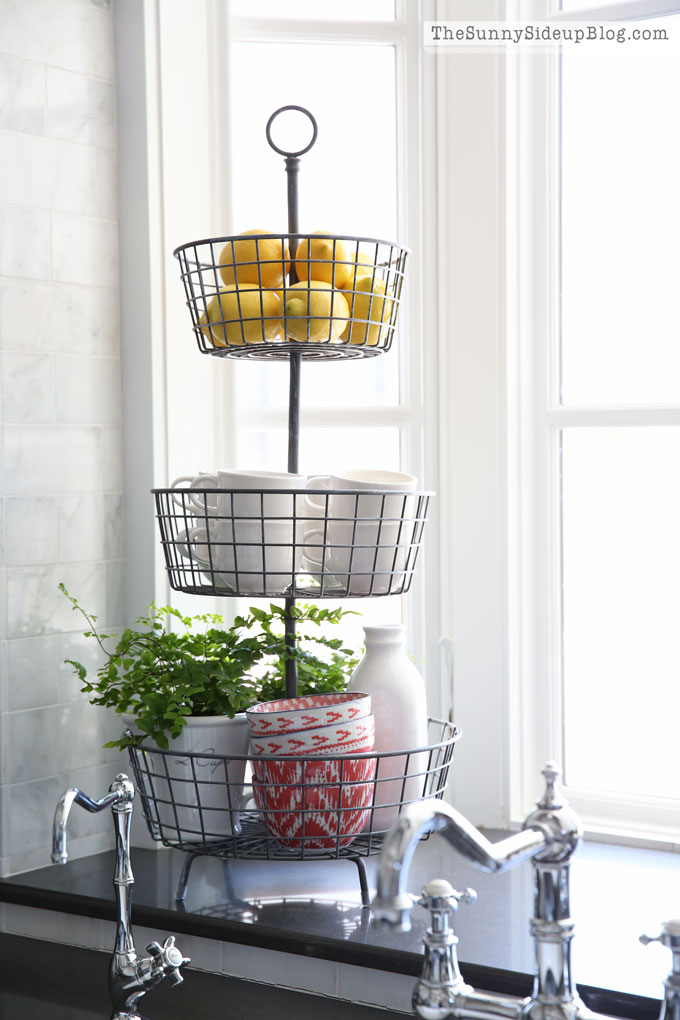 These cute little bowls from West Elm (here and here) were a perfect way to add coral to my wire basket.  I've had this basket for years and absolutely love it.  For a while it was in my craft room holding stamps and supplies.  Then it was in my bathroom holding sponges, bubble bath and decor.  Now finally it has settled on its new home in my kitchen.  (You can find a similar 3 tiered basket here from Crate and Barrel.)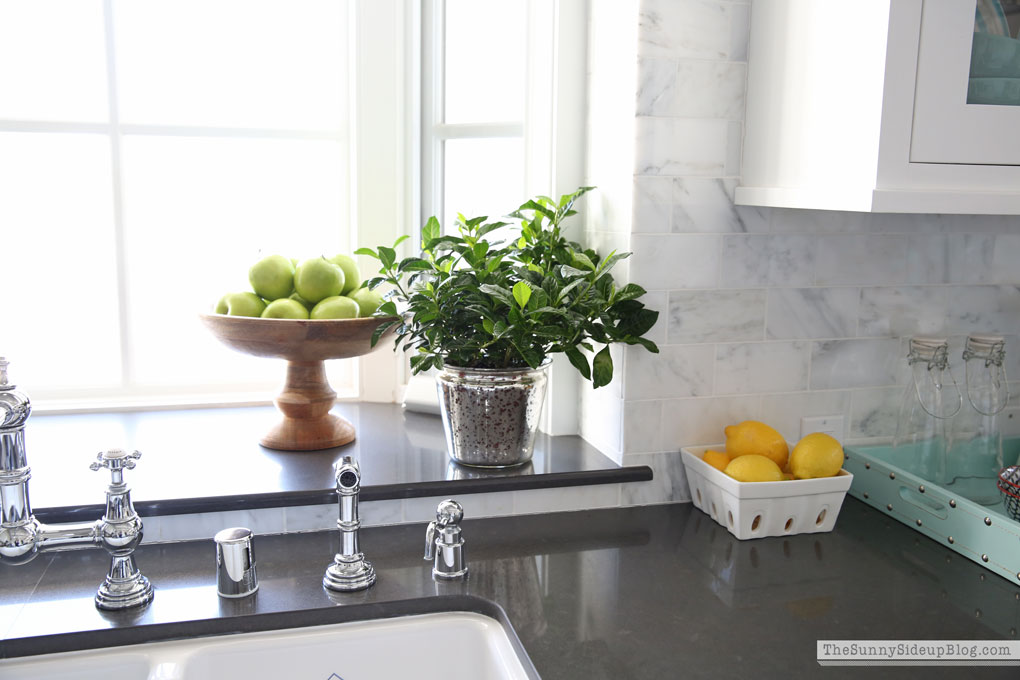 Still looking for the perfect thing for this corner, but for now this wood bowl full of apples and a plant give the space some life.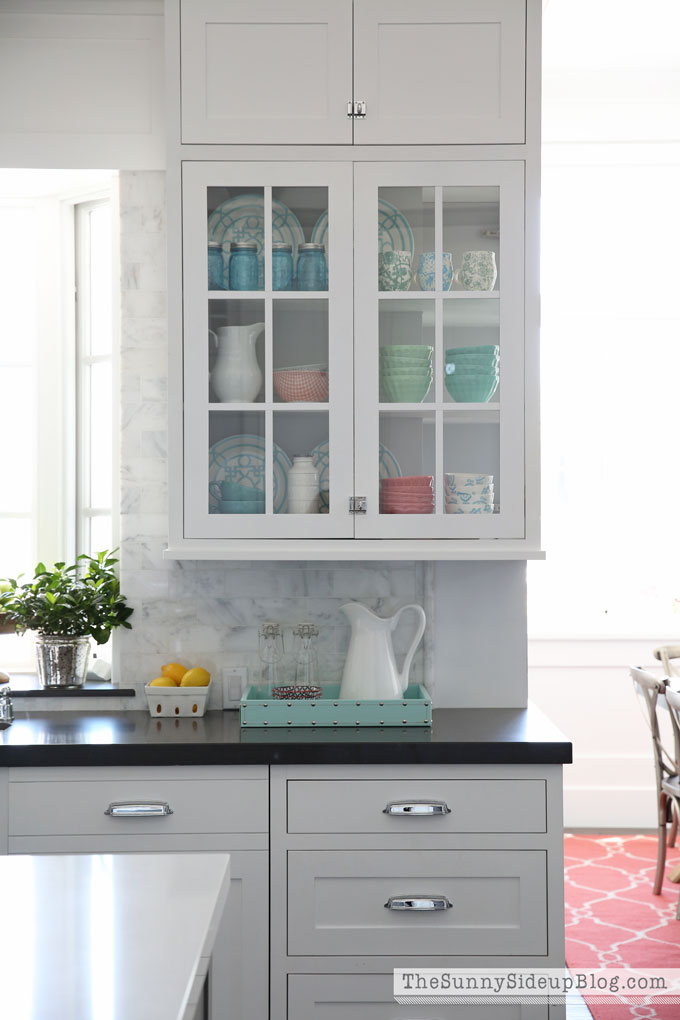 I added a few more coral bowls to my clear cupboard.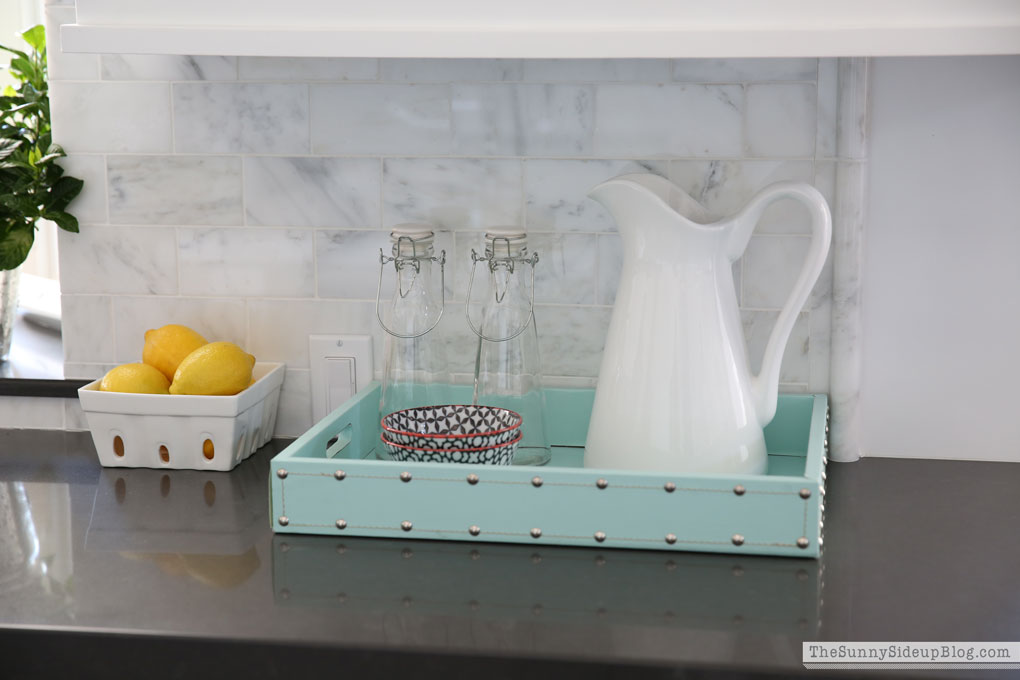 And found some cute black and coral bowls for my tray.  Yes, I hoard decorative bowls.  Admitting it's a problem is the first step to recovery.  Although if recovery involves less decorative bowls, quite frankly I'm not interested.  :)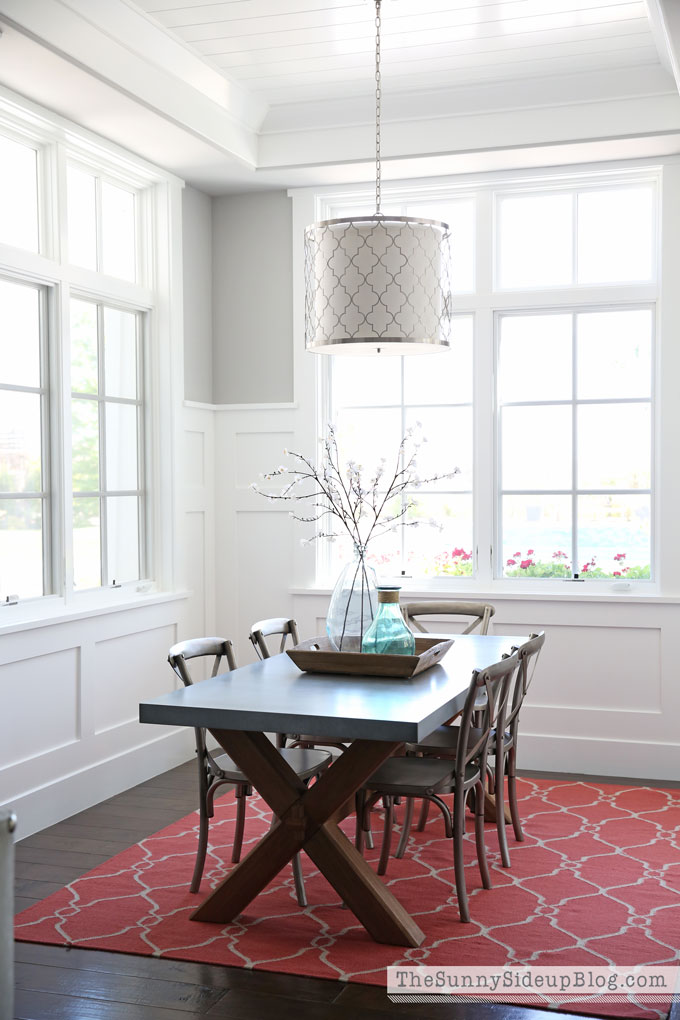 I kept my dining nook decor the same (even bought another vase and set of my favorite faux flowers after moving them) because I like it so much.  If it's not broke, don't fix it.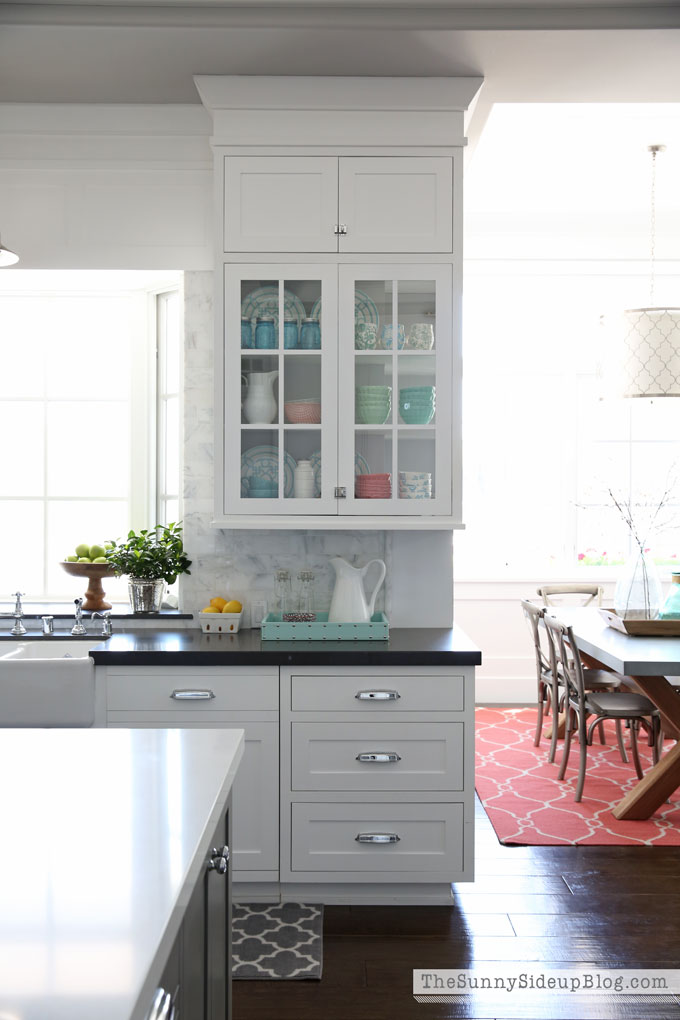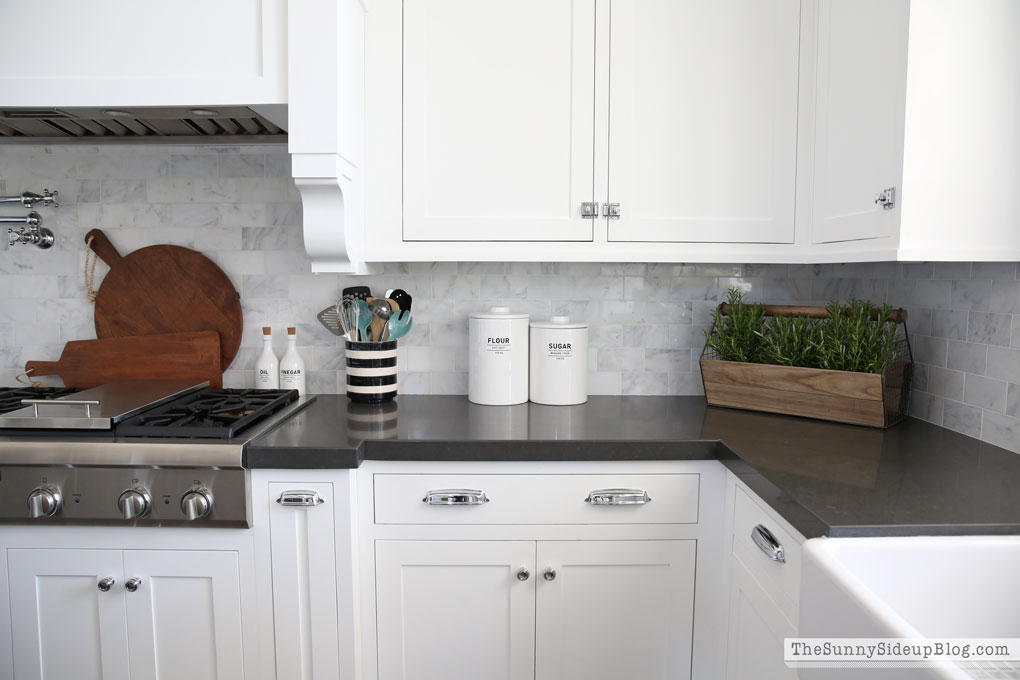 This is my favorite new kitchen decor!  The fun wooden crate I've had for a while and decided it fits perfectly in this corner.  I put a few Rosemary plants inside of it and they are making my kitchen smell so good!  I'm absolutely smitten with my Flour and Sugar canisters and the matching Oil and Vinegar jars.  The Flour canister worked great as a vase in my family room and then again in my formal living room, but now it's finally back in the kitchen.  I wish I could say it was holding flour, but it's actually holding treats that I'm hiding from my kids so I can have them all to myself.  Shh.. don't tell them.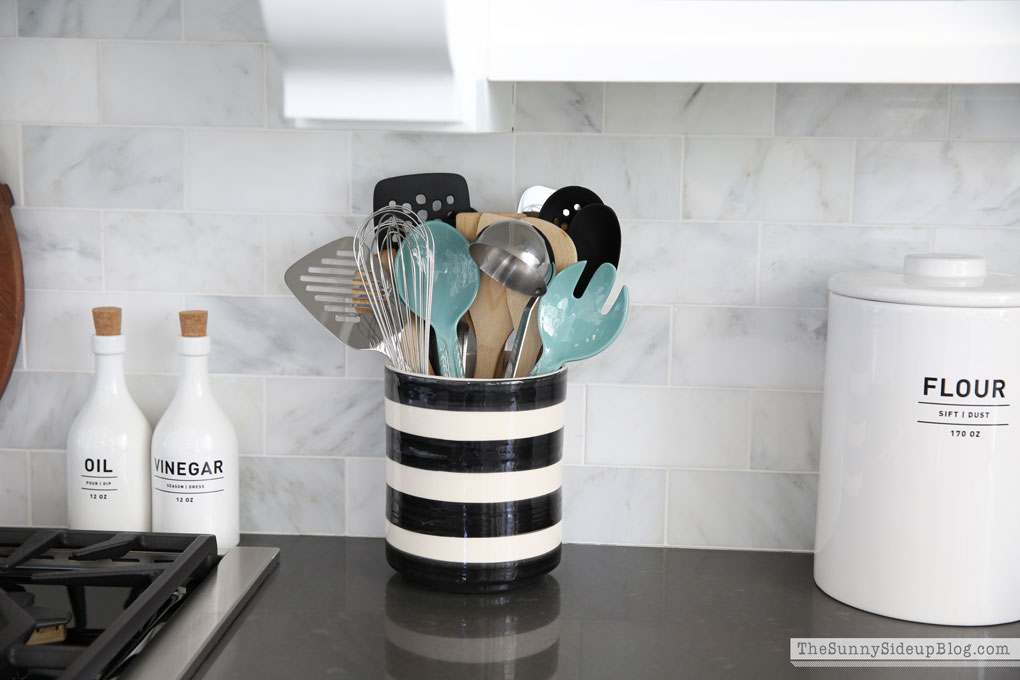 I knew I wanted a black and white striped utensil holder and I searched high and low and couldn't find one.  I almost bought this cute crock several times, but decided to keep looking for my striped crock that didn't seem to exist.  Then a few weeks ago I walked into West Elm and there it was!  My black and white striped crock!  A sales associate told me that it is actually a pot for a plant (no wonder I hadn't found it on-line!).  But to me, it was my absolutely perfect long searched for utensil crock and I was overjoyed.  I quickly called my husband to tell him my good news and then quickly remembered why I don't usually call him with this sort of good news.  I don't think he quite understood my joy or gave it the attention it deserved.  ("that's great babe.. gotta go.")  Which is why I share these things with all of you.  I know you get it and share my joy.  And if you're looking for the perfect black and white striped utensil holder (or plant pot for that matter!) look no more.  I have found it for all of us!  (Que the angels singing in the background.. it's that good.)  ;)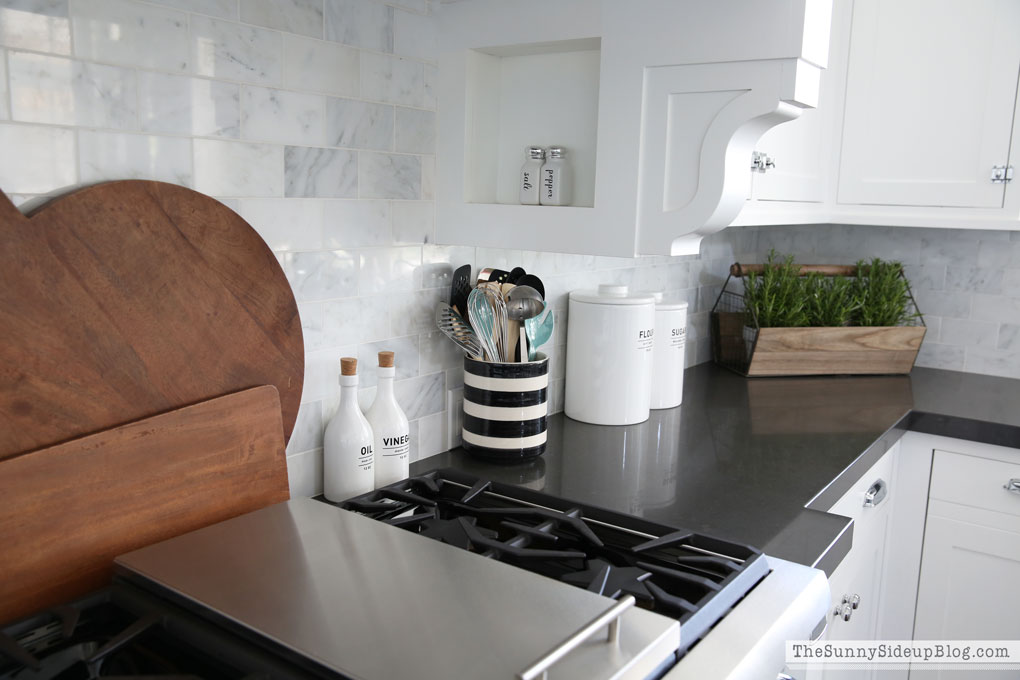 Love my little salt and pepper shaker cut out.  :)  This salt and pepper set was a gift from my mom.  She has the same set and I loved it so much that she bought me my own.  Most likely so that her's wouldn't mysteriously disappear.  (Love you mom.)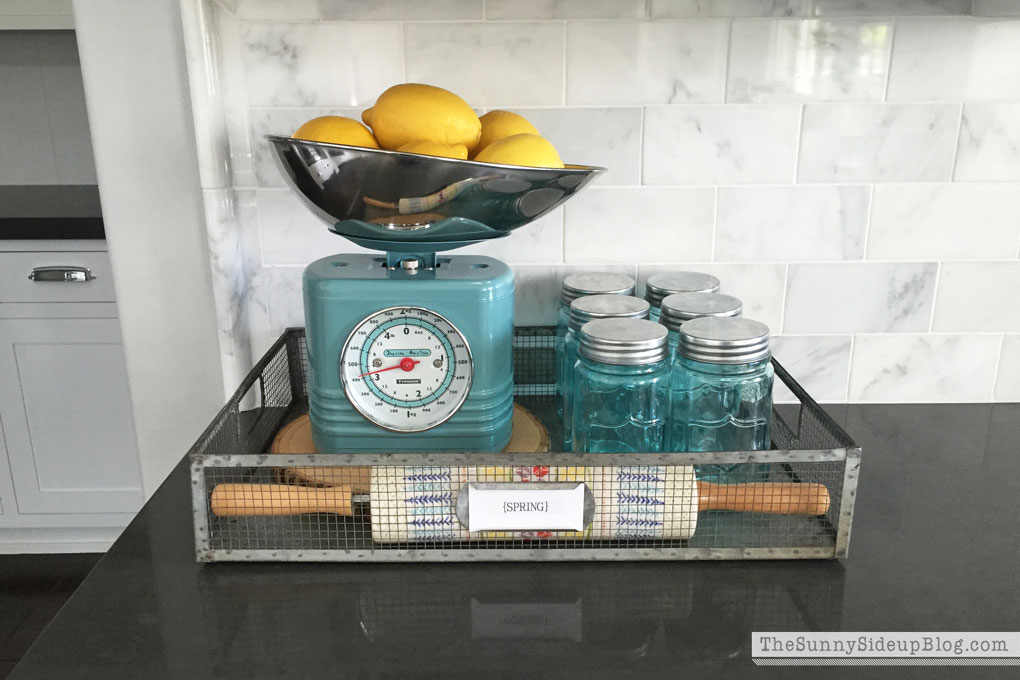 An older picture of my scale and lemons since I kept this happy spot the same.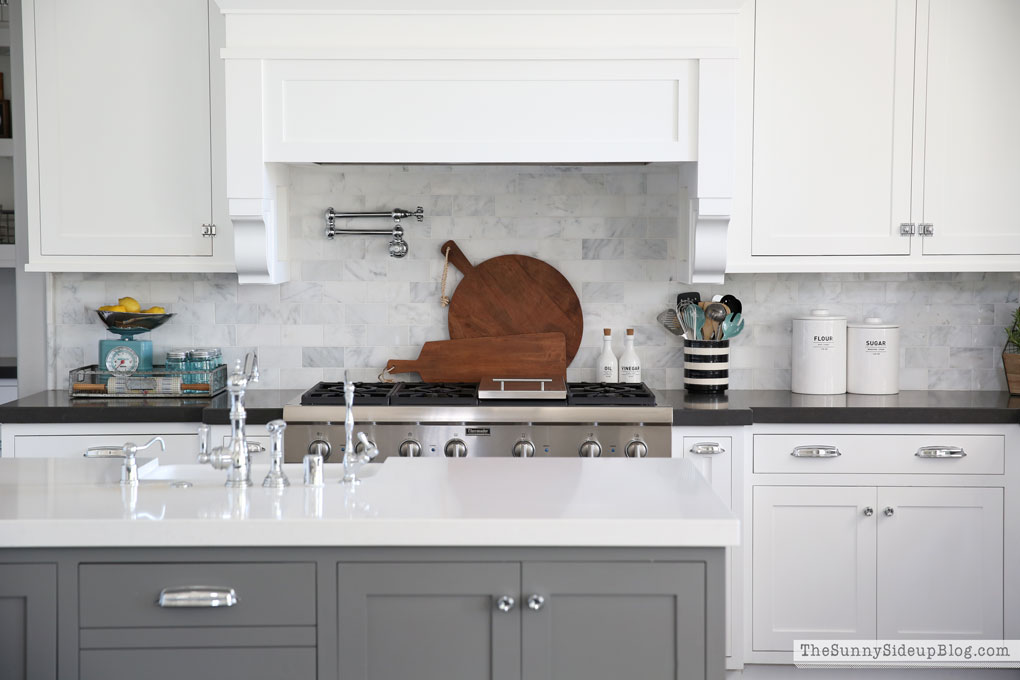 I also kept my Vintage pizza board and cheese board up against my backsplash because they are favorites.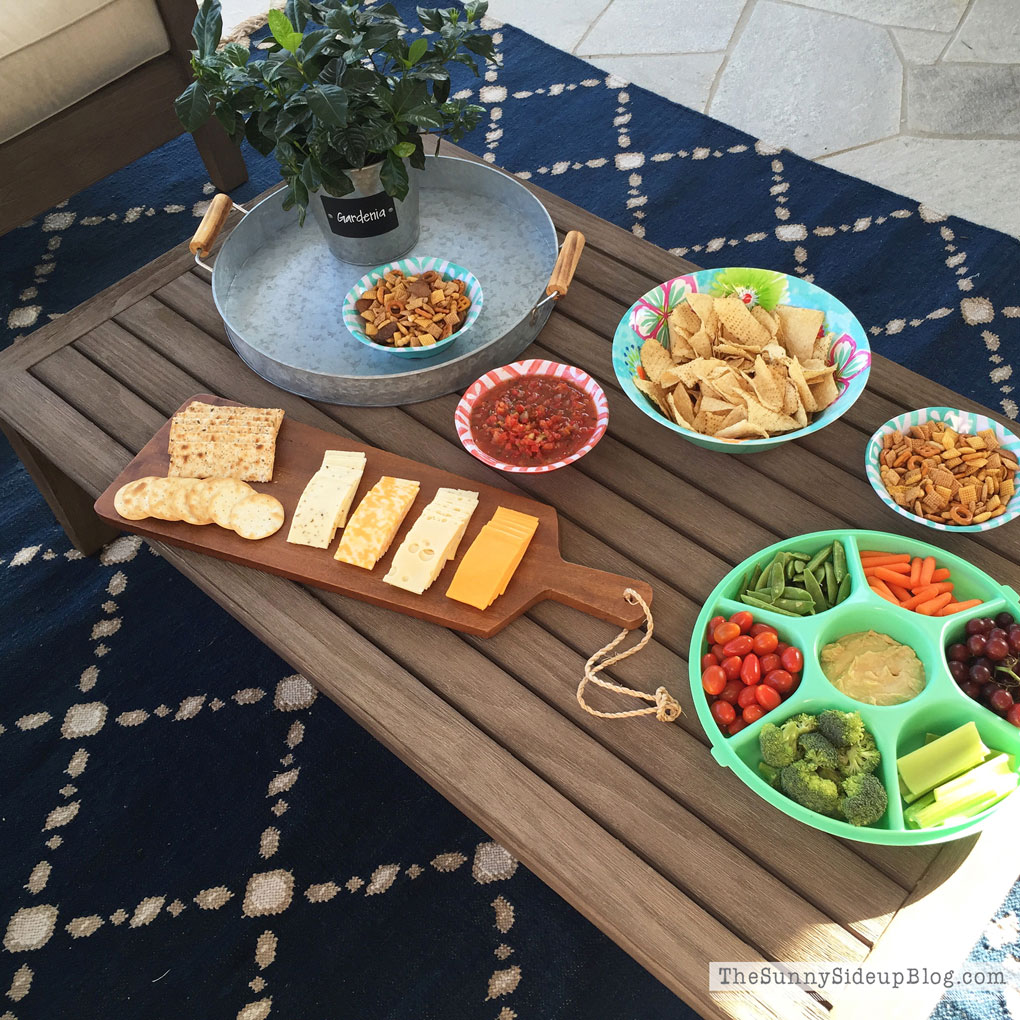 Excited to use them again this summer!  They add a touch of fancy to regular poolside snacks for the kids. ;)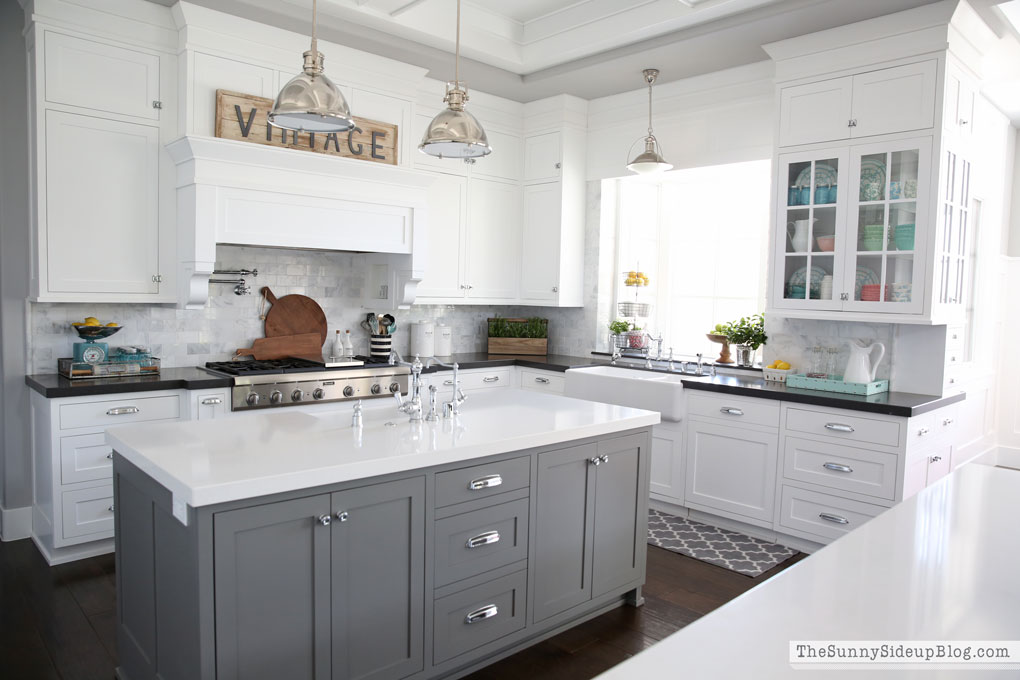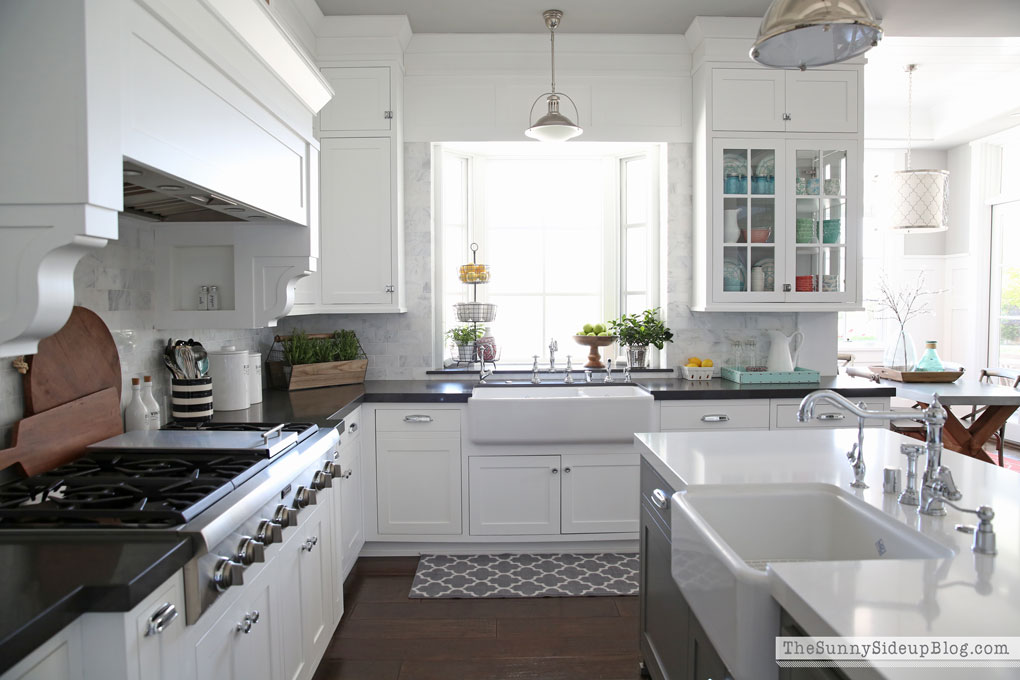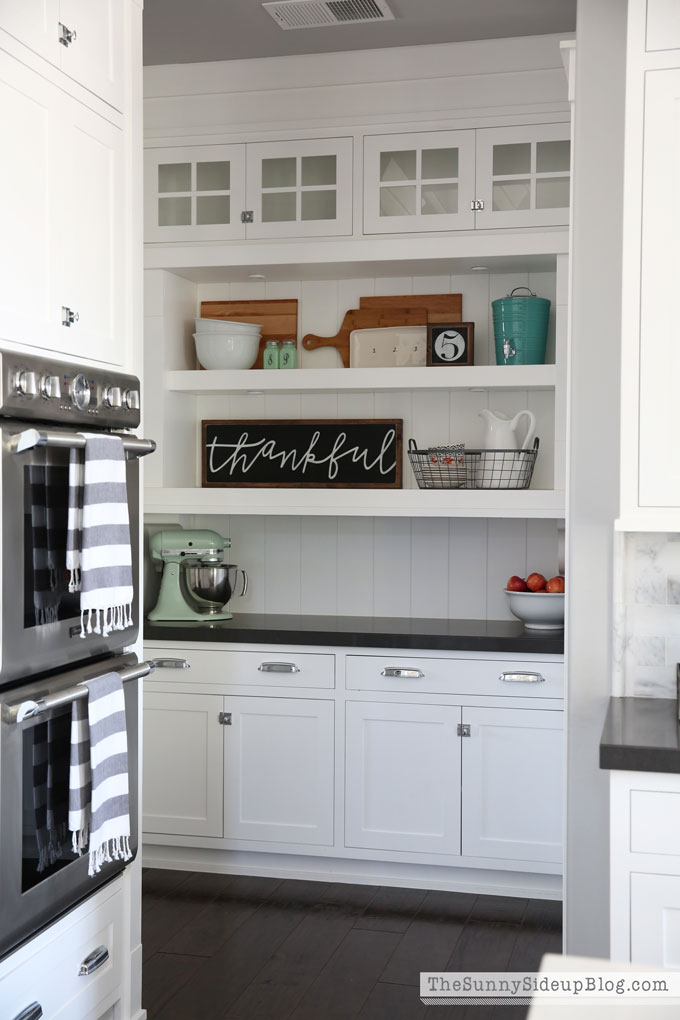 I kept my butler's pantry simple.  Love the black from my Thankful sign and number 5.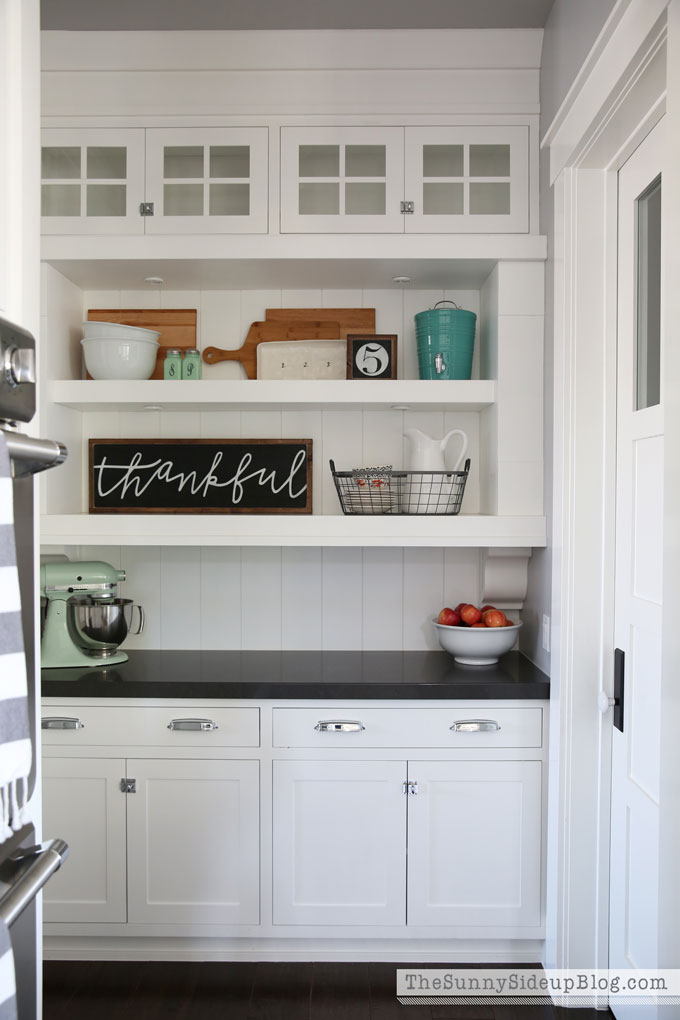 The only new additions here are my Kitchen aid (color is "Pistachio")…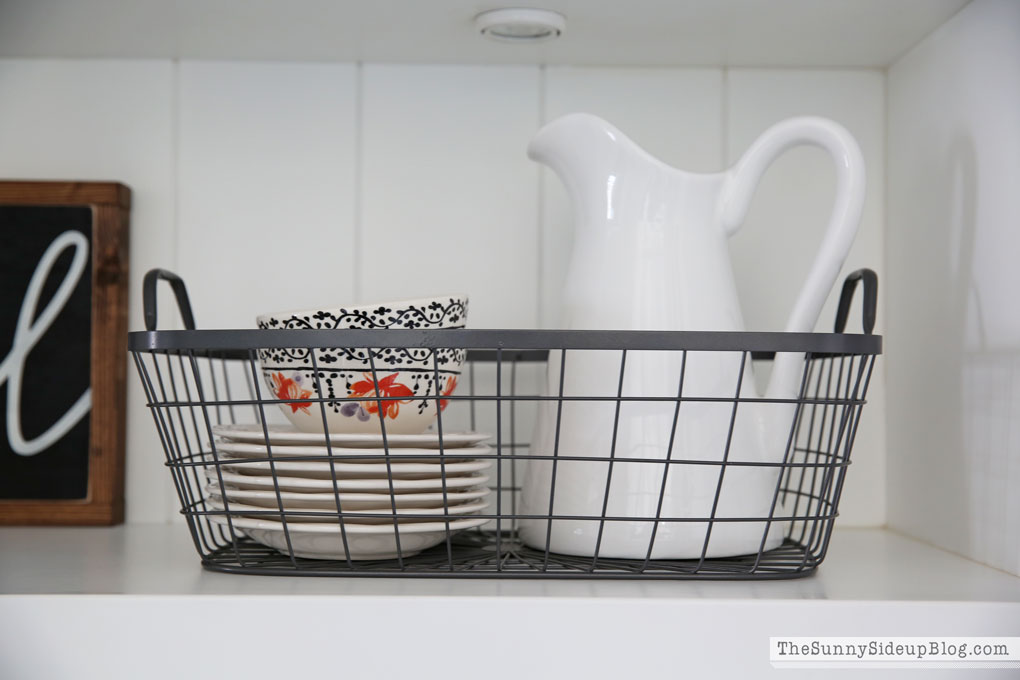 and a couple of cute black and coral bowls from Anthro.  No surprise there.  :)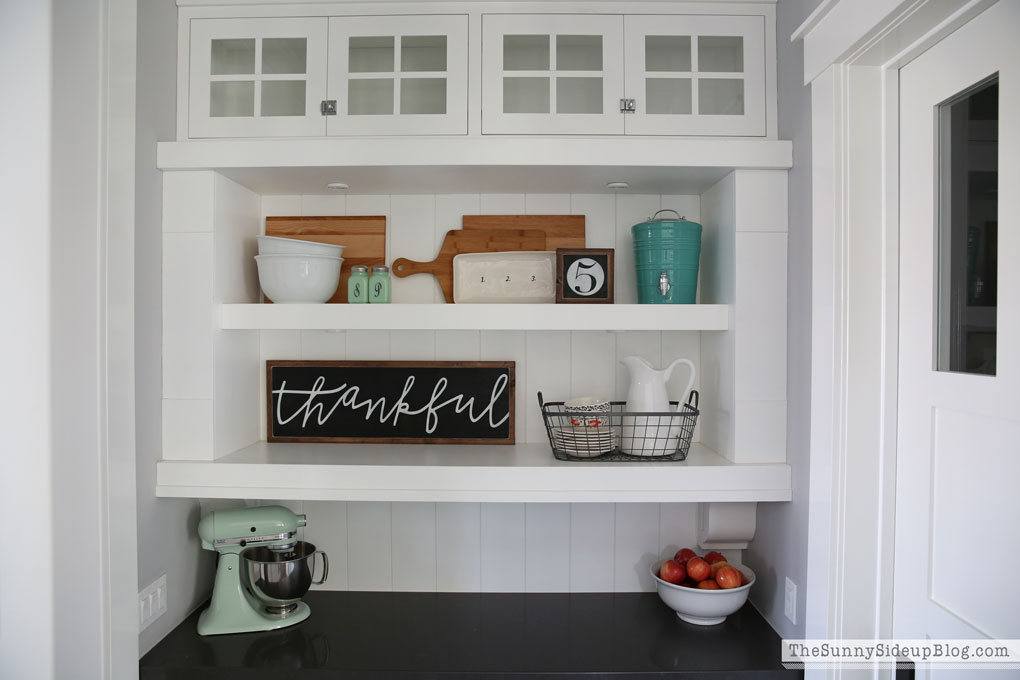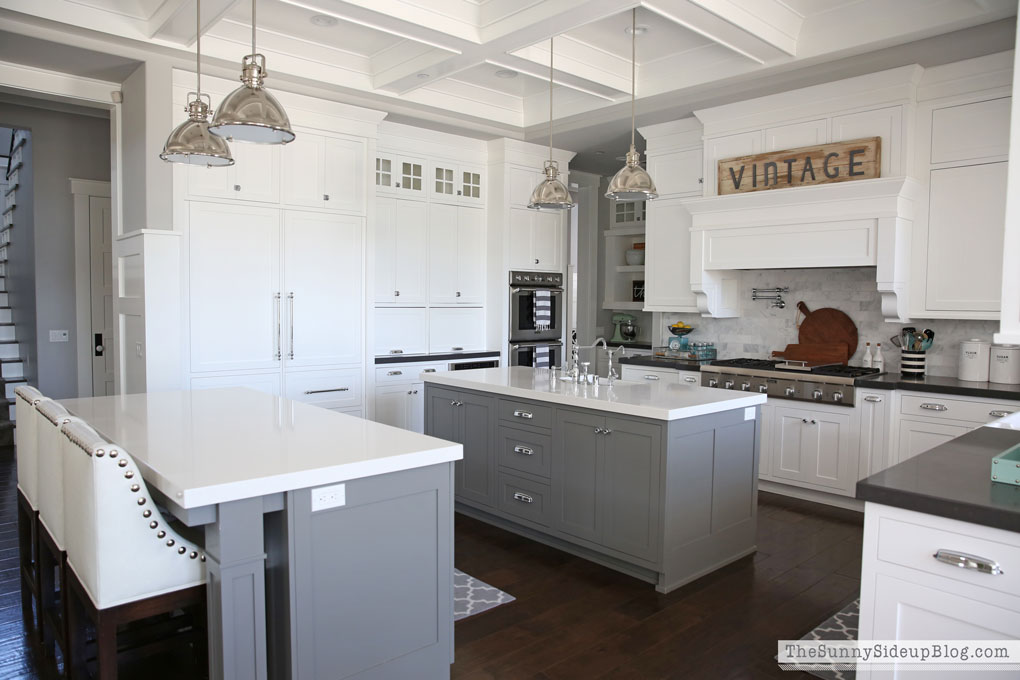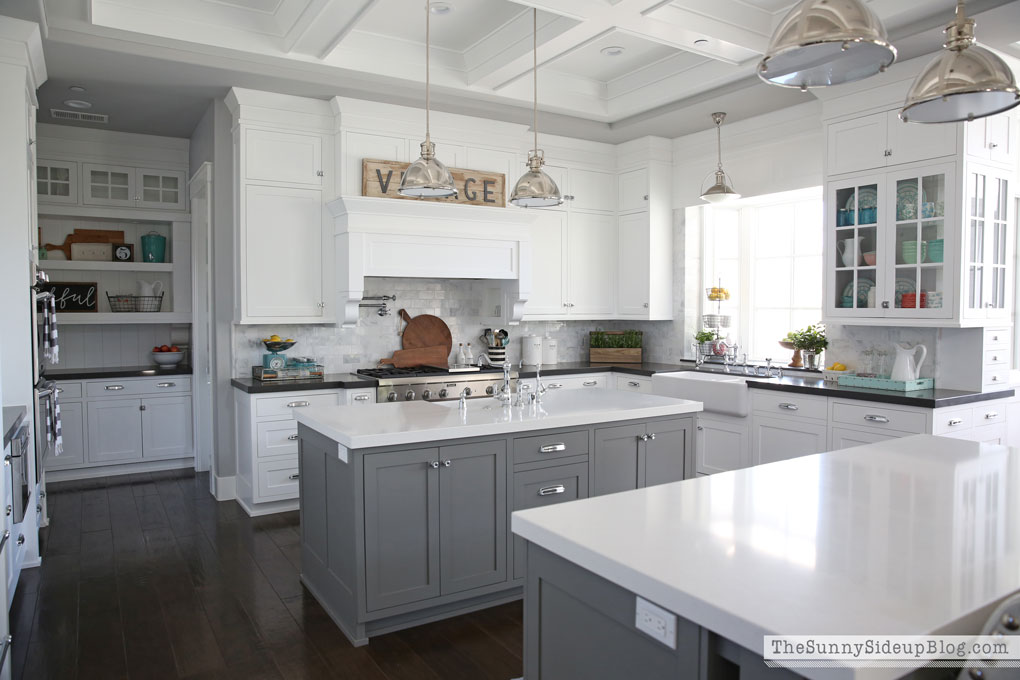 So that's it!  My Spring kitchen refresh!  Which wasn't major.. just a few small changes.  But it added a bit more of my personality to the space.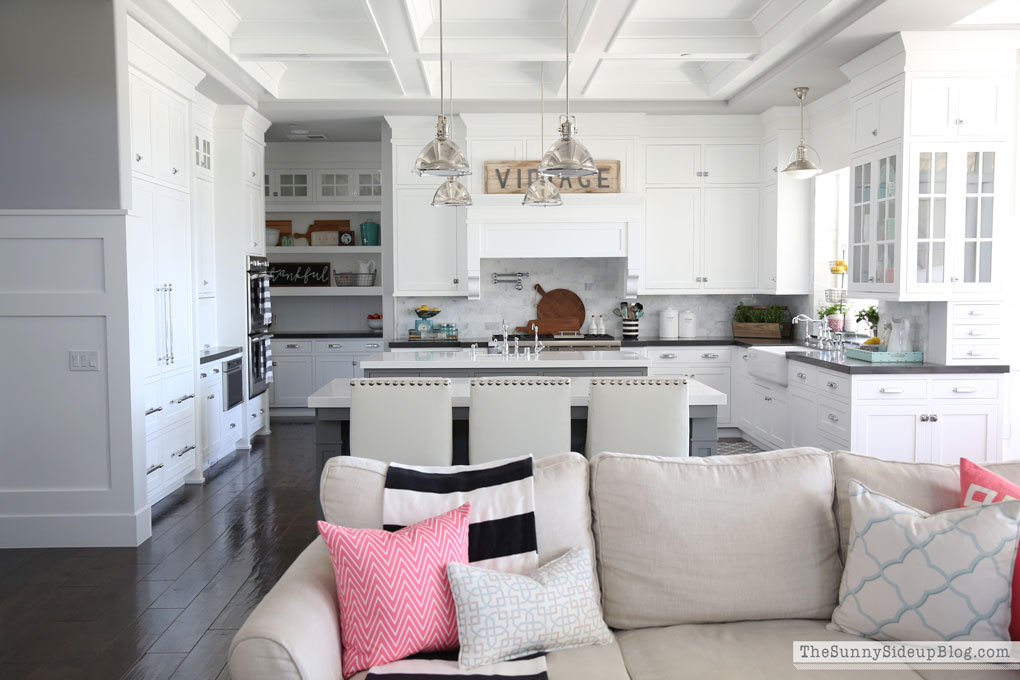 And adding your own personality into your home is always a good thing.
Now.. who wants to volunteer to bring cupcakes?  I've got the lemons covered.
:)
ALL KITCHEN SOURCES:


xoxo, Erin