So excited to be sharing our home all decked for fall with you today!  I'm especially excited because I've teamed up with some amazing bloggers who are also sharing their beautiful homes.  Seeing everyone's cozy decor this time of year is so inspiring!  I can just smell the pumpkin spice.  :)  Be sure to check out all of my friends' homes at the end of this post!  They are simply stunning.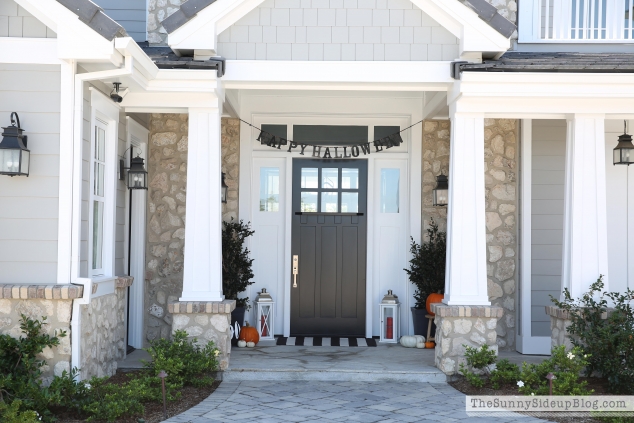 Welcome and come in!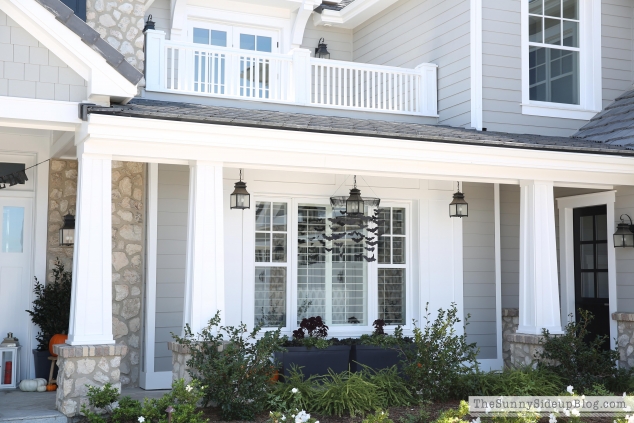 With the help of my 5 year old I just finished sprucing up our front porch for Halloween.  Not quite as spooky as was requested, but ready for trick or treaters none the less!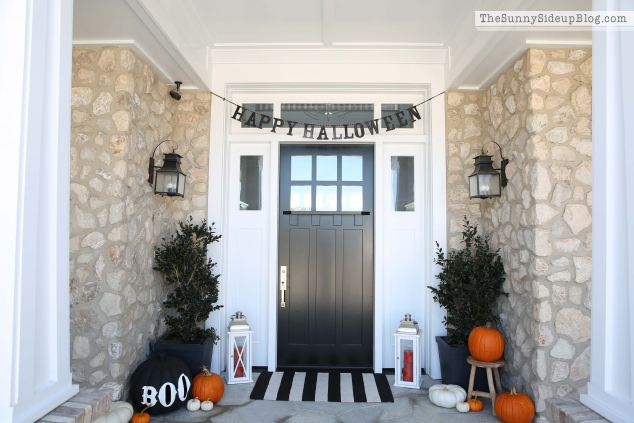 (Full post with details and sources here.)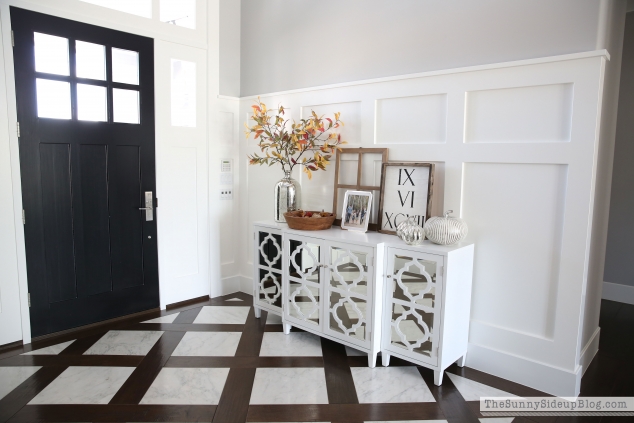 Last week I also shared our entry console table.  Ready for fall!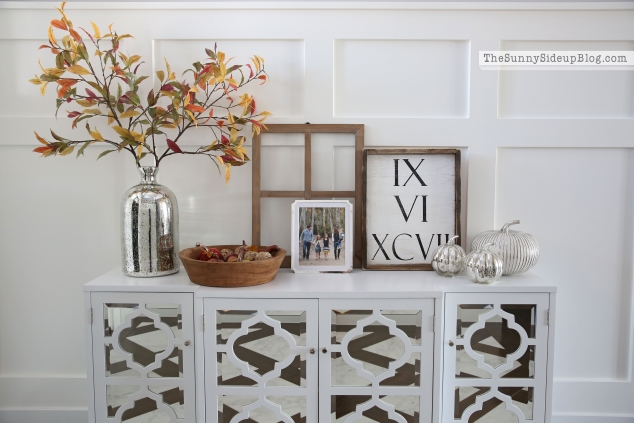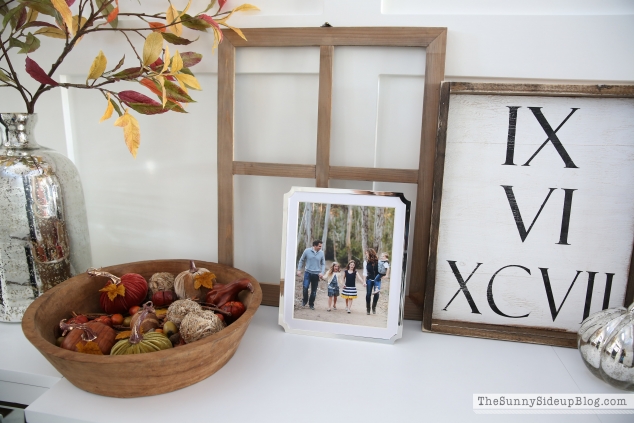 I love feeling the season right when I walk in the front door and having our wedding anniversary date displayed for the month of September is icing on the cake.  :)  From our entry you walk into our formal living room and I have some progress in that room to share soon!  But I took way too many pics for this tour so it will come later.  I'm also planning to update this post with sources soon so if you have any questions ask in the comments and I'll add it to the post!  You can find all of the sources for this table here.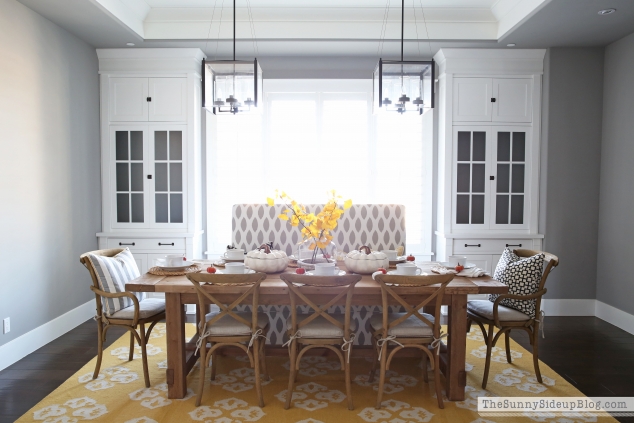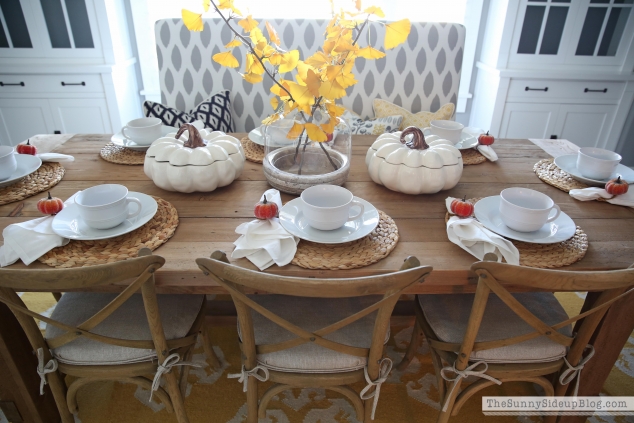 Our formal dining room is a work in progress but I set a simple fall table scape that is adding so much warmth!  Now I just need the guests!  Along with silverware, glasses and food.  All coming soon.  :)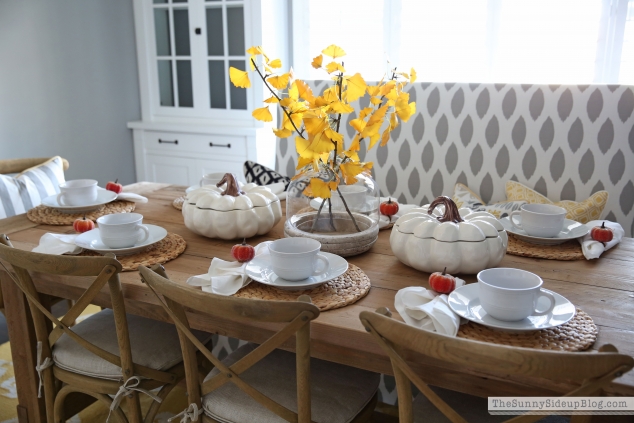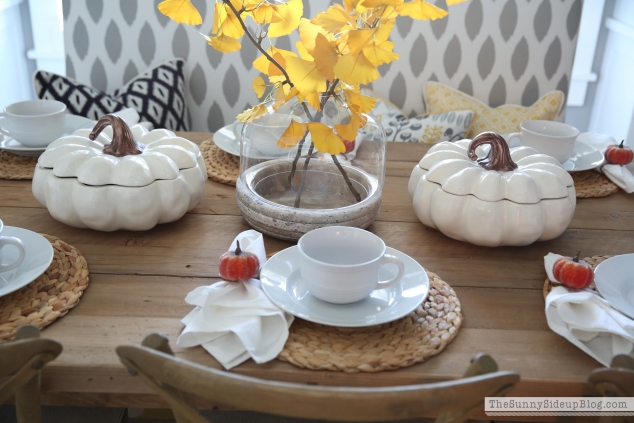 Sources: Yellow Stems, Terrarium Vase, Chargers, Pumpkin napkin rings, white napkins, Pumpkins – Home Goods, Dishes – Tai Pan.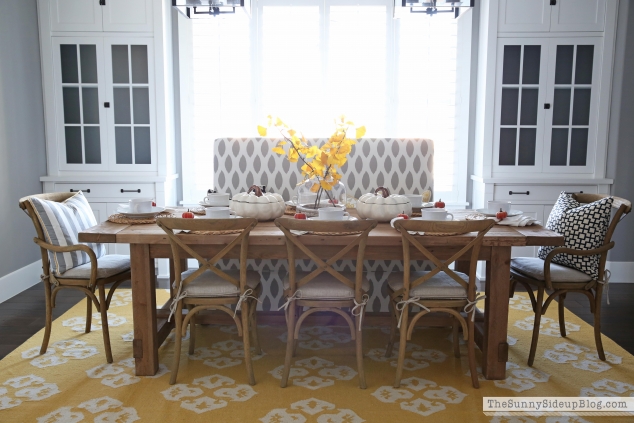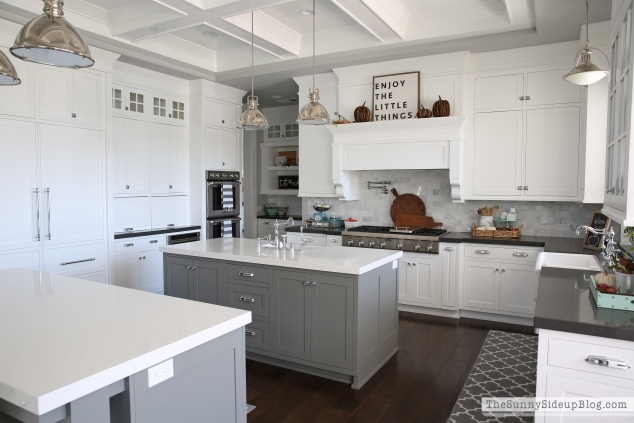 I like to keep things simple in the kitchen with counters clear for our constant every day messes.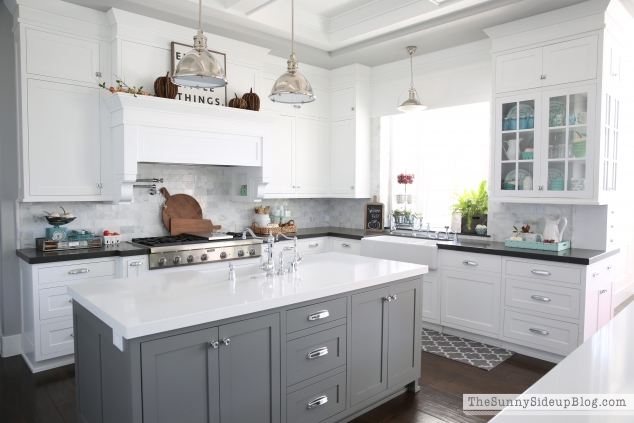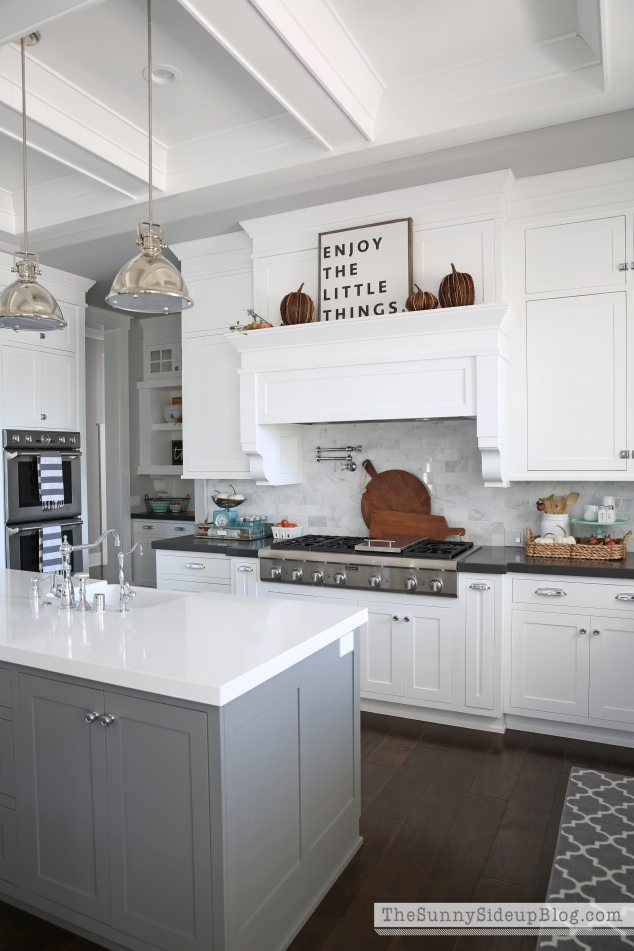 But these adorable twig pumpkins, some branches and a few other small touches add instant coziness.  Isn't fall all about coziness?  To me it is.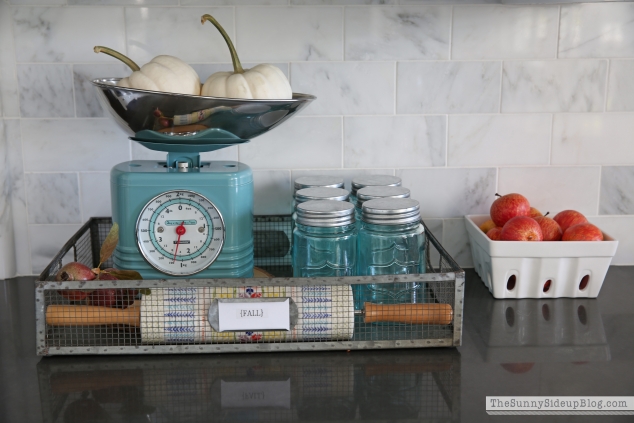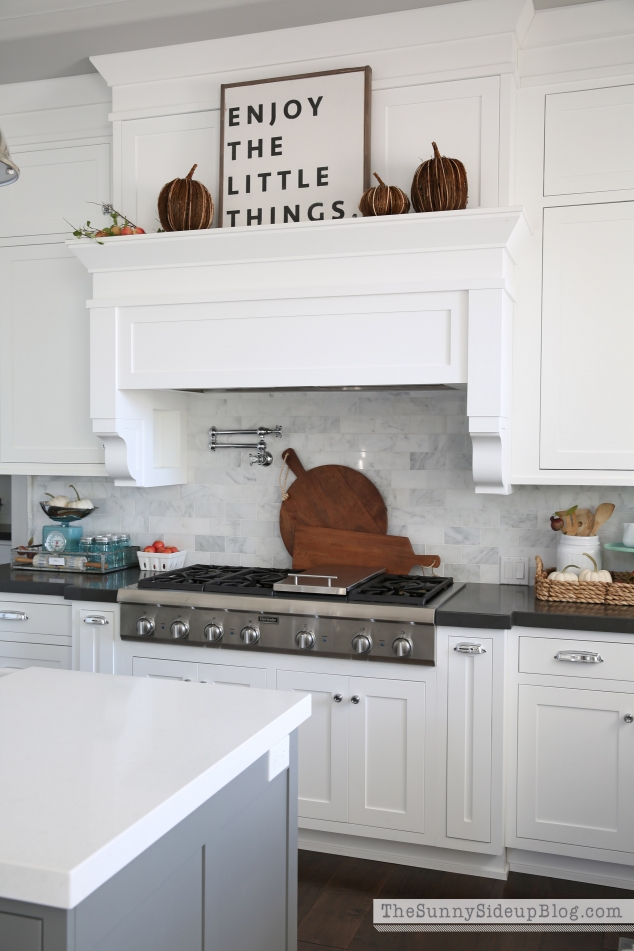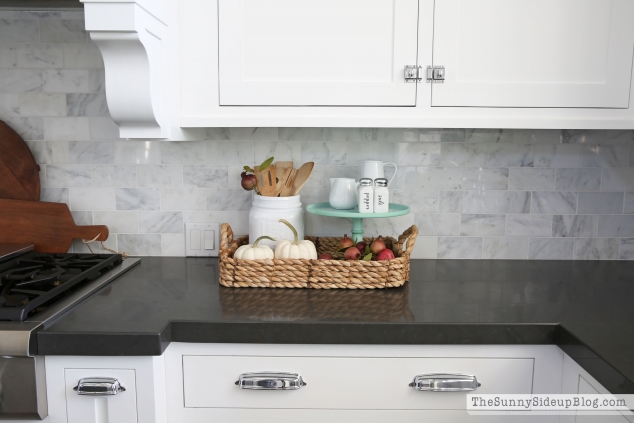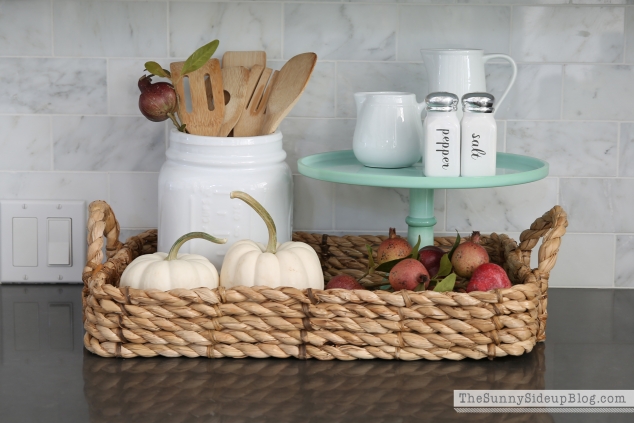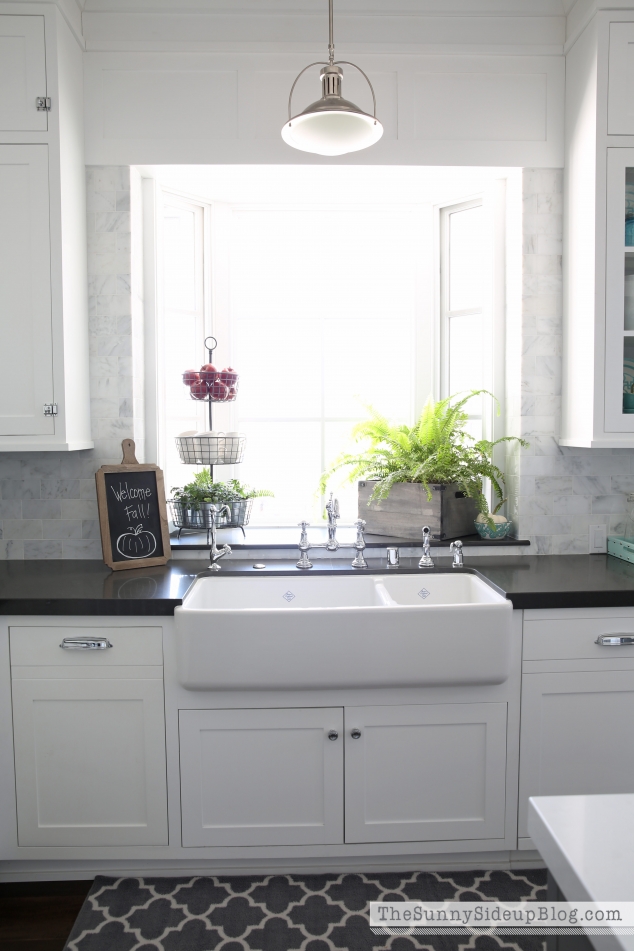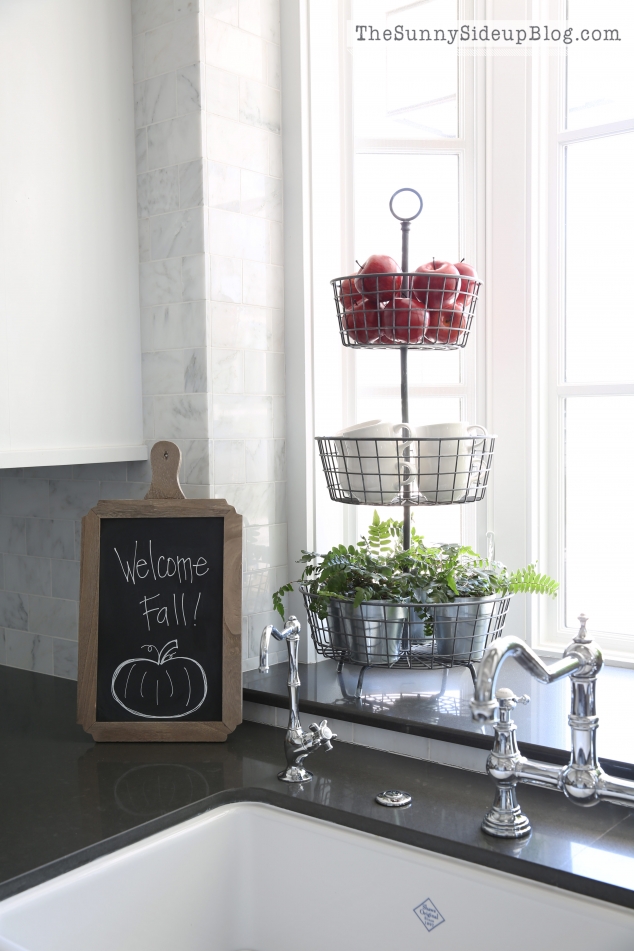 I know.  You're all dying over my amazing chalk art.  How did she do that you're wondering!?  Ha!  After years of teaching elementary school this is what you get.  My first graders never complained.  ;)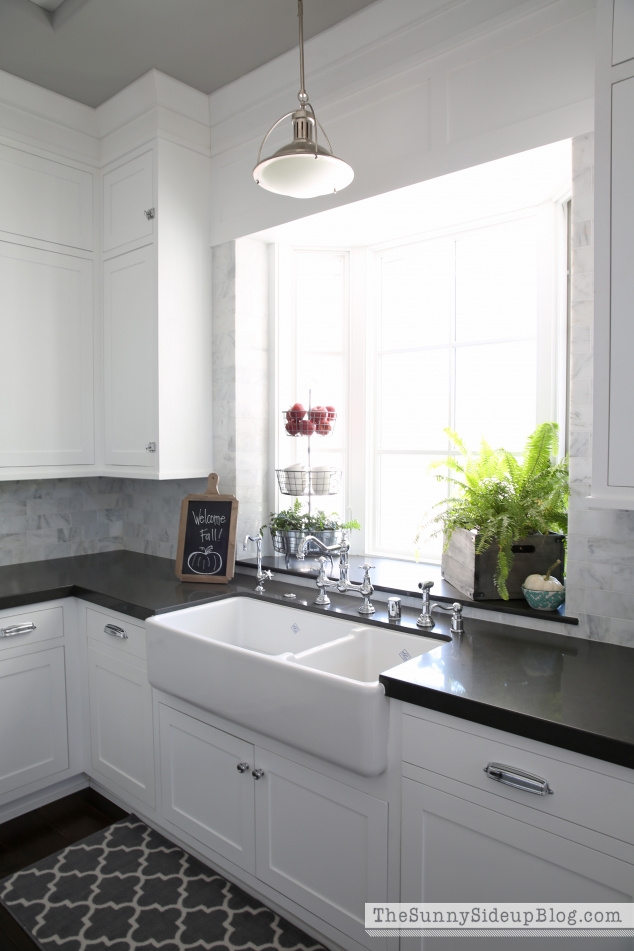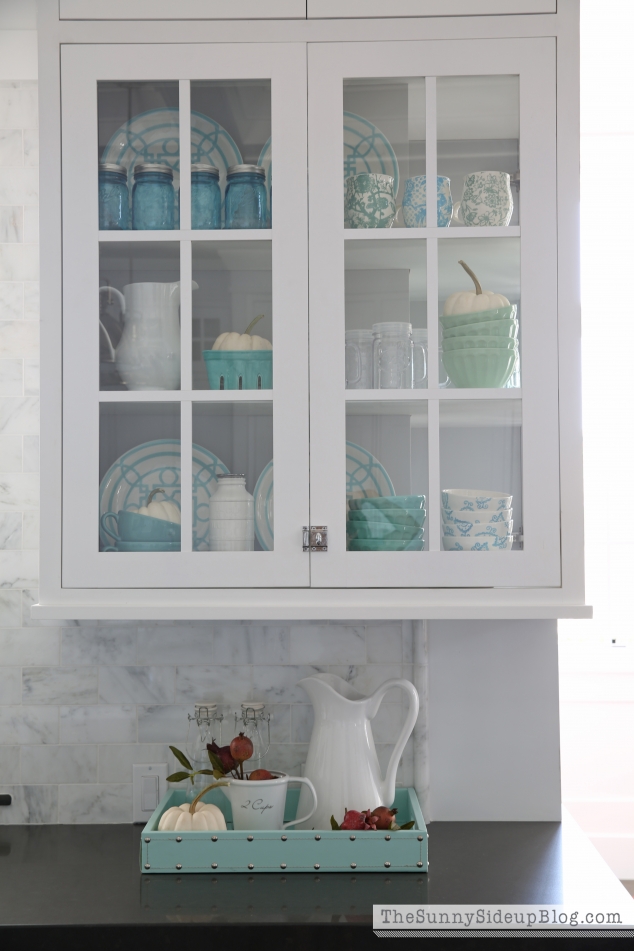 Mini white pumpkins are my favorite and make an appearance in my house every September.  I just get them at the grocery store.  A few of them sort of hop into my cart every time I'm there.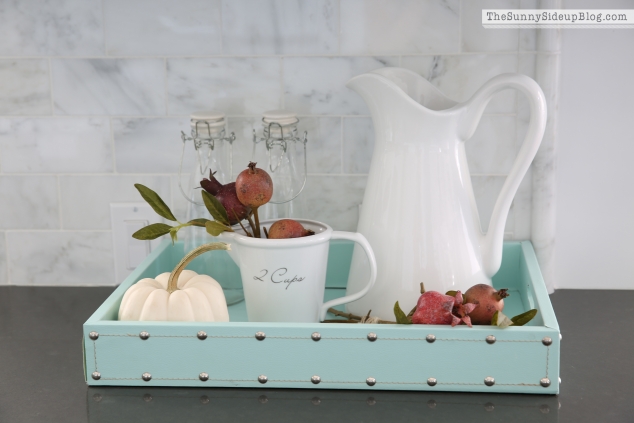 My kids say "another white pumpkin mom!?"  I smile and say "you can never have too many mini white pumpkins."  Life lesson #2,356.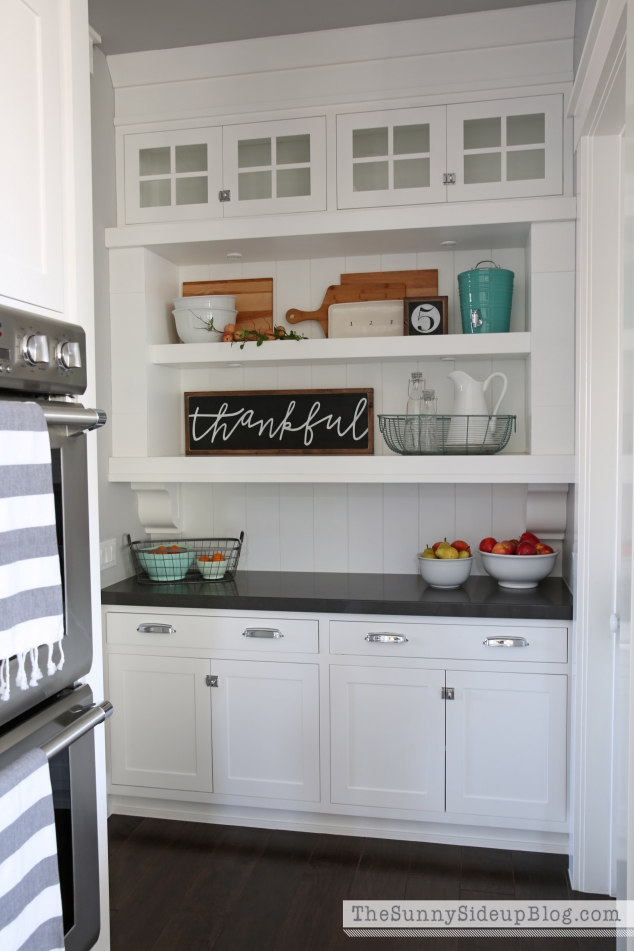 This THANKFUL sign made by my beautiful friend Caroline at Vine and Branches is my favorite.  I decorated our butler's pantry shelf and told my husband.. see.. it has meaning.  1 2 3 for our 3 kids.  A 5 for the 5 of us.  And we are thankful.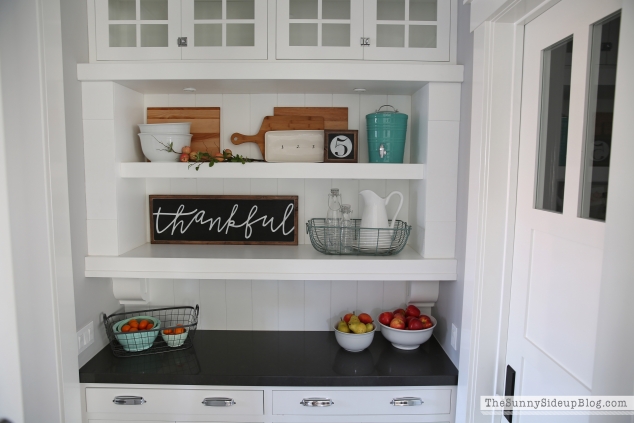 Later that day he tossed down his sweaty running gear on the counter and said see.. it has meaning.  I'm thankful I'm healthy and can run.
I wasn't amused.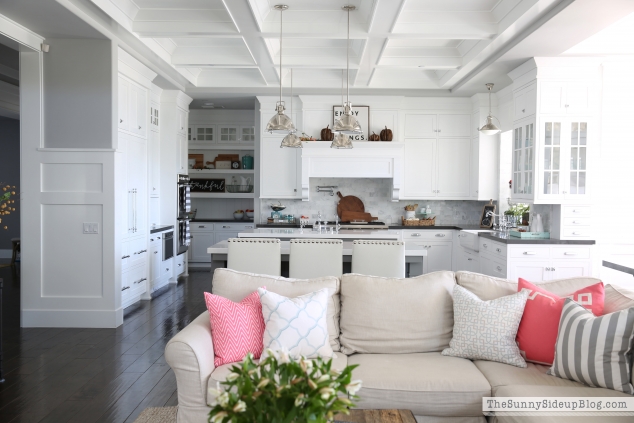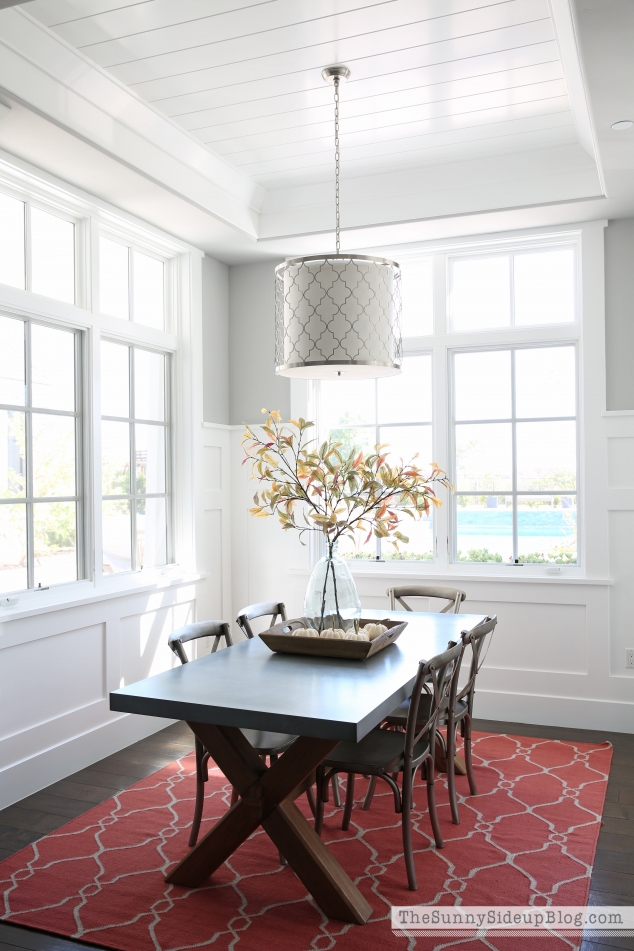 Simple display in our dining nook.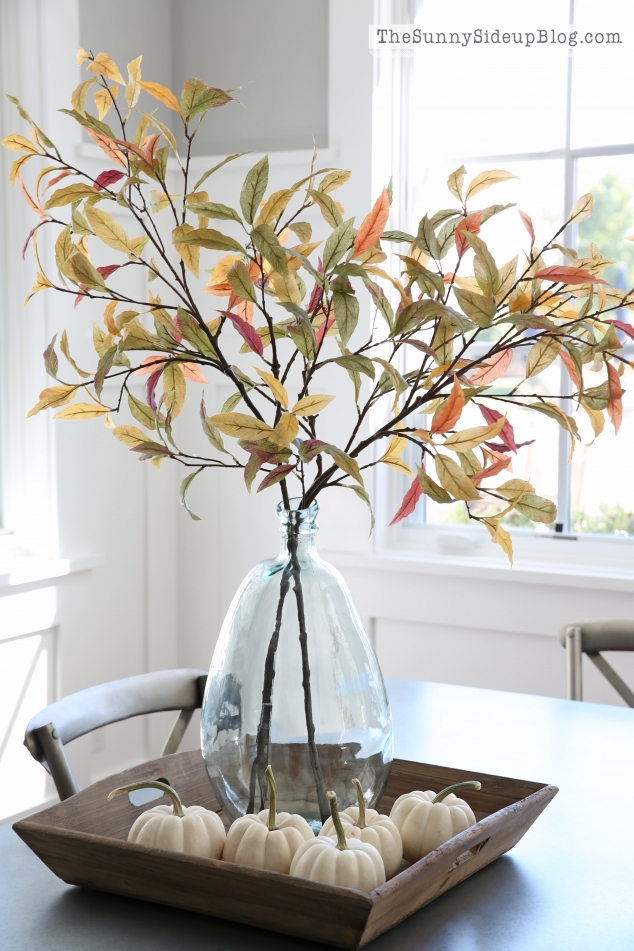 More of my favorite fall branches in this vase and mini white pumpkins.  Of course.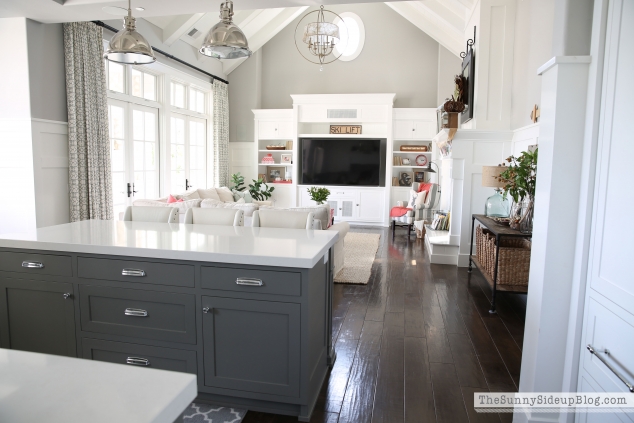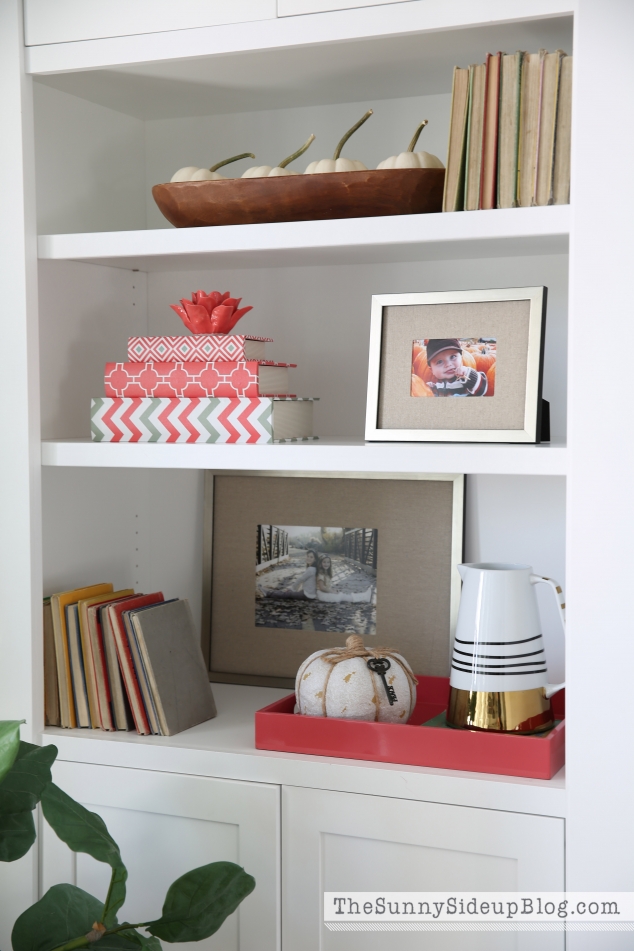 I love displaying past fall pictures of my kids.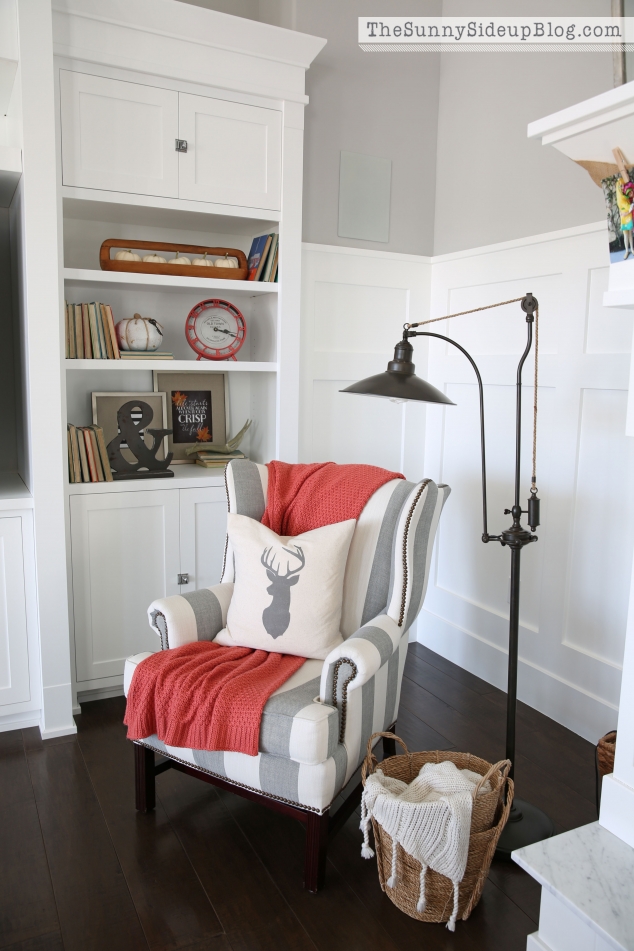 And adding cozy throws in every corner.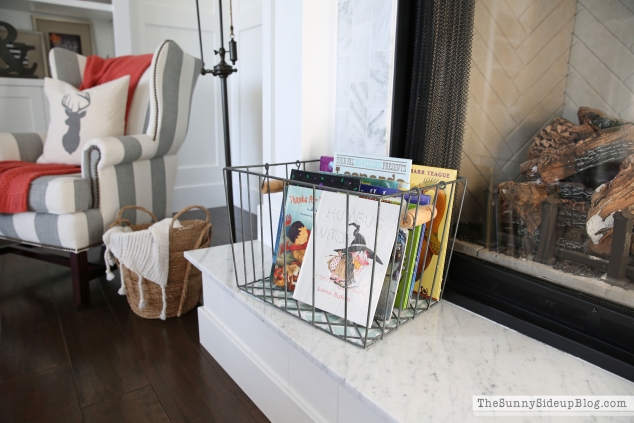 We set out our favorite Halloween books in a basket every year.  Those of you who have been with me a while know all about our traditions.  :)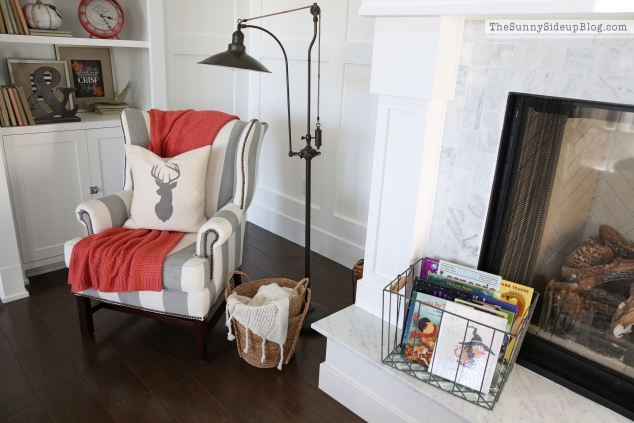 This reading corner is a favorite spot for my kids and I love coming around the corner and finding one of them curled up in that chair with a good book.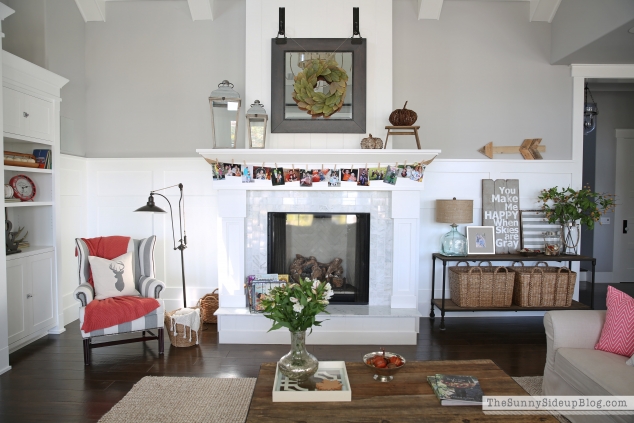 My mantel isn't really decorated yet – it's a tricky spot for me and always a work in progress.  I tossed a couple of pumpkins up there until I can find what I'm looking for.  I don't know what I'm looking for btw, but when I find it, I'll know.  :)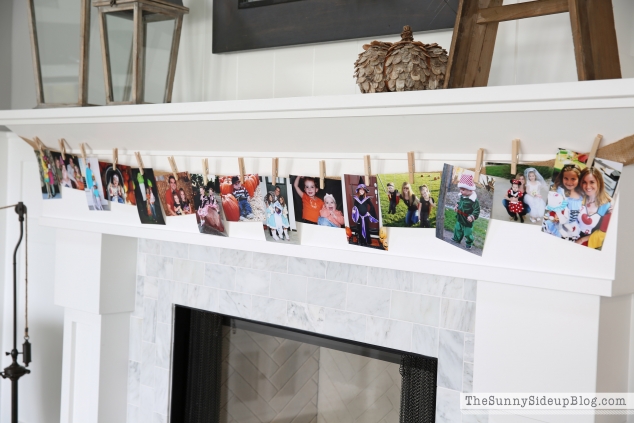 My kids really look forward to our Halloween picture banner every year.  So fun seeing their costumes and how they've grown.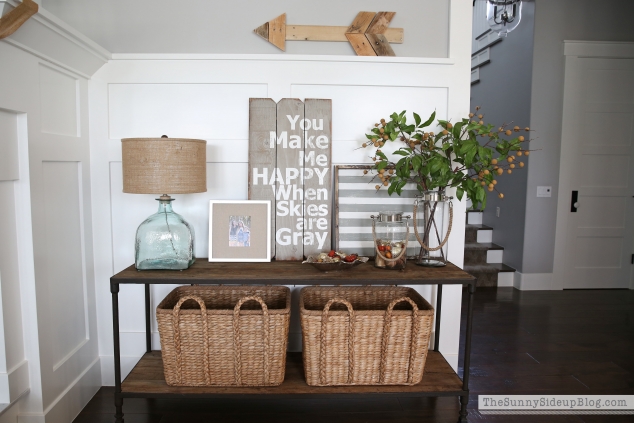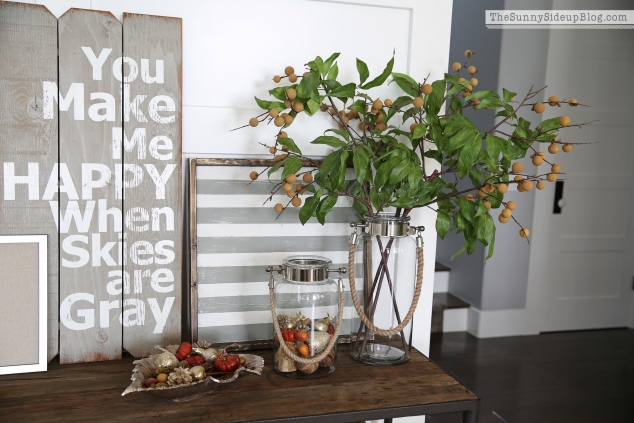 Last year when I decorated my console table for fall I ran into a few spider issues trying to have a Martha moment by cutting down real branches.  That might be one reason I'm all about faux branches this year.  So in love with these Longan flower stems!  I've had them awhile and was excited to get them out for fall.  They look so real and will work for fall or summer.  Plus no spiders.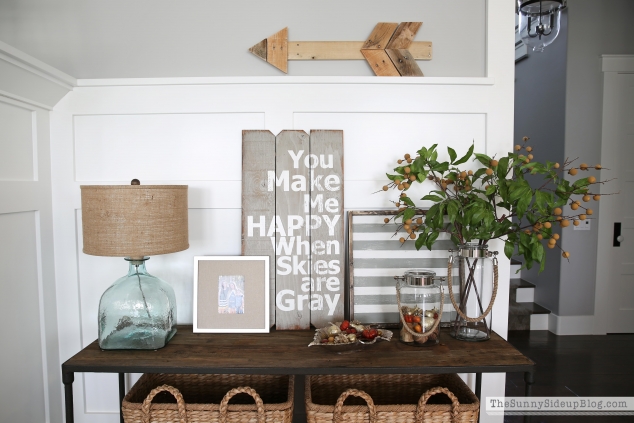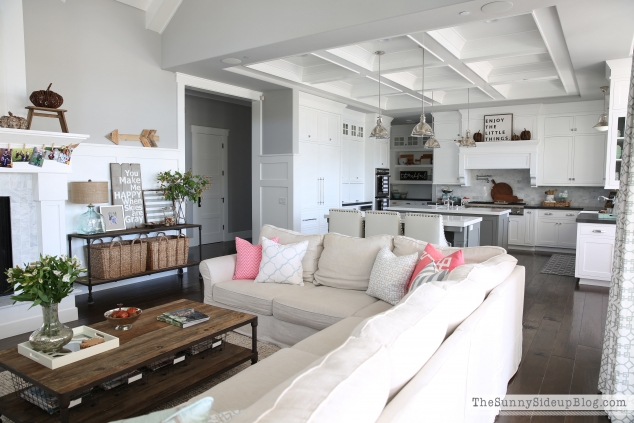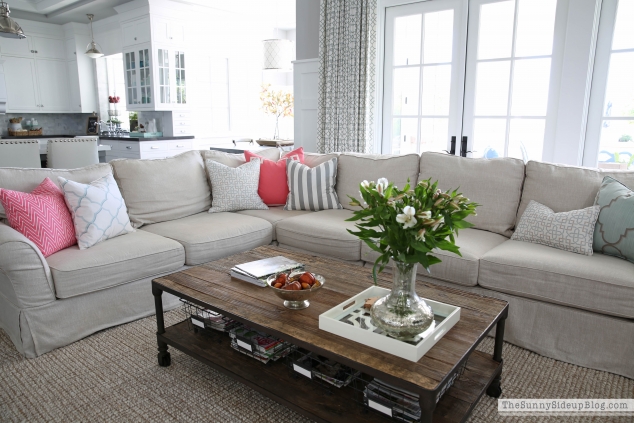 I have to share a picture of my couch because truly when I think of fall I think of being curled up on this couch with my family.  Banana bread muffins baking and football on the TV.  There's no where I'd rather be.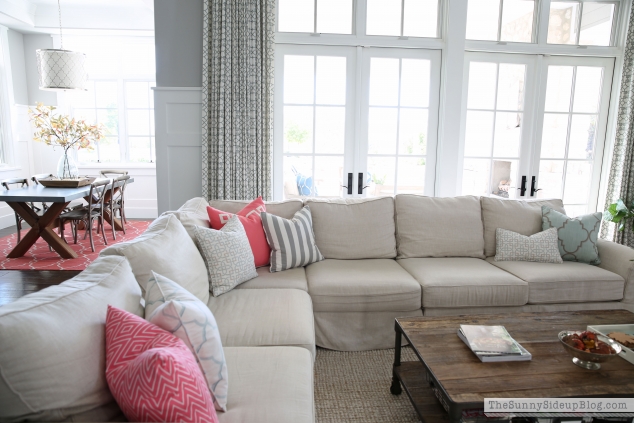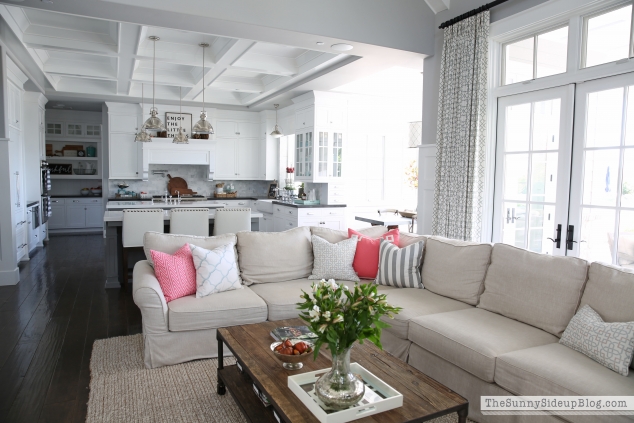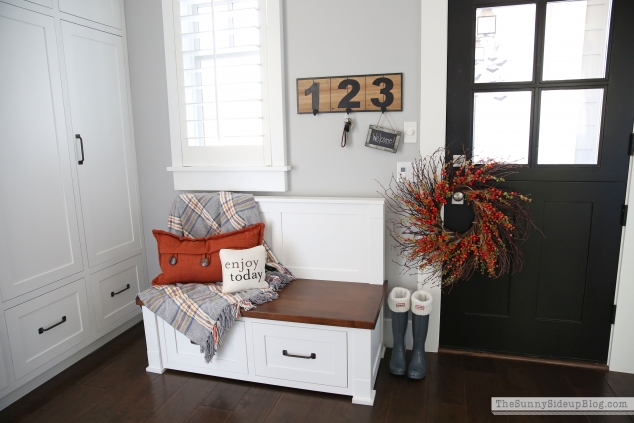 Even our mudroom is feeling the season!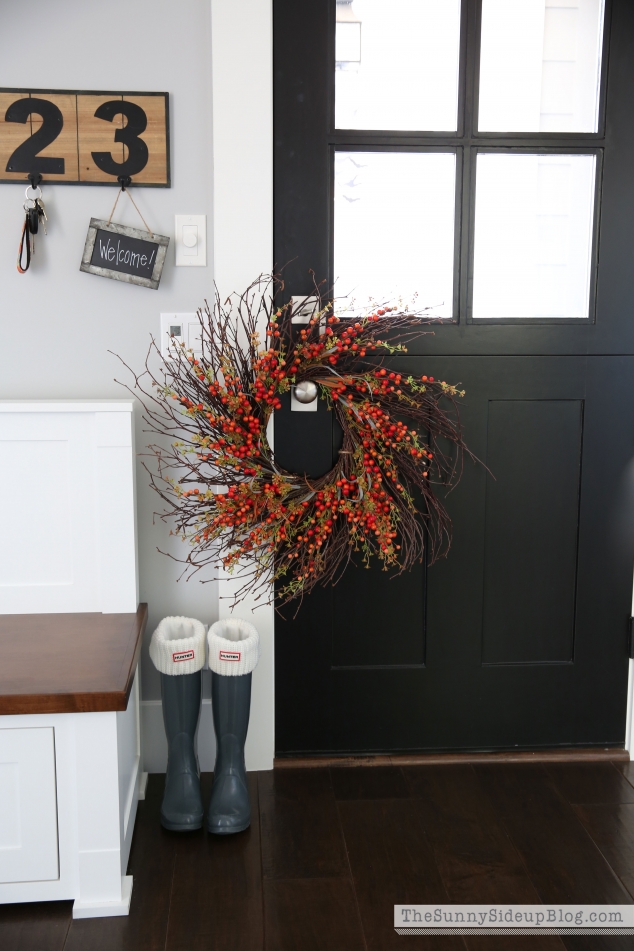 I figured if I displayed my Hunters the rain will come!  My good luck charms.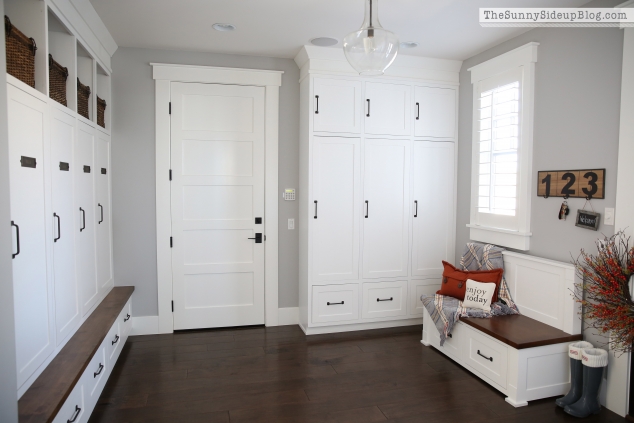 Like the kitchen, I like this space to be clean and open for every day use.  Just a few hints of fall.  Makes me smile every time I walk through that door.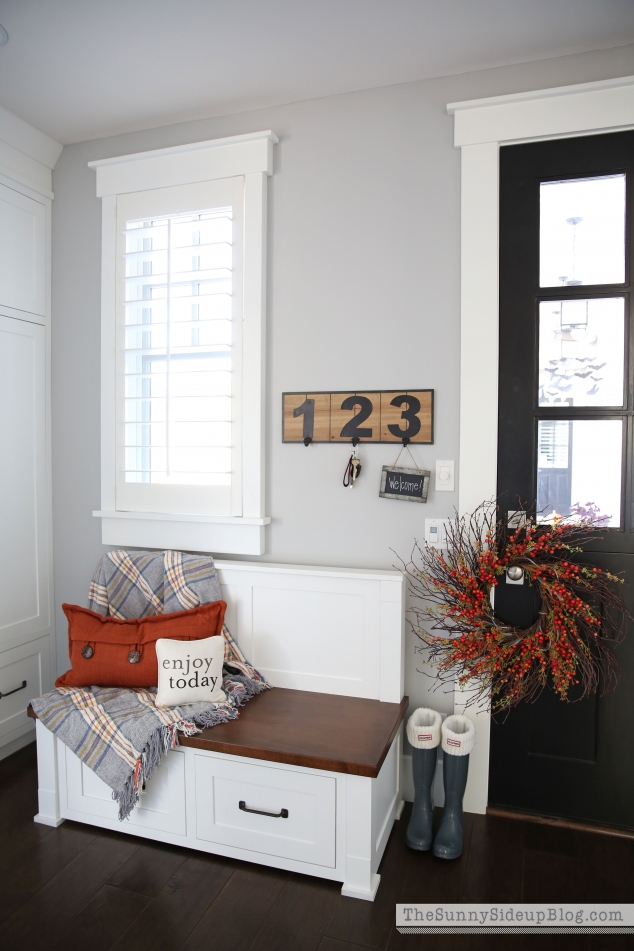 I hope you enjoyed the tour!  If you're new here you can subscribe to get an e-mail each time I post by signing up on my sidebar!  You can also see what I'm up to on Instagram or Facebook.  Usually decorating or organizing something.  :)  You can also check out my full home tour here.  To all of you who are regulars and stop by often, I am so thankful for you this fall.  Truly.  My blog friends mean so much to me.  I wish I really could have you all over for dinner!  The table is set.  Who wants to bring the soup?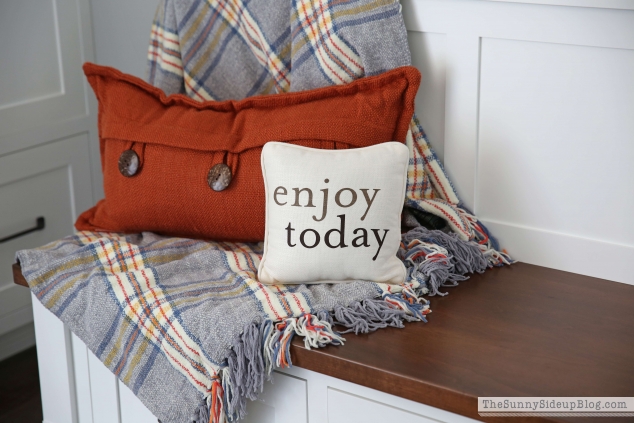 Enjoy today.
:)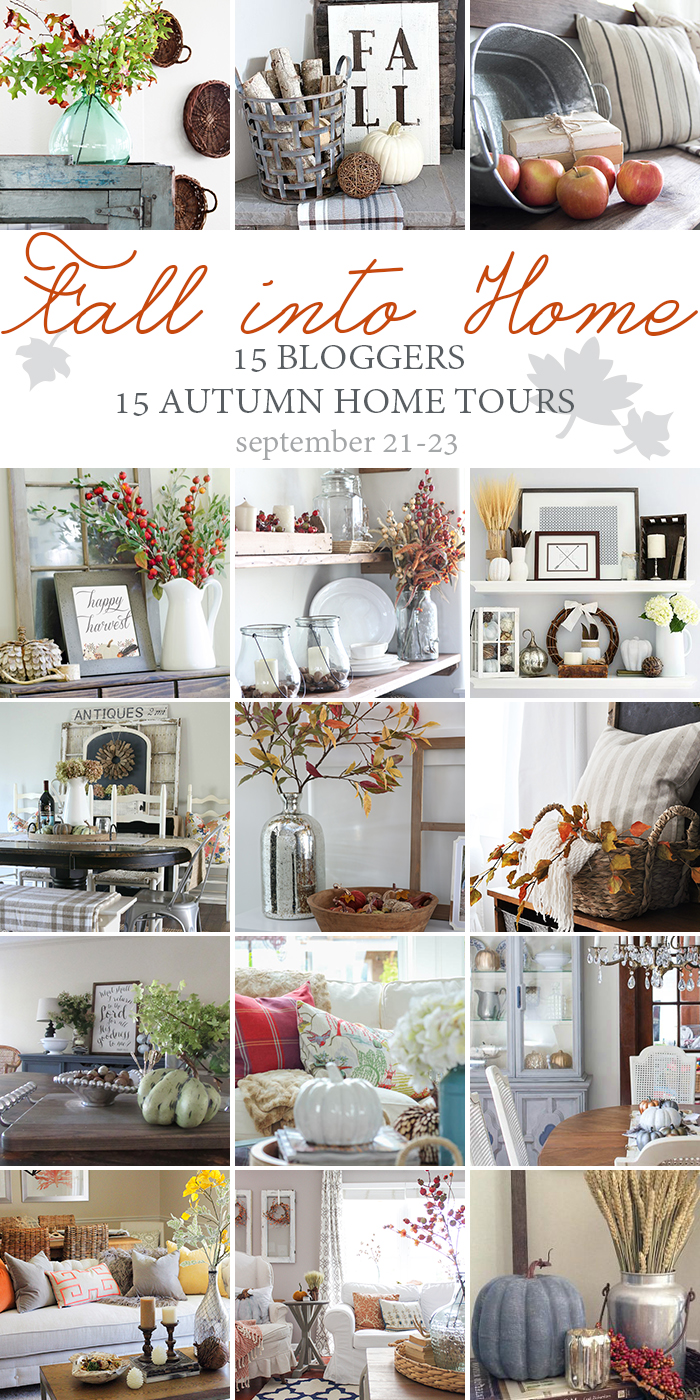 Monday
Maison de Pax | Everyday Enchanting | Just a Girl and Her Blog | The Happy House | Finding Silver Pennies
Tuesday
Blesser House | Migonis Home | Cherished Bliss | The Woodgrain Cottage | Design, Dining and Diapers
Wednesday
Rooms for Rent | Shades of Blue Interiors | House by Hoff | The Sunny Side Up Blog | The Blissful Bee
*affiliate links used
xoxo, Erin