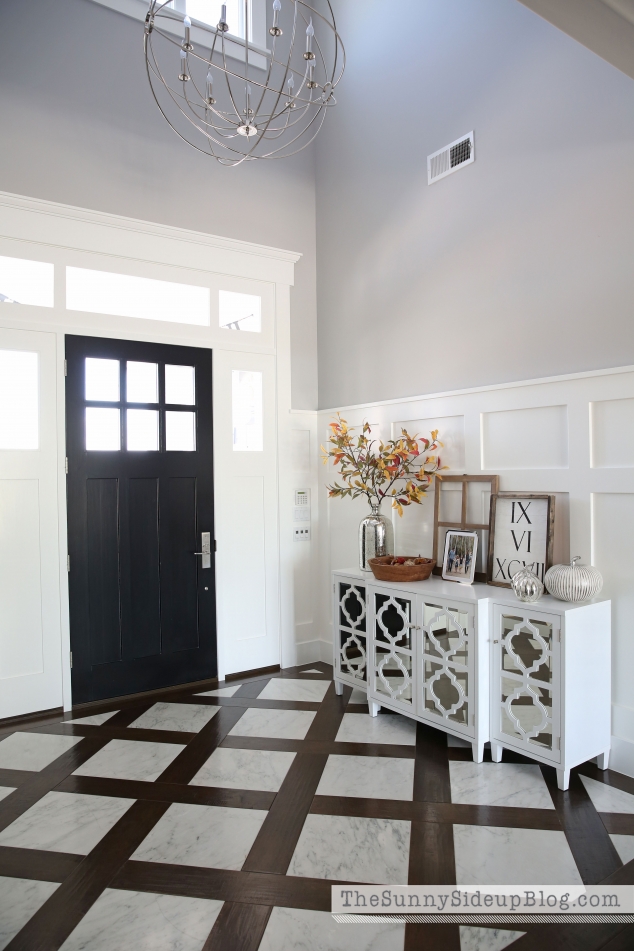 It has been so hot here lately.  The hottest weather we've had in a while.  And then something happened yesterday.  It rained!  And just like that, there was a hint of fall in the air.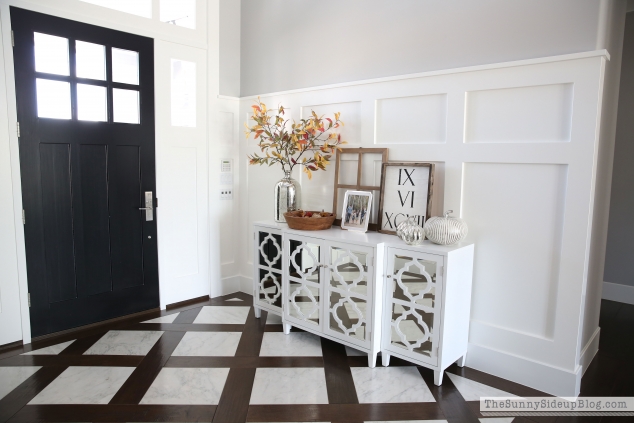 I lit my pumpkin spice candle, cleaned the house and started adding some fall decor.  Who cares that today was sunny and 80 degrees again.  We're feeling the crisp autumn air inside!
Most likely just from the air conditioning, but we'll take it.  ;)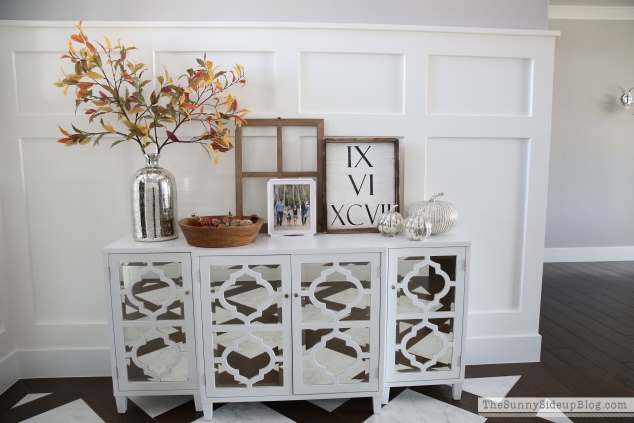 This mirrored console table has sat empty for so long.  Because this area leads into my formal living room I wanted to get that room decorated first so that I could add table decor that flowed nicely.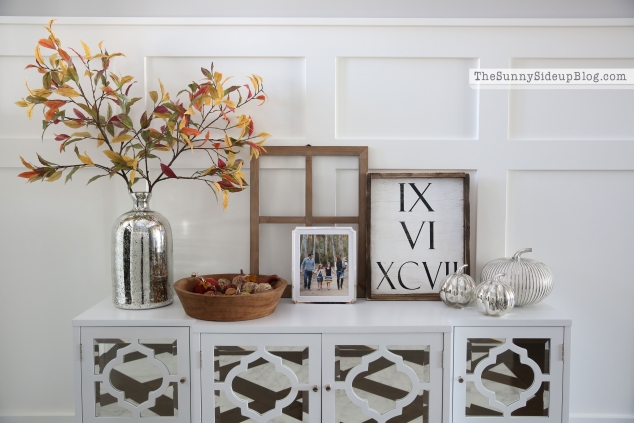 This is what I came up with!  You probably recognize the vase and bowl from my family room console table.  A lot of switching goes down around here when it rains and a decor mood strikes.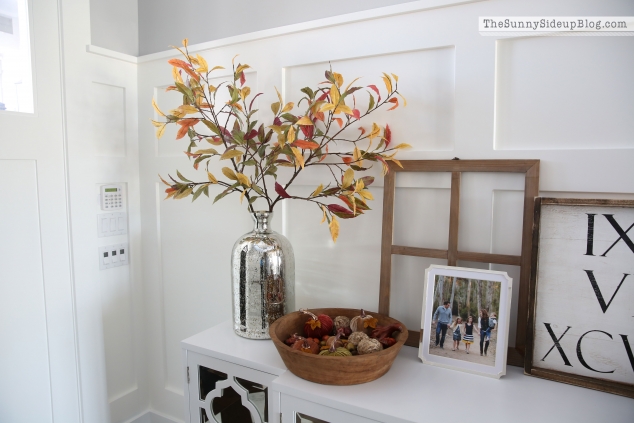 My living room has so much silver/chrome in it that I love this vase on this table even more.  But the beautiful faux turning leaf branches are my absolute favorite!  They were a Pottery Barn splurge and I have them throughout the house.  Pricey for faux flowers, but they look so real and a little goes a long way.  This vase is only holding two branches.  Plus I had a rewards card gift certificate from PB from buying our outdoor umbrellas that was burning a hole in my pocket.  I tried to explain to my husband what a sound investment good, real looking fall leaves are since we don't have the luxury of clipping real fall leaves in the yard.  Plus I'll decorate with them year after year after year.  I don't think he bought it.  The two of us have very different ideas when the word "investment" pops up.


I filled my wooden bowl with all sorts of fall goodies.  Aren't the little velvet pumpkins cute?  They are from Pier One.  That store is hit and miss for me but they have some fun stuff right now for fall.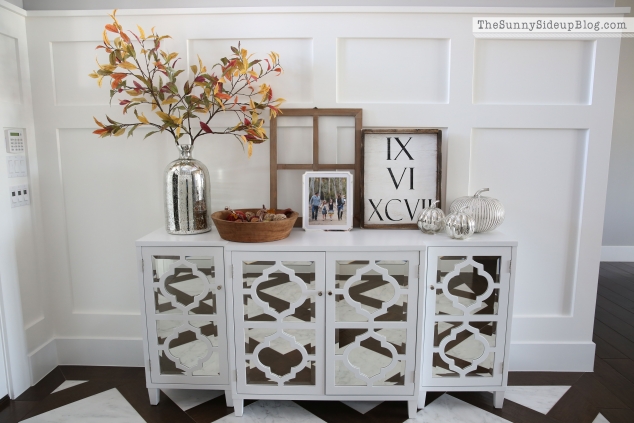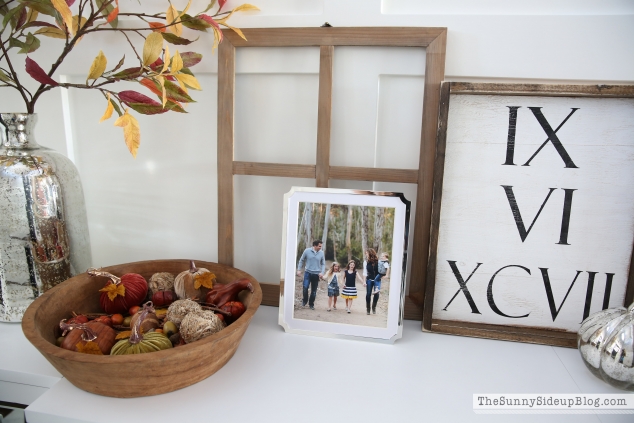 Funny story about the wooden window pane frame.  I knew I wanted one for this table and have been on the lookout for months and couldn't come up with anything.  Then I was getting a few groceries in Target last week and there it was!  It was perfect!  Great size, perfect shade of wood.. except is was actually a picture frame with glass in it.  That didn't stop me.  I thought I could just pop the glass right out.  Turns out the glass didn't "pop" quite so easily.  It was glued to the sides of the frame so tight.  So I held it over our outdoor garbage can and took a hammer to it!  Glass all over the place.  I felt like Chip on Fixer Upper having a blast destroying something.  It was my shining DIY moment since that's about as DIY as I get.  Ha!  :)  (You can see what it's supposed to look like here – a cute picture frame too!  Just not when you're looking for a window pane.)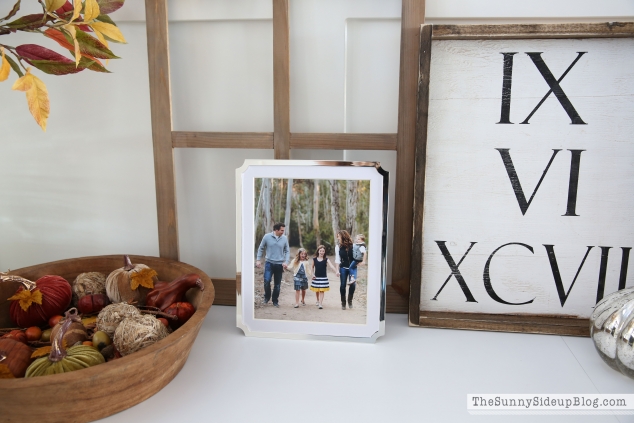 I also moved our fall family picture on this table and put it in a pretty silver frame.  One of my favorites.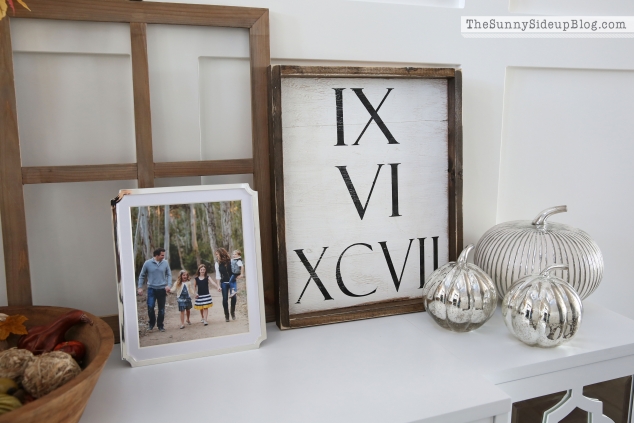 The roman numerals are September 6, 1997 – my wedding date.  SO in love with this sign!  Its from Jaxn Blvd and as soon as I saw Kim's Roman Numeral signs I knew I had to have one.  You can personalize them with any date.  I love having this displayed on our fall table for September.  18 years this month!  The beautiful mercury pumpkins I bought last year at Pottery Barn – loved pulling them out to use again this year.  See.  Another sound investment.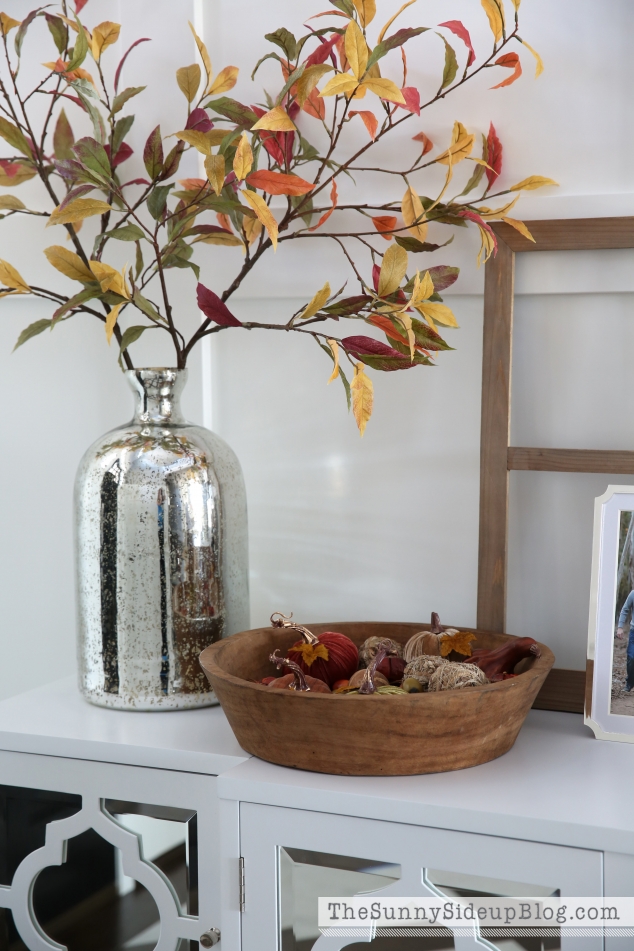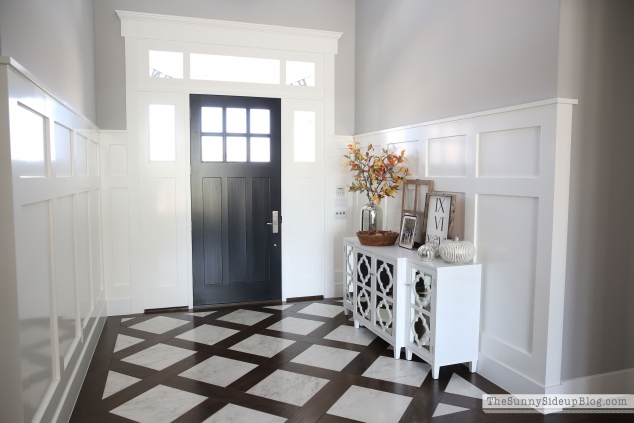 I still haven't found what I want for the opposite entry wall (I've been close a few times, but I'm holding out for the perfect bench that is the perfect size!).  Regardless, it feels nice to have a touch of decor on the table!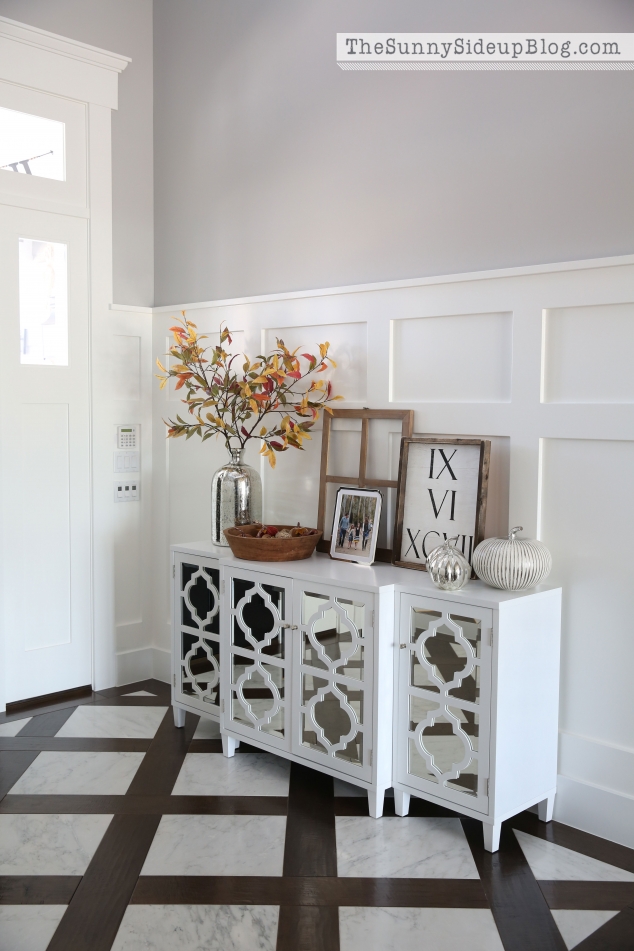 Bring on fall!  In all its 80 degree glory.
:)
SOURCES: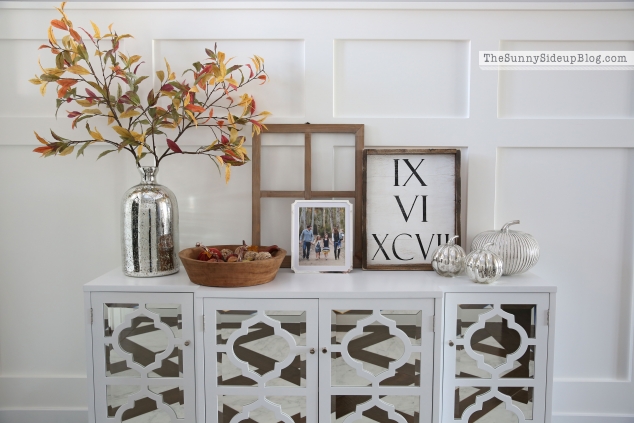 Table: Home Decorators/Amazon – on sale!, Vase: Home Goods (similar here), Faux turning leaf branches: Pottery Barn, Wooden bowl: local antique store (similar options here), Velvet Pumpkins: Pier One, Window pane frame: Target, Silver Frame: Pottery Barn, Roman Numeral Sign: Jaxn Blvd, Mercury Pumpkins: Pottery Barn – white and antique glass.
xoxo, Erin