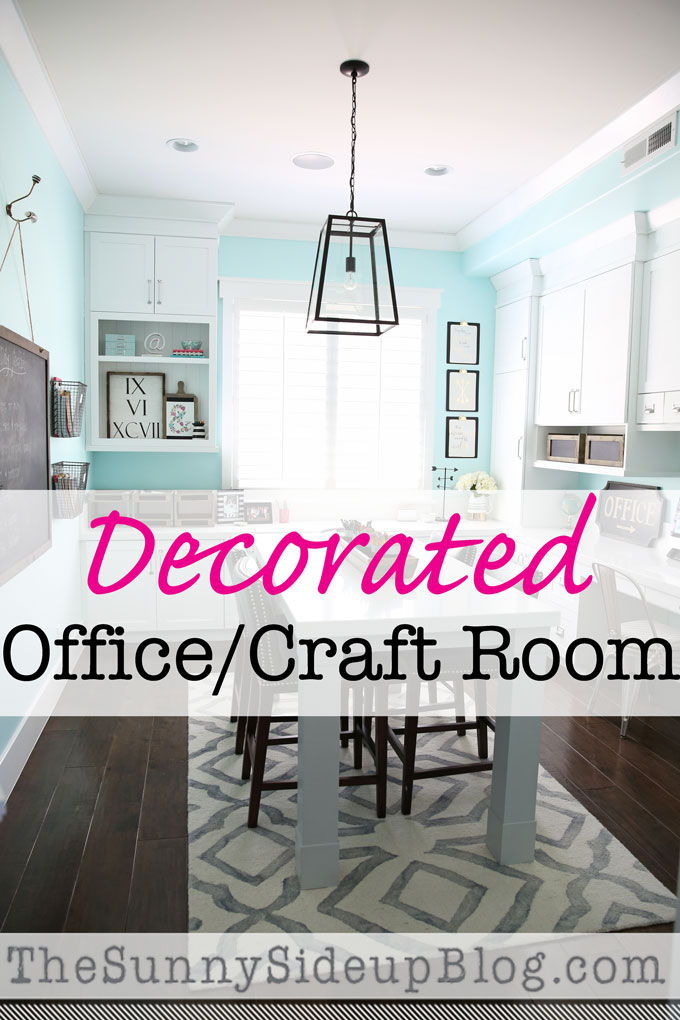 Alright friends.  Let's do this!  I'm finally sharing pics of my decorated office/craftroom  today!  YEA!  This post is going to be major picture overload so grab a snack, get comfy and I apologize in advance if I crash your computer.  :)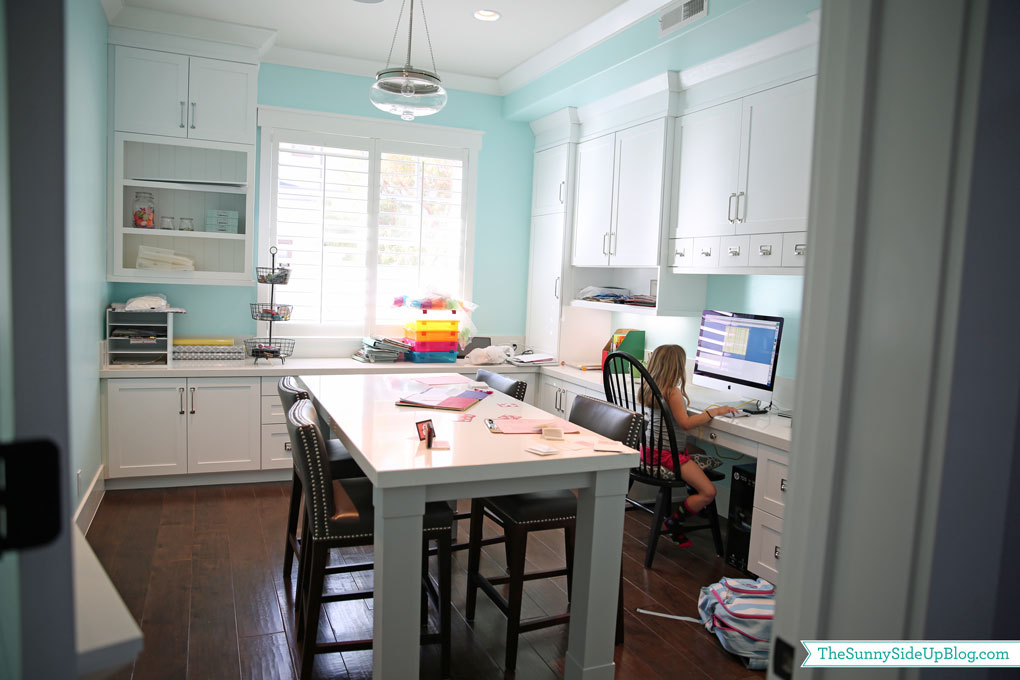 Before we see the "after" let's remember what this room looked like soon after we moved in.  In a word.. messy.  :)


I cleaned things up, organized a few drawers and cupboards, and shared lots of pictures of my new office in this post.  It was a wonderful blank slate!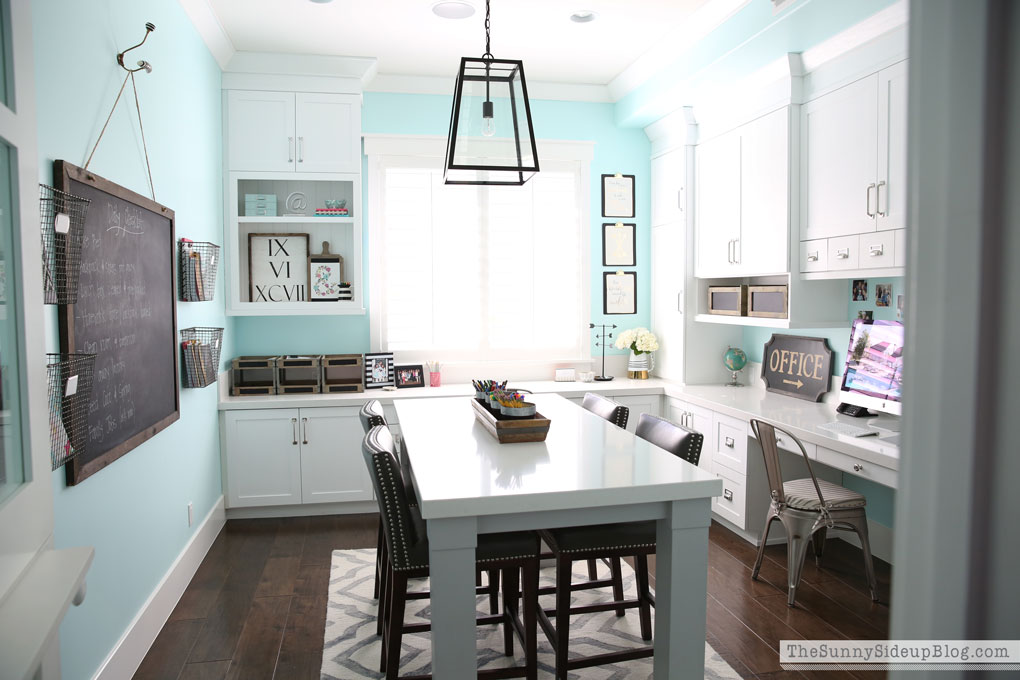 Here is what that blank slate is looking like today!


Soon after we moved in I knew I wanted to change the light fixture in this room.  The previous light felt too small for the space and had a horrible glare.  Not practical for a room the kids and I pretty much live in.  I had my eye on this pendant light from Ballard Designs and knew it would be perfect!  Exactly the look I was going for and it matches our staircase light (stairs are right next to this room).  Because of the bright wall color in this space I wanted to bring in more neutrals/blacks to tone things down a bit and make sure the room didn't end up looking like Rainbow Brite's summer cottage.  (Did I date myself there?  Anyone else remember Rainbow Brite?)  :)  I considered several rugs for this space (almost ordered this one or this one) but then ended up falling in love with this simple grey geometric rug from Rugs USA.


It took me a long time to figure out what to put on this big blank wall!  I debated everything under the sun.  Then I was shopping with a friend one day at a local boutique and they had this huge chalkboard hanging up advertising a store sale.  I was in love!  That was it!  I knew I had to have it for my office wall.  I asked if it was for sale and bought it right off the floor with their "20% off" writing still on it.  :)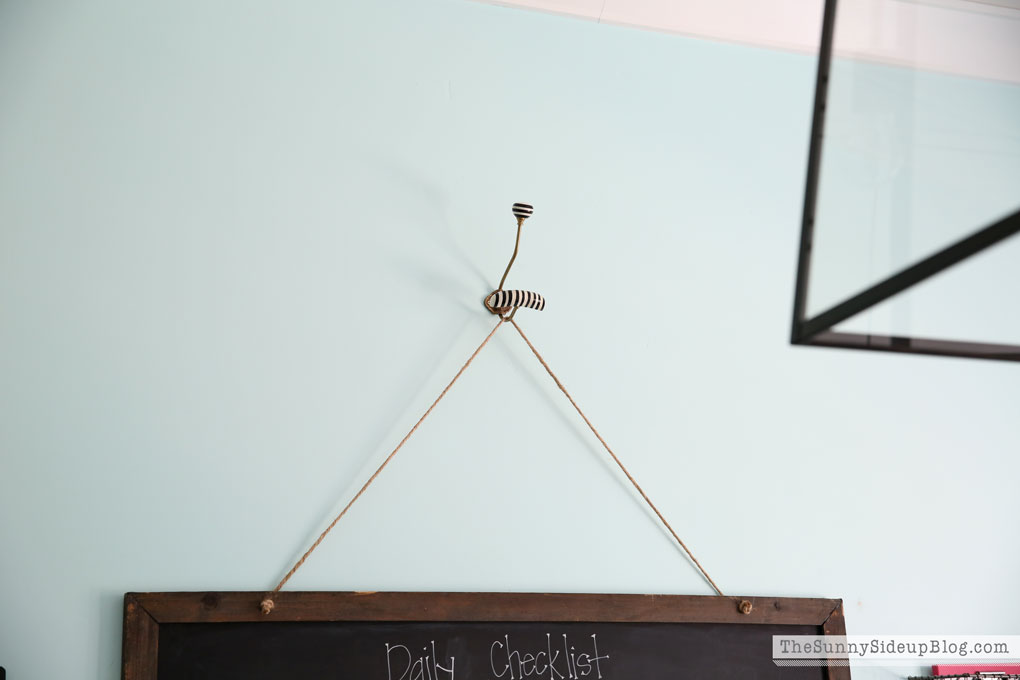 I picked up some twine from the craft store and then was on a hunt for the perfect hook.  I went straight to Anthropologie because their hooks and hardware are my absolute favorite!  When I saw this black and white striped beauty angels sang.  Love it when that happens.  :)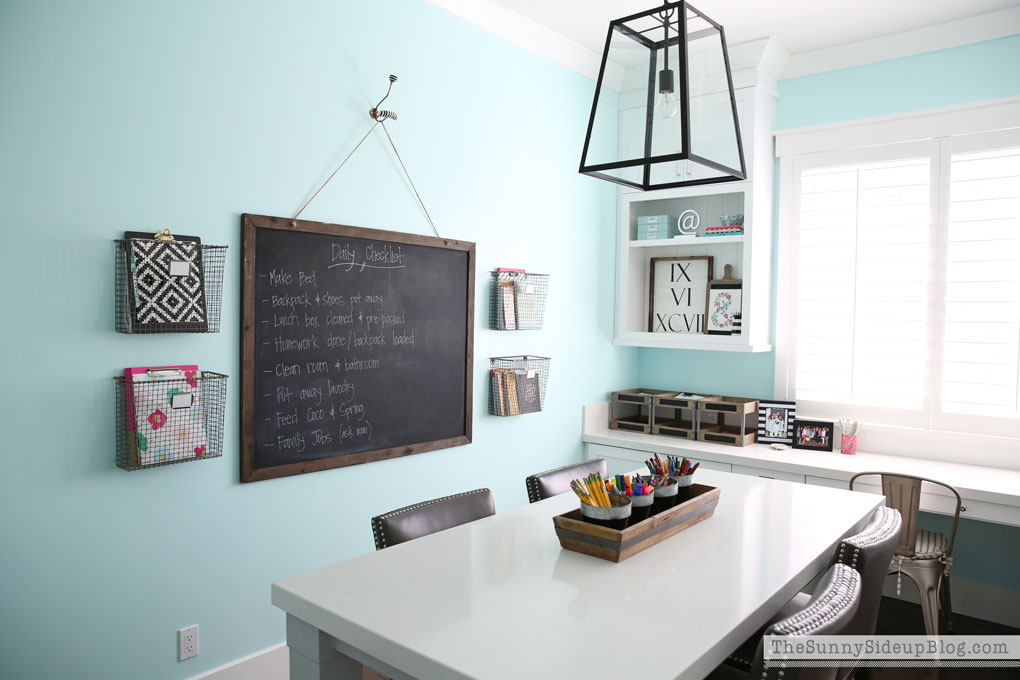 The baskets on the sides of the chalkboard are from Ballard Designs and are perfect for holding miscellaneous items.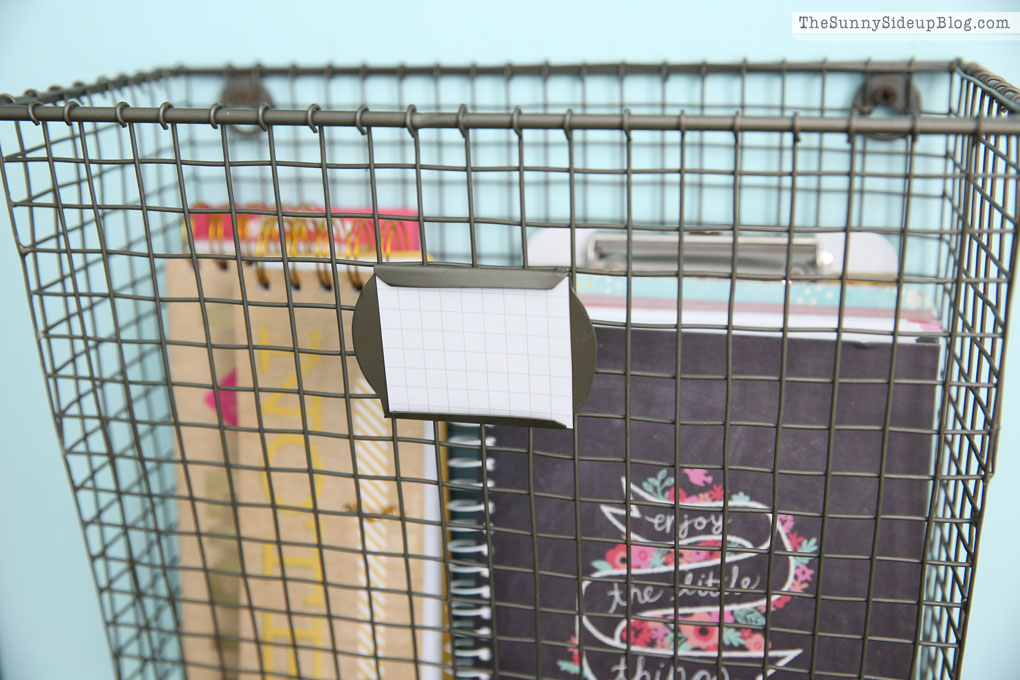 I haven't labeled anything in my office yet because I'm still getting things organized and deciding exactly what to put where.  That's a post for another day!  Nothing like a good wire basket.  :)


I've had this wooden tray for years and love using it to corral our school supplies.  I buy new crayons often because something about sharp, new crayons just makes me happy.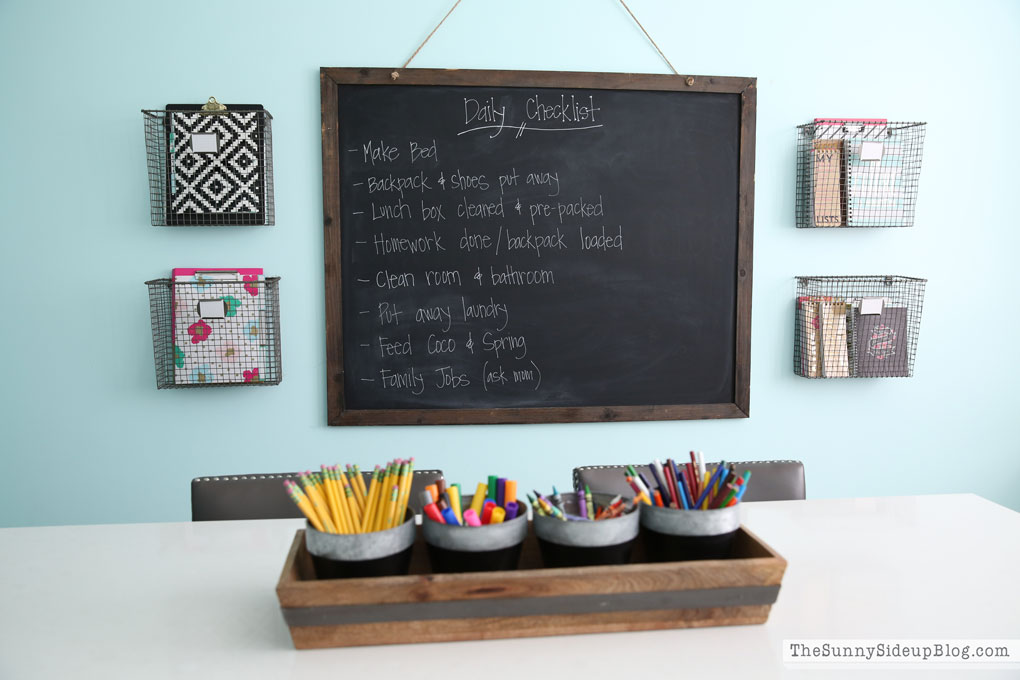 This chalkboard will be so fun to play with and use for different things.  It makes the school teacher in me giddy.  :)  At the start of the new year I wrote my kids' daily checklist on it (same things that are on their chore charts) because I was craving a little more order.  After school and before they play or have computer/TV time I have them check this list to make sure everything on it is done.  Crackin' the whip around here. ;)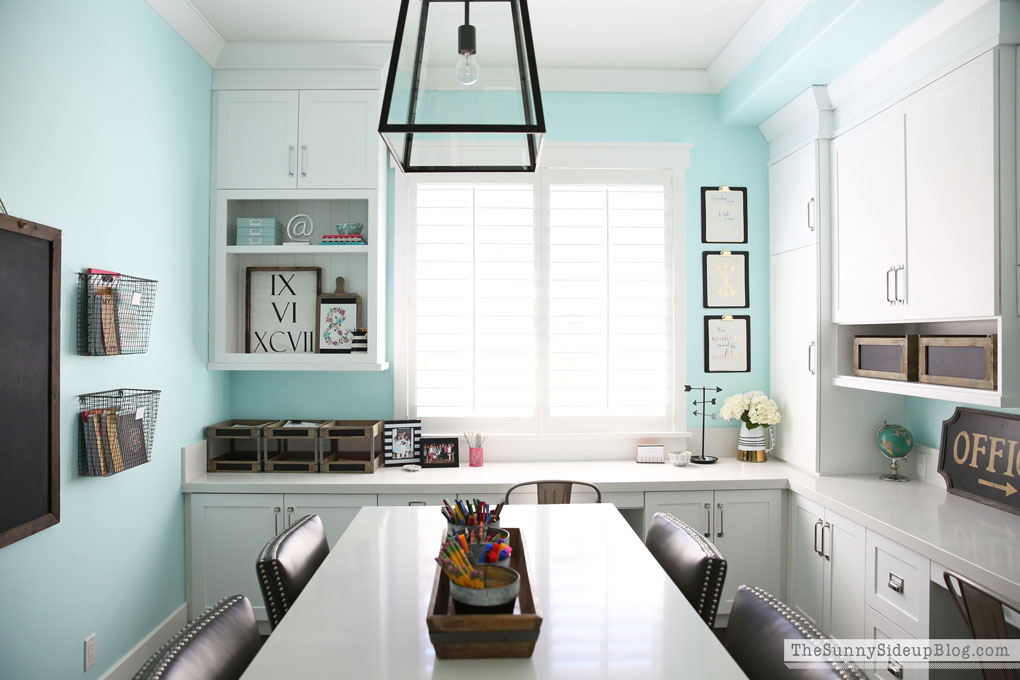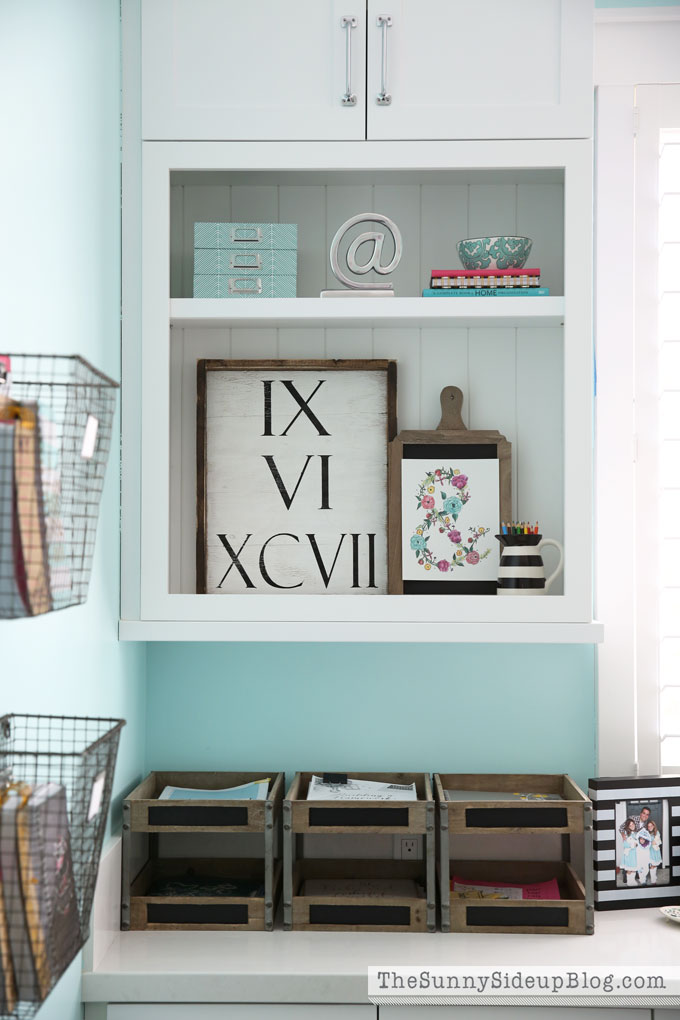 I'm so in love with these wood and metal 2 level trays from World Market!  They really help me stay organized.  I still need to label them and I'll share how I'm using them at some point!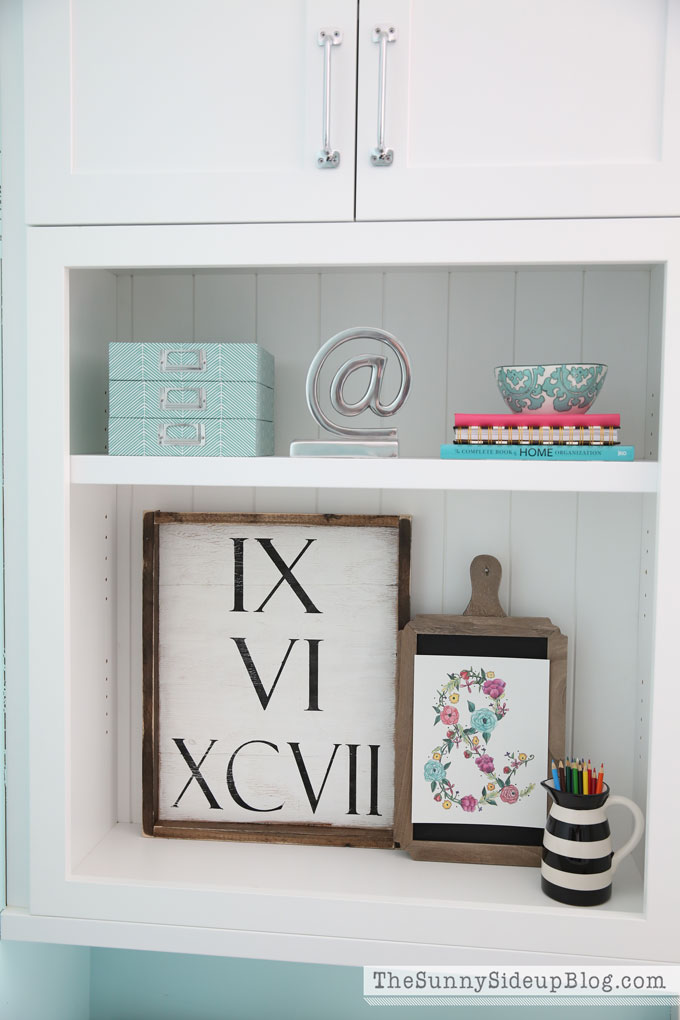 I'm sure my shelf decor will be switched up often, but for now I have some simple items from Home Goods on the top shelf along with a favorite organizing book, cute notepads and a favorite bowl from Anthro.  On the bottom shelf I put one of my favorite signs from Jaxn Blvd.  I first shared it on my console table decked for fall.  I love it on that table and may move it back when I find something else for this room.    (Things never stay in one place around here!)  :)  The roman numerals are September 6, 1997 – my wedding date.


This adorable ampersand print is from my friend Abbie's fun shop Paint and Prose.  The colors were perfect and I love the touch of whimsy it adds with the industrial/wood decor I have going on in this room.  Small striped pitcher is holding a few colored pencils and is from Target.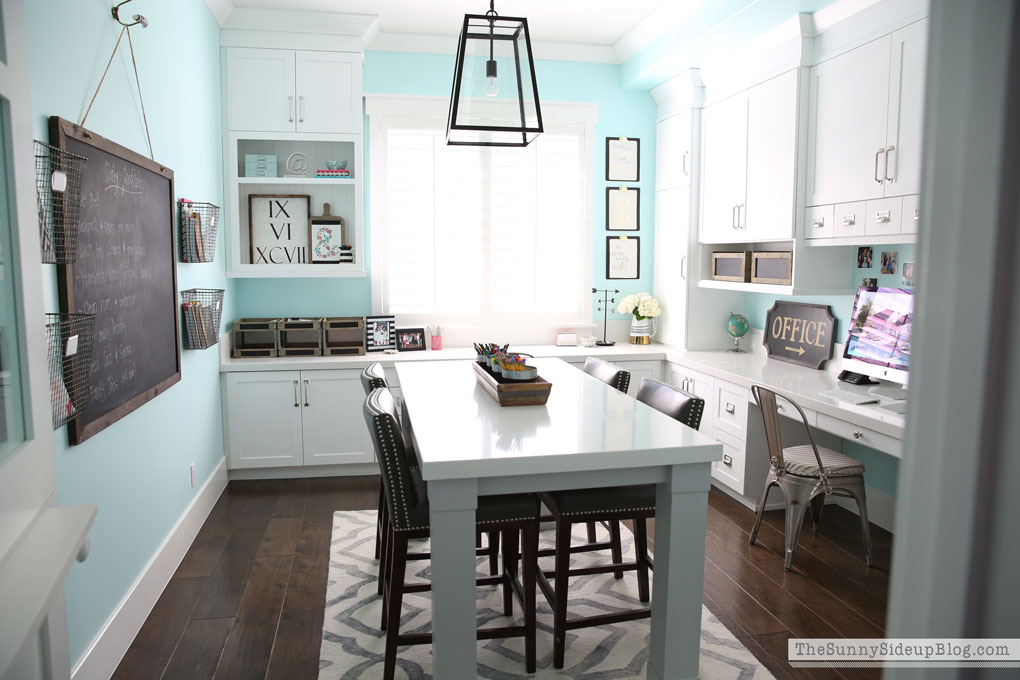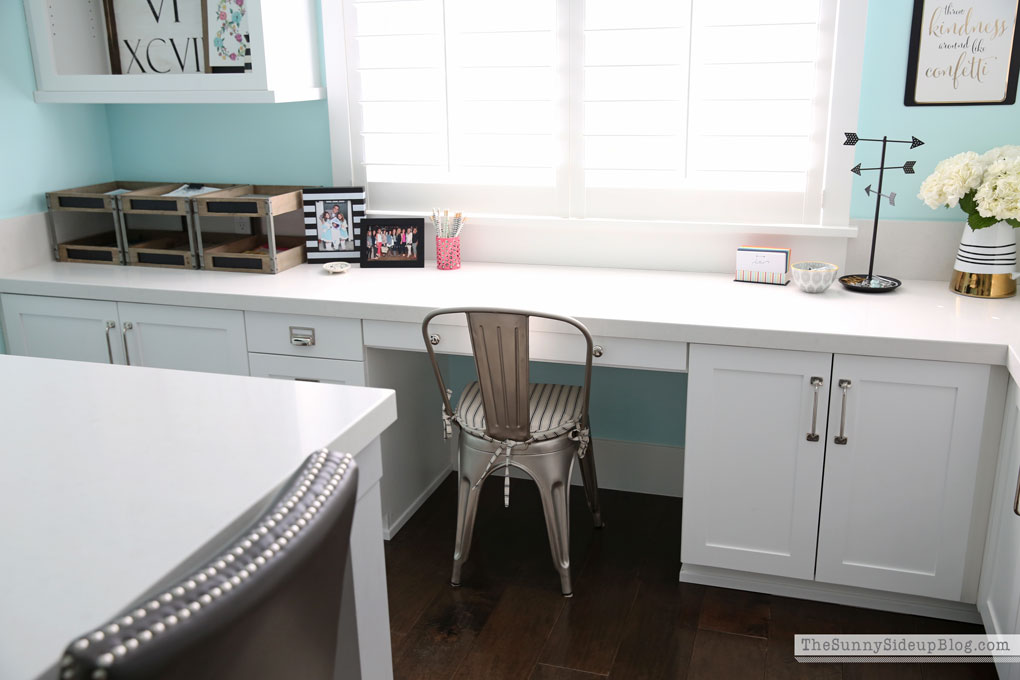 This desk is where I work!  My kids have taken over the big computer so I'm always here with my laptop.  I cleaned my workspace up just for you, but it will most likely never be this clean again!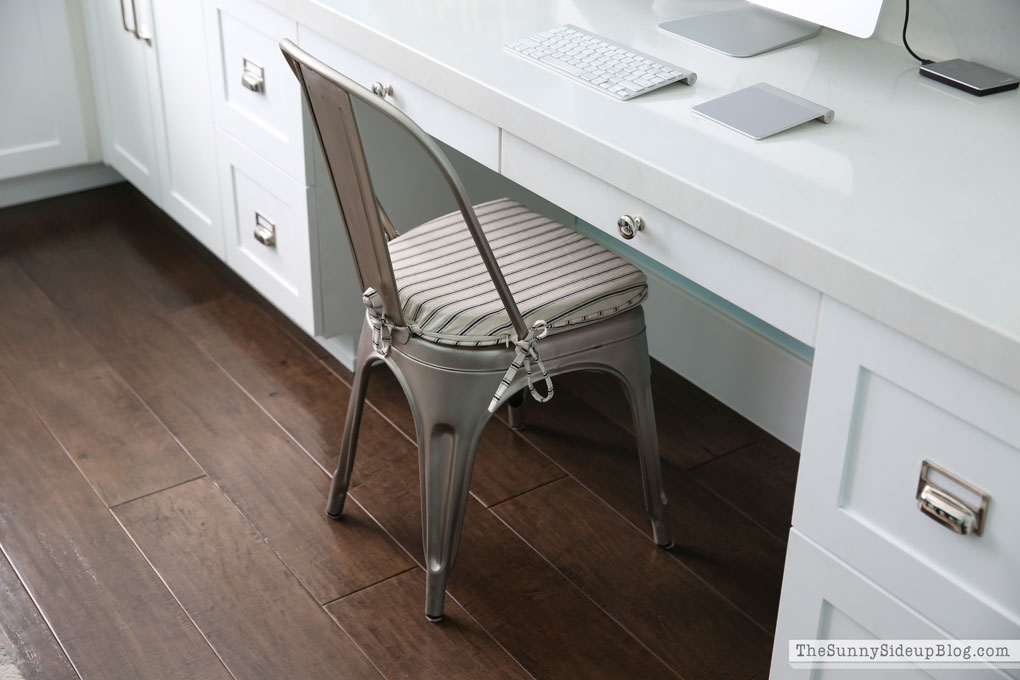 I knew I wanted industrial looking chairs in this room and debated several options.  I liked our dining nook chairs in this space and also looked at this option from Crate and Barrel, but ended up going with these Marian metal chairs from Ballard Design.  I especially love their striped cushions!


Two of my favorite pictures on are my desktop.  My husband and kids from a past Halloween and a group picture with some of my close friends taken on my birthday last year.  Isn't the striped frame fun?  It's from Krumpets!  They sell a lot of fun patterned frames.  I worried about going overboard with black and white stripes in this room – I really did.  But I used them in the small accessories that I can change if I suddenly decide I'm over stripes.  Although I don't see that happening anytime soon.  I bought the cute little trinket "E" dish from Anthro to set my rings and watch in when I work.  I always take them off when I'm working in my office.  This space = jewelry off, hair in a top knot and sleeves rolled up. (Enter fist pound emoji.)


I knew I wanted black clip boards for this wall and after searching and not finding what I wanted I was almost ready to paint my own.  Then I came across this set of three at Home Goods and I seriously think I squealed out loud in the store!  They even came with a stack of gold lettered quotes!  I had to explain why I was so elated to the lady in the aisle next to me because she was looking at me and laughing.  I couldn't contain my excitement!  That was a good shopping day.  The quotes I have in the clipboards at the moment say "every day is an opportunity to make a new happy ending" and "throw kindness around like confetti."  I liked those two. :)  I also have an arrow addiction and loved the arrow print so it's in the middle.  These will be fun to switch out with other quotes or my kids' art work.


My striped Target pitcher has made the rounds in my house, but for now I'm loving it in my office!  The arrow stand (I think it's a necklace holder?) and note cards are also from Home Goods.  You can find the bowl here.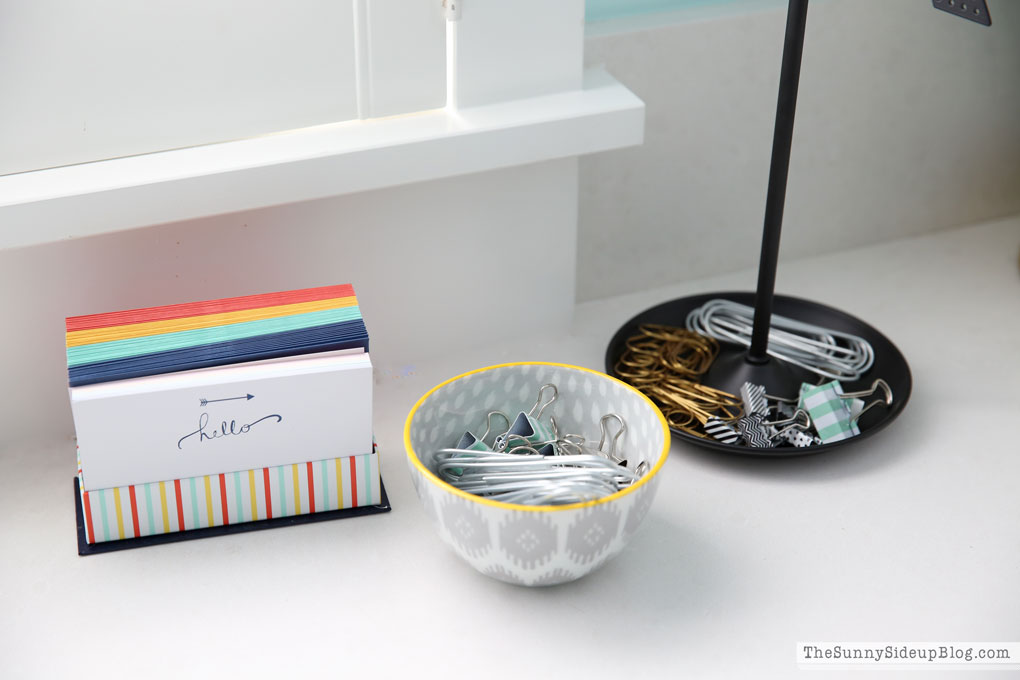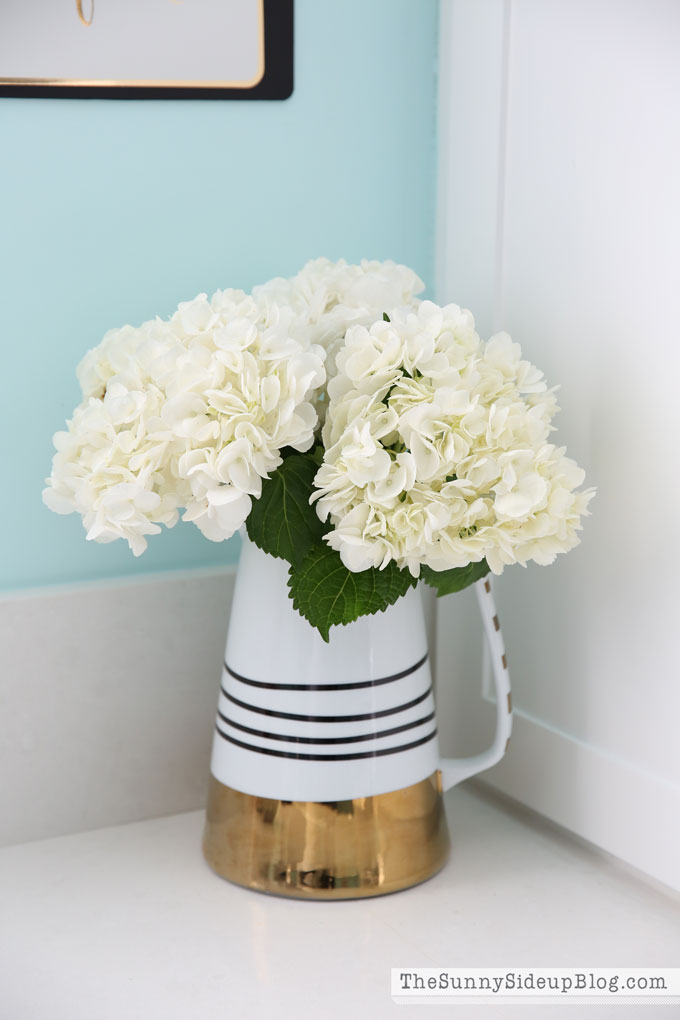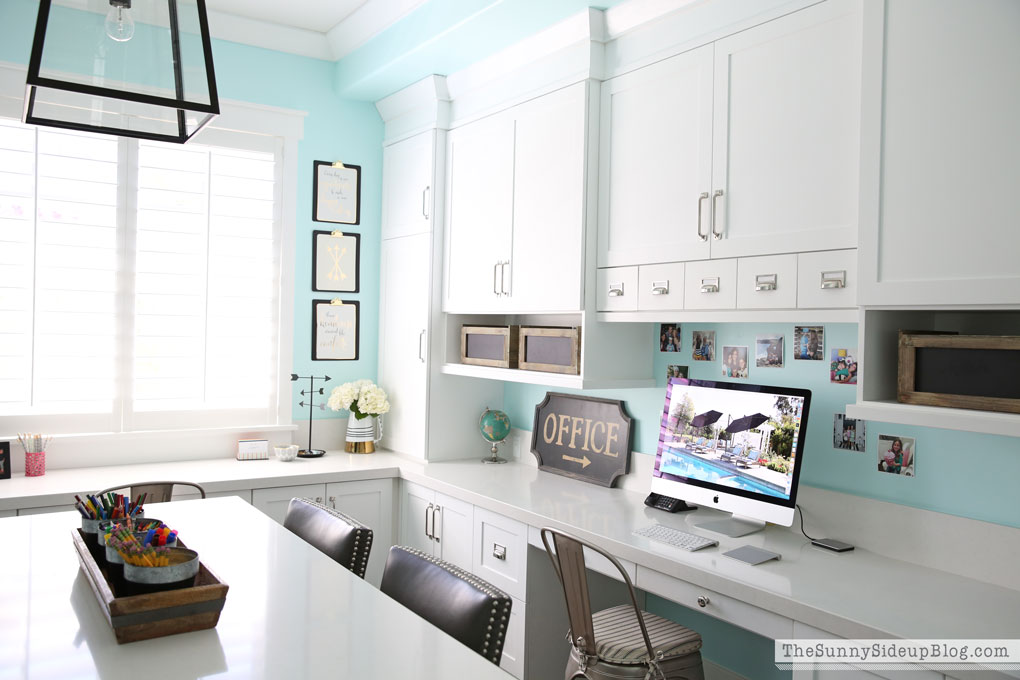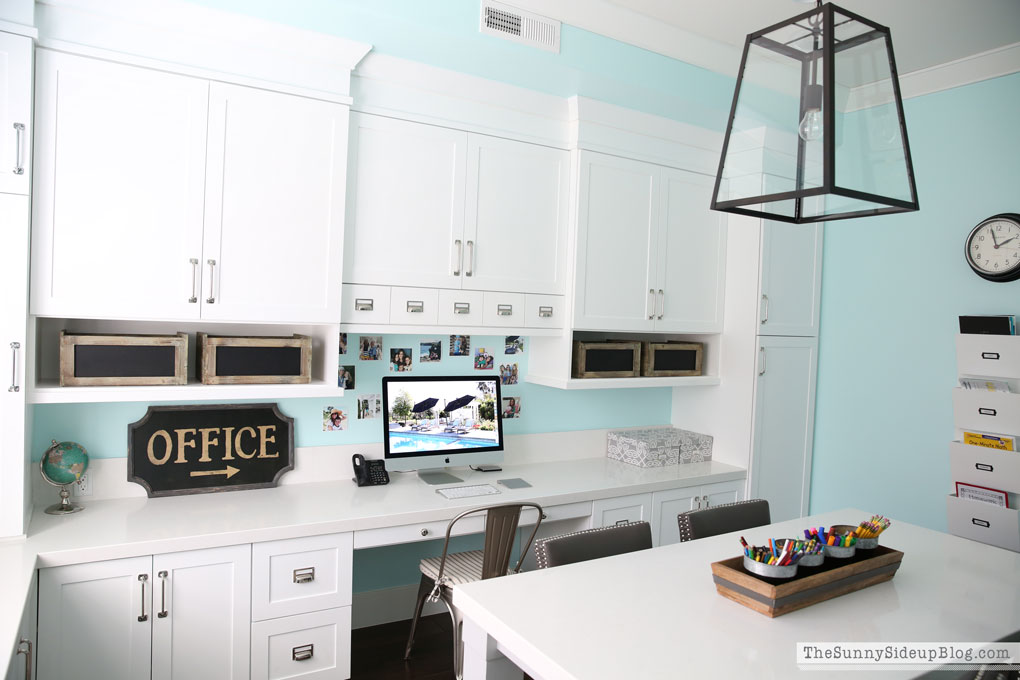 Moving to the other side of the room!  (Are you still with me?  Bathroom break anyone?  This post is a novel!)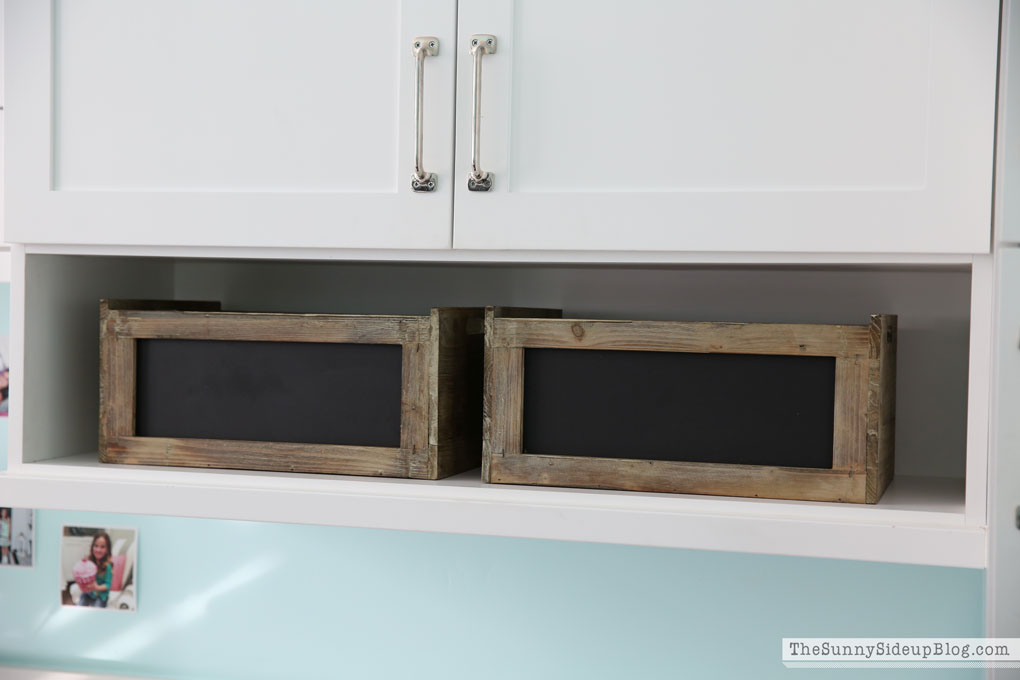 I love the baskets I previously had in this space, but not so much for this room so I moved them to my master bathroom and went on a mad hunt for the perfect baskets for these open shelves.  Not easy to find something I loved with the exact dimensions I needed that was also a closed basket (I want to hide things in these!).  After searching on-line in every store I could come up with I finally landed on these beauties from Magnolia Market.  (These are the large size.)  I've had them in my pantry for over a year now (I know!  still need to do a pantry post!).  It finally hit me that I should try them in this space too.  Perfect fit.  Perfect look.  Thank you Chip and Jo!  My love for you two grows daily.


My vintage office sign I shared in a Friday Favorites post is from Painted Fox and you can still get 25% off!  Just use the code SUNNYSIDEUP25.  I love the look of it in this space.  Arrow and all.


My desktop screen saver is a pic of our backyard (is it summer yet!?).  I put some fun IG pics that make me happy around my computer (just used painter's tape to hold them) and I keep going back and forth on whether or not it's too cluttered looking?


For now they are staying because my kids and I love looking at them every day.  A fun and easy thing to update and I love getting pictures off of my computer and out where we can enjoy them!


Dutch door love.  :)


Our file holder from Ballards has always kept us organized!  I've had it for years.  The black clock was a fun new Pottery Barn addition.  It comes in a blue that I love too, but that obviously wouldn't work on this wall.  :)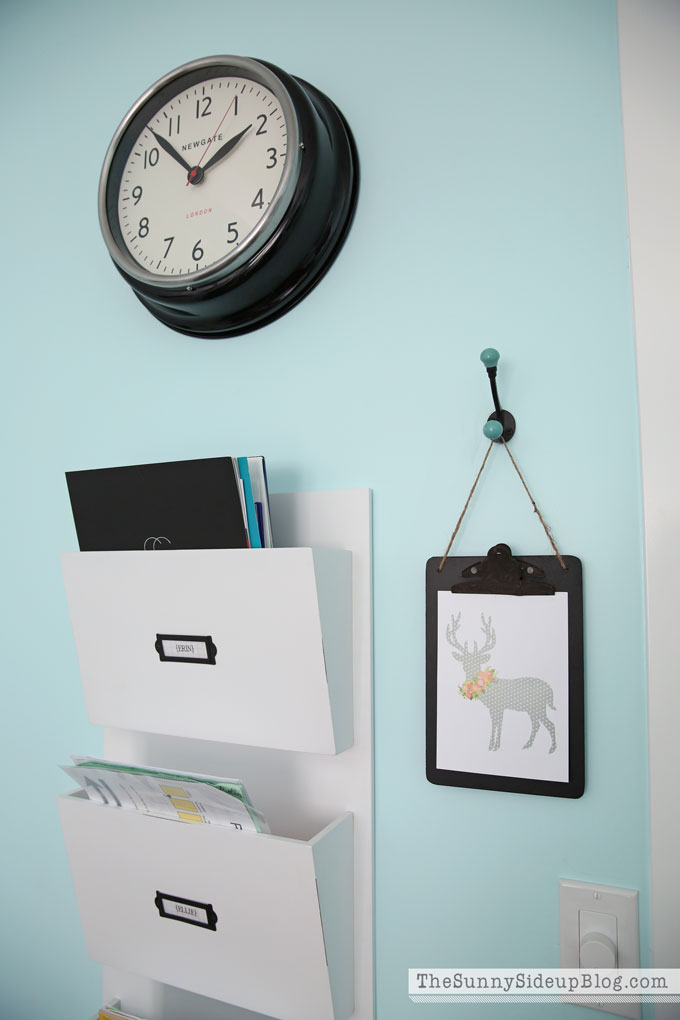 This cute little hook is from Anthro and the cute little clipboard is from Magnolia Market.  It's clearly all about the cute little things.  I still want to add a few more cute little things to the wall on the left of our file holder, but I'm a slow decorator and didn't want to keep you waiting two more years for that to be finished. ;)
A few more random pics of this space (even though I know you've seen enough!)…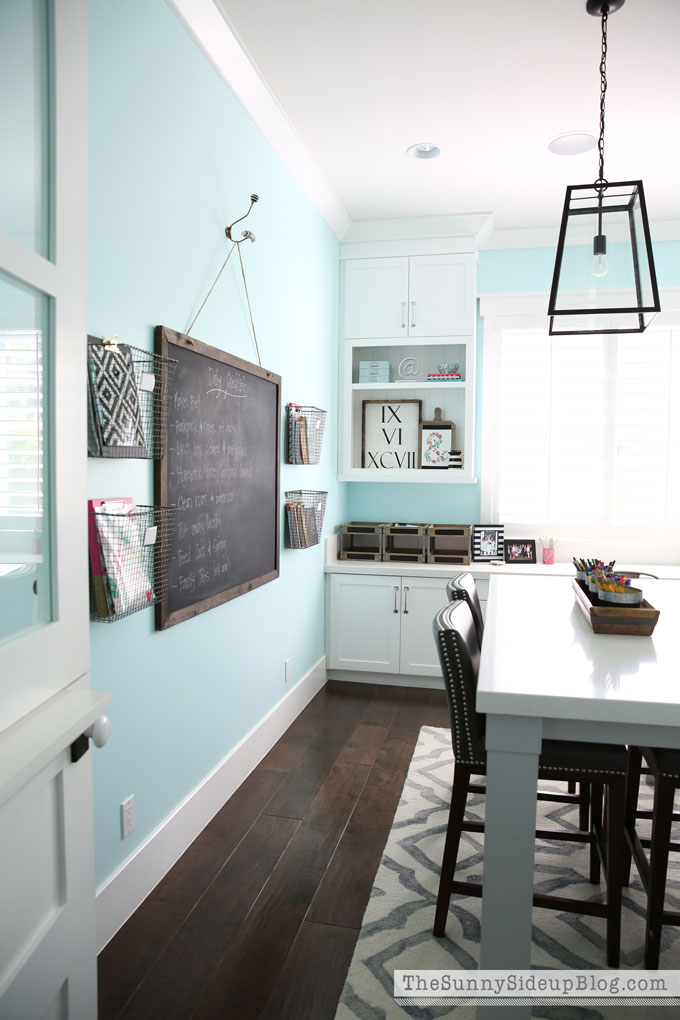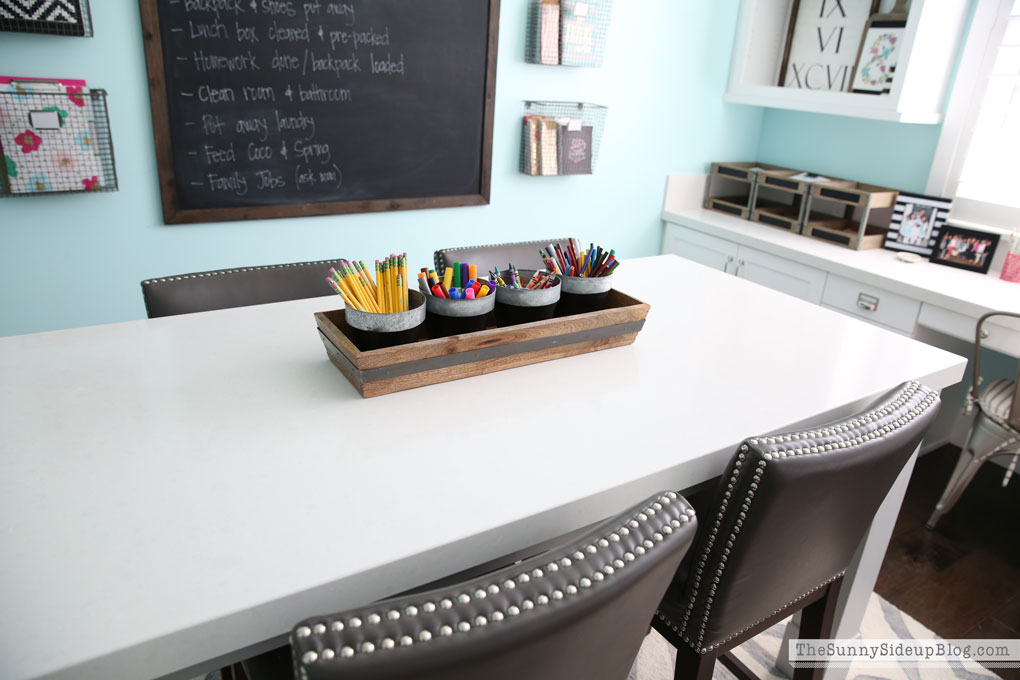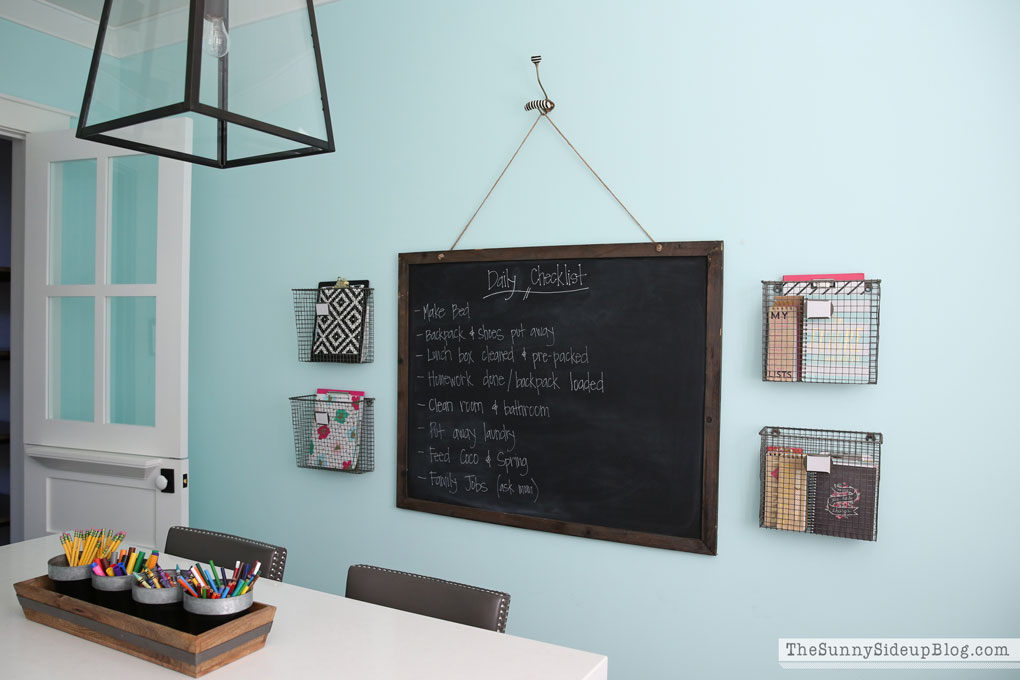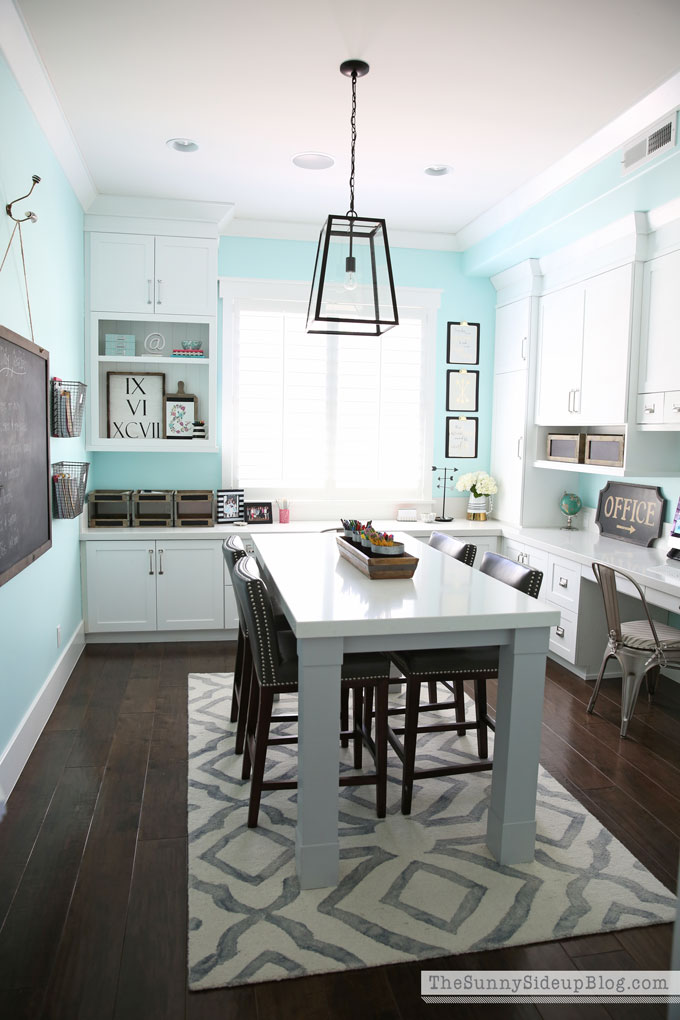 That's it!  Quite possibly one of my longest posts ever!  But this has turned out to be one of my most favorite rooms ever.  I think the reason I love it so much is because it's just so me.  It's a mix of everything that I love.  I smile every time I walk in.  That's the goal with decorating your house, right?  Not everyone needs to love your home.. YOU need to love your home.  Surround yourself with things you love and your house will inspire you and make you happy.  This room makes me very happy and I'm so grateful I get to share it with all of you!
Now.. time to roll up my sleeves, take off my jewelry, put my hair in a topknot and get back to work!
:)
*affiliate links used
More details on this space:  The paint in this room is "Tinted Ice" by Dunn Edwards.  The room size is 15 1/2 x 12 feet.  I designed the layout and had the cabinets built custom.  I also designed the table and it was custom built.  The table legs are painted in "Seattle" by Frazee and the top is a slab of quartz (Organic White – Caeserstone – same quartz I have in my kitchen).  Organic White quartz is also the counter tops in the perimeter of this room.
All office sources: chalkboard (similar), wall hook, barstools (similar), rug, wall baskets, (similar wall baskets I considered), wood and metal organizing trays, small chalkboard on shelf (similar), letter jewelry dish, striped frame, teal decorative bowl, grey decorative bowl, crate baskets, black clock, hanging wall file, vintage office sign
If I've left something out that you have a question about let me know!  xo
xoxo, Erin