Alright friends.  Kitchen organization.  Let's do this.  :)  I've been working on getting my kitchen organized from top to bottom.  At some point I'm going to do a post that shows inside every cupboard/drawer in my kitchen – how everything is organized and where everything is located.  But that post overwhelms me because it's so much picture taking.  So I thought I'd show you my kitchen organizing progress along the way.  Then at some point I'll combine what I've shared along with a few things I haven't shared to make one BIG organized kitchen post.  Should be a party.  :)
Our previous kitchen didn't have a lot of storage so when I designed our new kitchen I went a little crazy with storage.  I added a lot of fun features to help me stay organized (coming soon!) along with plenty of cupboard and drawer space.  I have a lot of storage in this kitchen.  Truth be told, I have more storage in this kitchen than I really need.   I mentioned in my secret to staying organized post that having so much storage has been a challenge for me and has actually made it harder for me to stay organized.  

Here is a lovely example of this.  I love having two islands for the counter space, but the drawers in our second island are just extra storage I don't really need.  So we basically have three junk drawers.  Every one of them drives me crazy.  :)  The far left is my husband's drawer where he sets letters/papers he needs.  The middle drawer has no purpose and the far right drawer is our true junk drawer.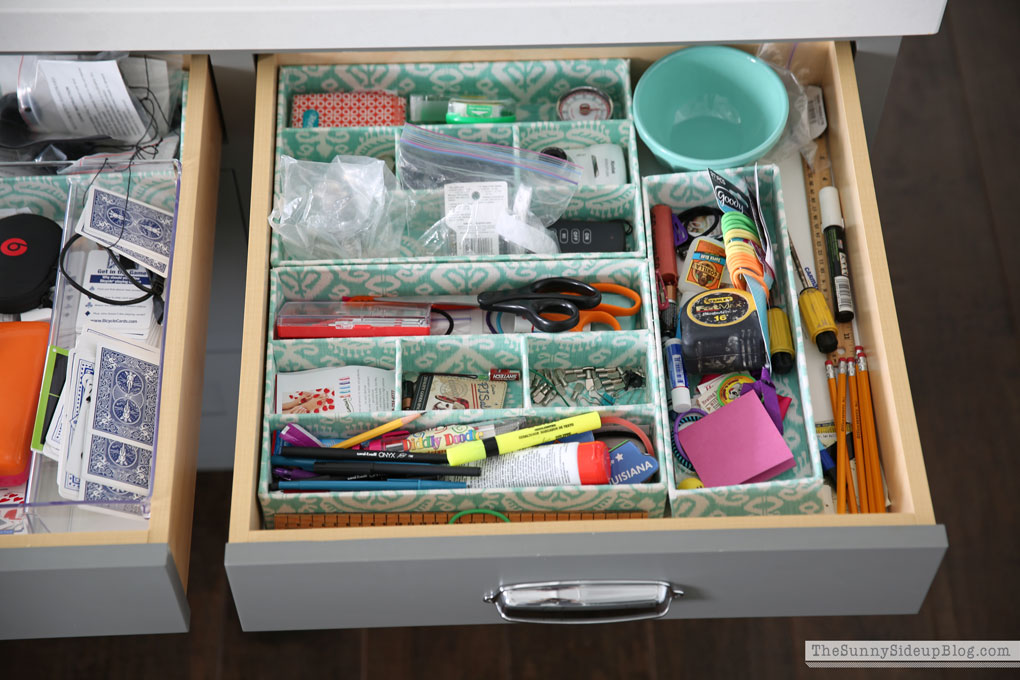 Time to clean things up!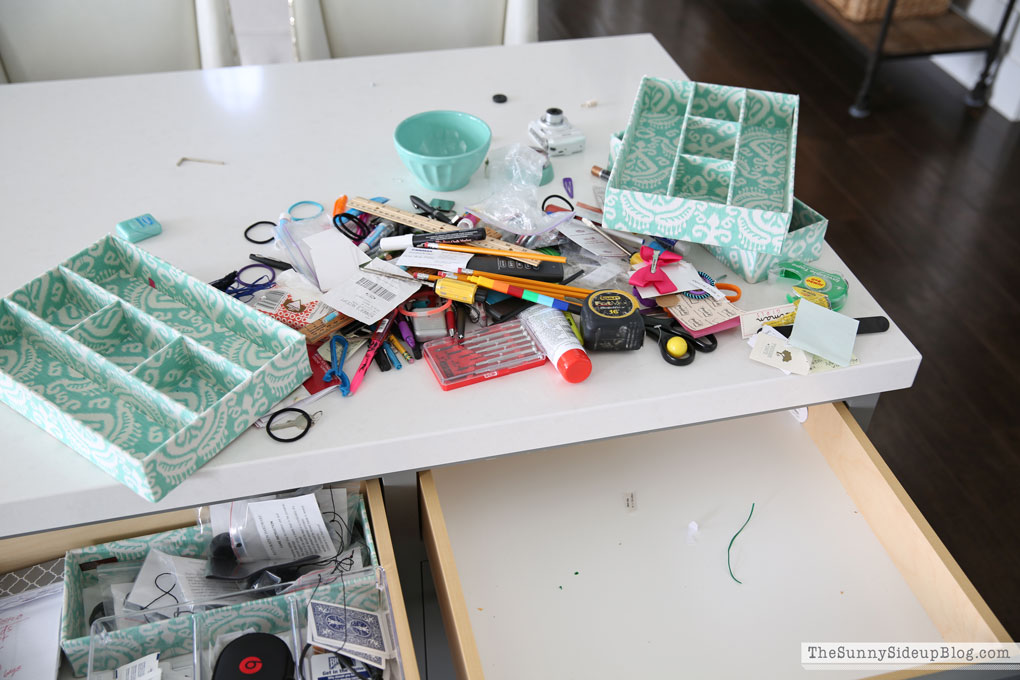 I always dump the whole drawer on the counter and wipe things down and then I'm very careful about what I put back.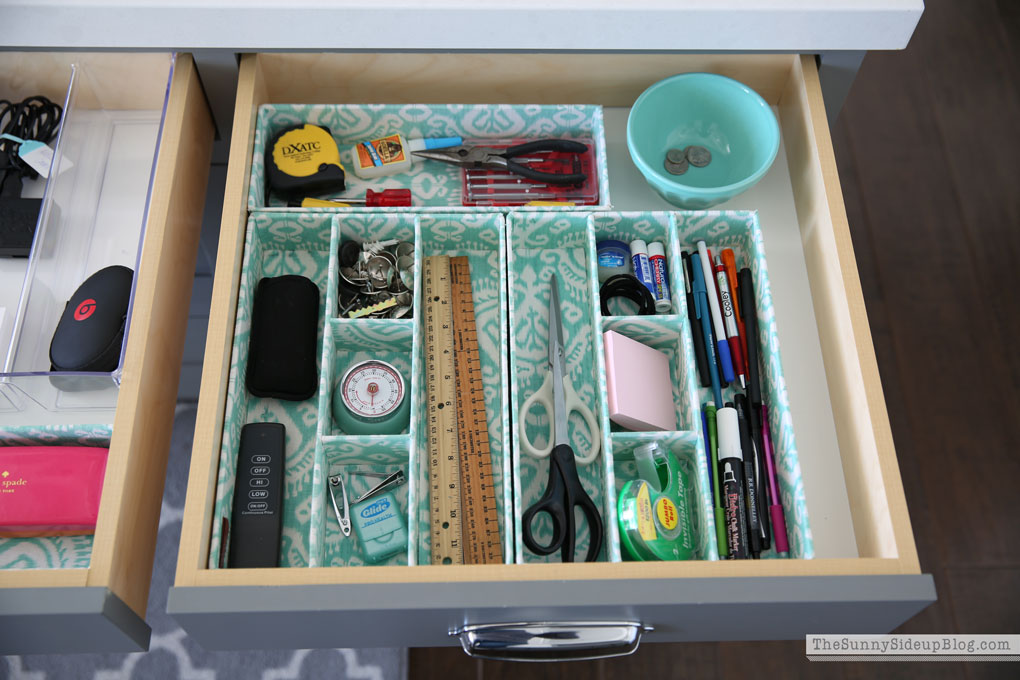 Much better.  The bowl is usually full of change but my 5 year old recently took it all and put it in a crayon bank in his room.  He's been "collecting monies" for a while now.  :)  (These organizers are from Home Goods.)
Most of this drawer was garbage or things that really belong somewhere else.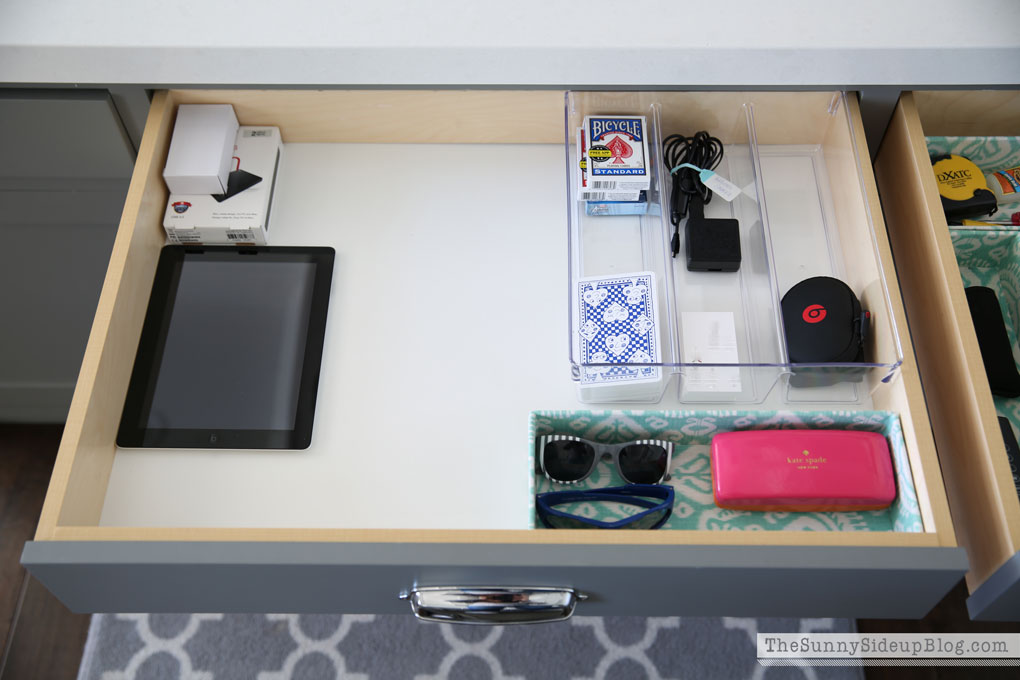 Nice and clean now!  I'm still trying to determine the purpose for this drawer (everything needs a set, assigned place if I'm going to keep it organized).  For now it holds our iPad, headphones, extra cords, cards and sunglasses.  How's that for random.  :)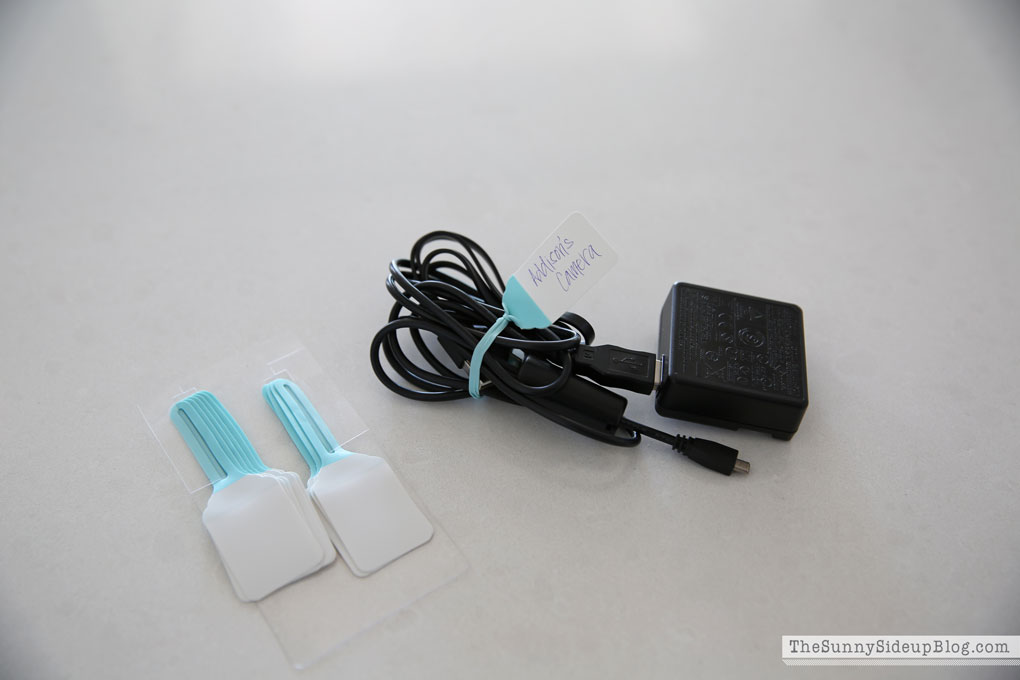 Since I took this picture I've added other random cords that are popping up in spaces I'm organizing.  I'm corralling them all with my Martha Stewart Tags.  These work great for chargers you don't use as often.  They keep cords tidy, labeled and out of the way.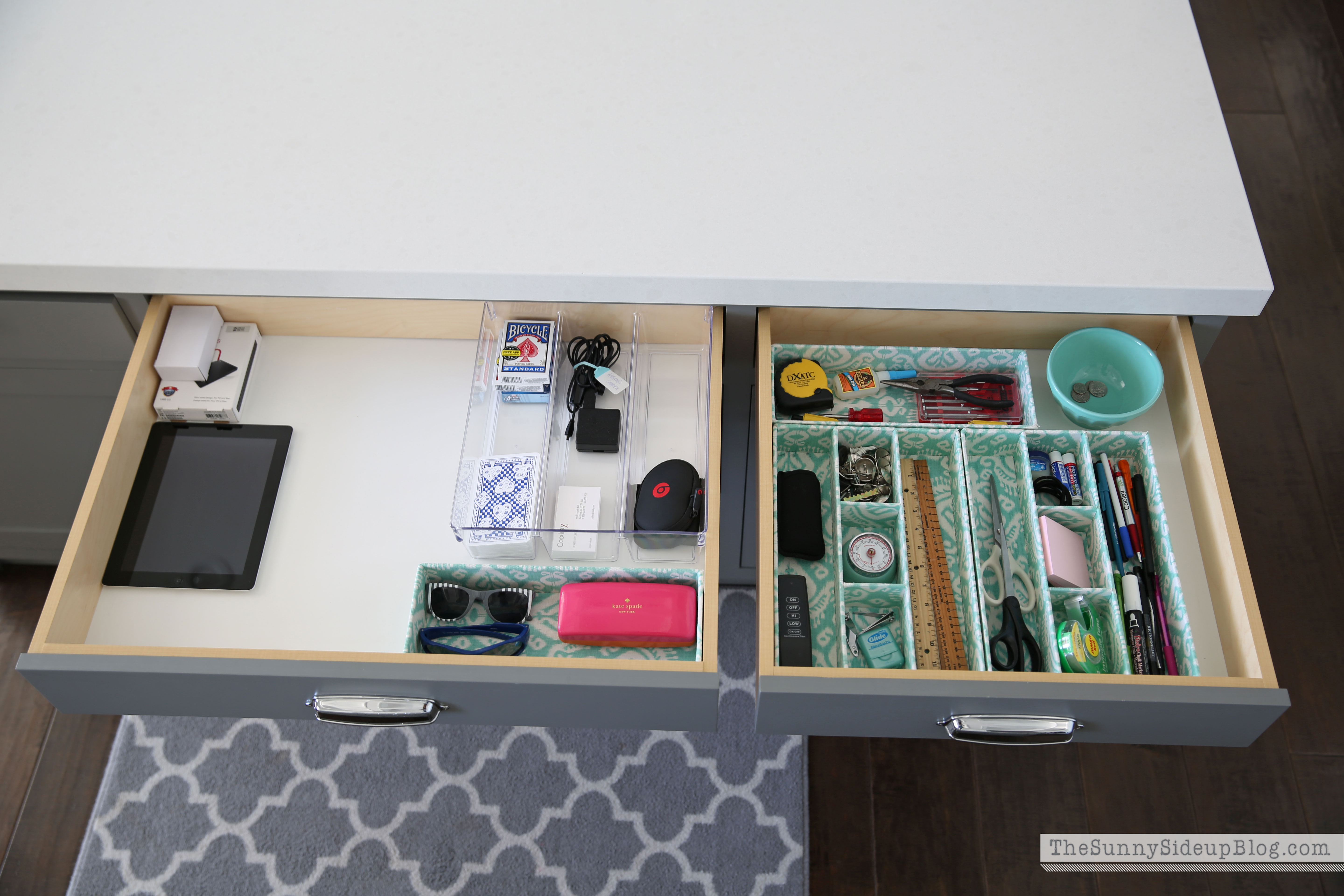 These two drawers for "extras" are now sparkling clean and I plan on keeping them that way!  As for my husband's drawer.. I was about to organize it when he politely asked if he could have just one drawer in the house that wasn't wiped clean and "full of my crazy containers, organizers and labels."  Ha!  Well.. if you really feel that way babe.. you can have your one drawer.  ONE.  But just know that now that the kitchen is so clean (aside from your one drawer) I twitch every time I open it and it's all I can do to not organize it.  Leaving it alone is a true sign of my love for you.  ;)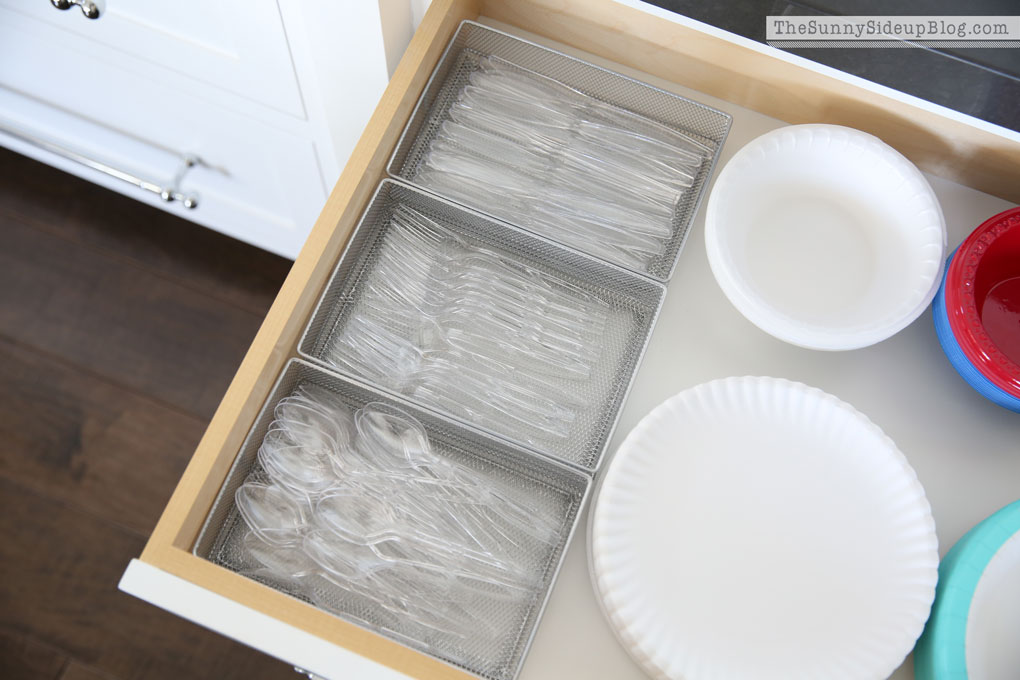 We don't use paper utensils and bowls often but I love having them on hand for when my kids have a lot of friends over.  I used a few of my silver mesh drawer organizers from The Container Store to hold the utensils.


In my previous kitchen I just kept paper plates in my pantry.  I use a drawer for them now because I have the space.  I keep them right by my micro drawer which comes in handy!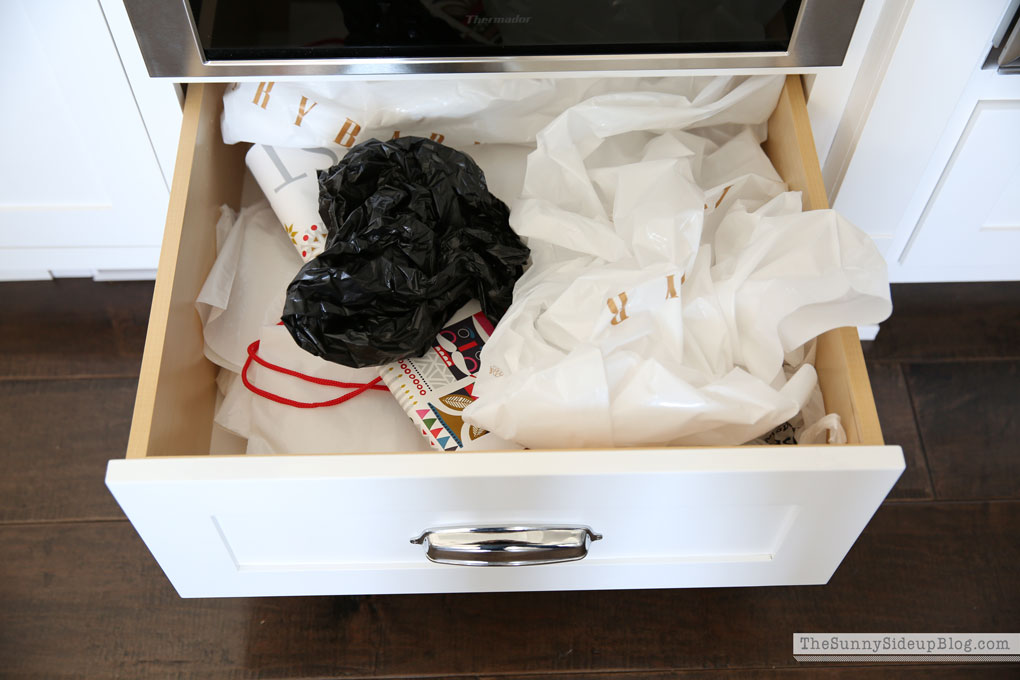 Below my micro drawer I keep our sacks.  I never took the time to organize them..


until now.  :)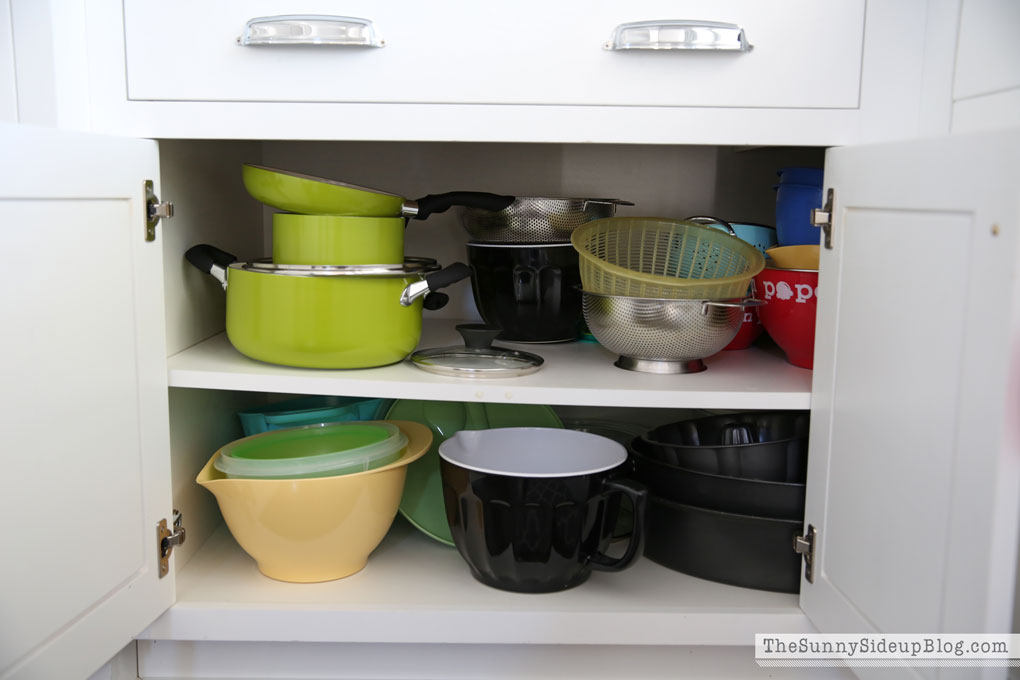 My mixing bowl cupboard was getting messy and I knew there were things in it I could toss.


It just holds my essential every day items now!  A few mixing bowls (this set from Williams Sonoma is my all time favorite), my strainers and our favorite popcorn bowls.  Which get the most use of all.  :)


I've been a bit scattered in my organizing – popping around from place to place, but I'm checking things off of my 2016 list!  It feels really good to have my kitchen organized.  I'll share more soon!  Happy organizing friends.  :)
xoxo, Erin