Happy Valentine's Day friends!  I hope you are enjoying the weekend!  I have to admit that my husband isn't a huge fan of this beloved holiday.  He thinks it's too commercial.. yada yada.. whatever.  :)  I think he panics over what to get me and it feels forced and competitive ("what did YOUR husband do for you for Valentine's day?") and I totally get that.  There are always such great sales over President's day weekend so years ago I told him to seriously bag the Valentine's day gift or obligatory flowers and just let me pick out one or two things on-line that I've been wanting that are on sale.  He shows me how he feels about me every day with so many little things.  I know I'm loved.  :)  He still surprises me every once in a while with a little something, but for the most part.. we are all about no pressure on Valentine's Day.  I do love buying a little surprise for the kids though.  My mom always did for us when we were little and it made the holiday extra special.  (Thanks mom.. love you.)  :)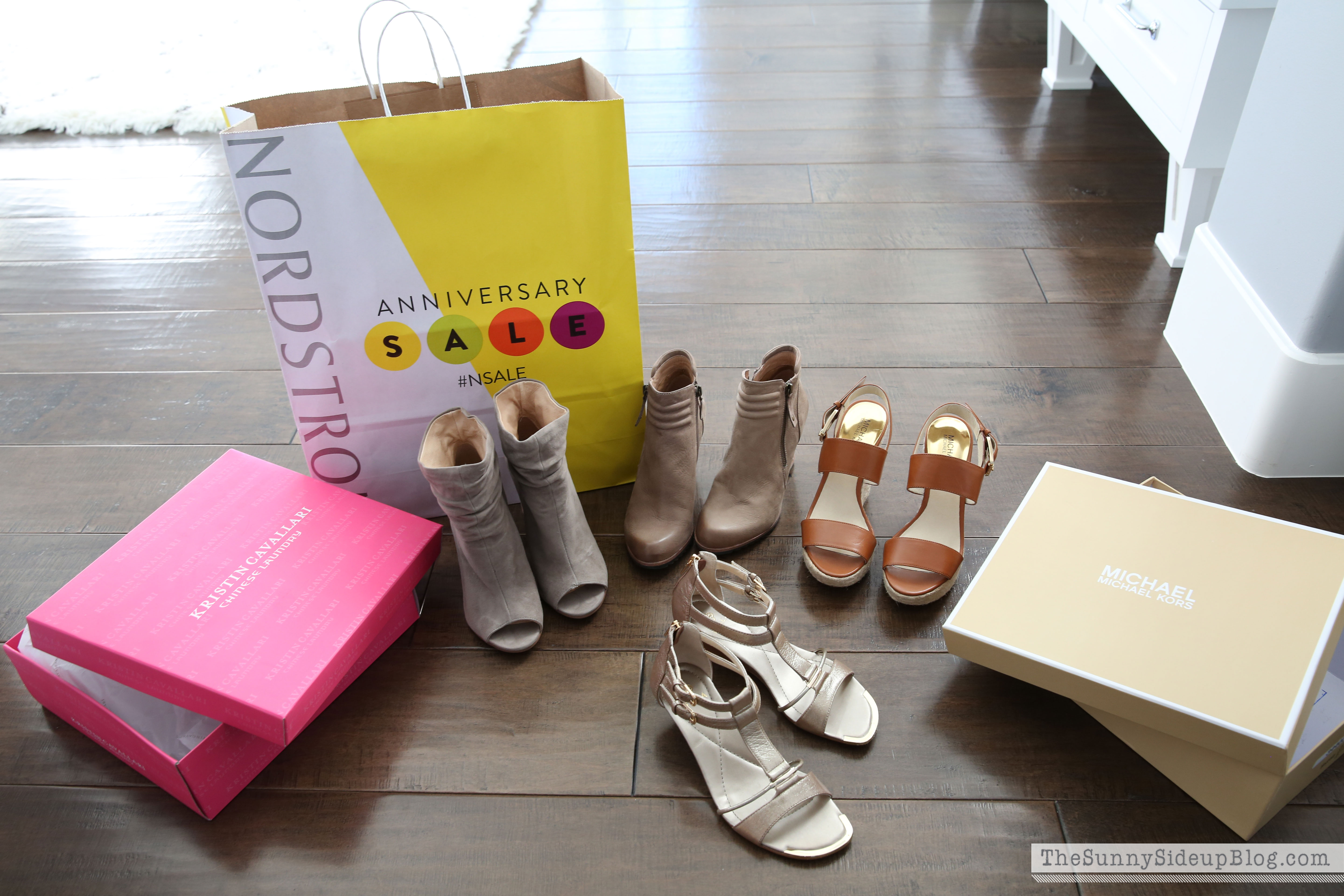 Anyway.. I was checking out some of the great sales going on this weekend and quickly realized that some of my favorite things are seriously marked down!  Thought I'd share them with you in case your husband/boyfriend is like mine and wants an easy no pressure Valentine's day too.  Or in case you just want to treat yourself this year.  :)  Sizes and colors are limited on the shoes/clothes, but hopefully some things will work!
My Peep Toe Booties aren't on sale (bummer!) but my green Fringe Infinity scarf is only $9.98!  Eek!  That will go fast!


Some of my favorite AG jeans are also on sale (40% off!).  So are the Jessica Simpson booties that are similar to these grey boots.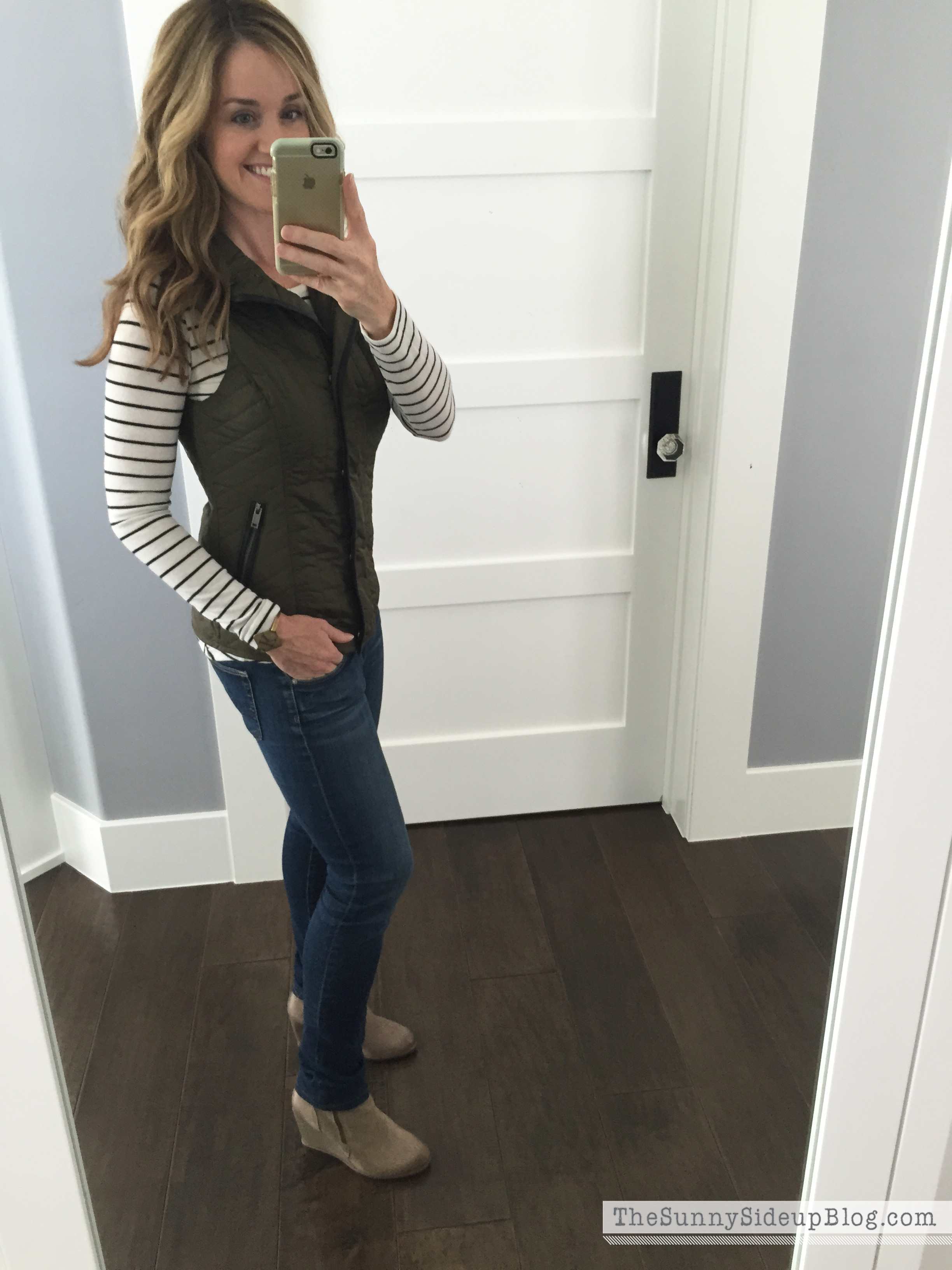 My beloved Ashton booties that I bought over the summer at the Nordstroms Sale are also marked down the lowest I've seen them.  Debating getting another pair in black.. 

My go to every day Toms booties are 30% off!  

My Alba booties from Sole Society are also marked down!  Just a few sizes left.  
Same with my favorite Valentina boots!  Such a steal but only a few sizes left and going fast!  
My popcorn infinity tassle scarf also from Sole Society isn't marked down but I noticed they only have 3 left!  I've loved this scarf this winter.
And I'm sorry.  I know I share these next two purses too often but they are my favorites!  And my Johnson purse in green is on final sale for $25 people!
And my favorite Leighton striped bag is finally back in stock!  And now I'll stop starting every sentence with the word AND!  I tend to do that when I get excited.  :)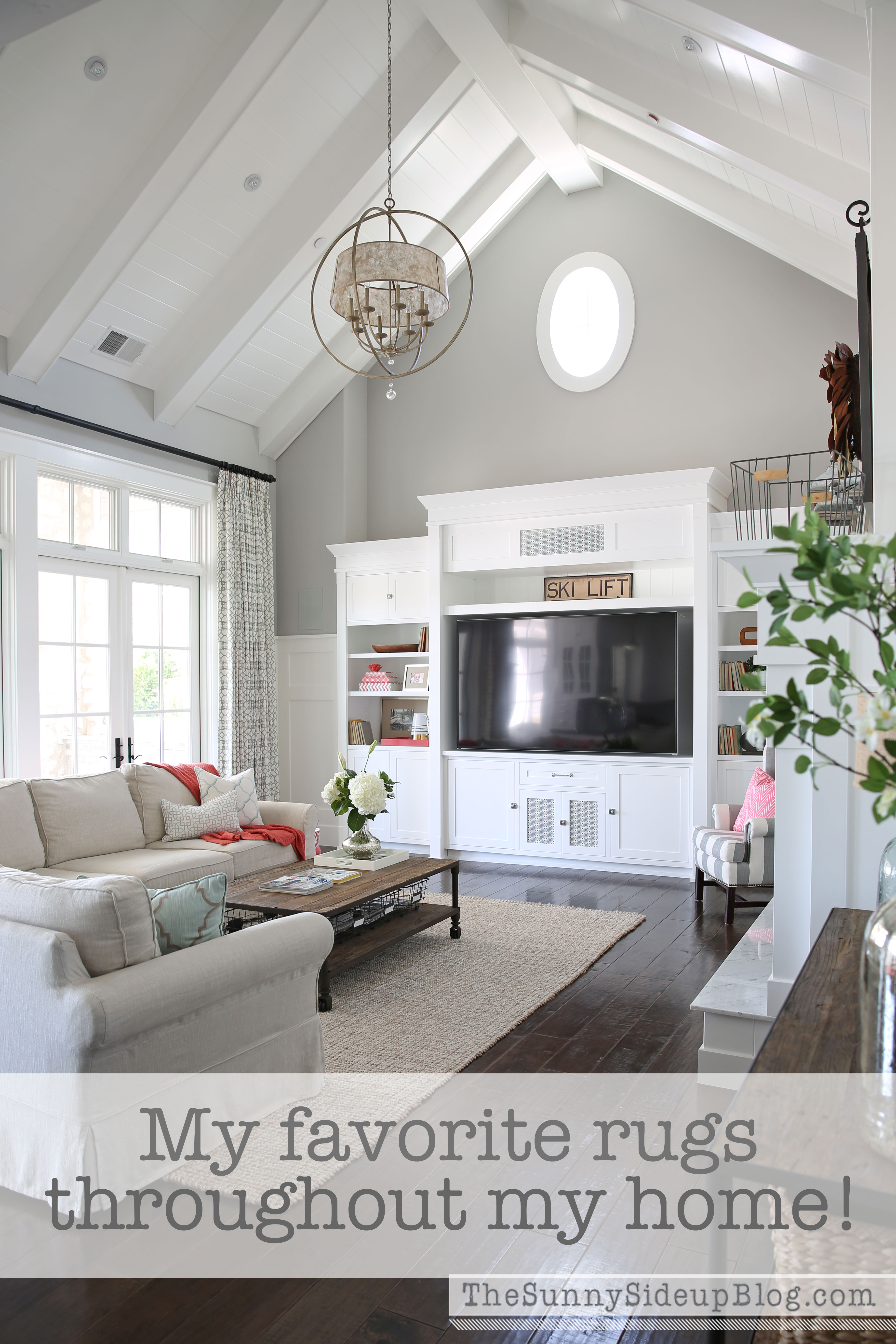 OK.. Fun favorites on sale from my house!  My most asked questions are about the paint colors in my house and the rugs throughout my house.  I wrote a post that answered questions about all of the rugs throughout my home to help with rug questions (you can read it here) and I will for sure do a post with all of my paint colors after I share a few more rooms this year.   Most asked about rug?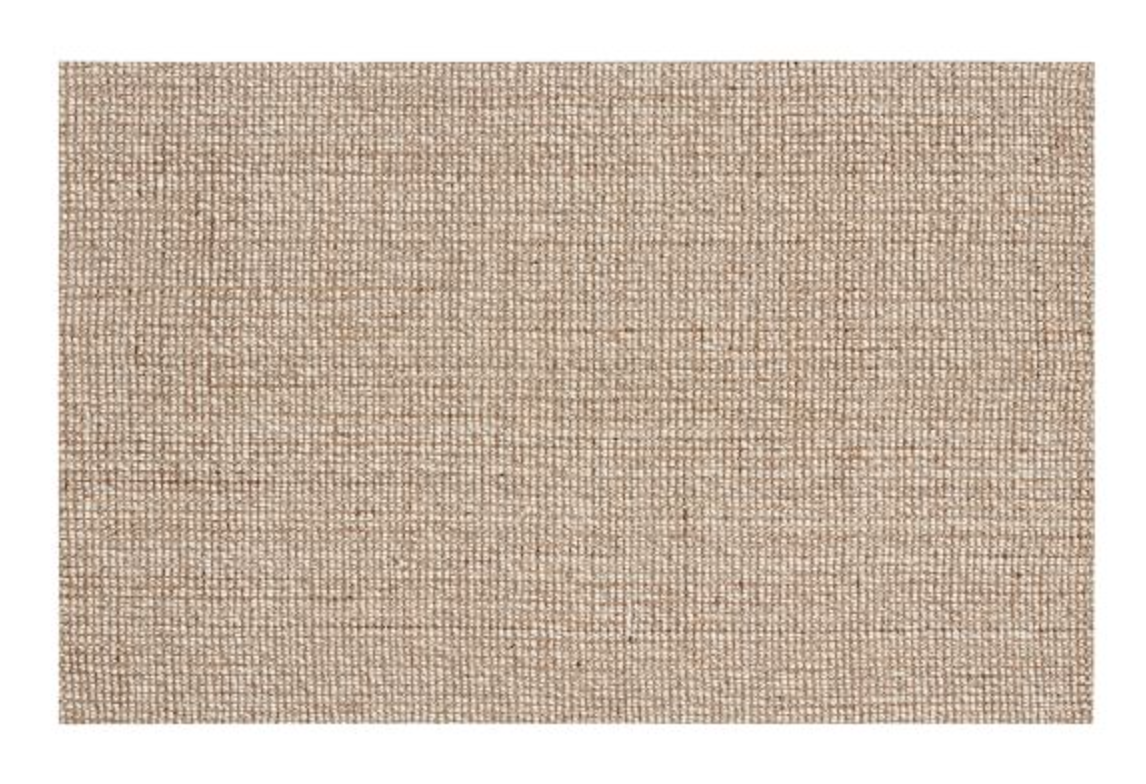 My Chunky Wool Jute Rug from Pottery Barn.  And it's on sale this weekend!  I watch this rug because so many of you ask about it and I've only seen it go on sale one other time for a couple of days and then it went right back to regular price.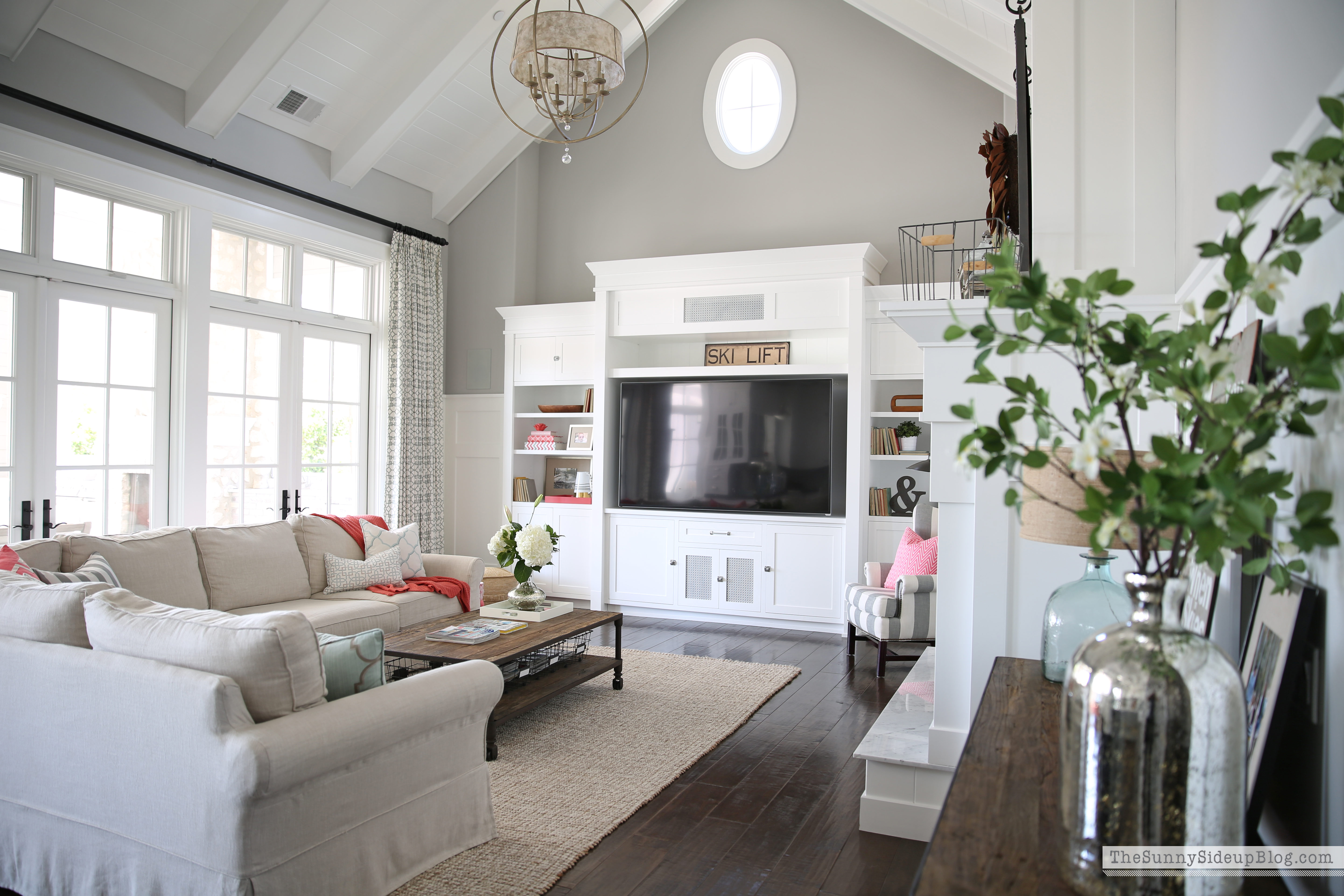 Love my family room rug so much.  I wrote more about it in my rug post.  It does shed for a while after you buy it so be prepared for that, but it will stop.  And you'll love it.  Comfy, hides dirt, perfect for kids.  Promise.  :)
My Thatcher Wingback chair is also on sale this weekend!  Love this chair and so do my kids.  I think the striped fabric is gone, but they still have so many fun solids and patterns to choose from.  (Lamp is the Glendale Pulley Task floor lamp.)
I get asked a lot about the baskets under my console table.  They are from Restoration Hardware and were a little pricey as far as baskets go, but Pottery Barn's  Beachcomber baskets are on sale and have the same look for less!  All of PB's baskets are on sale and I have a few sitting in my on-line cart at the moment.  You know.  Because I need a new basket like I need a hole in my head.  :)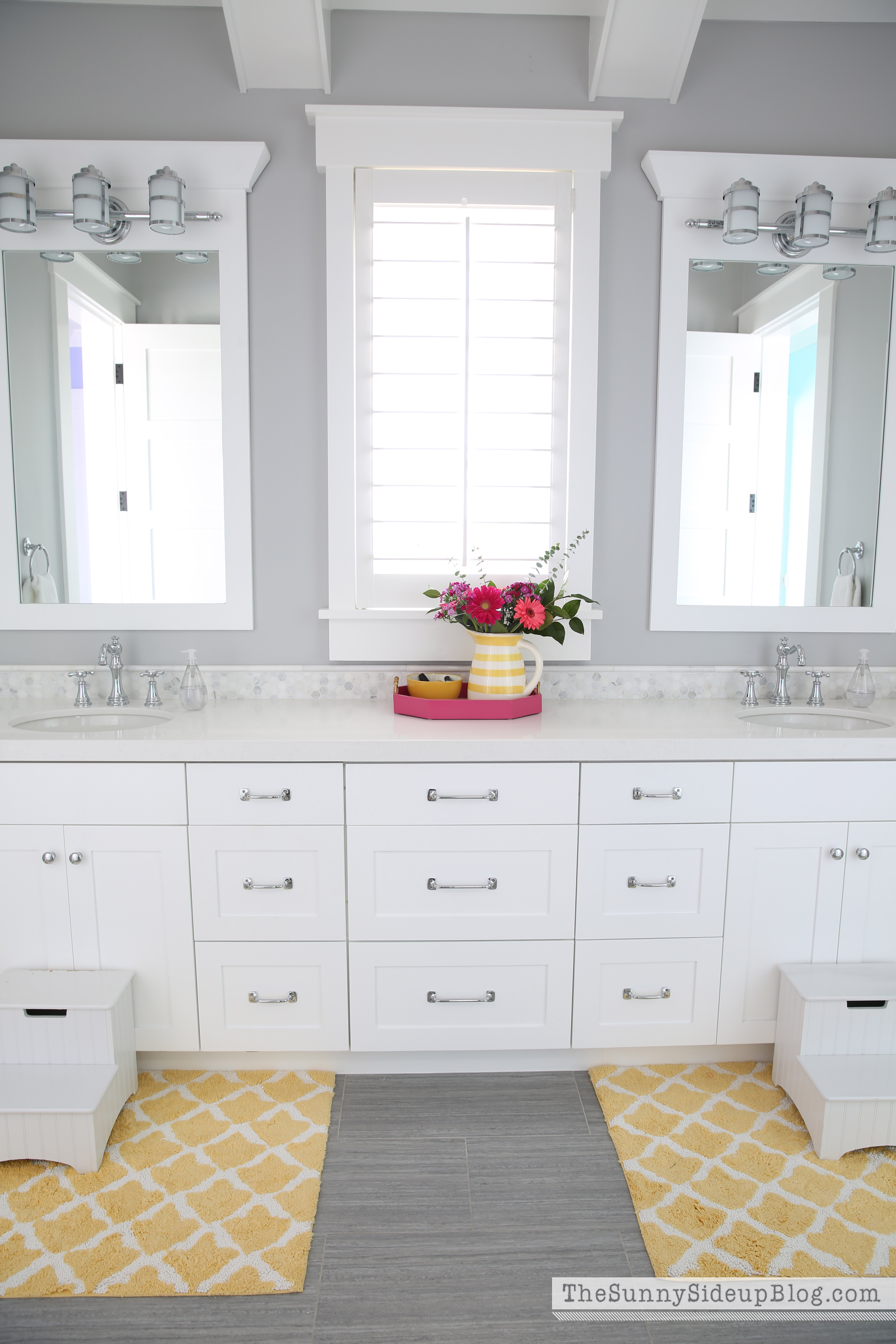 The Marlow Bath rugs I have in my girls' bathroom are on sale!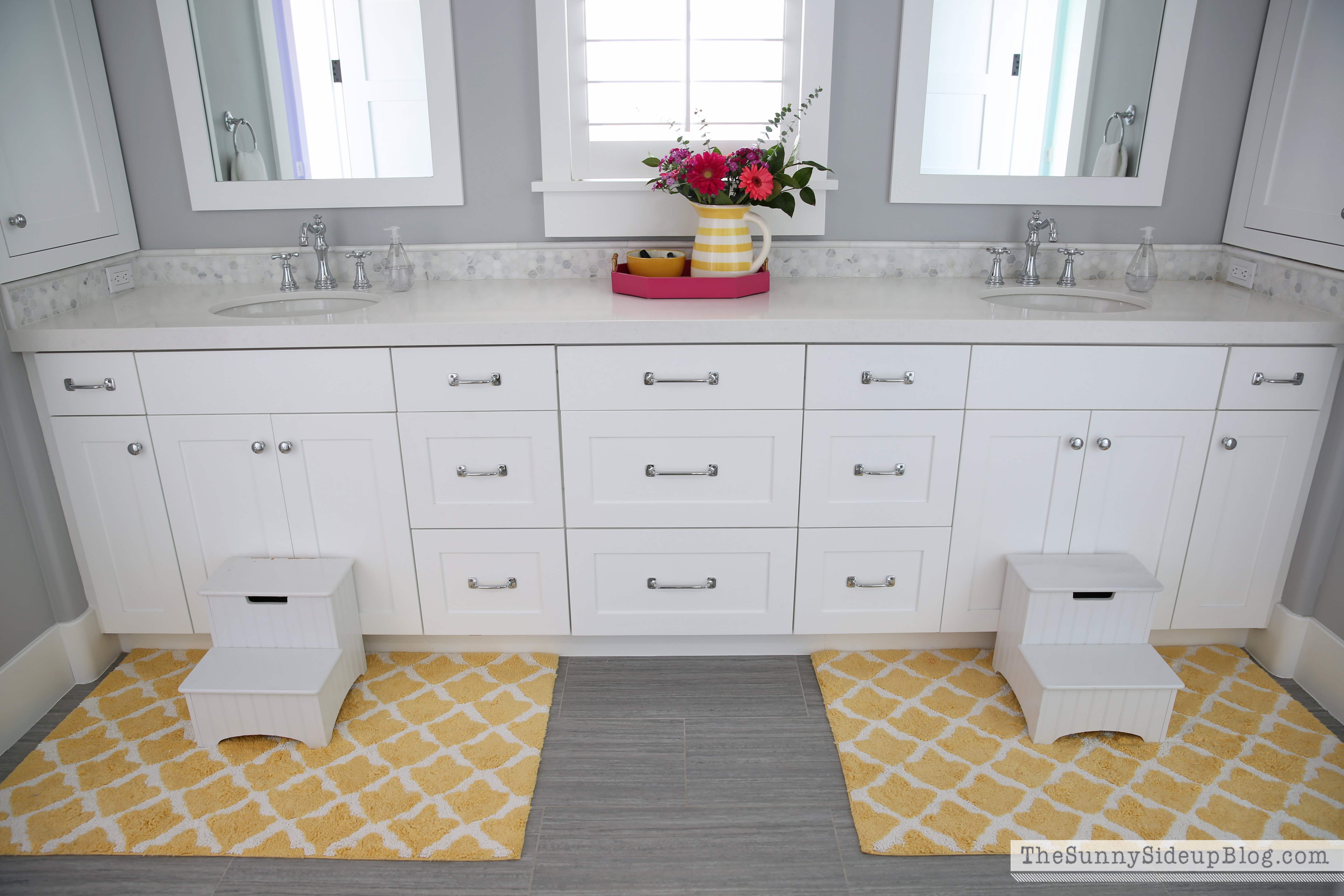 They come in so many fun colors and this yellow is making me excited for Spring!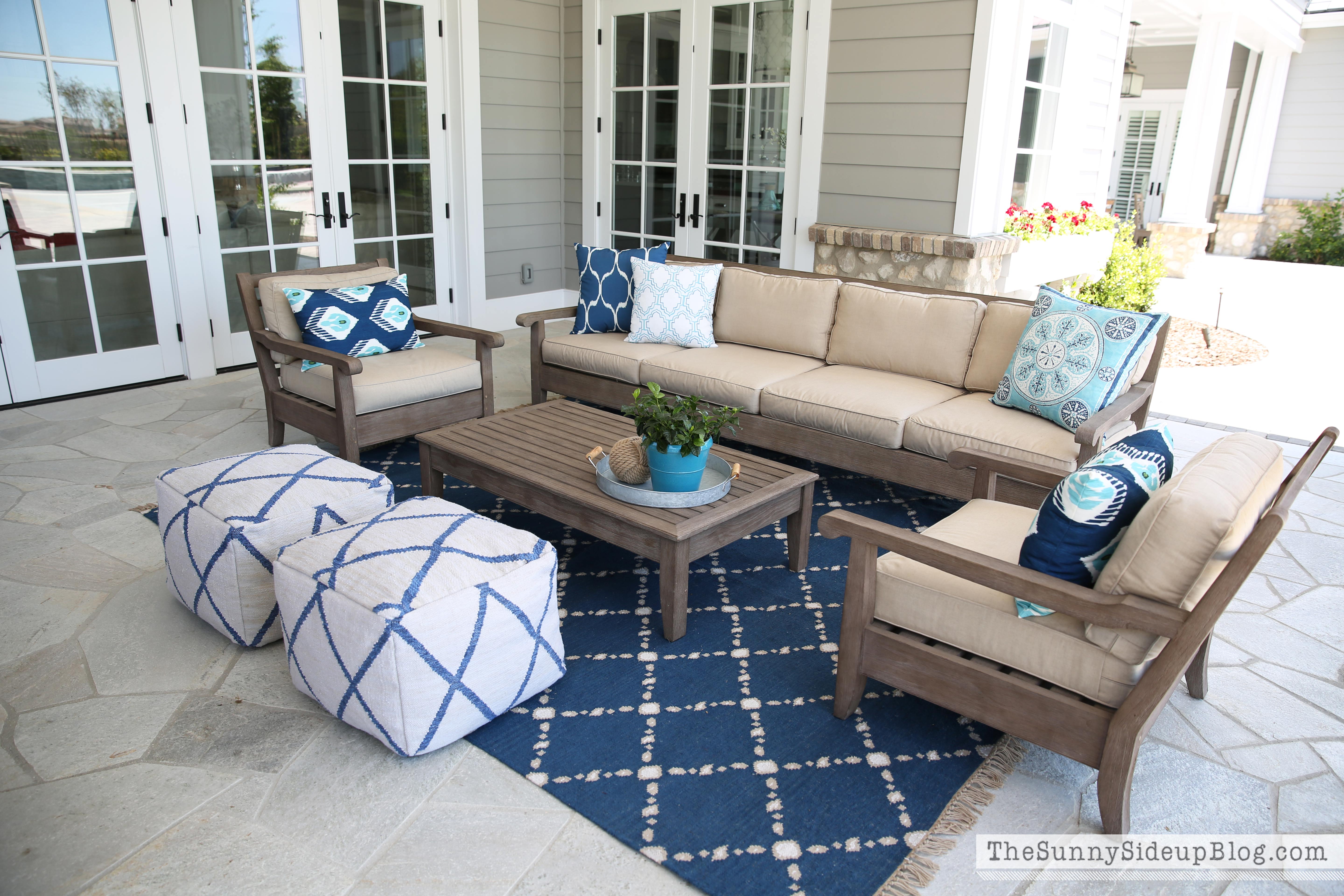 My Dot N Dash outdoor rug in our outdoor entertaining area is on sale too.  I'm partial to the Indigo, but it comes in other fun colors.  This picture brings back summer memories.  It has actually felt like summer this past week in San Diego because of our Santa Ana winds.  82% on the coast!  We were eating snow cones every day!  It hit so fast.  There wasn't even time to shave legs and get a pedicure.  Oh the horror.  ;)  I'm sure it sounds great to a lot of you living in freezing temps, but most of us in my area weren't quite ready for heat yet after such a hot Fall.  We all still want to wear scarves!  Kenny and I are actually taking the kids and escaping to the snow this week.  We are all so excited.
Here are a few more great sales going on!  I'm working on my master bedroom and starting Kole's room (details coming soon!) so I'm looking for a few things for them.  Along with any deals on cute clothes that I just can't afford to pass up.  ;)
J CREW – up to 40% off with code SHOPSALE
NORDSTROM – up to 40% off
ANN TAYLOR LOFT – some things up to 40% off *Love this diamond tie neck blouse!
SERENA AND LILY – $50 off of every $200 with code DREAMHOME
POTTERY BARN – 20% off everything with code FRIENDS
BANANA REPUBLIC – 40% off with code BRFIT
ONE KINGS LANE – up to 85% off
KATE SPADE – 25% off with code SPOTON *Really wanting this purse for Spring and debating if I should get it!  I adore it, but worry it might be too small?  Also.. it's not on sale.  Leave it to me to love something that isn't marked down.. :(
Alright friends!  Happy LOVE day!  Whether you are celebrating big or just hanging with the ones you love.. I hope it's the best.  xo
*affiliate links used
xoxo, Erin