Is everyone's week off to a good start?  I had a good Monday!  If you follow me on Instagram or Facebook you saw that I had painters in my house today re-painting my master bedroom.  Ahh!  So excited about it.  And so much more to tell!  Coming soon.  But first I need to share my Valentine's table.  Because I put together a Christmas tablescape and took pictures and then got busy and never posted them.  I do this sort of thing more times than I'd like to admit.  :)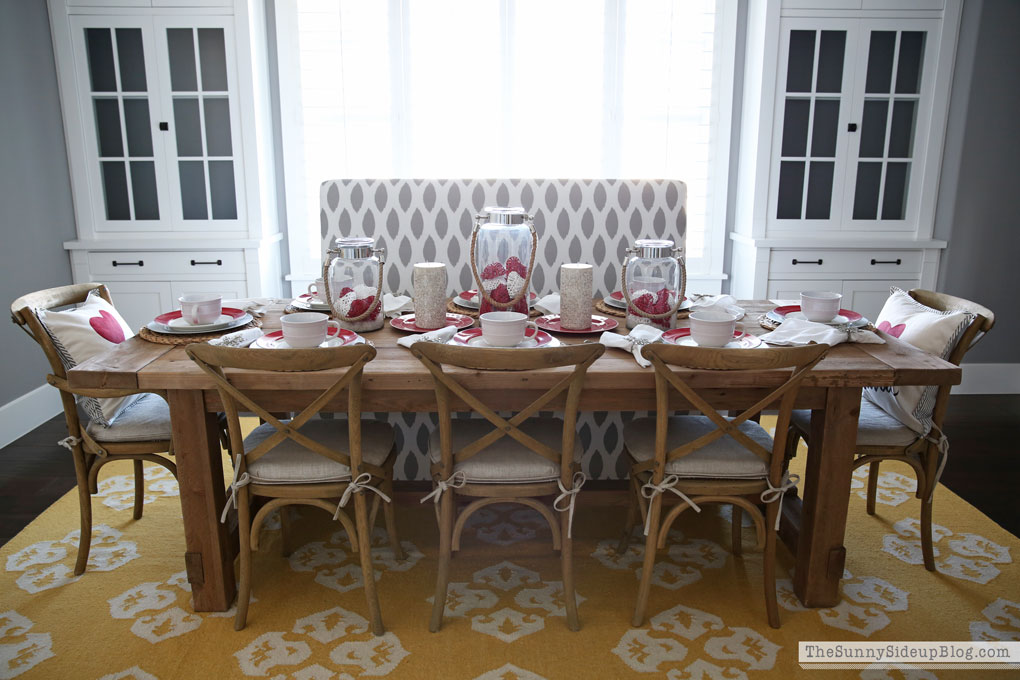 So before another holiday passes me by.. I present.. my Valentine's table.  With a yellow rug that totally doesn't work.  But let's all look past that shall we?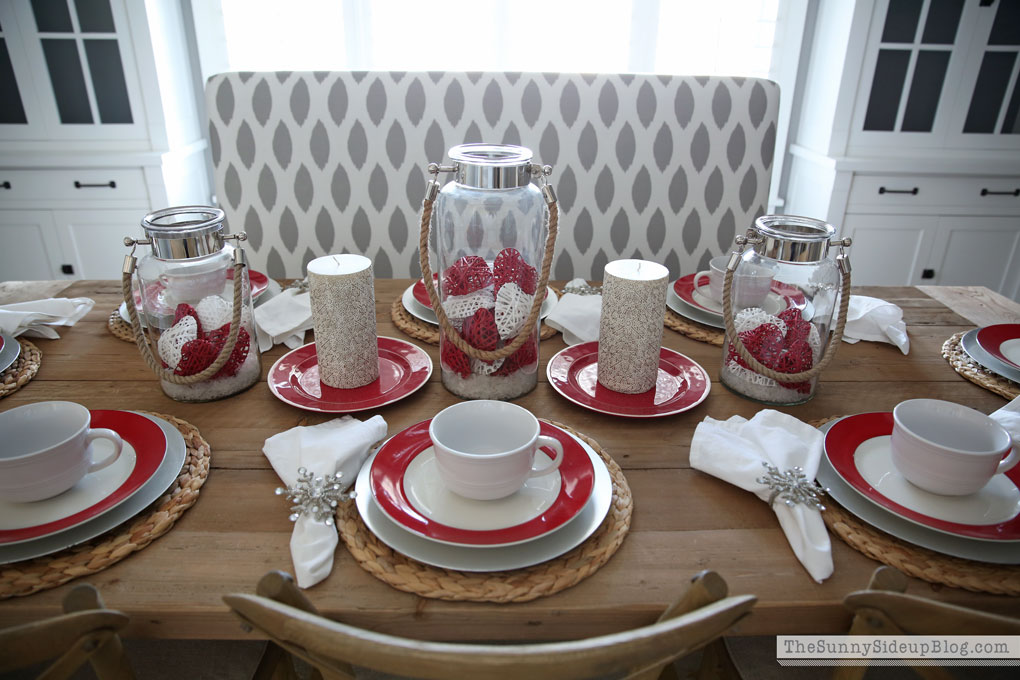 After I decorated my table for Fall I decided that I loved it so much I was going to always decorate this table in seasonal decor.  That way if I want to have people over, I'm ready.  If not, we get to enjoy the table all month.  Win win.  This tablescape was so easy to throw together!


I used my favorite Hyannis Lanterns and filled them with a little fake snow (left over from Christmas) and these cute hearts from Pier One.   The snowflake candles I've had for years from Pottery Barn.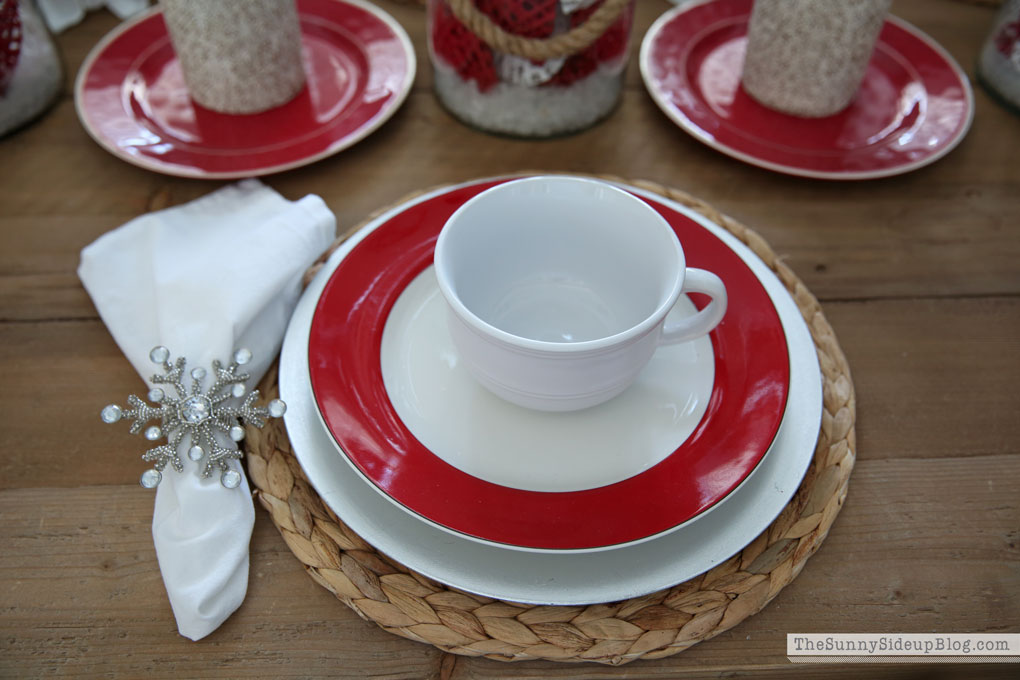 Aren't the snowflake napkin holders fun?  (They were also from Pier One.)  They work great for Christmas or Valentines Day.  My red rimmed plates were a fun Home Goods find.  They are Kate Spade and I love Kate Spade dishes so much!  I was thrilled to find some marked down.  Chargers are from World Market.


You might recognize my heart pillow from my formal living room Christmas tour.  The pillows say "santa" below the heart but I just slid the chair under the table to hide it.  Wa-la!  Valentine heart pillow.  I'm tricky like that.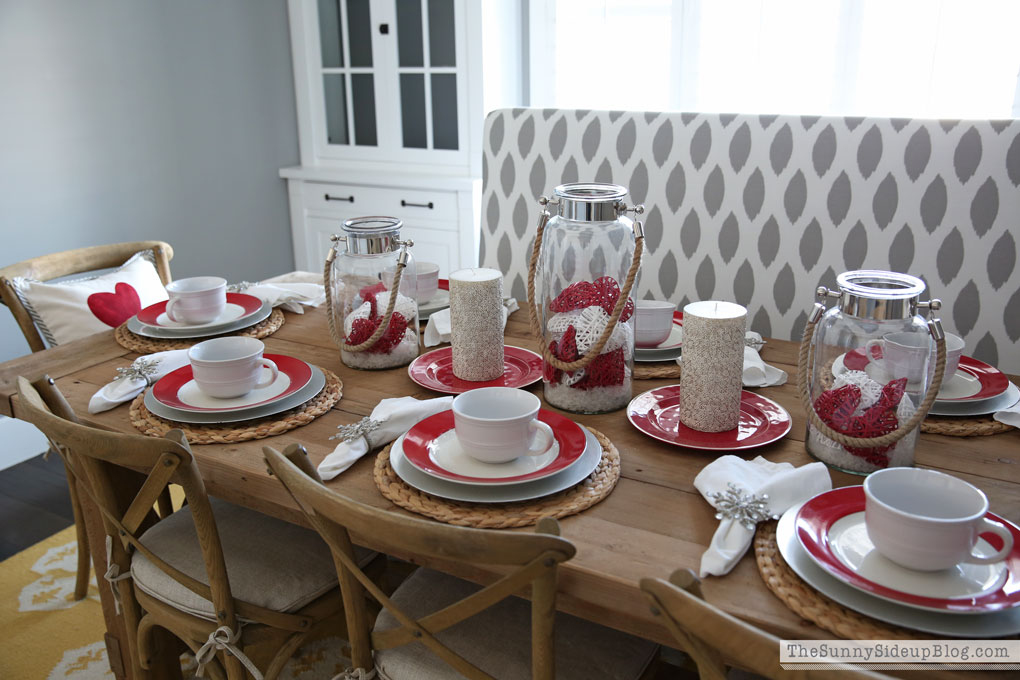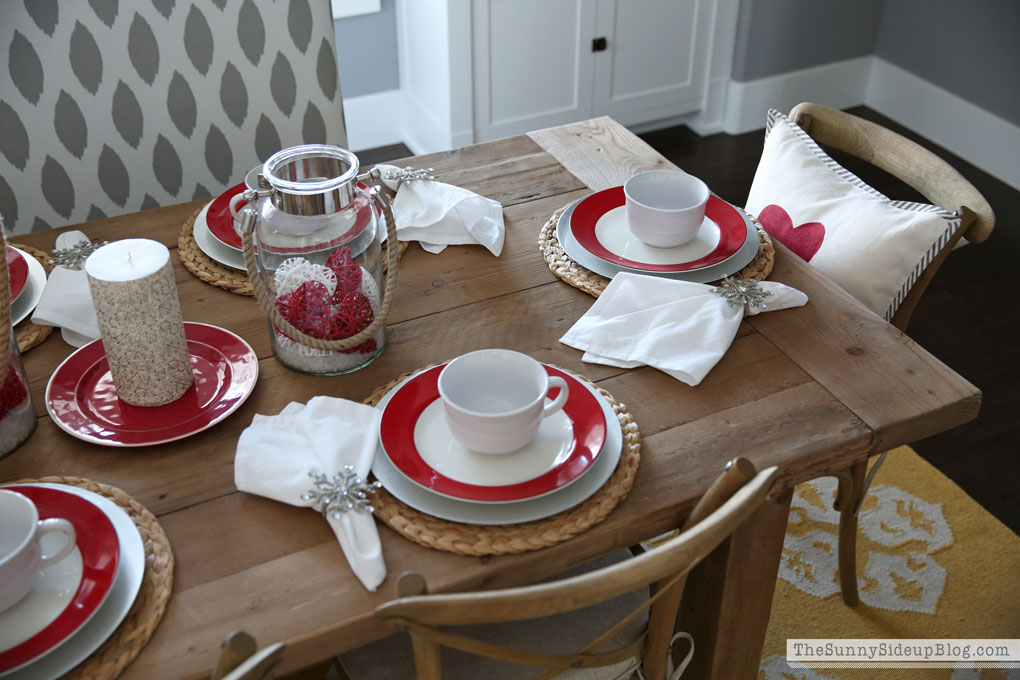 I still haven't decorated these shelves because I've been too busy organizing!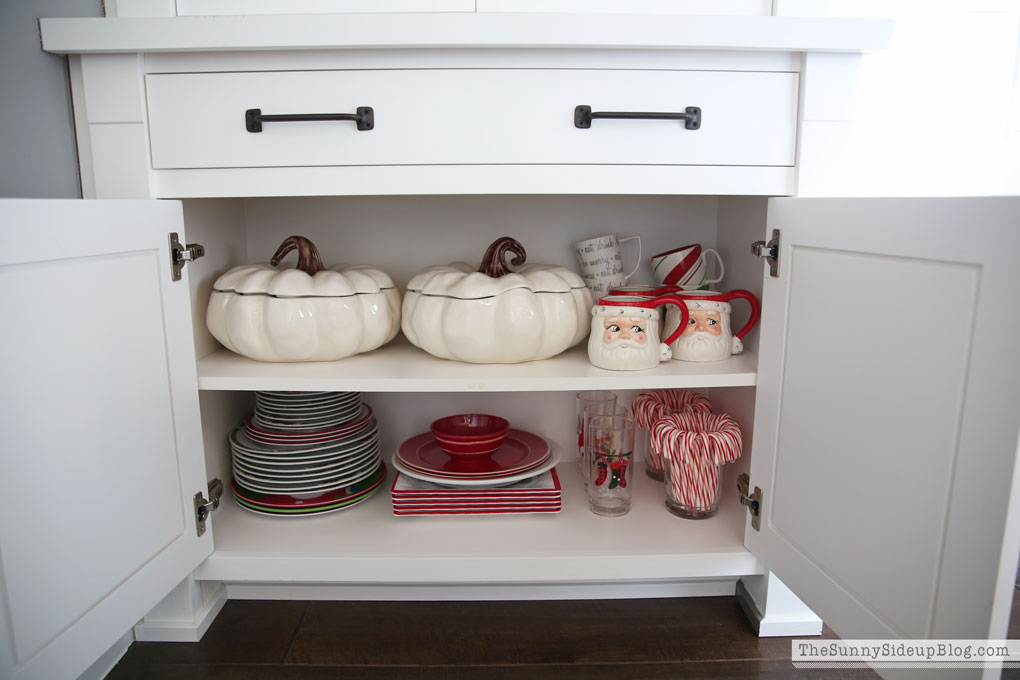 I cleaned out my dining room cupboards and drawers.  They hold holiday items and were so stuffed.  I got rid of a lot of things I didn't use this year and just kept my favorites.  And yes.. I re-use my candy canes every year.  How's that for recycling.  ;)


Top drawer holds more Christmas dishes.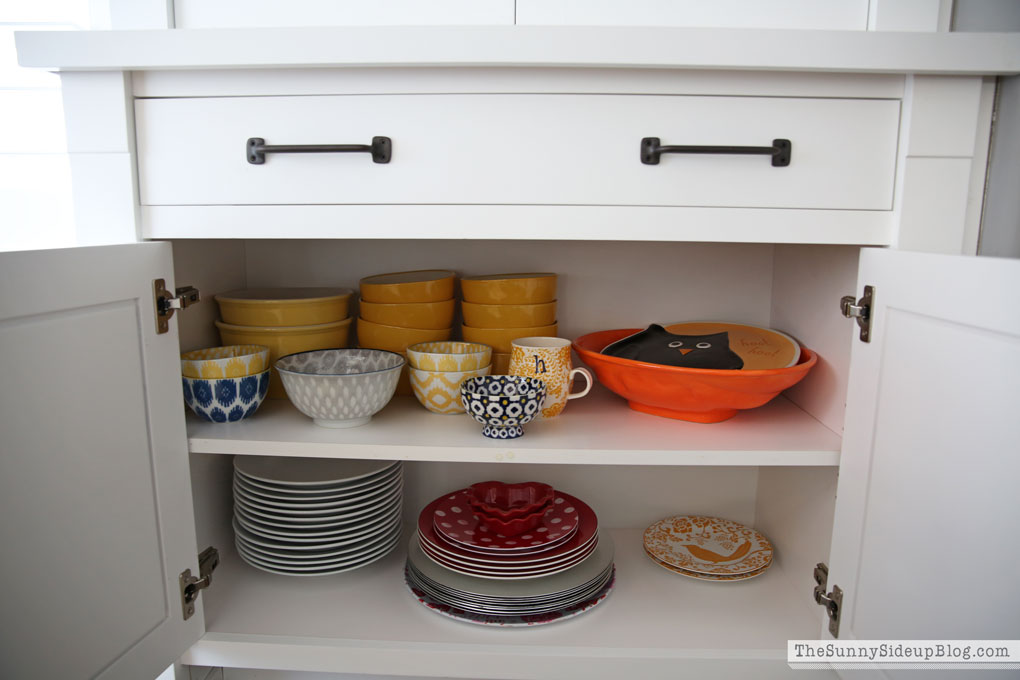 The right cupboard holds a few holiday dishes and then some everyday stuff.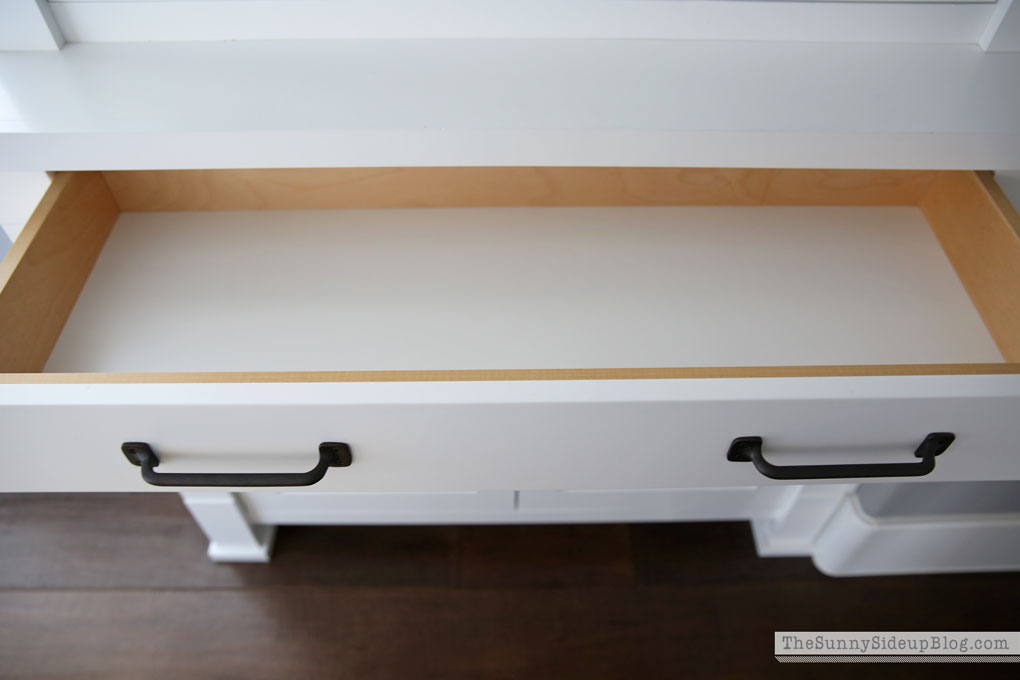 The top right drawer is empty!  Feels so good to have just my favorites in these built-ins.  I am really trying to only keep things I use often and love.  Everything else is going!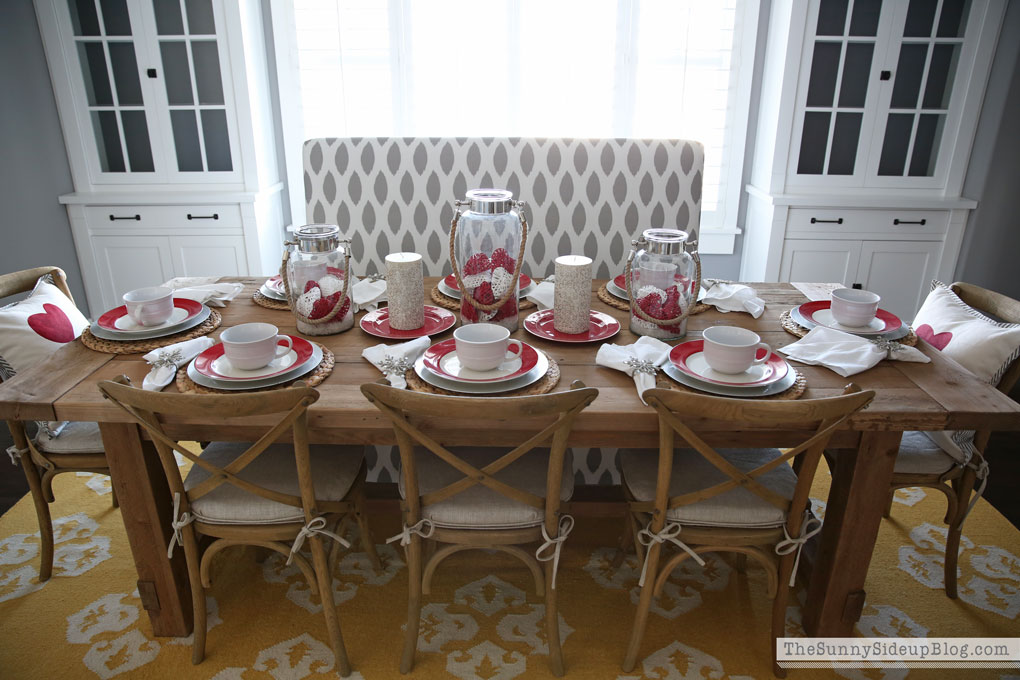 So that's it!  Nothing earth shattering.  Just a festive Valentine's tablescape and organized cupboards and drawers.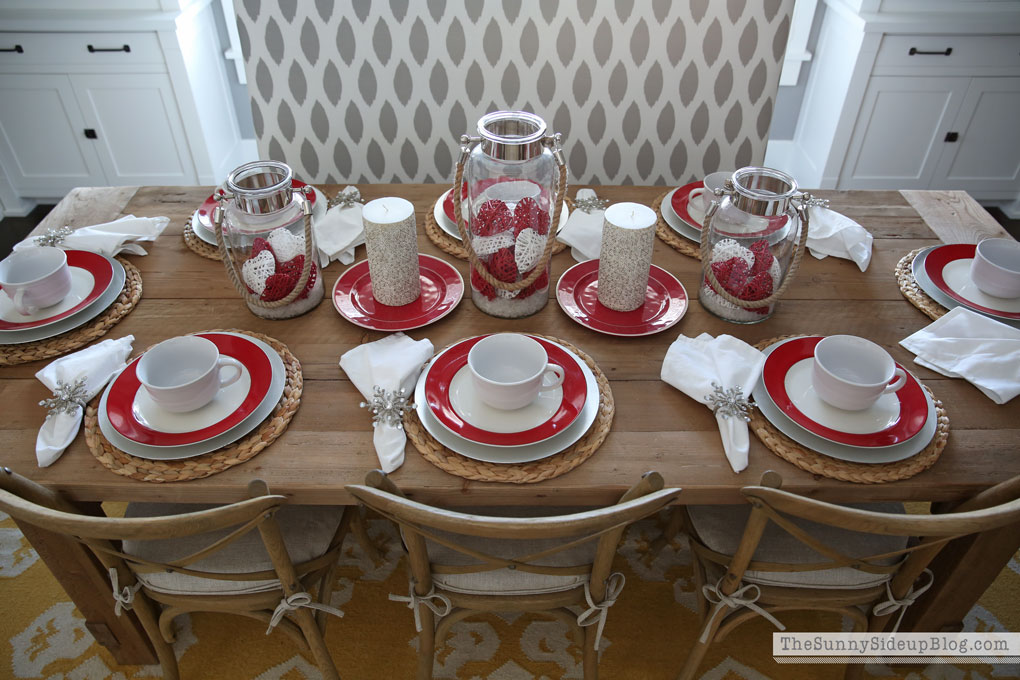 I'll take it.  :)


Here's an outtake I found that shows my house shoes I live in and the chair I stood on to take the previous picture.  Yes.  I risk my life daily to get good pictures for you all.  A couple of weeks ago I was standing on a chair taking a picture and fell off!  I kid you not.  I just stepped to the side and toppled right over.  I managed to hold my camera up high so it didn't come crashing down because.. priorities.  Never mind that I about broke my leg.  And my hip.  Ha!  All in a day's work.
At least I got a good shot from above.
;)
*affiliate links used
xoxo, Erin