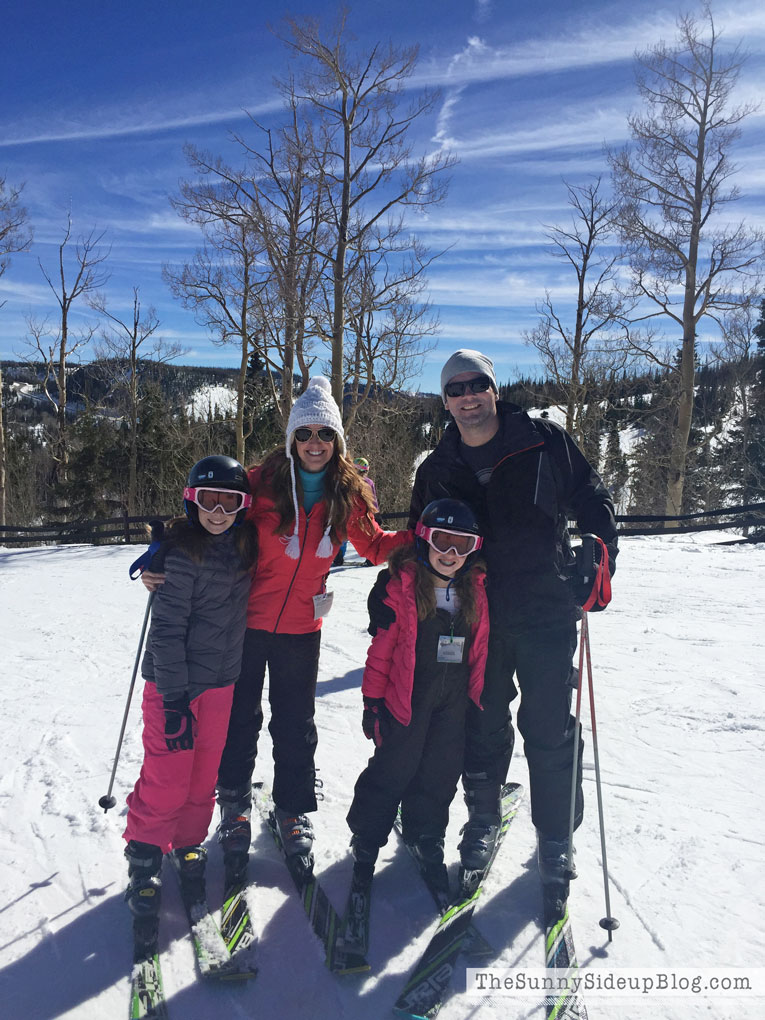 Hi friends!  Sorry things have been a little slow on the blog this week.  We spent last week skiing in Utah and are spending this week vacationing in Kauai.  I know.  Two weeks of vacation.. one right after the other.  One in the snow and one in the sunny tropics.  Kind of funny how it worked out that way this year (best with our schedules), but you won't hear me complain!  I had one day in-between that we were home last Friday.  My husband had to fly to San Francisco for meetings for the day.  I spent the day washing snow suits and packing swim suits. :)  Here are a few pics of our ski trip from last week (all quick pics I snapped with my phone).  We left my 5 year old at my parents for a few days and just took the girls.  I think we'll take him with us next year, but at this point he would rather stay and be spoiled by two sets of grandparents than come skiing with us. :)  My husband and I love to ski (a lot of our first dates were on the slopes!) and this little yearly ski trip with our girls has become a tradition since we first took them two years ago.  The four of us look forward to it so much!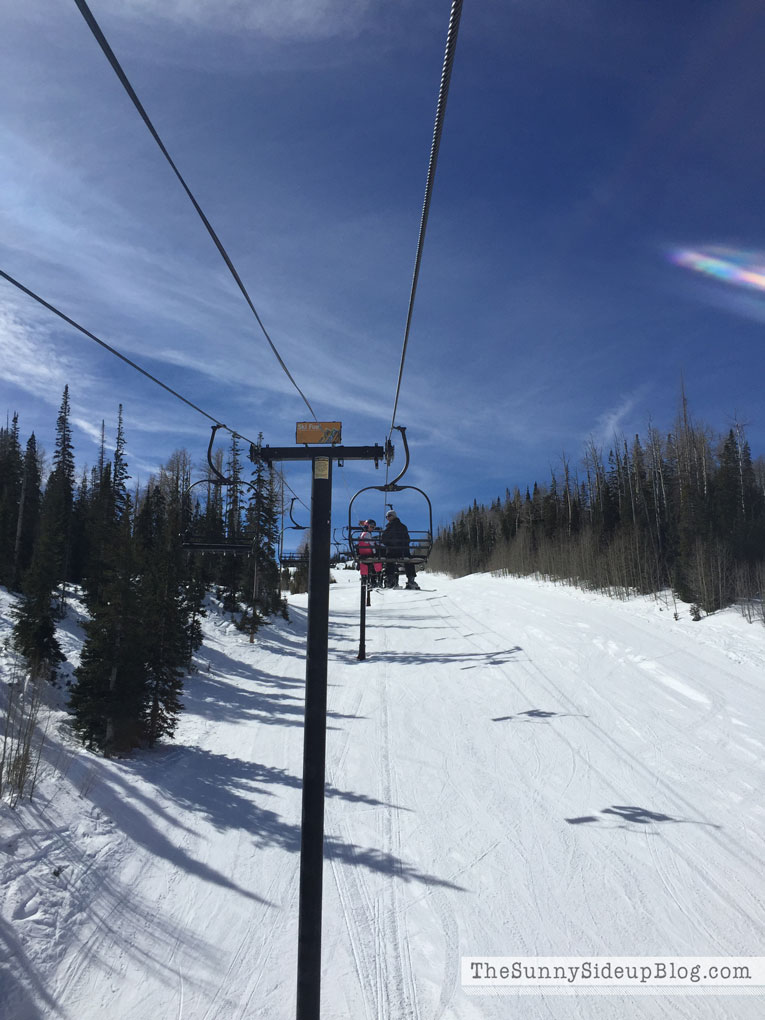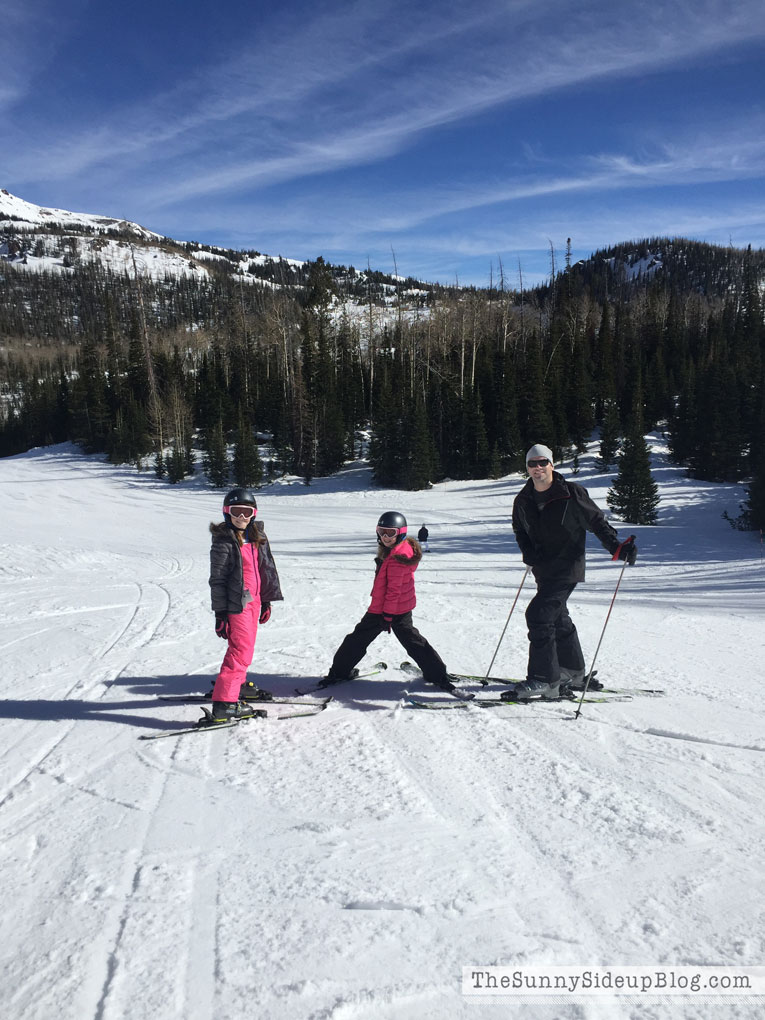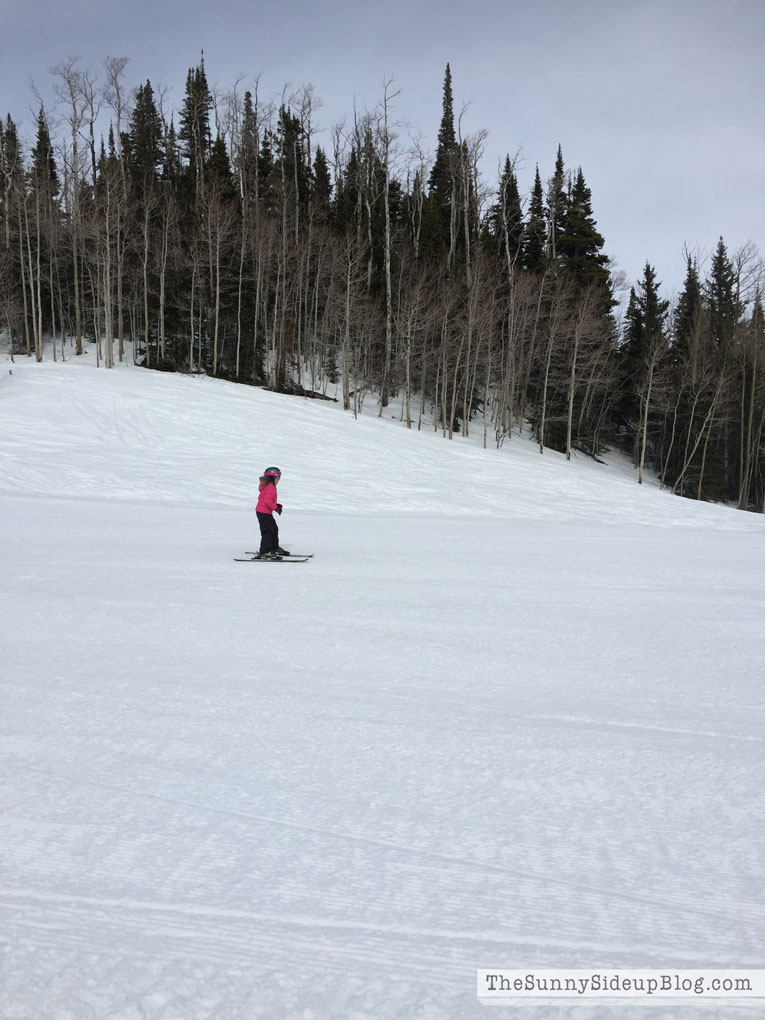 The last two years we put the girls in half day ski school each morning, but this year they were with us the whole time.  They did great and are becoming such good little skiers.  It's so fun to watch them and see their different personalities come out on the slopes.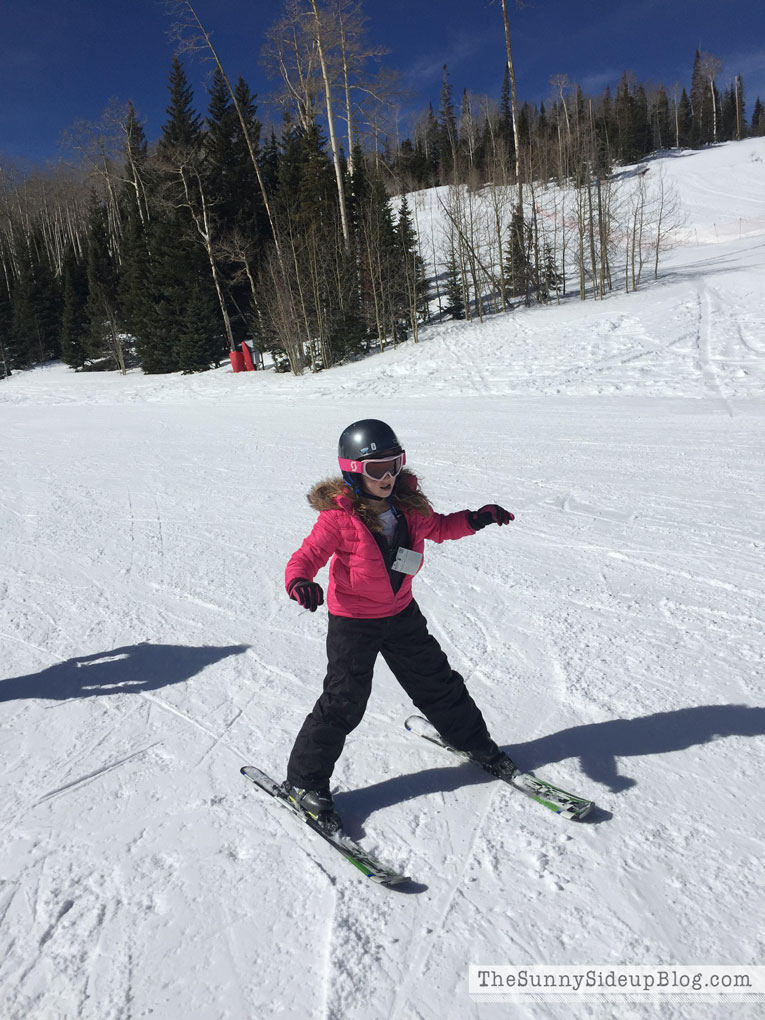 Ad is my cautious one.  She takes her time to get the movement right.  Really listens and pays attention and implements everything we teach her.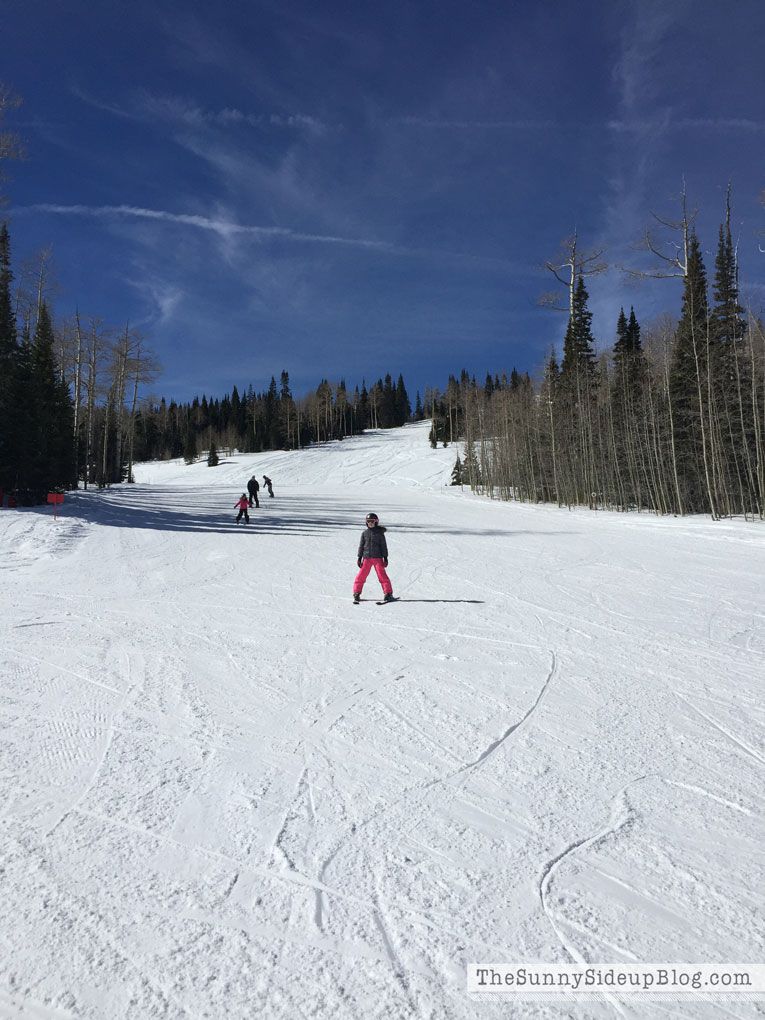 El is my little dare devil and just heads straight down at the speed of light and it's all we can do to keep up with her.  It makes my parents laugh because she is so much like me.  I have always had a need for speed!  I ski too fast and drive too fast and talk too fast.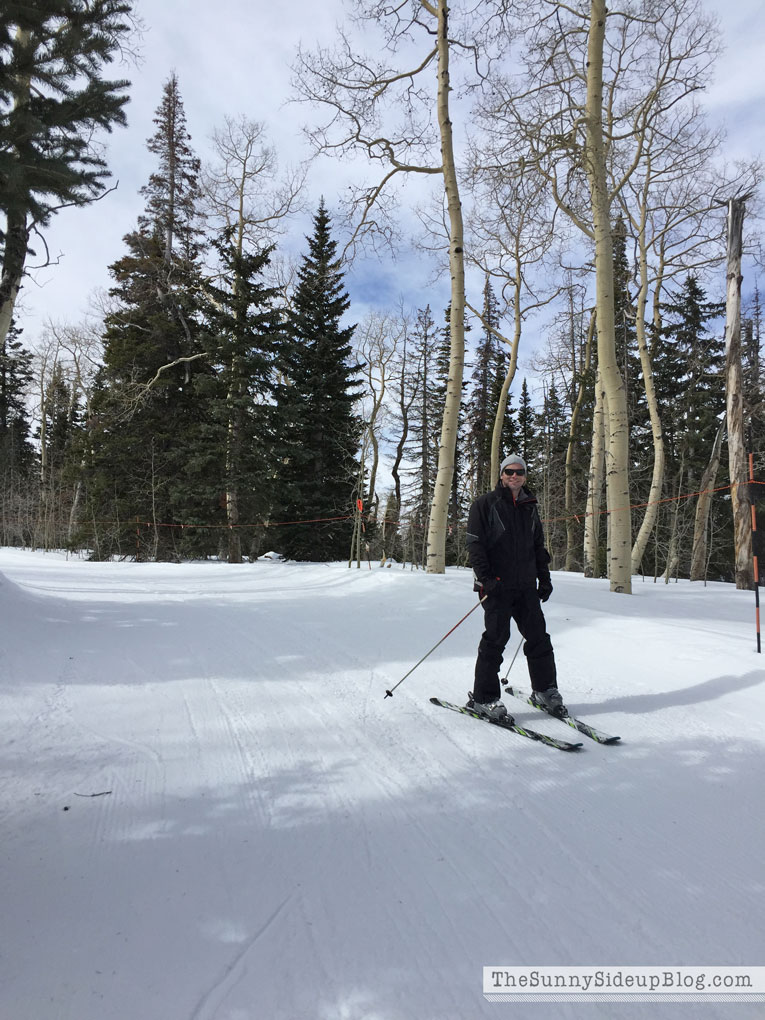 My sweet husband deals with the brunt of all three.  #sorryaboutthespeedingticketsbabe  #andthenonstoptalking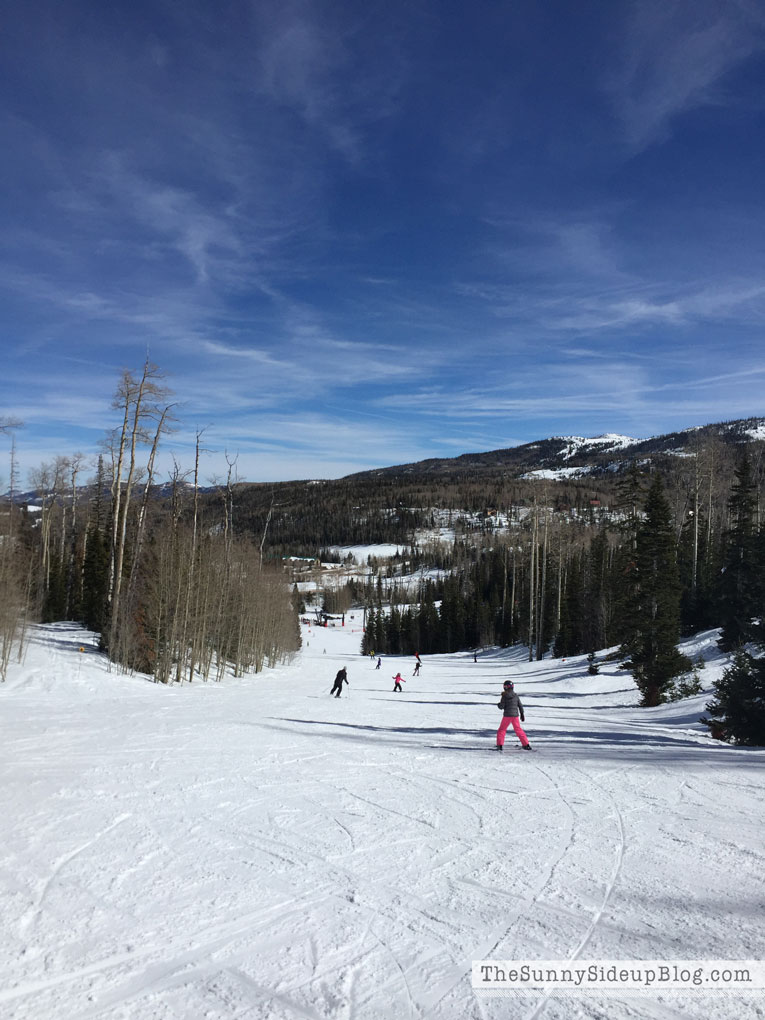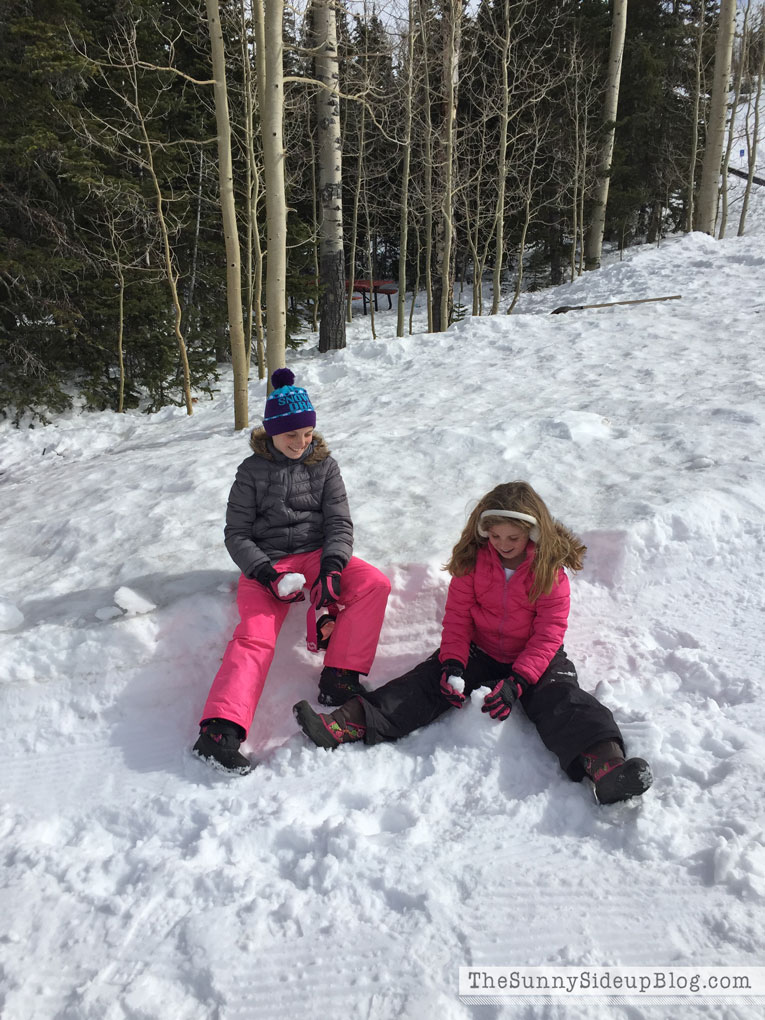 Of course a huge part of the fun for us on this trip is just being in snow!  We all want what we can't have, right?  Even if just for a week.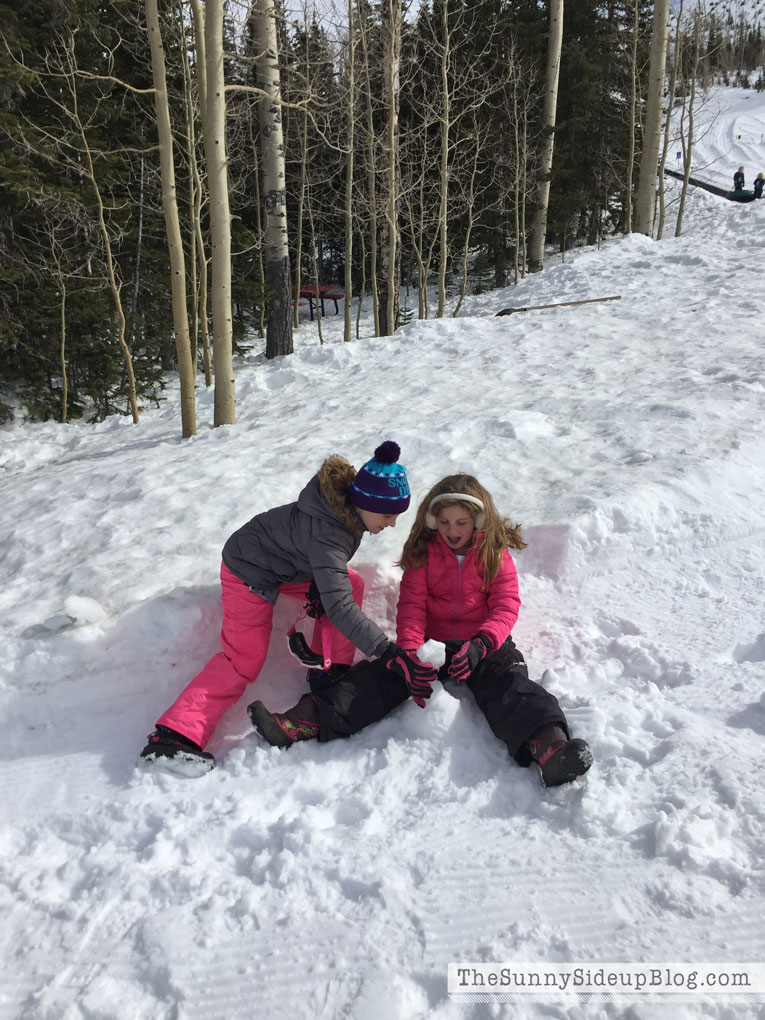 What is this strange white stuff?  ;)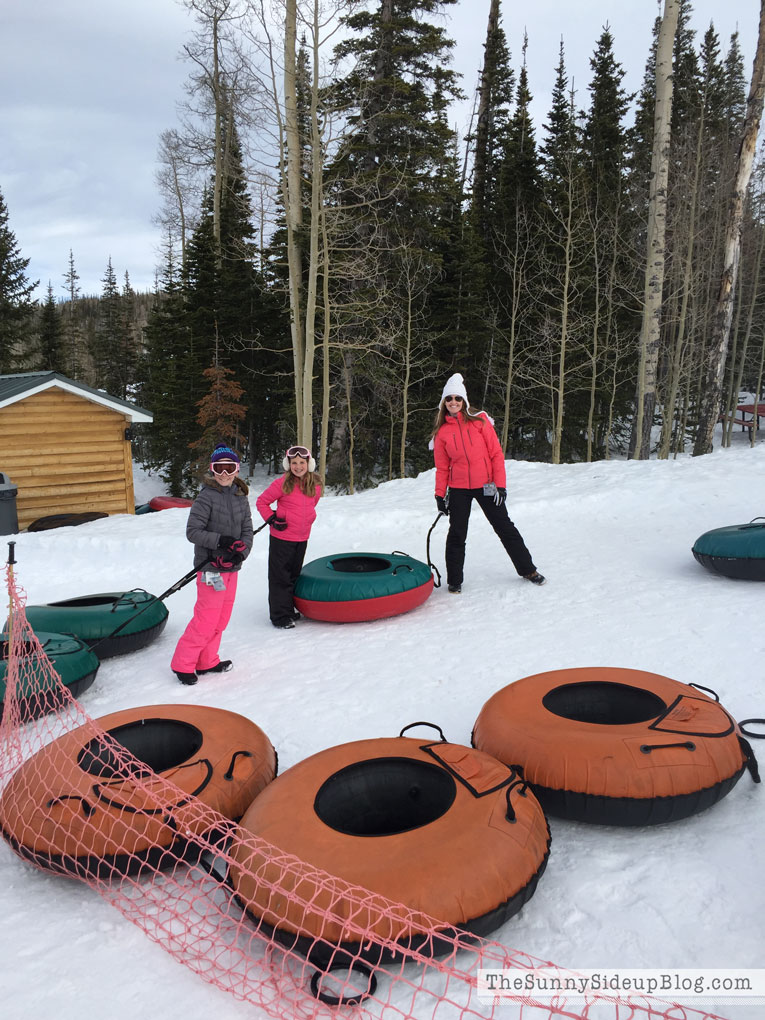 After skiing for a few days we decided to try tubing for the first time.  OH MY WORD!  Too much fun!  Have you all done this!?  It's a must.  I seriously laughed so hard.. I can't remember the last time I laughed so hard!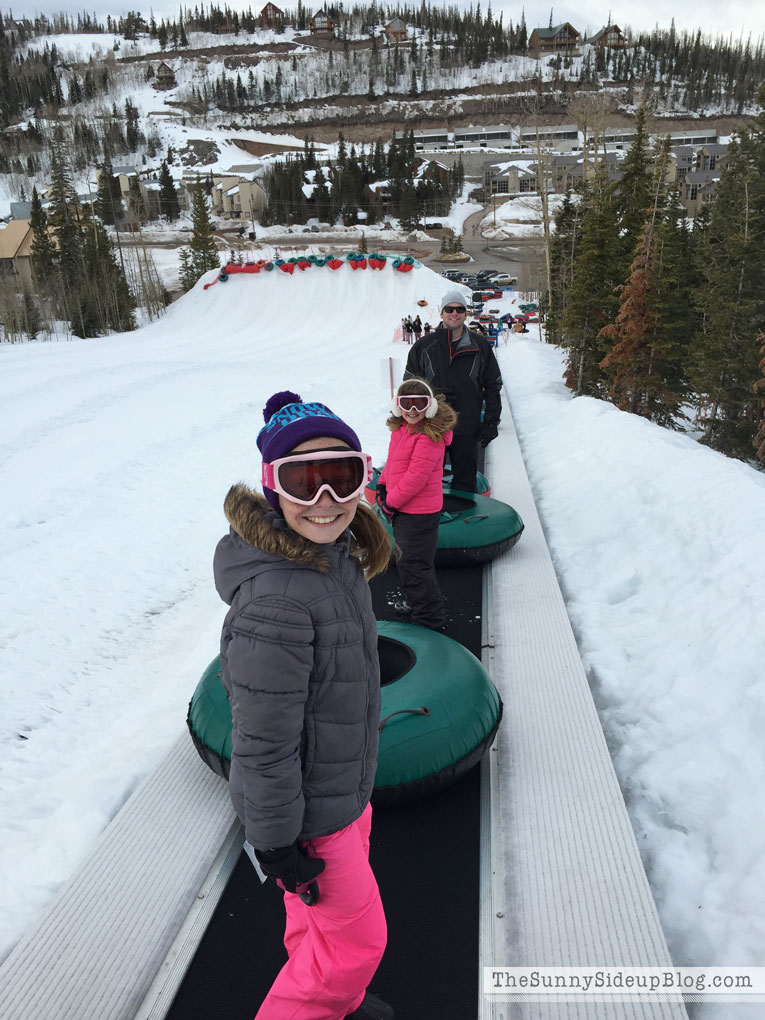 Riding to the top of the mountain!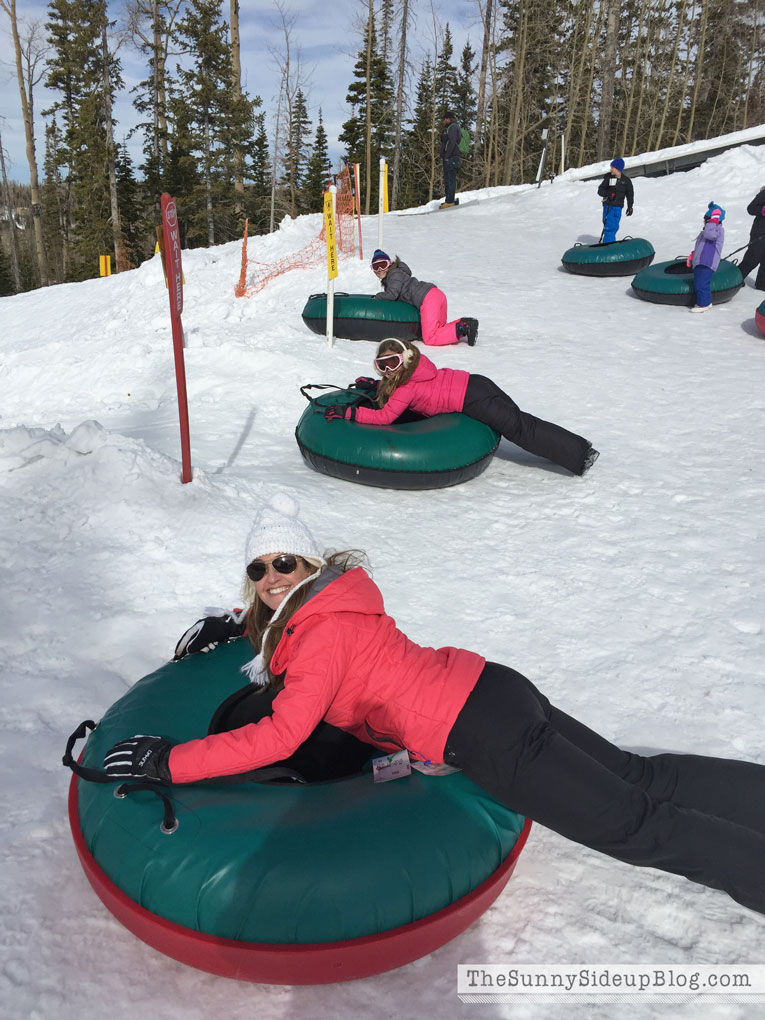 Ready to roll!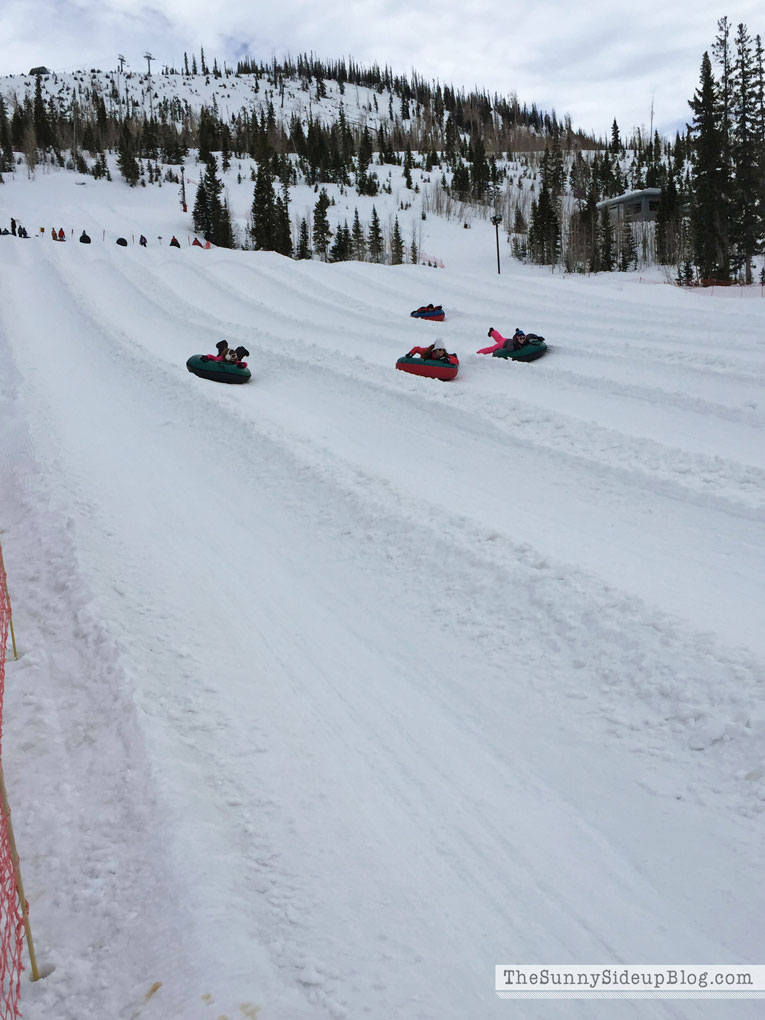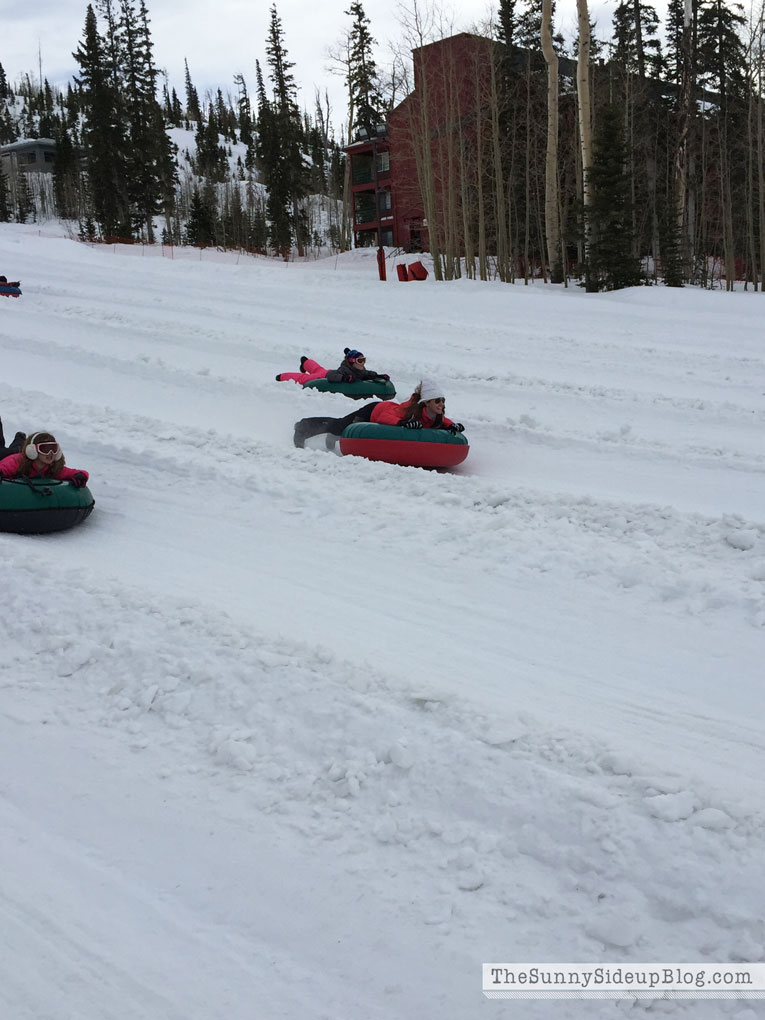 You get flying so fast.. even if you're dragging your feet to slow down you fly!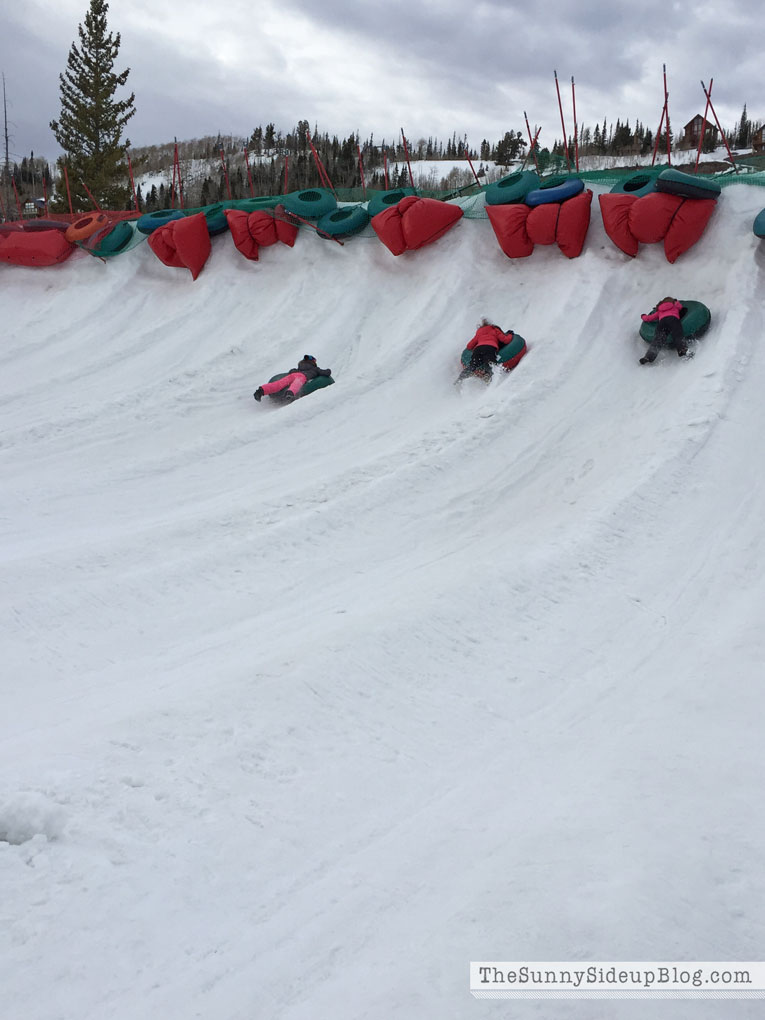 If you're going too fast you bump into the pads and they knock you back down.  You're supposed to try to slow yourself down before the red pads.  That never really happened for me.  :)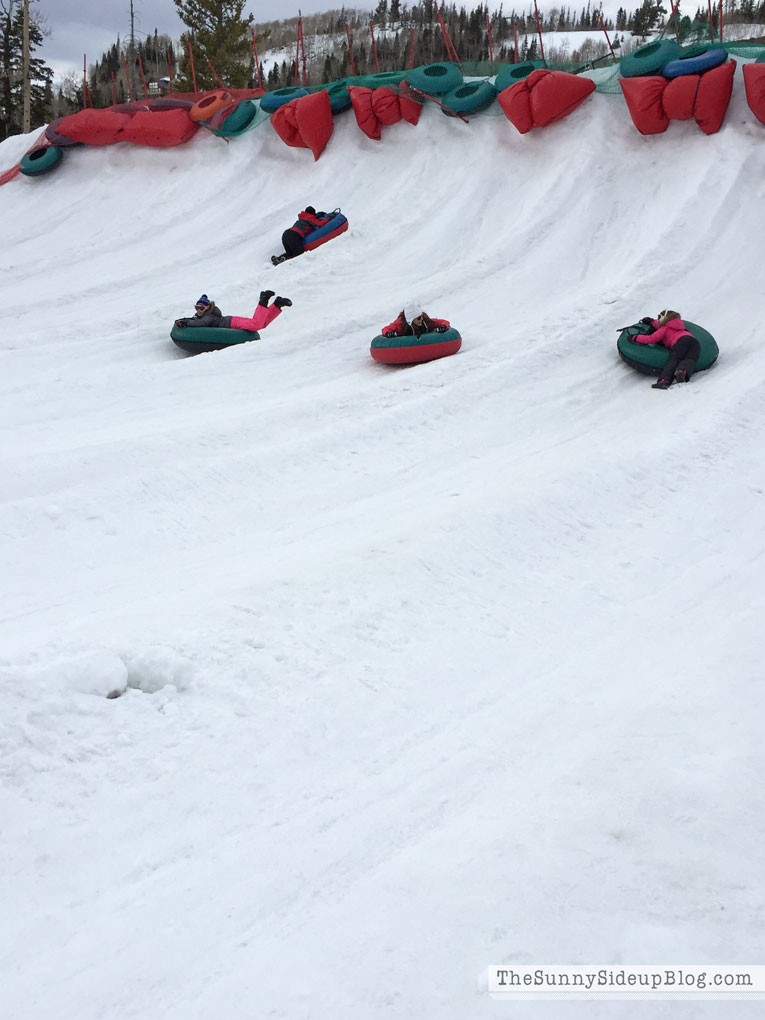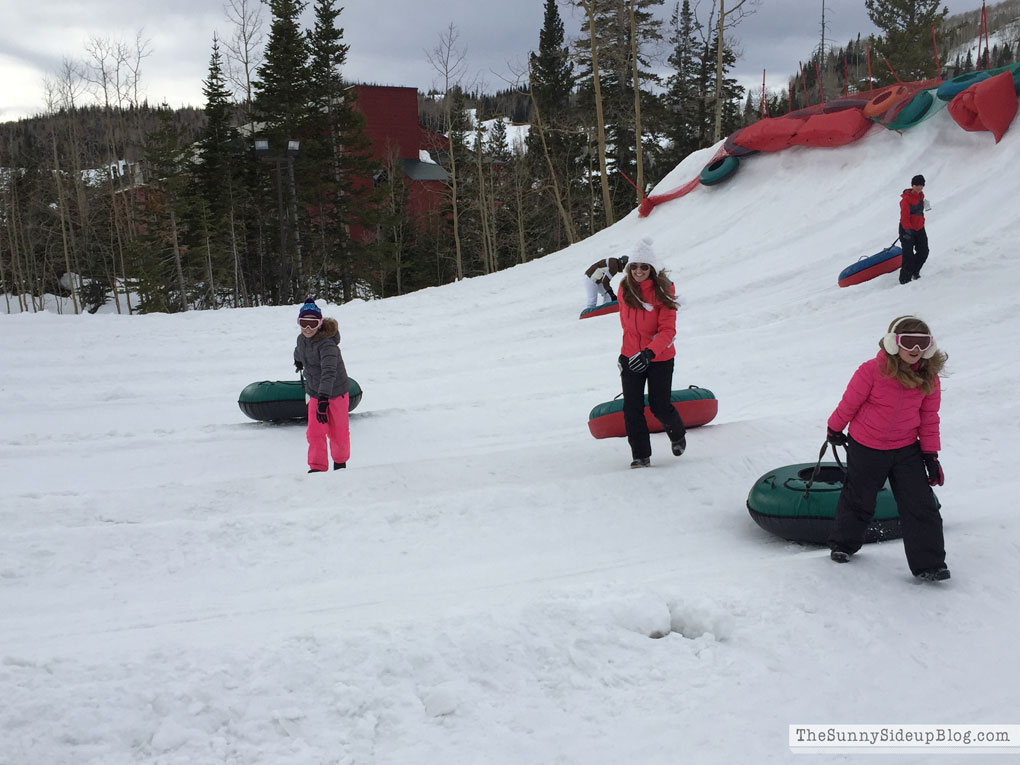 After a full day of skiing/tubing we would head to the hot tub.  Then dinner out followed by a movie together in the hotel room before bed.  That's our ski trip tradition!  And we're sticking to it.  :)
I think it's so important to prioritize family vacations.  My husband and I decided we would always do this when we got married.  We promised to always plan several trips a year and make them happen regardless of how hard it was to get away.  There is nothing like removing yourself from the craziness and busyness of every day life and just enjoying time together with your kids.  My favorite trips from my childhood weren't expensive.  My parents would take us to a small town 45 minutes away for a night.  We would eat out (usually pizza) and watch movies in the hotel room and then swim the next day.  So simple, but we have the best memories from those weekend getaways that my brother and sister and I all laugh and talk about all the time.  Just mixing it up from the every day and spending time together is special.  It's not always easy.. especially traveling with little kids.  It's work, isn't it!?  From the packing, to entertaining kids during the plane/car rides, to non stop care while you are there (always harder in a different environment), to playing catch up with school, work and life when you get back.  Sometimes after traveling with kids you come home feeling like you need a vacation to recover from your vacation.  :)  But while all of that work is going on, you are making memories.  Fun family moments that bring you all closer together and make all of the work completely worth it.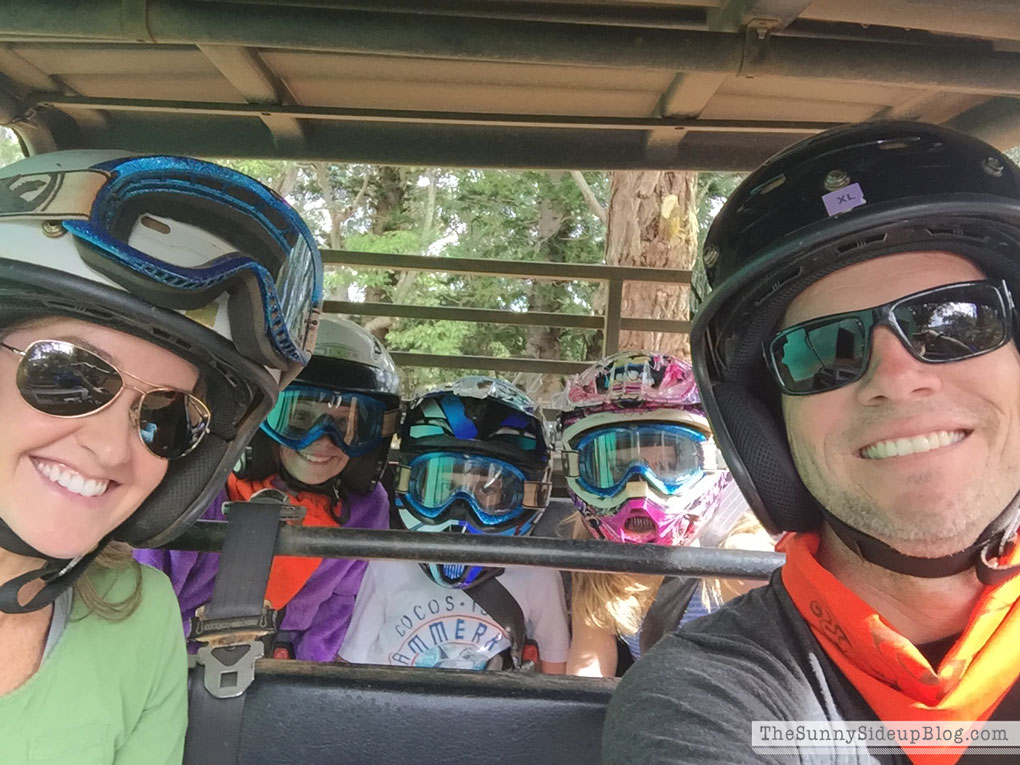 A picture from today I shared on Instagram/Facebook.  Up early to get the crew fed, dressed and ready to go.  Two kids fought during the car ride there, brief tears from one daughter when her helmet didn't fit/look right, it rained on and off during the day.  But we won't remember all of that.  We'll remember how much fun we had off roading in the jungles of Kauai.  Begging dad to drive faster and faster, laughing at mom swinging from a rope over a river (just like Indiana Jones except screaming the whole time), swimming in a waterfall, and making jokes about muddy puddles and Peppa Pig (a family favorite).
So like I said, I'm sorry about the slow blogging this week!  I have a lot of fun things I'm excited to share!  As soon as I finish making a few more memories with my husband and my three favorite little people.
:)
xoxo, Erin