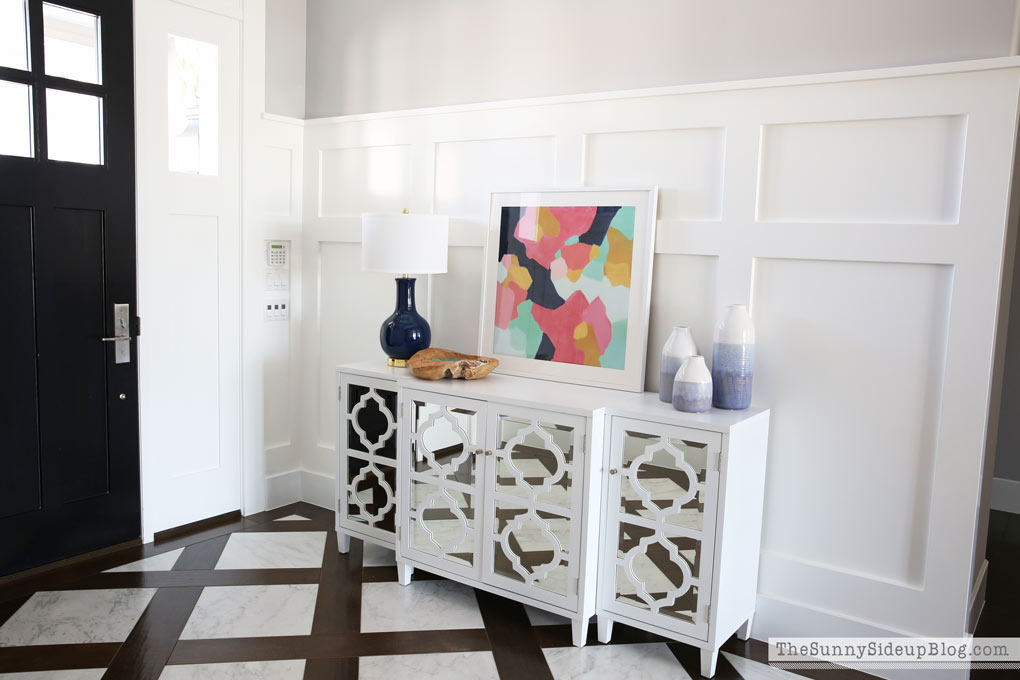 Ok.  I know I share console table decor a lot.  Maybe too much!   But this time I actually had a reason to re-decorate my console table instead of my usual reason.. which isn't really a reason but more just a constant itch to switch things up. :)
(Affiliate links used)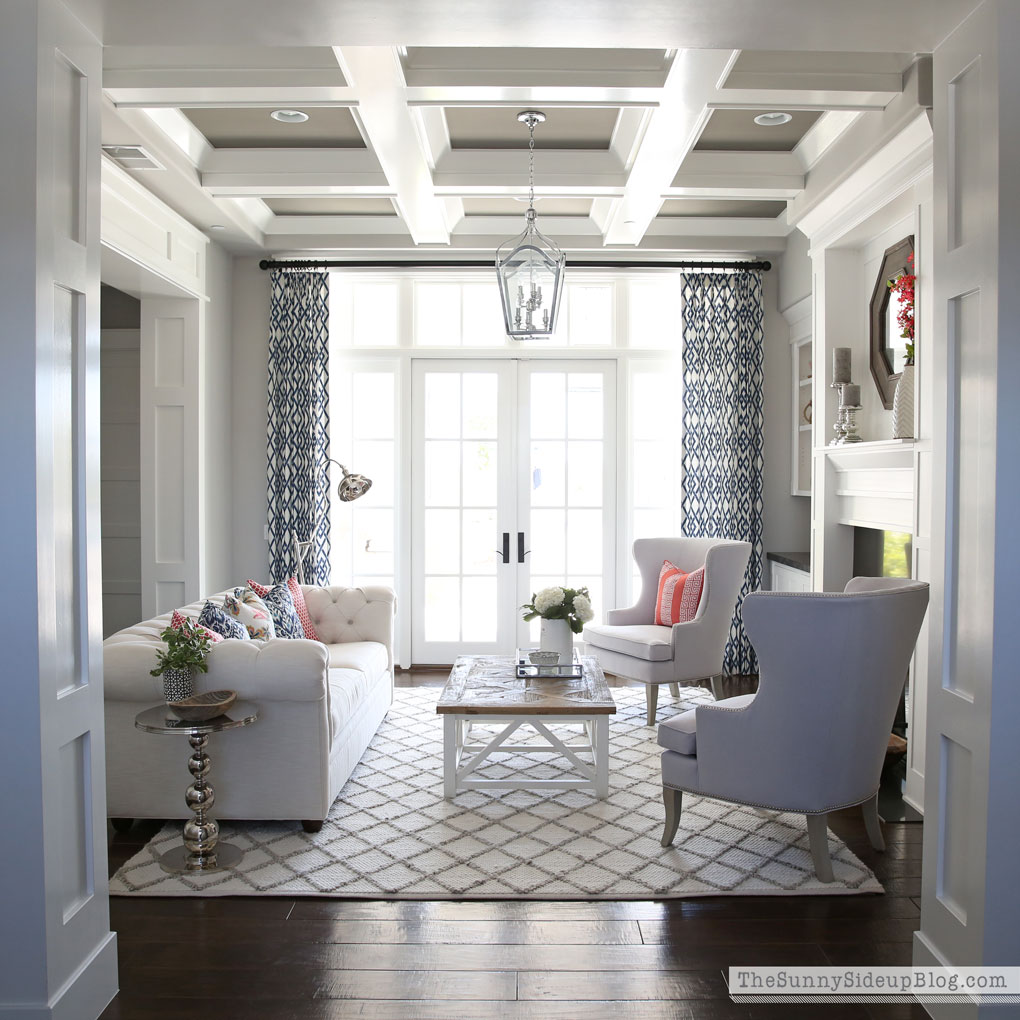 My formal living room turned out a bit more on the elegant/sophisticated side and since my entry table and this living room are across from each other and the first things you see when you enter my home, I've been feeling for a while that my mirrored console table in my entry needed a grown up look to match.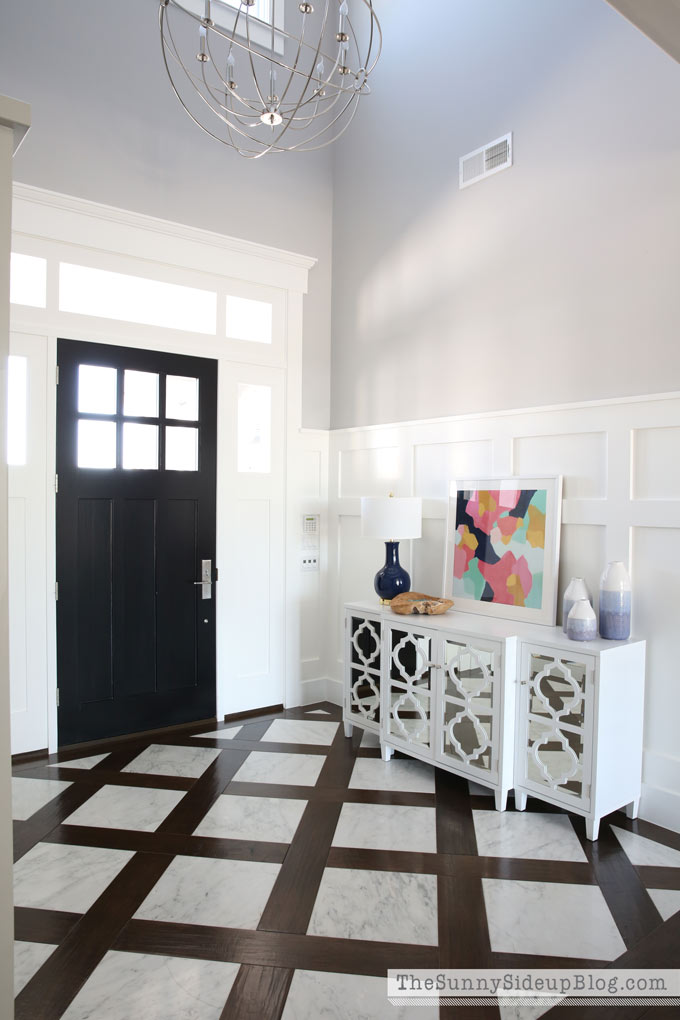 So I gave it a grown up look to match. :)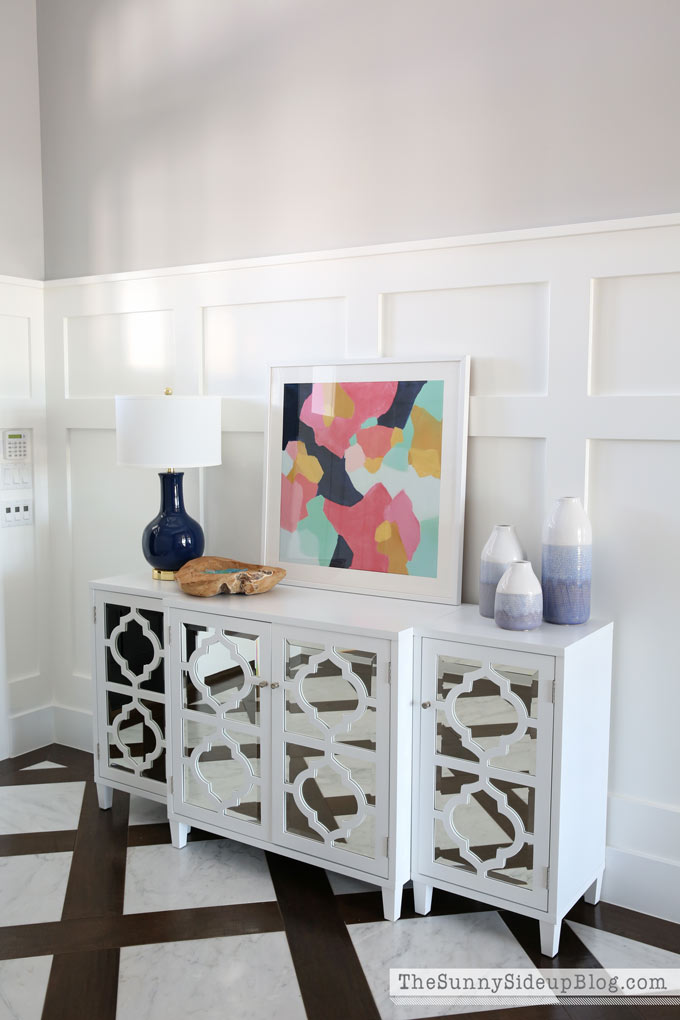 The colors in my formal living room are navy, coral and a bit of teal so I went on a search (that lasted months!) to find the perfect focal point for this table that included those colors.  When I was on PB teen's site one night looking for something for my daughter and came across this beautiful art from Minted I did a major happy dance!  To be honest I have a hard time finding art I love so I was beyond excited to not only find something I loved, but to also find something with colors that were my favorite and just what I needed!  Which is probably why I loved the art. :)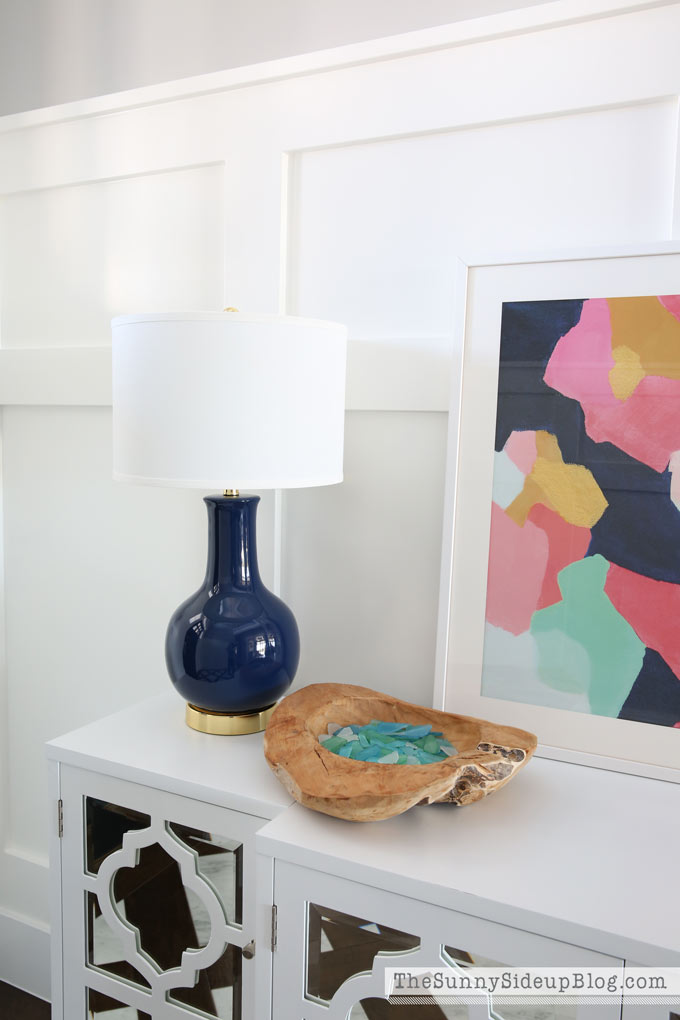 I knew I wanted to bring out navy to match my formal living room drapes so I also went on a hunt for the perfect lamp.  I found several fun options and really wanted this lamp from West Elm, but it was a bit tall for this space (I wanted the lamp shorter than the art) so I ended up going with this navy lamp from Houzz.  I also loved how the gold on the bottom of this lamp tied in with the gold in the art.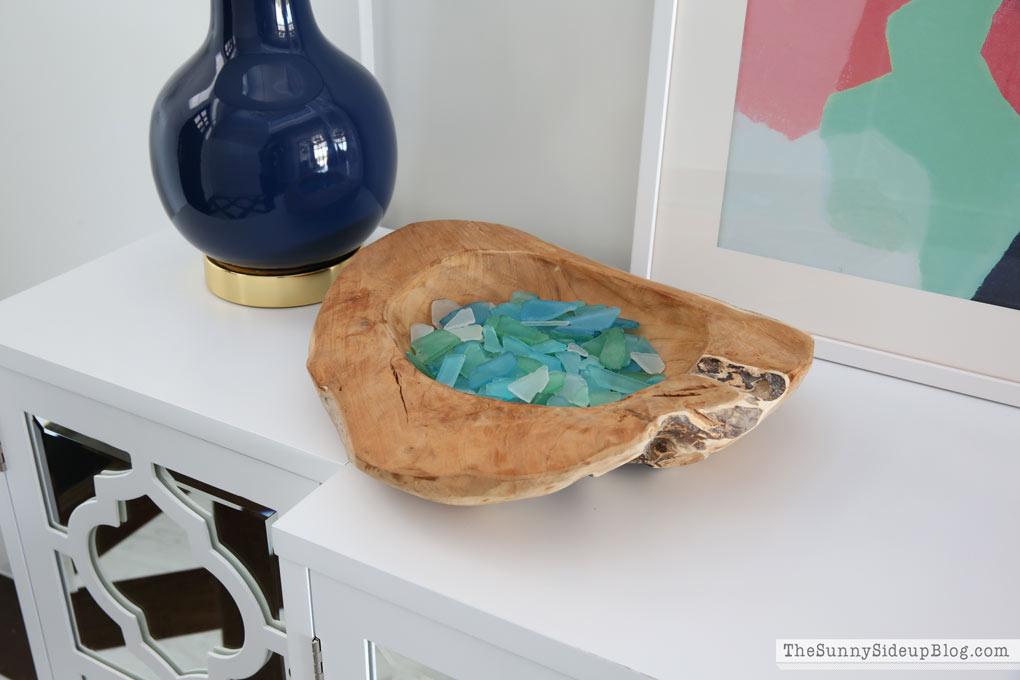 Whenever spaces start looking a bit cold to me I bring in wood!  Wood always warms things up.  I shopped my house and snatched this bowl from the shelf in my hallway so now I need something else to go there.  This is why my house will never be finished!  I'm always shopping one space to complete another. ;)  I already had the sea glass filler inside of it and it also matched the art perfectly!  Major advantage to using a lot of the same colors throughout your house when you decorate.  Everything works in multiple rooms. :)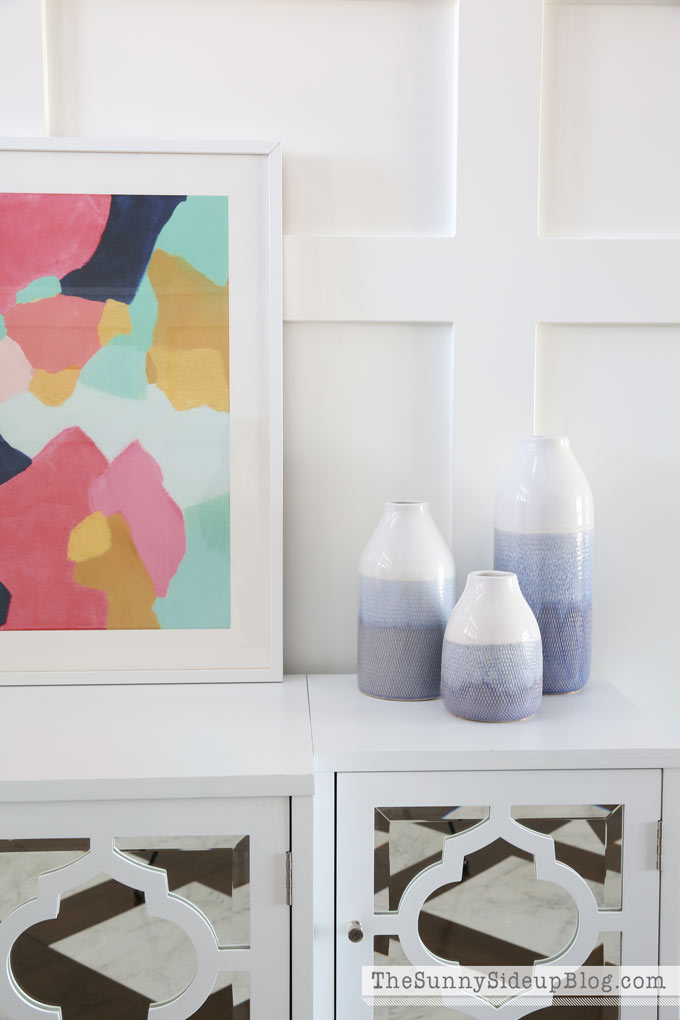 These three vases completed the look!  Aren't they beautiful!?   Target baby!  (Large/Medium/Small)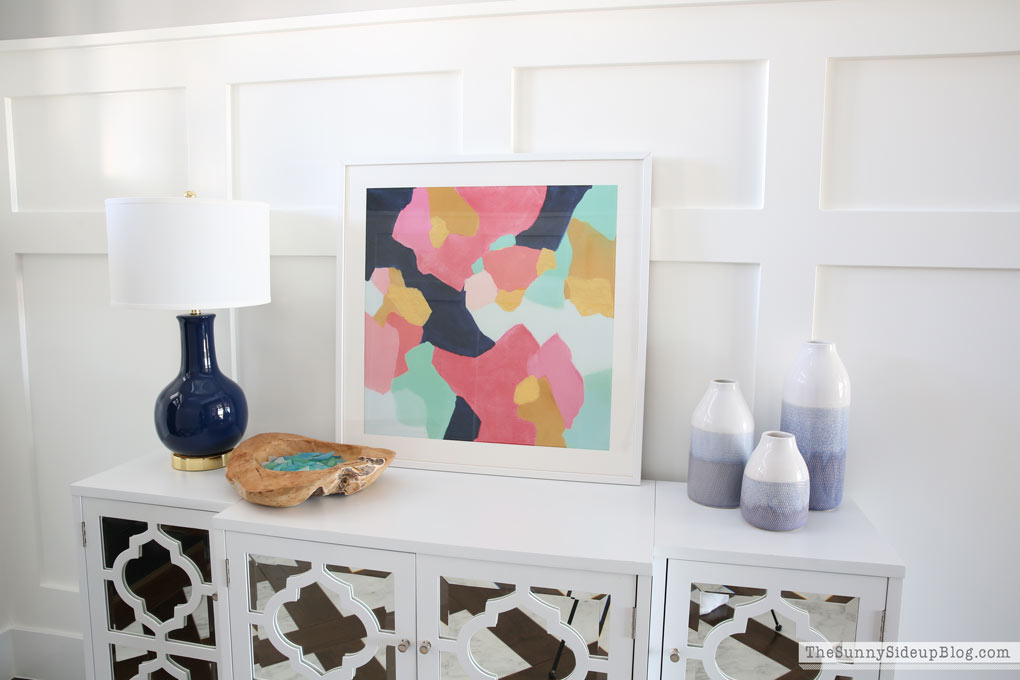 I'm loving this more sophisticated look for my mirrored console table.  And speaking of my mirrored console table, it's back in stock!  It always sells out quickly so act fast if you want it!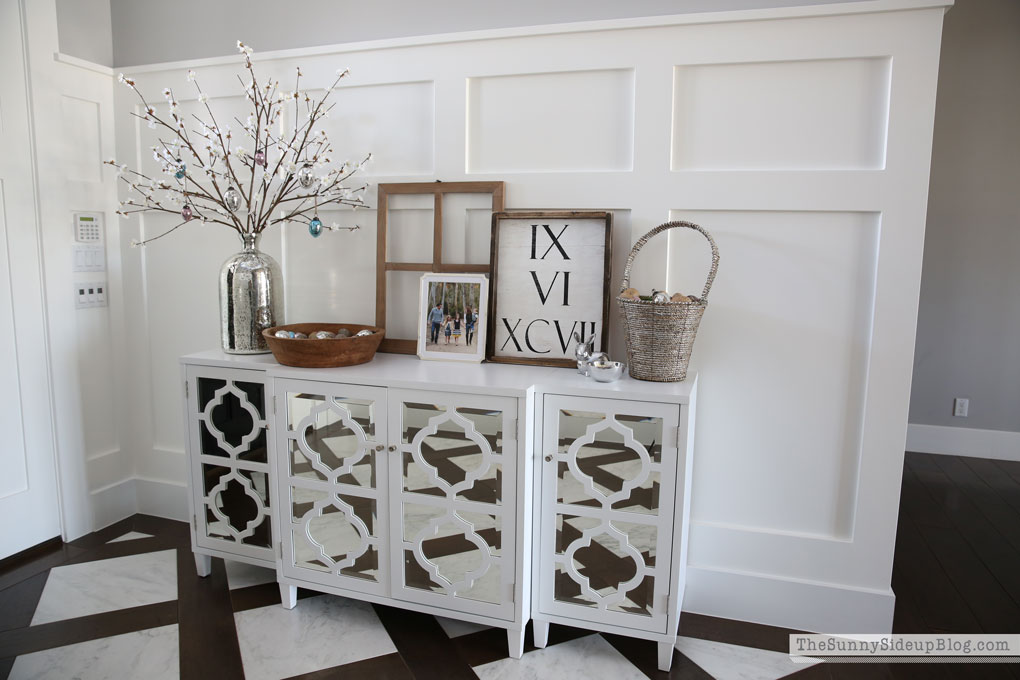 Here's a peek of what my console table looked like last year at this time.  All decked for Easter and I loved this look!  But I do feel like what I have going on now works so much better with my formal living room.  Although I do miss the candy that I kept in that little silver bunny.  Might have to toss some Easter candy in with the sea glass. ;)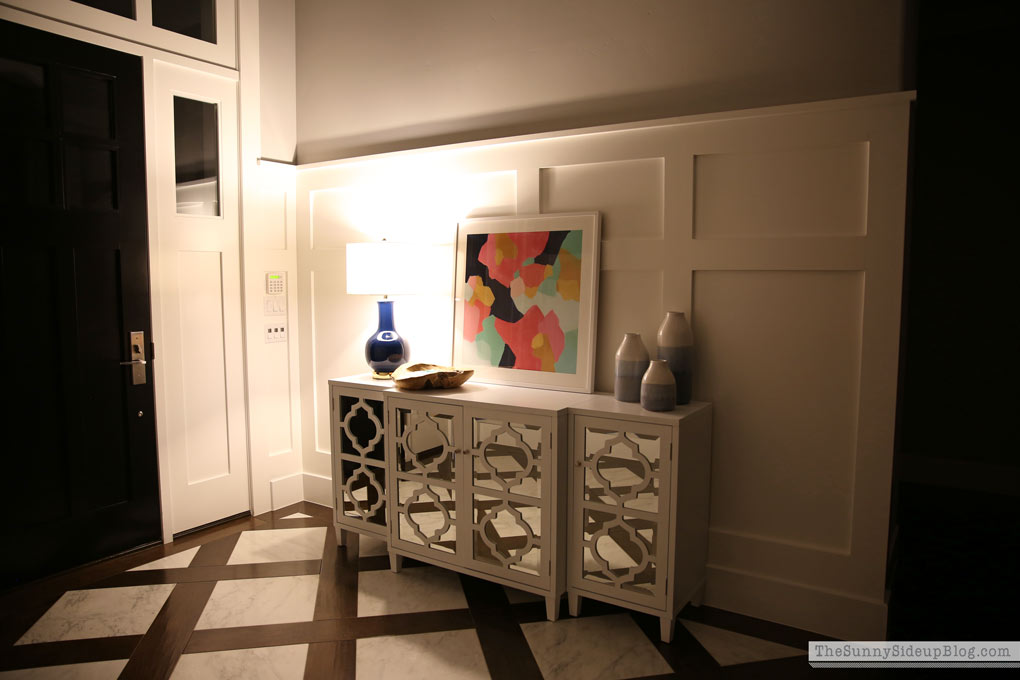 Another thing I'm loving is having a lamp in this space.  It's so nice to turn on late at night when the outside house lights are off.  I'm always walking back and forth past this entry in the evening and the lamp gives such a nice glow and lights everything up for me.  Always a bonus when the pretty decor is functional too. :)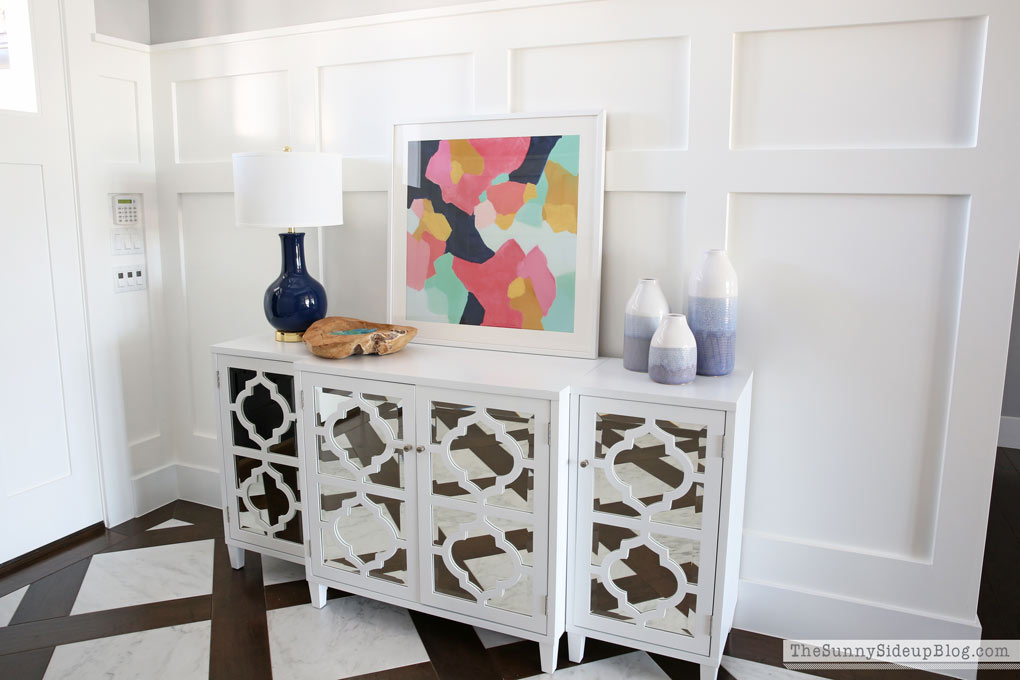 So there you go!  My mirrored console table all grown up.  I'll try to take a break from console decor posts for a while now.
But as you all know, I can't make any promises.
:)
{All sources are below including a few additional similar options I considered when decorating my entry!}




xoxo, Erin