First things first!  So excited to announce the winner of the KitchenAid giveaway!  It goes to: Susan S. from Carmel, IN!  So happy for you Susan!  HUGE congratulations.  Grove will be in touch and sending you your new KitchenAid soon!
Too much  fun.  I just had an Oprah moment.. "YOU get a car and YOU get a car!"  Maybe I need to do giveaways more often. ;)  Sorry for the delay announcing the winner everyone!  I've been trying to get this post out for two days but my kids have had other plans for me.  Ahhh summer.  Such an exhausting exhilarating time of year.
Ok!  Moving on.


I'm excited to share a little bit of decorating with you today!  At the end of our hallway from the mudroom to our main living areas, there is a wall next to the dutch door that leads into my office.  (That was confusing.. still with me?)  It's what we look at every day when we walk in the house from the garage.  I knew I wanted a fun industrial/wooden shelf in this space (for some reason that was what I've always pictured there!).  So I spent some time shopping on-line and fell in love with this Emerson bookshelf from World Market.  Love that shelf and it's on sale for such a great price.  BUT.  (Hate it when there's a but!)  It was too big for my space.  Because of my dutch door I needed something with thinner shelves that wouldn't stick out so far.  I hunted down every single industrial style shelf I could find and had almost given up, until I came across this shelf from Ballards.  (They don't sell it anymore.)  It fit!  I ordered it and it came and I was SO happy.
And then it sat empty for about 6 months.
Well.  Not totally empty.  It was a great catch all for El's dance shoes.. and Ad's books.. and Kole's transformers.. and my planners and loose papers.
Then one day I woke up and decided I couldn't handle the catch all anymore and it was time to decorate the not so new shelf.  I went shopping in my house and then shopping in a few favorite stores and two days later it looked like this…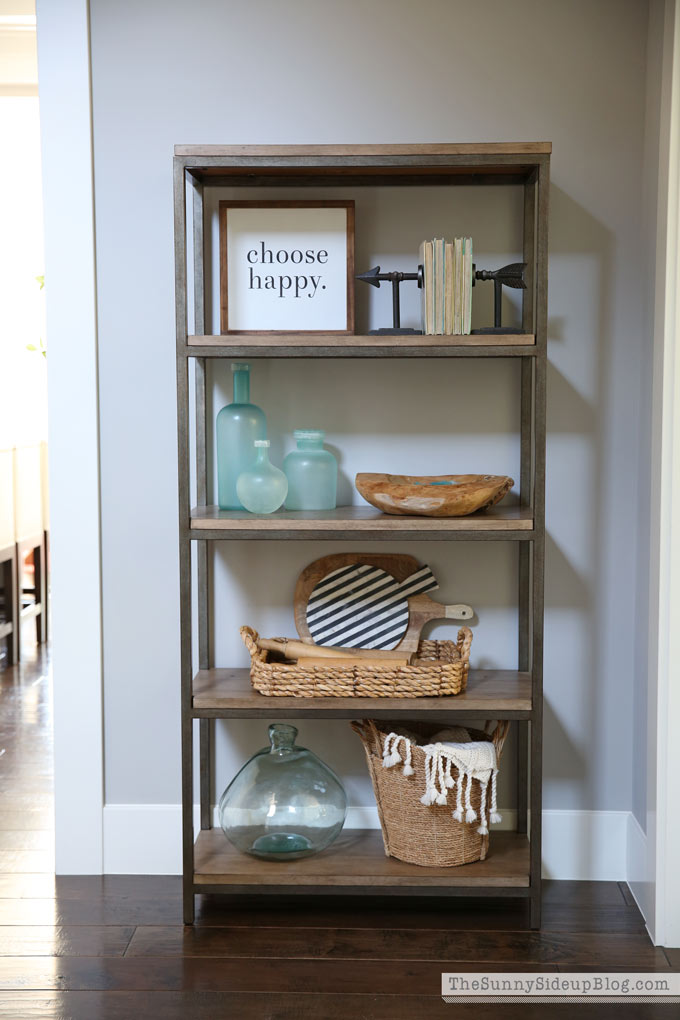 I have to say.. I'm in love.  It's full of favorite things that have meaning to me.


The best part is that every day we walk in and are greeted by this "choose happy" sign.  A great daily reminder from my cute friend Caroline at Vine and Branches.  I own several of her signs and love them all!  The arrow bookends I bought awhile ago on a fun shopping trip with my sister-in-law and the books are from my mom's vintage book collection that I "borrowed" and she'll probably never see again. (Love you mom.)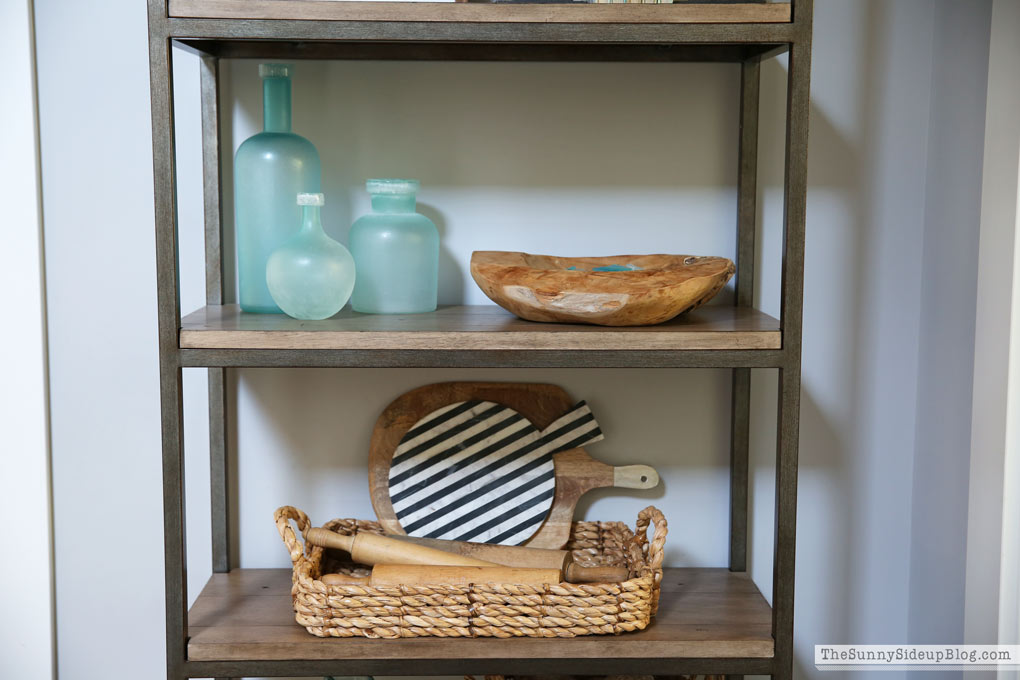 I fell hard for these blue/green waterscape vases and originally bought them for my bedroom, but when I tried them out on this shelf I knew they were home!  The bowl next to them was a Home Goods find (similar here) and I just filled it with some cut sea glass for summer.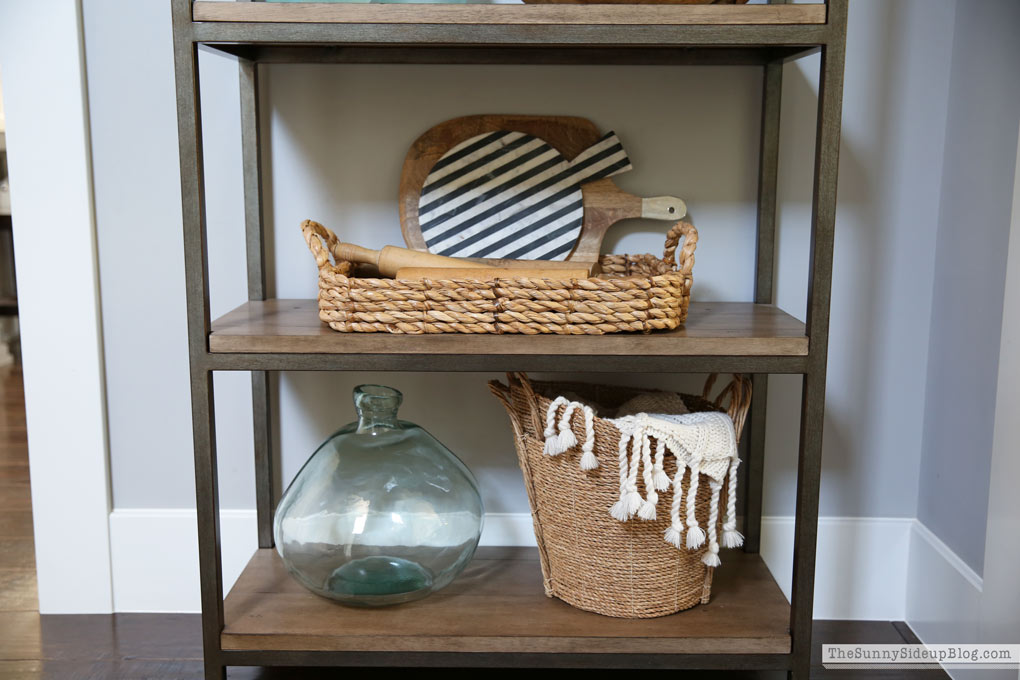 Remember my shopping trip with my dad?  Of course after that little adventure I had to order my marble striped serving board!  It was already love at first sight and now with our funny story behind it I think about my dad and smile every time I see it. :)  I told him not to be surprised if his very own marble striped serving board shows up on his doorstep one day.
I know he's holding his breath.  (Love you dad.)
The wooden serving board behind it was also from that same shopping trip with my dad (it's a Nordstroms Anniversary sale item and marked down for a steal right now!).  In front of my boards I placed some vintage wooden rolling pins.  I started collecting them about a year ago because they remind me of my grandma Ellen who died when I was in Highschool.  Ellie is named after her. :)  We were close and she was an amazing cook and since I'm not doing a very good job of channeling her cooking skills and passing them on to future generations, I thought I'd make up for it by collecting antique rolling pins that look like the ones she always used to use.
And because it's a lot more fun for me to collect and display the rolling pins than it is to actually use them.  (Love you grandma.)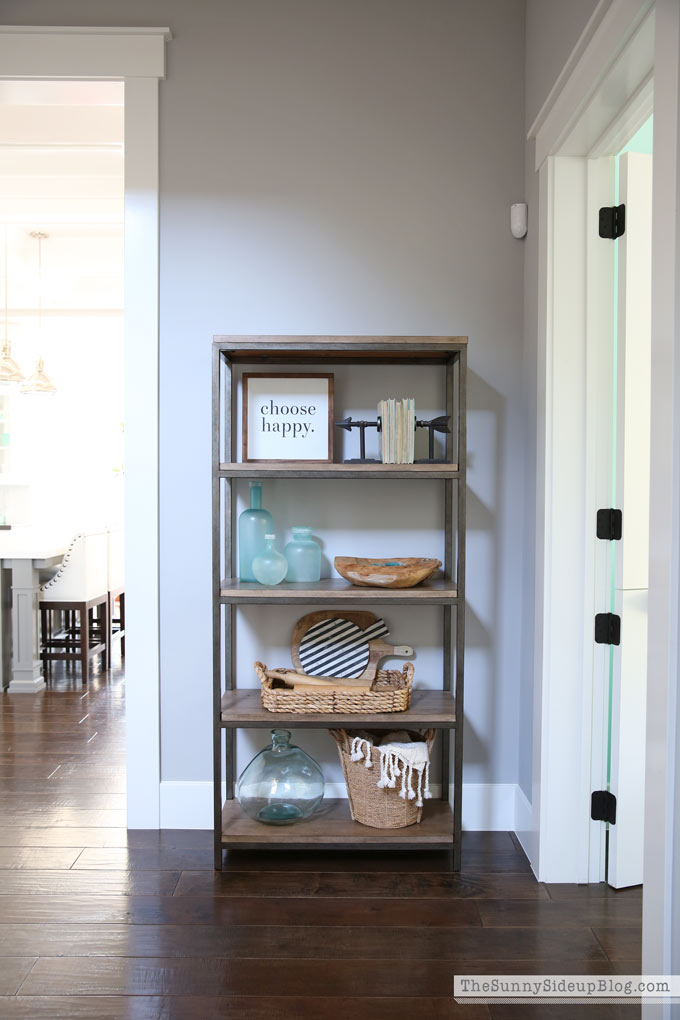 The bottom of the shelf is holding one of my many clear Barcelona vases (I adore them!), a favorite throw and baskets I've had for years from Pottery Barn.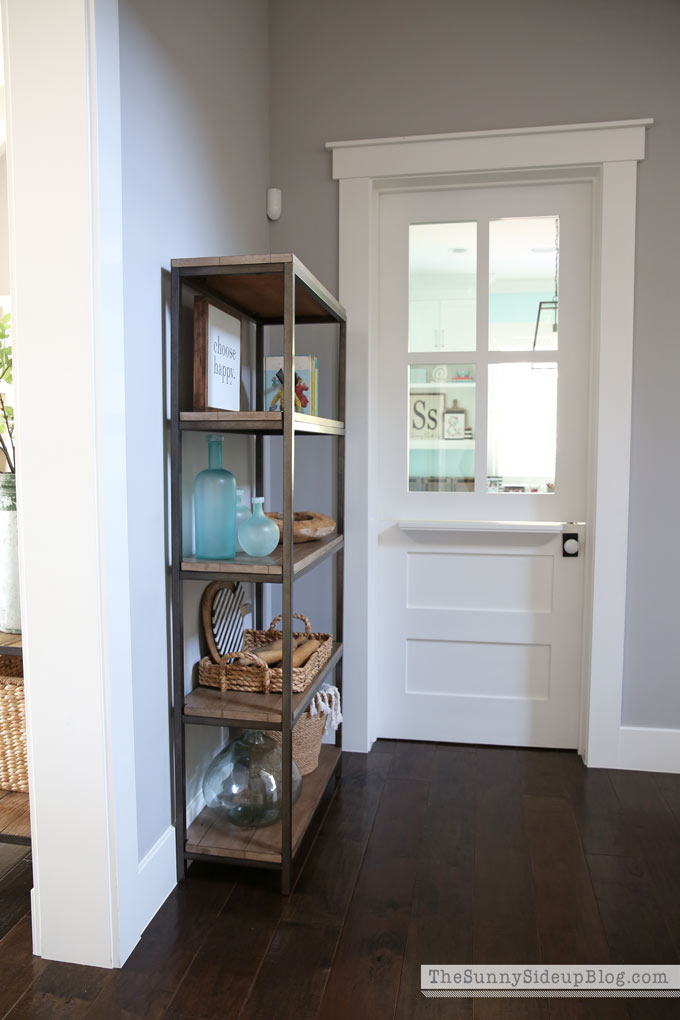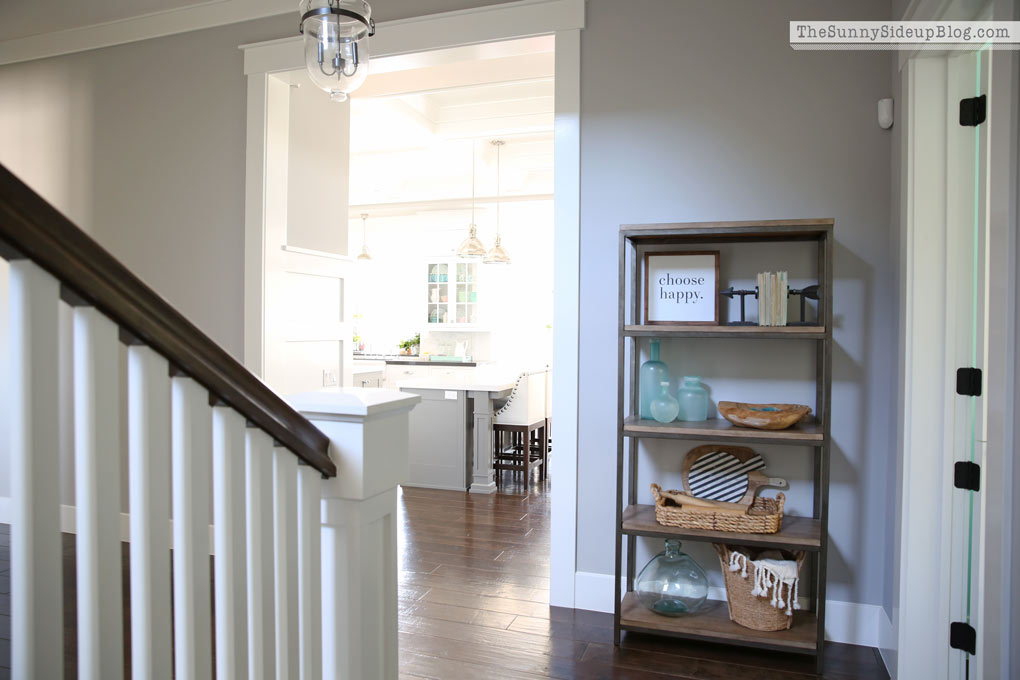 So nice to have this little corner of my house decorated!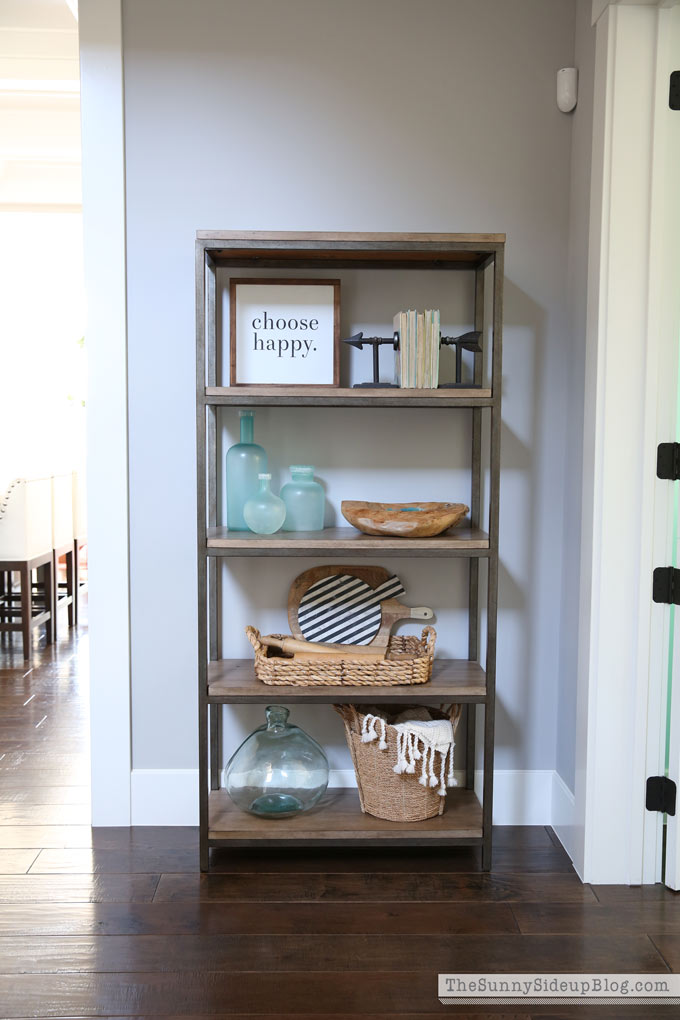 Our doorways are so tall so I think I'll put something on top of the shelf when I figure out what will work.  Oh.. and if you're wondering what that white thing is on the wall to the right above the shelf, it's a motion sensor for our alarm system.  They are all over our house and I was not impressed the day they were installed.  Seriously!?  Could they be any more obnoxious?  They are messing with with my decor and blog pictures.
Not cool.
Plus the alarm is LOUD.  I've set it off multiple times on accident and completely messed up the system and damaged our eardrums in the process.  My husband is always thrilled when I do this. (Love you babe.)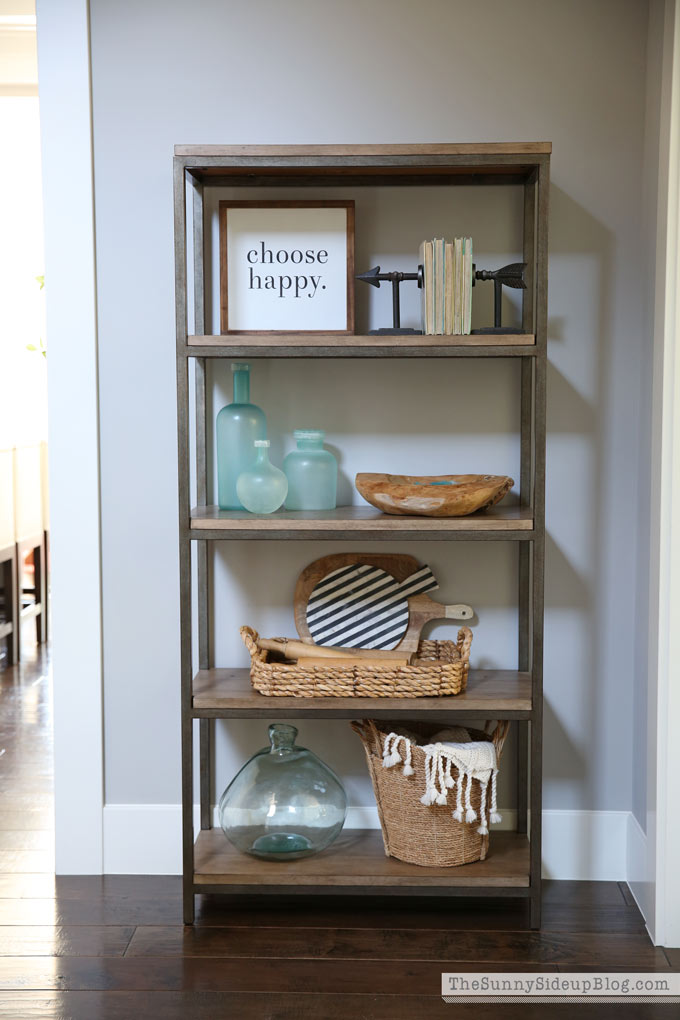 So if you've been contemplating breaking into my house and stealing my "choose happy" sign.. (cause I know that's the first thing you'd all take).. you might want to think again.
(Love you guys.)
;)
(affiliate links used)
xoxo, Erin