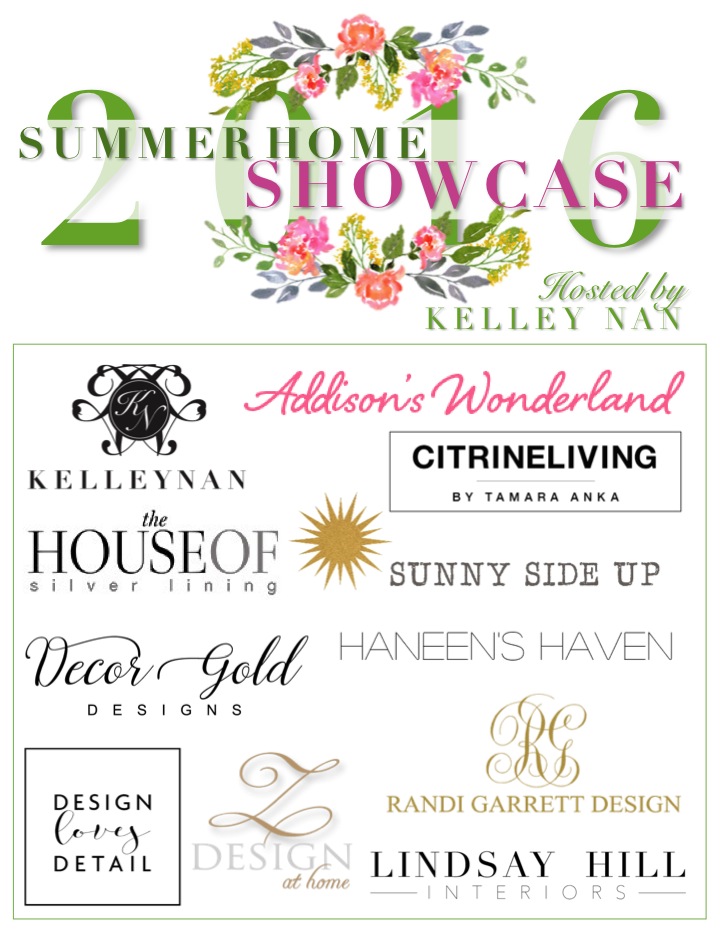 Today I'm sharing my family room spruced up for summer as part of a Summer Home Tour Showcase hosted by my sweet friend Kelley Nan.  So much fun!  If you are visiting from my friend Bree's blog (Z Design at Home) welcome!  I'm so very happy you are here and hope you'll put your feet up and stay a while.  :)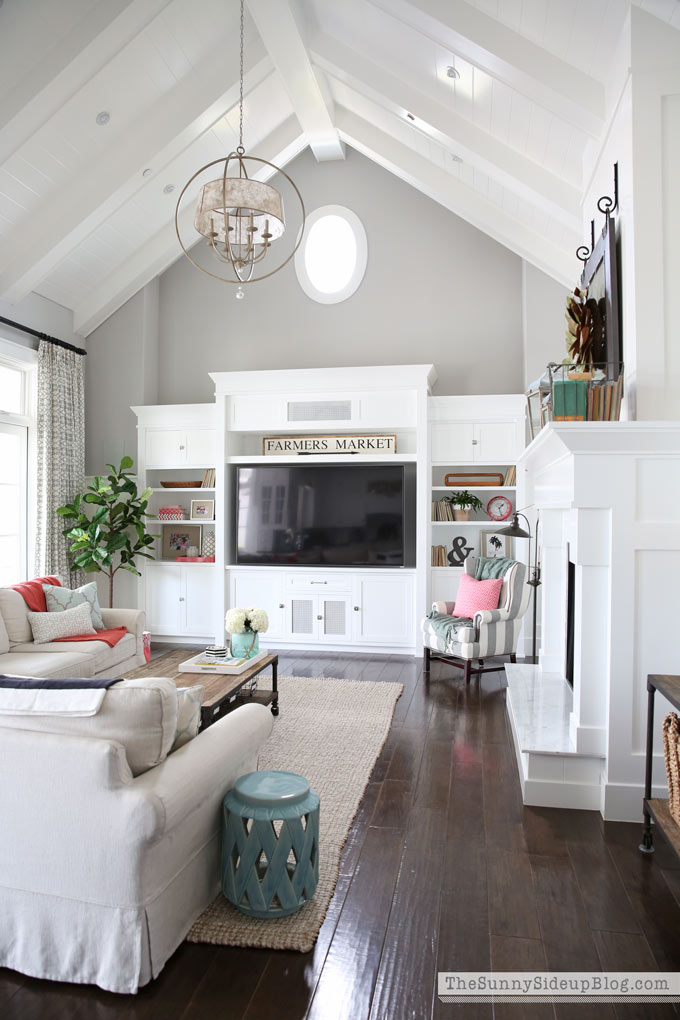 I've shared my family room many times before throughout the seasons and to be honest, not a lot has changed.  I go a bit crazy with Fall, Christmas and even Spring decor, but Summer?  That's usually a season when I focus more on if it's a pool day or a beach day and when I need to re-stock the popsicles. :)

That said, I do like to add a few simple changes here and there to welcome such a fun time of year when I get to spend more time with my kids.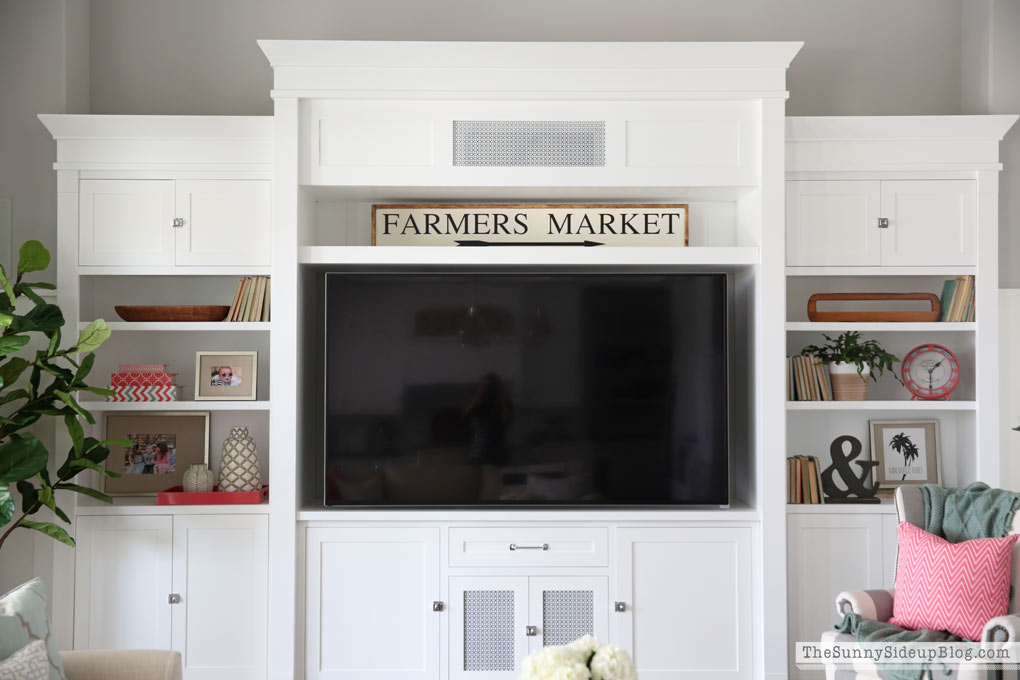 The main change to this space that I'm so excited about is my new Farmers Market sign!  Oh my word.  Love this so much.  You might remember that my previous sign in this space above my TV was shorter and said "SKI LIFT."  Personal meaning because we love to snow ski and many of mine and my husband's first dates were on the slopes, but the sign never felt right during the Spring and Summer months.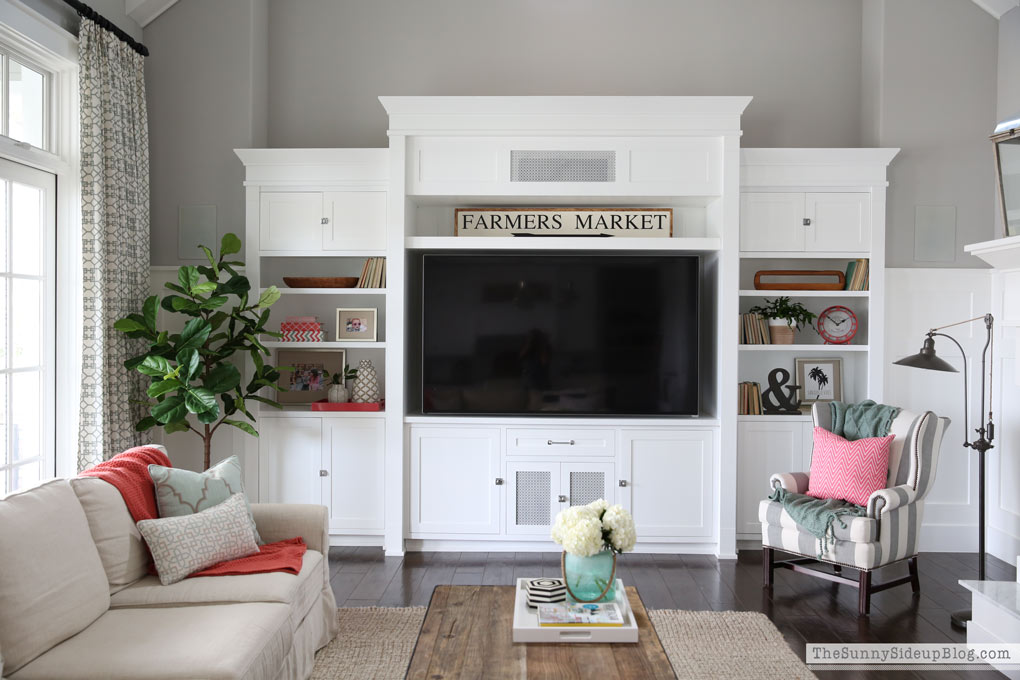 I reached out to darling Kristy at the Painted Nest who made my Sunny Side Up sign for my office and asked her to make me a custom sign for my family room.  I knew the exact size I wanted (this baby is 5 feet long to fit in over 6 feet of space) and I knew exactly what I wanted it to say.  My mom and I love Farmers Markets.  That's kind of our thing.  We always talk about getting together and going to Farmers Markets.  Really what's more fun in the Spring and Summer time?  Not much.  I had the exact same sign made for her too. Just a tad smaller. :)  I also knew I wanted an arrow on it.  That's special to me because of my dad.  I'll explain why at some point. :)  Kristy has beautiful signs that she often re-stocks and she can also custom make anything you want!  She is really affordable and does a beautiful job.  I couldn't love this sign more!  You can find her on etsy here or on Instagram here.


OK.  Another fun new addition that I've mentioned before is my faux fiddle leaf fig.  As you all know I've killed more real leaf fig plants in this corner than I care to recall.  This baby looks good every single day with NO work whatsoever.  Clearly the type of plant I need to own.  It was a bit of a splurge, but when you take into account the rate I was going through real plants it's safe to say this was a sound investment. :)  Still looking for a pot for it to make it look a bit more authentic.  Also still planning on writing my epic Pinterest winning post: How to Kill a Fiddle Leaf Fig in 5 Easy Steps. ;)  If you're feeling my pain, you can buy your own miracle plant here.


I especially love all of the coral throughout my house during the Spring and Summer.  It's such a happy color!  This shelf has a few favorite pics of my kids (that's Kole in the sunglasses.. the girls used to dress him up in their things daily!), a favorite vintage wood tray and some newish vases from Anthropologie.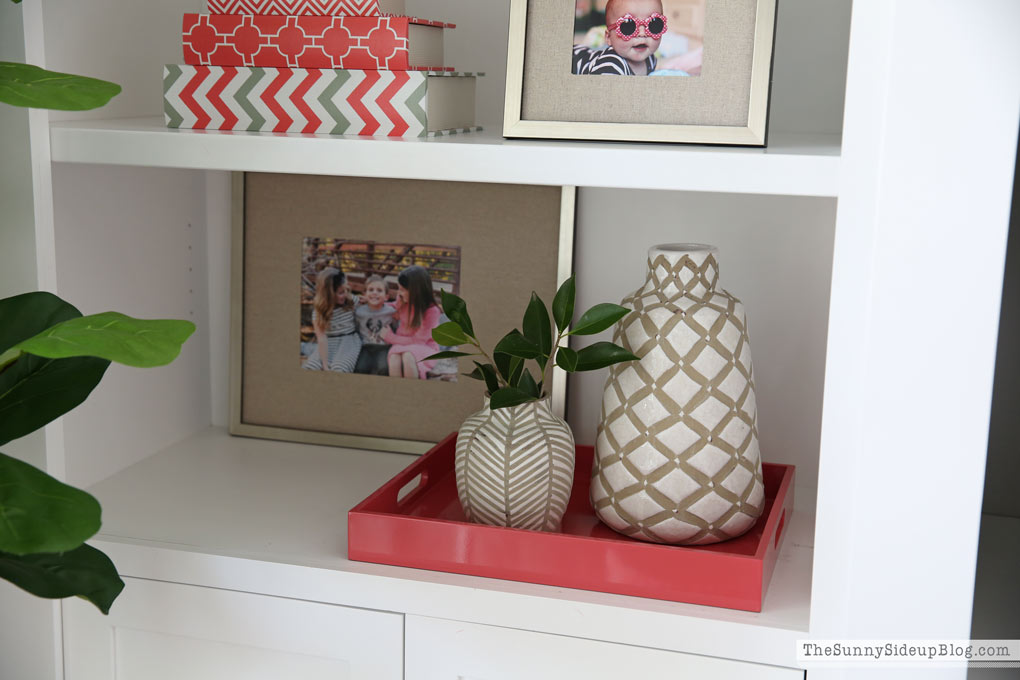 I really love the patterns on these vases and the neutral tan color and vibe they give off feels like summer to me.  There are four different vases and I want them all!  But I settled on these two.  Coral tray is from West Elm.  I have West Elm trays all over my house. :)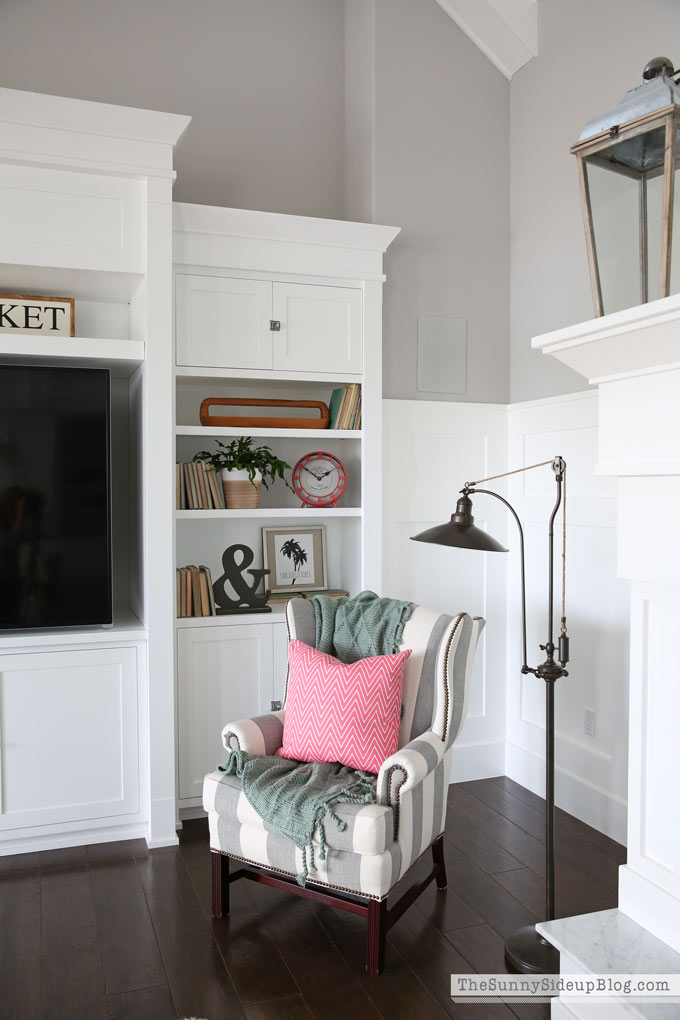 June in coastal San Diego is kind of funny because it's actually our coolest month of the year.  (65 degrees instead of 70.. will we ever survive?) ;)  Right when everyone is trying to beat the heat, we get daily cloud cover.  "June Gloom" is what we all call it.  After sunshine year round it's a nice change, I just wish it happened during October or November so I could drink hot chocolate when the rest of the country does.  All that said, I add extra comfy throws around our family room during May and June.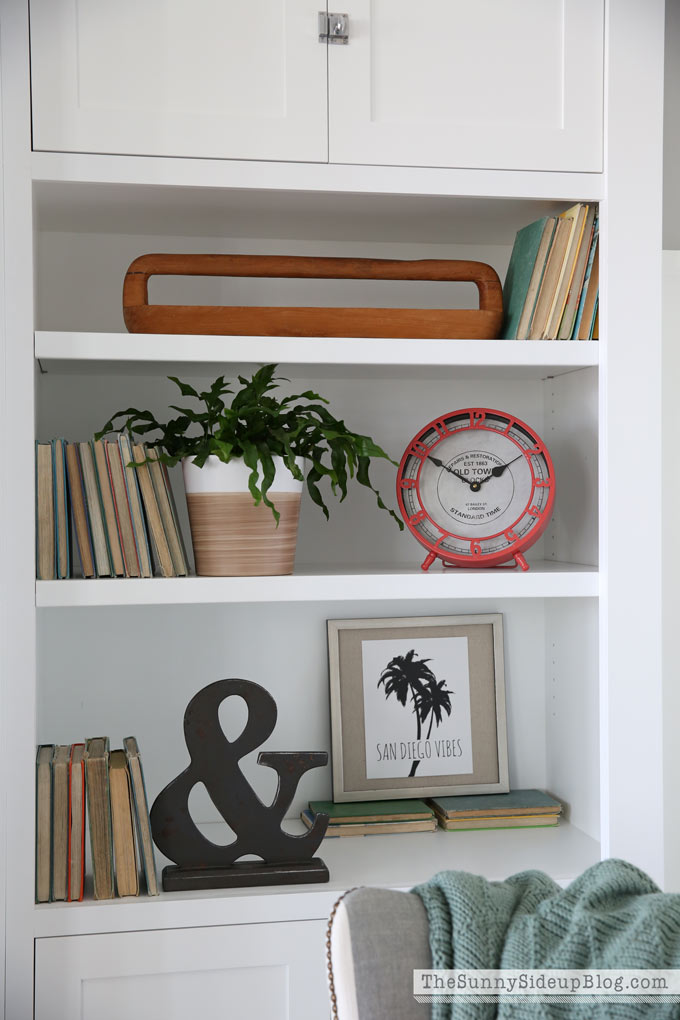 My San Diego Vibes (fun find at a local market!) brings it all home for me.  (You can find my frames here.)  Then I just added a new plant.  This plant is real.  Not sure how long he'll be with us.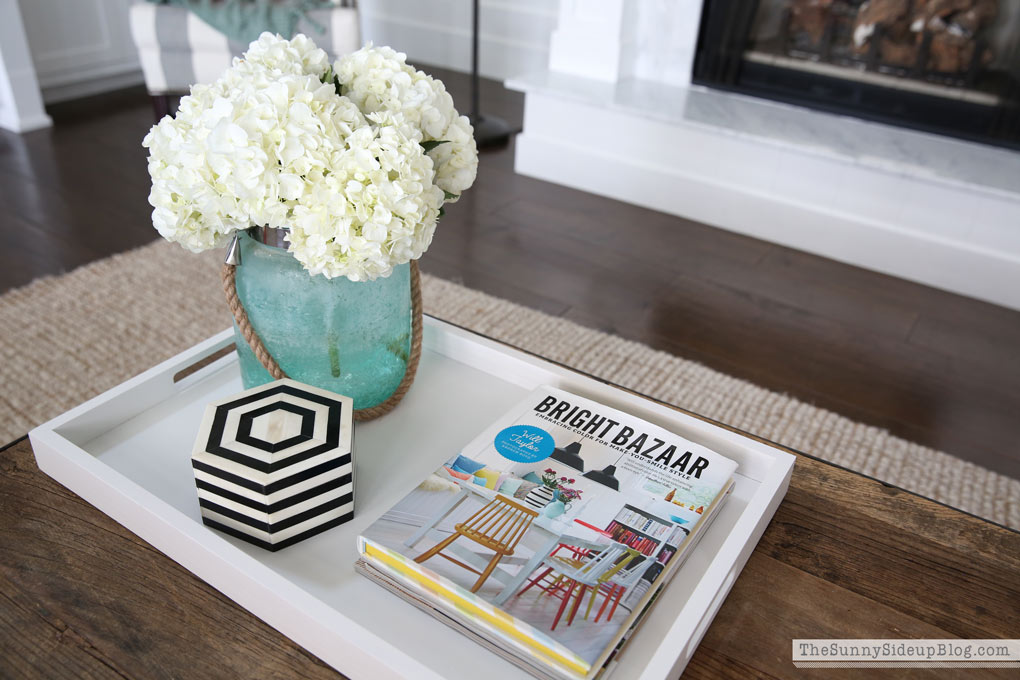 I always keep our coffee table clutter free because we really live in this space and it's usually covered in the kids' toys or my magazines and laptop or my husband's briefcase.  My only table decor is this simple large white tray (on sale right now!), my favorite flowers, this fun little striped box (you know I couldn't resist that one!) and my favorite coffee table book – Bright Bazaar.  LOVE flipping through this book.  It's full of color and decor inspiration.  Pretty sure I've gone through it over 50 times and each time I take away something new.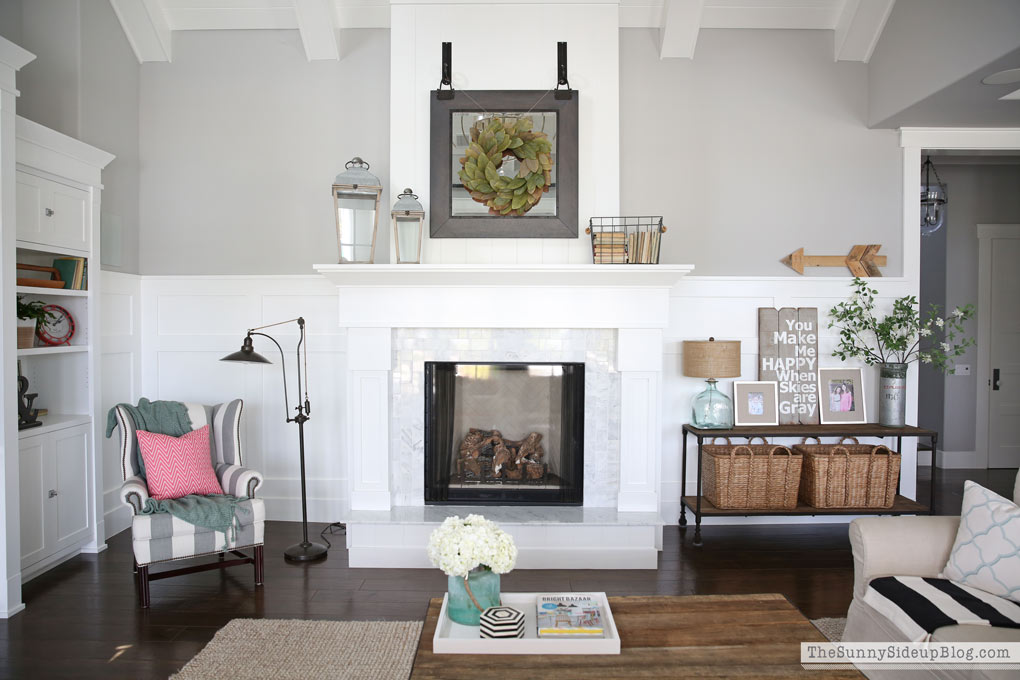 My mantel feels like my coffee table to me.. better left uncluttered.  I love all things decor, but when I have too much in one space I feel like I can't breathe!  For me, less is more.  And it's easier to keep clean. :)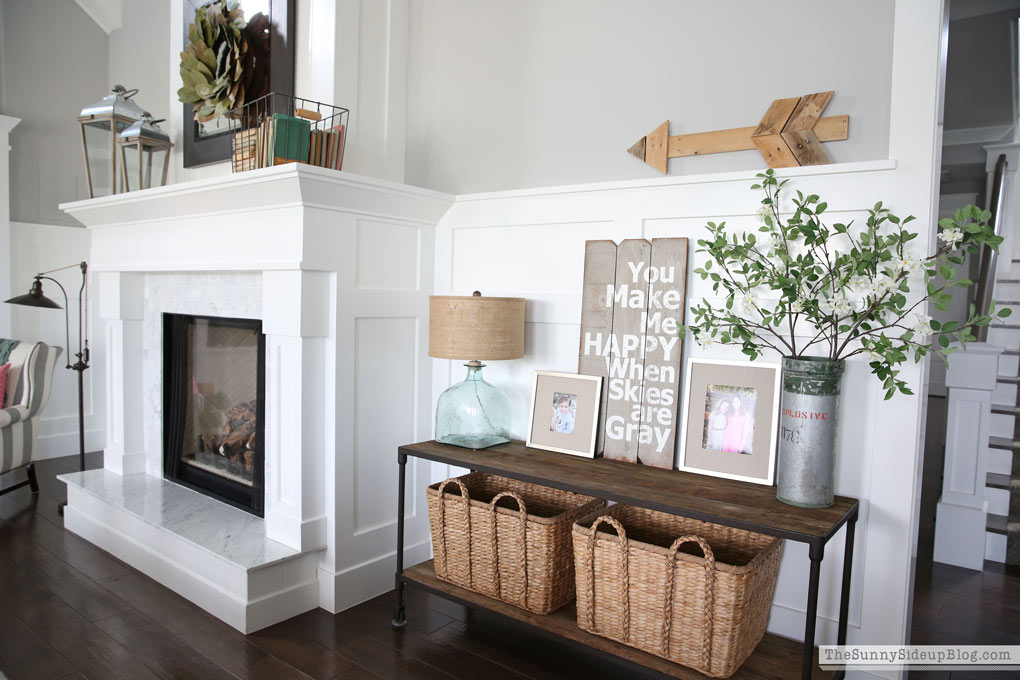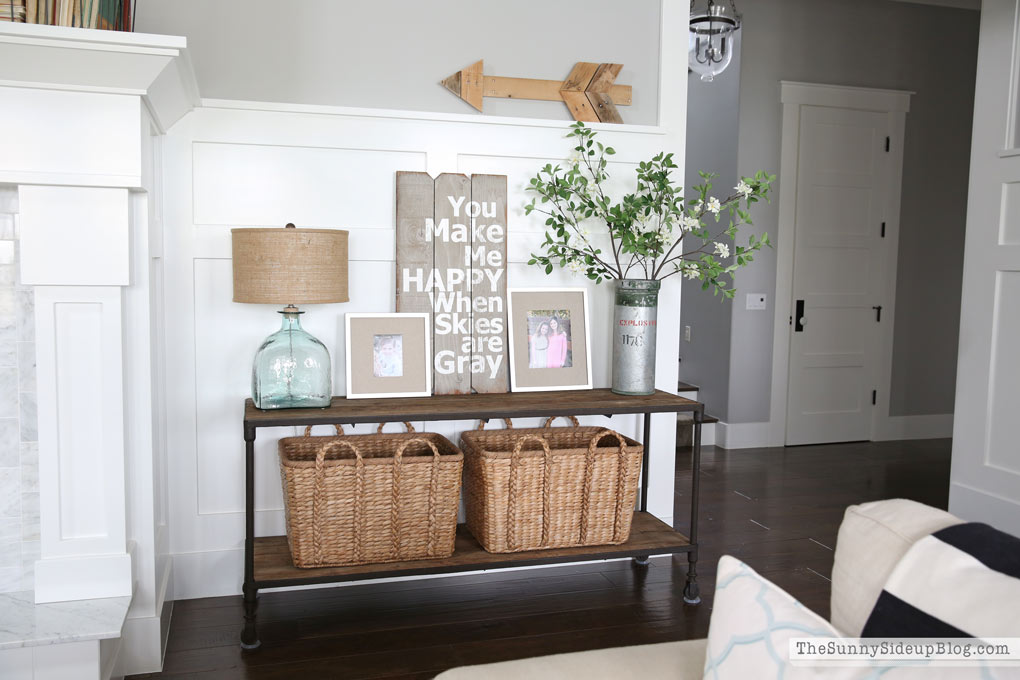 Which is why I also kept my console table simple for summer with just a couple of pictures of my kids.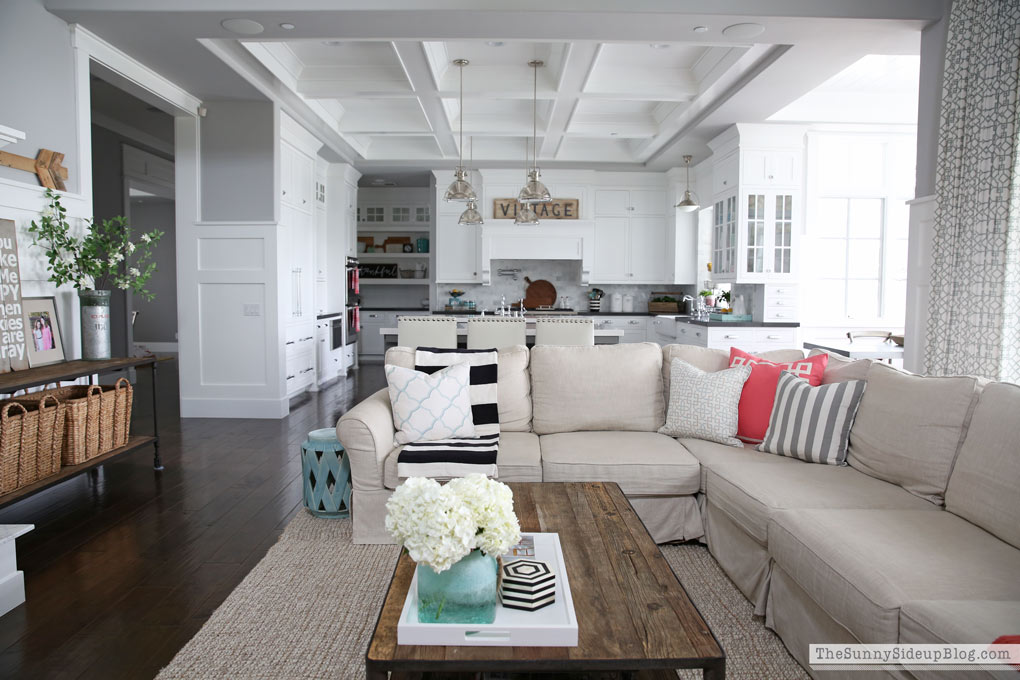 View of the kitchen.  Love the added pop of blue my new accent table adds!  It was supposed to go outside but when I set it there it just sort of said "I belong here.. please don't move me."  I really didn't have a choice.  Plus it's so handy to have a place to set a drink or book next to the couch.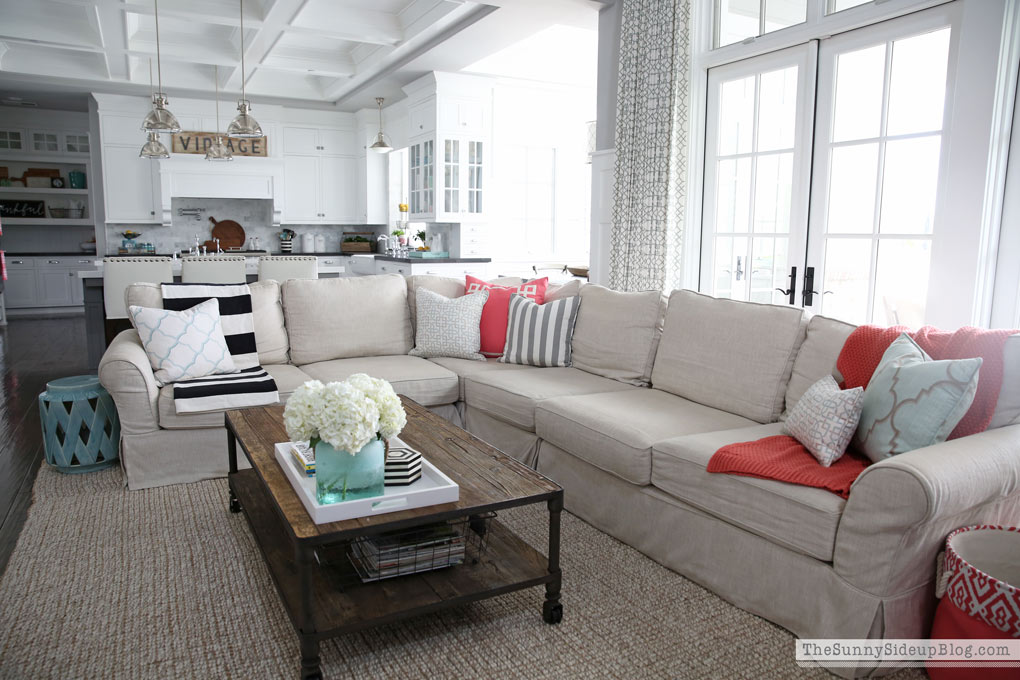 So that's it!  I hope you enjoyed the tour of our family room spruced up for summer!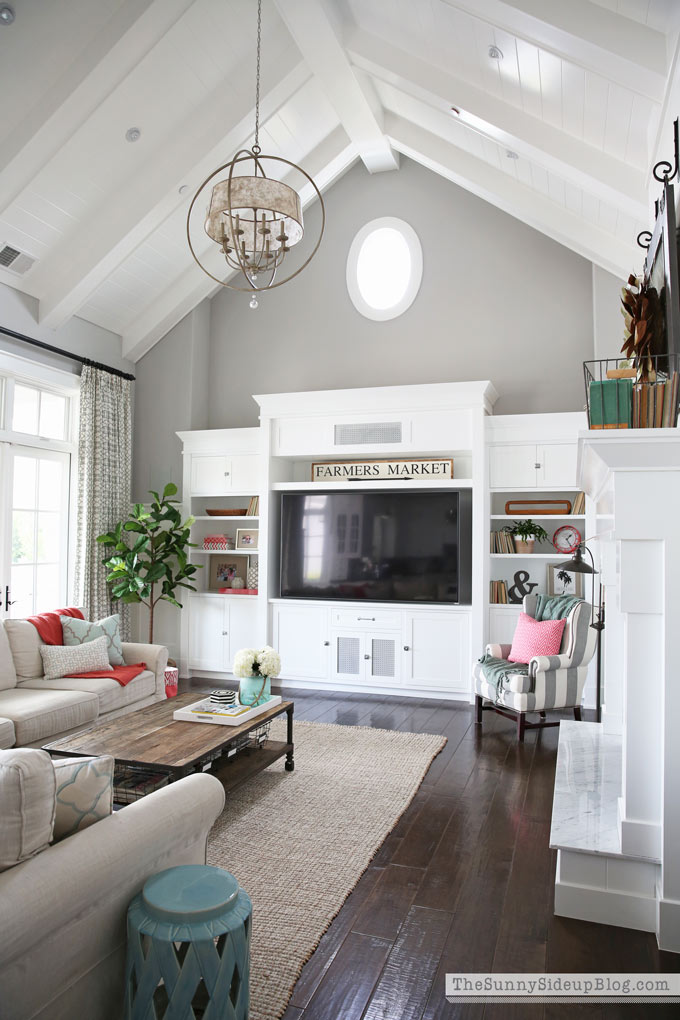 I also added a few Summer touches to our powder bathroom that I was going to share, but I'll have to save that for another post since I get chatty late at night and this post is already a novel.  So come back!  I can't guarantee less chattiness, but the bathroom looks really pretty. ;)
** Sources for this room are below – just click on each picture!  (Affiliate links used.)  Also you can find all of my house paint colors here.

If you are new to my blog, here are a few other spaces in our home you might want to check out.  (Most of which have a "summer look" all year long). :)
OK!  On to the next person on the tour!  Be sure to visit my friend Kelley's stunning home.  She is such a talent!  Also be sure to stop by the rest of the blogs participating in the tour.  Inspiration galore!  Happy summer sprucing everyone!  :)
Decor Gold Designs | Design Loves Detail | Randi Garrett Design | The House of Silver Lining | Haneen's Haven | Lindsay Hill Interiors | CitrineLiving | Addison's Wonderland | Z Design at Home
xoxo, Erin