Here are the answers to your questions about my new mudroom!  Finally.  Something is complete around here.  :)

What are the dimensions of your mudroom?



What is the overall length of your lockers?



What is the size of your bench?
    
What color of stain did you use on your bench and locker seat?  What color of white did you use for your cabinets?  
Sorry I'm not going to be much help on this one!  For the bench and locker seat I gave a sample of my floor to my cabinet guy and he matched it as close as he could.  It ended up a bit lighter than the floor.  I'm not sure what the shade of white is either!  I picked it from a variety of cabinet samples (all of my cabinets throughout the house are that same white).  It was the brightest white I could find.  It's almost identical to the same white I used for all of my trim and molding which is "Arothane White" 001 by Frazee.

Where did you get the light fixture?


Where did you get the fun nameplates on the lockers?
Where is your locker hardware from?


I used this same hardware in my laundry rooms and in the girls' bathroom – just a different finish.  Chrome for those rooms…
and Oil Rubbed Bronze for the mudroom.
Where did you get the amazing hooks?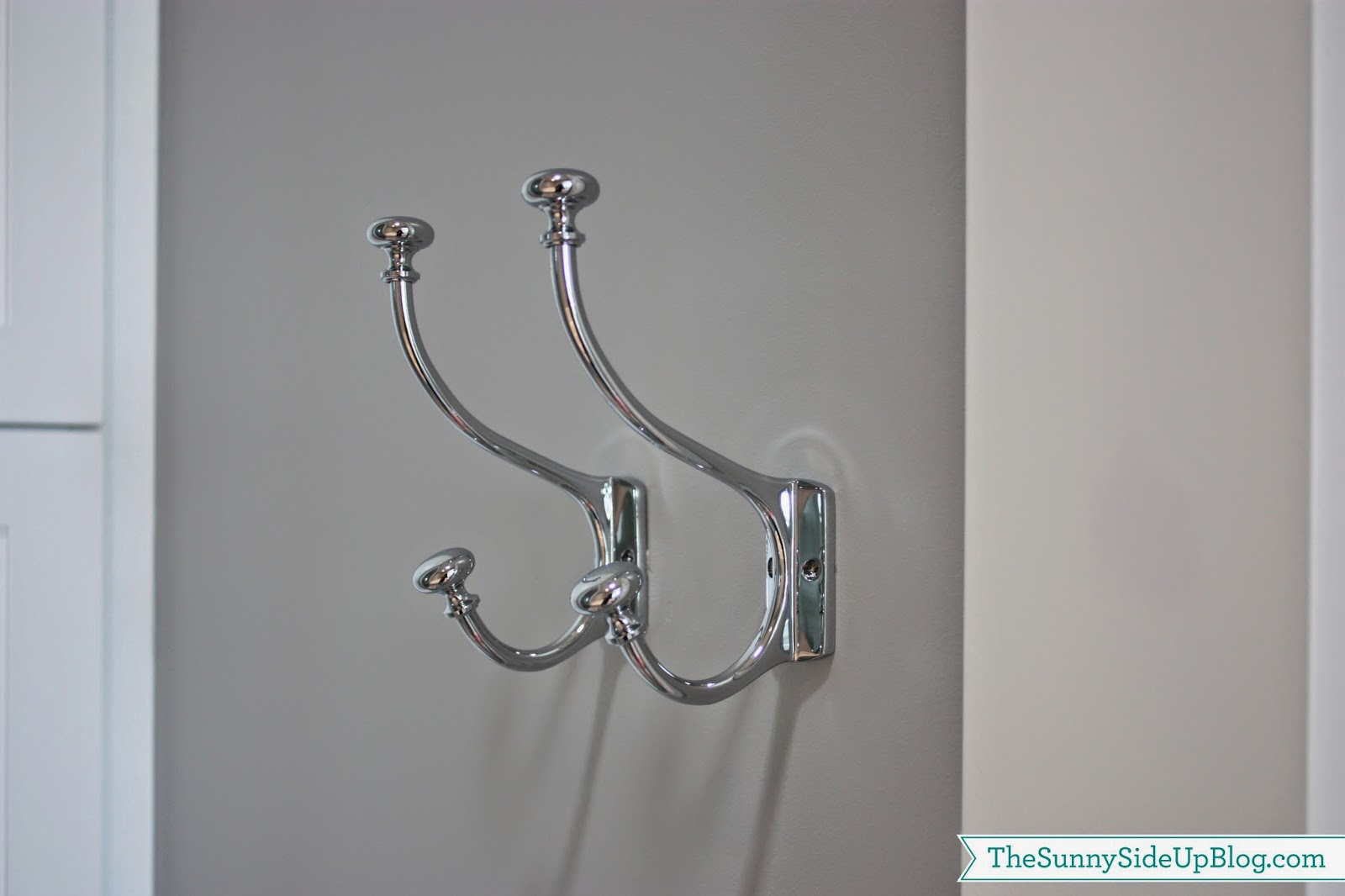 You may recognize the hooks also from my girls' bathroom – just a different finish.
I really liked this style of hardware so I used it quite a bit throughout my house.
We are using these hooks to hang coats and backpacks…
and bathroom towels.  :)
Where is your door hardware from (dutch door/garage door)?


Most of the doors throughout my house have white porcelain knobs on black plates.  I love this look.
I decided to mix it up for this door off of the garage because I knew I'd often have my hands full and you can't open a knob with your elbow when you're trying to balance four sacks of groceries, your purse, and your four year olds muddy shoes.  A handle works much better for that.  :)
All of my outdoor hardware is a nickel finish because the doors are black.  Silver for the black dutch door…
And black for the indoor white dutch door.

Where did you purchase the cute picnic style baskets?
Those are also from Pottery Barn!  Like I mentioned before, I tried several different sizes and styles of baskets from other stores above my lockers.  These were not what I originally had in mind, but they looked the best and were the perfect width for my cubbies.  These are the Day Trip Lidded Large Basket and are truly made for picnics!  I tried one in the space and loved it so I waited for Pottery Barn's baskets to go 20% off (they do that from time to time) and then snatched up five of them.  When you love to organize you stay on top of basket sales.  :)

What do you use the baskets at the top for?
Well.  Now I'm hoping to go on a picnic or two with them!  :)  I had always planned to use them for our winter accessories (hats, gloves, scarves) that we only pull out two or three times a year for a trip to ski or to visit family in colder climates.  But currently I have all of our winter/ski gear together in a bin in our attic space.  I don't know if it makes since to separate the accessories from the snow coats and pants?  So right now there is nothing in the baskets!  But I'm sure that won't last long.  I'll let you know what I end up storing in that space.  I still have A LOT of stuff in our extra room upstairs that needs to be purged and organized.  I will most likely be in this house a year before everything has a home.  I'm too busy typing blog posts to get completely unpacked.  ;)

What is the grey paint color called?
The grey paint in our mudroom is the same grey we used in the main living areas in our house – "Seattle" by Frazee.

What color are your hardwood floors?  



I love the lanterns hanging outside.  Where did you get them?  


I can't find my info. on these lights!  I have it somewhere!  I'm going to look this weekend and as soon as I find it I'll update this post and add it.  Check back!

Did you choose pot lights or can lights?  Where did you get them?  
Aside from pendants and hanging fixtures we have can lights throughout our house.  We chose them all with our electrician.  Sorry that's not much help!

Do you have additional basement and/or attic storage?  I'm on the east coast where everyone has basements, but I've heard that in CA many houses don't.  
Yes – we have an upstairs attic and also a fun hidden storage space above our garage that has a secret ladder.  :)  I'm sure I'll share our attic space with you once it's all organized.  It's a mess so don't hold your breath on that one.  ;)  And you are right about California homes not having basements!  I'm from Utah and everyone there has a basement so it was strange to me too when we moved to CA that nobody has one.  There are several reasons why.  Not needed with our mild climate (in colder areas home builders dig a deeper foundation below the frost line), earthquake, water and soil concerns, property here is so expensive and it is usually cheaper to build up than down with our soil, etc. etc. etc.  It's very rare to find a house with a basement around here!
I've always imagined a mudroom and laundry room combined.  Is there any benefit to having separate mud and laundry rooms?  
I think having a combined mudroom/laundry room is a great idea!  I think it really just has to do with how much space you have to work with.  I wanted pull out bins in my laundry room for dirty clothes  and a counter to fold clothes on.  We had the space to work with so that meant two separate rooms for us, but I think combining the two spaces would function great too.
I've actually seen a few rooms that function as a laundry room, mudroom, AND craft room.  I think you'd have to be pretty organized to make that work or that room would constantly look like a bomb went off.  :)
Could you share a picture of how there are two under the stairs storage units?  And how you chose to break it up rather than just have one door that lead to the whole staircase?  
Yes!  I will absolutely share our storage spaces under the stairs.  But that is a post all its own for another day.  :)
I hope this helped some of you!  I'm so ready for the weekend.  Crossing my fingers I can find time to finish a few of my half started projects around here!  Happy Friday everyone!
*affiliate links used
xoxo, Erin