Popping in with a few recent pics of the house!
Love this picture of Kenny.  He LIVES in that Charger shirt.  I think I've washed it at least 72,854 times.  At least.  As you can tell from this picture, I decided to go with rock around and above the front door.  Definitely the hardest decision for me this far in the process.  I don't know why this decision was so hard for me, but it was.  I think more than anything I just hit a wall.  Total building burn out!  I love my house but I have to say that I am so excited for the day when I don't have to think about it anymore.  :)
Aside from hitting a wall, I think part of the reason I'm unsure about the rock right now is because it is clashing SO badly with the yellow siding.  I'm anxious to paint the house!
Here are a few colors we have been looking at.  The middle color has a strange green tint to it (hard to tell in this picture but trust me, it does) so we are trying to decide between the lighter top color or the darker bottom color.  I am finding that grays are SO hard to work with!  They all have a certain tint to them – brown grey, green grey, blue grey.  We have a lot of grey going on the inside of the house as well and let me tell you – it is not easy to find the right shade!  Have any of you experienced this with grey paint?  Tricky stuff.  Regardless, whatever we pick will be a welcome change from the yellow!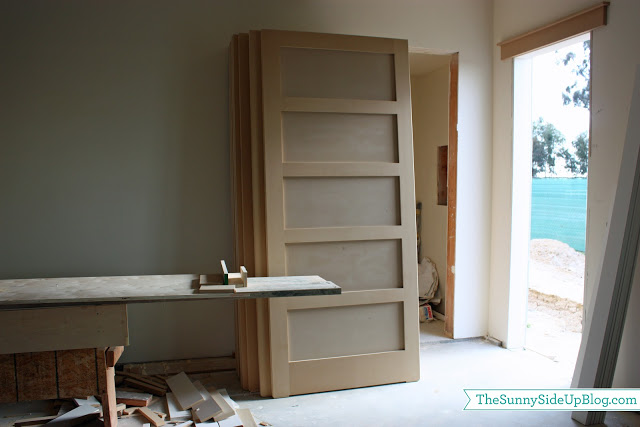 Interior doors are being hung tomorrow!  I have loved this craftsman style of doors for so long now.
They will all be painted white later.
Our finish carpenters have taken over the garage and are starting the wood work.  I think this might be my favorite part of this process so far!  I can tell it will also be a time consuming one.  I have to be very involved in this stage so working this in with my schedule is going to be tricky.  The girls might be doing their homework in sawdust for a bit.  :)
We just started in the entryway…
 and with a few of the ceilings!
Kenny is not thrilled about this stage.
He knows it is a dangerous one.
I keep assuring him I will stick to the budget.
Sort of.
:)
 A few pics of the backyard with the rock.  The grout is NOT finished!  Looks kind of dark and funny right now.
My planter boxes just make me smile.  I can't wait to plant pretty flowers in them!  Those corbels underneath were just re-done because the first ones I picked out were way too small.  One of the many little mistakes I've made because I am picking things out with a 15 minute time limit and a squirmy toddler on my hip!  And because I really have no clue what I'm doing and am just faking it half of the time.  Don't tell anyone though.  I am getting really good at pretending.
They've started tearing things up in the yard this week.  Lots of cement trucks and "diggers" so Kole has been in hog heaven.  :)  The little path on the right of this picture was the first thing I told our landscapers I wanted when we sat down to design the backyard.
It winds all the way around.  A little path for the kids to ride bikes, scooters, roller blade, etc.
Free babysitting is what I call it!  Can't wait.
I wish you all could bring your kids over for a playdate when it's done!  :)
Thanks for hanging in there with me through so many house pictures!
No doubt most of you were asleep by picture 2.  :)
Enjoy your Thursday!
(where did the week go!?)
xoxo, Erin