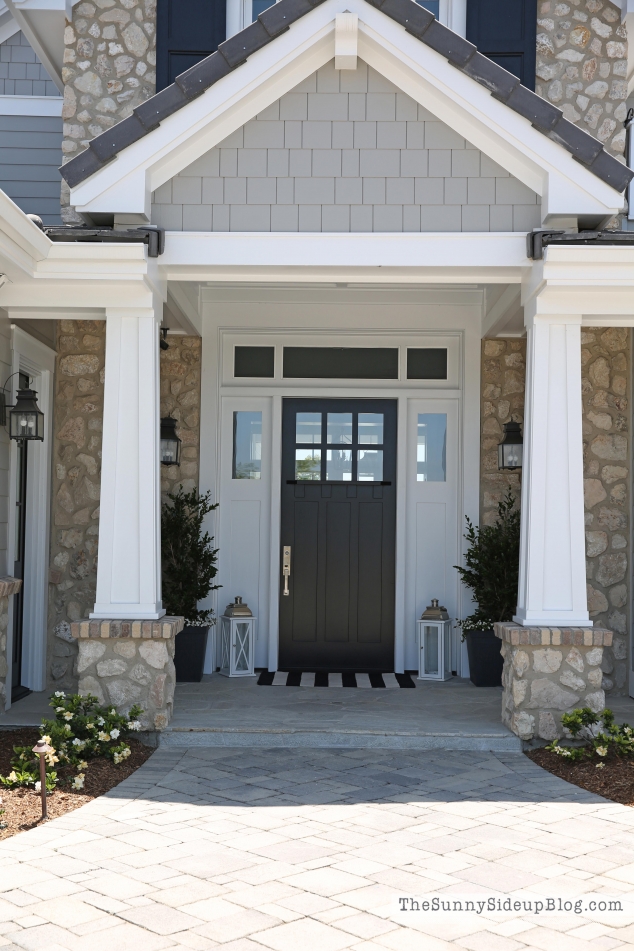 What a week!  May madness is definitely in full force this year.  I feel like I'm paddling my way through it all trying to take it one day at a time.  Such a fun time of year but really!?  Do we need to have all the projects and reports and meetings and parties and ceremonies and activities and performances and showcases and open houses and recitals and gift giving in the same two weeks!?  I guess we do.  It makes sense that the end of the school year is a time to wrap things up.  But all this wrapping up is wearing me out.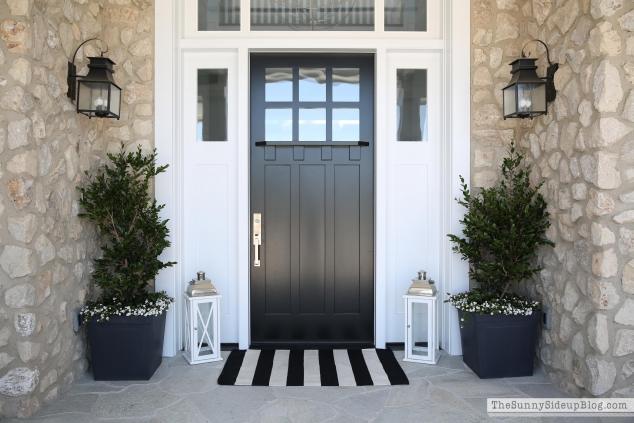 So I took a 20 minute break from it all on Wednesday to add some Spring to my front porch!  And to take pictures of it all.    Because that's what I do when I have too much going on.  I avoid everything and take pictures for the blog.  :)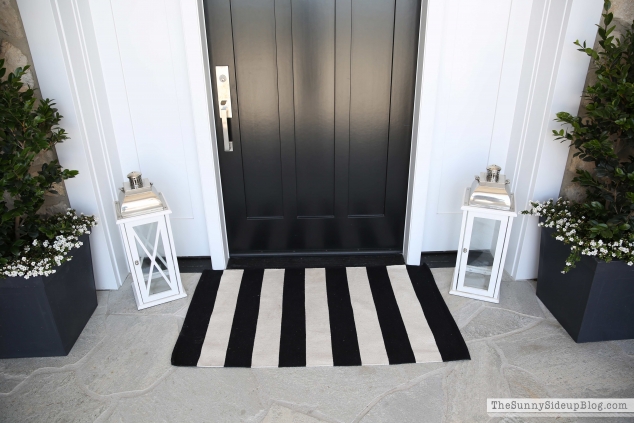 I have been on a hunt for black striped rugs for the front porch for a while now.  They are all over, but I didn't want to spend much knowing they will get trashed quickly.  Everything I found on-line was either more than I wanted to spend or it was an indoor rug.  When I saw these at Home Goods a few weeks ago I was thrilled!  (You can find an identical rug here that I have in my kitchen and upstairs laundry room!)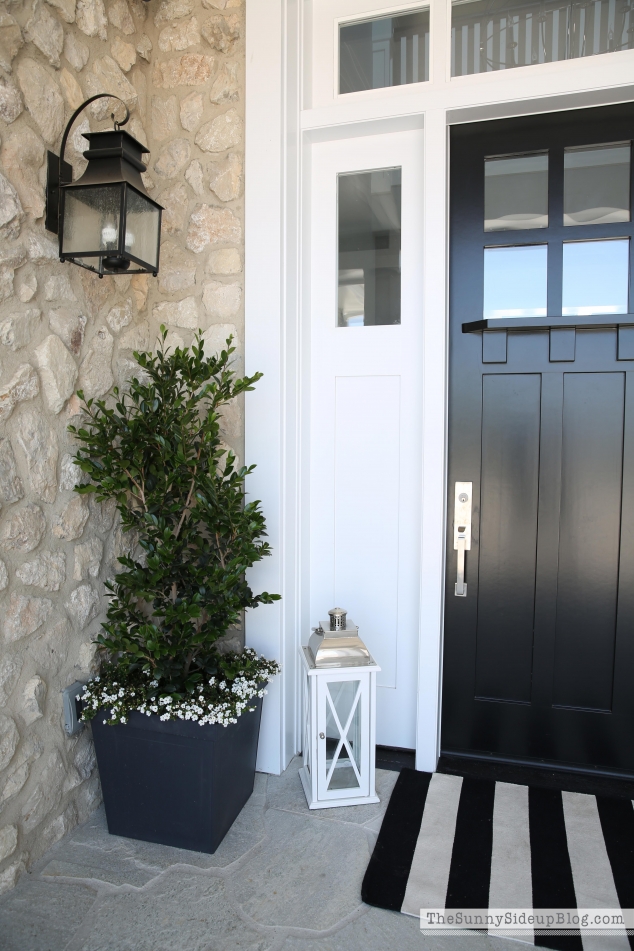 Flowers in my pots!  Another to-do that has been on my list for a while.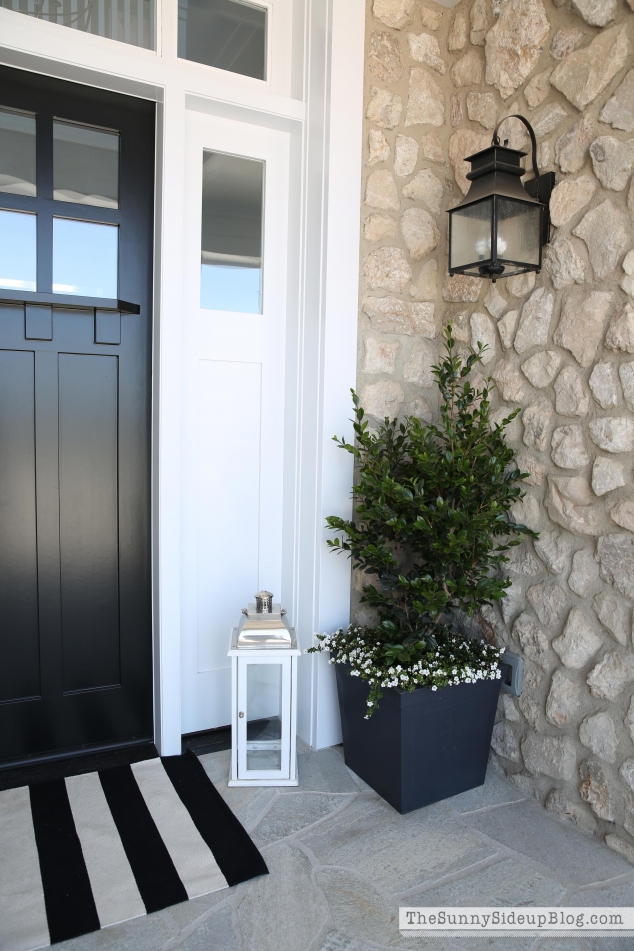 The tall plants (now I'm blanking on what they are called?) aren't blooming yet, but will have beautiful flowers at some point.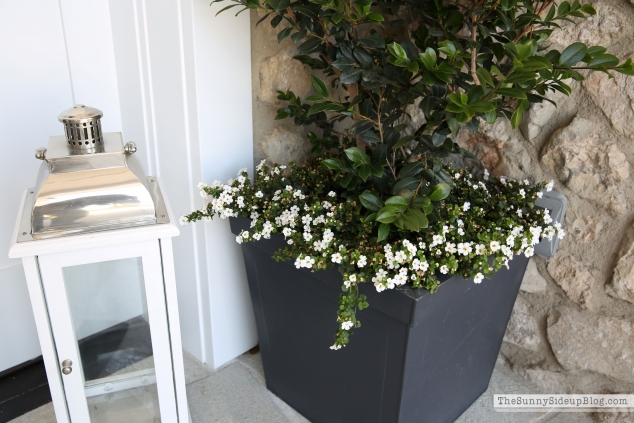 These small white flowers (Bacopa) make me so happy!  I've always loved this flower for Spring.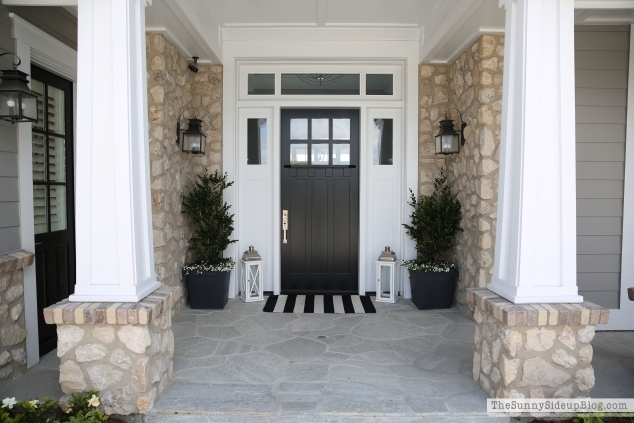 I was going to add a few more pots with flowers or more decor, but after I put this together I decided I liked it as is.  I'm usually a fan of less is more.  Stating the obvious here.  :)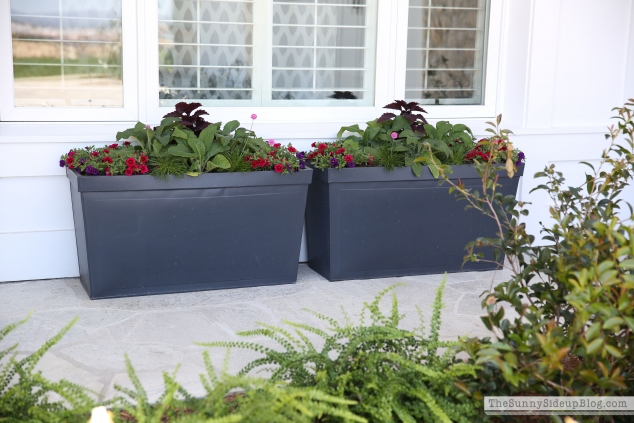 More  fun Zinc planters with flowers on the porches.  I haven't taken pictures of the back porch yet, but used the same pots and flowers.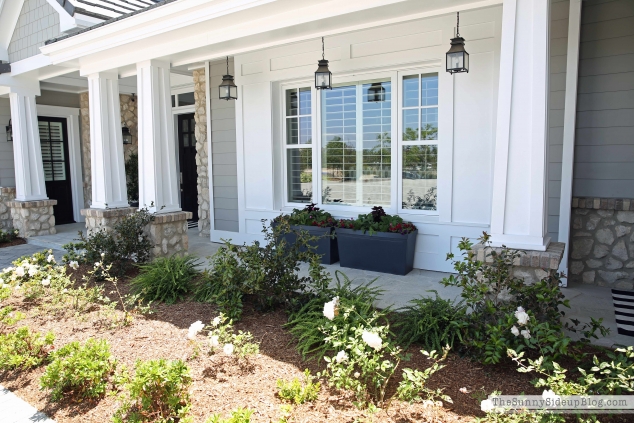 Slowly our plants are growing in the front yard.  Our landscaping is still so new that it's fun every time something starts blooming.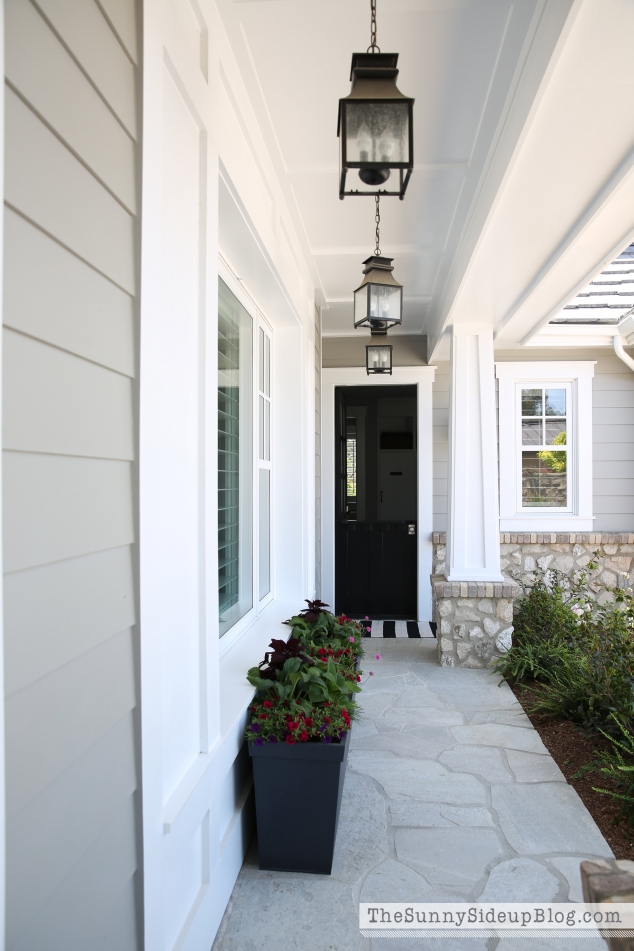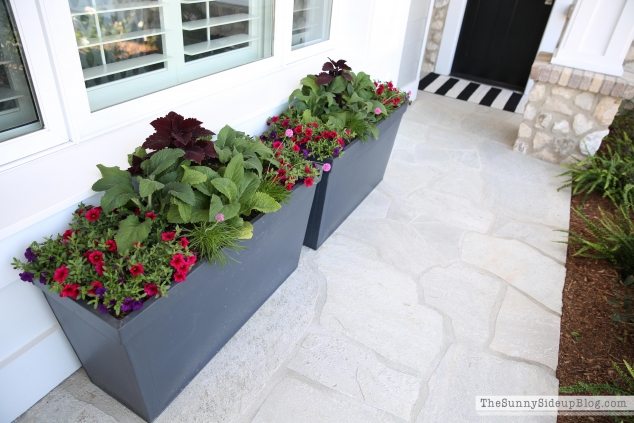 Cross your fingers for me that I can keep these plants alive!  I already over watered the plants in the back yard and made quite a mess on the stone when everything drained.  I'm determined to get it down to a science and overcome my plant killing ways!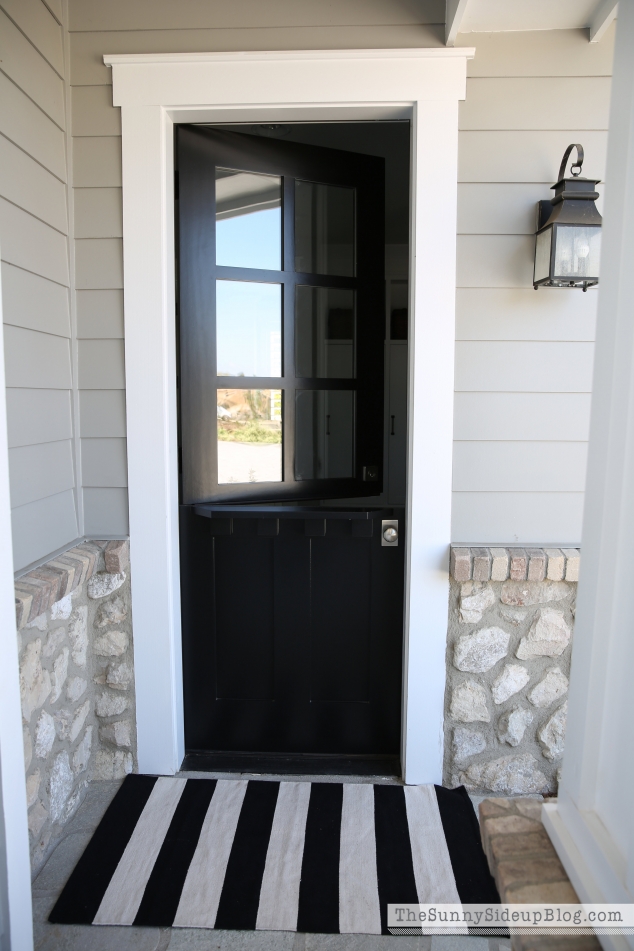 I added another rug in front of the dutch door.  I was going to put a wreath on this door but the kids are in and out of it all day long.  Anything in this zone is bound to be destroyed.  :)


Peek into the mudroom.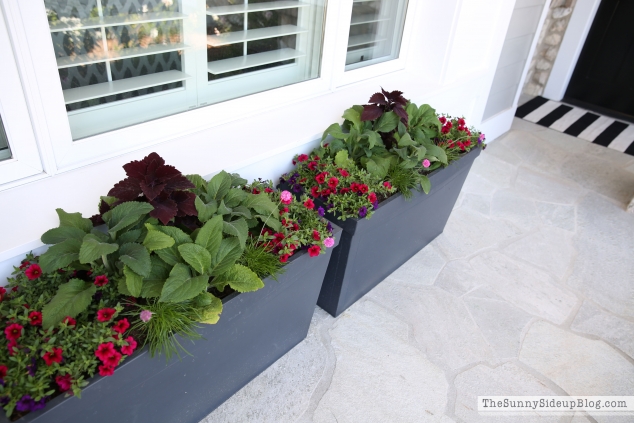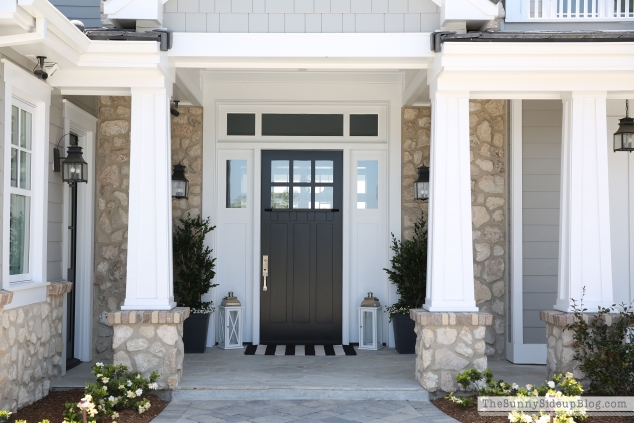 So that's it!  Just a few simple touches make this porch ready for Spring.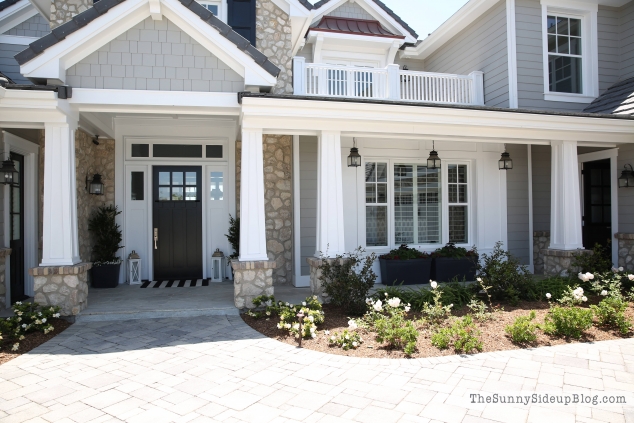 Now back to the end of the school year madness.  Hold on moms!  It has to end at some point!  And if you're overwhelmed, take a page out of my book.  Walk away from it all and take some pictures of your front porch.
A nice break from reality while it lasted.
:)
xoxo, Erin