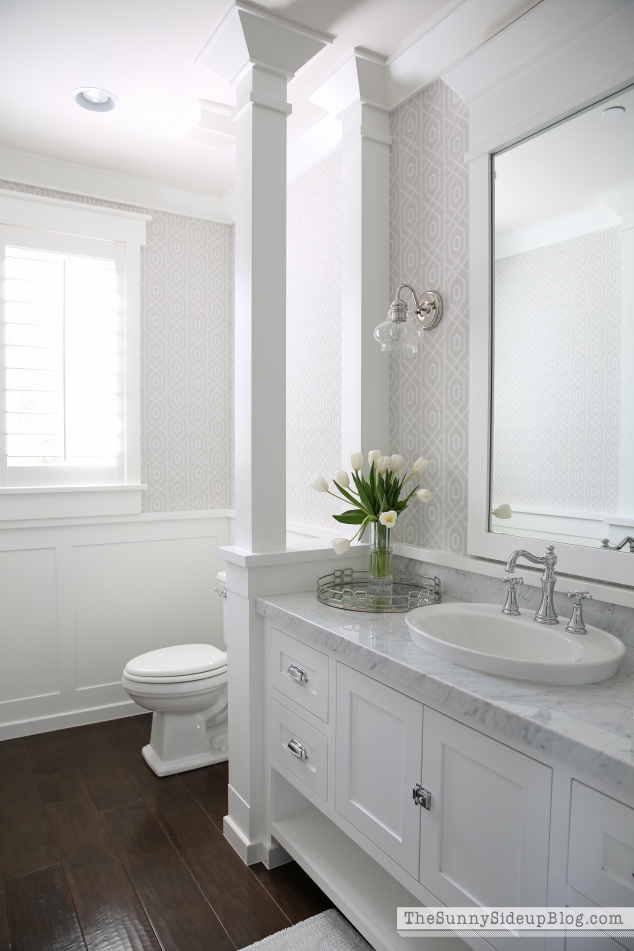 Is everyone enjoying this time of year?  I can't get enough of all of the beautiful trees and flowers and green green grass!  Plus rain is in our forecast tomorrow!  I can't wait.  Rain means two things.  First it's exciting news for us since we are in a drought here in southern Cal.  We need all the rain we can get!  Second, more of my house will get organized.  I LOVE organizing when it rains.  I don't know what it is about cool, cloudy days.  They make me want to tear my cupboards apart and label everything in sight.  So tomorrow I will be busy.  :)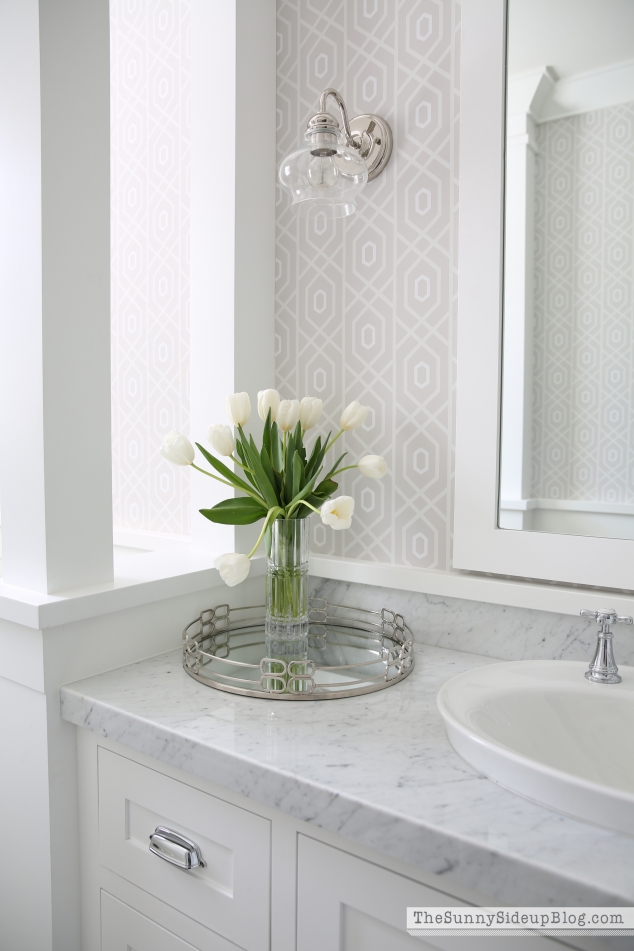 Sharing some pics I took of my powder bathroom a few days ago.  I bought some simple white tulips at the grocery store and they make me smile every time I walk in this room.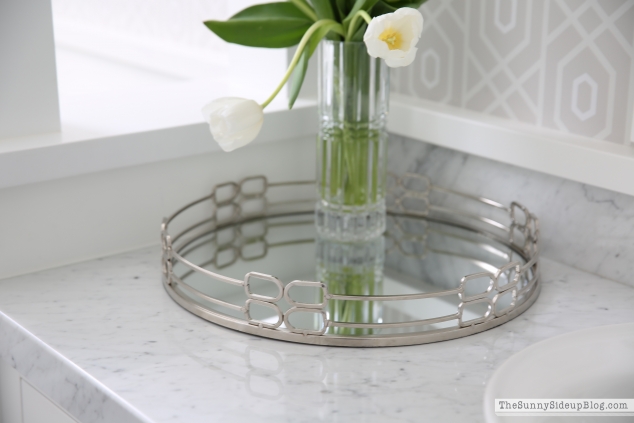 I have been looking for a round, mirrored silver trey for this bathroom since we moved into the house and finally found EXACTLY what I had in mind.  The best part?  I found it at Home Goods for 16 bucks!  Love it when that happens.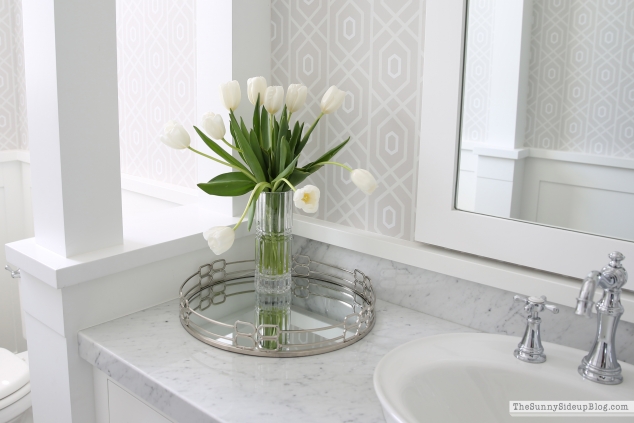 I did a little happy dance in the store.  :)  I had planned to put a few more items on the trey, but the tulips sort of stole the show.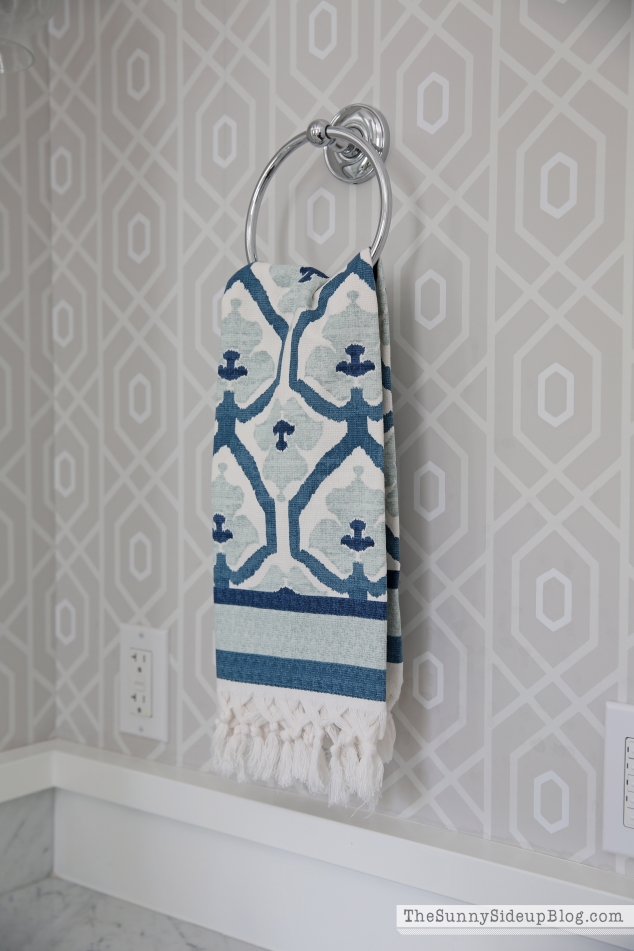 I also found this fun patterned hand towel on-line at Pottery Barn and love having a pop of color in this otherwise neutral room.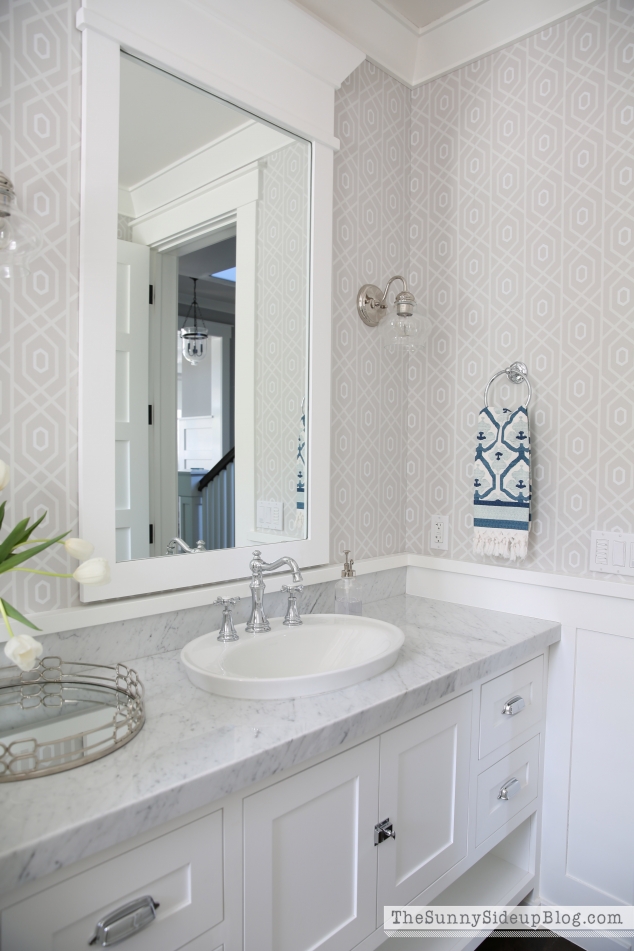 To be honest, I've had a hard time decorating this space.  I'm still head over heals in love with this wallpaper but because of the busy pattern most things I try in this space don't work.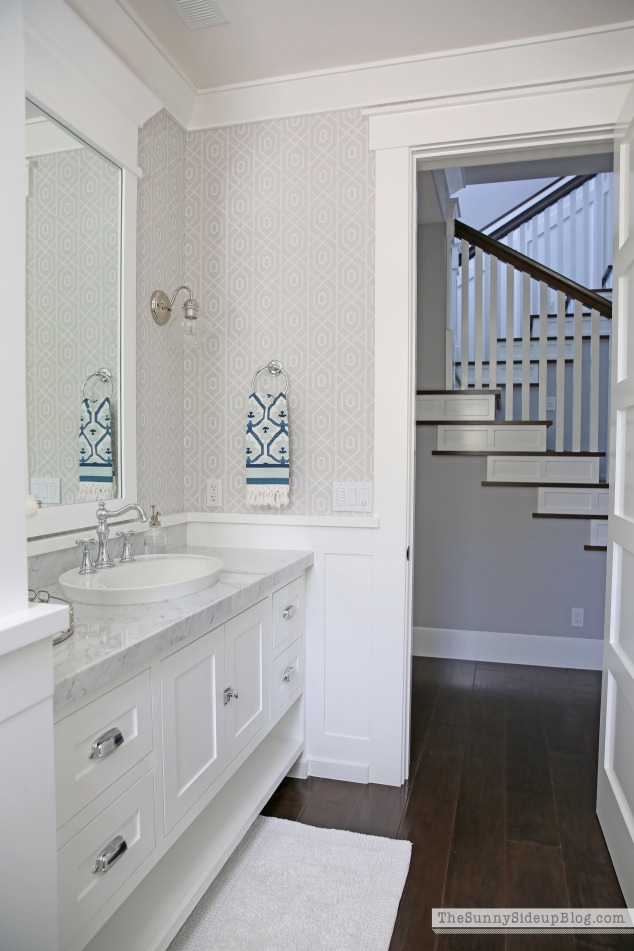 I tried a few patterned colorful rugs and they all ended up going back to the store.  I'm looking for either a simple navy rug or a white rug with a navy border.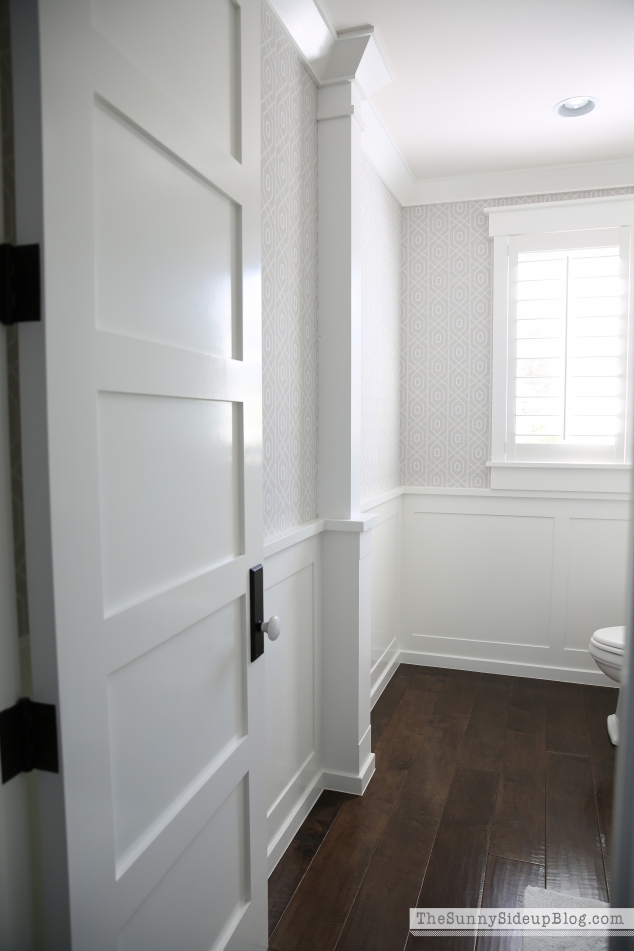 I'd like to hang some pictures on these walls too.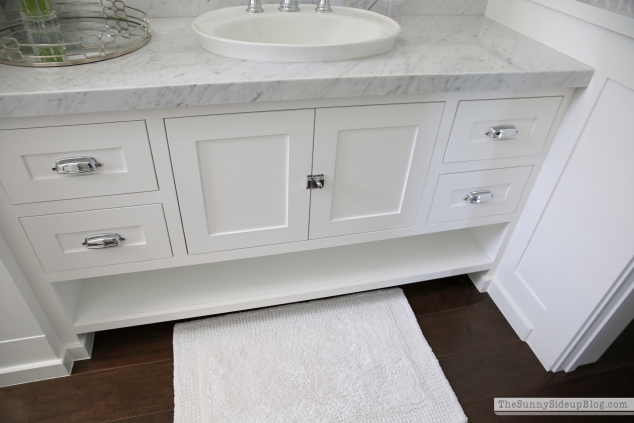 And I still need to decorate this shelf on the bottom.  K this post is quickly becoming a to-do list for me.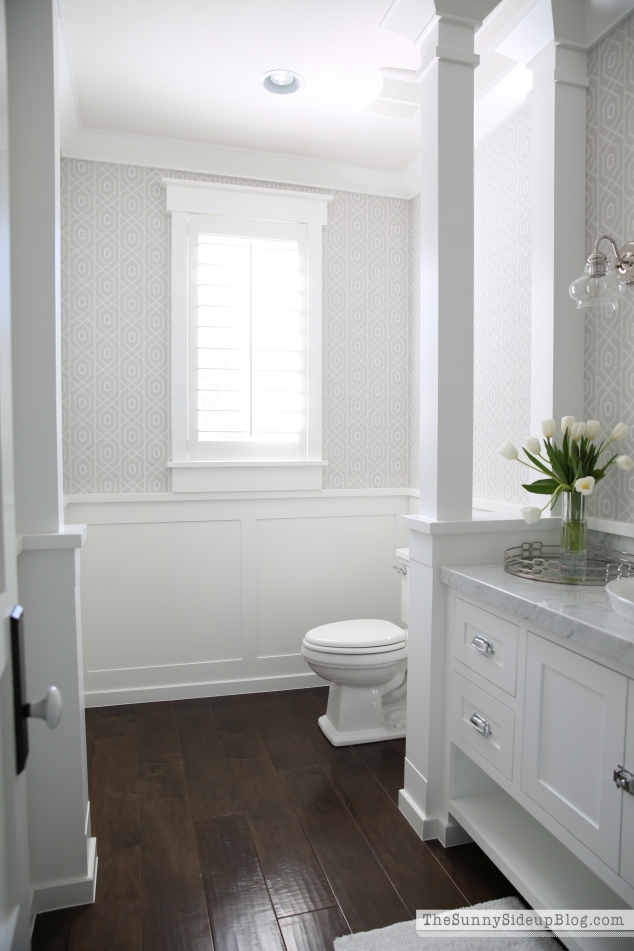 And I have enough to-do lists.  Four different running to-do lists at the moment to be exact.  Ha!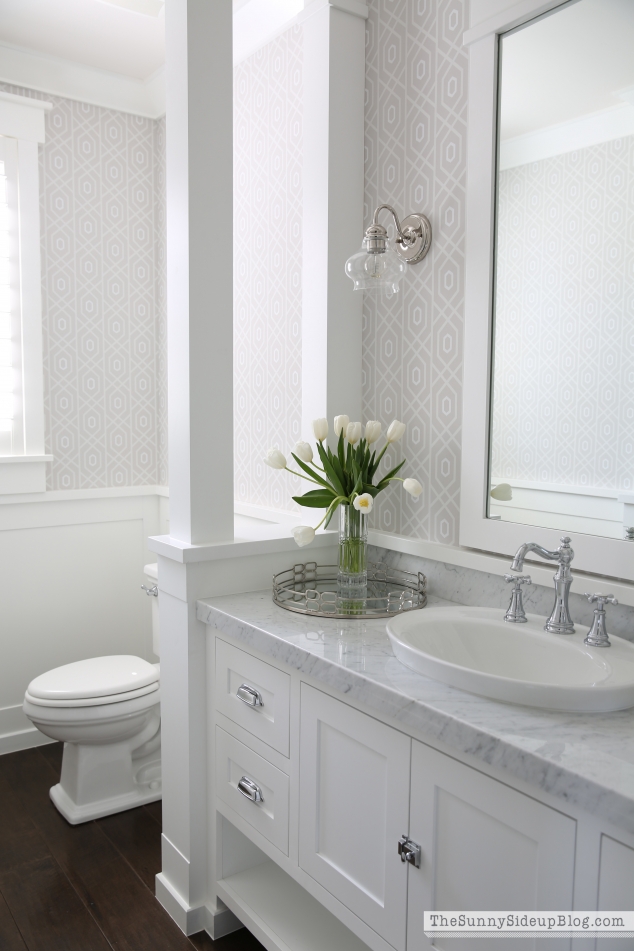 Let's just go back to talking about the pretty tulips, shall we?  And the upcoming rain.  :)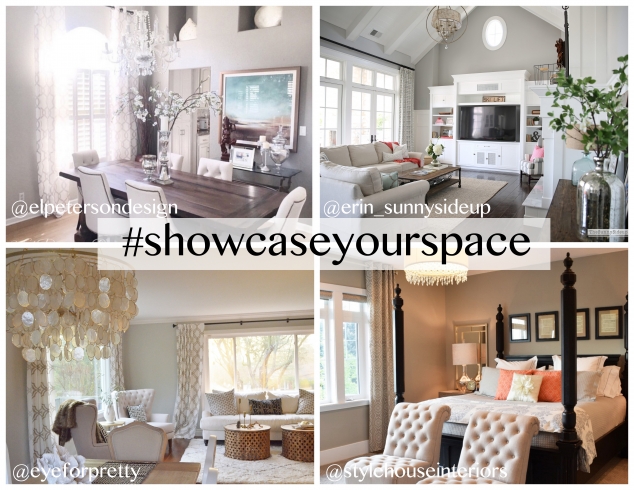 p.s.  I've teamed up with three of my insanely talented Instagram friends and we are hosting a fun decor challenge!  You can find the details on my feed plus tons of decor inspiration under our hashtag #showcaseyourspace.
Enjoy your day everyone!  You all know what I'll be up to.
:)
xoxo, Erin