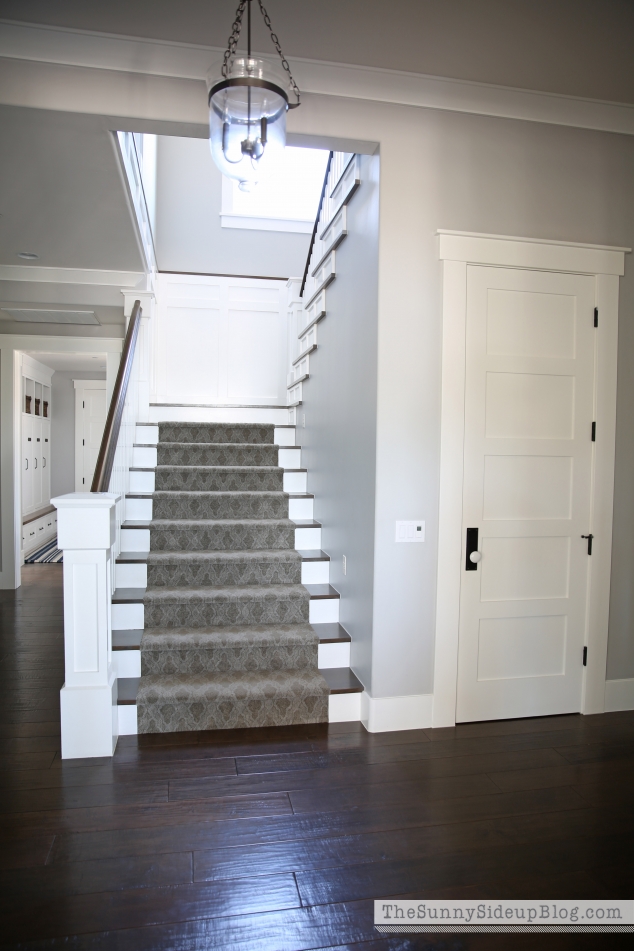 Alright everyone.  Talking organization today!  I'm sharing the magic happening behind the closet under my stairs.

Remember back in January when we made our 12 month organizing plan?  Well.  I made a plan.  Did any of you make a plan?  Are you sticking to it?  I'll admit I got a little behind.  Life happens!  But I'm catching back up.  And I'm ready to share some organized spaces with you!  Just to re-cap, my January goals were to organize my ATTIC, EXTRA ROOM, and PLAYROOM.  Felt so good to get those spaces organized.  February goals were my STAIR CLOSET, LUGGAGE CLOSET, and extra MUDROOM LOCKERS.  March was lengthy with all of my kitchen, April goal was my office and May is my outdoor closet.  (Check my original post to see how I break each room down.)  Right now I'm caught up through March – but I've only shared my January progress with you.  And it's May.  Ha!  But that's ok.  I'm determined to get back on track!


This stair closet has been in disarray since we moved into the house.  It's in such a great location to just stash things I don't have a place for.


So that's what I have been doing since we moved in.  Cleaning supplies, packaging I wasn't quite ready to toss in case of a return, hand bags, camera equipment, you name it.  If it didn't have a place it was going in this closet.  I couldn't even walk in here!  When I designed the house this was meant to be a cleaning closet where I could keep all of my cleaning supplies for easy access, but it certainly wasn't helping me keep the rest of the house clean when the closet itself needed a good cleaning!


So I pulled everything out and found a home for it all – one item at a time.  A lot of it decided to live in the trash.  :)


And here is my after!  Ahhh.  Now when I open this door I can breathe!  The back left corner looks a bit cluttered, but that is where I keep anything I'm either returning or decor items I plan on using but I'm still trying to figure out where.  Because I'm doing so much decorating right now I needed a spot for this stuff to land.  I'm in and out of this closet every day so I'm constantly reminded to find a place for these items or to return them!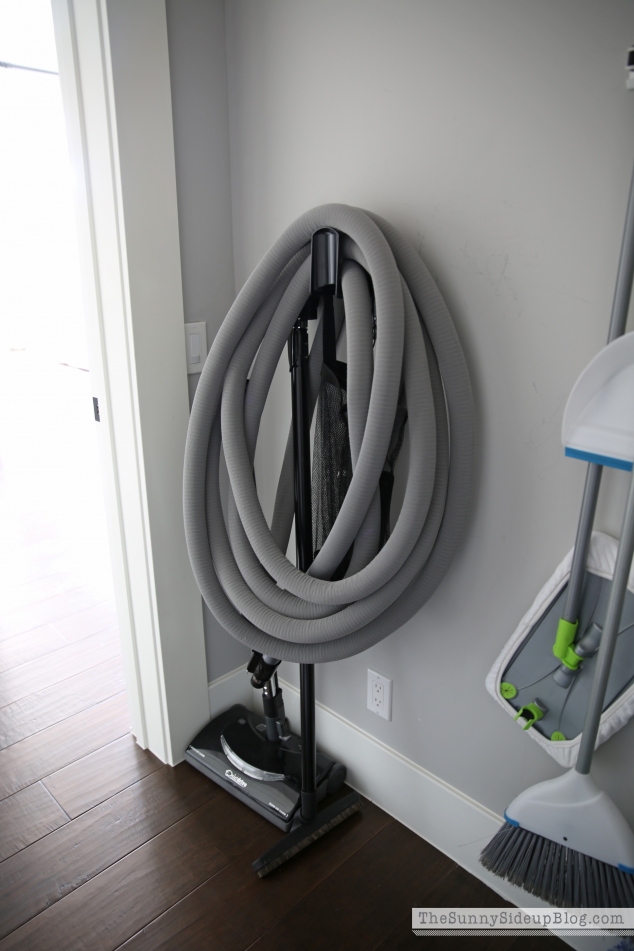 On the far left closet wall I store my Central Vac.  We got a Central Vacuum system for our new house and I have to tell you I LOVE it.  One of the smartest things we did.  I plug in the big grey cord and use the broom like attachment to clean my wood floors.  So much easier than sweeping!   I didn't photograph this very well, but there is a black sack hanging with the cord that holds all of the vacuum attachments.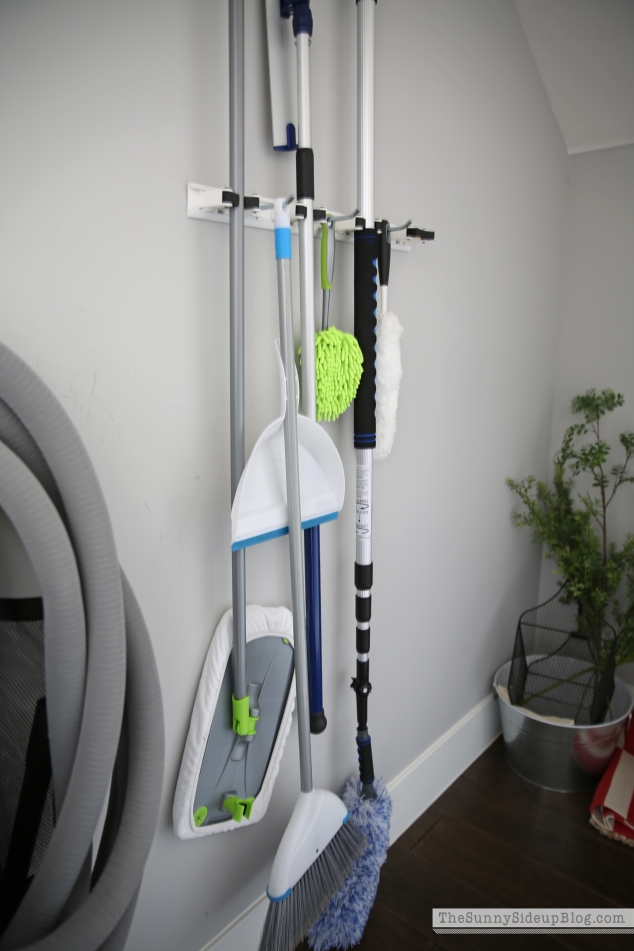 I needed a place to hang my dusters, mops and brooms so they weren't all over the floor.  I bought this track at the Container Store to mount to my wall, but since then I've found even more great options on Amazon.  I love wall organizers!  Everything is in one place, easy to access and off the floor!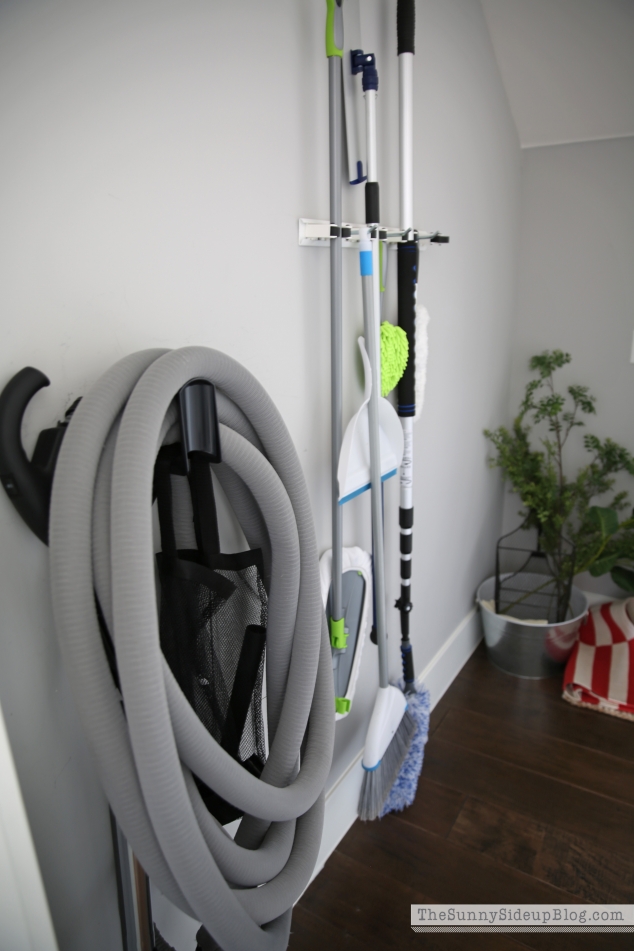 Just storing these cleaning items on the wall opened up so much space.


I wanted a good central location for our coin counter (love this thing – it's where we drop all of our loose change) so I had my carpenter add a little shelf for it in this closet.  Easy to use, but tucked out of the way.


I designed this little cleaning cupboard when we were building to hold supplies and I'm thinking I might add another shelf to it at some point.  I love having my most used cleaning products all together in one spot.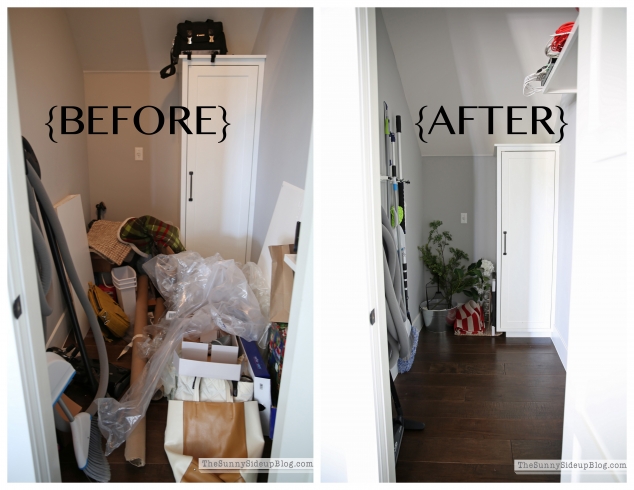 One more quick before and after!  This little project didn't take long at all but what a difference it has made!  Now that this space is always clean I can also use it for temporary storage for larger items if needed.  The plug outlet on the left was added in case we ever want/need an extra fridge.  Maybe for when our kids are teenagers and eat everything in sight.  :)  But thankfully no extra fridge is needed right now and I'm thrilled with my cleaning closet!


Nothing like a newly organized space to put me in a good mood!  If you've fallen behind on your organizing goals (like I did!) or want to set some new goals it's not too late!  There's never a better time to just jump in and get it done.  We can baby step our way to an organized home this year together.
And wouldn't that be lovely.
:)
xoxo, Erin