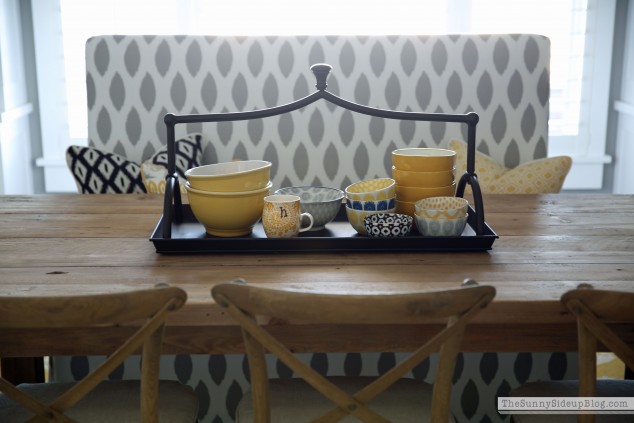 Happy Monday everyone!  Good weekend?  I hope so.  I have to share my fun new find with you all!  I was at Down East Home in Utah last time I was visiting my family and landed on this fabulous black tray.  There was only one in the store and it was kind of hidden in the back.  I went to pick it up and the handle came apart on the left side.  I showed it to the store manager and asked if he had another one that wasn't broken (knowing the answer would be no) and he said no but I could have this one for 40% off.  Score!  That's totally the response I was hoping for.  :)  Easy fix to glue the handle on and I LOVE it on my farmhouse table.  I needed something big and this fit the bill perfectly!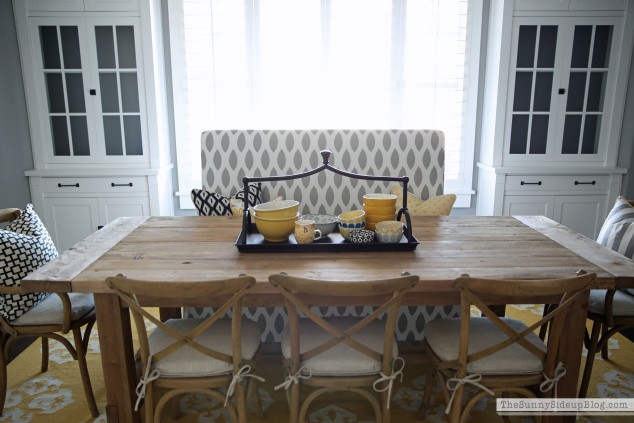 I'm still debating what to put on it but for now it's holding some of my decorative bowls.  I collect bowls and sort of have them all over my house.  Am I the only decorative bowl hoarder out there?  I mostly use them to organize things.  And to look pretty.  And to organize more things.  :)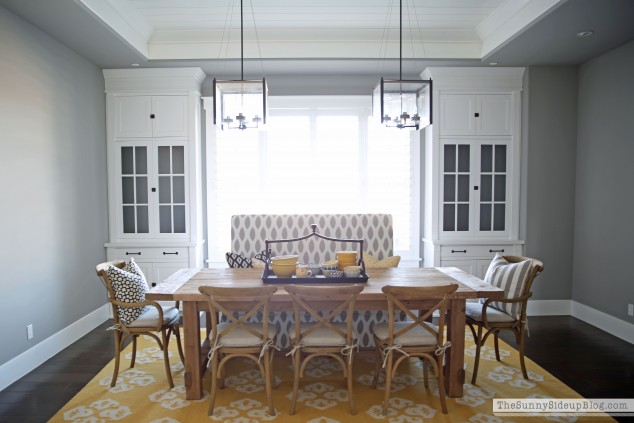 This room still has a ways to go.  I want to do something fun to the wall on the left, add a buffet table on the right, and I still need to organize/display some of my dishes in the glass cabinets.  But there are other spaces that I'm working on right now so that will just have to wait!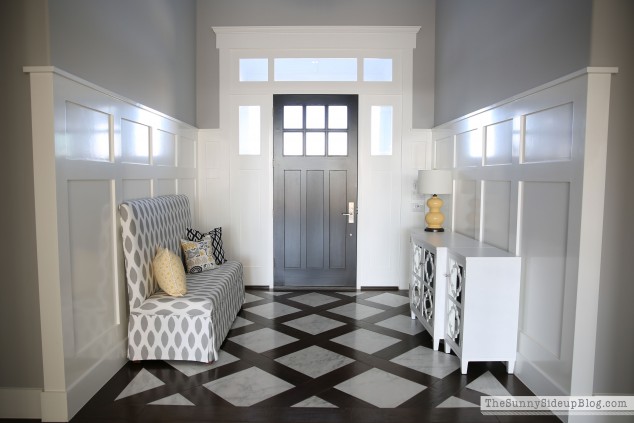 I've been trying to figure out what to do with my entry.  After I bought the console table I thought a bench might be fun on the other side so I moved our dining room bench in just to see how it looked.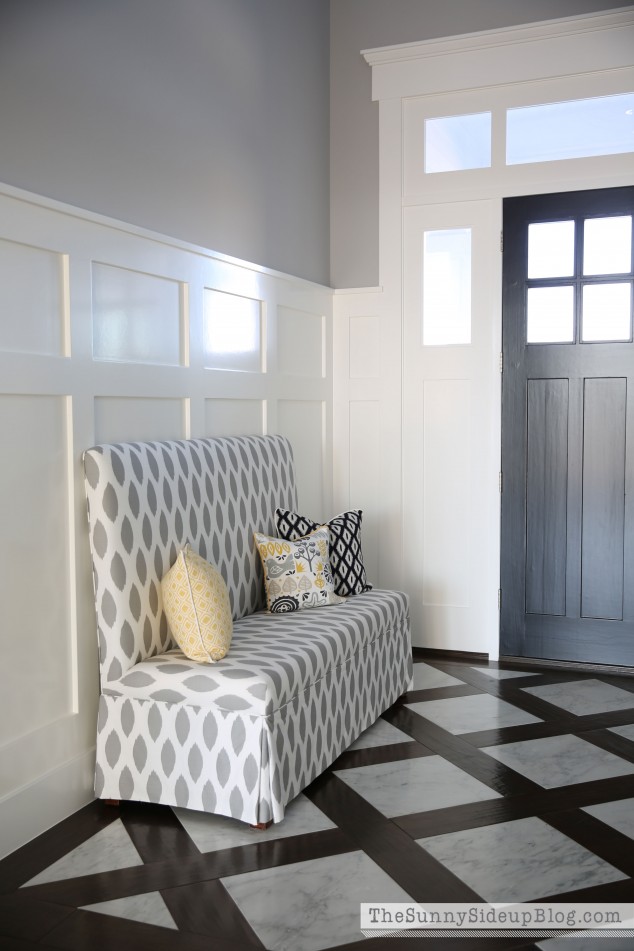 Not exactly what I envisioned in this space, but it was nice to see if a bench with a similar shape would be a good fit.  In some ways I like the way it looks, but what I don't like is that there is so much pattern going on.  Pattern in the floor, pattern in the bench and pillows, pattern in the table.  A little busy for my taste.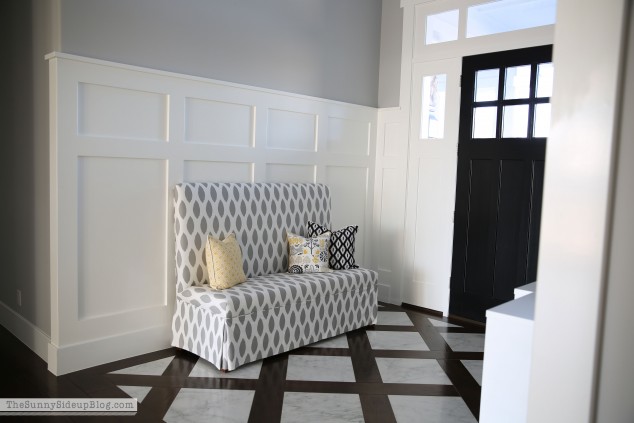 So this little switch around was a good thing!  It made me realize I love a bench here (the kids sat on it all week when they came in the front door to take off shoes) but I need something longer and without a pattern.  Something simple.  Maybe a bit more rustic?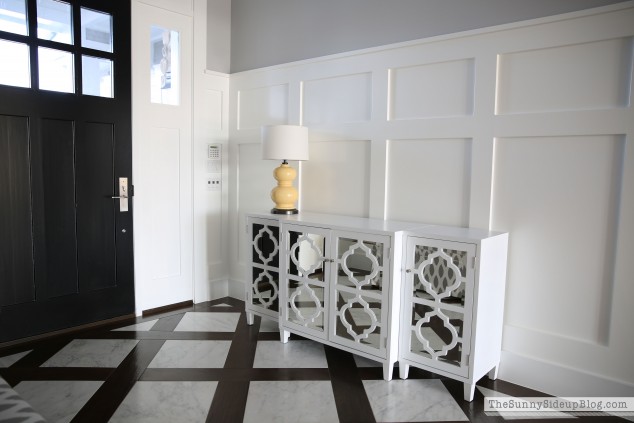 The yellow lamp is going somewhere else.  I think I also decided I don't want to bring yellow into this space.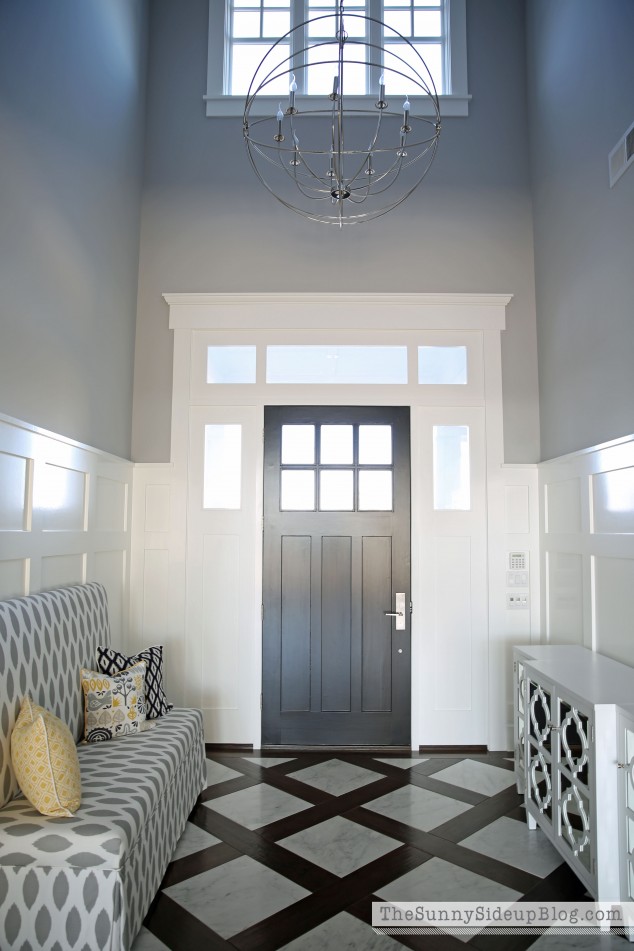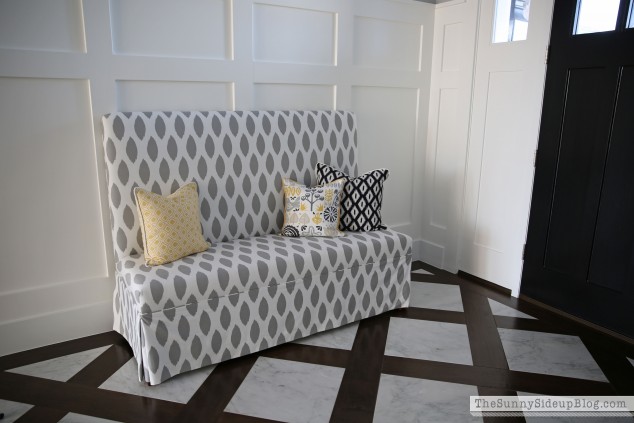 Would love to hear your opinion!  Do you like this bench in the entry?  Or do you agree I need something without a pattern?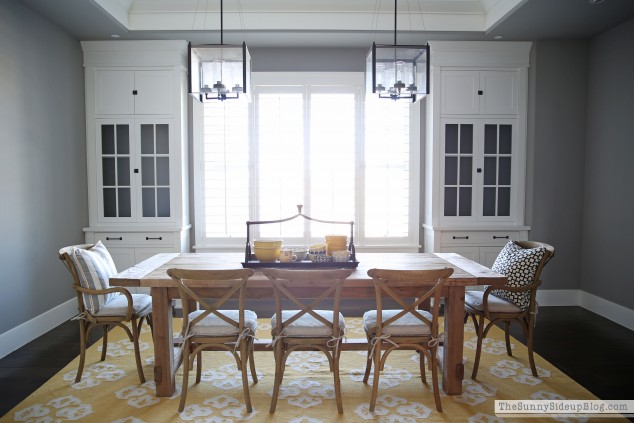 And the bench should go back in the dining room?  Because right now my dining room feels a little lonely without the bench.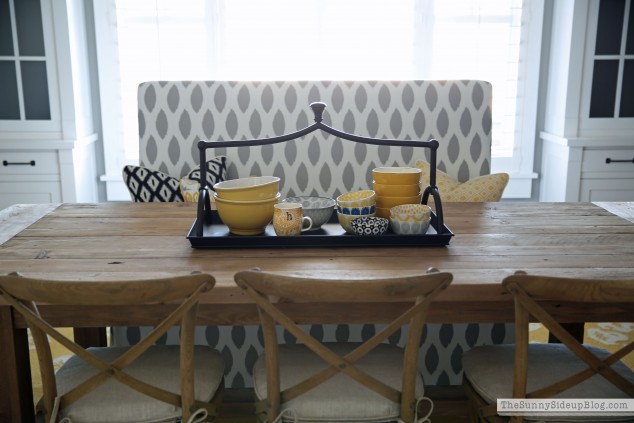 Benches and bowls.  Sorry to slam you with such deep topics on a Monday.  
:)
xoxo, Erin