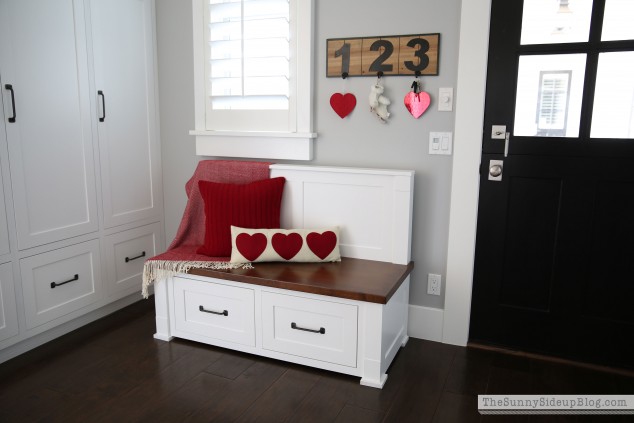 Happy February everyone!  This month always creeps up quickly doesn't it!?  I decided to add a bit of Valentine fun to our mudroom this year.  I actually decked the mudroom for Christmas and just made a couple of quick/easy changes.  Nice that both holidays are all about RED.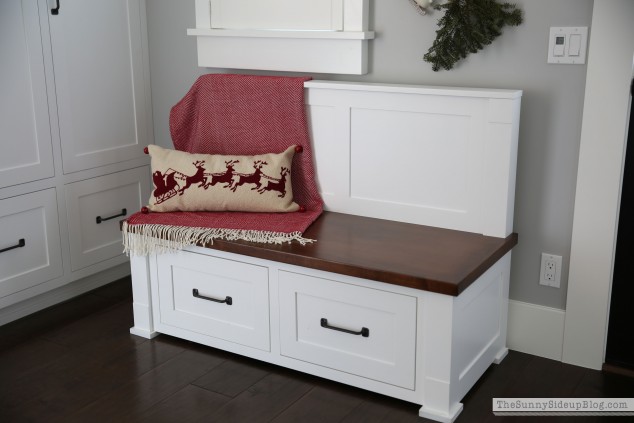 December was so busy that I never got around to posting the pictures I took of our mudroom decorated for Christmas so you get two holiday decor posts for the price of one today.  :)  A red throw and my favorite Santa sleigh pillow cozied up the mudroom bench.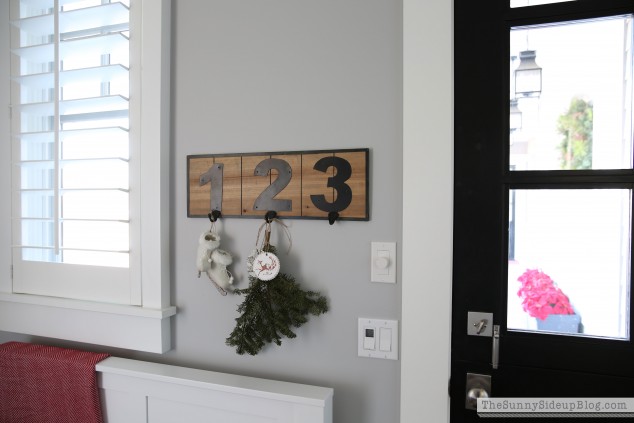 Then I added a fun ice skate ornament and some greenery to our key holder.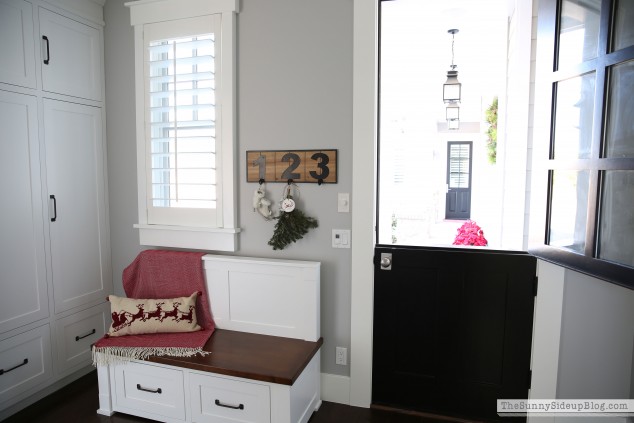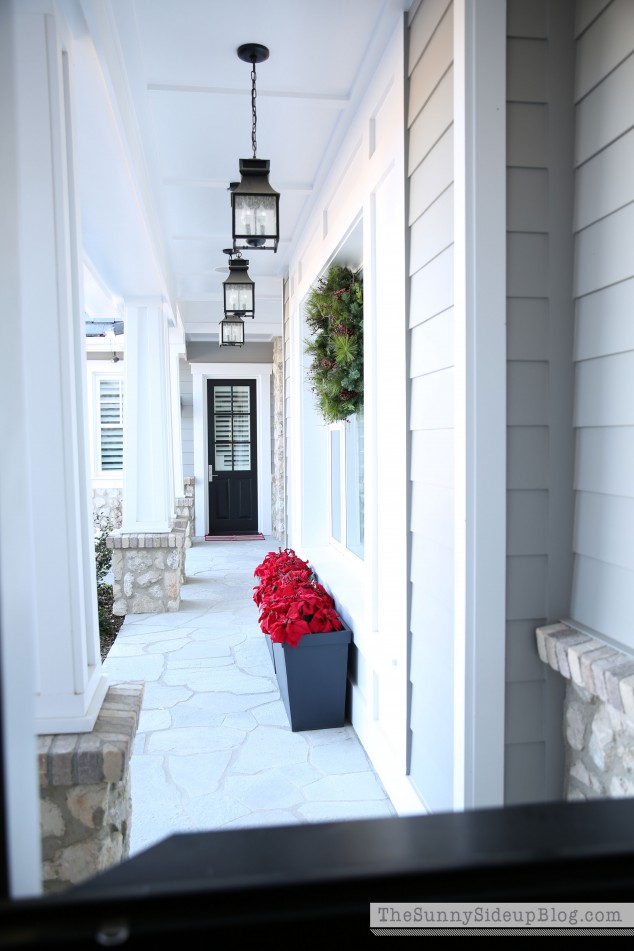 Quick side note:  After I shared my Christmas front porch I received a lot of e-mails asking where we purchased our outdoor lights.  It's a question that pops up often and I couldn't remember where I bought them for the longest time!  But then I remembered.  And then I found them on Amazon for even less!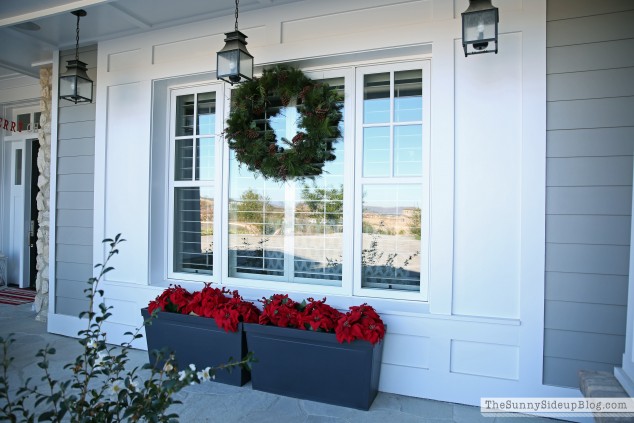 On our front porch we have three hanging lanterns.  They are from Trans Globe but you can find them on Amazon here.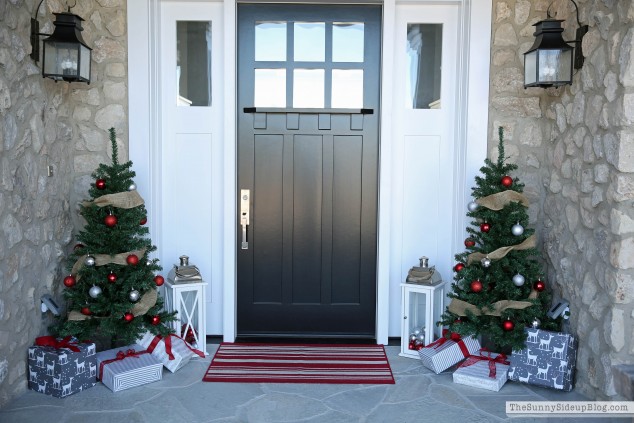 The rest of the lanterns on our house are large lanterns like these two on our front porch and you can find them here.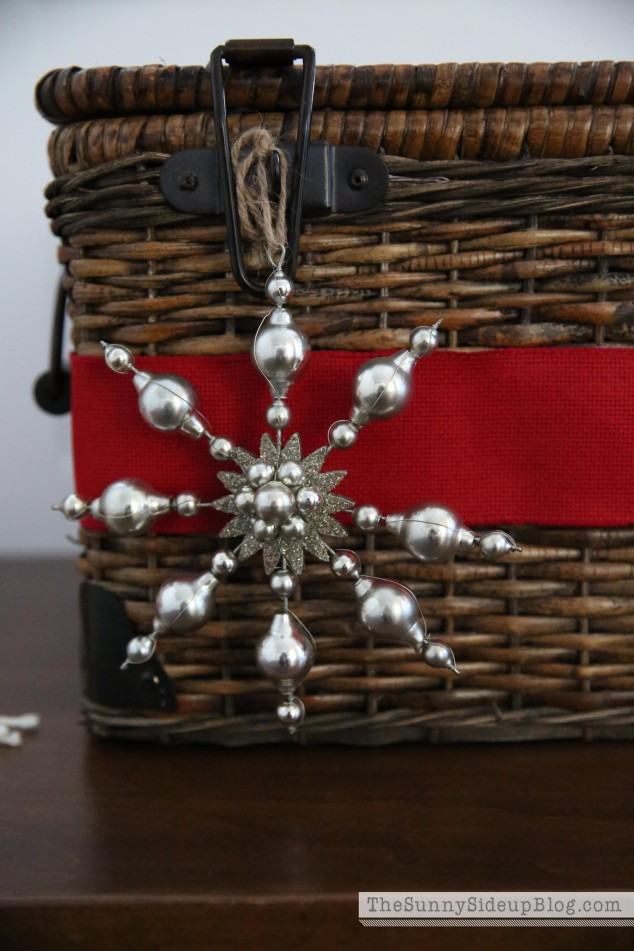 K – back to my mudroom decor!  I found these vintage snowflake ornaments and fell in love with them!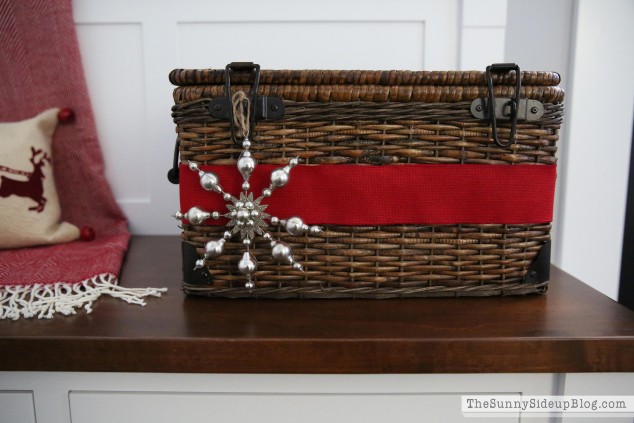 So I wrapped some thick red ribbon around my mudroom baskets and hung the snowflakes from the basket latches.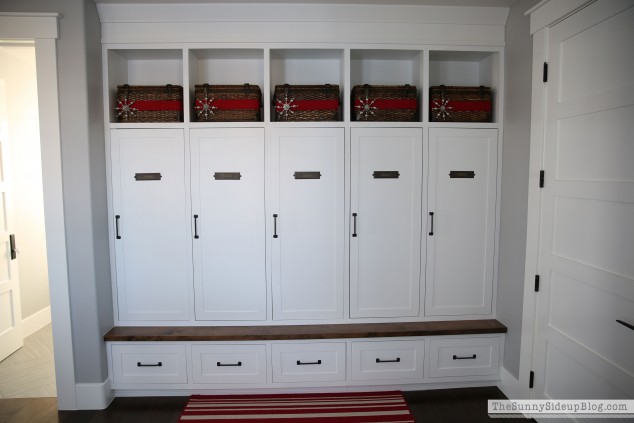 It looked so festive!  I call it "winter" decor.  That way it can stay up through February.  :)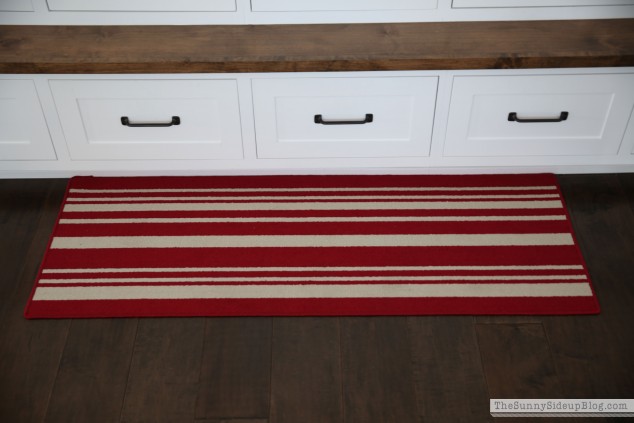 This red striped rug was a Target find (same as the rugs I used on my Christmas front porch).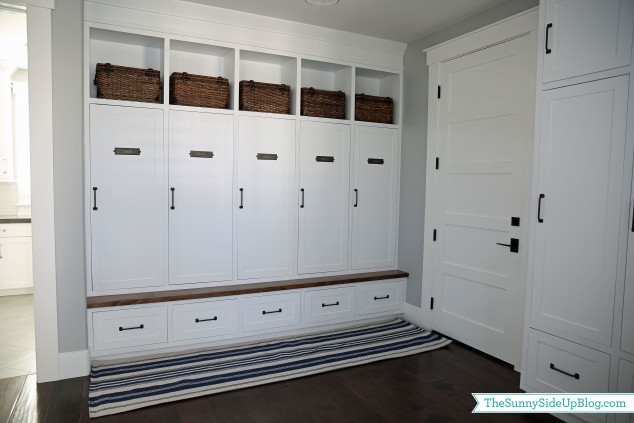 We used to have this blue nautical runner in the mudroom and I loved that it fit perfectly below the lockers and drawers.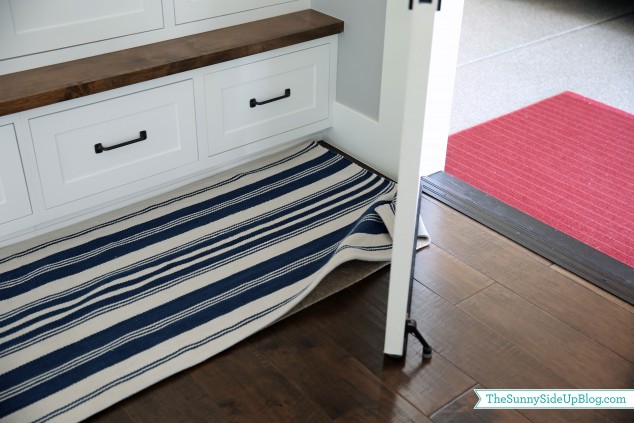 But it drove me CRAZY because it was always catching on our garage door.  We are in and out of this door all day long so that got old pretty quick!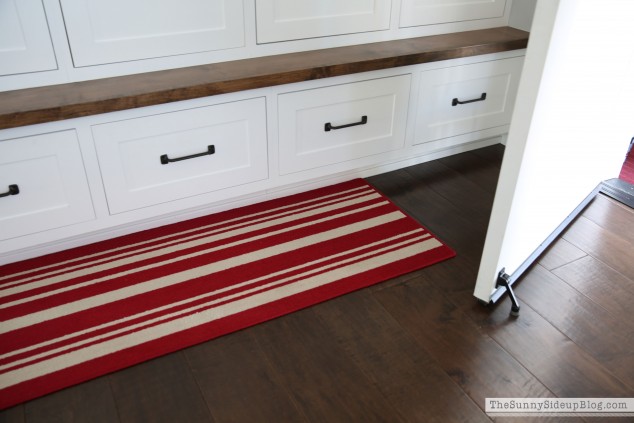 This red rug isn't as long as I'd like, but sometimes practicality wins.  This was one of those times.  :)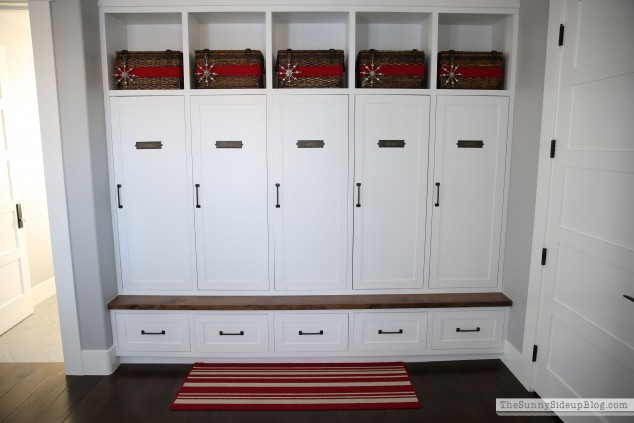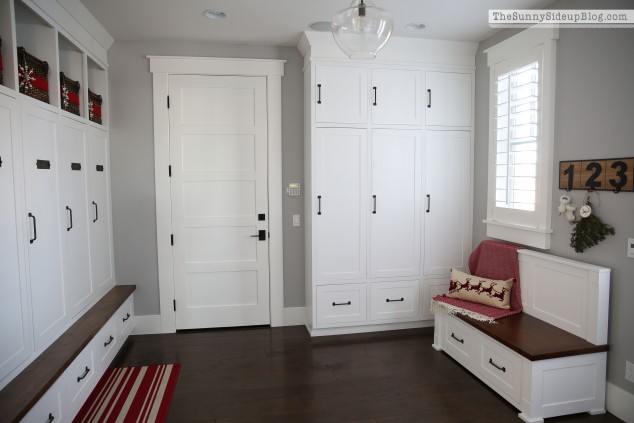 So that was the mudroom decor for Christmas!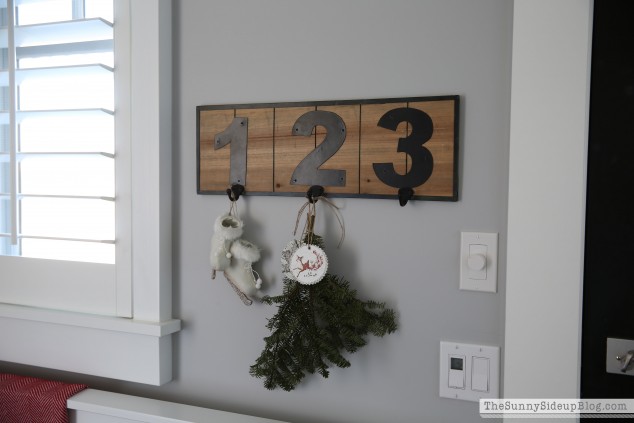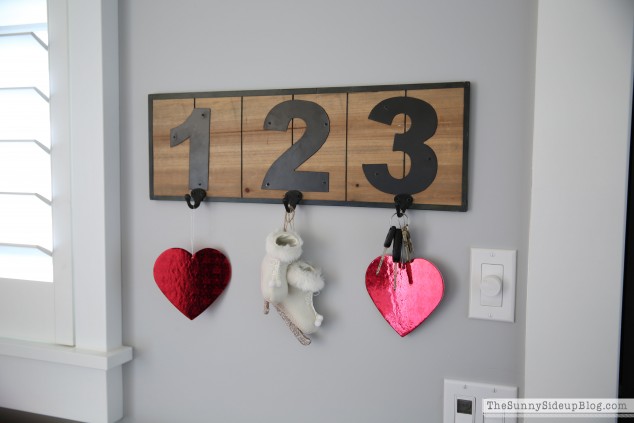 A couple of simple changes to the key holder.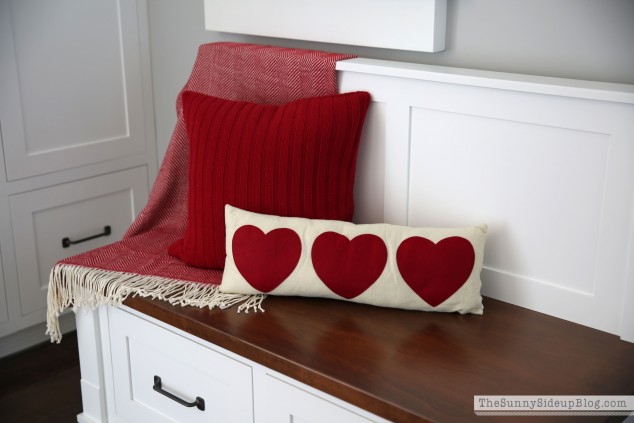 Different pillows on the bench…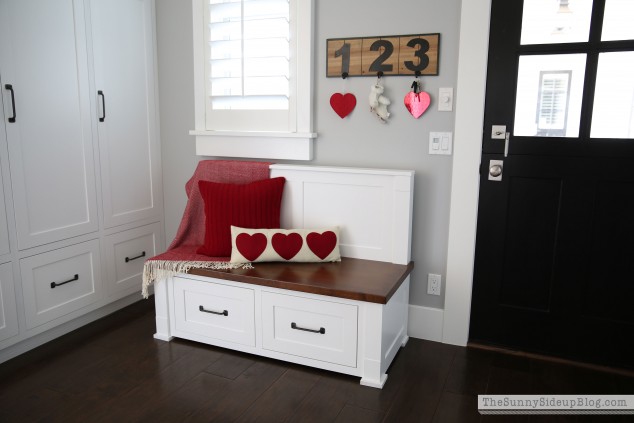 And the mudroom is now decked for Valentines!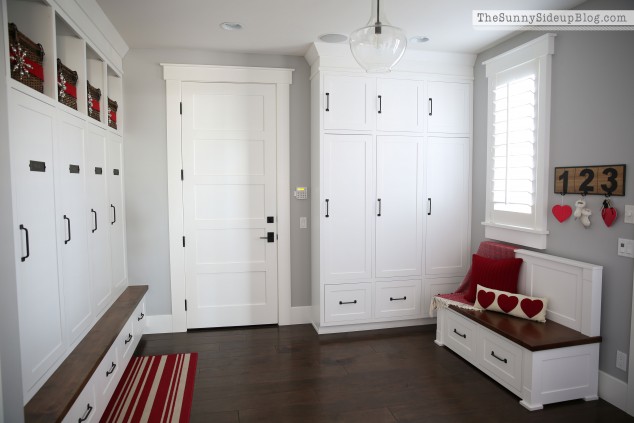 Bring on the chocolate.
:)
(Mudroom details here and here)
xoxo, Erin