Hello everyone! I'm back. Fell off the social media planet for a bit.  We have had quite a month!  I know most of you come here for organizing/home decor, etc. so I'm giving you a pre warning that today's ramblings are more of a personal/family post.  I need this recorded in my blog books!  I don't have time to keep up two separate blogs, so until I do, you all know that once in a while the family stuff gets sprinkled in-between.  :)  Plus this is pretty much all we've been doing for the past three months and it has just been too much fun not to share!  Two more pre warnings: #1 – this will be a long post (a lot I want recorded!) and #2 – I'm going to be shamelessly bragging about my girls.  I know – so annoying that I'm about to be one of THOSE moms.  But I can't help it.  I'm just so proud of them I could burst.  :)  Regular organizing and decorating posts are right around the corner!
In October my girls decided to try out for their first play.  They have done a theatre camp the past two summers with CYC (California Youth Conservatory) just for fun and LOVED it.  My girls have always loved singing and dancing and can be quite hams when they want to be so it didn't surprise me they loved theatre camp.  CYC is known around here for their high quality children's theatre so when one of the camp directors reached out to us and told us they were putting on the show Annie and thought the girls had a chance at principal orphan parts, we decided to give it a shot.  The girls each practiced a song and a short monologue for their scheduled tryouts.  They both did great and made the first cuts!  Then a week later, we met on a Saturday afternoon with everyone else who made the first cut for the second round of tryouts.  I wasn't sure what to expect and about died when I walked into the auditorium where they were holding the tryouts.  SO many kids!  There were only six girls (orphans) that would actually get speaking and solo singing parts.  I got really nervous.  Thoughts were racing through my head.  This will be hard when they don't make it.  Even harder, what if one of them makes it and the other one doesn't!?
They took the kids into a room (parents all waited outside the doors) and had them one by one sing a part of Hard Knock Life.  I started talking to parents and quickly realized most of these kids had been acting in plays for years.  Then the first child went and I could tell through the door she sounded really good.  My hands got sweaty and I sent Kenny a text that said "K – now I'm nervous.. afraid we are a bit out of our league here."  What seemed like forever later the kids finished singing and reading lines and came out of the room.  I was all set with my speech for the girls "SO proud of you two!  No matter what happens it's just so great that you tried!"  But before I started with my "be prepared for a let down" speech Ellie said "Mom!  Guess what!?  Addison went first! "  I said, "wait a minute… THAT was ADDISON!?  The first person who sang was Addison!?"  "Yeah mom!  She was nervous and wanted to get it over with so when they asked who wanted to go first she shot up her hand!"  Then the girls both started talking about this and that but I didn't hear anything else.  The first person was Addison!?  She sounded so good!  Ellie felt good about her tryout too.  Maybe there was a chance after all…
We waited for a couple of days until they posted the results on-line.  I swear we were checking every 20 minutes!  We all screamed and leapt for joy when we read that the part of Tessie (the orphan who always says "oh my goodness oh my goodness!") would be played by Ellie and the part of Molly (the littlest orphan) would be played by Addison.  Talk about a happy day in our house!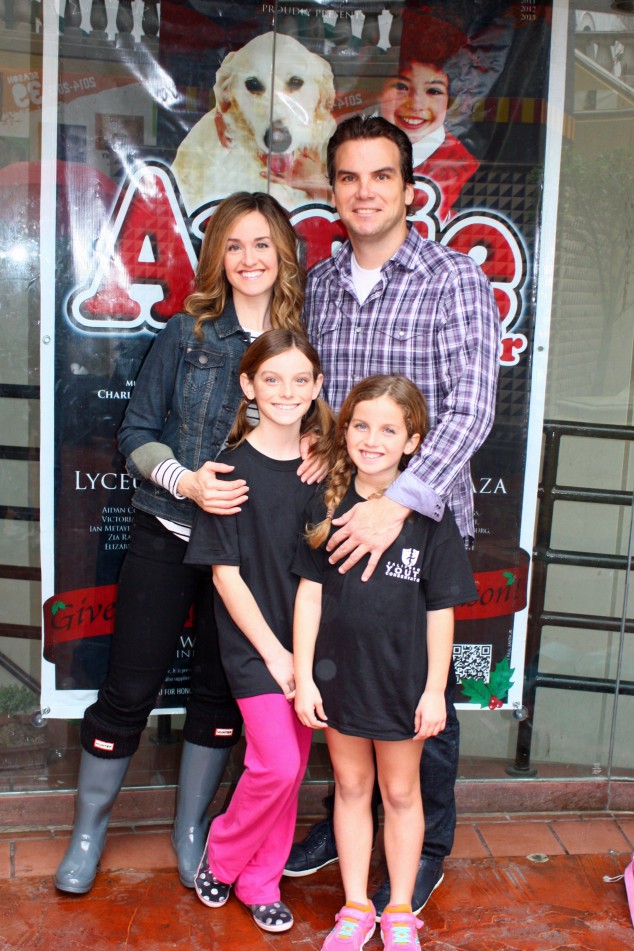 Practices started right away and were intense – all over San Diego – three times a week for several hours and every Saturday for 5 hours (I had to adjust our schedule and switch all the girls' regular dance/gymnastics classes to different nights). We canceled our Thanksgiving travel plans and shortened our Christmas travel plans and pretty much did nothing but play practice all through November and December.   It was a lot.  I hate to be over scheduled and we were definitely over scheduled!  But I knew it was short term and would be worth it.  Then right after Christmas break was tech week.  Downtown at the theatre every day from right after school until 10 or 11 for rehearsals.  Parents had to be there a lot of the time helping with the set, costumes, raffle baskets, advertising, etc.  That was a rough week and I started to wonder if it really would be worth it.  I kept the girls home from school one morning at the end of tech week just so they could take a shower!  I told them they were taking this orphan thing to a whole new level.  :)  We were all exhausted at this point, but the girls were having a blast and loving every minute of it.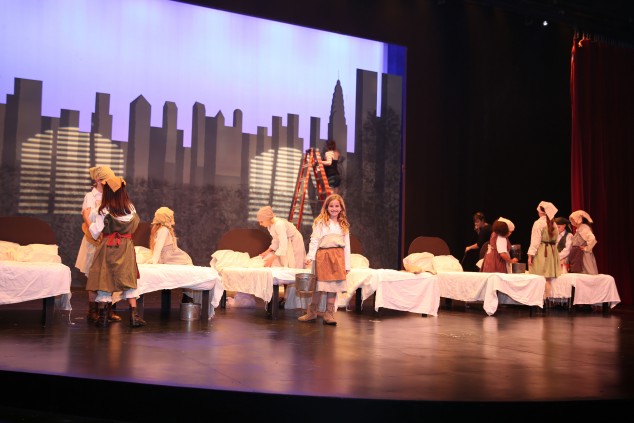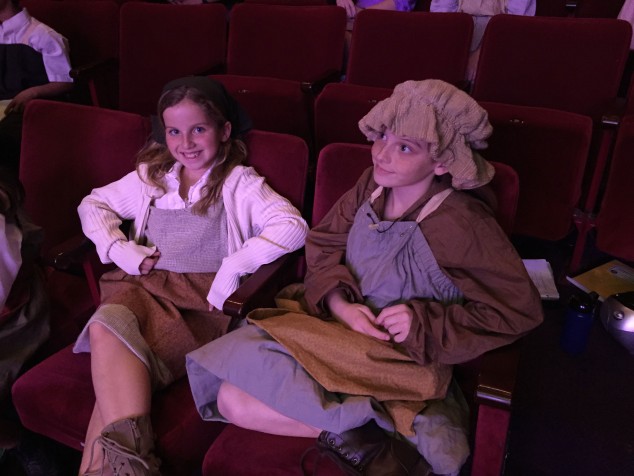 Then the performances started!  Kenny and I had seen small bits and pieces of what the girls were doing from practice, but not much.  We sat down to the first show not really knowing what to expect.  The play started with Addison (Molly) crying for her mom.  Annie comforts her and they talk and Annie sings.  Miss Hannigan comes in and then the orphans started singing and dancing to "Hard Knock Life."
I talk often on my blog about "mom moments."  Those times during motherhood that are so overwhelming they take your breath away and you know it's a moment you'll never forget.  Those moments that make everything hard about being a mom worth it.  The first time I saw the girls perform "Hard Knock Life" was one of those moments.  The music started and there were my girls – front and center – doing amazing!  Addison was singing solos and imitating Miss Hannigan making the crowd laugh.. Ellie was doing gymnastic tricks across the stage.  It honestly was unreal for me to see and I am tearing up right now just thinking about it!  During the whole song I just kept thinking those are my girls.  Just look at my girls!  Kenny and I were holding hands so tight.  When the song ended everyone clapped and the girls walked off stage.  Kenny and I looked at each other and we both had tears streaming down our faces.  It was a moment I'll never forget.  You all know I'm a cryer.  It takes nothing to make me cry.  A sappy commercial, a sweet moment between my kids, a kind email from one of you – I tear up at the drop of a hat daily.  But not my husband.  I think I've seen him cry just a handful of times.  When each of our kids were born, during my health scare, and maybe at the end of Armageddon when Bruce Willis saves the world.  (Wish I were kidding about that last one.)  :)  So to see a steady stream of tears down his face too made the moment that much sweeter.  No doubts now.  The long practices and hectic schedule and extra parent commitments were 100% worth it.  The play continued with many more proud parent moments for us.  A day we will never forget.
The girls have performed the last three weekends in a row – a show Thursday night, Friday night, two shows on Saturday and one on Sunday.  Weekends have been crazy around here to say the least!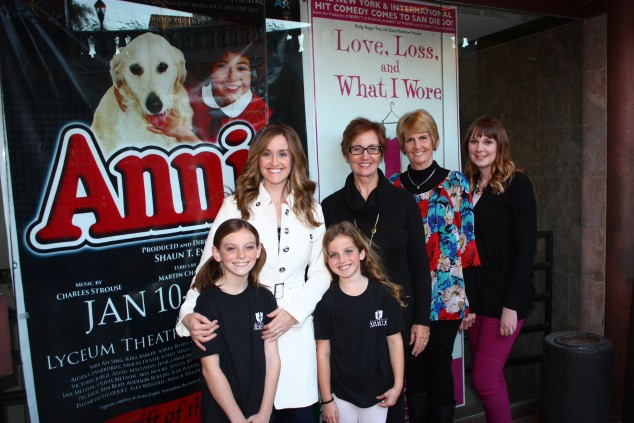 My mom came down with two of her darling friends and stayed last weekend.  SO fun showing them the play!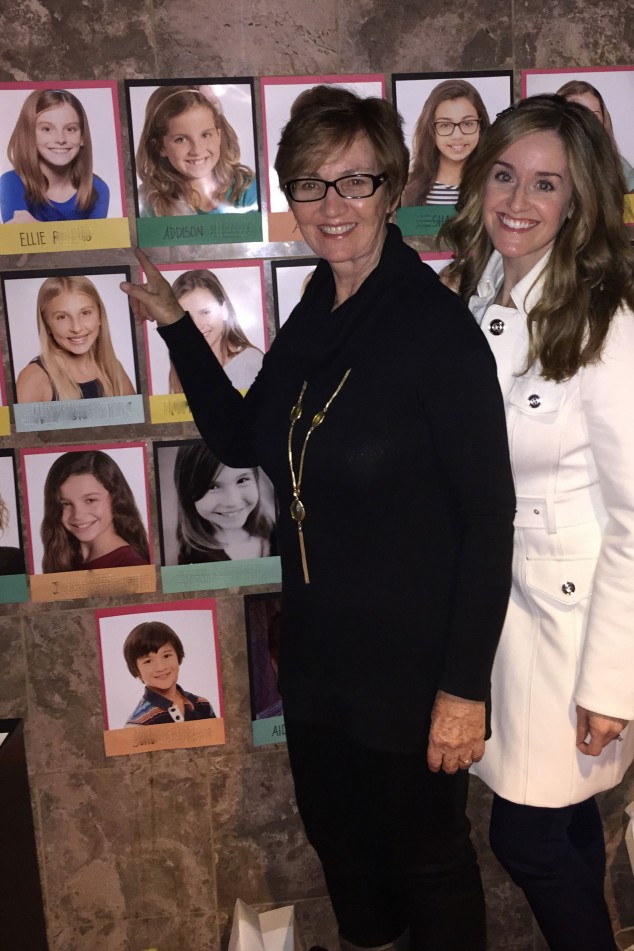 Pointing to the girls' head shots.  Real head shots – we feel so professional now.  ;)


Love these women!  Such a fun weekend having them here.  We all sat down to watch the play and my mom started crying before the curtain even opened!  Guess I know where I get it from.  She was a pretty proud grandma.  :)


Kenny's sweet parents came one weekend too.  My kids were all so spoiled with grandparents in town!  Especially Kole who loved every minute of having them all to himself when they weren't watching the girls perform.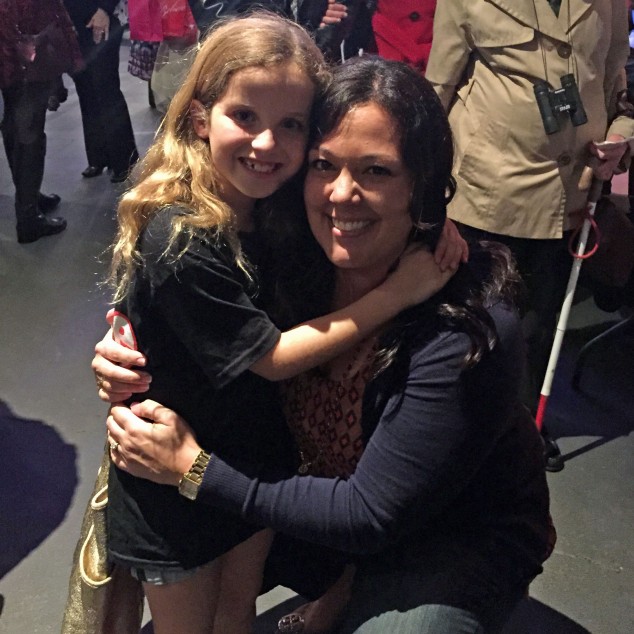 So many of our close friends also came to watch the play and see the girls.  The girls' friends from school, teachers, babysitters, so many of my darling friends.  I didn't get pictures of everyone who came to support us, but I'm so glad I got a few!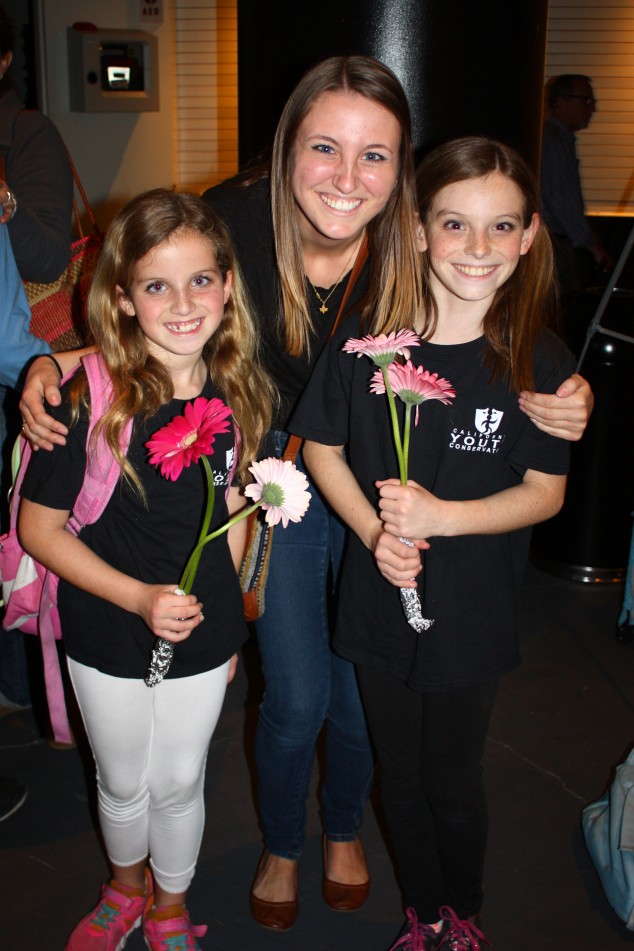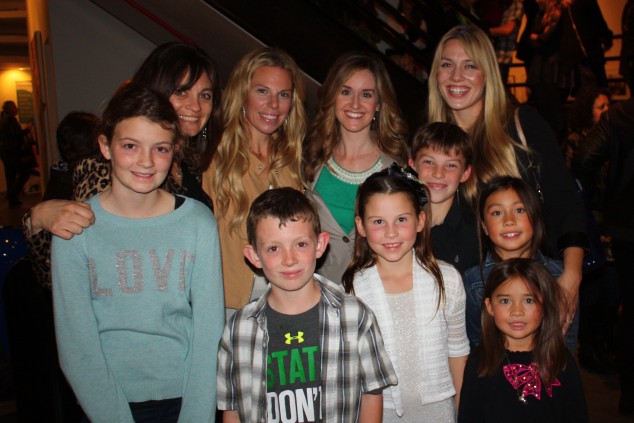 We were overwhelmed and so touched by everyone who came to support the girls and see the play.


So many friends brought the girls flowers!  Made me tear up one morning when I woke up to this beautiful table.  Moments like that make you feel pretty blessed.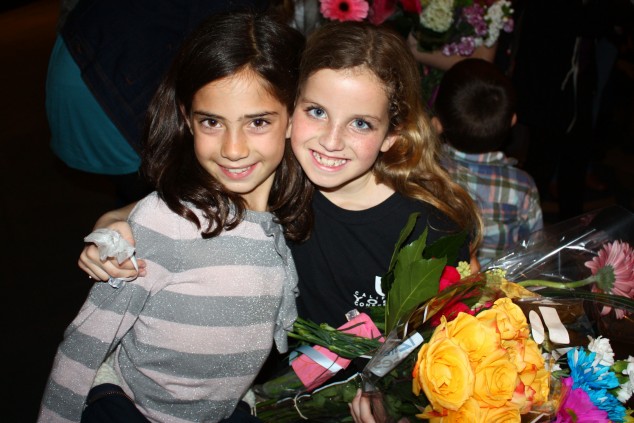 This is one of Addison's closest friends and we were so excited because her mom (who is one of my close friends) entered one of the play raffles and won!  The prize was getting to make a guest appearance in the last show!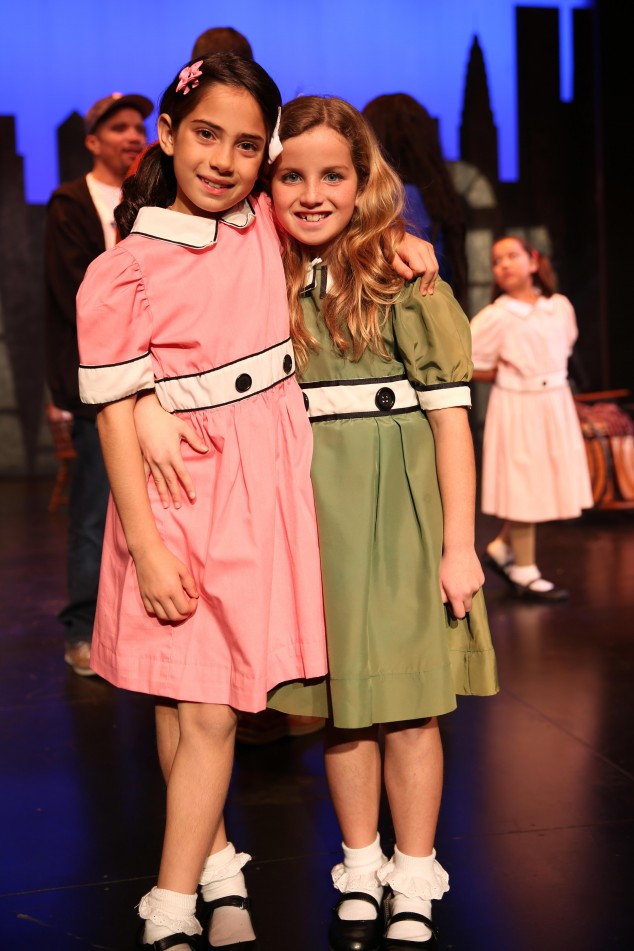 These two had a blast together.


Talk about a highlight for us all!  It made the closing show this past Sunday even more special.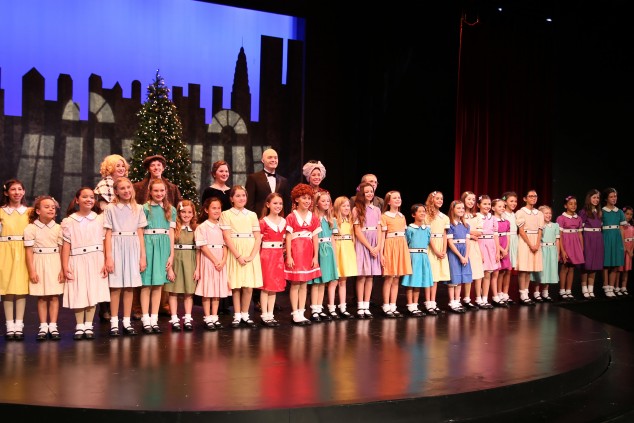 The whole crew on stage after the last performance.  A group of amazing kids.  Standing ovation!  My husband and I may or may not have started it… every night we were there.  :)


Kenny helping with the raffle.  He isn't shy so they recruited him quickly.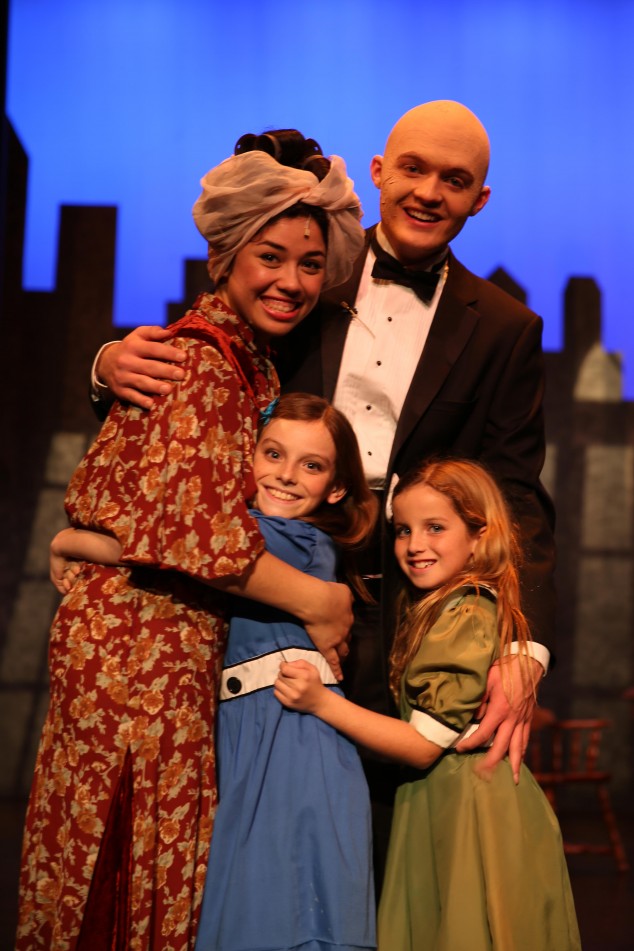 Hanging out with Miss Hanigan and Daddy Warbucks.  Talk about talent.  These two teens were AMAZING.  Close friends of ours from the summer camp who now feel like family.


My girls made so many darling new friends.  Playdates are already being scheduled because the kids are used to hanging out together every day and are all having withdrawals missing each other!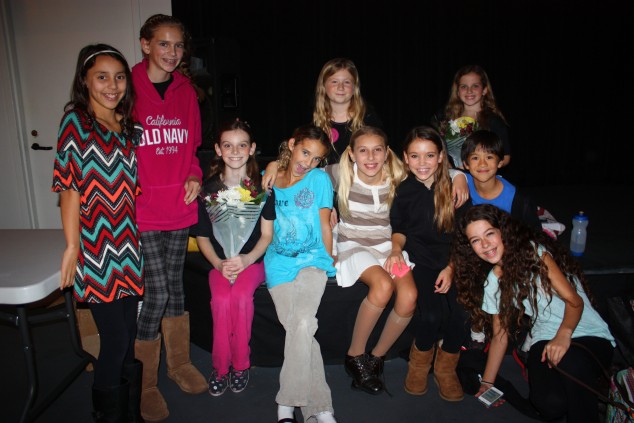 Aside from meeting so many new, wonderful people I'm also grateful my girls were taught such an important lesson about hard work.  The past few months haven't been easy for them.  Just keeping up with homework became a challenge. But they worked hard for something they really wanted and it payed off in the end.  Experiences like this are priceless.  Even more so because they got to do it together.  They loved performing so much that I'm sure they'll want to try out at some point for another play, but for now I'm beyond ready and so happy to have some down time and get back into our regular routine. (Funny that our regular schedule now feels like down time!)  I spent the past few days catching up on everything I had on hold during the play.  Housework, laundry, groceries, e-mails and most importantly spending time with my sweet 4 year old little boy who has had more babysitters this month than ever before.  I am used to him being by my side 24/7 and have missed him so much the past few weeks!  But what an incredible month it has been.  An unforgettable experience for all of us!

My little orphans.
With their mom who clearly couldn't be any prouder.
:)
xoxo, Erin