Ok.  I have to start this post by saying that I was so touched by your sincere comments after my 2015 goals/word post!  Honestly some of them made me tear up.  So kind of you all.  I have an e-mail folder full of blog comments and e-mails I've saved over the years that have meant a lot to me.  I call it my "rainy day folder" and I turn to it whenever I'm having a bad/hard day for a little pick me up.  :)  Most of the comments on my last post are now in that folder.  Thank you!  Truly.  Your love and support mean the world to me.

 Talking Christmas cards today!  Do you still have yours up?  I might be a little crazy, but I usually keep my cards on display until after January (sometimes through February!).  They make me so happy and I'm never ready to part with them right after Christmas.  Here are a few pics of how I displayed them this year.  I had grand plans of displaying them in a fun way on a blank wall near my office and then just ran out of time to put it together (maybe next year..).  Instead my kitchen pantry door frame became the landing spot!  I used painters tape to hold the cards up and they've all stayed in place.  YEA.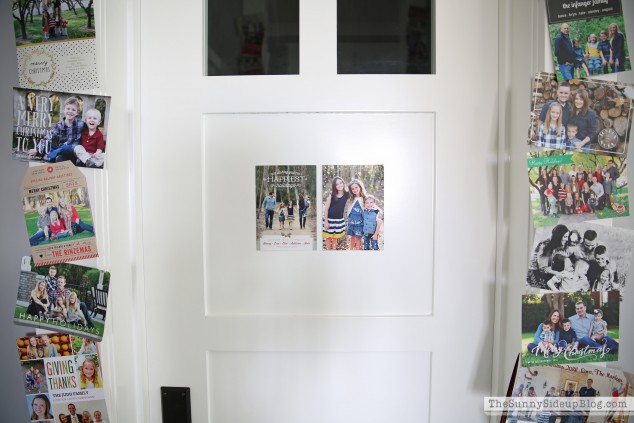 For fun we stuck one of our leftover cards from this year on the pantry door. Love seeing those three faces smiling at me every time I walk in the pantry.  :)

As the month went on and we started getting more cards I could tell I was going to have to use the door frame on the other side of the butler's pantry.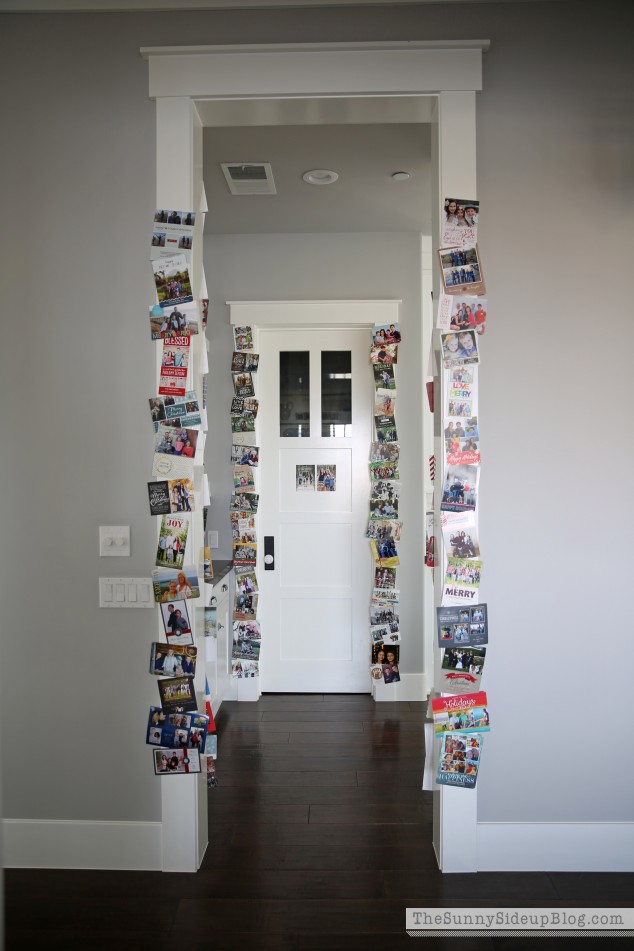 And eventually I started sticking them on the door molding in the hallway.  I created a sort of Christmas card lane without really trying to.  :)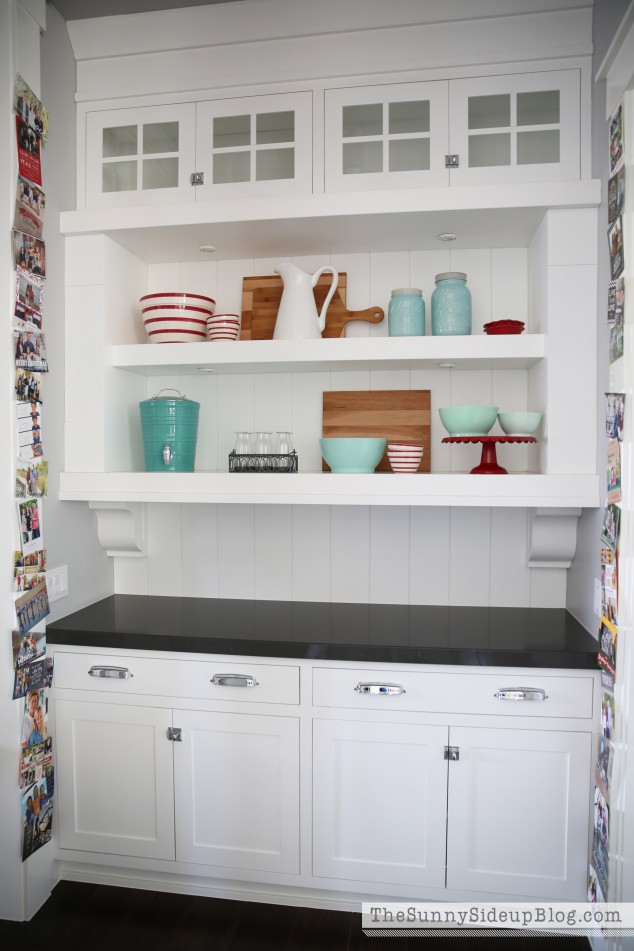 Speaking of our butler's pantry this is how it looks right now.  I took out some of the Christmas stuff, added a few heart shaped bowls and called it Valentine's day decor.  :)


I've loved having my cards displayed here because this is an area of our home we are in and out of so much of the day.  I can't think of a more often used door than the pantry!  Wonderful to be greeted by so many smiling faces I love on my way to grab some pretzels or cereal.  :)     
 Speaking of being in and out of the pantry all day – I caught a quick blurry shot of my little monkey trying to be sneaky.  His latest trick is to tip-toe into the pantry when he thinks I'm not looking and then get into the chocolate chips.  I need to just move them up where he can't reach, but I kind of get a kick out of watching him.  :)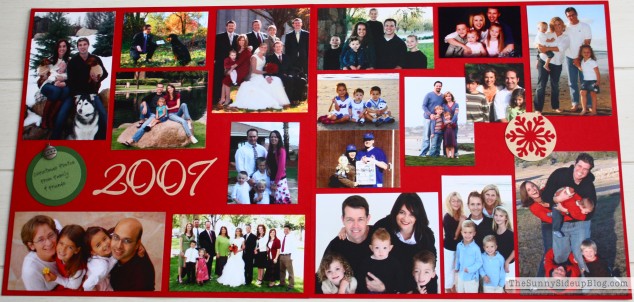 For those of you who are newish to my blog (hello and welcome!) I thought I'd share what I do with my Christmas cards after I finally do take them down… in March.  ;)  (Full post here.)  I chose a handful of cards for the year, cut the family pictures out, and create a very simple scrapbook/collage page.  Only one page per year.  I try to mix it up so that I'm using different families each year.  That way eventually I'll have all of our friends and loved ones in my album.


What album you ask?  Well my Christmas album of course!  The one that has been on my to-do list to finish for the past five years.  :)  Someday!  Until then I'm just going to keep my Christmas card layouts up to date.  I may put them in an album all on their own at some point.  Such a fun thing to have displayed on the coffee table every December for all of us to flip through!  
I need to get going on that.
TO DO #356,473 on my list this year.
:)
xoxo, Erin