Happy Friday everyone!  So glad I made it through this week!  The first week back after Christmas vacation is always a hard one for me.  I can't help feeling a little down that the holidays are over and I always miss my extended family after spending time with them.  Plus it's just so hard getting back into the routine, isn't it!?  Feeling so busy and rushed after such a nice two weeks of moving at our own pace.  Which was slow.  I've decided I quite like moving slow.  There isn't enough slowness in my life.  :)
I've been thinking a lot about my goals for the year this week.  Are you a goal setter?  I've always loved setting goals.  I don't always achieve everything I set out to do.  In fact, I pulled out my goals from last year and Kenny and I were laughing so hard because I hardly achieved any of them!  (Start planning meals – nope.  Go to bed by 11:00 every night – nope.  Exercise six days a week – nope.)  Ha!  That's ok.  Just the act of reflecting on where I'm at in my life and thinking about ways to better myself is rewarding and important, regardless of whether or not I follow through with everything.  At least that's what I'm telling myself to feel better.  :)
This year I'm being very realistic and kind to myself and setting goals that are more attainable for me during this busy stage of life.  I'm also trying to think about goals that will help me become a better person.  In fact, my word for the year is BETTER.  I want to be better next year than I am this year.  So here are my goals for 2015.  I'm hoping that by sharing them with all of you I'll have a better success rate than last year!  Although given my poor performance in 2014, that shouldn't be hard to pull off.
1) Be a BETTER wife.  I love my husband and we have a good marriage.  Not a perfect marriage.  We've certainly had our fair share of disagreements.  But we did survive building a house together and are still in love so I think we're in this for the long haul.  ;)  An interesting thing happened when we had child #3 that I'm sure many of you will relate to.  My husband and I became seriously outnumbered.  As our three kids have gotten older and involved in various activities we find ourselves in constant "divide and conquer" mode.  He takes the girls to gymnastics while I take Kole to therapy.  Then I take one daughter to a birthday party while he stays home with the other two.  Then I get Kole bathed and ready for bed while he reads to the girls.  Kids are doing great while the two of us hardly see each other!  It has become so much more difficult to carve out alone time so that we can re-connect and be a couple.  I want to be better about prioritizing and planning uninterrupted alone time.  I also want to be better about prioritizing my husband in general.  Little things like give him a hug when he walks in the door at the end of the night and take time to hear about his day instead of my usual "yea you're home – I'm exhausted and El needs help with homework because her decimal knowledge is sadly surpassing mine and while I get Kole ready for bed can you make sure Ad flosses her teeth?"  My husband's whole life is about taking care of me and the kids.  He works so hard and is so selfless – always putting his family first.  I want to make sure I am focusing on doing the same for him.
Btw – I asked Kenny how I could be a better wife and he told me to buy less baskets.  Ha!  We both know that isn't happening so I'll just stick to the above instead.  :)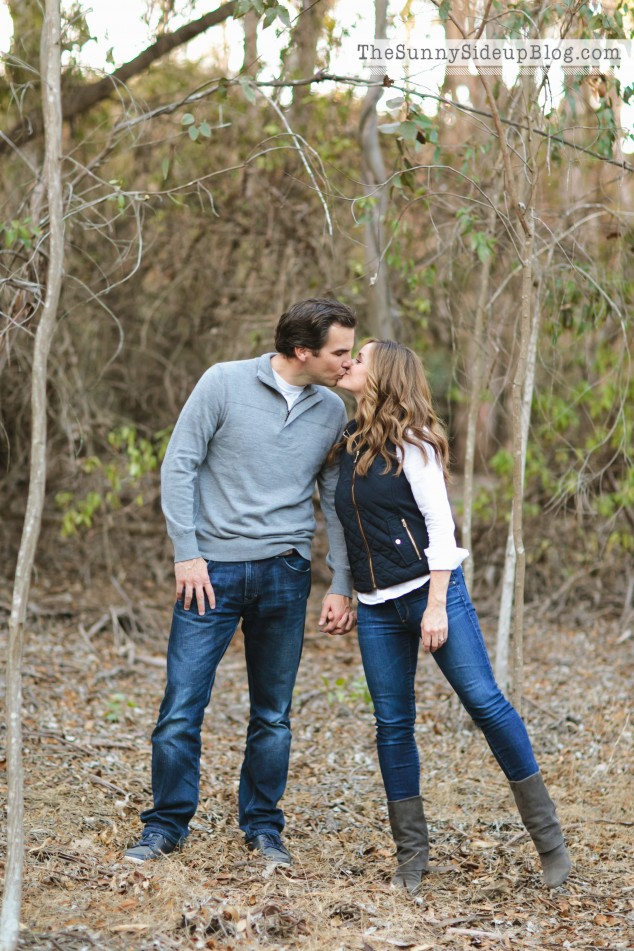 (My husband hates posed photos like this.  He said something sarcastic and I was tightening my lips trying so hard not to laugh and this picture makes me smile remembering it.)
2)  Be a BETTER mom.  I take a lot of pride in being a mom.  While it's far from easy and I am exhausted every day, I really do love it.  It's such an important job and I feel like overall I'm doing ok at this whole motherhood thing.  But I know I can be better.  The girls and I were chatting one day and somehow they started talking about how there are many "sides of mom."  The "classy sassy mom" when I go out with friends or dad (Addison's words – hilarious!), the "strict" mom when homework and chores need to be done and "playful mom" when I'm laughing and goofing around with them.  Then El said "mom remember that time when we were in our pajamas on the couch goofing around and dad walked in from work and you grabbed a blanket and threw it over all of us and said "hide!" and we were all laughing so hard.  Remember that?  That night was so much fun.  I wish you were like that more often."  It was so interesting to me that she remembered that night – it wasn't one that stuck out in my mind.  Just a typical evening.  But my girls remembered it because I was playing and connecting with them.  Not on the phone, not cleaning the kitchen, not barking out 15 different orders, just goofing around with them on the couch.  That conversation was such an eye opener for me and I want to be a better mom by making sure we have more "playful mom" moments together this year.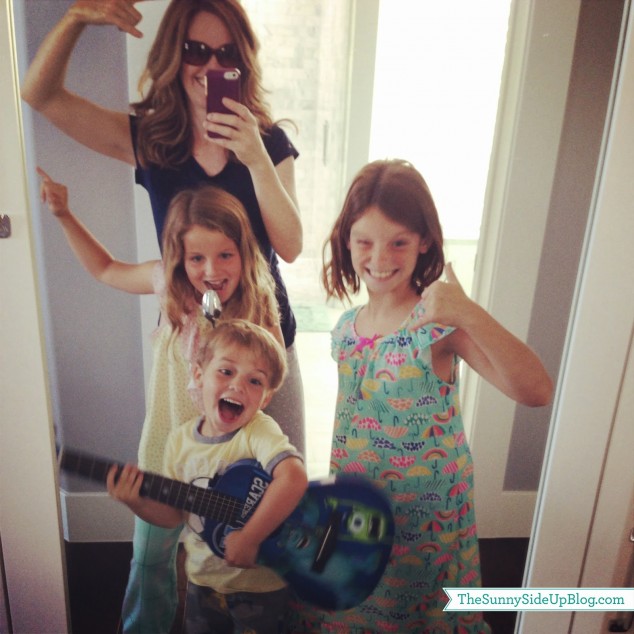 3) Be a BETTER friend and person.  My mom shared a quote with me a while back that has really stuck with me.  "Pray for the opportunity to be a blessing in someone's life."  I love that.  I want to try to focus more on others this year and less on myself.  I want to be a better friend by being more aware of what my friends are going through and thinking about how I can help them.  Even if that's something simple like a phone call or dropping by with chocolate.  My friends have always been there for me and I want to look for more opportunities to be there for them.  I also want to look for opportunities to "be a blessing in someone's life."  Even if that is done by just a sincere hello, a smile and a compliment.  It doesn't take much to brighten someone's day.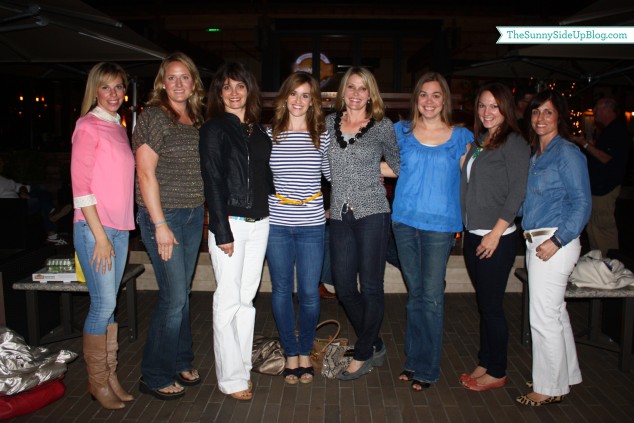 4) Be a BETTER blogger.  Oh man.  Blogging.  So much I could say.  I love it so much but I have to admit that I sometimes struggle with blogging.  I struggle with how much time it takes.  I struggle because I compare myself to other bloggers who have such amazing content and pictures and are able to post so much more often than I do.  (How do they post so often!?)  I struggle with how personal I should/shouldn't be.  I love sharing my life with all of you.  This blog is such a happy place for me because it's the one place I get to just be Erin.  I get to talk about my loves and passions like organizing and decorating and motherhood with people who love those things too.  I think of my blog readers as friends and when I post I feel like I'm sitting at a table with all of you talking and laughing and sharing ideas having a grand old time.  :)  I want to open up about so many things when I blog.  But this is the internet and every once in a while I get a not so nice comment that reminds me that not everyone reading is my friend.  That makes me feel a bit more guarded.  And it makes me want to share less of what's on my mind and in my heart.  So sometimes I struggle with what to post.  Bottom line – I think I struggle with overthinking my blog.  I want to be a better blogger.  For me that doesn't mean to write more posts or to get more page views.  It means to stop over thinking blogging.  Stop comparing myself to other bloggers.  Post when I can and not beat myself up when I can't.  Share what I feel safe sharing and what makes me happy.  I want to focus more on all of the things I love about blogging (like connecting with all of you!) and less about the insecurities that often creep up.  I blog because it's fun and I want to be better this year about keeping it that way.
So that's it!  My goals and word for 2015.  Of course I also hope I can start planning meals, go to bed by 11:00 every night, and exercise six days a week – but for reasons I think you'll understand.. I'm not writing those things down.
:)
What are your goals for the New Year?
xoxo, Erin