Well.  I've been a bad blogger lately, haven't I?  Sorry for the lack of posting lately!  We are soaking up as much family time as possible and I'm so happy we still have the rest of the week.  I've been much better about sharing pics on Instagram – it's so fast and easy.  When my kids and husband are home with me I just can't bring myself to spend hours on the computer.  But a few posts are almost finished and coming soon because I still have Christmas decorating posts that I never finished!  December got away from me.  It always does no matter how prepared I try to be.  For now here are a few random pics from the past two weeks I never got around to posting…


My little buddy helping his daddy make pancakes – our Saturday morning routine.  When they are finished he always says "dad – I think we need more stuff in there!" because he doesn't want the baking to end.  It always makes us smile.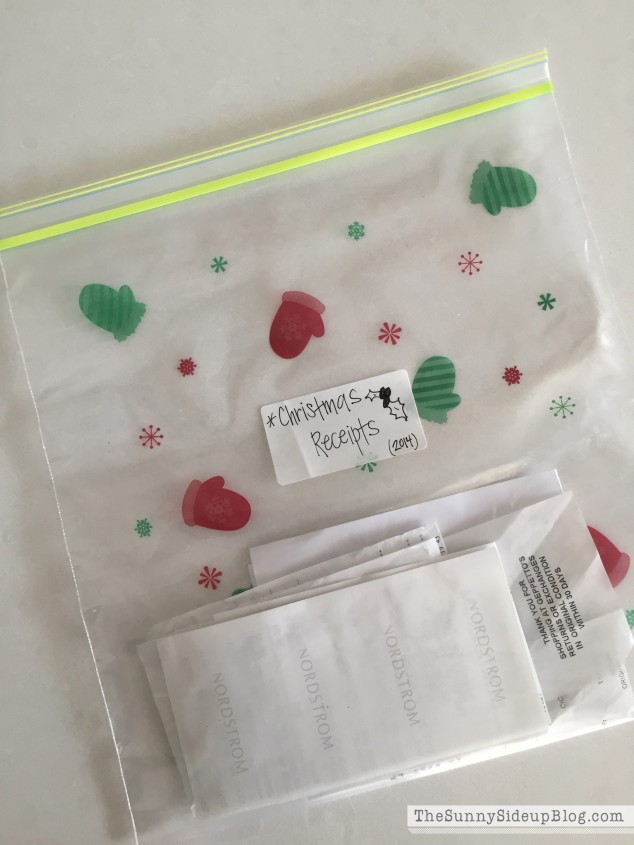 This his how I organize my Christmas receipts every year.  Real fancy I know.  It's always nice to save receipts for gifts you are buying in case you need to return anything after Christmas and I like having them all in one easy to locate place.  Do you all love me for giving you this idea AFTER Christmas?  Ha!  It's not that I'm a slacker… it's that I'm SO on the ball I'm giving you ideas for next year already.  :)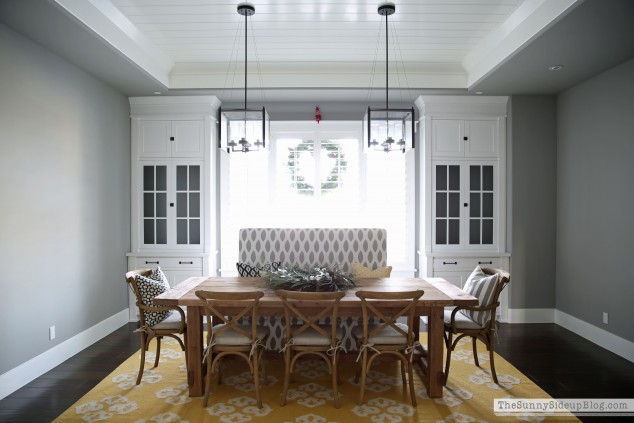 I didn't get around to decorating my formal dining room for Christmas.  I had fun plans for this room and was going to have friends over for a dinner party and then I remembered what our December schedule looked like (my girls are in a play right now and it has made our lives crazy to say the least!) so I decided to wait until next year.  Plus I don't have dishes.  Well – I have dishes – plastic Target kid friendly dishes – because that's all we've used for the past ten years. :)  I need some real grown-up dishes.  Always a nice addition to a dinner party, don't you think?  Our elf enjoyed hanging out in this space even though it was lacking in decor.


My girls coming home from school after a rainy day.  They always have so much to tell me.  :)


I gave out Williams Sonoma Peppermint Bark to friends and neighbors this year.  Have you all tried it!?  SO delicious.  I waited for it to go on sale and stocked up!  This was the last batch we delivered.  I made sure we'd have an extra box left over.  And it lasted about 5 minutes.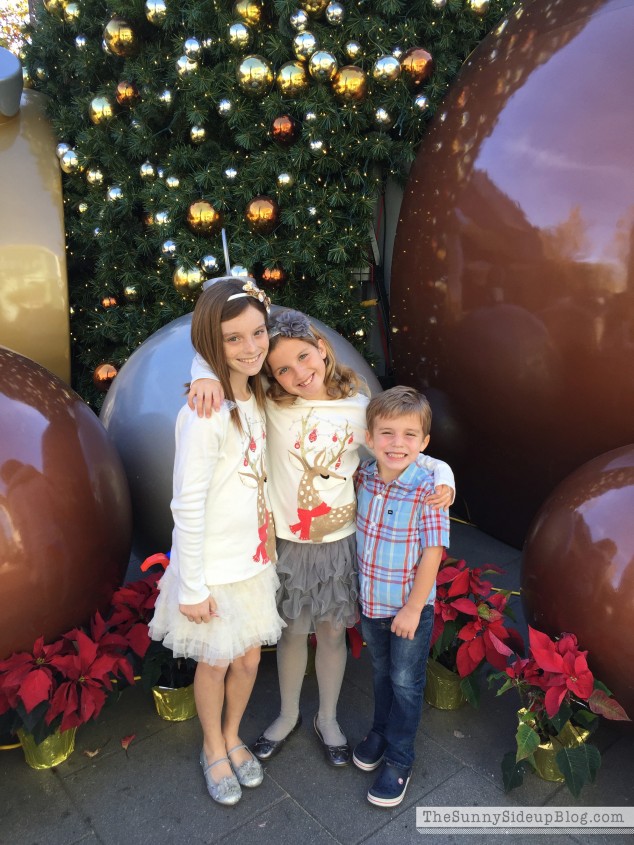 Just about to get our traditional Santa pic for the year.  I'm going to keep taking my kids to see Santa as long as they still fit on his lap.

Making our traditional pretzel hugs.  Even though we didn't give them out to friends this year my kids insisted on making them.  So yeah.. we had three trays of pretzel hugs along with Peppermint Bark.  Treadmill will be calling my name come January.  And I didn't set up my hot chocolate station this year on purpose!  I gained 5 pounds from that little move last year.  Tis the season for weight gain.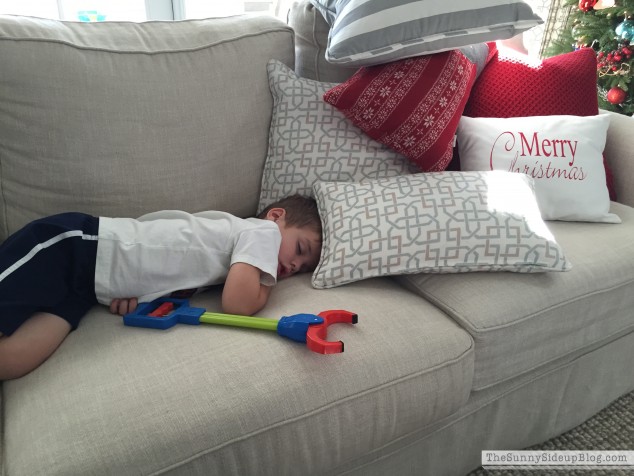 My little buddy got sick just in time for Christmas.  :(  Strep throat.  I spent two straight days just holding him.  And while I hated to see him so sick, it was nice that it forced me to slow down and soak up time with him instead of running around with last minute errands.  He'll always be my baby and I loved all of the extra cuddle time.  Happy to say he is doing MUCH better now.


This was our favorite present Christmas morning.  My girls had all sorts of drawings and little presents they made for each other under the tree.  I didn't think much of them until Ad opened and read this one from Ellie.  My husband and I both looked at each other and just teared up.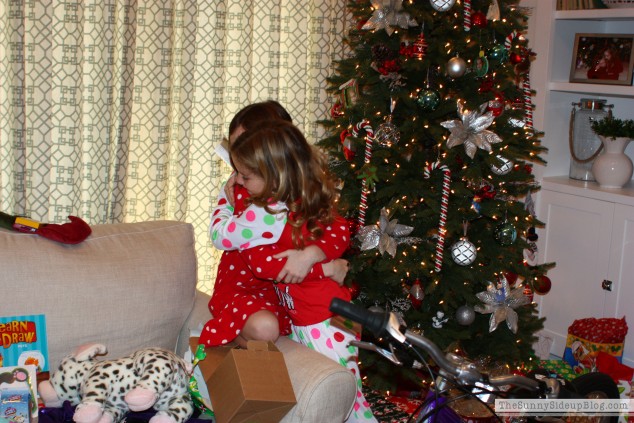 I snapped this picture with blurry eyes and thought about how it was a moment I'd never forget.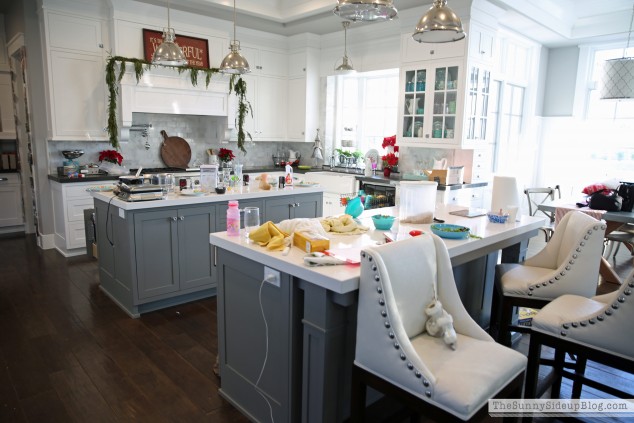 It's always funny to me how I have the house so clean and calm with our candle burning on Christmas Eve and by 10:00 am Christmas morning our kitchen looks like this.


Craft room was rarely clean during the month.  I will say however that it was SO nice to have a place to wrap and create and then just shut the door and pretend the mess wasn't there!  This coral rug I moved in from the dining room for the month made me excited to add more decor to this space.  Not this color (coral is too much for me with the blue walls), but the room needs some personality.  And a good cleaning.


The rest of the week we are spending with extended family.  Staying up way too late talking, laughing and watching movies like It's a Wonderful Life.
It really is.  :)
xoxo, Erin