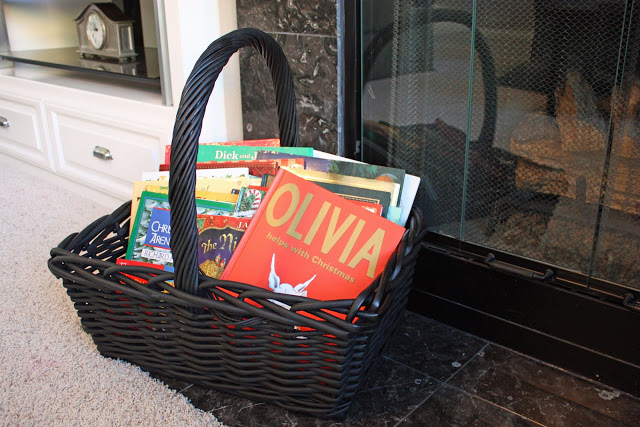 I thought it would be fun to share some of our favorite Christmas books today. We are having so much fun reading them. I let the girls pick one out every evening after homework and we snuggle under our Christmas blanket and read together. Reading Christmas books with my kids is definitely one of my favorite parts of this season and I love giving Christmas books to friends and neighbors at the beginning of December. Books always make great gifts!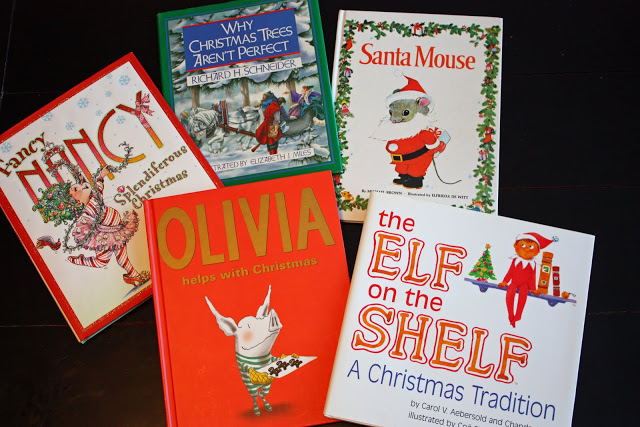 Fancy Nancy – Splendiferous Christmas written by Jane O' Connor – if you have little girls I'm sure you know all about Fancy Nancy! This Christmas book is just as "fancy" and fun as the rest of the series.
Olivia Helps with Christmas written by Ian Falconer – I LOVE the Olivia books. They are hilarious! Olivia the pig is a crack up and these books are humorous for kids and for adults.
The Elf on the Shelf written by Carol V. Aebersold and Chanda A. Bell – This is the book that came with our Elf and was our new Christmas book and tradition we started last year. Some of you asked where you can get the elf. Aside from the North Pole, I have also seen him hanging out at Hallmark and Pottery Barn Kids. :)
Why Christmas Trees Aren't Perfect written by Richard H. Schneider – One of my all time favorites. This story really illustrates Christs' love for all of us and the true meaning of Christmas. I tear up at the end every time I read it and have to explain to my girls that I'm not sad – my tears are happy tears.
Santa Mouse written by Michael Brown – favorite Christmas book from my childhood. Santa Mouse is Santa's tiny helper and he too visits each house on Christmas Eve. The story ends saying "And so this Christmas, if you please, beneath the tree that's in your house, why don't you leave a piece of cheese? You know who'll thank you? Santa Mouse!" We always left cheese out for Santa Mouse with Santa's cookies and milk when I was a little girl. Now my little ones do the same.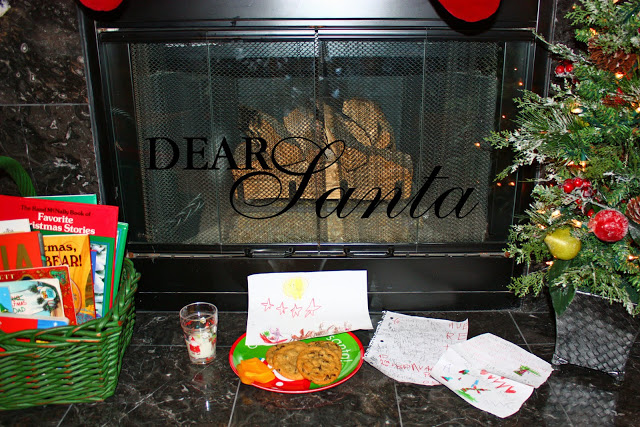 (cookies and cheese from Christmas 2009 along with letters and pictures for Santa)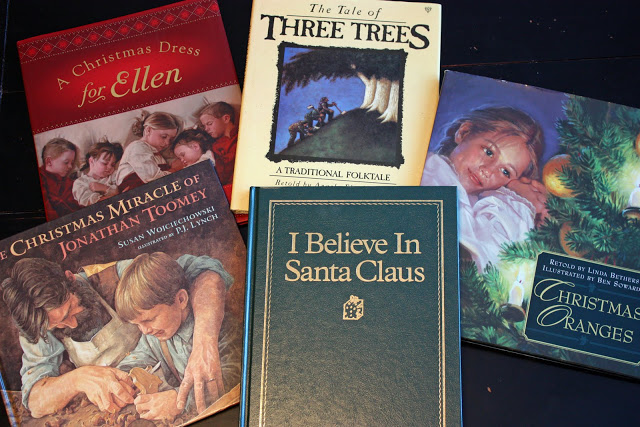 A Christmas Dress for Ellen retold by Thomas S. Monson – a gift from my mom. We especially love this book because it reminds us of my grandma Ellen who Ellie was named after. The illustrations are beautiful.
I Believe In Santa Claus written by Diane G. Adamson – I gave this book as a gift to friends and neighbors a few years ago. It's a special story that shows similarities between Santa and Jesus (he wears red, he loves little children, he wants us to be good, etc.) It's so simple and shares such a powerful message. I love it and it is now the book we read each Christmas Eve.
The Tale of Three Trees retold by Angela Elwell Hunt – Another special book that illustrates God's love.
The Christmas Miracle of Jonathan Toomey written by Susan Wojciechowski – darling story – it's a bit long though so I always just tell it to my girls instead of reading it. :)
Christmas Oranges retold by Linda Bethers – same as above – darling story that is a bit long to read so I summarize. Another book with beautiful illustrations.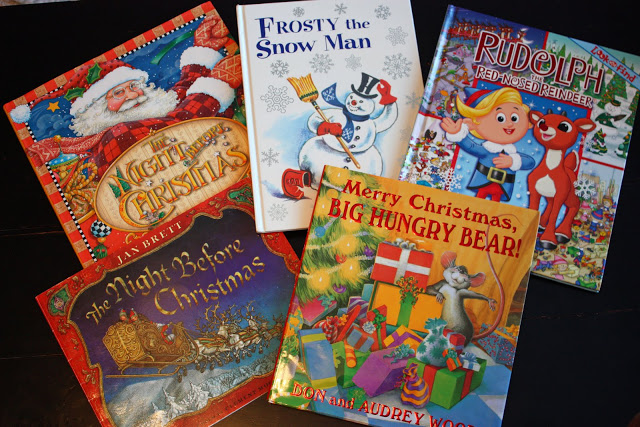 Frosty the Snowman retold by Annie North Bedford – gotta have the classics!
Rudolph Look and Find – my girls LOVE hidden picture books and we are total suckers for anything Rudolph.
Merry Christmas Big Hungry Bear! written by Don and Audrey Wood – This book is just as fun as the original The Little Mouse, the Red Ripe Strawberry, and the Big Hungry Bear. One of my girls' favorites!
The Night Before Christmas – one by Jan Brett and one by Mary Engelbreit – We have two versions because I love the illustrations in both of these!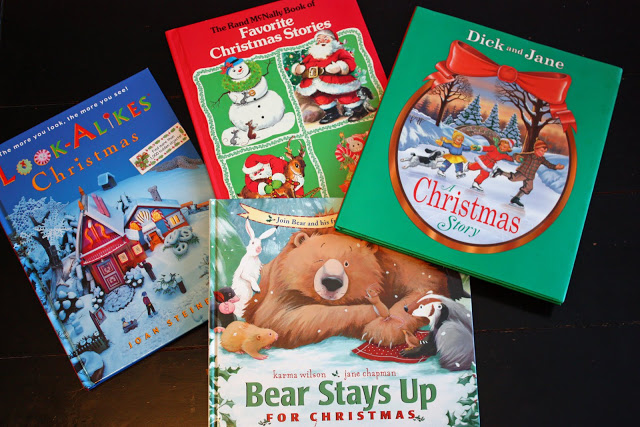 Favorite Christmas Stories – Rand McNally & Company – another fun book from my childhood.
Look Alikes Christmas by Joan Steiner – hidden pictures – my girls love hidden picture books and the illustrations in this are so colorful and fun.
Dick and Jane A Christmas Story – Ellie's loves this book because she can read it herself. :)
Bear Stays Up for Christmas written by Karma Wilson – a cute rhyming story that is my little Addison's favorite.
Santa Mouse Where Are You? Part two of the original Santa Mouse.
And then just a few of the classics. We love little golden book stories and we are huge fans of Mercer Mayer's Little Critter books.
The Story of Christmas by Patricia A. Pingry – a little board book that does a great job explaining the reason we celebrate Christmas.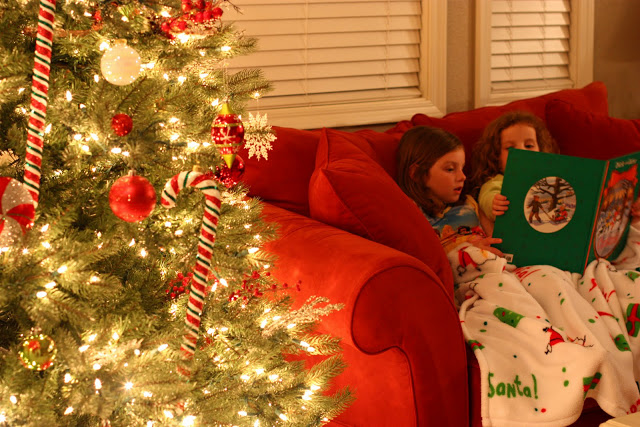 So those are some of the books we love and are enjoying this time of year! Nothing better than cozying up with a book next to the lights of the Christmas tree. Happy reading everyone! :)
xoxo, Erin