Catching up on some pictures I need to post! We went with friends to the latest So You Think You Can Dance show a couple of weeks ago. Kenny and Marc surprised me and Ann with tickets and the show was amazing – the best one yet! Ann and I had so much fun and were patting ourselves on the back for how well we've trained our husbands.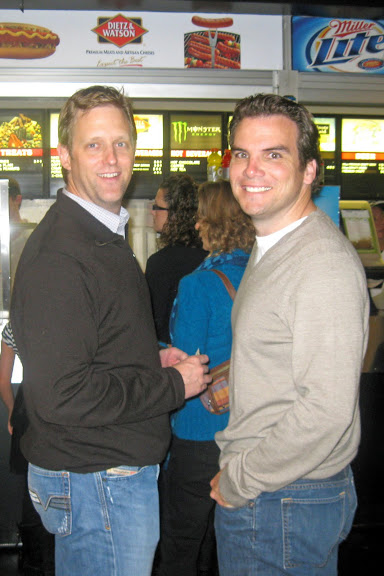 Here they are waiting in line to get us a snack. See what I mean? Well trained indeed. :)
A quick look at past SYTYCD performances. I love that show! Counting down until the new SYTYCD season starts again.
Last Friday Kenny's firm had a little party in honor of the new partners. We were supposed to be there at 4:00 and I had been having the craziest day. Running errands – carpooling – Kole hadn't had a nap. I looked at the clock in my car on my way to pick up the girls and realized I'd have about 20 minutes at home to get all four of us ready. Of course when I got to Addie's pre-school to pick her up she was covered in dirt from the sand pile. I flew home and threw her in the tub, got everyone dressed and ready and fed the girls a snack and gave Kole a bottle in the car. Record speed!
We got to Kenny's firm and came bursting through the door – 5 minutes late. I was shocked at how many people were there. So many friendly faces waiting to congratulate our family. Kenny shot me a look that said "are you kidding me – you're late!?" I shot him a look that said "you have no clue what it takes to get us all four out the door – be grateful we made it at all!" Then we hugged and started mingling with the crowd. :)
The managing partner at his firm (pictured with us above) spoke about Kenny and the other two new partners. Then it was Kenny's turn to speak and thank everyone publicly. I tried to relax from the harried afternoon and enjoy the moment. My kids were loving so much attention from various adults. It was a special afternoon for our family and I was reminded again of how grateful I am for Kenny's job and for all of the great, supportive people he works with. (just need to remember that when his clients are getting much more of his attention than I am…)
In other news, Christmas is in full swing at our house! The halls are decked and we are counting down to Santa's arrival. My girls are at such fun ages. Their excitement for all things Christmassy is completely contagious!
Our Elf has been visiting every day and the girls can't wait to run downstairs and see where he is hiding each morning. He was in our tree on Dec. 1st and the girls couldn't keep their eyes off of him! (They know not to touch him – rubs off some of his magic, of course). This is such a fun tradition that we started last year. If you aren't doing this with your little ones, trust me – they'll love it!
(Some pictures of where our little elf was hiding out last December)
Time to go finish my Christmas cards! As of this point I've assembled them all. A third of them are in envelopes, with stamps and addresses written, another third that just needs stamps, and the rest still need to be addressed and put in envelopes. As soon as I finish this post I'm turning on Family Man (one of our favorite Christmas flicks) and wrapping things up!
xoxo, Erin