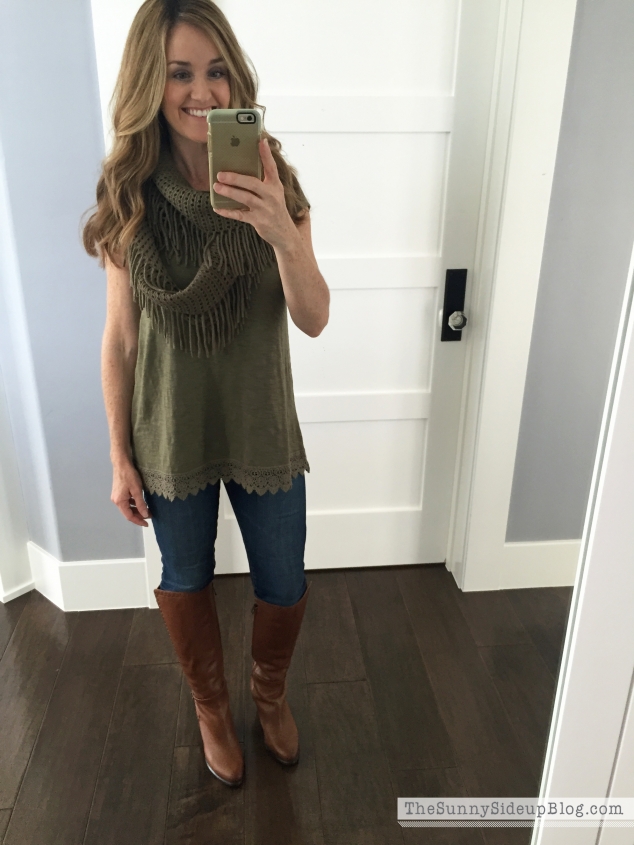 Happy Friday friends!  Made it to the weekend.  Always a great feeling. :)  For fashion Friday I'm talking neutrals today!  I tend to stick to neutrals when it comes to clothes.  I'm sure you've noticed by now that I don't buy a lot of patterns.  Maybe stripes – but that's about as far as I go… and I actually consider stripes a neutral.  :)  I have nothing against patterns!  In fact, I love seeing how people mix patterns in their wardrobe.  But at the end of the day neutral clothes will always have my heart.  I'll tell you why..
1 – I think with my hair and skin tone I look better in neutral, solid colors.  (Just a personal preference!)
2 – Neutrals are great for layering.
3 – Neutral clothes don't look dated as quickly.
Whenever I do branch out and buy a patterned top or dress I notice that by the next season I don't want to wear it anymore.  Either I'm tired of the pattern or it just looks dated.  Neutral clothes last for years!  They are timeless and you can pair a neutral top with a scarf or vest or some fun jewelry to get a whole new look.  LOVE my neutrals.  I found a few neutral must haves for fall last week.  (All great prices!)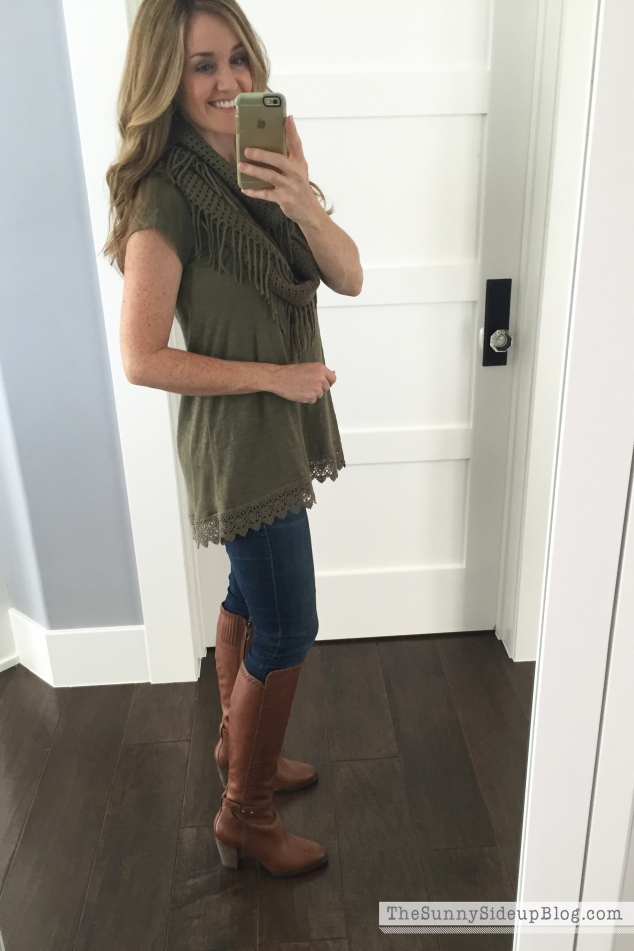 First is this cute lace hem tunic in olive!  Isn't it fun!?  Comes in several colors (of course I went for the green) and is only $34!  I paired it with this fringe infinity scarf that is seriously one of my favorite recent finds.  LOVE this scarf!  It also comes in lots of colors and is a great price.  I picked up two for me and a few for Christmas gifts.  (Yes – it's time to start thinking about that!  At least in my house it is.)  :)  Kind of loving the green on green.  This is a great "in-between seasons" outfit for right now while I'm craving fall but our weather still thinks it's summer.  In fact, I had this outfit on in the morning with my new Ugg boots from the Nordstrom Anniversary sale but by 11:00 I had to change.  Forgot these boots are lined on the inside.  I about had a heat stroke!


Took this picture later in the afternoon with my peep toe booties.  Ahhh.. much better.  I sometimes forget where I live.  Cute tall boots have that effect on me.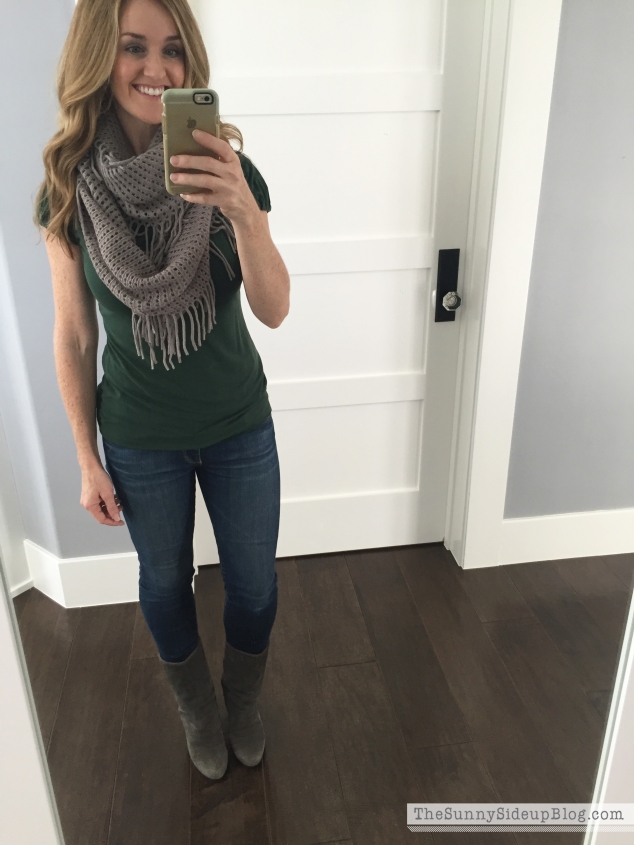 Another outfit I wore this week with the grey fringe infinity scarf.  It dresses up this simple green top – in a casual way.  :)  (The boots I'm wearing I've had for years – these are similar.)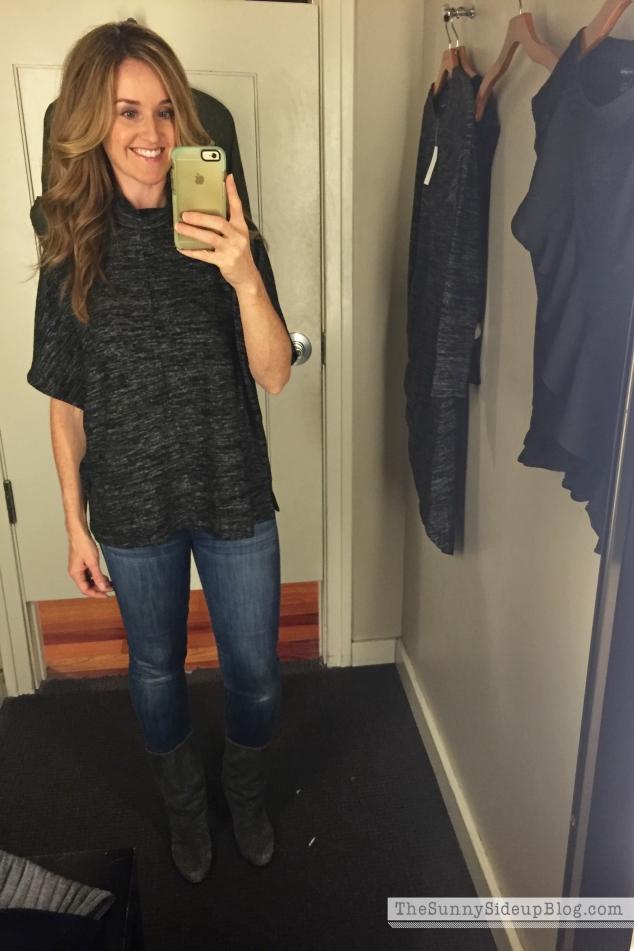 Here is another great neutral I scored recently.  Banana Republic is having one of their 40% off sales and I got this brushed jersey top for only $30!  (Sorry for the awful dressing room pic – I haven't worn it yet so this is the only pic I have to show you!)  The material is so nice on this top.  Looks and feels like a lot more than $30.  :)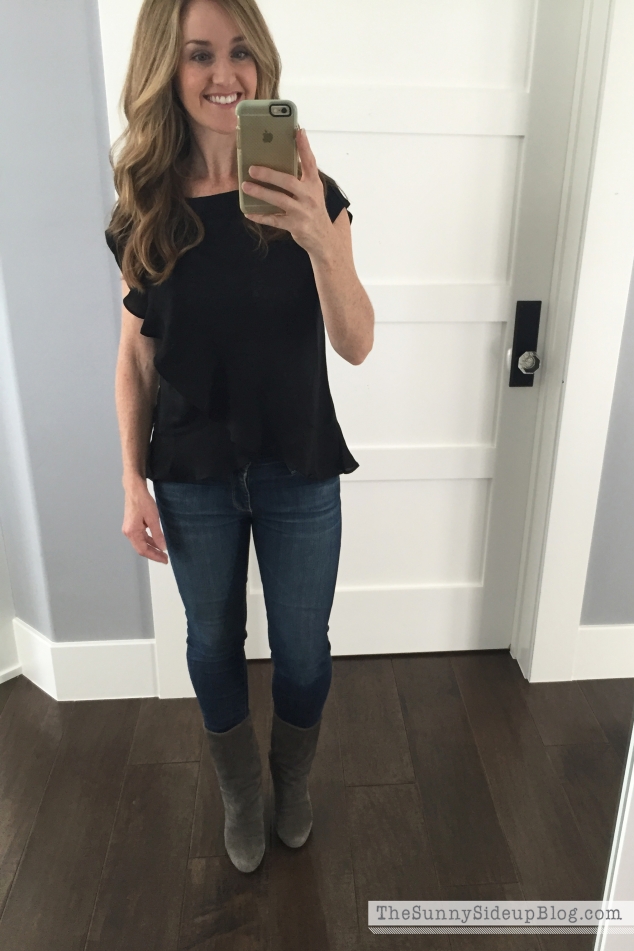 Another darling neutral I've had for awhile (also from BR and on sale now) is this cute ruffle cross-front tee.  Also comes in pink and gray!


My terrible grainy cell phone pics don't do these cute clothes justice!  Trying to show you the fun ruffles on this top.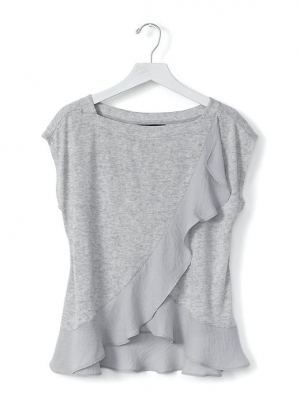 You can see them better on the gray top from BR's website.  I love the way it comes up a bit in the front.  This fun, feminine top is still casual enough for every day but also looks like you tried to put some effort into getting ready.  My favorite type of clothing.  :)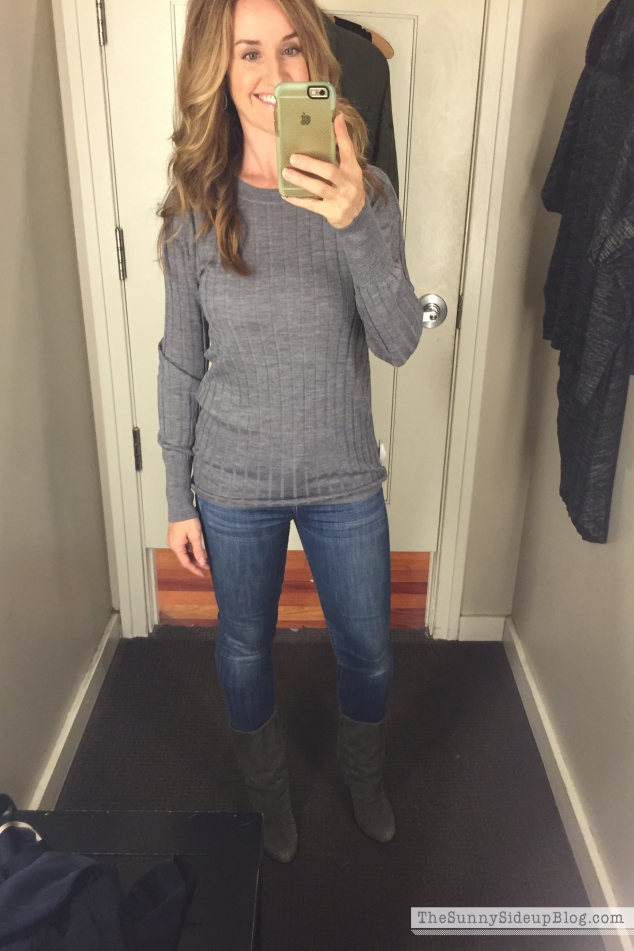 Speaking of casual/neutral favorites I can't say enough about BR's ribbed extra-fine wool pullovers!  Wow.  These are so so soft!  They feel like I'm wearing pj's.  Plus they are really light weight which I love because they are perfect to layer!  I know I'll wear this long sleeved top often under scarves and vests, but it also looks cute just simple by itself.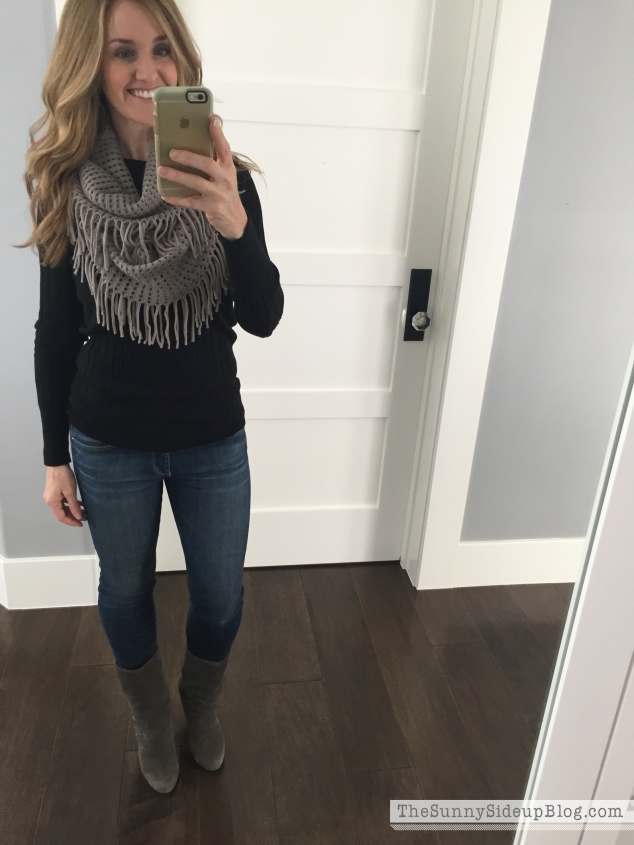 Here's the black ribbed wool pullover with my new fringe scarf.  Cute right!?  These tops are regularly $70 but I got them for half off!  (Which is why I bought two colors.)  Not sure if they are still on sale.  I have a feeling they won't last long.  Such a great fit and soft fabric.  They are comfy!  Who doesn't want comfy in the fall?  And in the winter.  When we're all trimming the tree and drinking hot chocolate by the gallon.
Or is that just me?  Good thing these clothes all stretch.  :)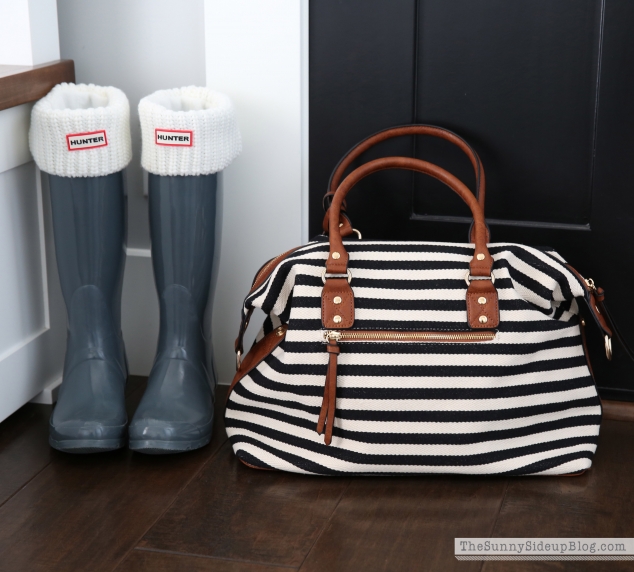 One last reason I love neutrals.  Everything works together!  Every outfit I shared above will look great with rain boots and my new striped bag.
Come on weather!  Work with me.  I'm ready for fall clothes!
Any neutral clothes lovers out there?  Are you all enjoying real fall weather?  Can I live vicariously through you?  In my tall lined boots?
:)
xoxo, Erin