Happy Friday friends!  In last Friday's fashion post I was sporting straight hair and got lots of questions about what hair products I use so today we are talking hair!  Easily one of my favorite topics. :)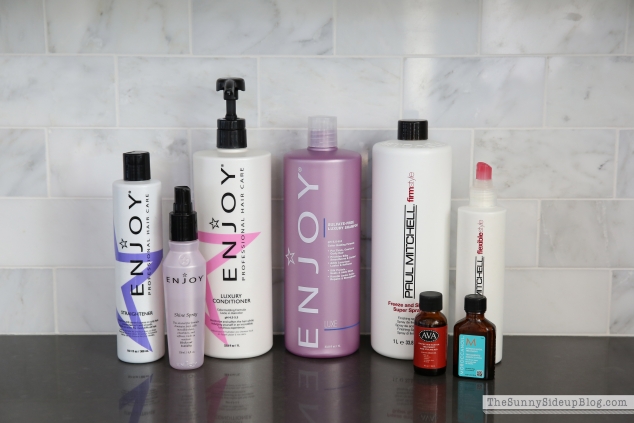 My hair is crazy thick (like I get it thinned every six weeks and it's still too thick!) and naturally curly.  I try new products all the time, but I alway go back to my standby favorites.  Many of you know that Enjoy products have had my heart for a long time!  My #1 favorite hair product of all time is the Enjoy Straightener.  I put it on my hair when it's wet and it smooths my hair out so well!  Even though it's a straightener it works great regardless of whether I'm doing my hair curly or straight.  It takes all the frizz out of my hair and leaves it so smooth and easy to style.  Love it!  I've bought it for friends for gifts for years and now my friends all use it and love it too.  I also use it on my girls' hair for special occasions.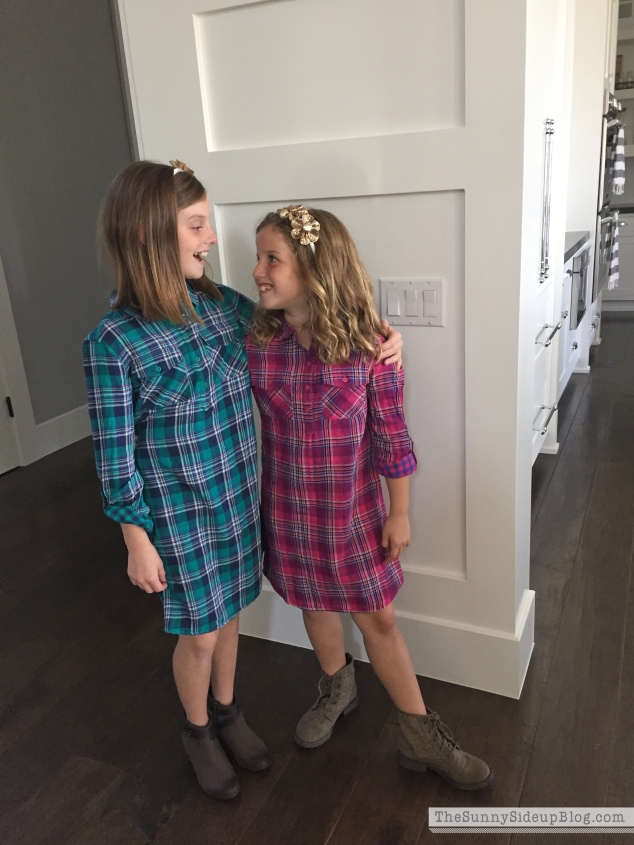 My girls have very different hair.  Ad's is just like mine – really thick and naturally curly.  El's is also thick but stick straight.  I put only half a dime size amount of Enjoy straightener on their hair when it's wet and it makes their hair so smooth and easy to style!  Curly or straight.  Can't say enough about Enjoy straightener!  I've used it for years and it's my favorite.  For life.  :)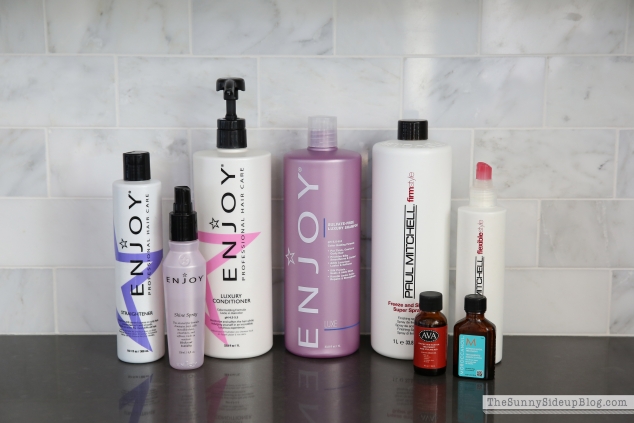 I also love the Enjoy Luxury shampoo and conditioner (they just changed the bottle to the purple so I'm showing both).  I bought the smaller bottles to try it out about a year ago because I liked the straightener so much and loved them too!  They also have a color holding option.
Paul Mitchell's Freeze and Shine Super Spray has been my favorite hair spray forever.  Again I've tried other products, but always end up going back to my tried and true's.  #paulmitchellhairsprayforever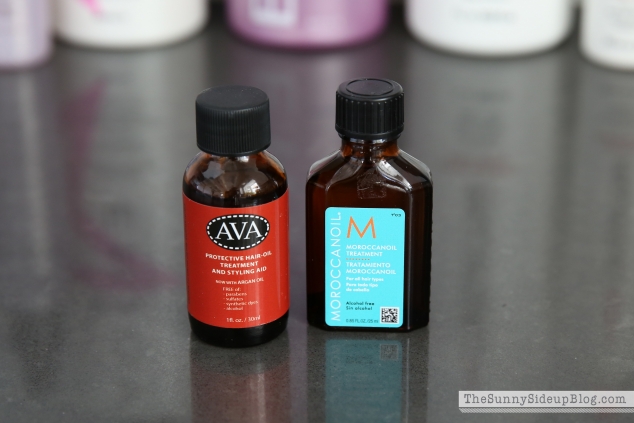 After I've blow dried my hair, my favorite product to use when it's dry is Moroccan Oil.  A little bit goes a long way to smooth it out and take away the frizz/coarseness.  I especially need the Moroccan Oil if I'm doing my hair straight.  Last time I bought it the girl at the store had similar hair to mine and recommended Ava oil.  She said she likes it better than the Moroccan.  (Have any of you tried it?)  Verdict is still out on this one so I'll try it for a few weeks and let you know!  They are both a bit pricey, but last FOREVER (like I said, a little goes a long way – you don't need much!) and the Moroccan oil is worth it.  It especially helps with humidity which we have a lot of here.  Humidity = death to hair like mine!  Which is why you see my hair curly 95% of the time.  :)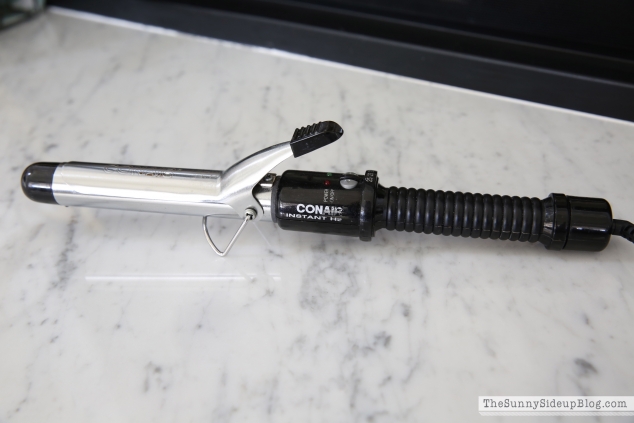 My forever favorite curling iron is this cheap Conair curling iron.  Works better than the expensive curling irons!  I've tried them.  I love the one inch.  10 bucks baby!  Plus it lasts forever.  I think I've had this one for over 3 years.  Looking at the faded state it's in from this picture I think it's time to order another one!  I recently tried a curling wand but didn't like it as much.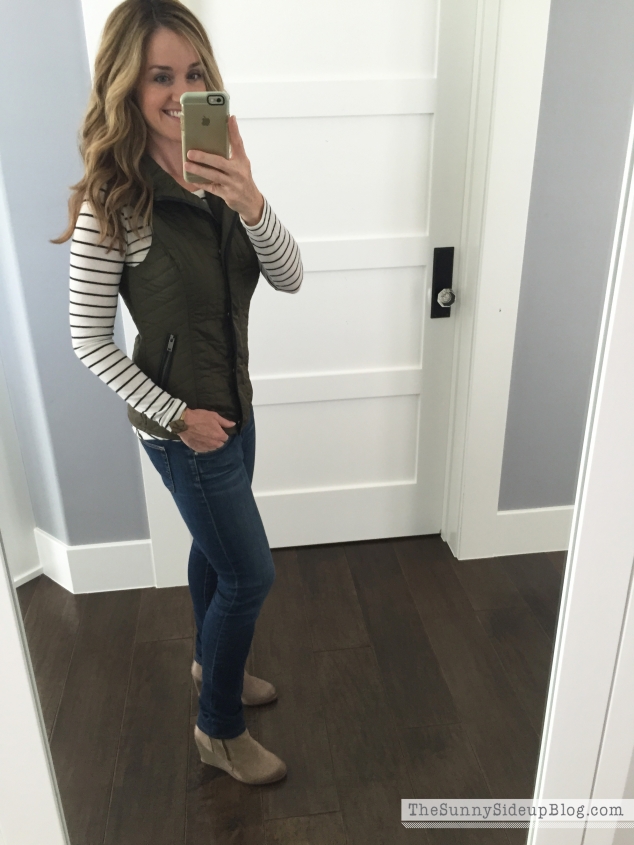 Long live my $10 Conair!  Makes it so easy to curl my hair.  (Side tip: for more of a casual wave like I have going on in the picture above don't curl the bottom inch or two of your hair.  Just wrap the upper half of your hair around the curling iron and leave the bottom section hanging out straight.)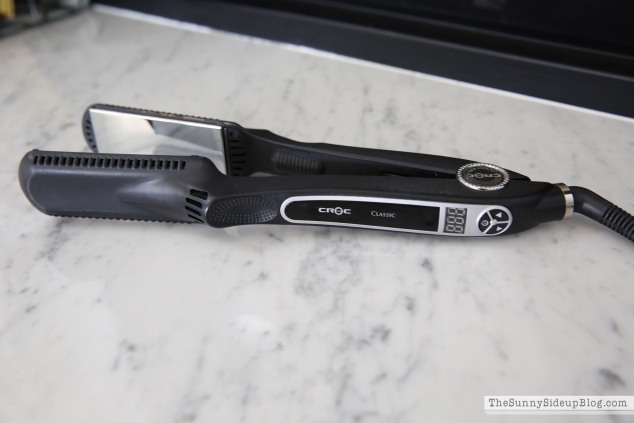 My favorite hair tool for less humid days when I want my hair straight is this Croc Titanium Straightener.  Love this!  I've used the same one for years and it makes my hair SO straight.  I've tried the cheaper straight iron options (I have several from Target) and they just don't work as well.  Save your money on the curling iron, but splurge on this straight iron.  Especially if your hair wants to be curly like mine does!  Either the 1 inch or 1 1/2 inch work great.  Highly recommend this!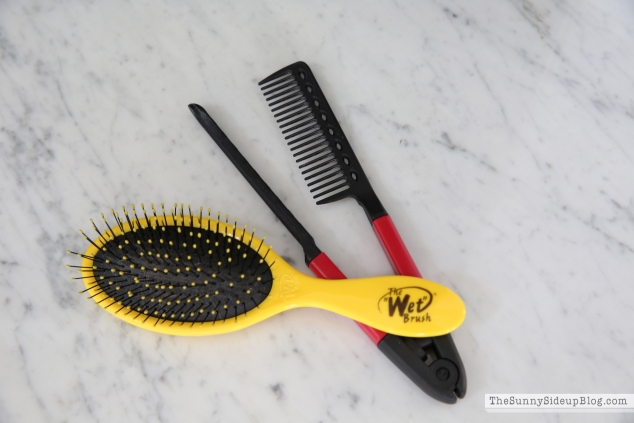 My other favorite tool for getting super straight hair is this Herstyler Easy Comb.  Have you all tried this!?  If not you must!  You take a section of hair and clamp this comb on it and pull through right before the straight iron goes over your hair.  (Does that make sense?)  Makes your hair go SO straight!  It combs out any tangles right before.  K – hard to explain but trust me on this one!  I can't straighten my hair nearly as well without it!
My girls LOVE the Wet Brush.  A sweet blog reader actually recommended this to me years ago (thanks again!) for combing through Addison's curls.  It works great to detangle hair!  We have several and use them for wet and dry hair.  They are a lot softer on your head than other brushes.  Plus they are inexpensive and come in so many cute colors.  Easy comb and Wet brush for the win!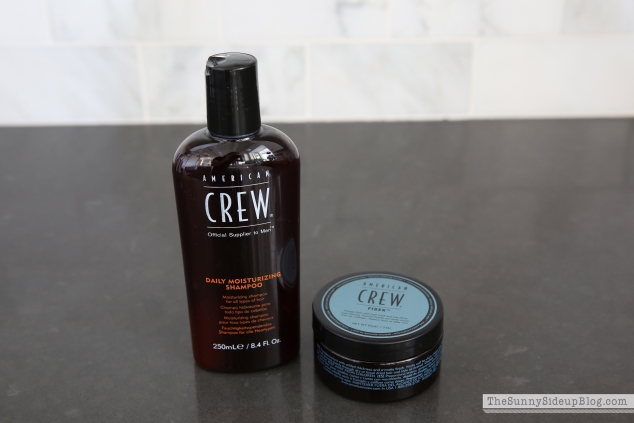 If you happen to be looking for good hair products for your husband, boyfriend, friend, teenage son, etc, my husband loves CREW products.  His favorite for years.  He uses the Crew shampoo every day and lately loves the Crew "fiber" to style his hair.  He used the Crew Forming Cream for years, but has now moved on to the fiber because apparently it holds better.  So he tells me.  The round container always reminds me of the Daper Dan hair stuff in "O Brother Where Art Thou?" 
Which of course just makes me smile.  That show!  :)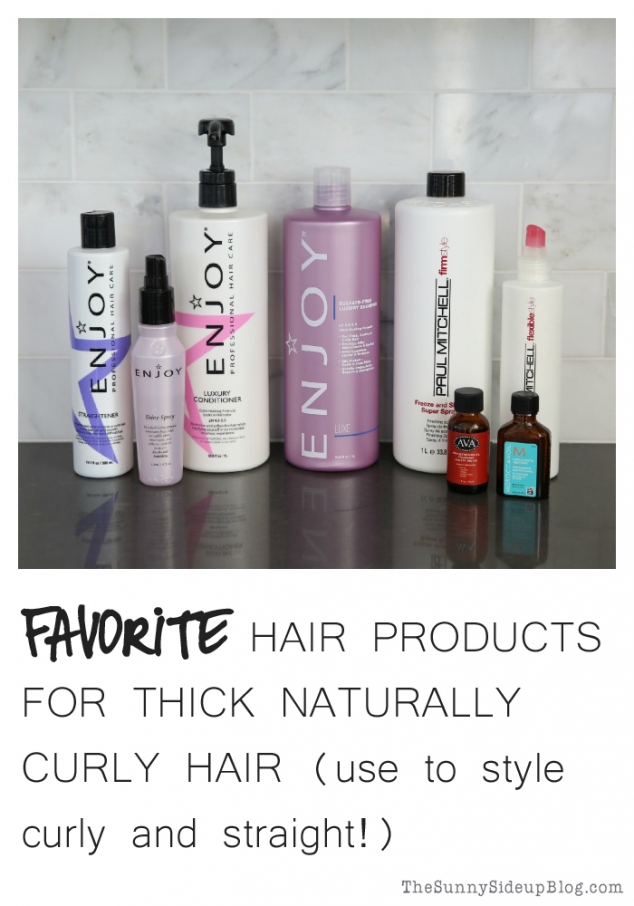 So that's it!  My FAVORITE hair products and tools for thick, naturally curly hair.  Although I love them all so much they would most likely be my favorites even if I had thin, naturally straight hair. :)  These are what I use every day!  Actually that's a lie.  These are what I use every time I wash my hair!  Which is definitely not every day.  Not even every other day.  I've been setting world records lately.
Trying to do my best to help with the California drought.
;)
Happy Hair styling!
xoxo, Erin