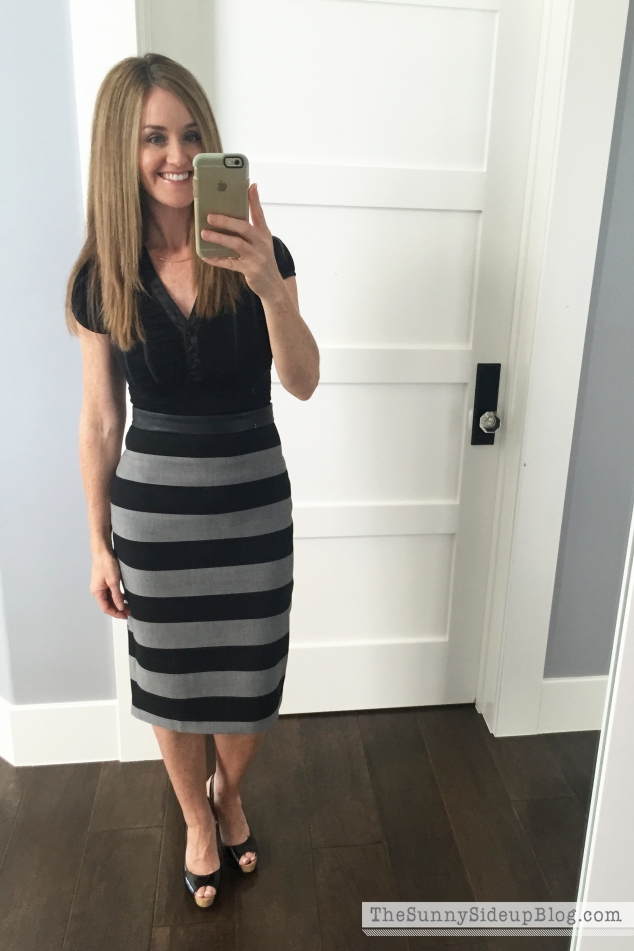 We made it!  Flying high that it's Friday!  Coming down off of a crazy two weeks and I am so excited to have at least a few hours to catch up around here this weekend.  Fingers crossed that happens!  Ok.  I'm in trouble.  I know that in my last Fashion Friday post I promised no black stripes for a while.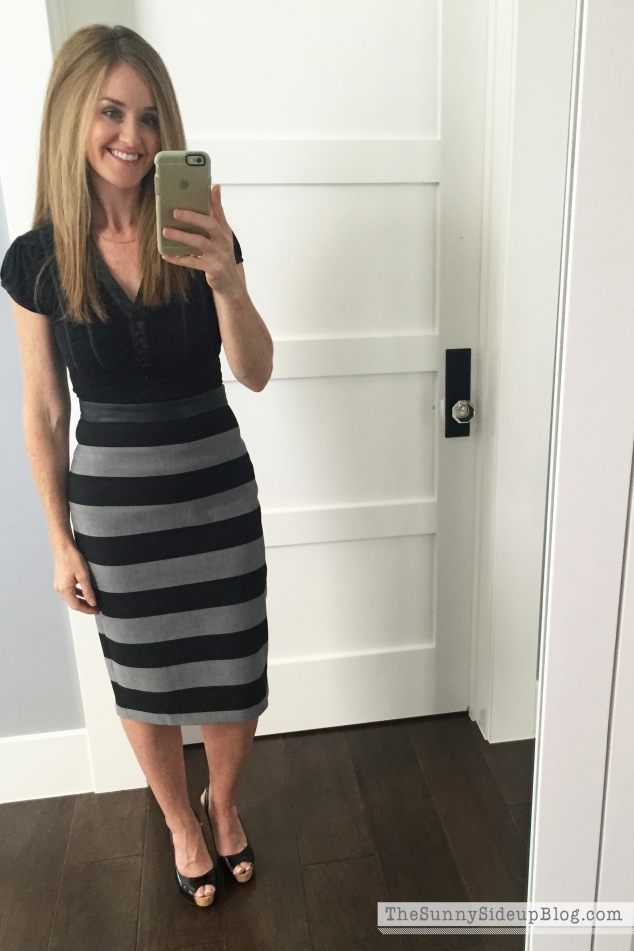 But I lied.  Excited to share one of my all time favorite skirts with you all.  I'm so in love!  It's Banana Republic's Bold Striped Pencil Skirt and every time I wear it I get so many compliments.  

The high waist is so flattering on this skirt that you instantly look slimmer!  Plus it's made of such nice, thick material.  Fits true to size.  And it's on sale!  I paired it with a simple black top I've had forever but I'm excited to mix it up with different colored tops.  Stripes are the new neutral!  They go with everything.


Another favorite?  This tanner pendant necklace (hard to photograph!).  A gift from my husband for our wedding anniversary.  May have strongly hinted it would make a good gift during the Anniversary sale.  He's a good listener.  :)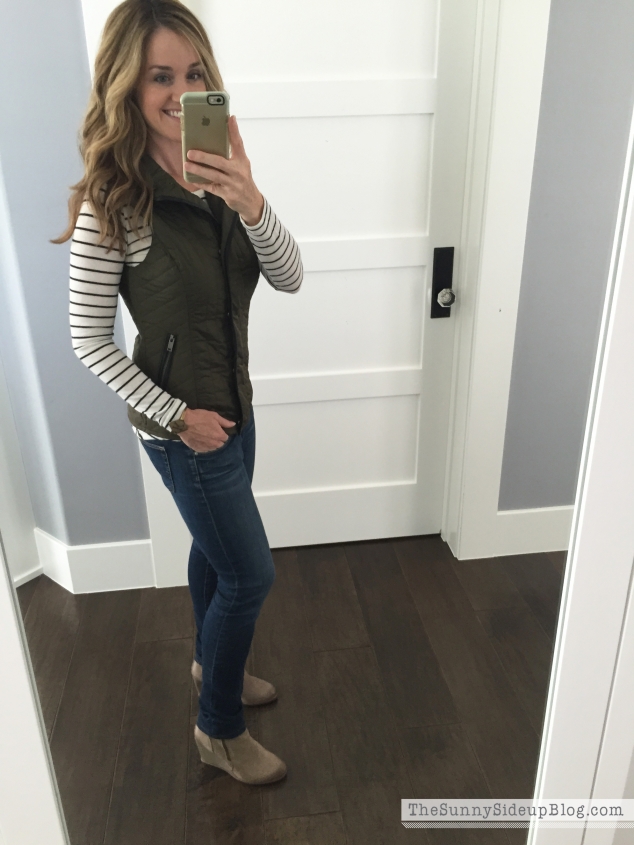 Since I clearly broke my no stripes promise I'm going all the way in this post.  Remember when I showed you all my new favorite quilted vest?  I pair it with my Ashton ankle booties and a striped top..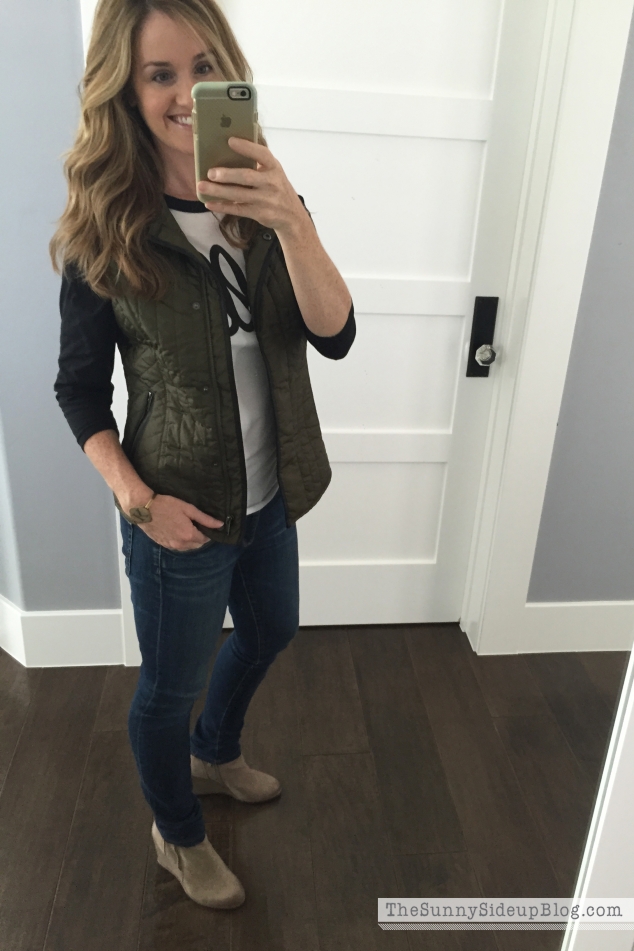 Or with a graphic tee..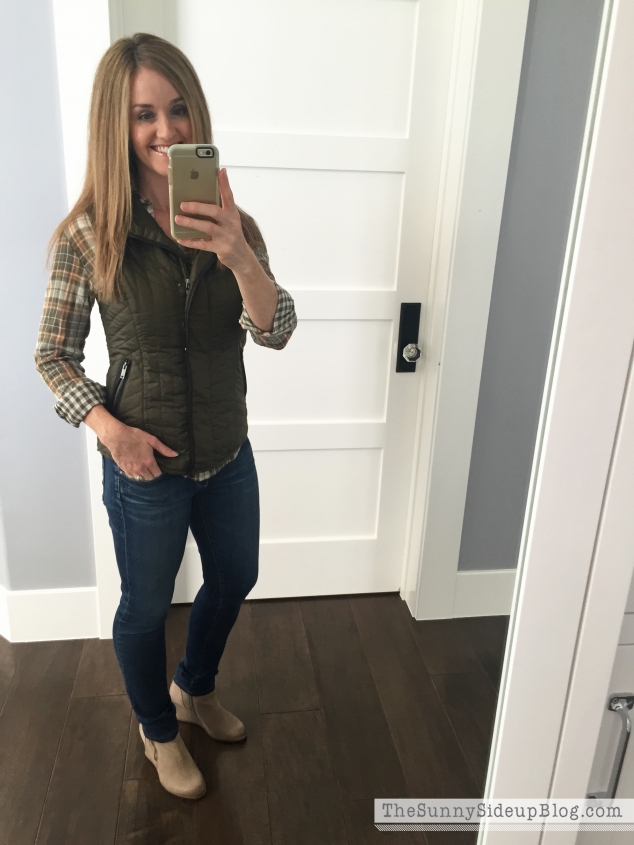 But I just found this soft multi-plaid top that is a match made in flannel and army green heaven!  This picture is so bad and doesn't do it justice.  This top and vest really do look so cute together.

I had to share it for those of you who bought the vest.  This outfit will be on repeat around here for sure.  

Kinda like my Phoenix wedge sandals, jolt jogger pants and my favorite v-neck tees.  This picture might be the worst I've ever posted – terrible lighting and I snapped it so quick on my way out the door before traveling – but I wanted to share a new favorite bag that sort of made its way into my on-line cart a few weeks ago.  I know!  MUST QUIT STRIPES.  Next post.  For real.  Promise.  :)


Here's what the bag really looks like.  How could I resist this!?  Can you see why I had no choice but to order it!?  It's from Sole Society and such good quality for a great price.  It comes with a longer strap but I haven't used that yet because I love the handles.  Now I have two favorite bags and I seriously use them both every day.  We have been so busy with my girls' play.  I fill this every day with their cat make-up, dance shoes, jackets, Kole's snacks and workbooks to keep him entertained, water, etc, etc.  (Hunter boots are Graphite Gloss)


Then I use my other favorite bag to hold my wallet, planner, papers, etc. etc.  So nice having them both!  Btw – I love that I'm still hearing from so many of you that you bought and also love this bag.  I feel like we need to have a party and all bring them and  ohh and ahh over the different color combos.  :)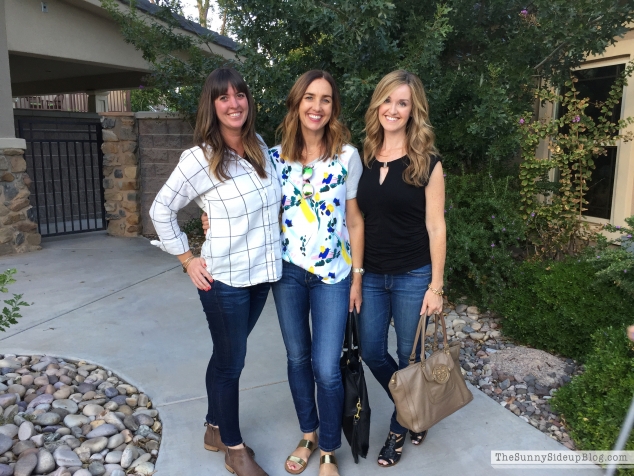 So my quick weekend trip.  Last weekend was my 20 year high school reunion!  I'm so old. :)  Kole and I hopped in the car and drove to Utah for two days and then drove back.  Leaving my husband knee deep in cat make-up with a bunch of stage moms.  He's a good man.  :)  Snapped this pic on my way out the door with my beautiful sister and and one of our favorite friends.  My friends and I made up the first graduating class of our new then high school so for the reunion we invited everyone from that first year (all 3 classes) back to celebrate.  I was so torn about what to wear to this thing and finally just decided to keep it simple and go with my favorite jeans and my favorite black keyhole top (which it looks like is sold out but still available in plus size).  My new necklace was a nice addition!


Tried to get a pic with my sister-in-law in there and that didn't happen.  Wish I could remember what was so hilarious.  For every good picture we get we have at least 20 that look like this.  :)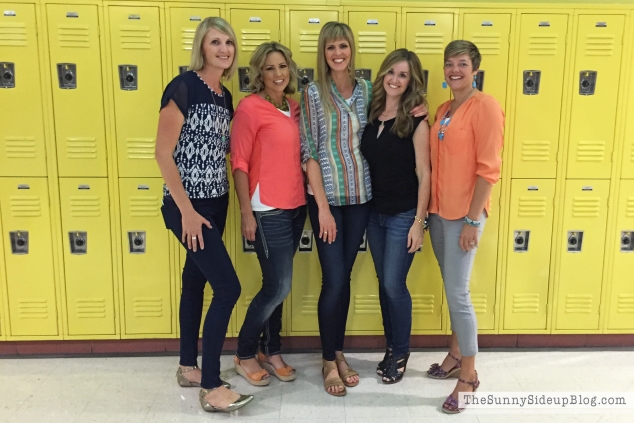 Meet the reunion planning committee!  These girls are my besties from high school (and all of childhood for that matter!) and I couldn't love them more.  We planned the reunion and just kept it low key at the high school.  Here we are in front of our lockers.  Old stompin' grounds!  The memories just flooded back.  :)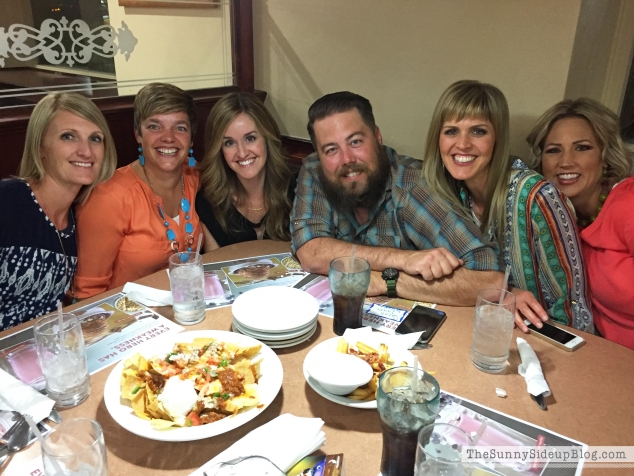 The reunion was a blast.  It was so fun seeing everyone.  After the party we headed to Denny's for late night nachos and cheese fries.  Our old high school tradition.  It's a miracle we didn't all weigh 500 lbs back then.  We talked and laughed for hours remembering one story after another.  Something so special about childhood friends.  Friends who have known you through every stage of your life.  And love you regardless.  Really grateful to have these people in my life!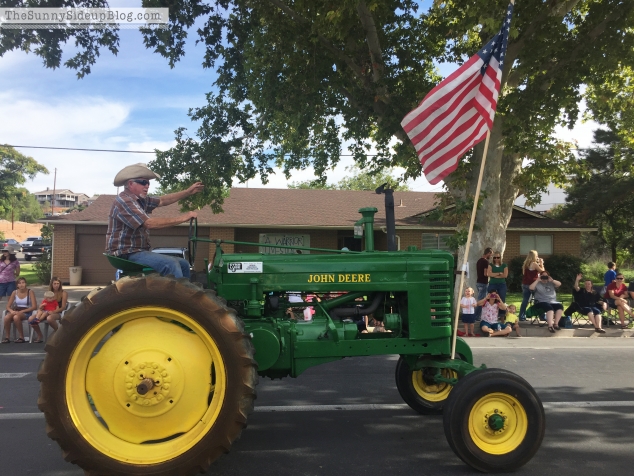 I was in my hometown just long enough to catch a parade for our annual Swiss Day celebration.  This picture makes me smile.  Such a fun weekend.  It ended way too quickly!  This weekend I'll be cleaning up the aftermath from all the excitement that has been happening around here.  Wish me luck because I'm going to need it.
:)
Enjoy your weekend friends!
*affiliate links used
xoxo, Erin