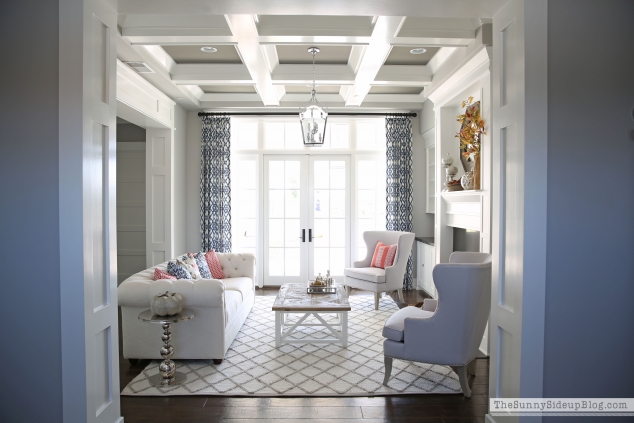 Well!  Sorry about the crickets chirping on the blog!  I took a quick trip last weekend and last week was tech week for the play my girls are currently in.  Busiest week of the process and our family has been living downtown helping with sets, costumes, make-up and the raffle.  Now it's show time and I can't wait to see my girls perform!  But more on that later.  :)
I'm so excited to show you all some progress I've made in my formal living room!  Small progress because there have been other things occupying my time, but progress nonetheless!  I'll take it.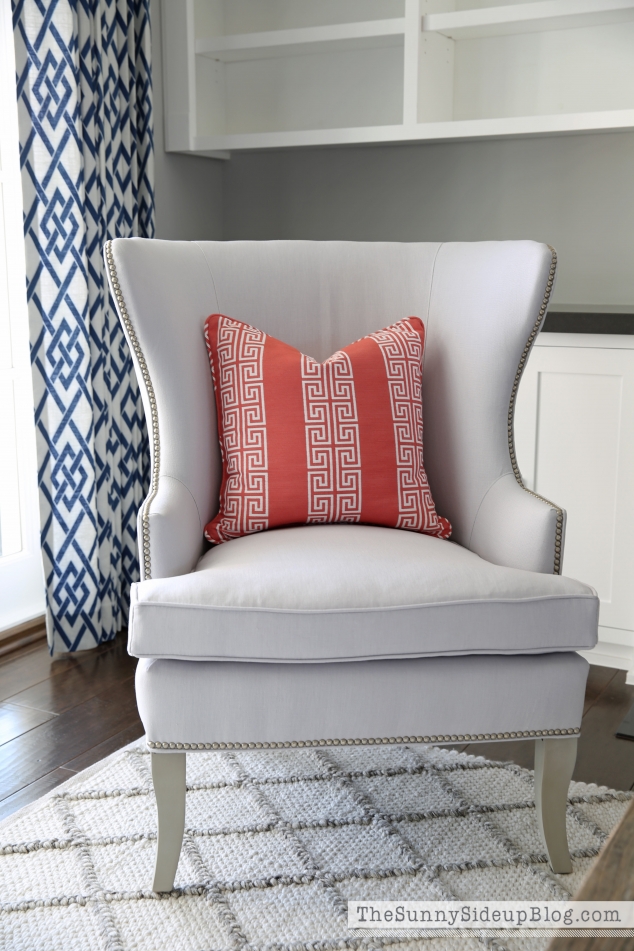 The first obvious addition is my new chairs!  They came.  FINALLY.  Remember when I asked your opinion on which chair back in April?  I ordered them so long ago!  I decided to go with the chairs from Ballard Designs and they were backordered and took forever.  And a day after that.  But they were worth the wait!  I'm so in love.  The shape!  The nail heads!  Be still my heart.  I chose a soft grey fabric.  It's hard to tell in these pics but it looks so good up against the darker grey paint in this room.  I wanted to keep them neutral so I could have fun with pillows.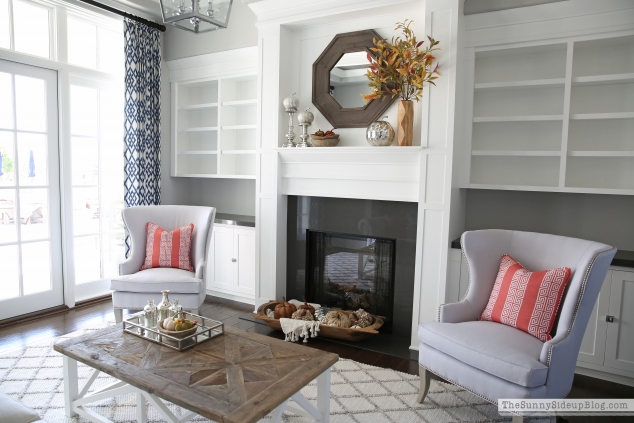 For now I have these greek key coral pillows that go with the other pillows on our couch.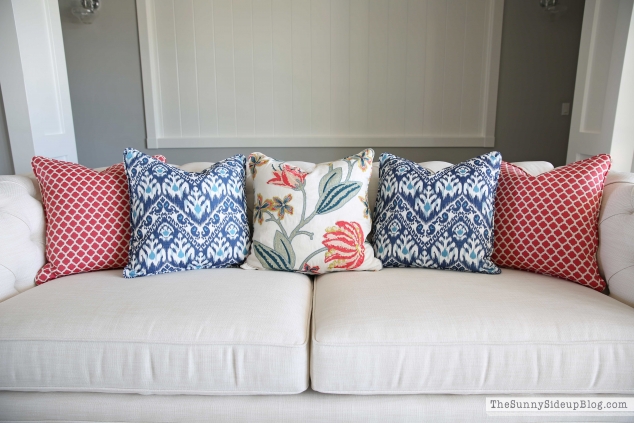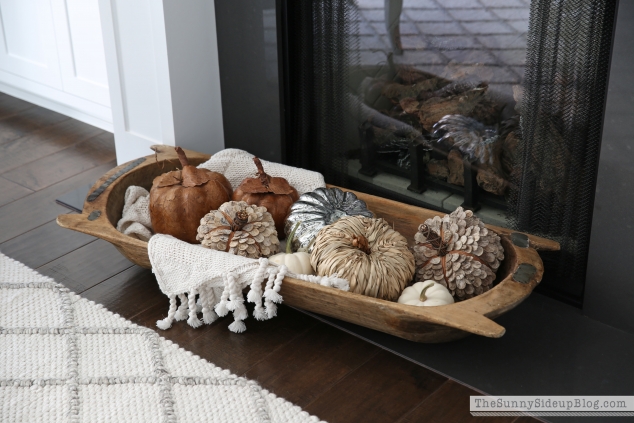 Another fun new addition is this dough bowl.  K.  I've wanted one of these for so long!  I've had my eyes on these dough bowls at Pottery Barn but just hadn't taken the plunge and bought one.  Then I was in Utah a few months ago and ran into Down East Home (a store that gets a lot of items from other stores because they're flawed or didn't sell) and there it was!  The most beautiful large dough bowl for a steal!  Less than half the price of what they usually sell for!  I couldn't swoop it up fast enough. :)  It must have a flaw but I haven't found one.  Love it as is.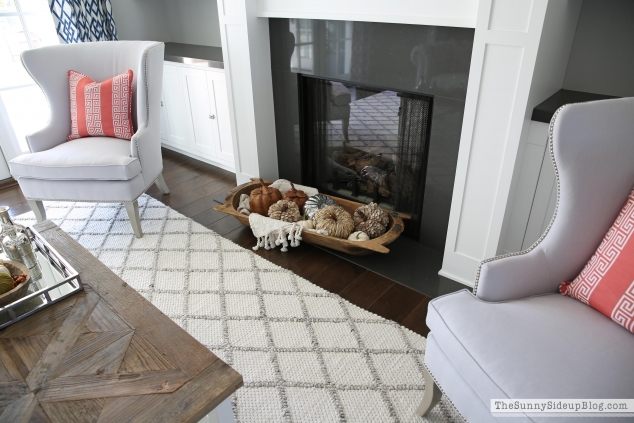 For now I have it filled with some pumpkins and a cozy throw.  It will be so fun to switch things out for the seasons!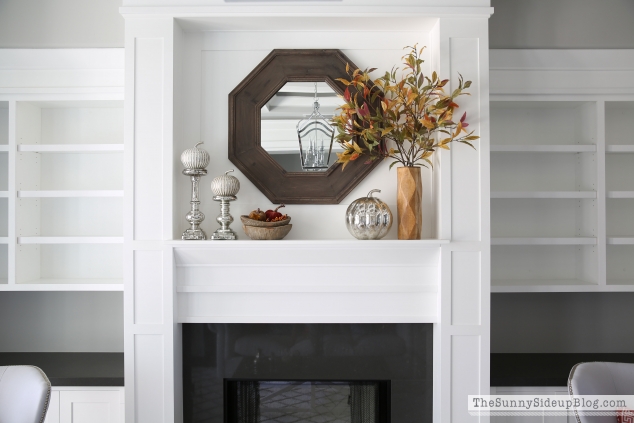 I tried a little mantel styling.


I wanted to use things I already had.  Love it all except the wood vase and faux leaves.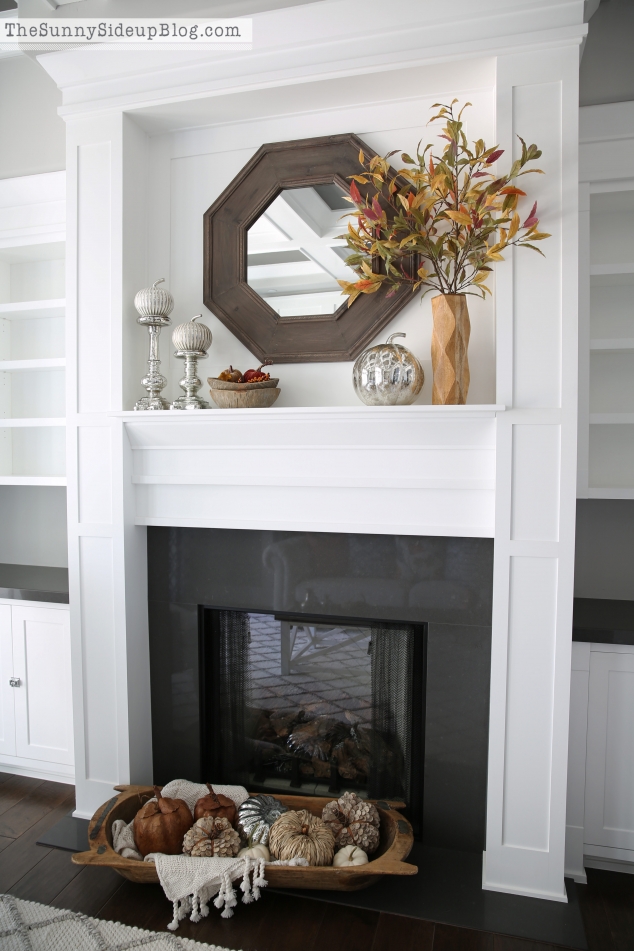 They're ok, but seem like a bit much – too bushy for this narrow mantel so I'm going to tweak that.  But hello!  Decor in this room!  I'm celebrating.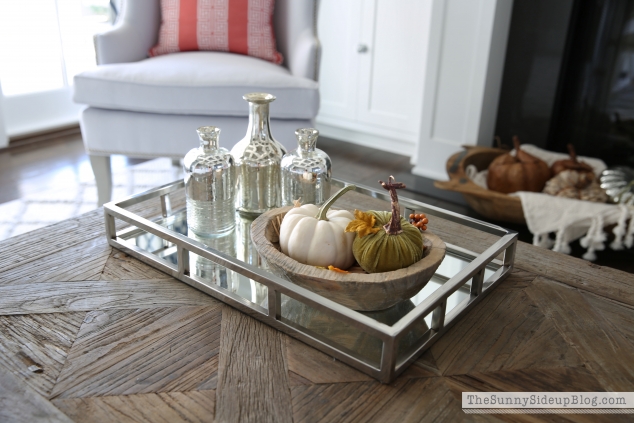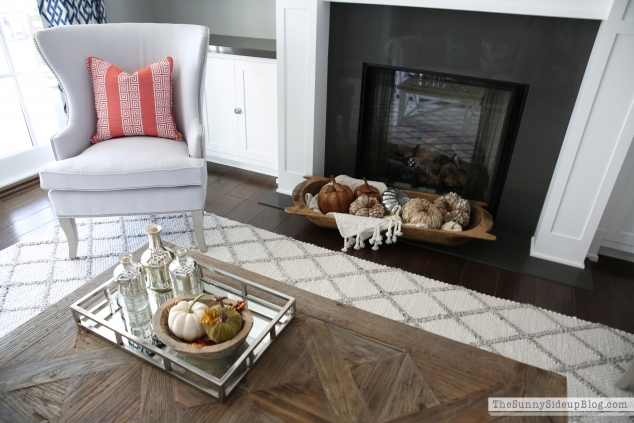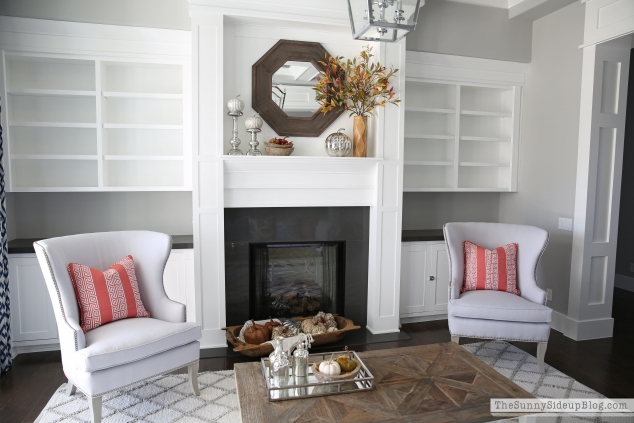 These built-in shelves are still quite empty and staring at me every day.  I've been collecting a few things for them.  I want to keep them simple.  I always worry about things looking too cluttered.  I don't do well with clutter.  Did you know that?  ;)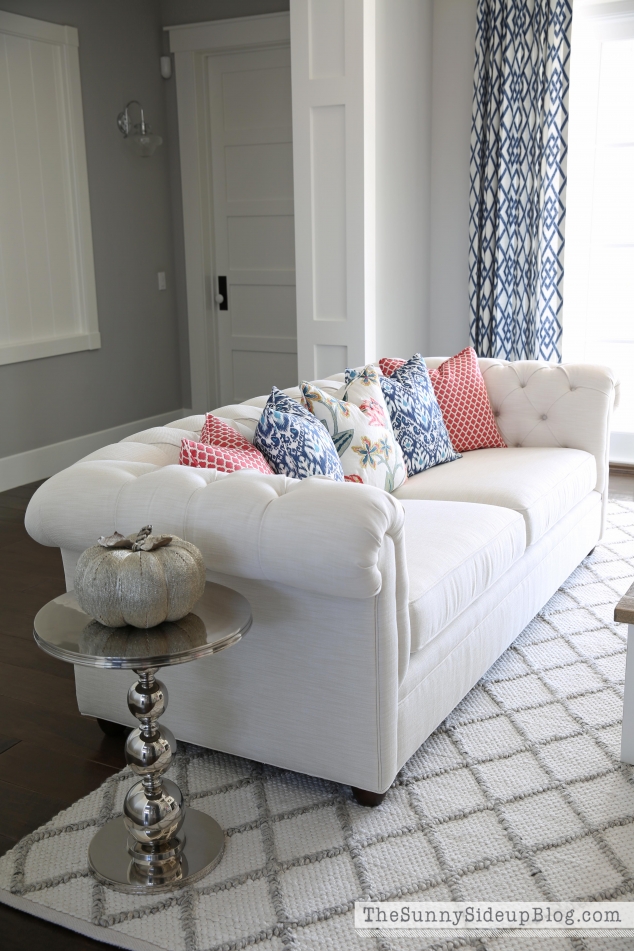 Added a pumpkin to my silver side table and called it good!  For now.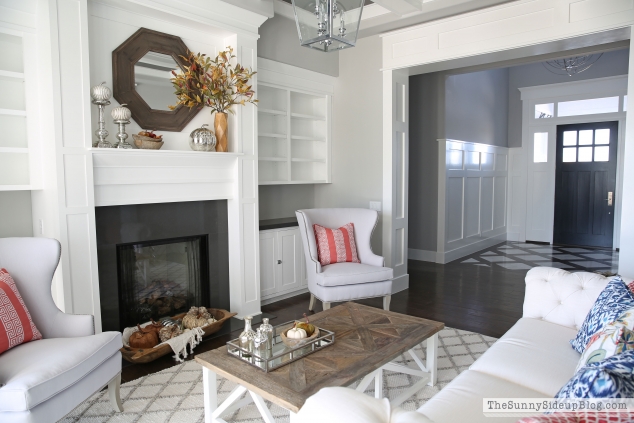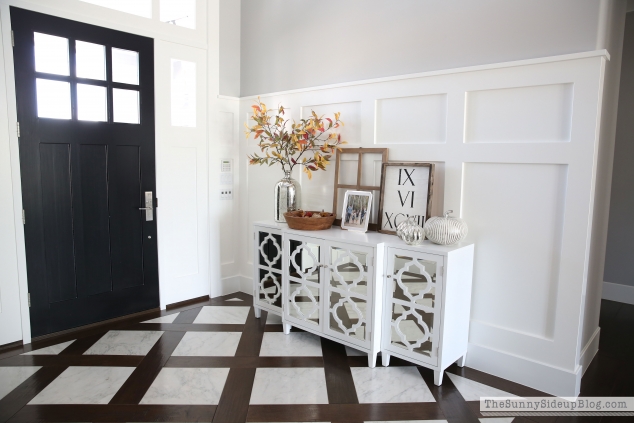 I tried to tie my console table decor in with everything in this room.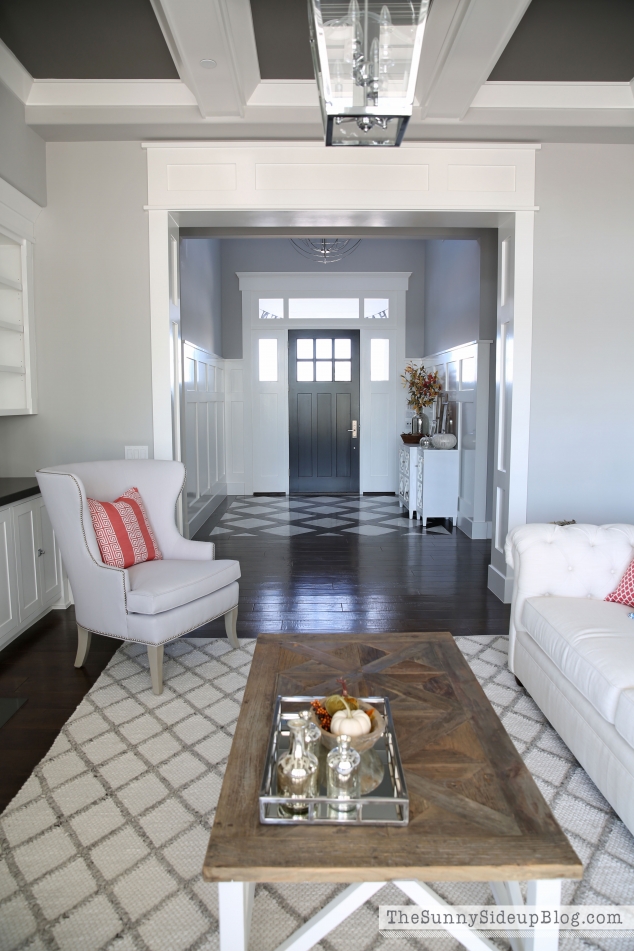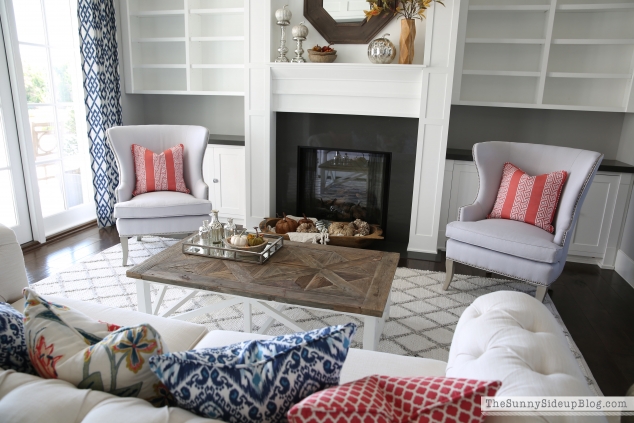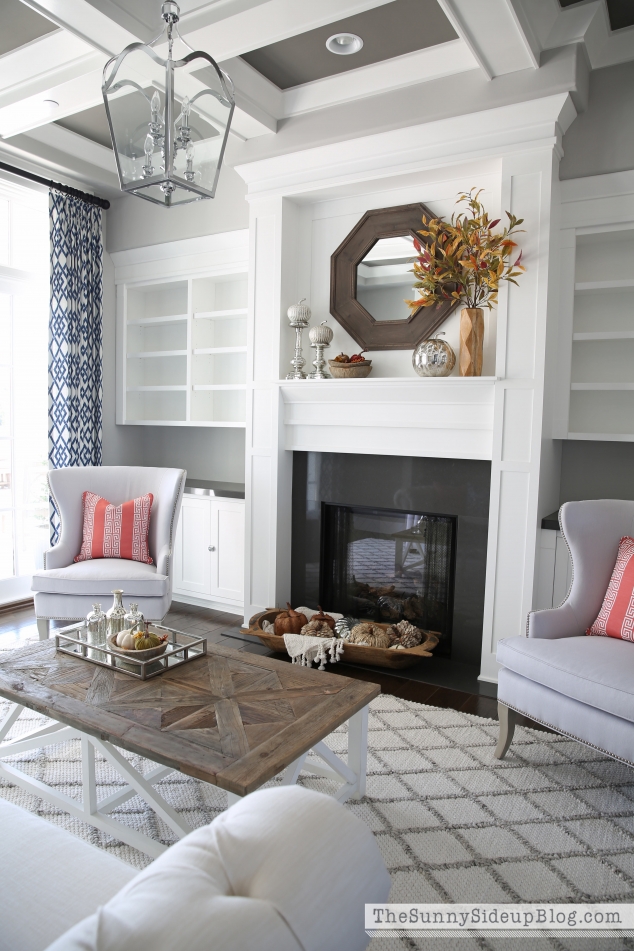 Feels like fall!  Just a touch.  :)  Now I can work on styling the shelves and eventually the gallery/plank wall behind the couch.  Taking my time with this room but it feels like me.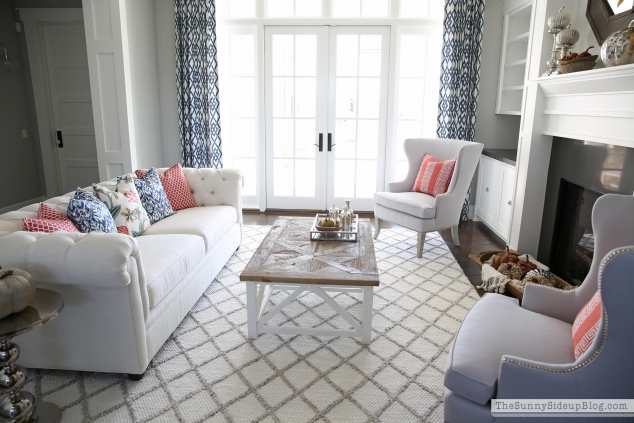 Mission slowly accomplished.
:)
SOURCES:
Rug, coffee table, mantle mirror: Restoration Hardware  –  Couch: PB Chesterfield Sofa   Side table: Z Gallerie  –  Pillows and drapes: Custom (e-mail me for more info.)  Candle holders: PB Mercury Glass Candle Holders  Pumpkins on mantel: PB Mercury Silver Glass Pumpkins & White Pumpkins  Wood vase: Target  Faux Fall Leaves: PB Turning Leaf Branches  Pumpkins on coffee table: Pier One Velvet pumpkins  Wood bowls: local boutique  Dough bowl: Down East Home (similar here)   Throw in dough bowl: PB Bryson Knit Throw  Pumpkins in dough bowl:  Target and Home Goods.  Tray: Home Goods
*affiliate links used
xoxo, Erin