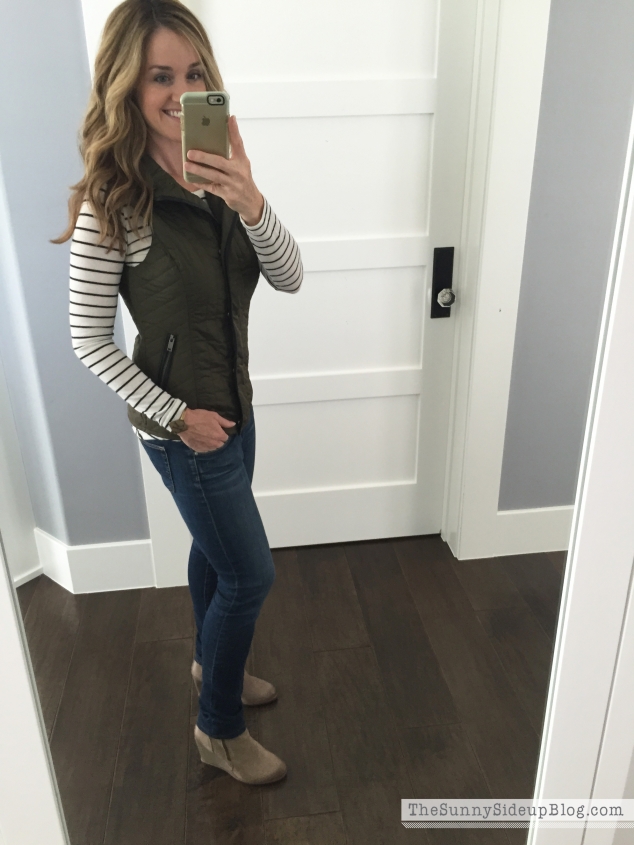 Happy Friday everyone!  Made it to the weekend.  Tonight we watched our first football game of the season (go UTES!) and I can't even tell you how excited it made me!  The soothing sounds of the crowd cheering had me reaching for our pumpkin spice candle and pulling out every fake pumpkin we own.  We have a busy weekend ahead, but I'm going to make some time to start decorating even if I have to stay up until 2:00 a.m. to do it!  Speaking of all things Fall, I bought a vest I'm in love with and can't wait to wear this season!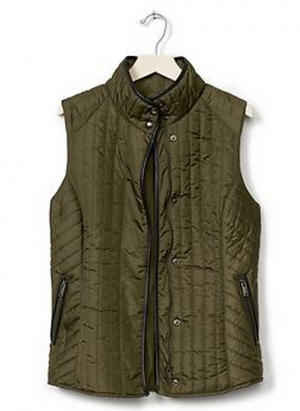 It's Banana Republic's Quilted Field Vest in Seaweed and the second I saw it I knew it was coming home with me.  Plus it's 40% off right now!  Everything is at Banana!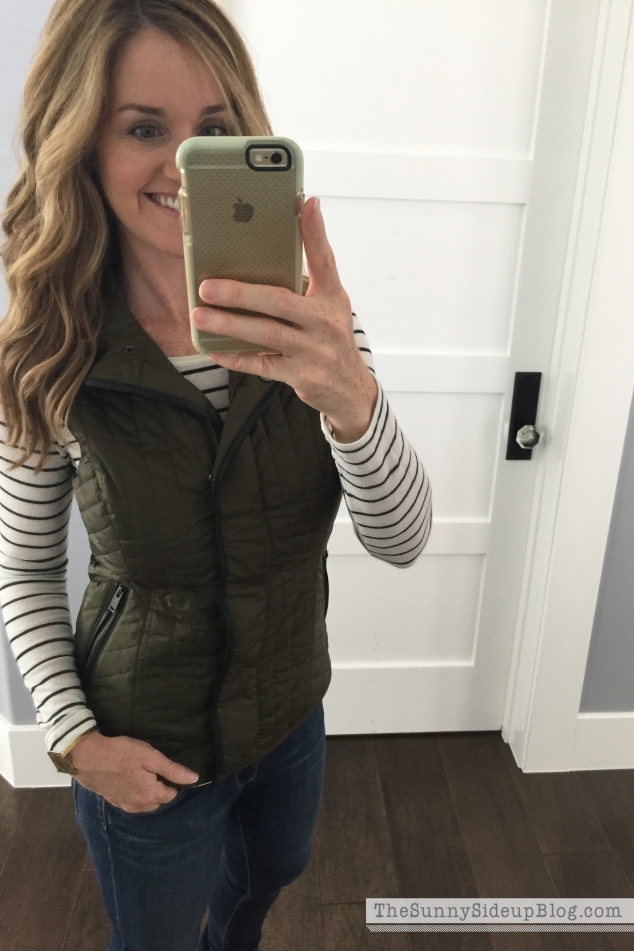 Such a great fit (true to size) and really slimming.  I love that it's thin, but quilted so it will be warm for upcoming chilly Fall days!   I tried it on with my favorite staple striped top because I am really loving the army green/striped combo lately.  I know this is no surprise since about everything I've shared lately is black and white striped or army green!  I promise to get out of this rut in my next Fashion post.  Maybe.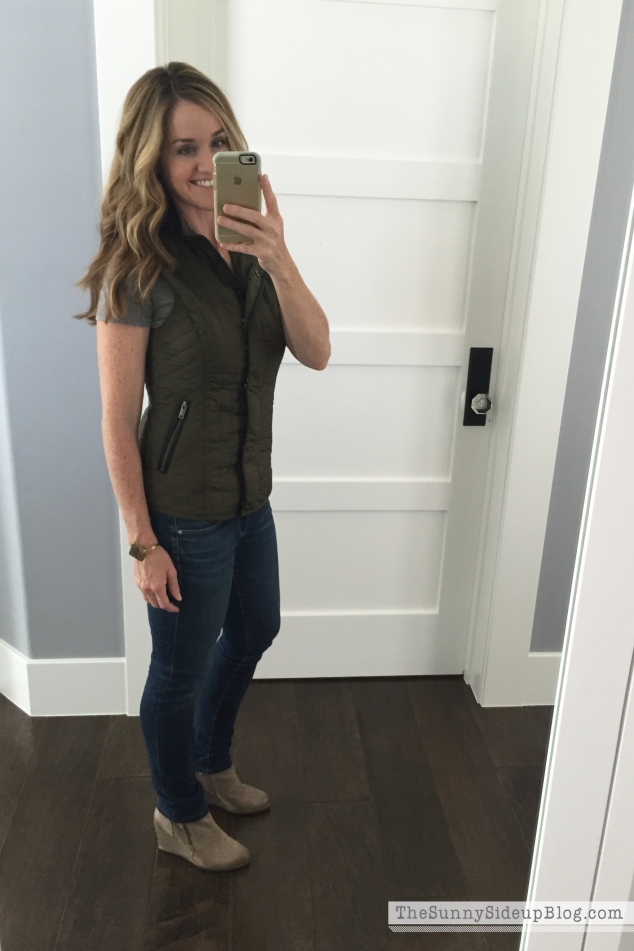 When I said I couldn't wait to wear my new vest I meant it!  Chilly Fall days aren't happening around here at the moment so I just paired it with one of my favorite v-neck t's (also from Banana) so I wouldn't sweat to death!  Not quite as cute, but I got my Fall fix.  Especially since I've been breaking in my Ashton Leather Wedge Ankle Booties.  Really love these.  Comfortable and perfect for every day running around.  (Jeans I'm wearing – AG 'Stilt' Cigarette Leg Jeans)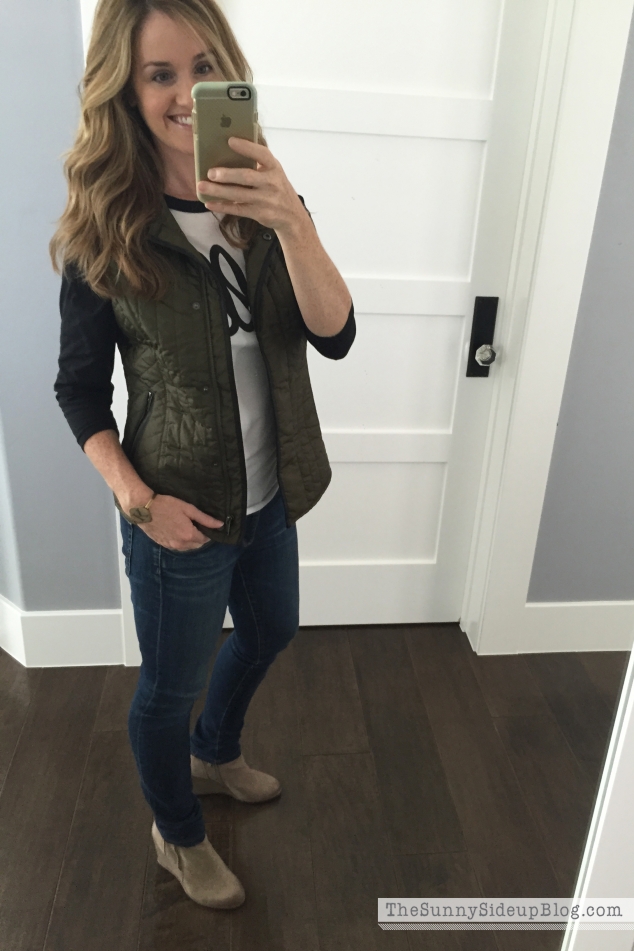 Graphic tees are another fun top to wear under vests.  Hurry and cool off weather!  I'm so anxious to break out all of my warm clothes.  This is the only time of year I don't love living in San Diego.  Last year we were swimming on Thanksgiving Day and it just wasn't right!  I always love our city again when February rolls around, but in the Fall I just want to wear a turtleneck or a scarf!  Is that so much to ask!?  ;)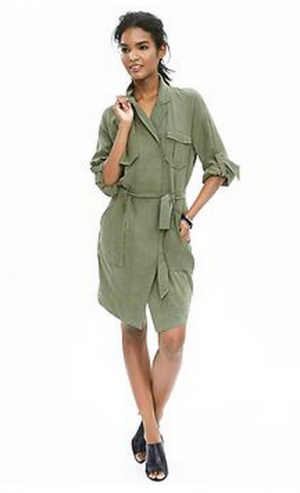 Apparently I'm not the only one in love with this army green color.  It's everywhere this Fall!  I'm going to order and try on this trench dress while it's on sale.


And I almost put these fun cargo pants in my on-line cart…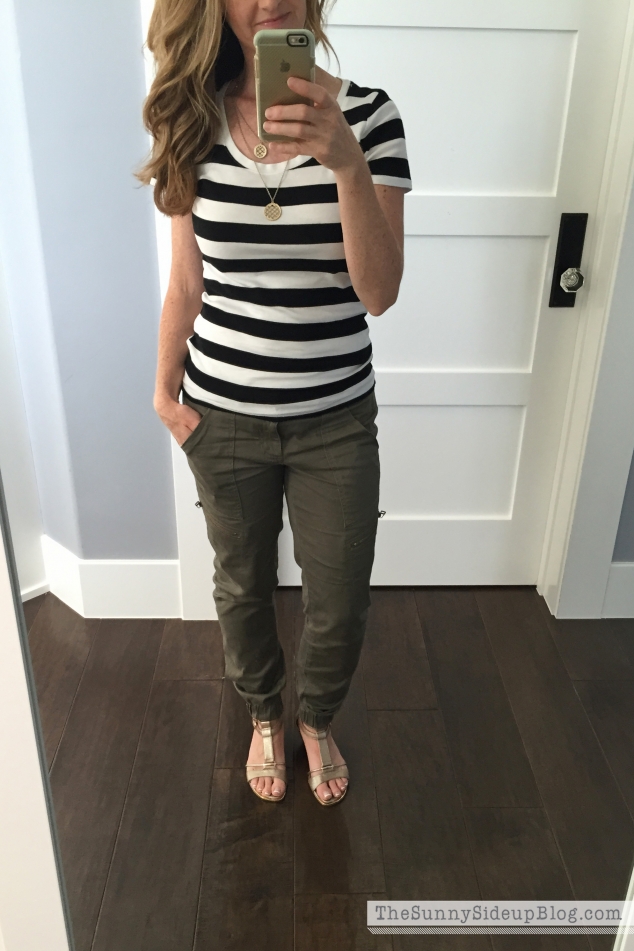 Until I decided they are too similar to my Jolt Utility Jogger Pants.  I've been wearing these pants about three times a week!  SO comfy and they go with a lot of different tops.  I've also been living in my favorite new sandals and this fun striped tee I found at Target.  I told you.  Out of this rut next time.  :)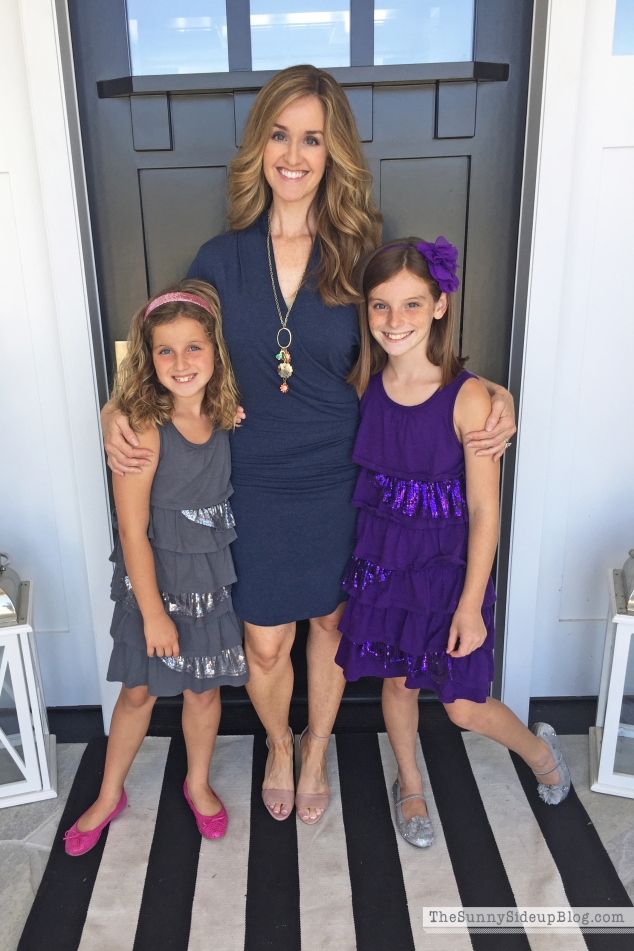 Like everything else in Banana my Heathered Faux Wrap Dress is on sale!  When I shared this in a past Fashion Friday post I got a lot of questions about my girls dresses.  They are from Children's Place but are several years old.  I always buy things big for my kids but these dresses have lasted and fit longer than most of their clothes have.  If I ever run into anything similar I'll share it on the blog. :)  (You can find the shoes I'm wearing in this picture here but I also just discovered shoes that are almost identical but cost less here!)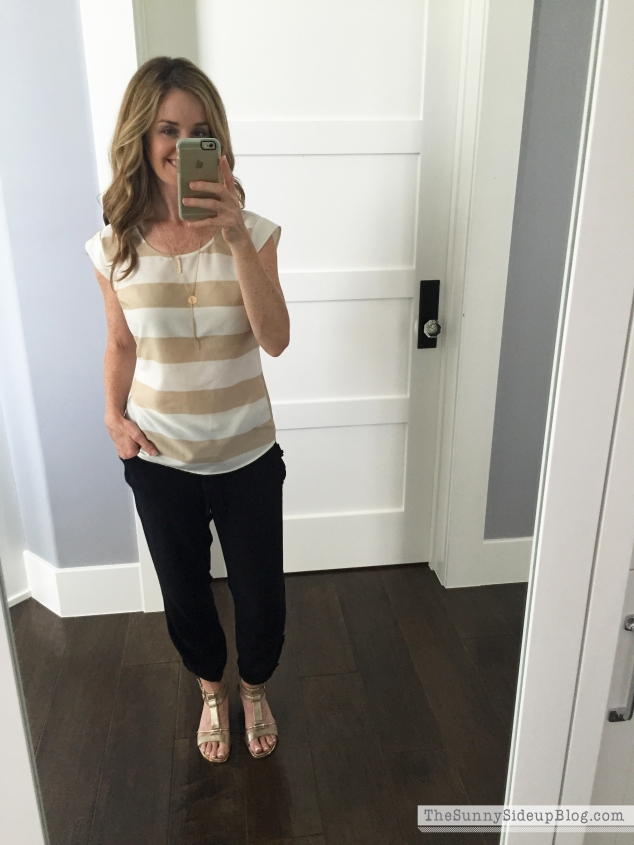 K.  At least with this outfit my stripes aren't black and white.  Ha!  This top I've had forever.  I always wear it with my favorite Jolt drawstring pants I've also had forever (on sale for $22!).  I have them in black but they also come in olive green if you wan to be in an olive green rut with me.  :)  Love all of BP's layered pendant necklaces!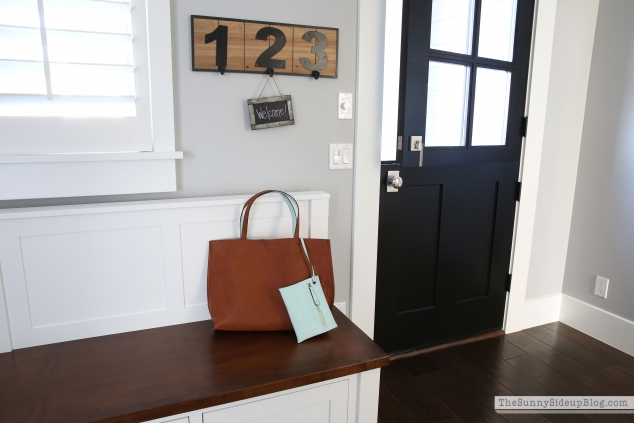 I was so happy to hear from several of you that you bought and love the Reversible bag I shared in my Friday Favorites post last week!  The day I wore my new Banana Republic vest I had this bag with me and I got SO many compliments!  Great combo.  I also took my new favorite Fall bag to church last Sunday and it was perfect to hold all of Kole's coloring books and snacks and everything I needed.  But I was wearing a navy dress and it made me want to order the navy one too!  Did any of you get navy?  Do you want to convince me I need to have it?  Wouldn't take much.  :)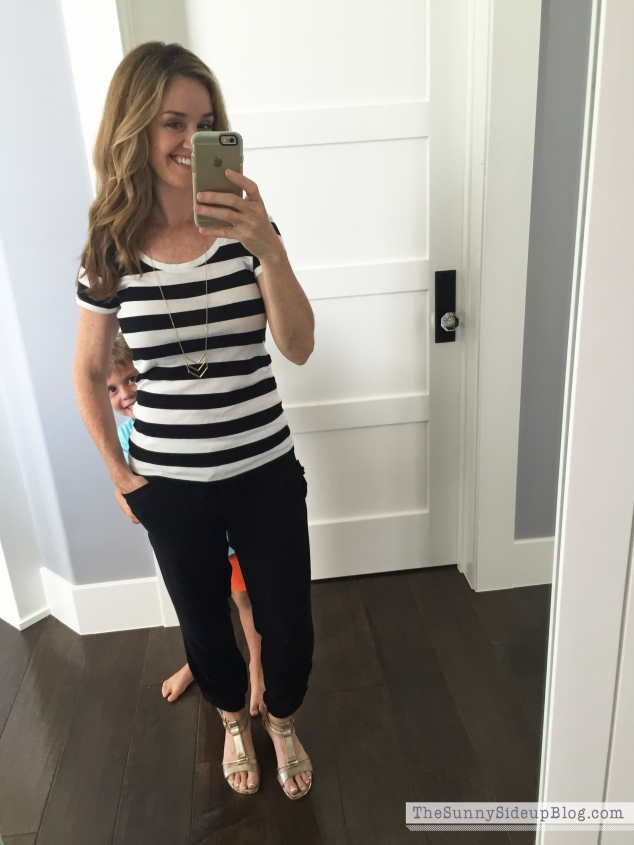 Btw.. this cute Chevron necklace is on sale for $8 right now!
And do you love my photo bomber?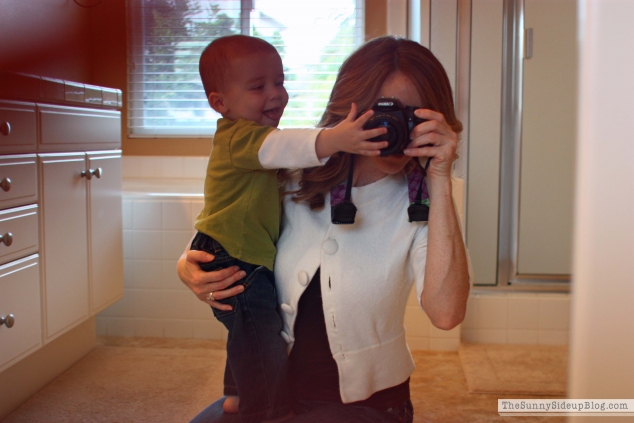 (Fashion Friday from 2012)
He's been in business for 5 years.
Some things never change.
:)
Get out your pumpkin spice candle and enjoy the weekend!
xoxo, Erin