So excited to kick off my holiday decor today with some amazing bloggers who are also close friends of mine and share Christmas in my Family Room!  If you just popped over from Tamara's beautiful home at CitrineLiving hello and welcome!  If you're a regular here… hello dear friend and welcome back. :)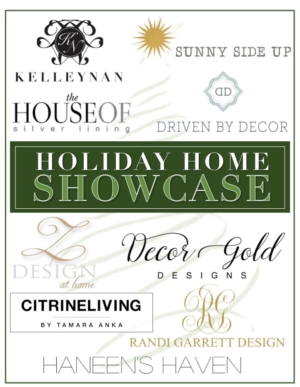 (affiliate links used)
Time for the Holiday Home Showcase!   Although I have a confession to make first.  For me this is the Holiday Room Showcase!  Ha!  I'm spreading my decor out one room at a time this December.  I take too many pictures to fit a whole house tour into one post and thought I'd save myself a little sanity by sharing one room at a time.  Not much mind you.. there's still a regular amount of insanity going on around here.. but I managed to salvage a little.  ;)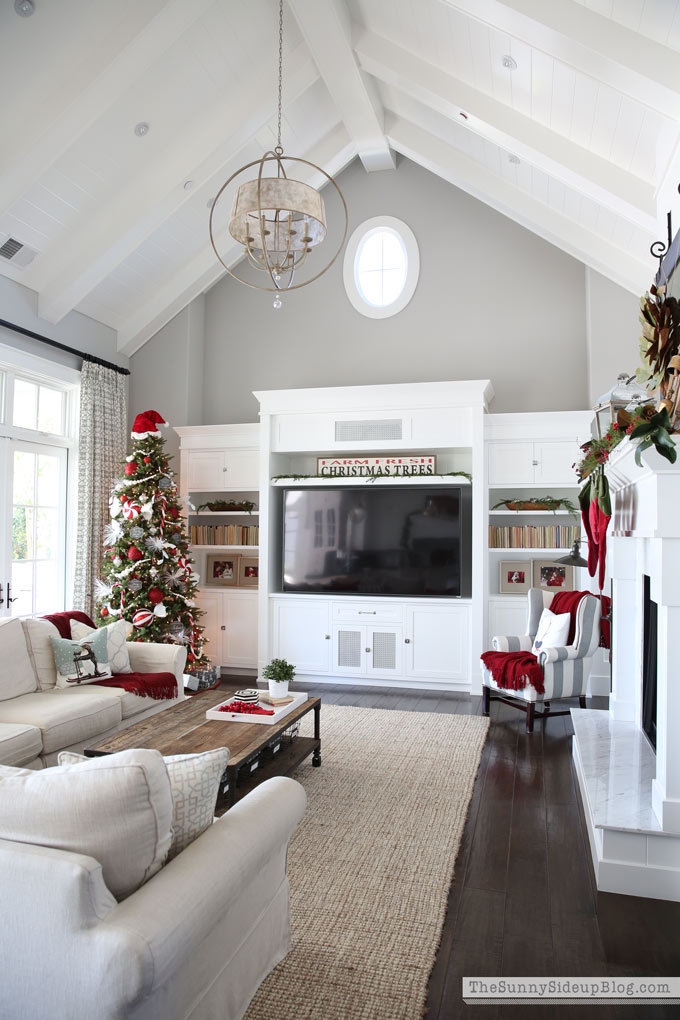 So come in!  Time for a tour of Christmas in my family room!  The halls are decked and feeling all sorts of cozy.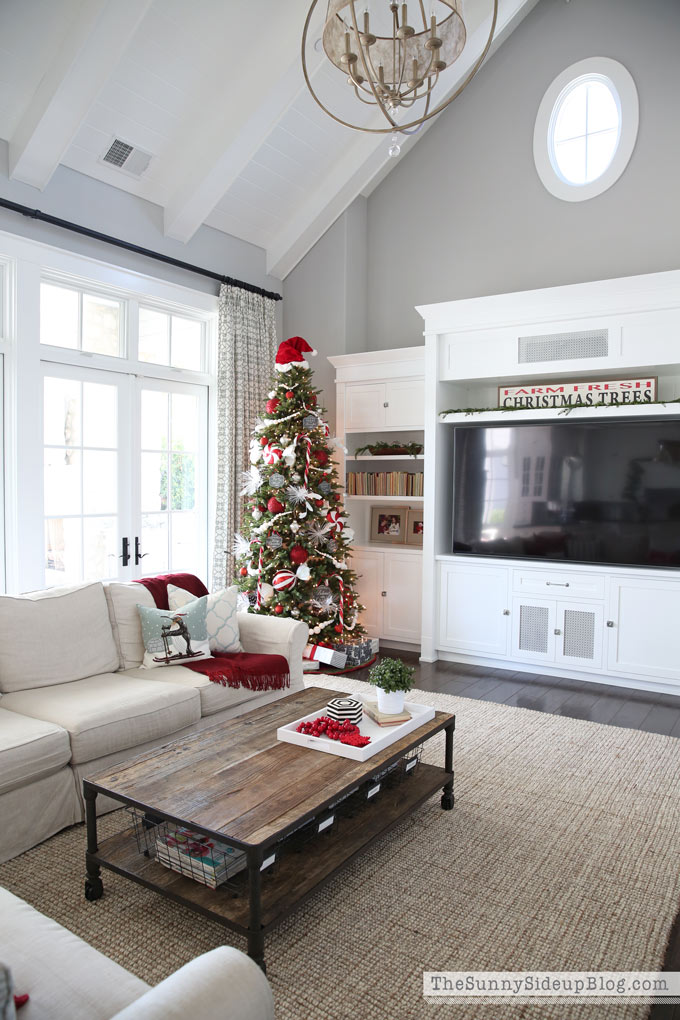 Let's talk changes in this room.  For starters I have a new rug!  That you probably didn't even notice because it's my old rug. :)  When we moved in and bought this Chunky Wool Jute Rug (my favorite as you all know!) the biggest size available was 9×12.  I wanted something bigger for this space, but settled with that size because I loved the rug so much.  About six months ago when I was looking up the rug to include in a post I saw that PB now has it available in a 10×14!  THAT was the size I wanted for this room.  I was so excited!  My husband was not.  Ha!  Until I convinced him that I would still use the 9×12 rug in our formal dining room during different seasons.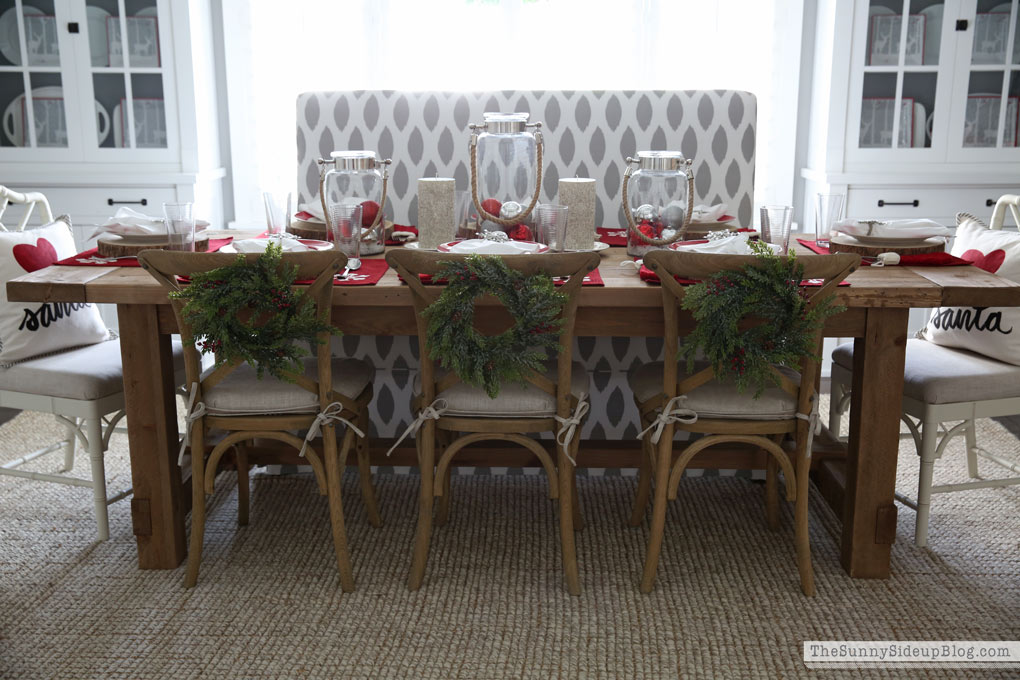 SOLD.  (See babe.. we needed them both…)  I'm a good convincer. :)  And I love this rug in both spaces!  You can see my formal dining room (that's actually quite casual) with my old rug decked for the holidays here.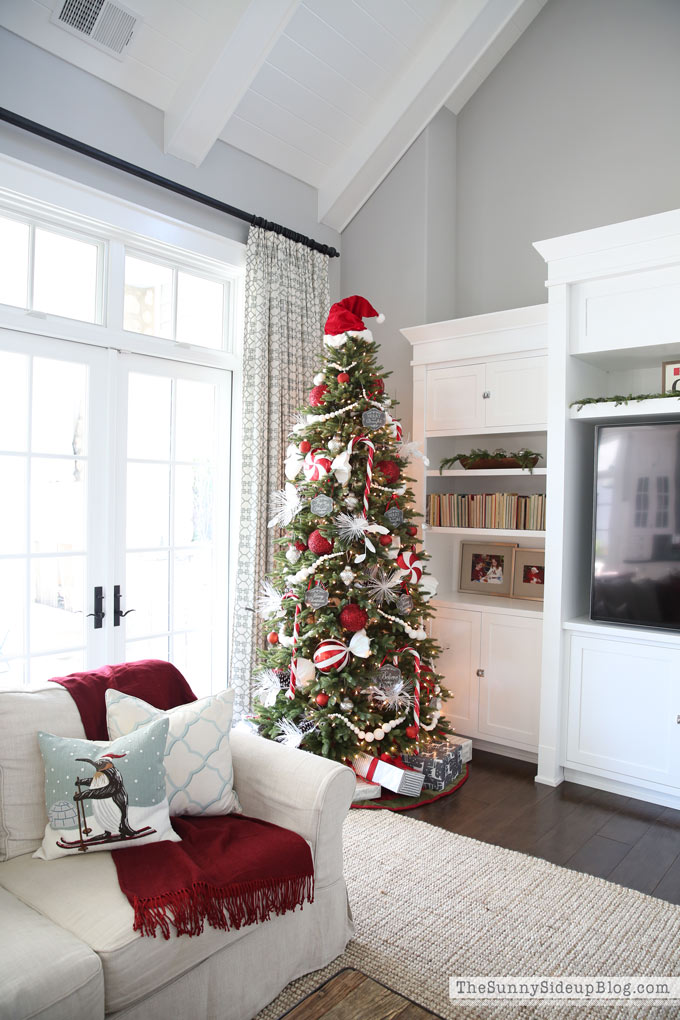 You've probably also noticed that my tree is decorated the same as it was last year.  We just loved it so much and weren't ready to change it!  My kids were excited to pull out the candy canes and there is something so special about holiday decorating with familiar favorites.  Of all the rooms in my house, our family room is the one that looks similar every year for Christmas.  It's the room we spend most of our time in together as a family and a lot of things are sentimental.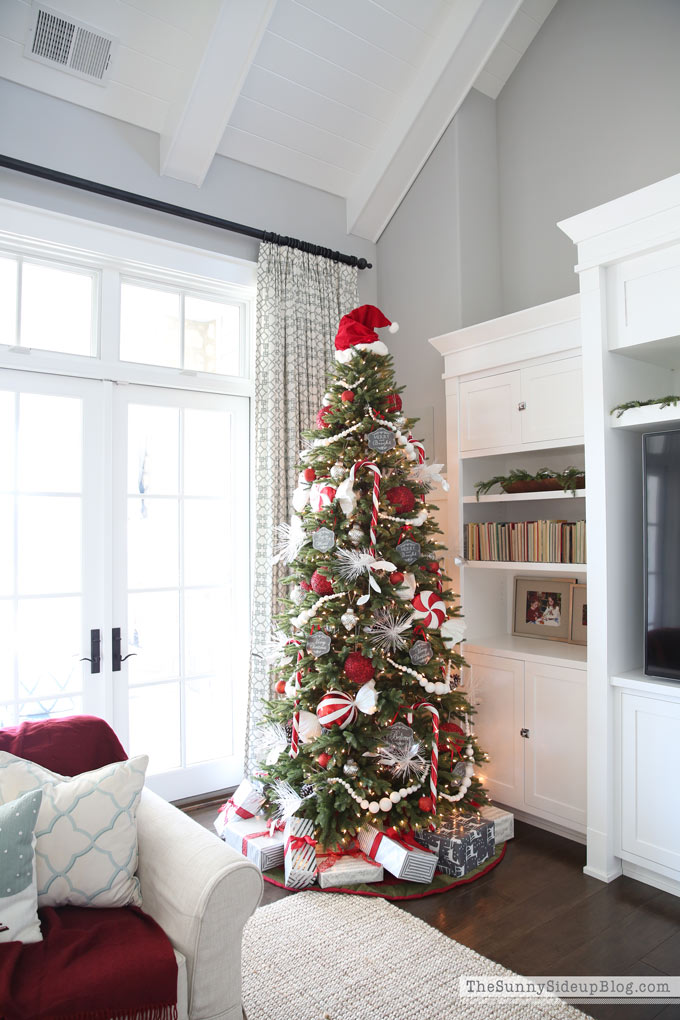 The wrapped presents under my tree are empty and my kids were NOT impressed when they figured that out.. ha! :)  They are moving to the porch where they usually live in December and will be replaced with real presents soon.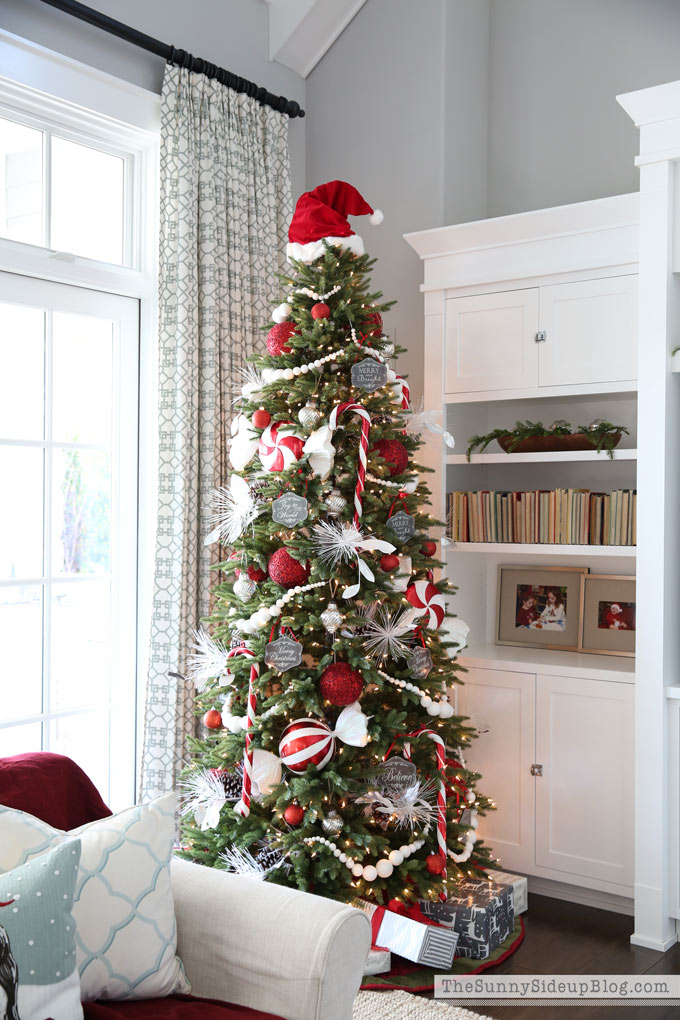 Most of these ornaments are from Krumpets, Tai Pan and Pottery Barn.  The tree skirt we've had since our oldest was born.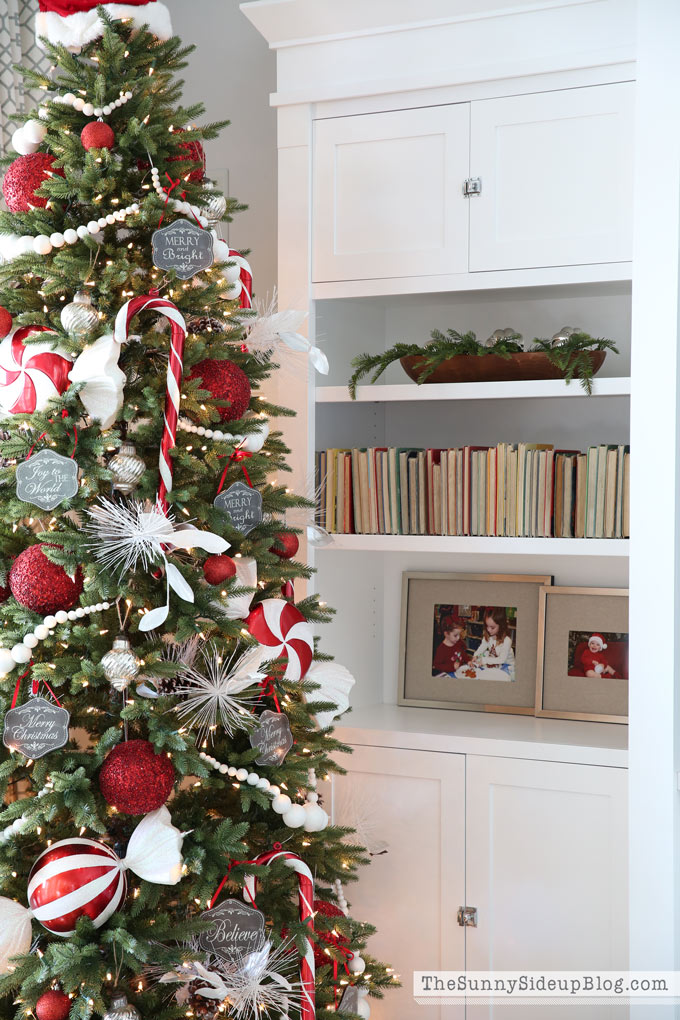 I did mix up my shelf decor in this room!  Of course I included favorite past Christmas pictures in my favorite frames like I always do, but I decided to keep things neutral and symmetrical and just line up my vintage book collection (that I sort of borrowed from my mom) on the middle shelf.  On the top shelf I used my two vintage wood oval trays (one usually lives on my bathroom shelves) and just filled them with some greenery and mercury ornaments.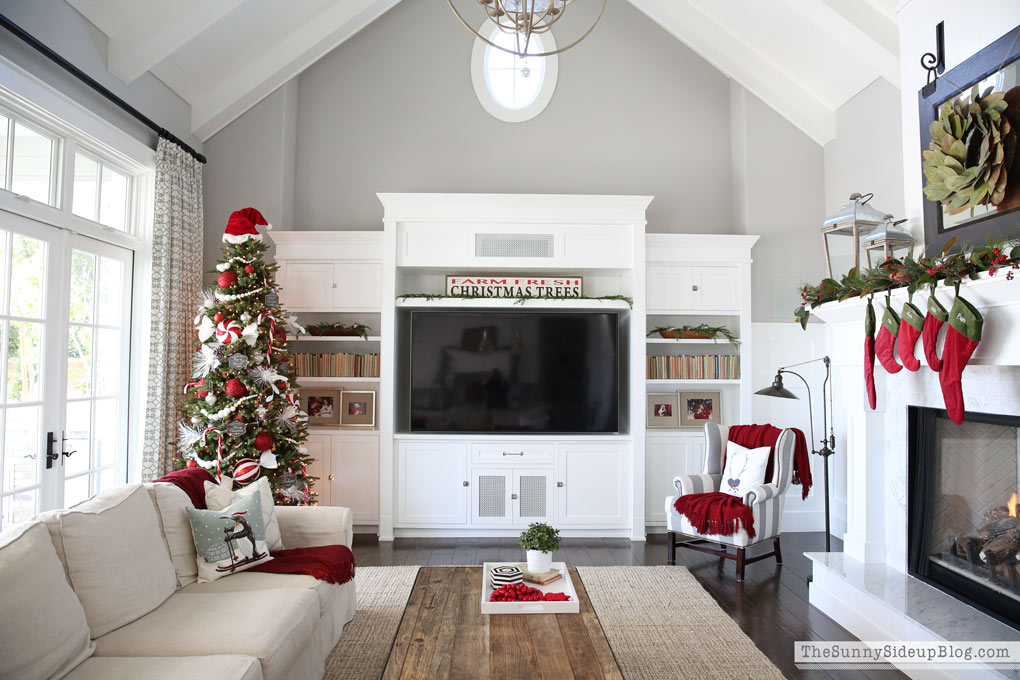 Sometimes my shelf decor can look a bit cluttered to me so I'm loving how simple and clean it looks this year.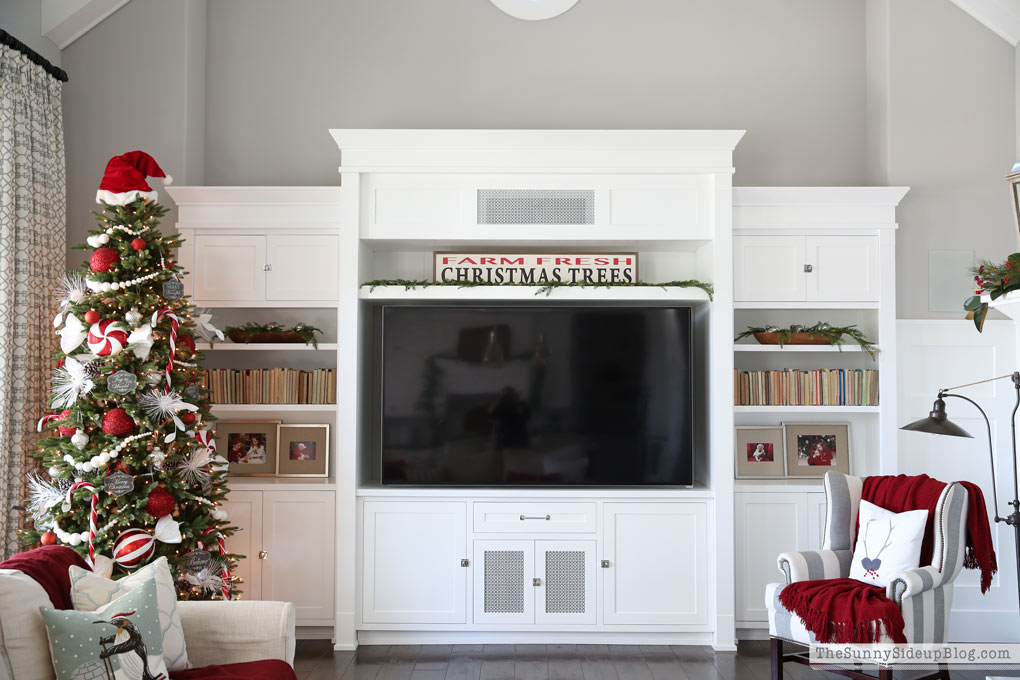 Of course my new Farm Fresh Christmas Trees sign also completes the look!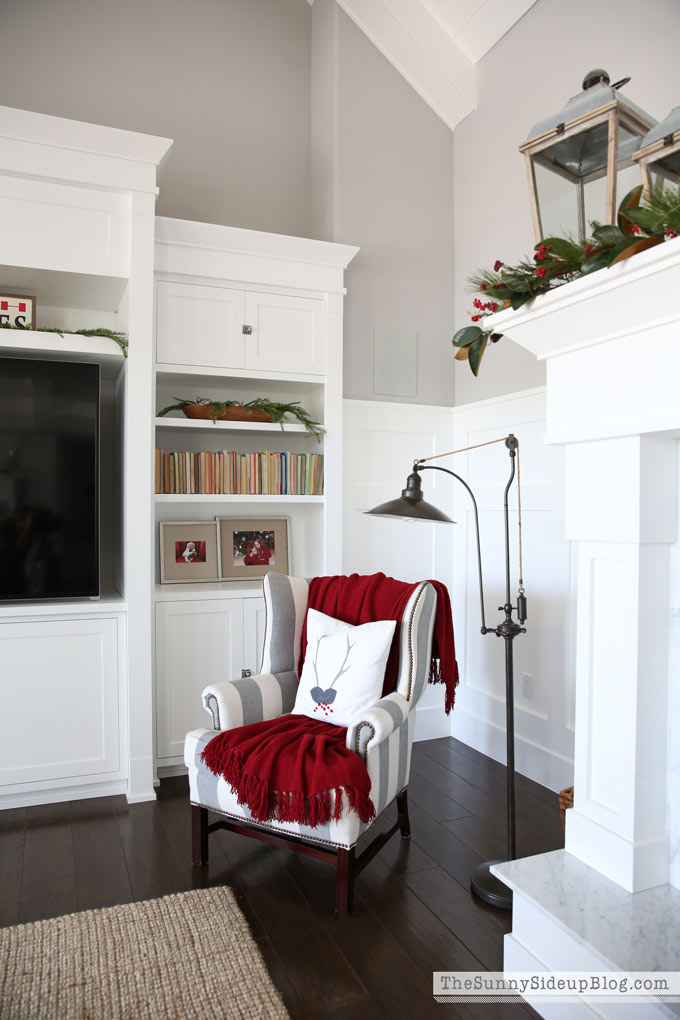 Time to sit by the fire and read a Christmas story?  Don't mind if I do. :)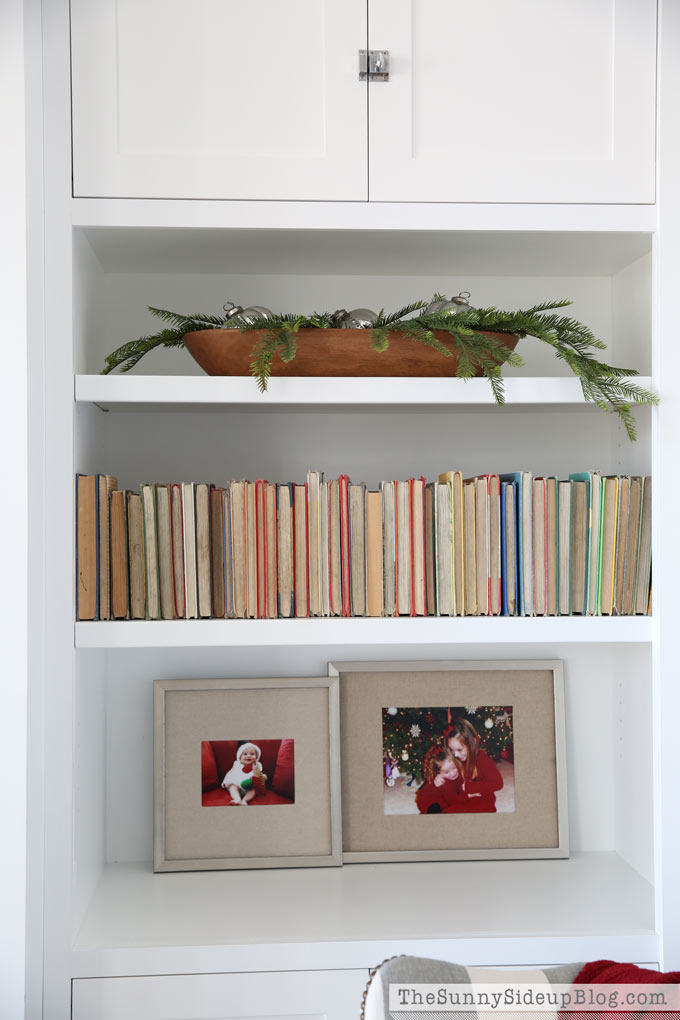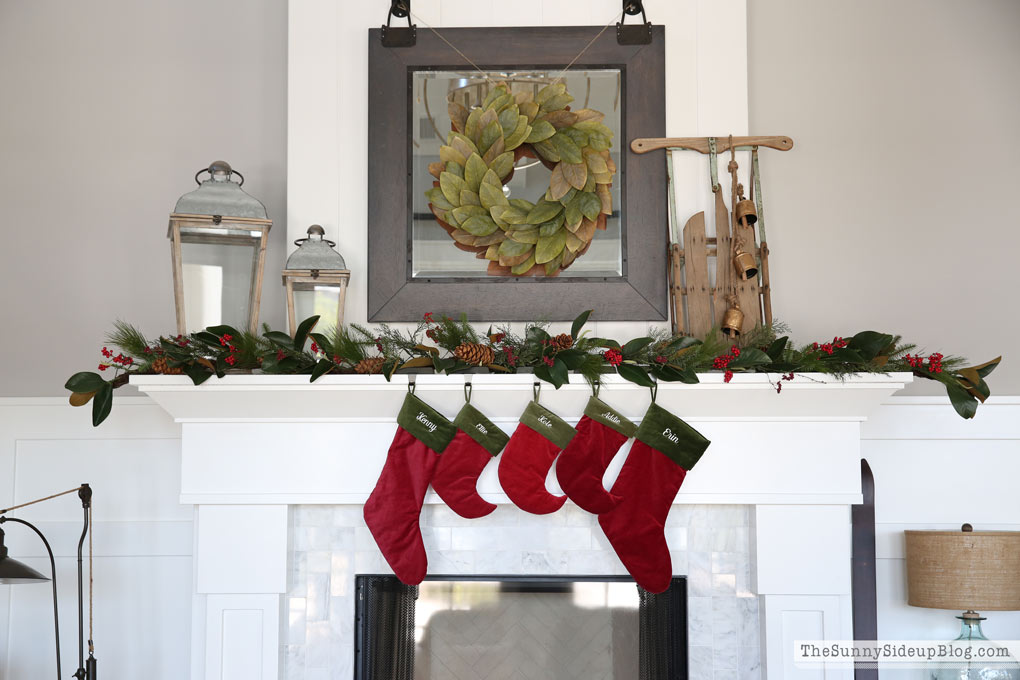 Our mantel holds the most meaning for our family.  These stockings are so special to me and I'll never replace them!  If you want to hear why them mean so much to me I told the story in this post last year.  I also talked about that rustic old sled that holds a special place in my heart.  Bells are a new addition. :)


LOVE having that fireplace on!  Even though we rarely need it here in sunny San Diego.  Sometimes I turn it on just to set the mood!  I light a candle and turn on Christmas music and usually last about 15 minutes before I'm sweating and turning it right back off.  I always suggest to my husband that we could turn on the fireplace and the air conditioning together.  For some reason he doesn't get too excited about that plan.  Hmm.. not sure why!?  It may or may not happen anyway when he's not around.  ;)
A few more pics of this space..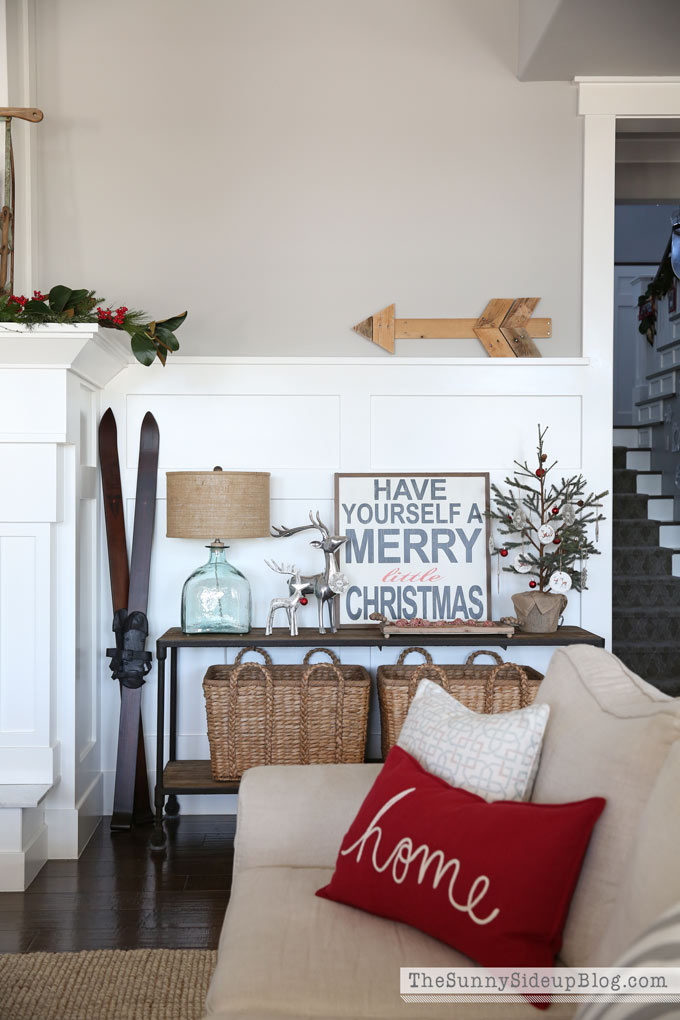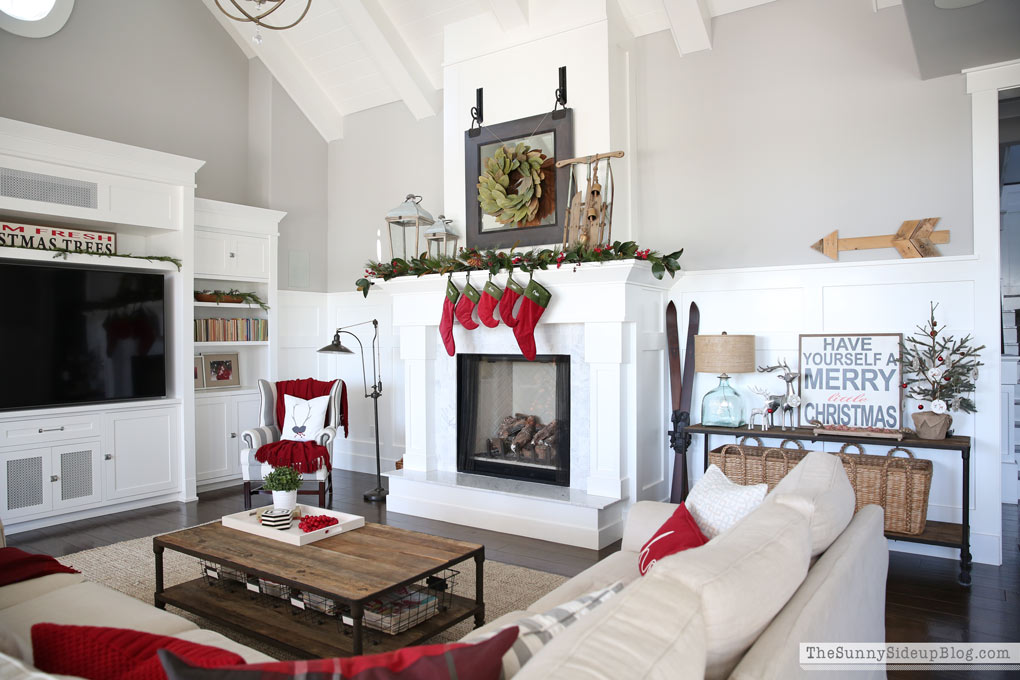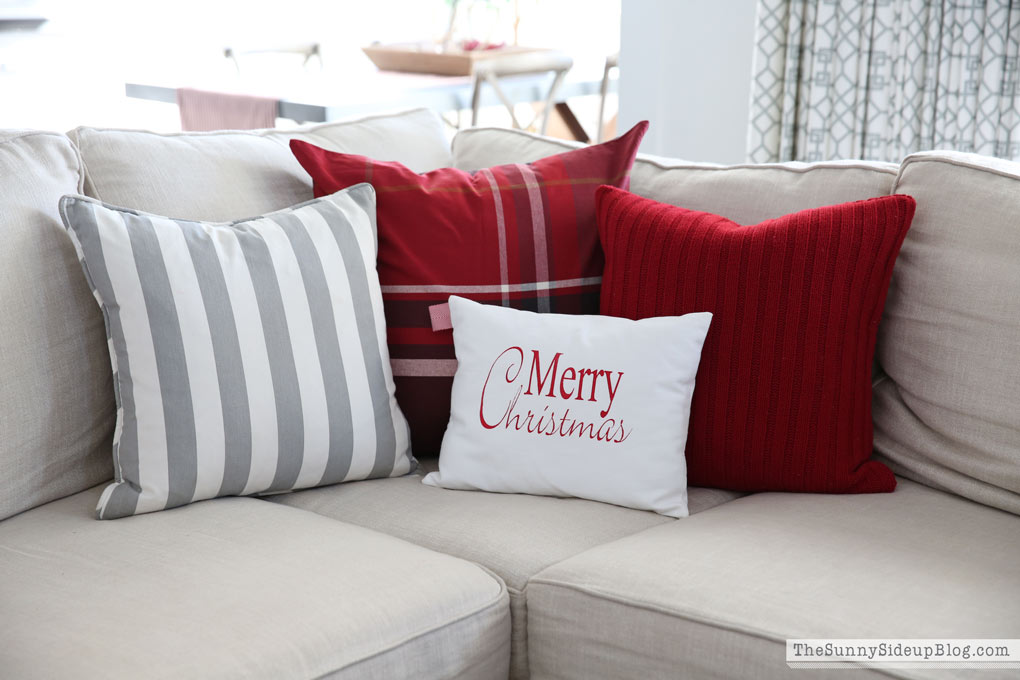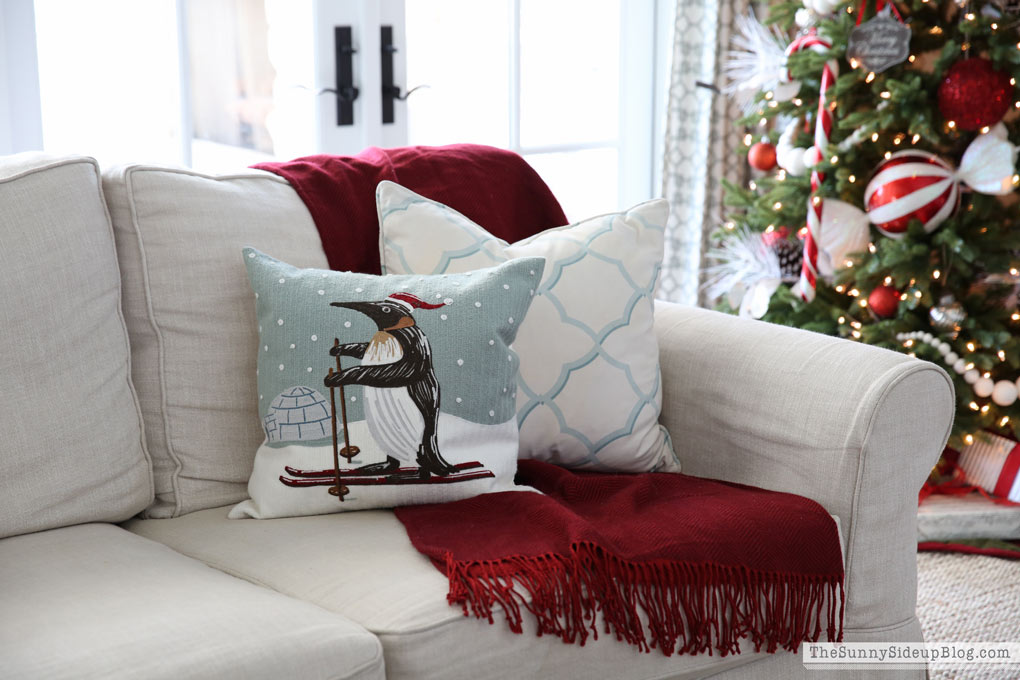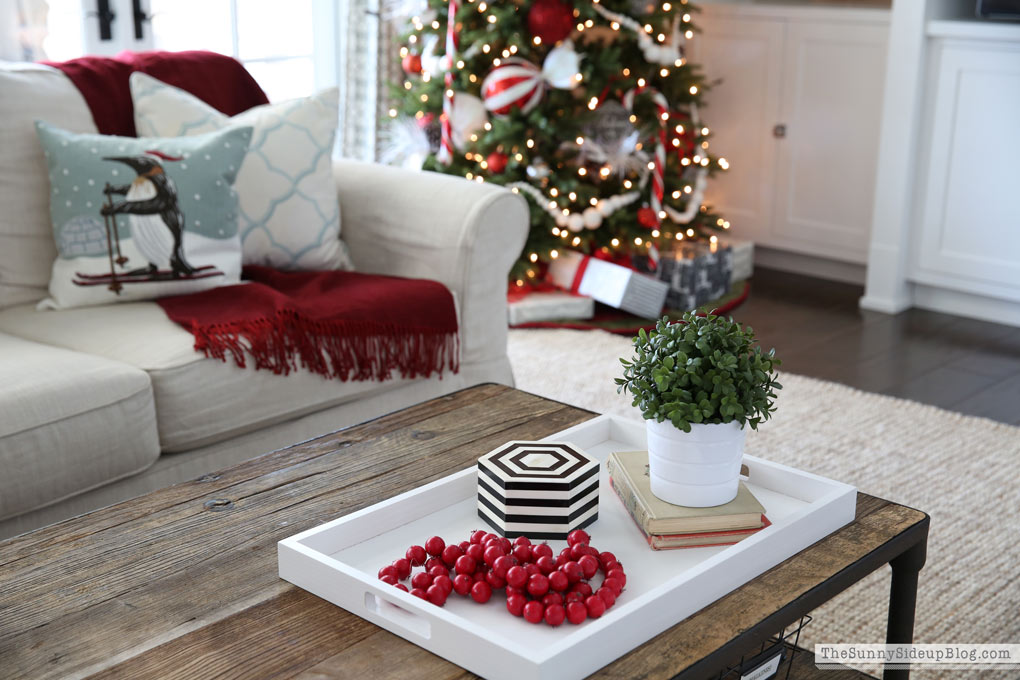 I kept our coffee table decor simple because it's only empty like this when I take pictures!  It's usually covered in my papers and my husbands's brief case and my kids' toys.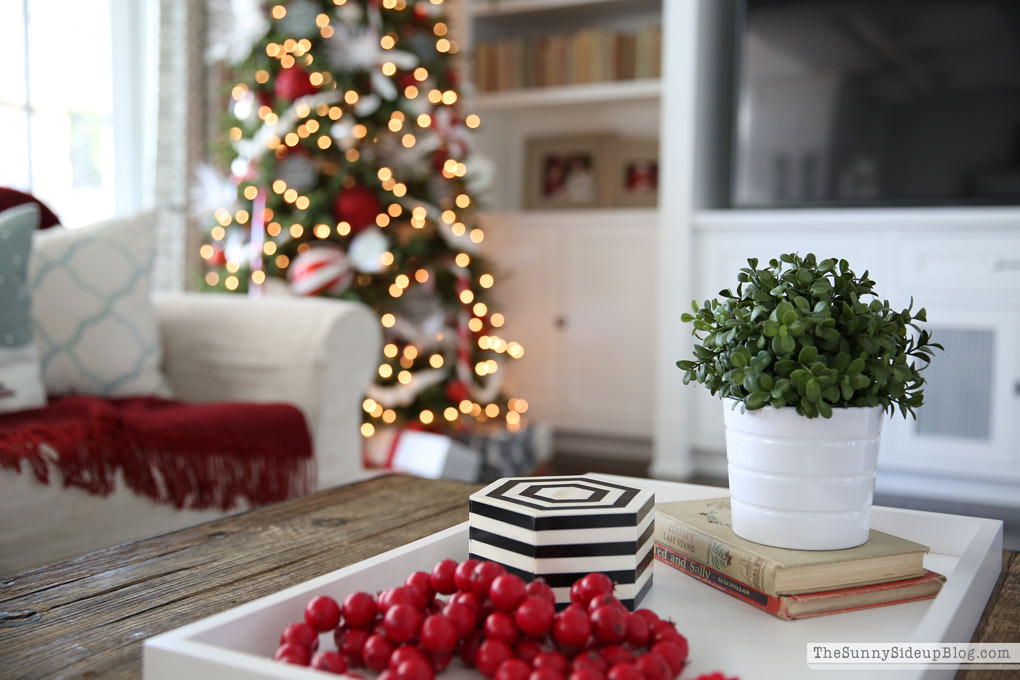 A favorite tray, red beads, some books, a plant, and my black and white striped box was all it took to add some Christmas cheer to the coffee table.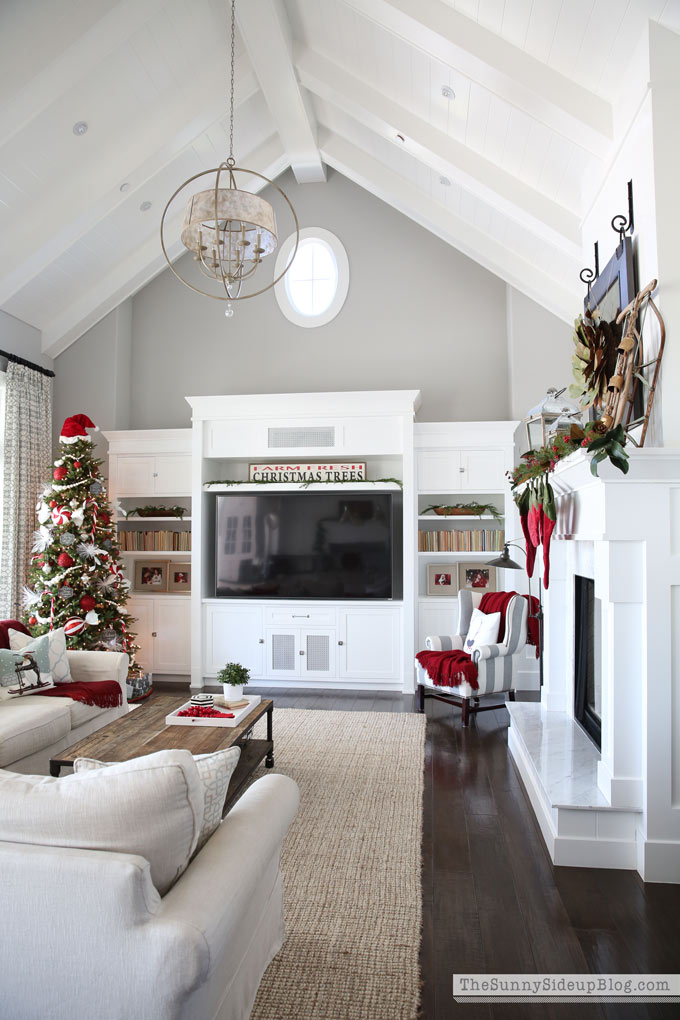 I love having this room looking so festive!  And I love the RED!  It just makes me smile.  It also makes me want to put on my favorite pj's, turn on It's a Wonderful Life and drink some hot chocolate.  With the fireplace and air conditioning running strong of course.  ;)


View from the kitchen.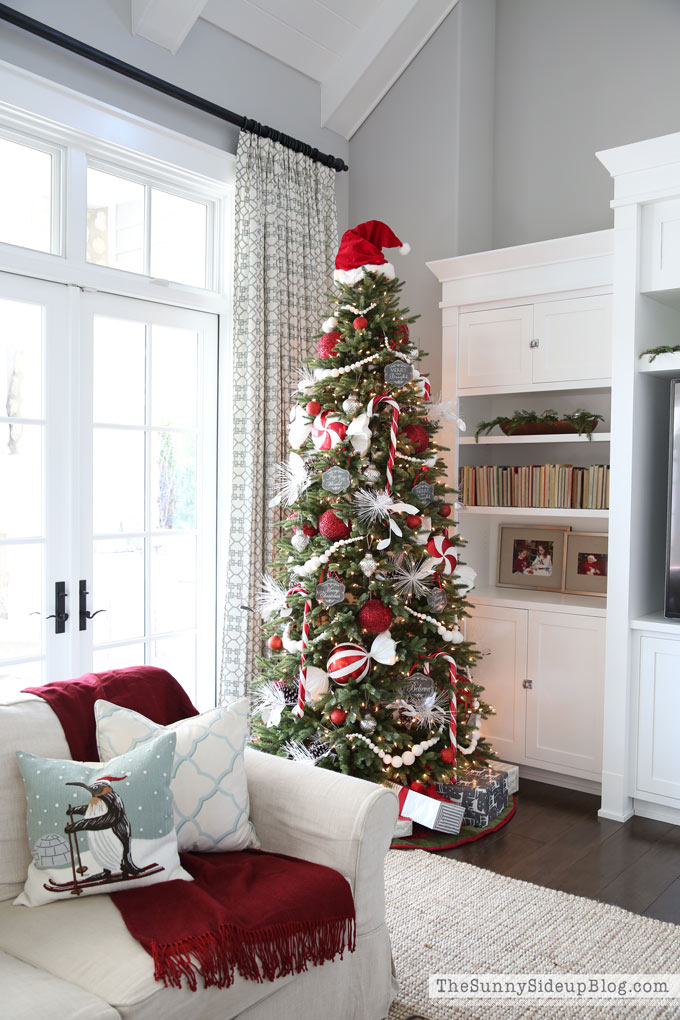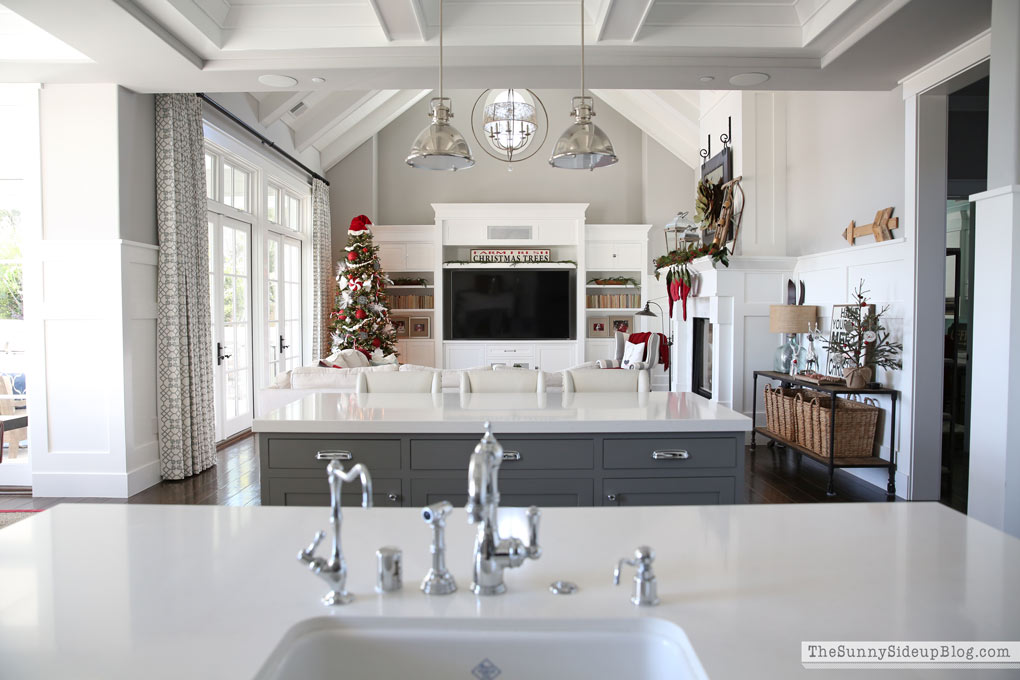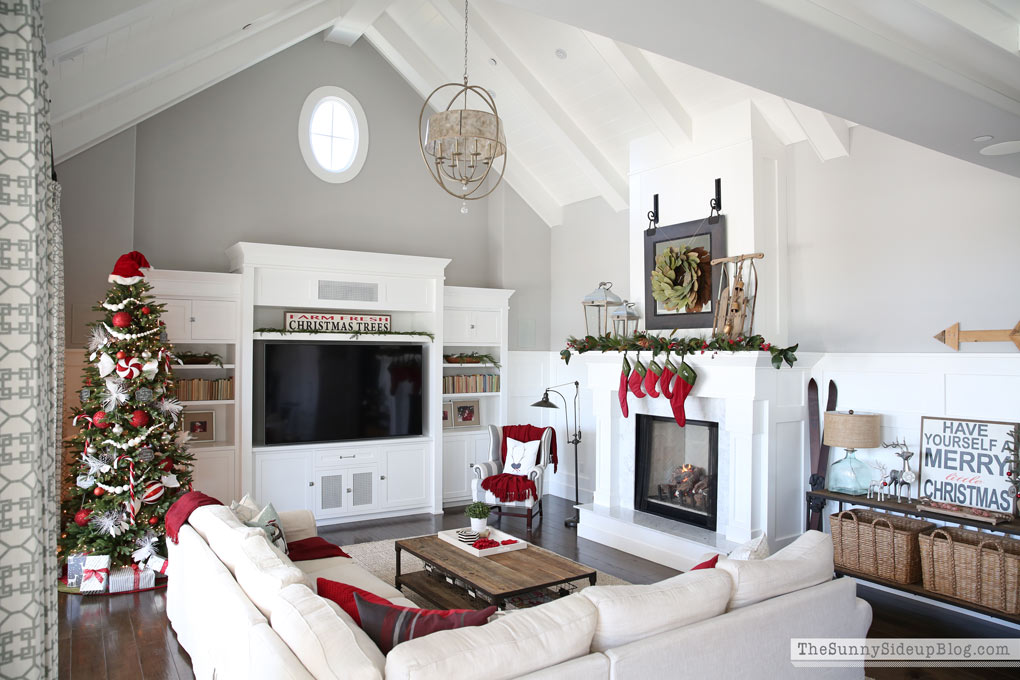 I hope you enjoyed the tour of my cozy family room!  If you're new here you might also enjoy the Christmas gallery wall I just shared or my annual Favorite Things post with gift ideas for everyone on your list!  And be sure to check back tomorrow because I'm sharing one of my favorite rooms in my house decked for Christmas!  SO fun.  Love this time of year!  Sources for this space are below..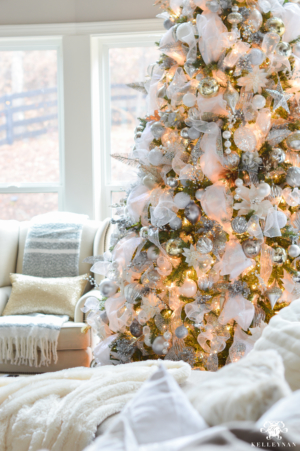 Next up on the tour is my darling friend and our hostess of this fun tour Kelley.  If you haven't visited her blog before you are in for a real treat!  Amazing decor and she's about as funny and down to earth as people get.  Love her!  Also make sure to check out  the rest of the homes on this tour!  My friends are all so talented and we all have such different styles.  A little something for everyone this holiday season.  Enjoy!  And I'll meet you back here tomorrow.  :)
xoxo, Erin