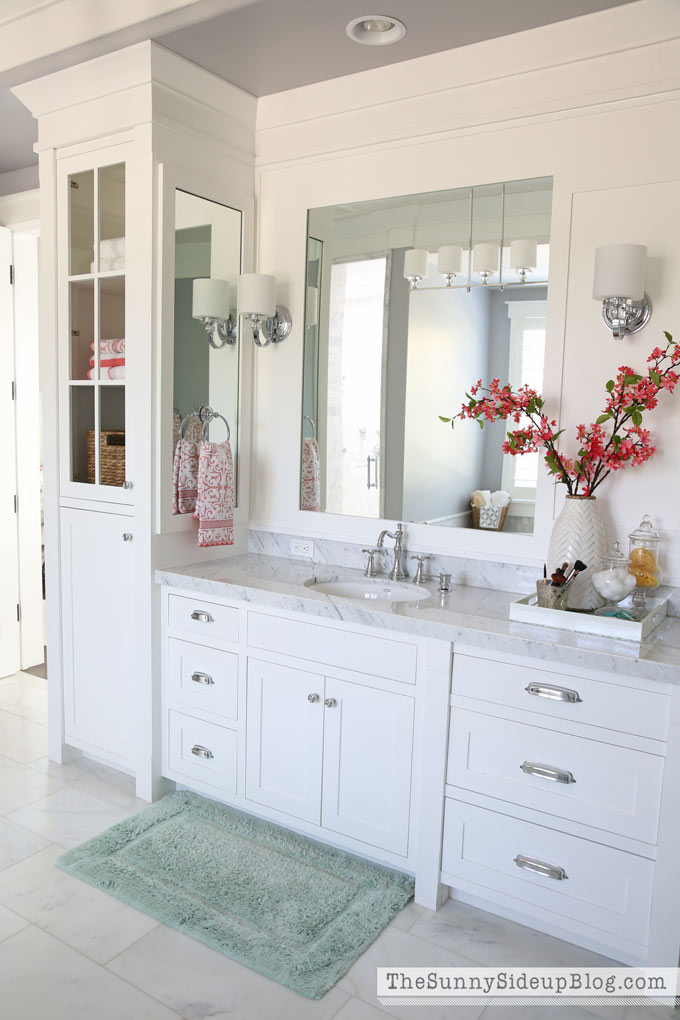 Friends!  I'm so excited about today's post!  I'm finally sharing the rest of my organized bathroom with you all that includes how I organize my hair tools and my vanity bathroom drawers.  If you missed my first post on my master bathroom organization (how I organize my towels and make-up) you can see it here.  Today's post (all about my vanity drawer organization) includes one of my favorite drawers in my house.  YEA!  Happy I'm finally getting around to sharing it with you all. :)
*affiliate links used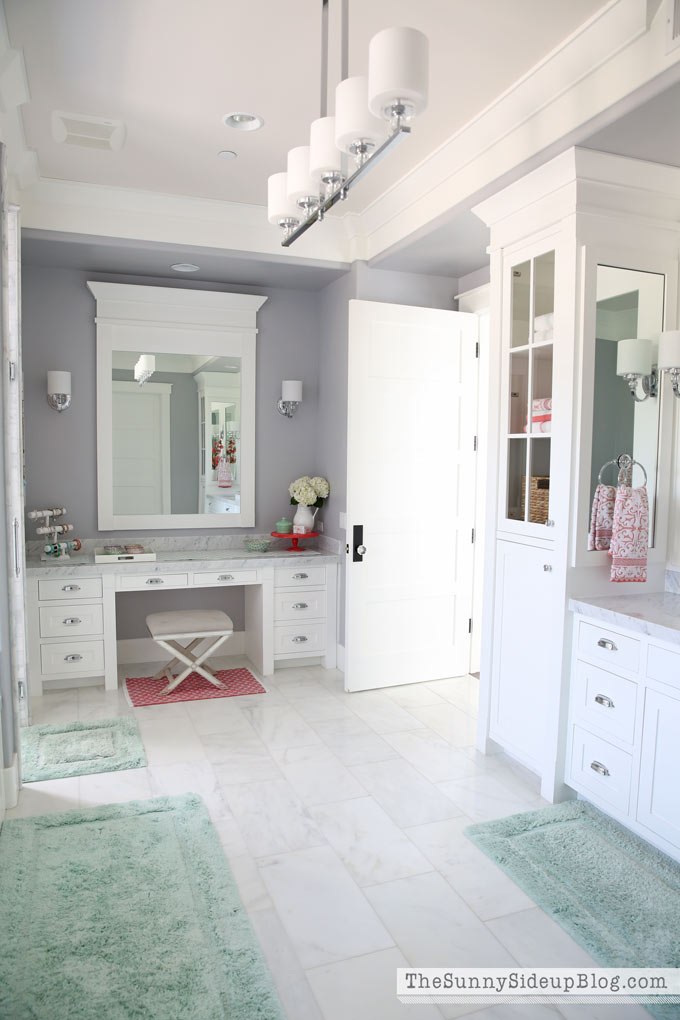 {Master Bathroom Pictures and Sources Here}
On one end of my master bathroom I designed a vanity.  I'll be honest.  I have yet to sit at this vanity to get ready.  I like to stand at my bathroom counter to get ready and I don't know if that's just from habit (I never had a vanity before this house!) or just because that's me, but someday I might decide I like to sit down to get ready and if/when that happens, my vanity will be ready. :) For now, it's a beautiful space to organize all of my jewelry (jewelry organization in this post) and a few other things I'm showing you today.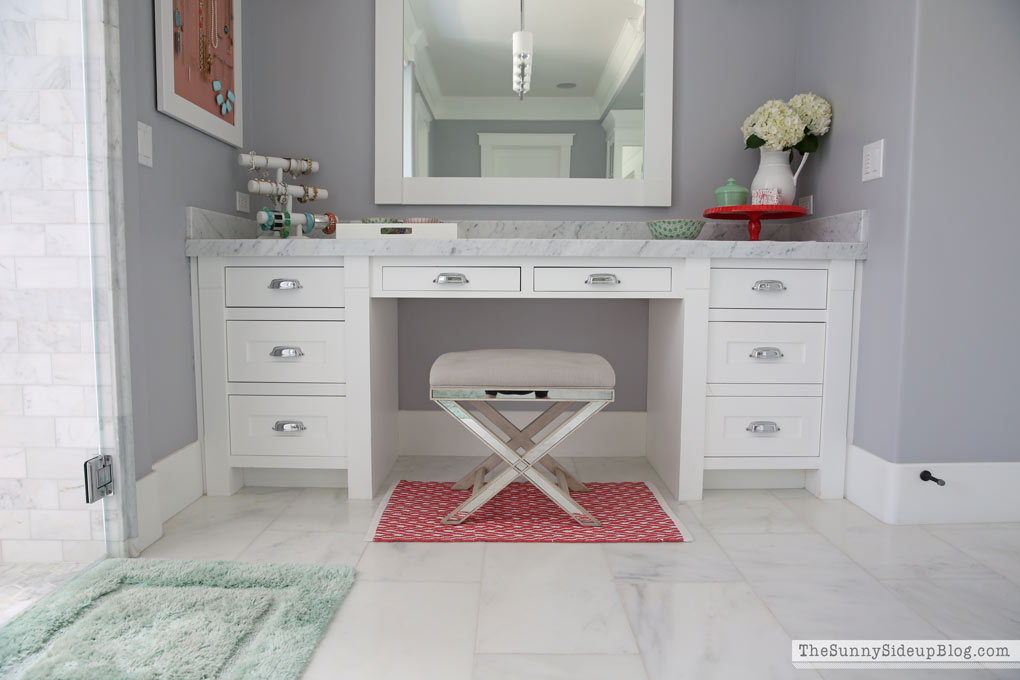 Ready to see the inside of these drawers?  Let's do it…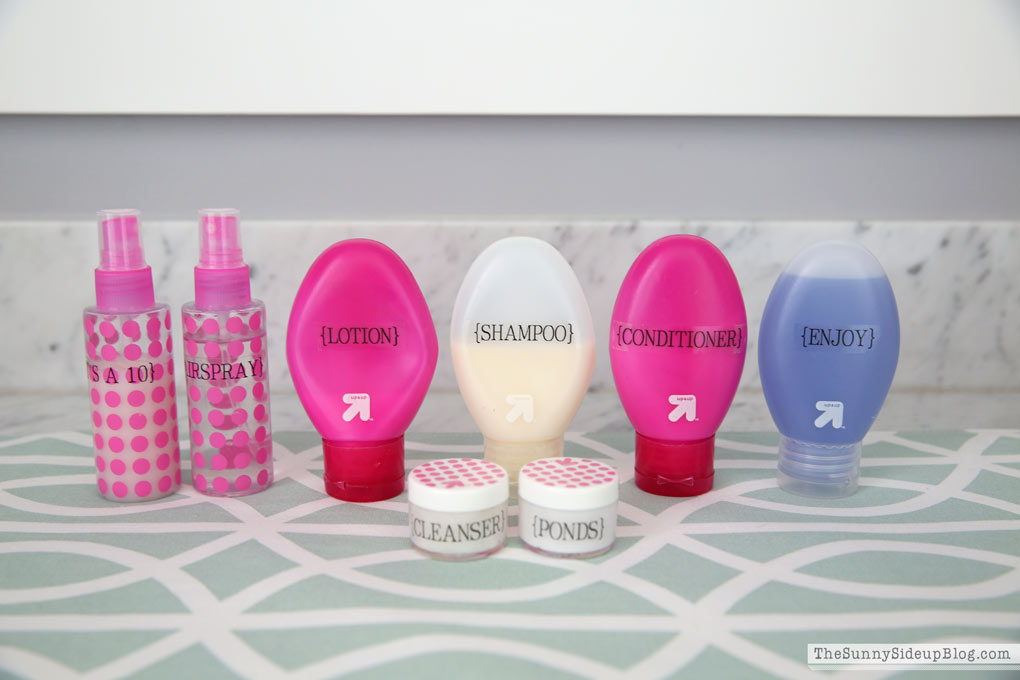 But wait.  I'm not ready yet. ;)  First I wanted to show you this picture.  The past two years I have been traveling a lot more than my norm.  Aside from our yearly family vacations and trips to grandma and grandpa's house, I started traveling a lot for my blog.  It has been so fun and a real growing experience for me, but also crazy to be continually packing and unpacking.  I wanted to make getting ready for trips as easy as possible so I bought these cute little travel containers from Target, filled them full of my favorite every day products (I'll share them at the bottom of this post) and then used my trusty label maker (on sale right now!) to label them all.  Next I organized a little "travel drawer."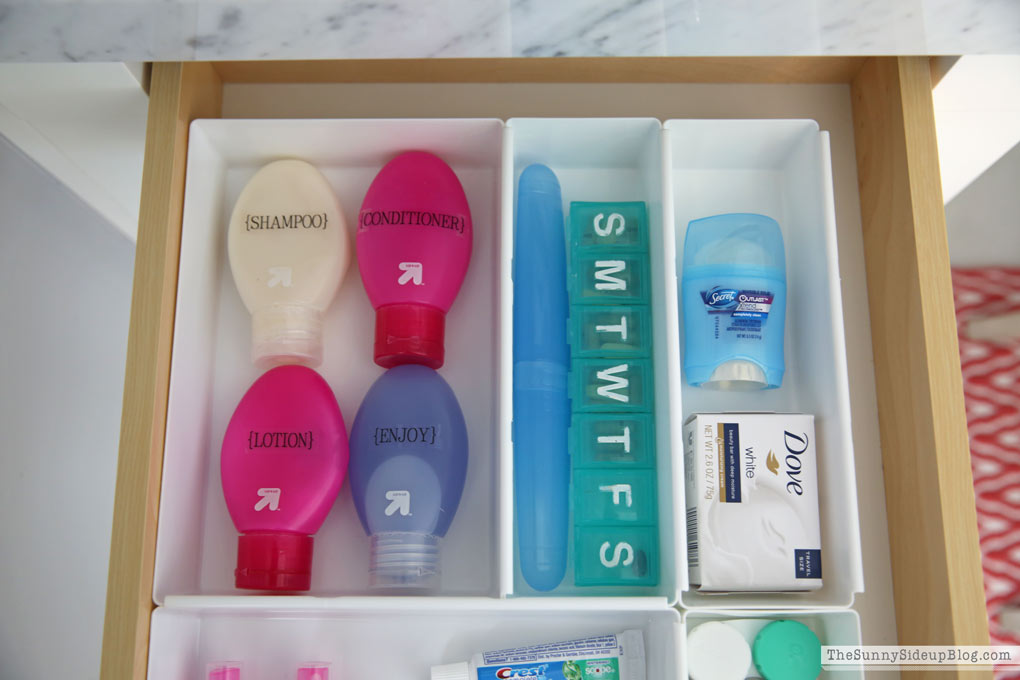 The left side of my vanity is all dedicated to travel supplies.  Mini containers with hair products, mini soaps and deodorant, toothbrush holder and a container for vitamins.  Because I turned 40 this year.  So now I'm old and need vitamins. :)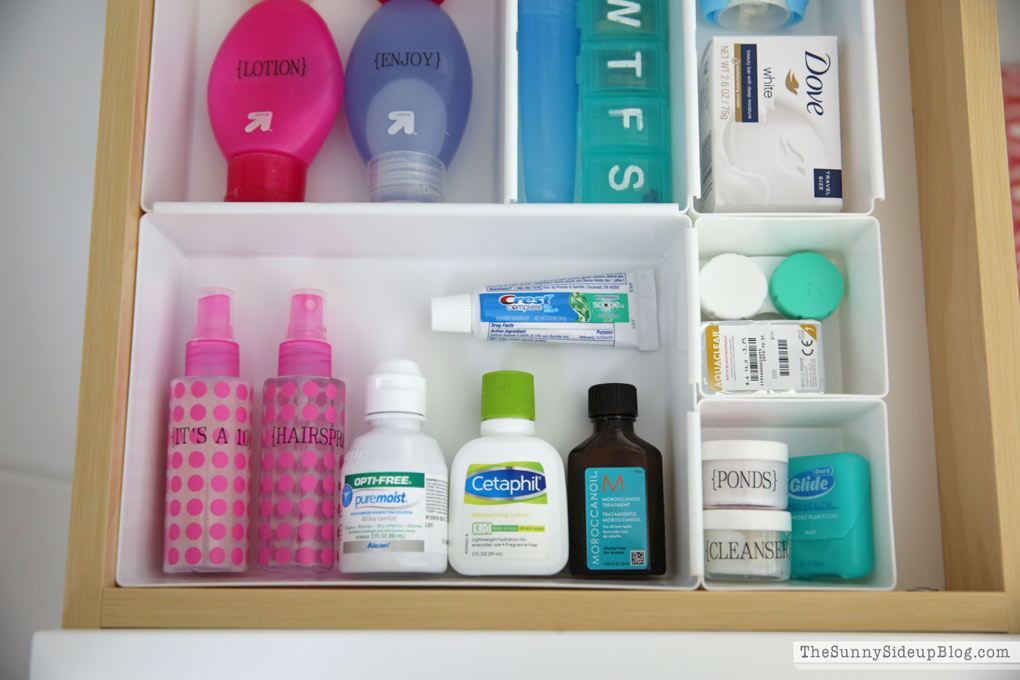 Mini toothpaste, floss, hairspray, extra contacts.. everything I need for a trip!
I have absolutely loved having everything for travel organized in this top left vanity drawer!  It makes getting ready for a trip and unpacking from a trip SO easy.  I especially love that I don't ever have to wonder if I'm forgetting something.  My make-up is all in this drawer and travel supplies are all here so I know I have everything I need.
The next drawer down (not pictured) holds extra travel supplies for when I run out (more soaps, etc.) and then the bottom vanity drawer..
holds all of my make-up/travel bags.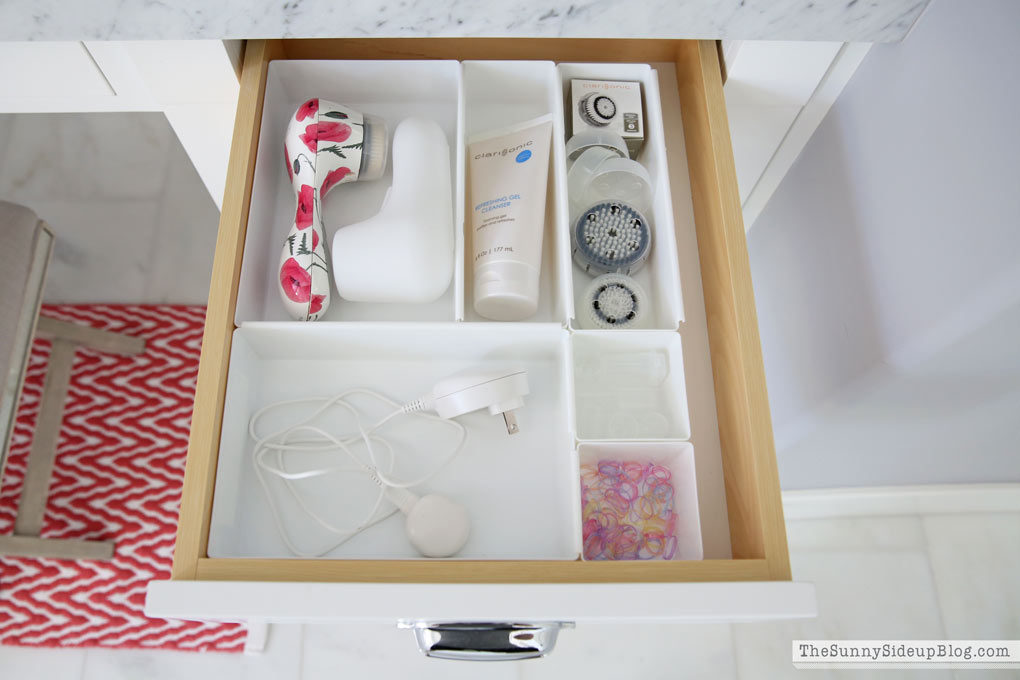 The drawer on the top right holds extra random things like an older Clarisonic (this is the new sonic I use now) and elastics for when I do my girls' hair in this bathroom.
The next drawer below looks like two drawers but is actually just one really deep drawer.  My fav!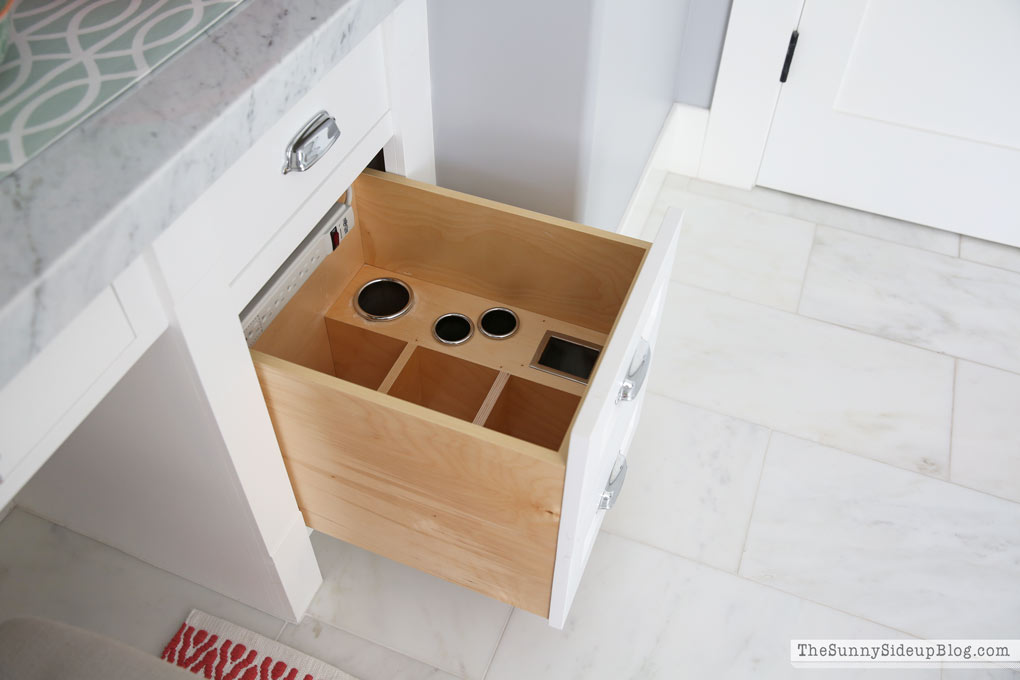 I was so excited when we built our house to design a drawer just for my hair tools!  I sketched a picture for my carpenter and he made this beauty happen for me.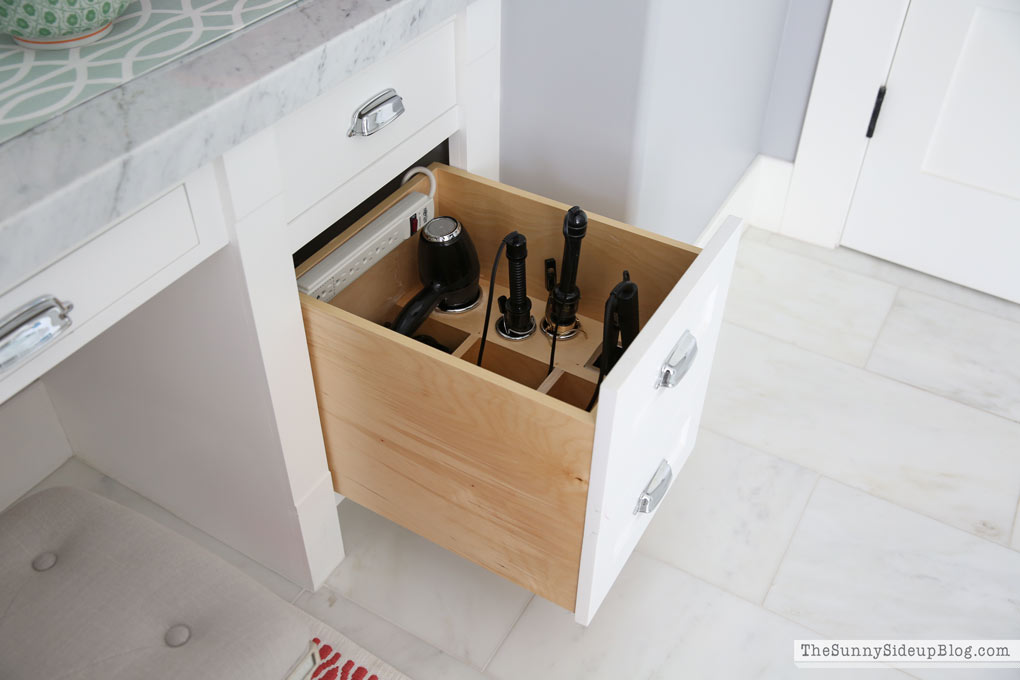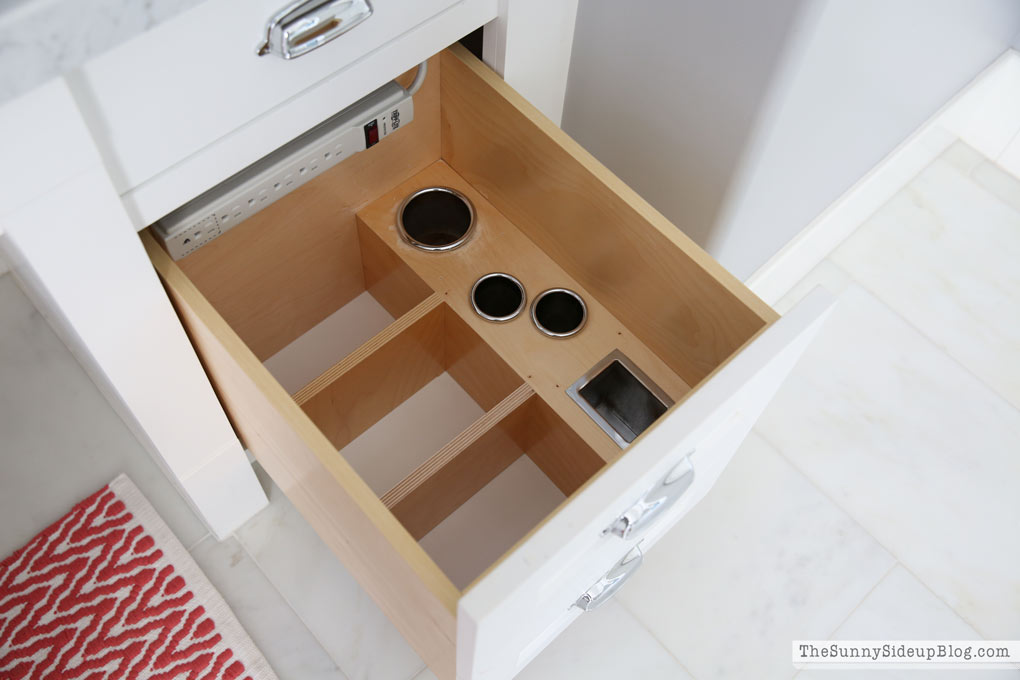 Four spots for my hair tools (blow dryer, two sizes of curling irons, one flat iron) and then open spots for all of the cords.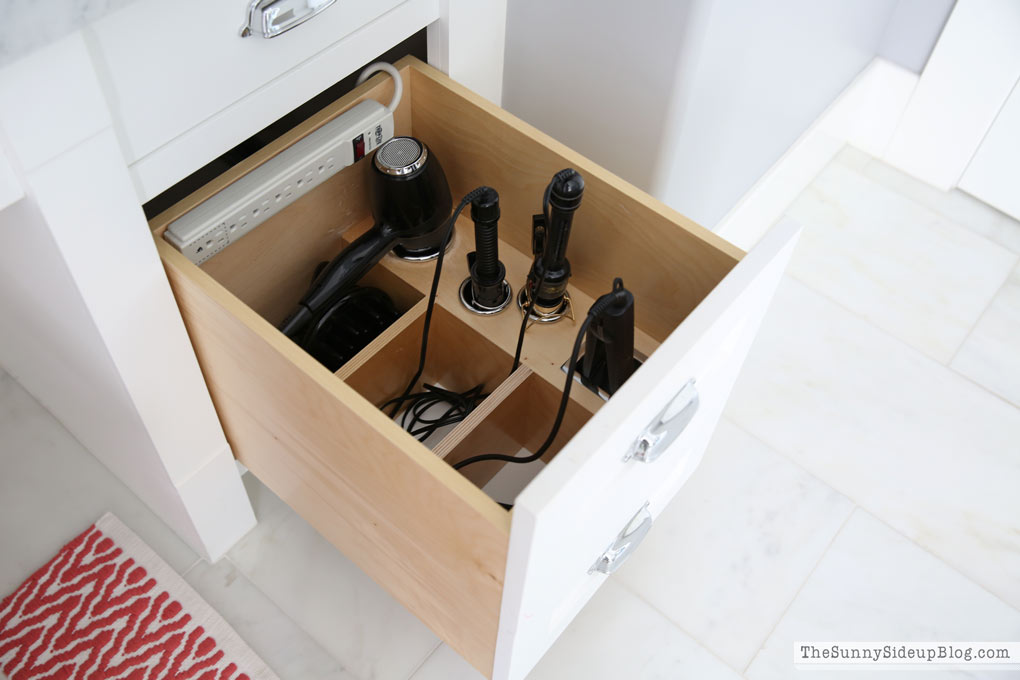 Then we talked to the electricians and put a plug outlet in so that I can plug them all in inside the drawer if I'm sitting at the vanity to get ready.  Which I don't do yet.  But might someday. ;)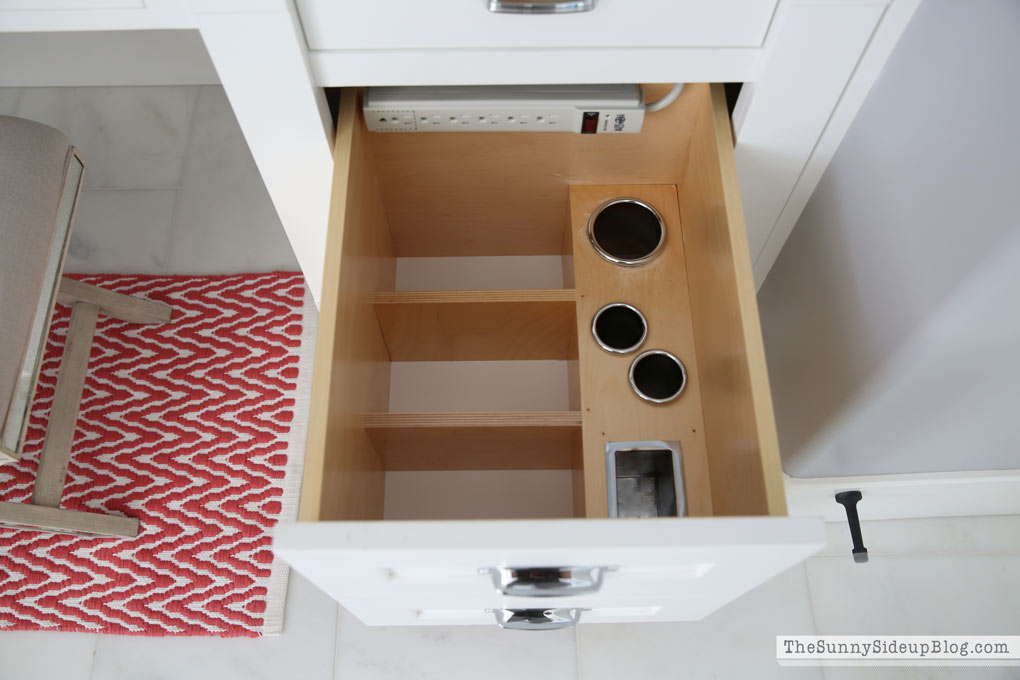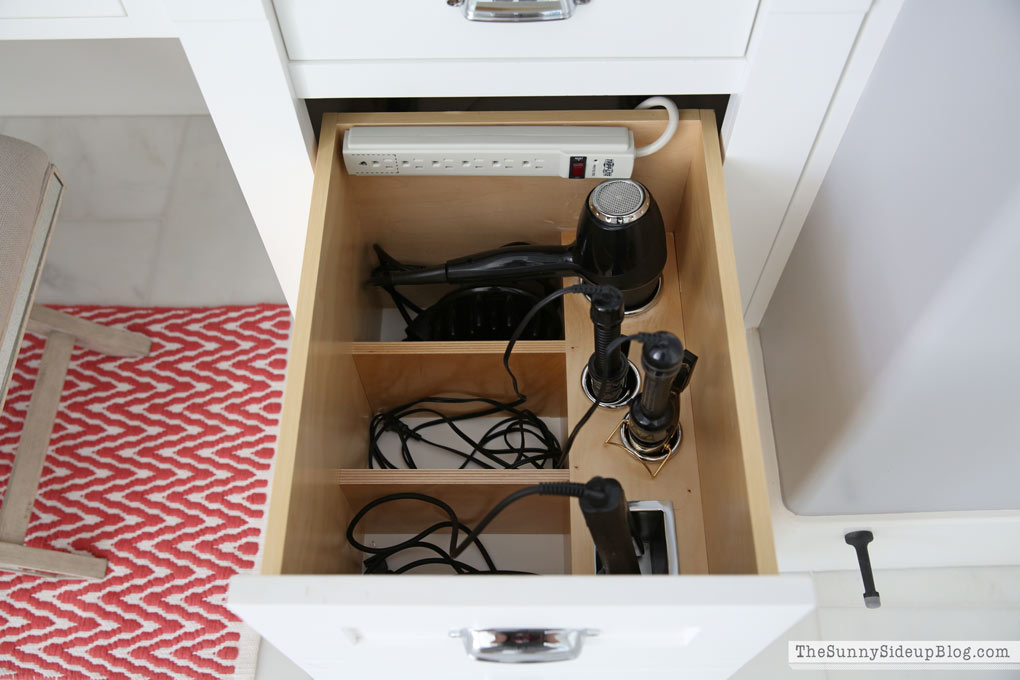 Is that not organized perfection!?  Makes my heart skip a beat every time I open it!  The best part is that I can put my hair tools away while they are still hot.  My counter stays clean and I don't have to worry about little hands touching things that might burn them.  Bonus. :)  There is room in the open spaces for cords to add hair tool attachments or other hair supplies if I ever wanted to, but they just hold mostly cords for now.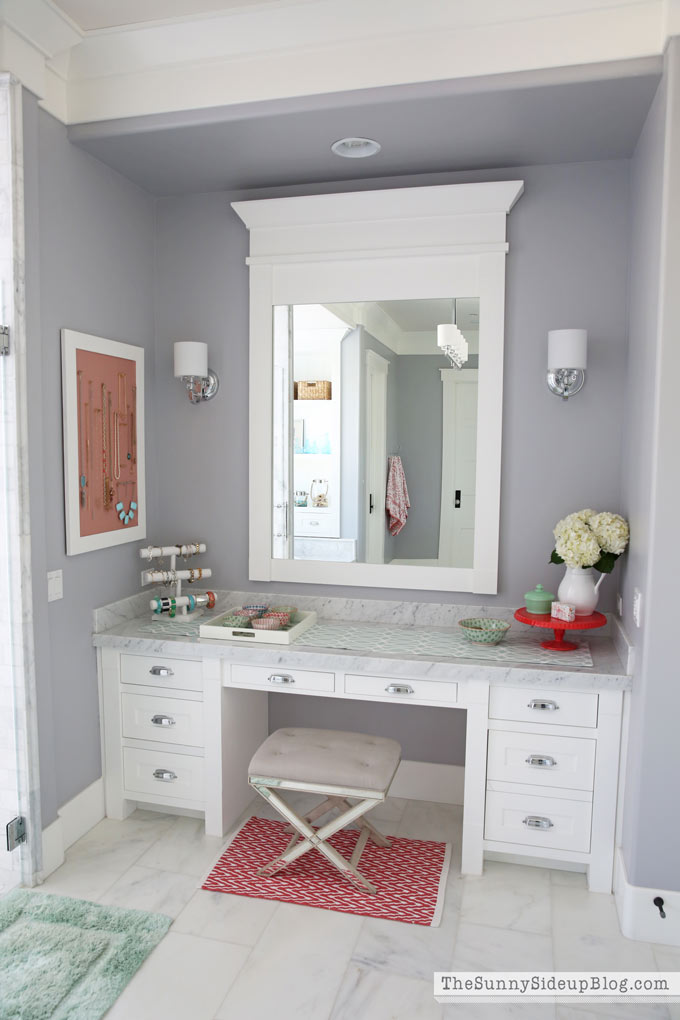 The top two middle drawers are empty so that completes the tour of my organized hair tool and vanity bathroom drawers!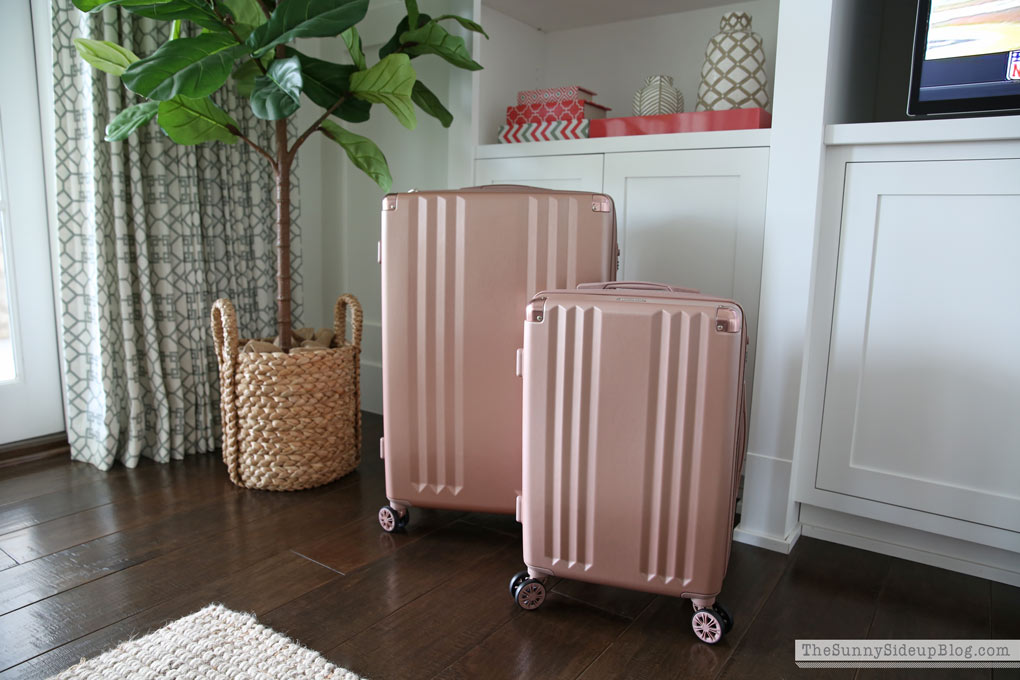 On a random note, and because we are talking about all things travel, I have to show you my new favorite luggage.  I've been on the hunt for new luggage for about a year now and recently bought this Ambuer 2-Piece Spinner Luggage set.  SO excited about it!  It's everything I was looking for.  Lightweight, but durable.  Easy to roll in an airport, unique color so it's easy to spot at baggage claim (I ordered Rose Gold but the set comes in other fun colors too!).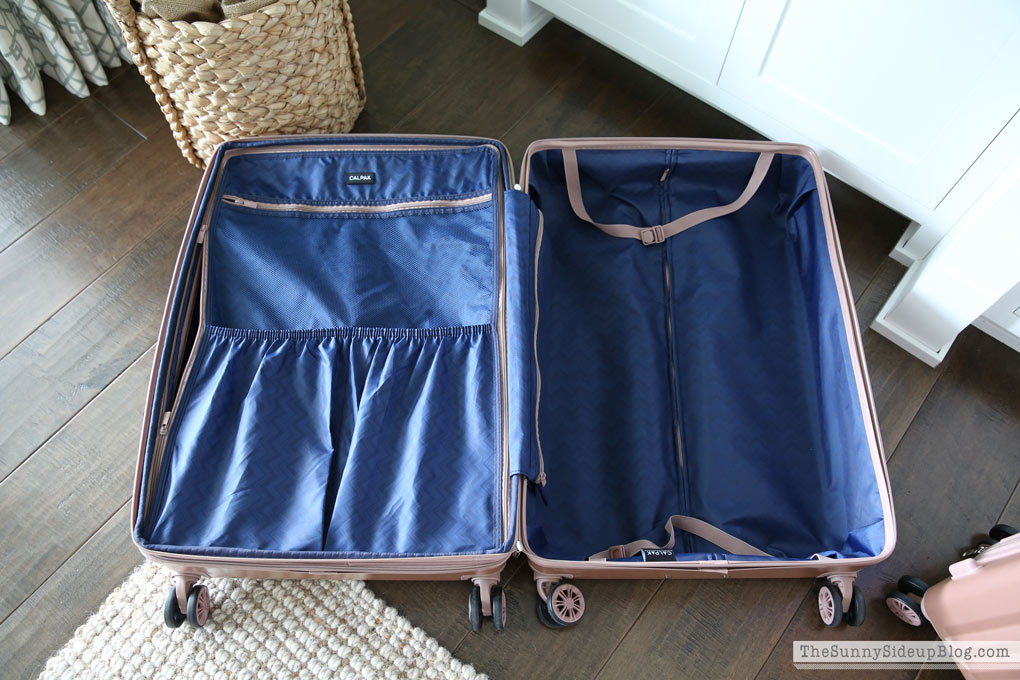 And the inside!  The large suitcase is HUGE and I love that there is a flap on the left side that zips up over your clothes and has space for shoes and extras.  There is also another zipper pouch you can see on the right side of the suitcase.  Organized luggage compartments galore!  Makes me giddy. :)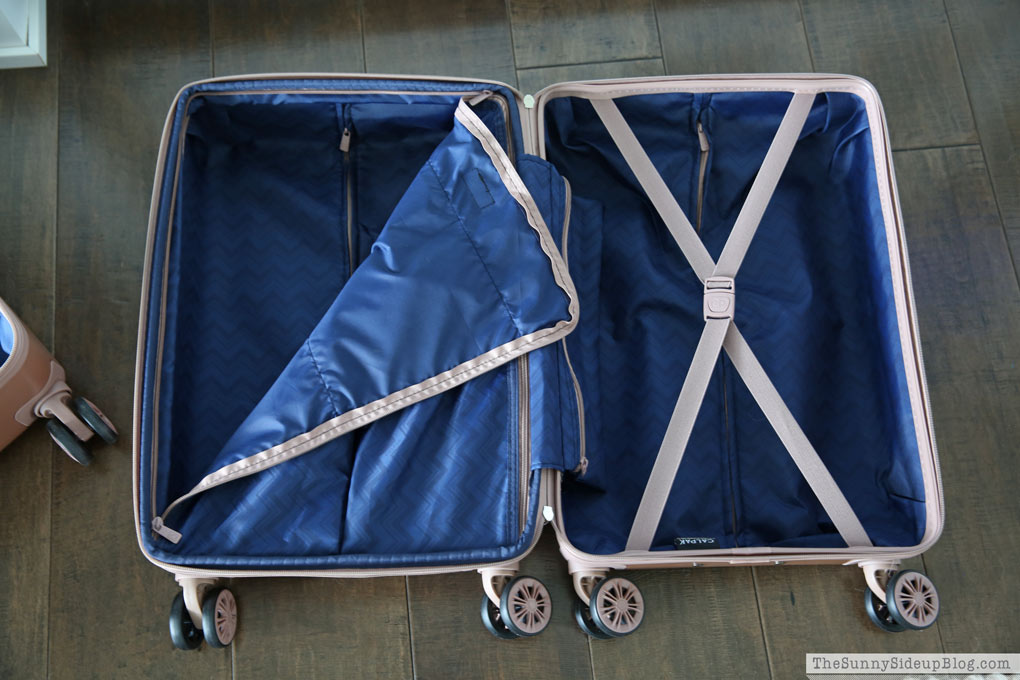 The small travel size suitcase has the same shoe pockets and compartments.. just smaller. :)  I just bought the 2-piece set, but you can also buy the 3-piece set if you wanted a bag in-between these two sizes.  Had to share in case any of you are traveling a lot and looking for good new luggage too!  This is one of the new favorite things I just added to my updated Favorites Page.  Some of my recent Fall favorites (also on that page) are 40% off like this dress, these over the knee boots and these booties I'm especially in love with!
Organized travel drawers, organized hair tools, organized luggage and Fall favorites on sale!  This post is making me really happy.
I sincerely hope it does the same for you.  :)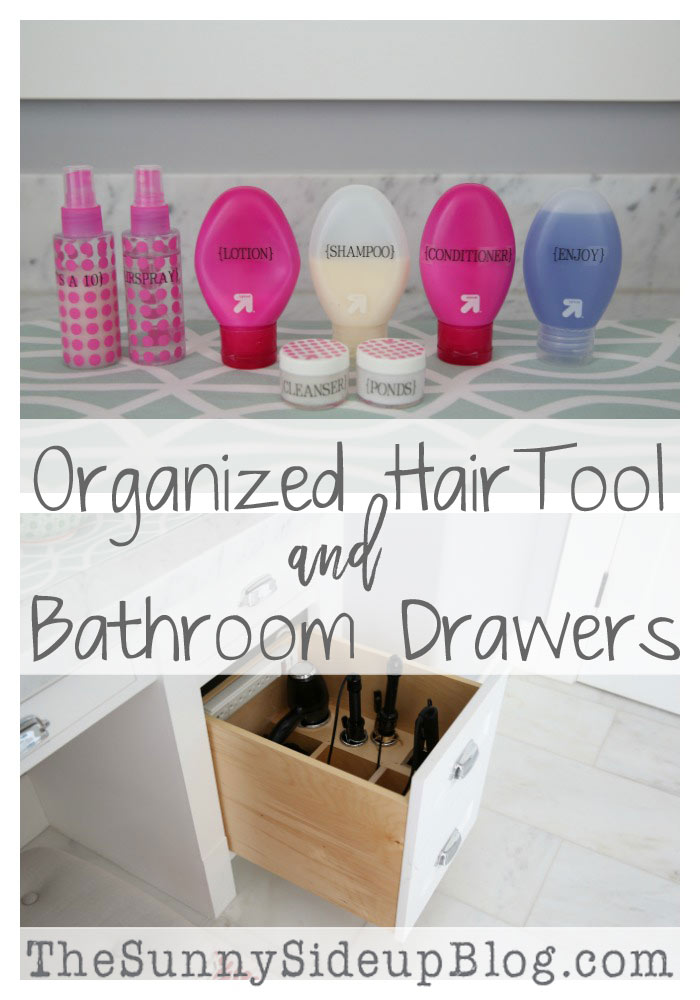 Post sources are all below!  (You can find decor sources for my master bathroom here and sources for my favorite make-up here.)




xoxo, Erin