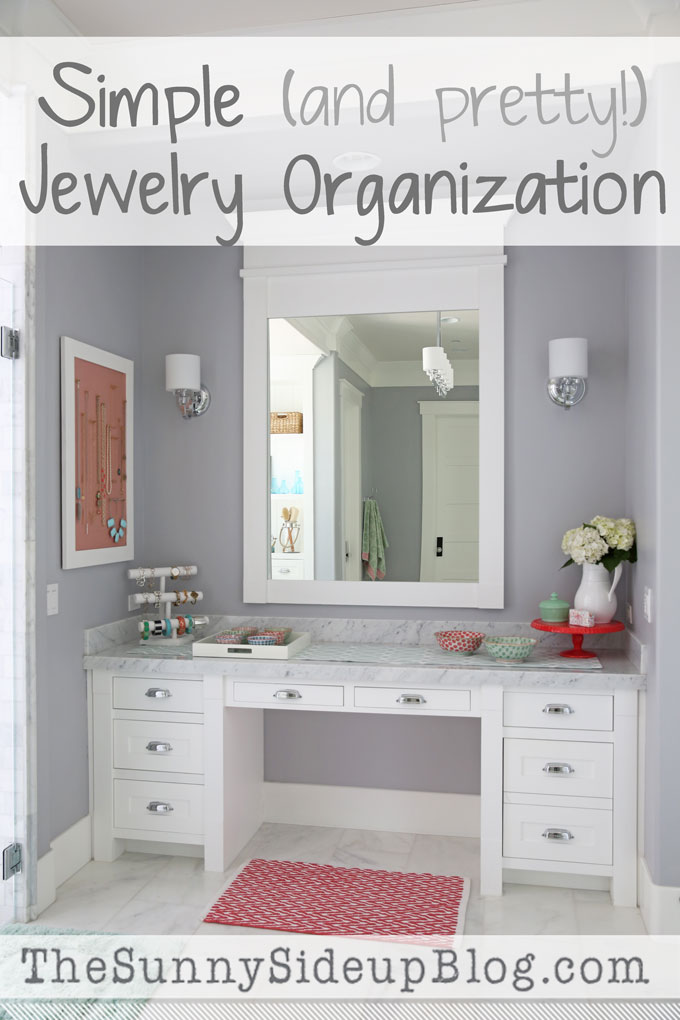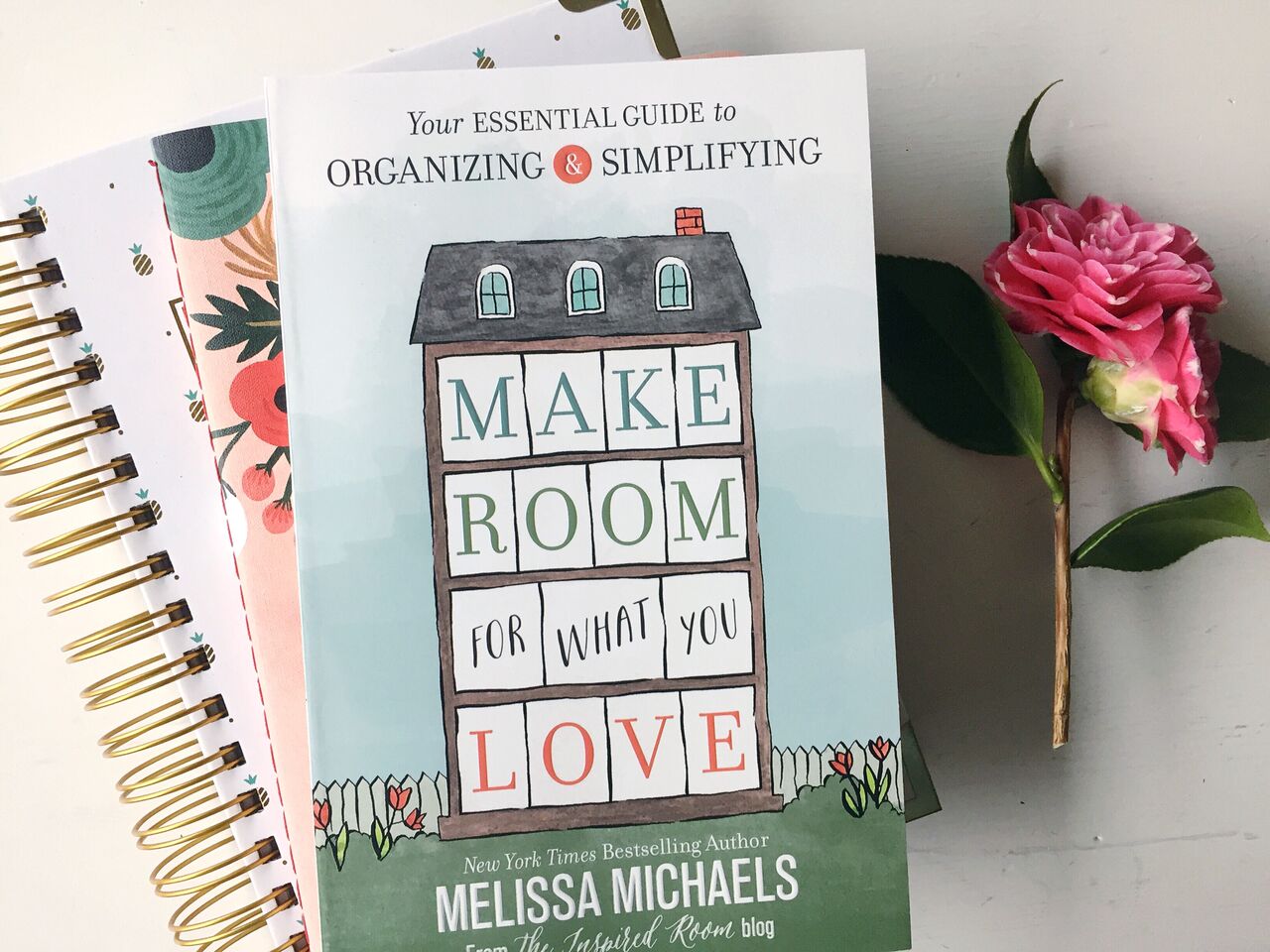 It's no secret that I love having an organized home.  Along with organizing, I also love reading books that inspire me to continue to organize my home and make it a place I truly love.  When Melissa Michaels from the beloved blog, The Inspired Room, reached out to me to help share the news about her new book and join a blog organization tour, I seriously squealed out loud.  And then did a happy dance.  After I picked my jaw up off the floor.  Like many of you I'm sure, I am a huge fan of Melissa (and her books!) and I knew before I turned to page one that it would be a favorite.
Friends.  It's SO good.  Life changing!
Make Room For What You Love is is full of inspiring and practical tips to help us all get control of the excess and clutter in our homes and learn to truly love where we live.  When I was reading Melissa's book I felt like she was speaking directly to me and knew exactly what to say to motivate me to get up and take a step towards organizing my home.  I was so inspired that I decided it was time to tackle my jewelry problem once and for all.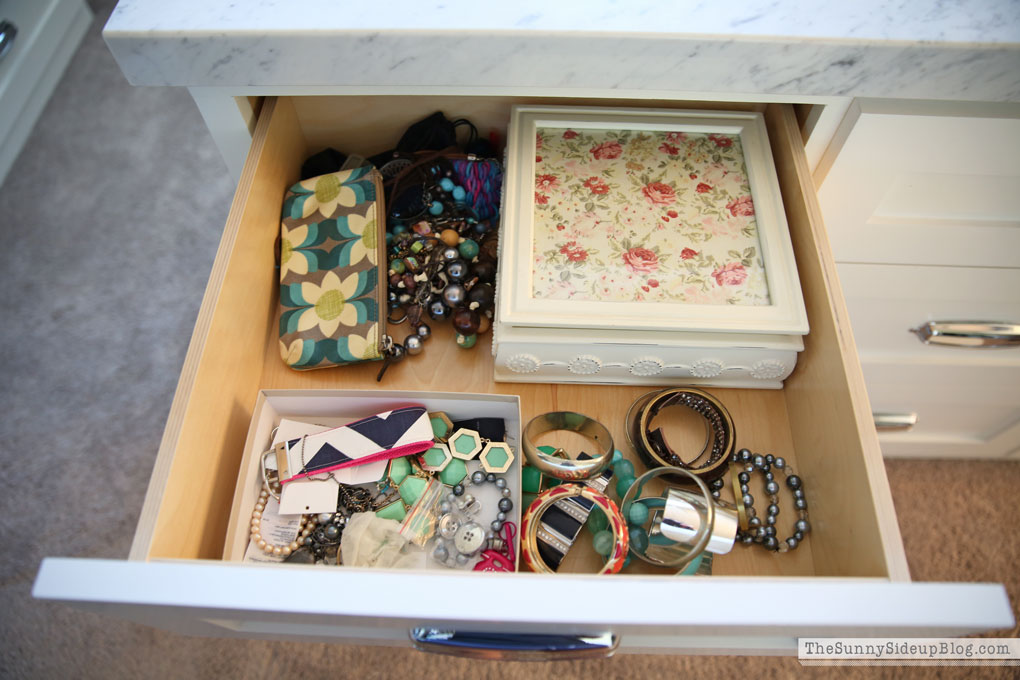 Since we moved into our new house over two years ago my jewelry has been living in random places throughout my closet.  Some in a cupboard, some inside a bag, and some inside this random island drawer.  Every time I needed to find a certain pair of earrings, I had to search through three different places and through jewelry I didn't love (and wasn't wearing anymore) to find it.  Often I'd give up and just bag wearing my earrings because it was such a chore to find them.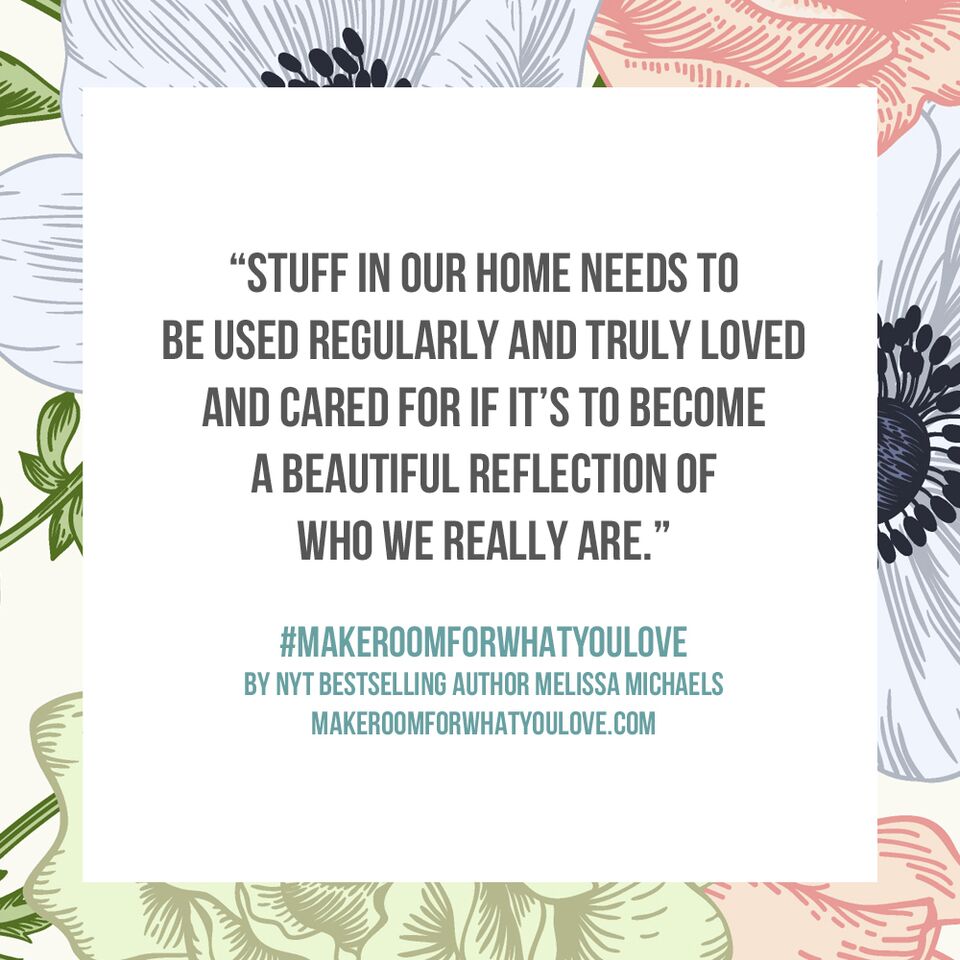 This quote from Melissa's book (and the section she talked about keeping what we love and use) was especially inspiring to me.  After reading it I knew exactly what I wanted to do and got to work immediately!  I rounded up all of my jewelry, dumped it on the floor and sorted everything.  I only kept what I really love and wear and the rest (a lot!) went to Goodwill.  Then the fun part.. organizing it all!
Ready to see my simple (and pretty!) jewelry organization?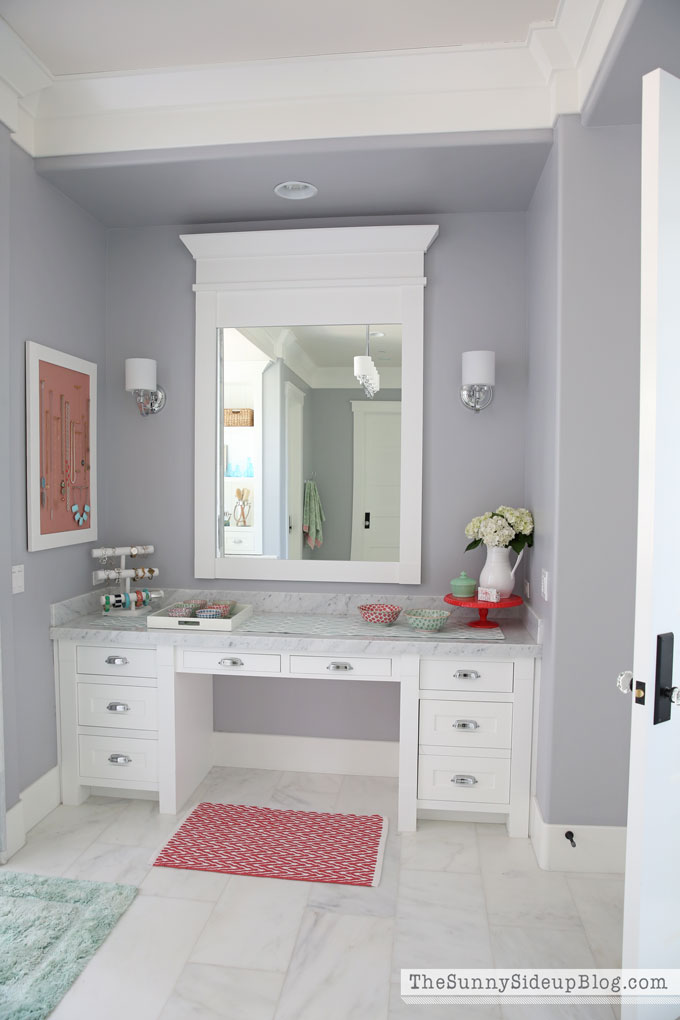 It's all displayed out in the open in one place!  This is the vanity in my Master Bathroom.  Now home to all of my jewelry!


I haven't shared the rest of my Master Bathroom yet aside from the post on my tub and shelves (you can see a peek of my shelves in the mirror here!) but more will be coming. :)  I decided that the empty wall to the left of my vanity would be a great place to hang my necklaces.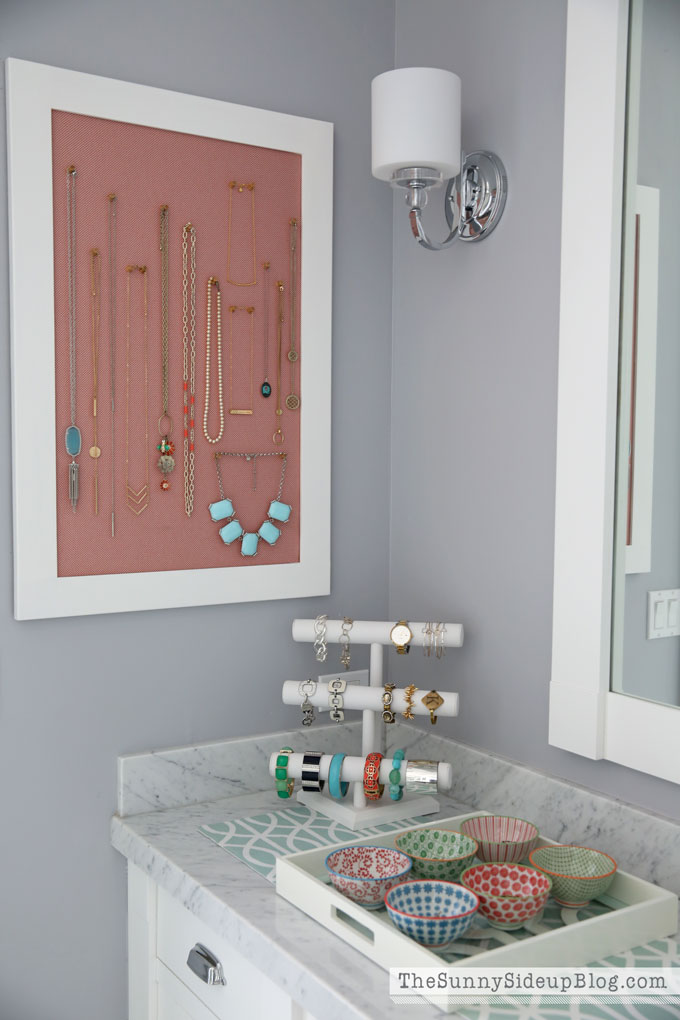 I reached out to my carpenter (who is now a long time family friend and is always helping me with projects) and gave him measurements for the jewelry board frame.  Then I chose and bought fabric (loving coral these days!) and had it attached to a cork board I picked up at the craft store.  When my painter (who is also now a long time family friend and is always helping with projects.. ha!) was at our house painting Kole's planked wall, I had him quickly paint the frame white.
I DIY with assistance friends. :)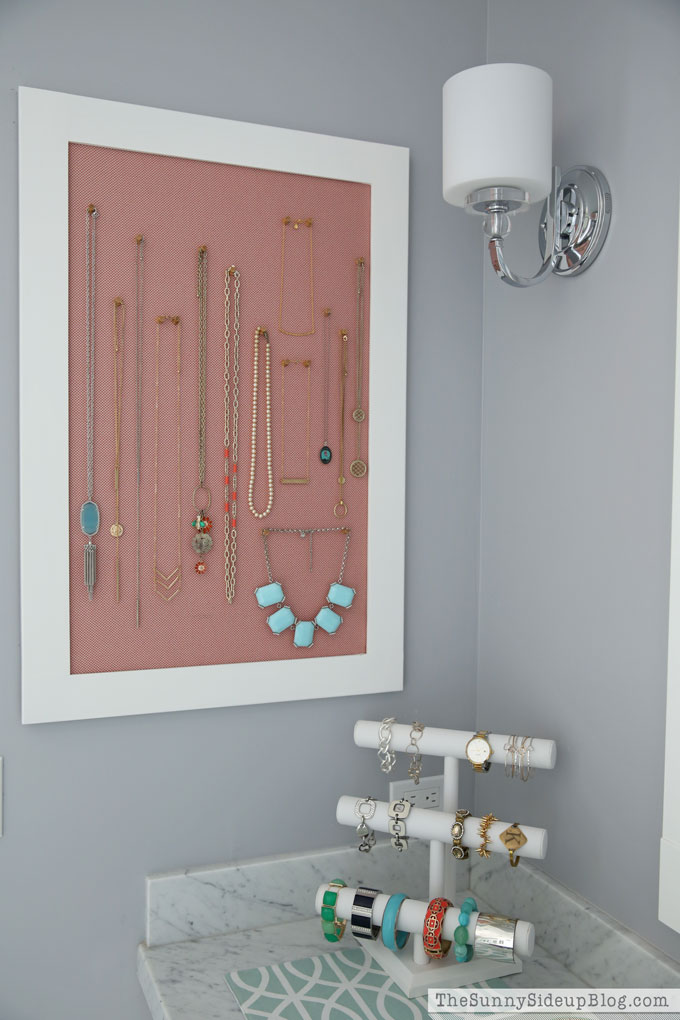 Then I placed the cork and fabric into the frame and used a glue gun to hold them together.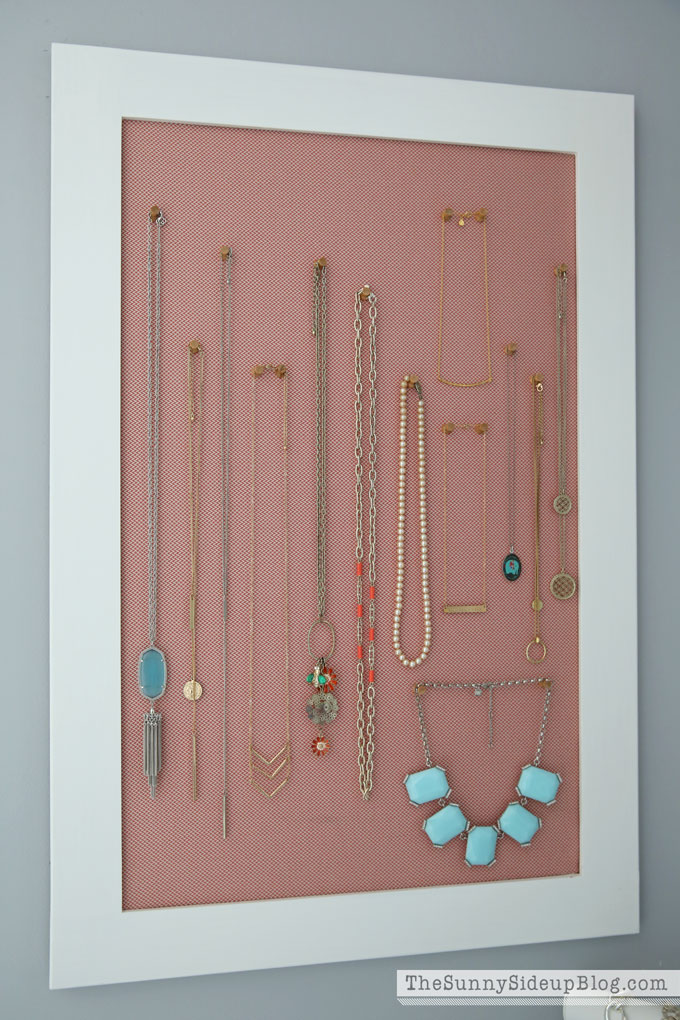 I'm so excited about how it turned out!  It's absolutely perfect to hold my necklaces. These are all of my favorites!  My three most worn necklaces are my Kendra Scott Pendant , my Tanner Small Bar Pendant, and my Circle Pendant (similar here).  I also love wearing a gold bar necklace with my kids' names on it that was a gift from my sweet sister in law.  The rest are close seconds and I'm wearing them more now that they are so easy to find!  I'm also thrilled that I finally have a place to display my grandma's pearls.  They mean so much to me and now I think of her every day when I see them hanging so beautifully.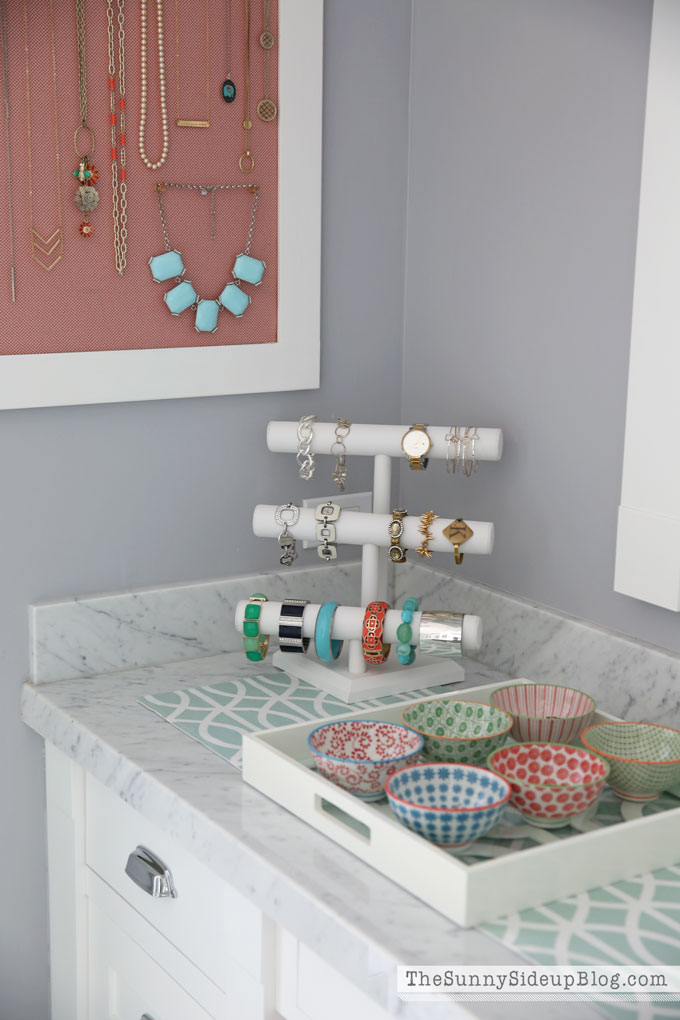 I wanted to have my bracelets and earrings out in the open also.  My main goal with this project was to have everything out in the open so I didn't have to search for my jewelry anymore!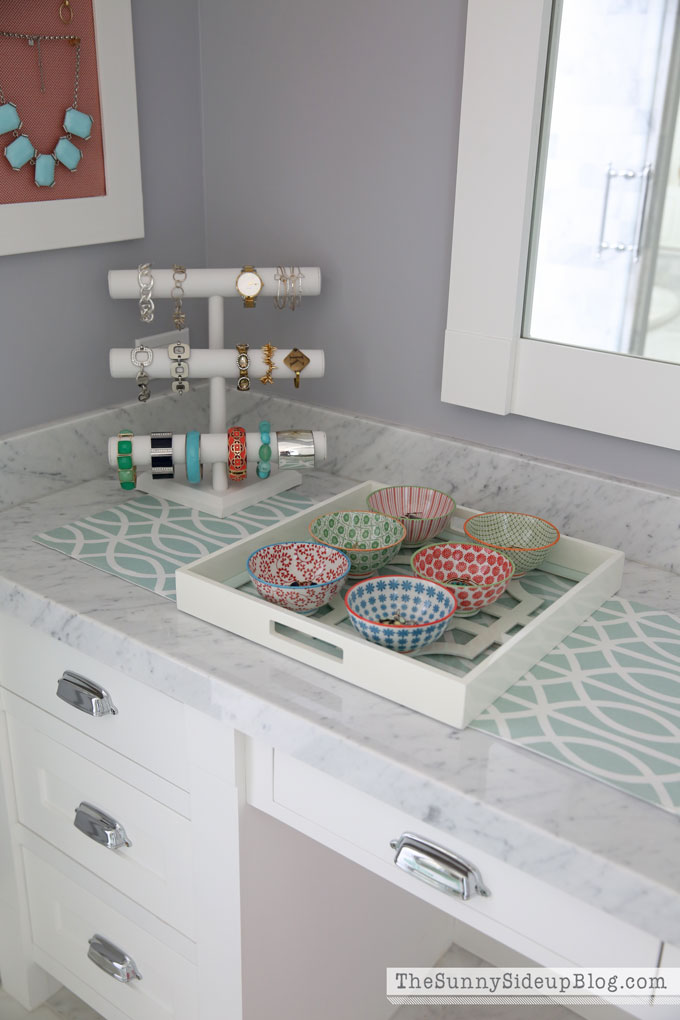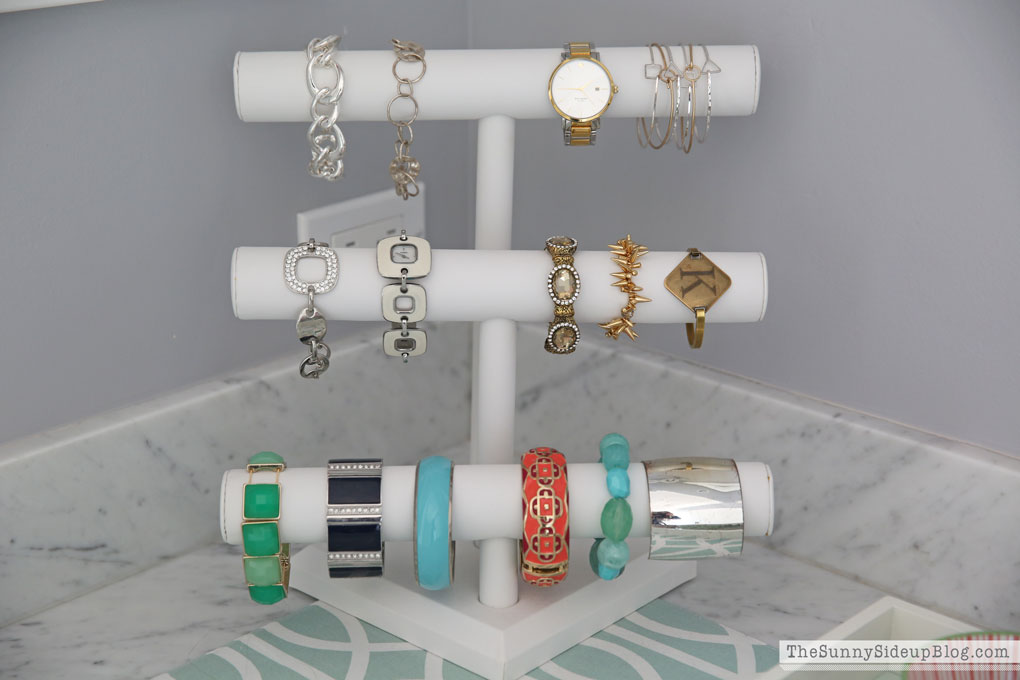 I found this simple white bracelet holder on Amazon and it fit perfectly in the corner of my vanity.  You can see I don't have a lot of bracelets!  I usually just wear my Kate Spade watch every day.  But just like with the necklaces, I am wearing the few bracelets I did want to keep more because the are so easy to find.  And there's room for more. :)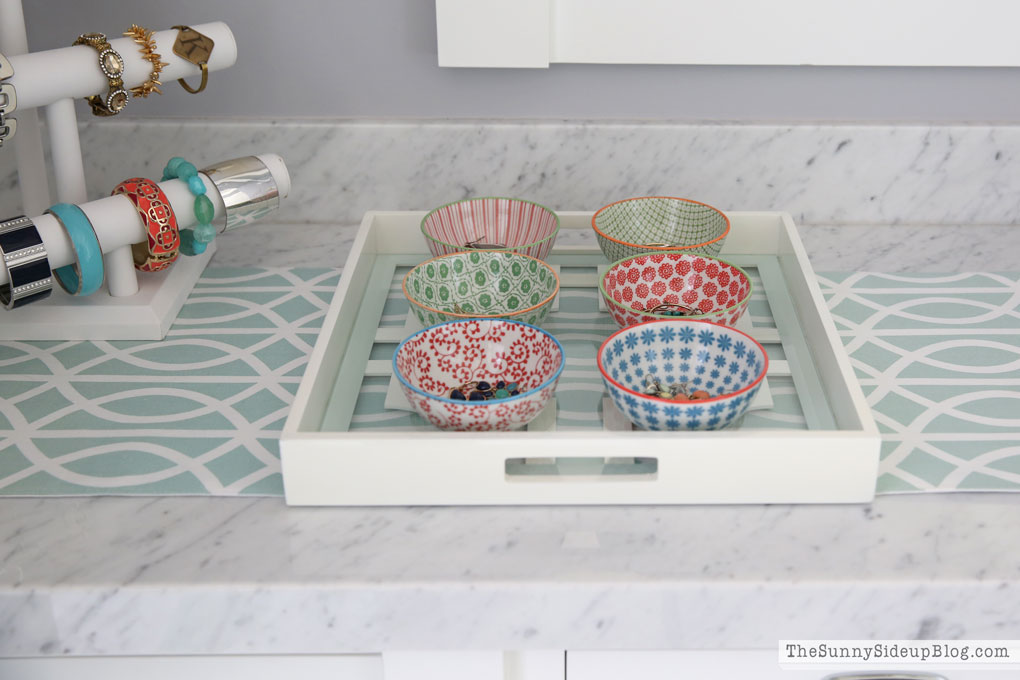 I found the mint table runner at Home Goods to protect the marble countertop and the white tray I've had for years from Target.  (Similar square trays here in multiple colors.)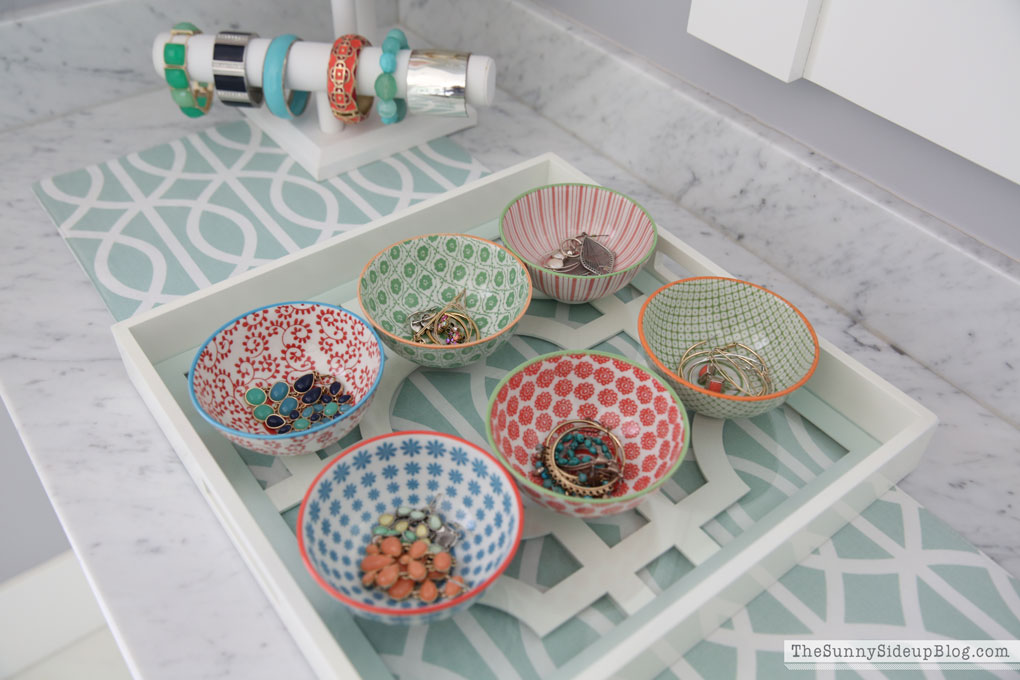 These fun colorful bowls from Anthropologie I've also had for years and I was so excited to finally have a fun new way to display them.  (These cute bowls are similar and would also be great for jewelry!)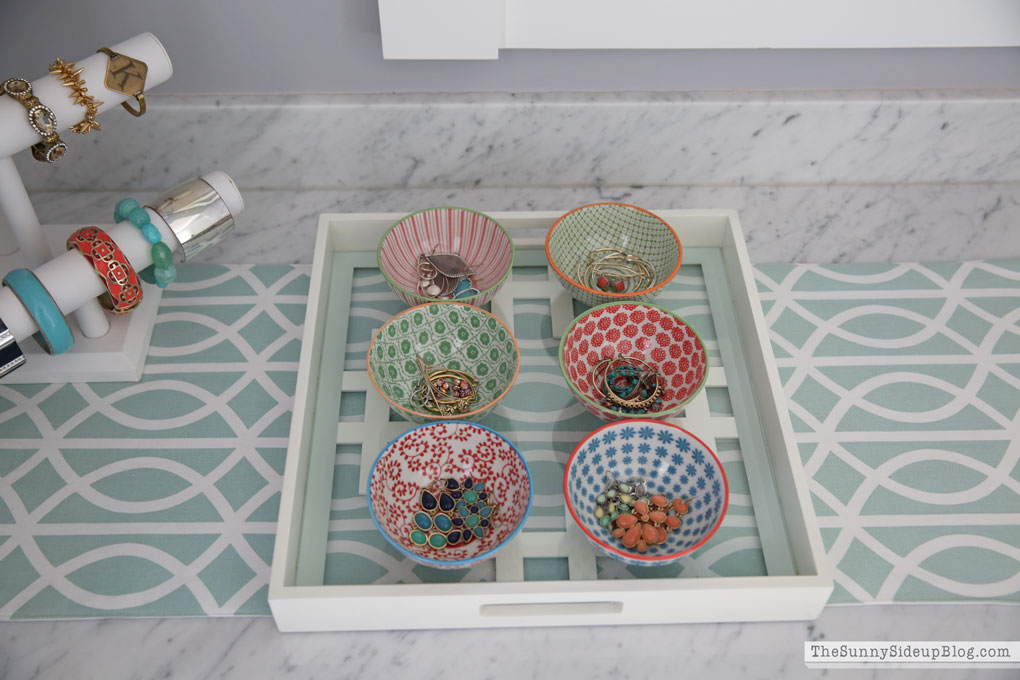 Now my earrings have a pretty home.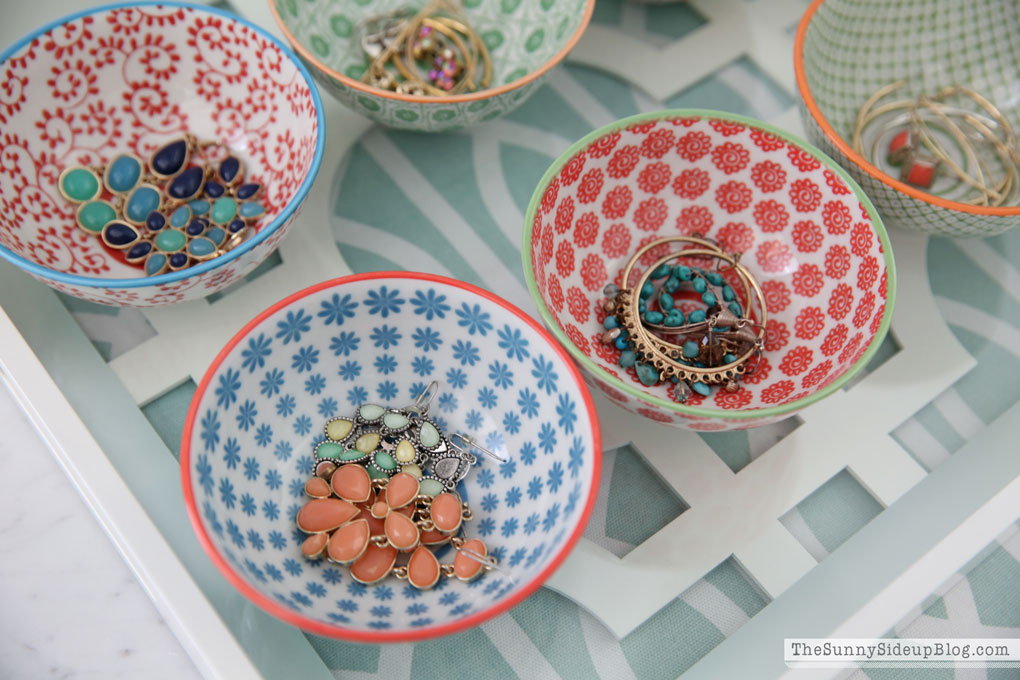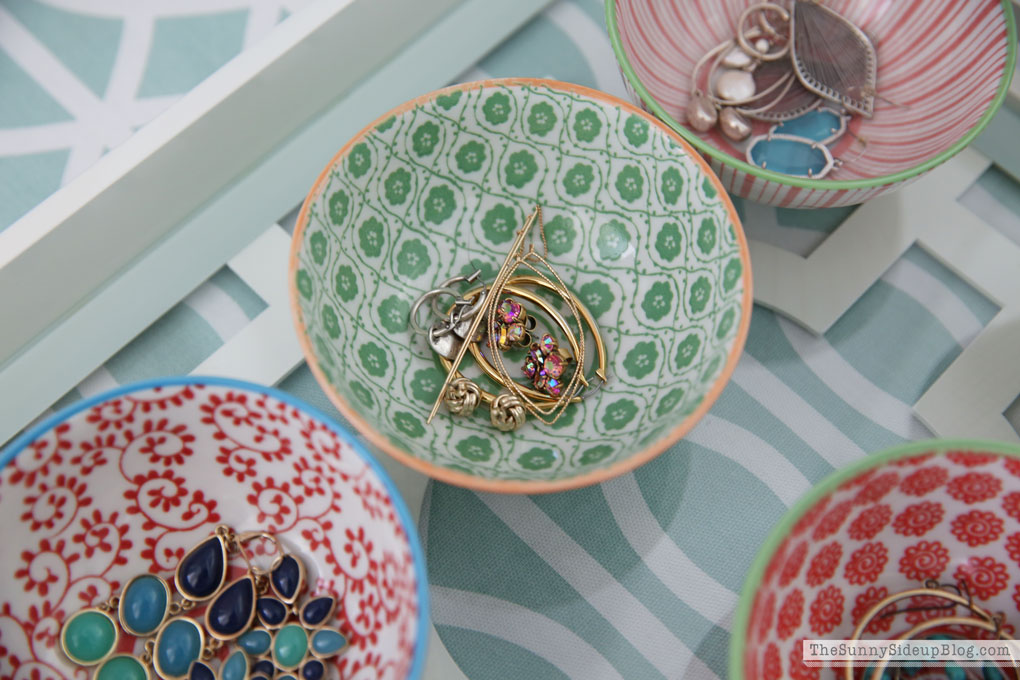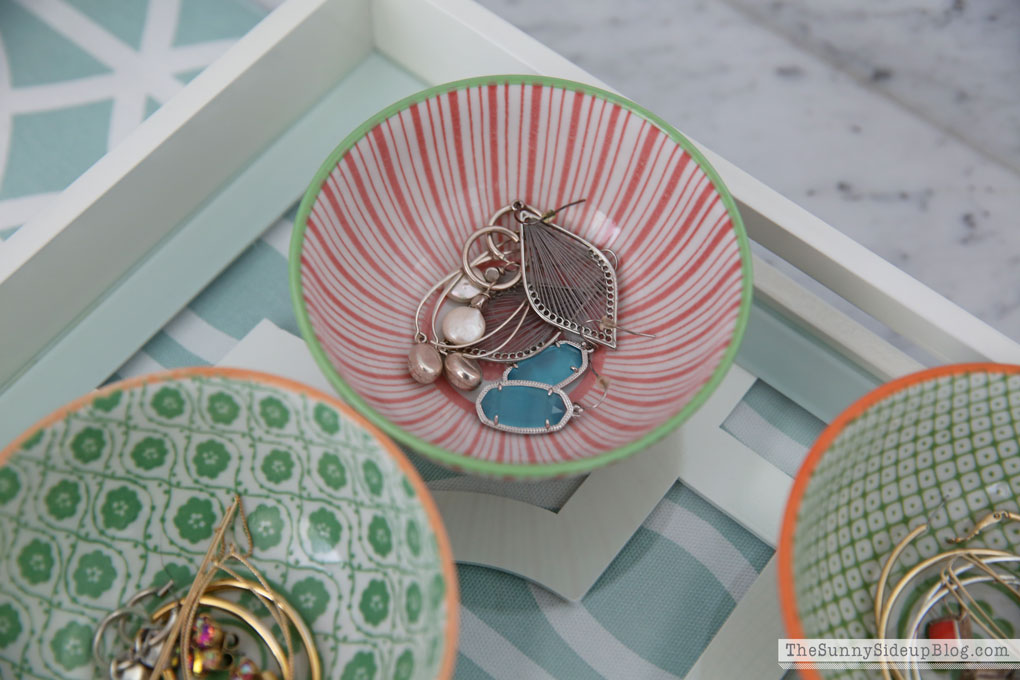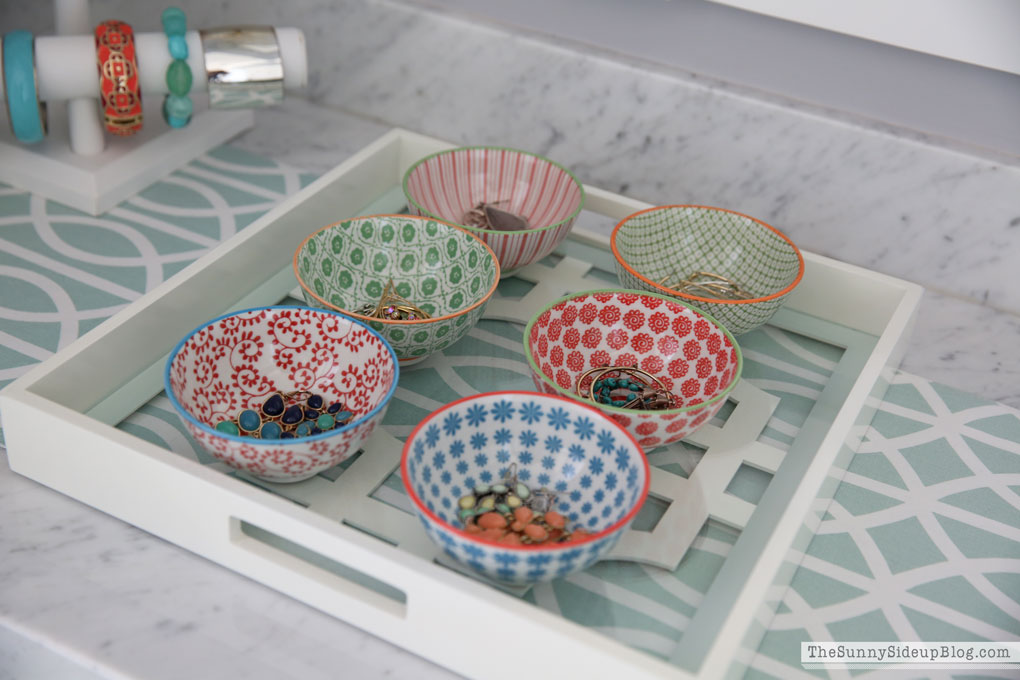 The various pops of color make me smile.  :)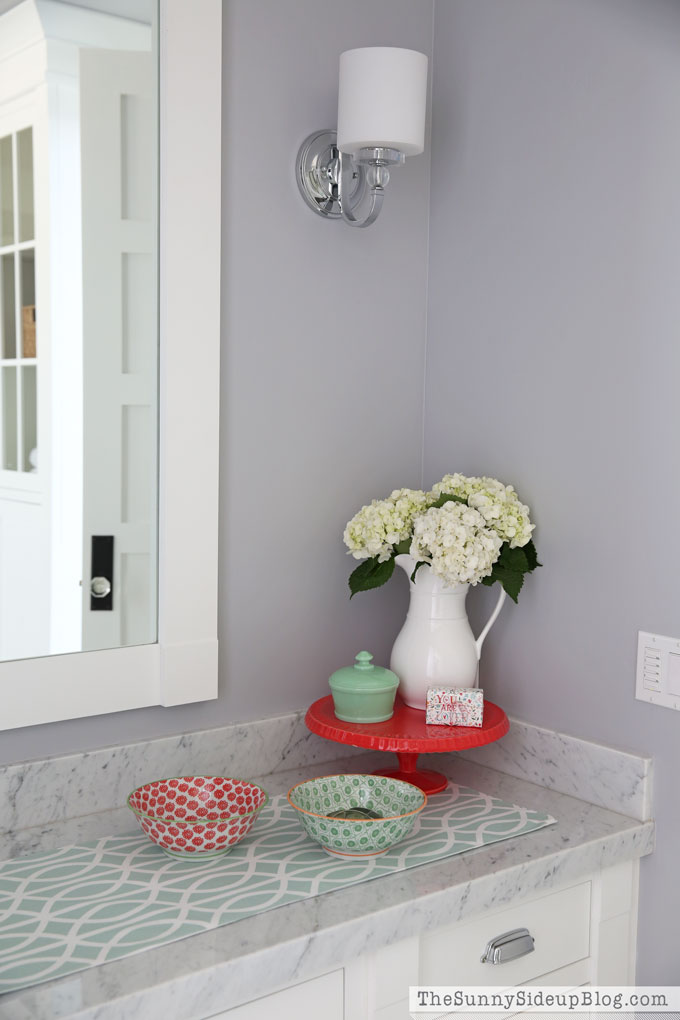 I wanted to dress up the right corner of my vanity also so it's holding a few pretty things.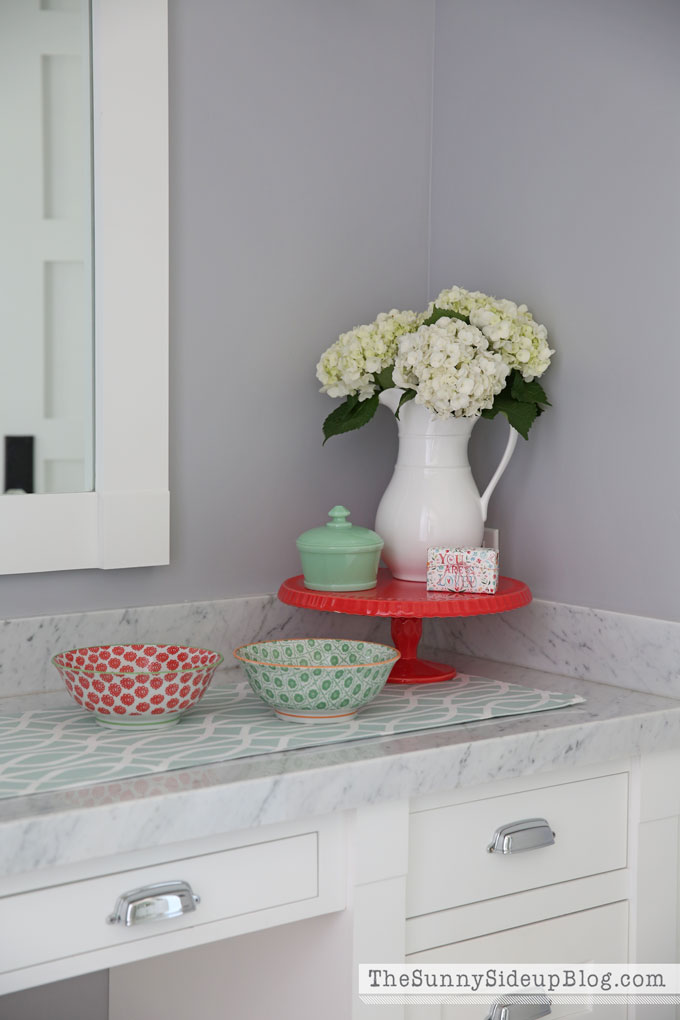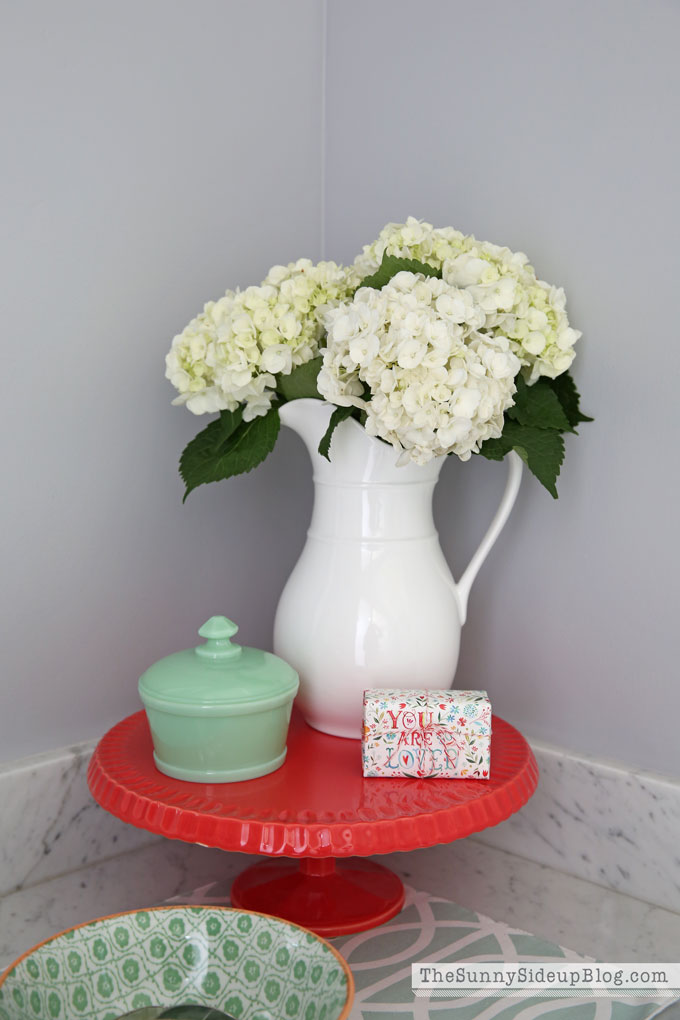 A cake stand (Home Goods), a little Jade jar that was a gift from my mom, some pretty soap from a dear friend, and my favorite flowers in a white pitcher.


Along with two more larger bowls from Anthropologie.  All things I love.  :)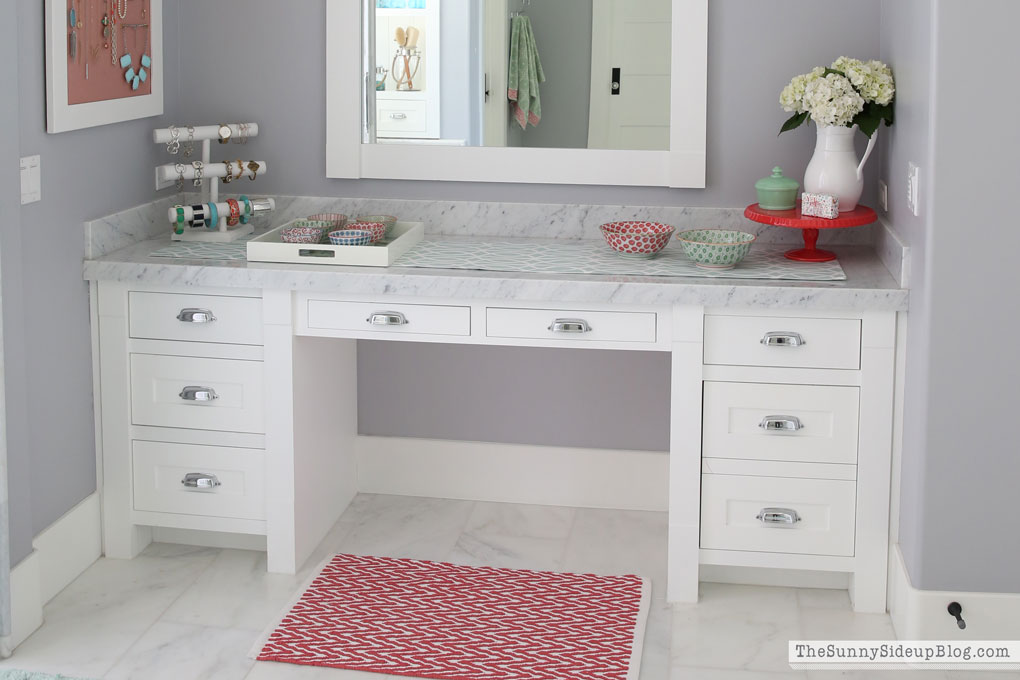 I am just waiting on the vanity seat I picked out to sit on my coral rug to complete this area.  Such a happy, organized space in my home!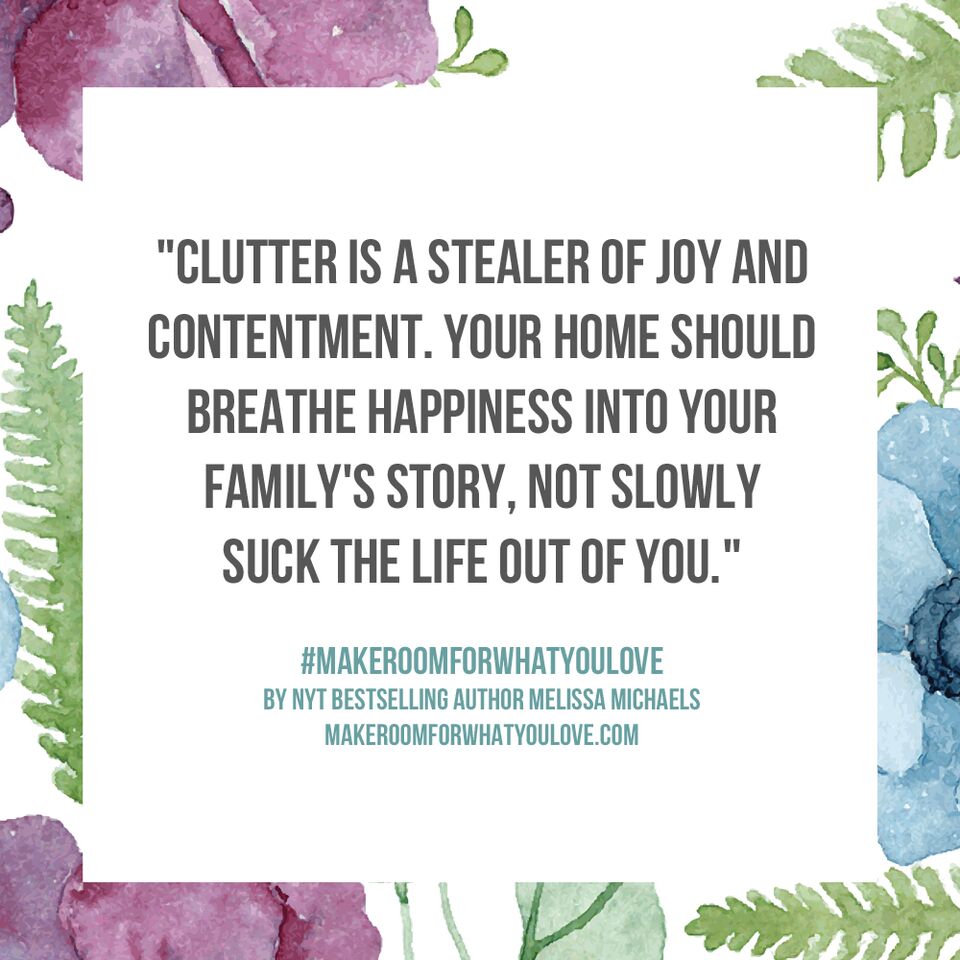 I couldn't agree with this quote more!  The previous lack of organization of my jewelry was making me unhappy and frustrated daily when I couldn't find what I wanted to wear.  Clutter has a way of doing that to us, doesn't it?  Like Melissa said, clutter is a stealer of joy and contentment.  Once a space is organized (and full of what you truly love) it really does breath happiness into your family's story.  I know my simple (and pretty!) jewelry organization makes me happy every single day.  Seeing special items displayed reminds me to be grateful for all I have and by just keeping items I truly love, I'm inspired to actually wear my jewelry!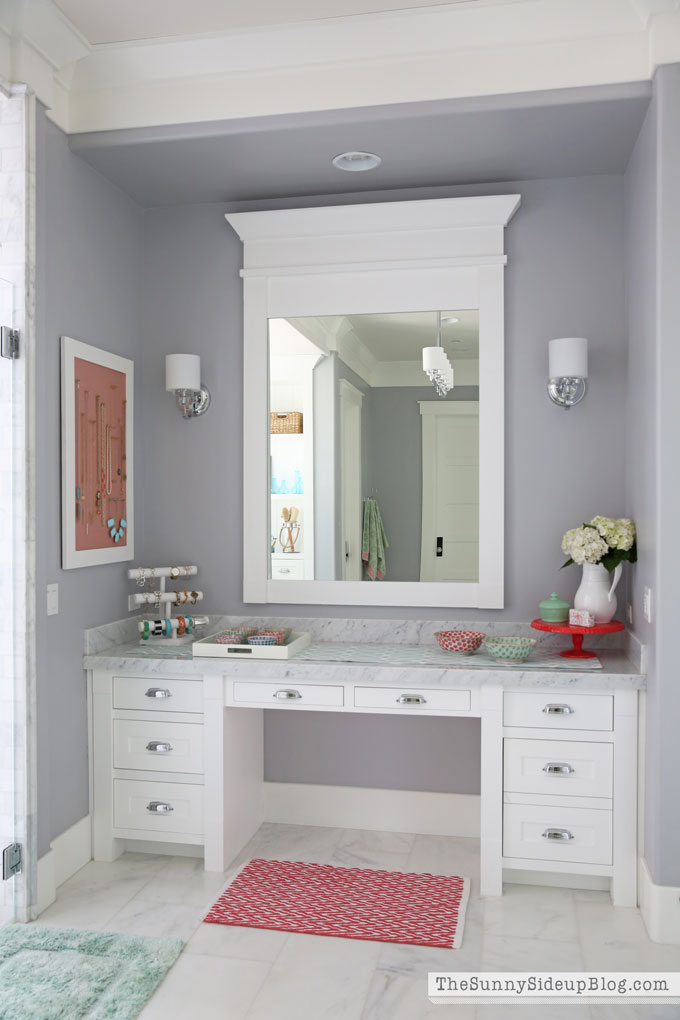 Honestly friends, I can't recommend Melissa's book Make Room For What You Love enough.  Especially if you are lacking motivation when it comes to de-cluttering and organizing your home.  Melissa is so down to earth and has such a beautiful way with words.  I was inspired to clean after the first chapter!  There are so many practical tips throughout this book that really help make daunting projects seem manageable.  I'm sure I'll be sharing more of her tips that have already helped me!  Even though I love to organize, sometimes I get overwhelmed with all of the stuff we own and this book has really given me some tools to use to start tackling intimidating projects.  It has also inspired even more de-cluttering than usual around here!  Which is saying a lot.  ;)
I'm so excited to be a part of an amazing blogger tour full of inspiring ideas to help motivate us all to control the clutter.  You'll definitely want to see what my friends have been up to in their homes!  Check out their posts and start organizing along with us!
Time to simplify and Make Room For What You Love.  :)
Eleven Gables / Craftberry Bush / At the Picket Fence / Julie Blanner / Beneath My Heart / Thrifty Decor Chick / Emily A. Clark / Reluctant Entertainer / My Sweet Savannah / Domestic Fashionista / At Home In Love / 320 Sycamore / Sunny Side Up / Happy Happy Nester / The White Buffalo Styling Co / Sweet and Simple Home / Finding Home Farms / In My Own Style / Fox Hollow Cottage / The House of Silver Lining / Infarrantly Creative / Fieldstone Hill Design / Shabby Nest / Today's Creative Life / Sarah M. Dorsey Designs / Just A Girl / Southern Hospitality
xoxo, Erin